Recruitment CV
With 5 years of experience in the tech industry, Aoife is a seasoned recruiter who excels in sourcing and placing high-caliber talent. Currently seeking new opportunities, she showcases her expertise through a recruitment-focused CV template, known for its sleek and professional design.
Create your CV
"Highly motivated Recruitment Consultant with excellent interpersonal and communication skills, enabling strong relationships with clients and candidates. "
Aoife O'Doherty
- Recruiter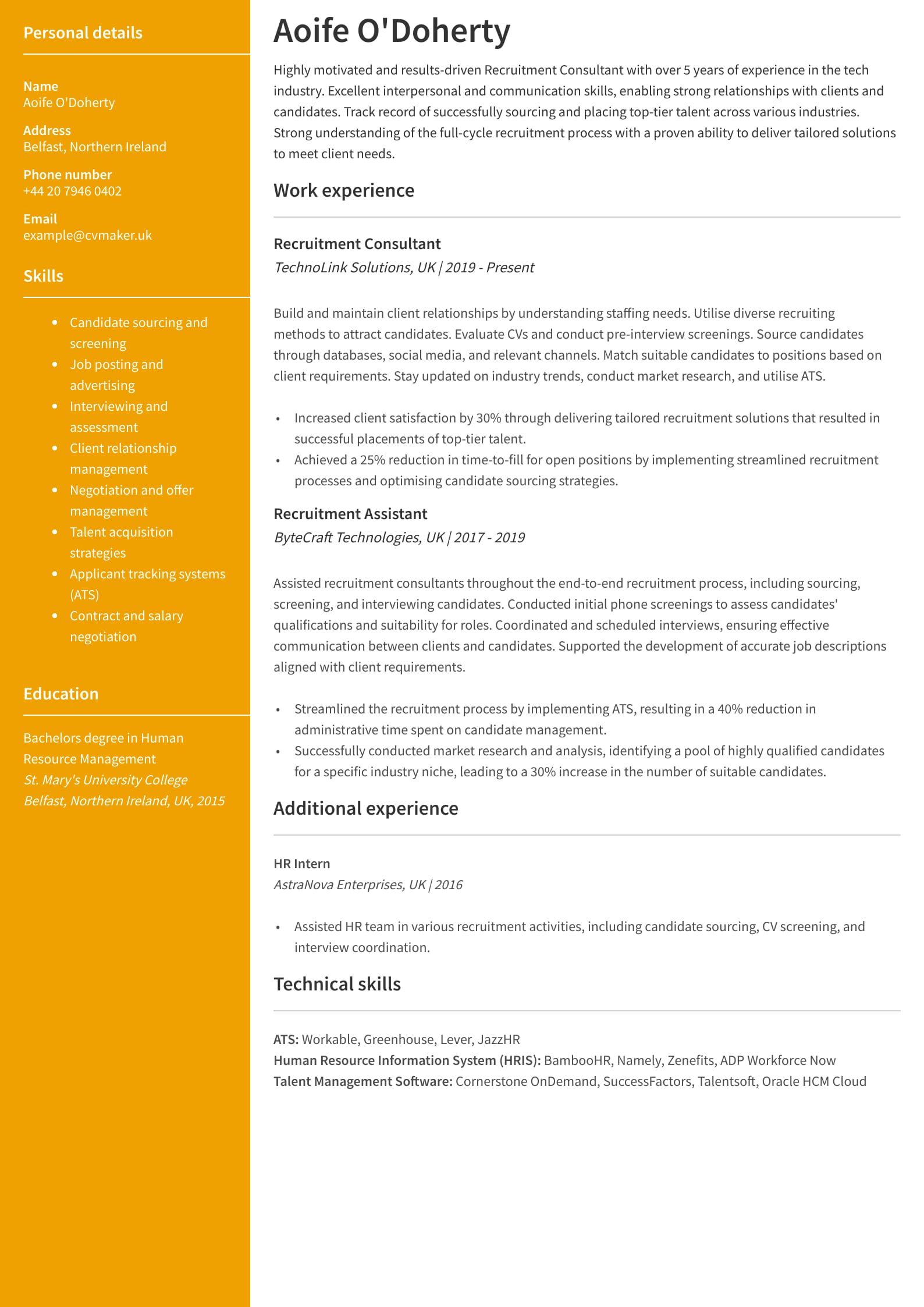 How to Write a Recruitment CV in 2023 (Writing Guide and Examples)
As a recruiter or someone seeking a job in this field, you understand the significance of applicant tracking systems (ATS) and the value of a well-crafted CV. You recognise the need to tailor your CV to align with your career goals, showcasing the effort put into creating these documents. However, you may encounter challenges when describing your own experiences or transitioning into a different career. That's where our expertise becomes invaluable. We are here to support you by providing CV examples and offering expert guidance, enabling you to create a targeted CV specifically tailored for recruiting roles.
Depending on the organisation and industry, there may be more specialised roles. In this article, we will delve into the different roles, the CV writing process, and provide valuable tips for writing a good recruitment CV, including insights into the various sections of a CV.
The CV writing process: Where to start?
The journey of CV writing begins with reviewing your current CV and understanding the key elements that contribute to a good CV. We suggest two essential steps to kickstart this process: developing a comprehensive master CV and tailoring it to create job-specific CVs.
A master CV provides a comprehensive overview of your career journey, liberating you from concerns about length or specific job demands. It should be regularly updated, including all your personal details, personal profile, work experience, education, skills, and notable achievements. On the other hand, a job-specific CV focuses on highlighting the most pertinent experiences, skills, and qualifications from your master CV. By customising the personal profile, reorganising sections, modifying descriptions, and emphasising relevant skills, the job-specific CV effectively showcases your suitability for the specific position while omitting irrelevant information.
These strategies empower you to present a targeted and compelling recruitment CV tailored to different types of job roles, enabling you to stand out as a strong candidate in the competitive job market.
Recruitment CV example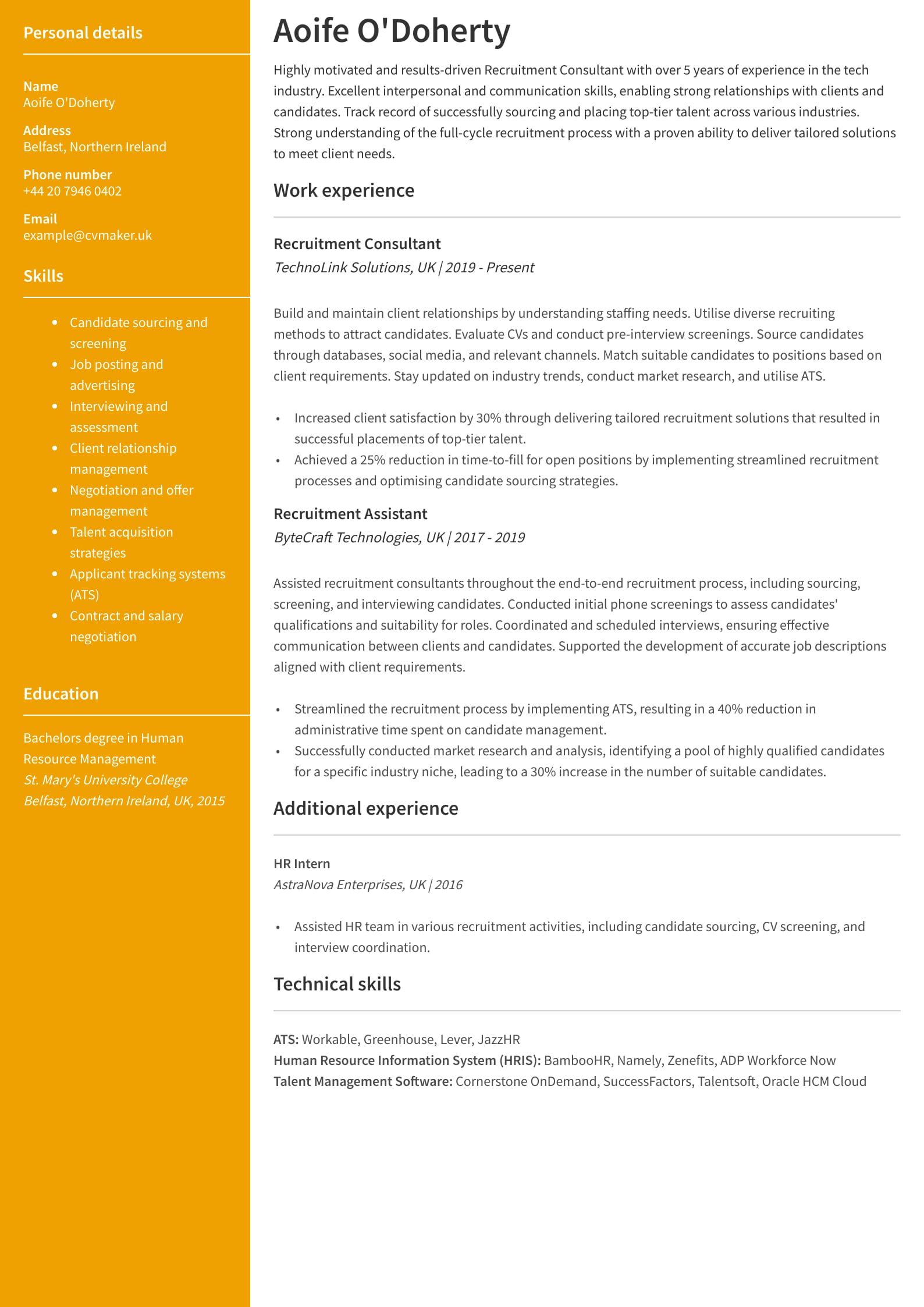 Download this CV example in PDF - Recruitment CV.
Aoife is an experienced recruiter with 5 years of experience in the tech industry. She is passionate about sourcing and placing top-tier talent but is currently seeking a new job. Aoife has opted for the Stanford template, a clean, recruitment consultant CV.
What to include in a recruitment CV? 
A good CV prioritises readability and highlights key sections that showcase your qualifications, skills, and experience. These sections include personal details, personal profile, education, work experience, and relevant skills.
How to write a personal profile on a recruitment CV
When writing a personal profile, it is important to take into account that it should capture your key attributes and career objectives in a few sentences. Remember, the personal profile is an opportunity to make a strong first impression and provide a snapshot of your qualifications and aspirations.
Entry-level recruiter CV personal profile
Highly motivated and enthusiastic individual with a strong passion for recruitment. Solid understanding of talent acquisition principles and eager to kickstart a career in recruiting. Excellent communication and interpersonal skills and a proactive approach to building relationships. Committed to delivering exceptional candidate experiences and supporting the process from sourcing to onboarding.
Talent acquisition specialist CV personal profile
Results-driven Talent Acquisition Specialist with 10 years of recruitment strategies and leveraging diverse sourcing channels to build a robust talent pipeline. Strong ability to assess candidate suitability and conduct thorough interviews. Collaborative team player with exceptional stakeholder management skills and committed to delivering high-quality hiring solutions that align with organisational goals.
Senior Recruiter CV personal profile
Established Senior Recruiter with a demonstrated history of driving successful initiatives across various industries. Proven expertise in full-cycle recruitment, talent management, and strategic workforce planning. Adept at building strong relationships with hiring managers and key stakeholders to understand business needs and deliver targeted solutions. Exceptional leadership skills with a reputable track record of mentoring and developing junior recruiters.
Recruitment Consultant CV personal profile
Dynamic and resourceful Recruitment Consultant with 5 years experience in managing end-to-end recruitment processes. Skilled in sourcing, screening, and selecting top-tier candidates across diverse industries. Proven ability to develop and maintain strong client relationships, providing consultative advice and delivering tailored solutions.
Pro Tip
Briefly mention your professional background, highlighting your expertise and achievements. This could include your years of experience, soft skills, or specific industry knowledge.
What skills should I put on my recruitment CV?
To create a comprehensive view of your capabilities, your CV should emphasise a combination of hard, soft, transferable, and technical skills, particularly when applying for roles as a recruitment consultant, senior recruiting manager, or junior recruiter. Here are some skill examples to consider including on your CV.
Examples of hard skills:
Applicant tracking systems (ATS)

Job posting and advertising

Candidate sourcing and screening

Interviewing techniques (behavioural, competency-based, etc.)

Assessment and selection methods

Background checks and reference checks

HR and employment law knowledge

Data analysis and reporting (metrics, KPIs)

Talent acquisition software and tools

Negotiation and offer management.
Examples of soft skills:
Communication (verbal and written)

Relationship building and networking

Active listening

Interpersonal skills

Emotional intelligence

Time management and organisation

Problem-solving and critical thinking

Adaptability and flexibility

Collaboration and teamwork

Client relationship management.
Examples of transferable skills:
Leadership and management skills

Project management

Strategic thinking and planning

Decision-making

Customer service

Analytical skills

Attention to detail

Presentation and public speaking

Conflict resolution

Continuous learning and adaptability.
Examples of technical skills:
ATS: Workday, Taleo, Greenhouse, or Bullhorn.

Job Boards: Indeed, Glassdoor, or Monster.

Social Media: LinkedIn, Facebook, and Twitter.

CV Databases: CareerBuilder or CV-Library.
If you have limited to no experience, refer to our skills-based CV example for a different CV writing strategy. Moreover, check out our human resources CV example for more inspiration.
How to write work experience on a recruitment CV 
Since a CV should be targeted towards your career goals, providing precise details regarding your responsibilities and achievement is crucial. Recruiters and hiring managers seek insights into your daily tasks and accomplishments.
Recruitment Consultant, NexGen Solutions, UK | 2018 - 2022
Managed end-to-end recruitment processes for clients across various industries, including sourcing, screening, interviewing, and presenting top-tier candidates. Built and maintained strong relationships with clients and candidates, resulting in a high client satisfaction rate and a boost in candidate referrals.
Implemented innovative sourcing strategies, leveraging social media platforms and professional networks, resulting in a 20% increase in the candidate pool.

Achieved quarterly targets, exceeding expectations by 15% and contributing to the company's growth.
Talent Acquisition Specialist, Luminary Innovations, UK | 2020 - Present
Lead end-to-end recruitment process, from initial screening to offer negotiation and onboarding support. Maintain accurate and up-to-date candidate and job requisition data in the applicant tracking system (ATS). Conduct comprehensive candidate assessments and interviews to evaluate qualifications, skills, and cultural fit. Collaborate with hiring managers to understand their specific hiring needs and provide guidance on best practices.
Streamlined the onboarding process, collaborating with cross-functional teams to improve new hire integration and retention rates by 25%.

Implemented ATS to automate processes, reducing administrative workload by 40% and enhancing data accuracy.
Refer to our article on how to include work experience on a CV.
How to list education on a recruitment CV
In the UK, becoming a recruiter does not necessitate a specific educational requirement. However, having a degree or certification in a relevant field, such as human resources, business administration, or psychology, can provide an advantageous edge. For example, having a degree in biochemistry or technology could aid in specialising in recruiting for those areas. Nonetheless, practical experience, industry knowledge, and exceptional interpersonal skills are highly regarded by employers. For additional examples and guidance, refer to our article on structuring the education section of your CV.
Key takeaways
With a better understanding of the importance of tailoring your CV to your career goals, here are some key takeaways to summarise the article. By following these tips and implementing best practices in CV writing, you'll streamline the process and capture the attention of hiring managers, increasing your chances of securing more job interviews.
Structure the CV with clear sections such as a personal profile, work experience, education, skills, and other relevant sections like certifications or awards.

Highlight relevant work experience and include details about responsibilities, accomplishments, and notable achievements.

Create a dedicated section to showcase the key skills that align with the job requirements.

List educational background, including degrees, diplomas, or relevant courses.

Ensure that the CV is error-free, grammatically and in terms of formatting.
Next Steps?
A well-crafted CV is a powerful tool in attracting the right candidates, so invest time and effort into creating a compelling and tailored document. Our professional CV templates are well-structured and formatted and can be easily recreated in our CV Builder. If you are seeking professional writing support, find out more about our CV Writing Services or refer to our 30+ CV examples for inspiration.
FAQ
What is a recruitment consultant?
A recruitment consultant works on behalf of organisations or agencies to assist in recruiting. Their expertise lies in sourcing and selecting candidates for specific job roles, maintaining relationships with clients and candidates, and providing solutions and advice.
Is recruitment a good career?
A job in this field can be a rewarding career for individuals who enjoy working with people and who have strong communication and networking skills. Recruiting offers opportunities for personal and professional growth with the satisfaction of helping individuals find suitable employment.
What are the different types of recruitment jobs in the UK?
In the UK, common jobs include Recruitment Consultant, Talent Acquisition Specialist, HR Recruiter, Recruitment Coordinator, Recruitment Manager, Executive Search Consultant, and Internal Recruiter. These roles can exist within agencies, corporate HR departments, or specialised firms.
What is a typical format for a recruitment CV?
The format of a CV for this type of job includes sections such as personal profile, work experience, education, and skills. As with any CV, you should follow a format that prioritises relevant information and ensures a clean layout. The format of any CV is also dependent on different levels of experience and career goals.
How long should a recruitment CV be?
A CV should typically be around two pages in length. A one-page CV is preferred if you are a recent graduate or are changing careers. To ensure you stay within two pages, focus on relevant information and achievements and avoid unnecessary details or lengthy descriptions.
How to write a recruitment CV with no experience?
If you have yet to gain experience in recruitment, focus on transferable skills and relevant coursework or education. Consider creating a skills-based CV example that demonstrates skills such as communication, organisation, and relationship building. Include any internships or volunteer work where you were involved in aspects of recruitment or HR. Additionally, showcase your enthusiasm, willingness to learn, and passion for this field.
What are the different certifications for recruiters in the UK?
Chartered Institute of Personnel and Development (CIPD) offers various certifications relevant to HR and recruitment professionals, such as the Level 3 Foundation Certificate in Human Resource Practice or the Level 5 Intermediate Certificate in Human Resource Management.

Recruitment and Employment Confederation (REC) Certifications offers a range of certifications for recruiters, including the Certificate in Recruitment Practice (CertRP) and the Diploma in Recruitment Practice (DipRP), which cover essential recruitment knowledge and skills.

LinkedIn Learning provides a wide range of online courses that recruiters can complete to earn certifications in various areas, such as recruitment, talent acquisition, and HR.

Association of Professional Staffing Companies (APSCo) Certifications offers certifications like the Certificate in Recruitment Excellence (CIRE) and the Advanced Diploma in Recruitment Practice (ADRP), designed to enhance recruiters' knowledge and expertise.
Refer to our article on how to include courses and certifications on a CV.
Land the interview for your dream job with CVMaker
Effortlessly create your professional CV within 10 minutes and download it whenever and wherever you want!
Create your CV
Increase your chances landing your dream job with CVMaker.