CV
>
How Long Should a CV be in 2023 (Free Guide with Examples)
How Long Should a CV be in 2023 (Free Guide with Examples)
CV
· September 04 2023
· 3 min read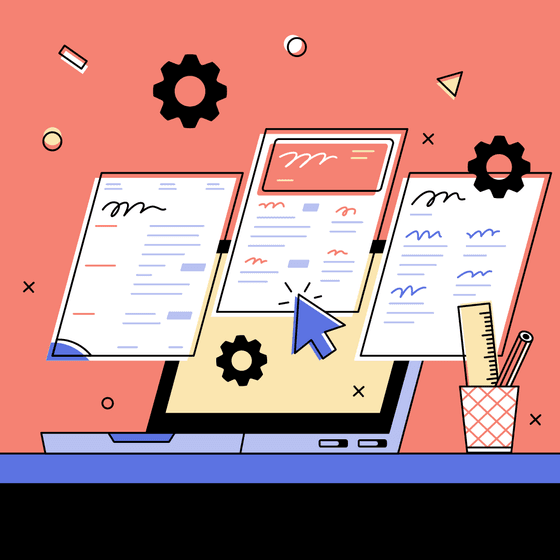 In the UK career world, it's not just about piling up your CV with digital skills and experience. What matters most is showcasing yourself best as well as aligning it with the specific job you're applying for, ensuring it is Applicant Tracking System (ATS)-friendly. Creating a powerful CV requires finding the right balance between quality and content. But how long should it be? Let's break down this question and find the right length based on where you are in your career journey.
How many pages should a CV be: 1 vs 2 page
If you're a school leaver, an undergraduate, or changing careers, a one-page CV is sufficient for the UK. It offers a snapshot of your education, work experience, skills, and other career accomplishments. It's also perfect when a job listing asks for a specific length. As for the two-page CV, it is acceptable too but relevant more for job seekers with extensive experience and career accomplishments.
On the other hand, a three-page CV is ideal for senior or C-level executive roles with over 10-15 years of experience. The exception to this rule is an academic CV that could be longer than 3 pages or for exceptional candidates with outstanding work history. 
One-page CV template in the UK
See our project manager CV for more inspiration.
Two-page CV template in the UK 
Refer to the lawyer CV example for more details.
When to opt for a one-page CV
Set sail and adopt this CV format if you find yourself in the early stages of your career, upon recent graduation, or during a transition to a new industry. It works especially well for landing entry-level roles when a job description asks for it. A one-page CV allows you to briefly present your education, work history, areas of expertise, and notable achievements without overloading it with unnecessary details.
Scenarios:
Just starting out in your career.

Applying for entry-level roles.

Jobs asking for a short CV.
When to opt for a two-page CV
Unfold your career book and imagine adding more chapters to your story: that's the two-page CV. It's perfect if you've held multiple roles or wish to highlight skills tailored to a specific position. If you're inclined towards academics or research, this is your chance to showcase relevant publications or projects.
Pro Tip
You can effectively communicate your career trajectory, skills, and accomplishments by selecting the right length. This approach ensures that your CV resonates with what employers seek, maximising your chances of success.
Mid-career professionals often find the two-page CV fitting. This format allows you to delve deeper into your professional history, highlight significant milestones, and spotlight a diverse skill set. It's advantageous when a job requires a long track record of projects, surpassing what a single page can include.
Scenarios:
Mid-career or senior jobs.

Extensive achievements and qualifications.

Involved in academics or research.
When to opt for a longer CV (3 pages or more)
Chronicle your career journey and extend your CV canvas by elegantly listing your experiences or portfolio. This terrain is especially fitting for seasoned professionals in senior or C-level executive roles. This type of CV strongly emphasises leadership, strategic thinking, and an extensive record of achievements and skills. 
Pro Tip
For the longer CV, ensure your content remains engaging and focused on your key academic accomplishments, publication, or any other references.
Like its two-page counterpart, this longer version is excellent for researchers or students applying for universities. Share details about your experiences and give a detailed account of your publications and relevant research topics you're fascinated about. 
Scenarios:
Long track record history, with a wealth of experience

Leadership roles

Involved in research and academia (longer publication list).
Key takeaways
Quality content trumps quantity and holds your key to success. Remember, it's not about pages but about what goes on them. You are one step ahead of competitors by striking the right balance between these two. Make a lasting impression by effectively showcasing your strengths and quantifying your achievements. To ace your upcoming job interview, consider these essential tips: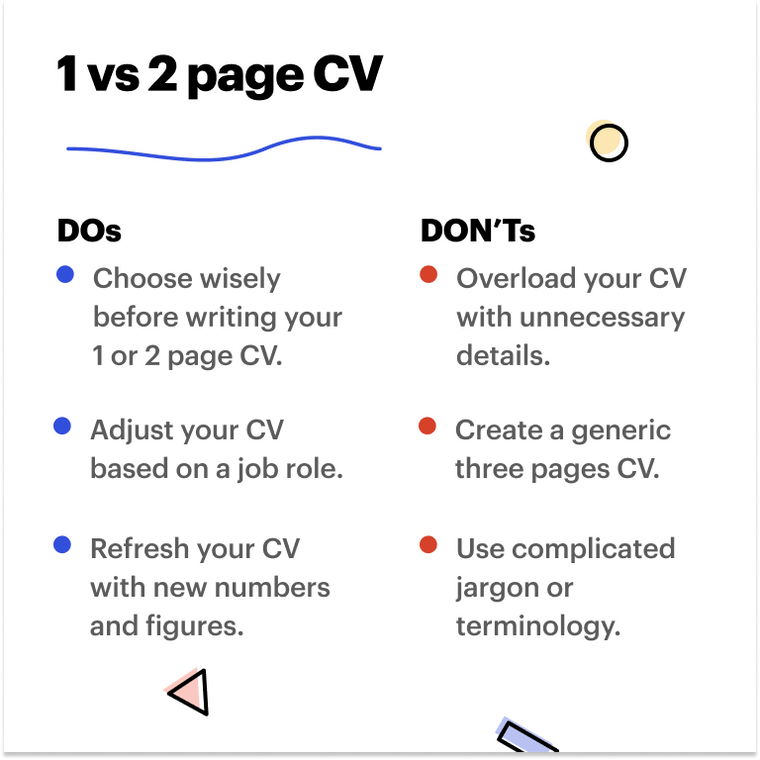 Next steps?
After you have achieved the right balance, it's time to take the next steps towards choosing a CV template or accompanying cover letter. If writing is not your strong side, consider using our Writing Services to improve your career documents or let us create it from scratch. Opt for the appropriate CV as well as cover letter length and confidently apply for your dream job. 
FAQ
Should you use one page as a fresh graduate?
Absolutely! It's a wise choice, allowing you to concisely showcase your education, internships, or any other relevant activities. Keeping your CV brief ensures hiring managers can quickly identify the job's requirements and think of you as the right fit for the role. But a two-page CV could also work if you've got some exceptional achievements or an extensive portfolio.
See the graduate article for more details
What to include in a one-page CV?
In a one-page CV, make sure to cover the basics. Include your educational background, internships, and any part-time roles. Highlight key skills that align with the job you're targeting. Keep it focused and impactful to convey the most essential information.
See how to write a good CV to learn which sections to add based on your job.
What to include in a two-page CV?
For a two-page CV, you can delve into more detail. Alongside education and work experience, elaborate on your accomplishments, additional experience, and specific projects. Showcase your skill set and any additional experiences that bolster your candidacy for the role. Keep it engaging and relevant throughout both pages.
See how to improve your CV to master your writing skills.
Start creating your CV
Create a professional CV quick and easy with our advanced CV Builder
+ Create CV
Updated September 04 2023
Written by
The CVMaker platform offers a complete career platform for jobseekers with handy tools and valuable information. Are you ready for the next step in your career? Start here today!
Related articles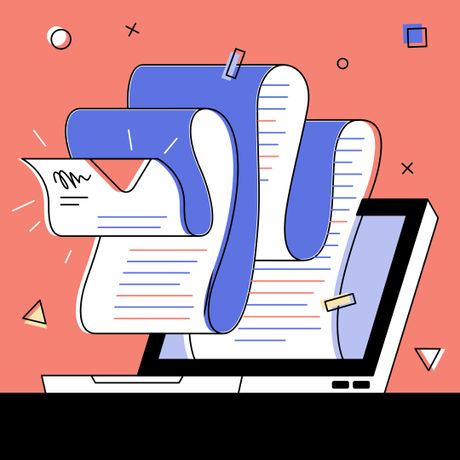 Cover letter
· Sep 14 2023
· 4 min read
How Long Should a Cover Letter be in 2023?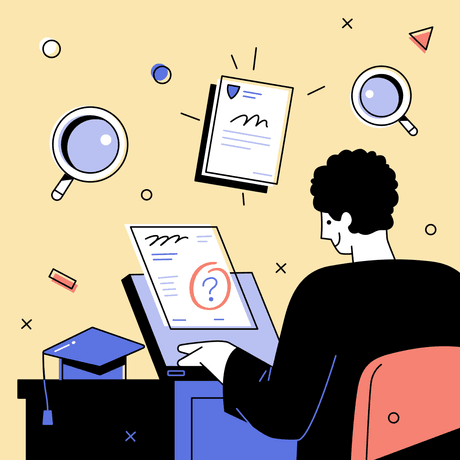 CV
· Sep 20 2023
· 5 min read
How to Write a CV with No Experience in 2023 (Examples and Tips)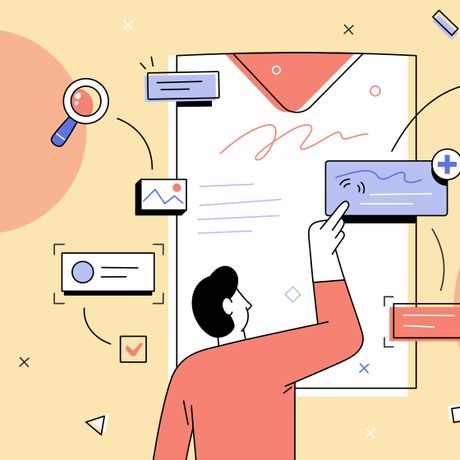 CV
· Aug 24 2023
· 7 min read
How to Write a Good CV in 2023: UK Examples, Tips, and Templates
Land the interview for your dream job with CVMaker
Effortlessly create your professional CV within 10 minutes and download it whenever and wherever you want!
Create your CV
Increase your chances landing your dream job with CVMaker.