Account Manager CV
Mary Lopez, a seasoned Account Manager, chose the Auckland CV template to highlight her professional accomplishments. She adeptly integrates sales, customer relationship management, and strategic planning within her role.
Create your CV
"Results-oriented Account Manager with 5+ years of experience in fast-paced, dynamic environments. Proven track record of building and maintaining strong client relationships, exceeding sales targets, and driving revenue growth."
Mary Lopez
- Account Manager
How to Write an Account Manager CV in 2023 (Guide with Examples)
In the ever-evolving landscape of modern business, the role of an account manager is vital to organisations' success across industries. This career choice relies on skilled professionals to maintain good customer relations. They serve as the bridge between a company's offerings and their clients' unique needs and desires. 
Account management is not a static profession; it's a dynamic realm ripe with opportunities for growth and specialisation. There are various career paths in this field. One option is to become a senior account manager and lead a team. Another option is to move into strategic account management. Additionally, there are opportunities to pursue executive roles within the organisation.
Whether you're an aspiring account manager or a seasoned professional seeking fresh insights, this article delves into the art of writing an account manager CV while ensuring it is applicant tracking system (ATS) friendly. So, let's explore a profession that serves as the bridge between companies and their valued clientele.
The CV writing process: Where to start?
A good CV should showcase your expertise, from emphasising relevant certifications to demonstrating your ability to create meaningful client relationships. Using a clear layout and excluding irrelevant information can improve your chances of getting an interview for an account manager job.
Instead of applying with a generic CV, it is important to establish a master CV as a precursor to creating more job-specific versions. This essentially provides an encompassing repository of qualifications, proficiencies, educational history, certifications, employment trajectory, and remarkable achievements. It helps you match your qualifications to specific jobs, making a stronger impact on employers. 
Account Manager CV example
Download this sample CV for an account manager job in the UK
Mary Lopez, a seasoned professional, chose the Auckland CV template to highlight her professional accomplishments. She adeptly integrates sales, customer relationship management, and strategic planning within her role. Her extensive industry knowledge and track record of success empower her to create customised account strategies.
What to include in an account manager CV?
Begin with your personal details, including your name, contact details, LinkedIn, and current location. Following this, a concise yet impactful personal profile should provide an overview of your expertise, accomplishments, and aspirations. Let's look at these key sections with examples and pro tips!
Showcase your account management soft skills in a personal profile
This part is important for showing potential employers a brief overview of your background, skills, and career goals. Keep the below in mind on how to write a personal profile on a CV.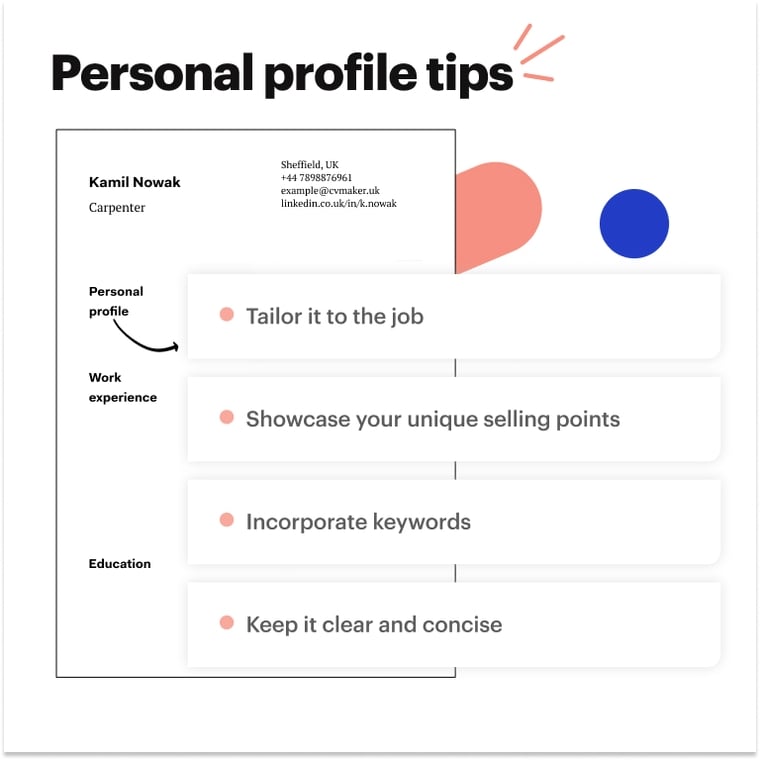 Key Account Manager CV Personal Profile
Results-oriented Key Account Manager with 8+ years of experience nurturing and expanding key client relationships. Proven track record of consistently exceeding sales targets and maximising client satisfaction. Skilled in developing customised strategies to meet client needs and drive revenue growth. Adept at cross-functional collaboration and team leadership to achieve business objectives.
Sales Account Manager CV Personal Profile
Dedicated Sales Account Manager with 5+ years of proven success in B2B sales and a passion for driving revenue growth. Adept at identifying new business opportunities, building client relationships, and closing deals. Proficient in market analysis and developing tailored sales strategies to meet and exceed targets. Committed to delivering exceptional customer service and ensuring long-term client satisfaction.
National Account Manager CV Personal Profile
Experienced National Account Manager with over 10 years experience managing high-value national accounts for industry-leading companies. Proven ability to develop and execute strategic account plans that drive revenue growth on a national scale. Skilled in contract negotiation, cross-functional team collaboration, and market analysis. Committed to achieving and exceeding sales objectives while maintaining strong client partnerships.
Technical Account Manager CV Personal Profile
Established Technical Account Manager with 7+ years of experience providing technical support and solutions to IT and software industry clients. Proficient in troubleshooting, project management, and ensuring successful implementation of technical solutions. Committed to delivering exceptional technical expertise and maintaining client satisfaction.
Digital Account Manager CV Personal Profile
Results-driven Digital Account Manager with a passion for digital marketing and 6+ years of experience managing online advertising campaigns for diverse clients. Proven track record of optimising digital strategies to drive ROI and enhance brand visibility. Skilled in data analysis, campaign optimisation, and client communication. Committed to staying up-to-date with the latest digital marketing trends and delivering results-driven solutions.
Entry Level Account Manager CV Personal Profile
Aspiring Junior Account Manager eager to kick-start a career in account management. Recent graduate with a degree in business administration and a strong desire to learn and grow within the industry. Excellent communication and interpersonal skills, along with a proactive attitude towards client service. Looking to contribute energy, enthusiasm, and a willingness to learn to a dynamic team.
For more CV examples, check out our sales CV or marketing CV for inspiration.
Pro Tip
Tailoring your CV to the specific position you're targeting will maximise its impact and relevance.
Complement your CV with a section highlighting relevant account management skills
The most common mistake in CV writing is adding irrelevant information. Skills on a CV are essential because they provide potential employers with valuable insights into your capabilities and qualifications. Highlight your skills in building strong relationships with clients and finding products that meet their needs.
Explain your work experience on an account manager CV
Provide specific information showcasing your responsibilities, achievements, and positive impact. Highlight previous positions, emphasising duties that underscore your communication, problem-solving, and relevant account management experience. If you've received recognition, these can help distinguish your application. Check out our article for more information on how to write work experience on a CV.
Key Account Manager, Dynamics CRM, London, UK | 2020 - Present
Manage a portfolio of key clients, including Tech Solutions and Harrold Enterprises, with a total annual revenue of £5 million. Collaborate with cross-functional teams, including sales, marketing, and product development, to ensure client needs were met. Negotiate contracts and pricing agreements, driving continuous improvement in profitability and long-term client partnerships. Conduct regular business reviews with clients to assess performance, gather feedback, and identify opportunities for improvement.
Successfully resolved client issues and concerns, maintaining a client satisfaction rate of 95% for three consecutive years.

Developed and implemented customised account strategies to increase client retention and expanded client revenue by approximately 20% annually.
Sales Account Manager, Dynamics CRM, London, UK | 2020 - 2023
Managed a client portfolio of 50+ accounts, consistently achieving or exceeding monthly and quarterly sales targets. Conducted market research to identify emerging opportunities and adapted sales strategies accordingly. Built and maintained strong client relationships through effective communication, regular check-ins, and responsiveness to client needs. Collaborated with marketing team to create and execute campaigns that boosted client engagement.
Prospected and acquired new B2B clients, generating £1.2 million in sales revenue during the first year.

Delivered product demonstrations and training sessions to clients, increasing product adoption and satisfaction.
National Account Manager, Global Enterprises Inc.,London, UK | | 2015 - 2023
Oversaw national accounts with annual revenue exceeding £20 million, including Tescos, Sainsbury's, and Amazon UK. Coordinated with regional account managers to ensure consistent service delivery and alignment with national account objectives.Conducted in-depth market analysis and competitor research to identify market trends and opportunities. Managed a team of account coordinators and analysts, providing guidance and support to achieve team goals.
Developed and executed strategic account plans to expand market share and achieve annual revenue growth of 15%.

Led negotiations for national-level contracts, optimising terms and pricing to maximise profitability.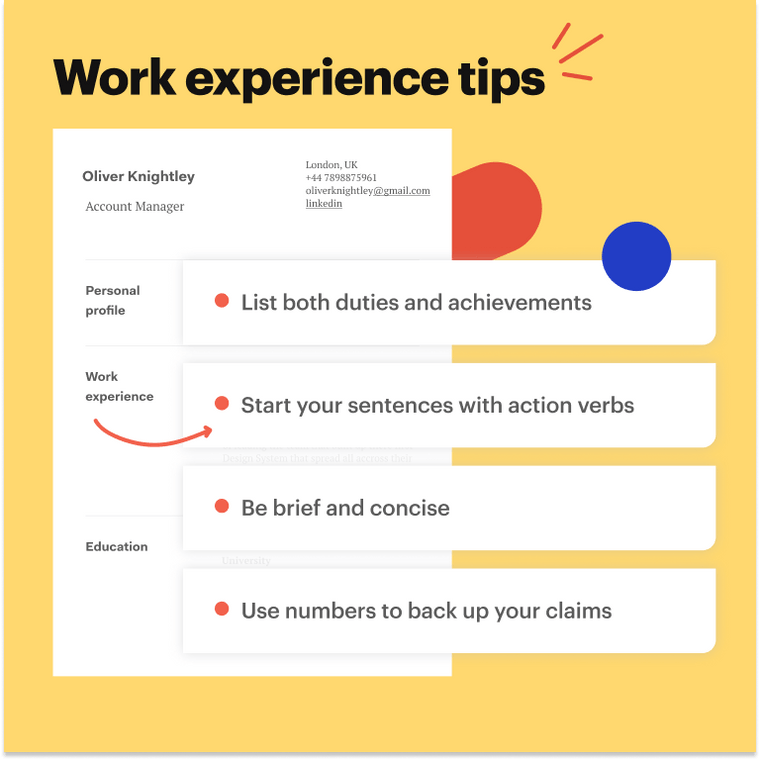 For more CV examples, check out our hospitality CV or civil service CV for inspiration.
Include your educational background on your account manager CV
Listing education on a CV, whether formal or informal, is essential. While a degree isn't mandatory, it is valued. The common career path for account managers includes starting in sales and working your way up to an account manager role. A bachelor's degree in business management or administration is a good start for those interested in account management.
Alternatively, pursuing relevant courses or obtaining certifications can demonstrate proactive engagement, regardless of whether you're a recent school leaver or a current student. For more tips and examples, check our article on how to list courses and certificates on a CV. 
Pro Tip
Tailor your education section to highlight the qualifications that best align with the role you're applying for and specify the institution name, location, and date or in progress.
Key takeaways
Writing a CV in the UK requires a delicate balance between showcasing your key skills. By structuring your CV to include a compelling personal profile, a comprehensive outline of your work experience, and a detailed list of relevant skills, you can present yourself as a strong candidate.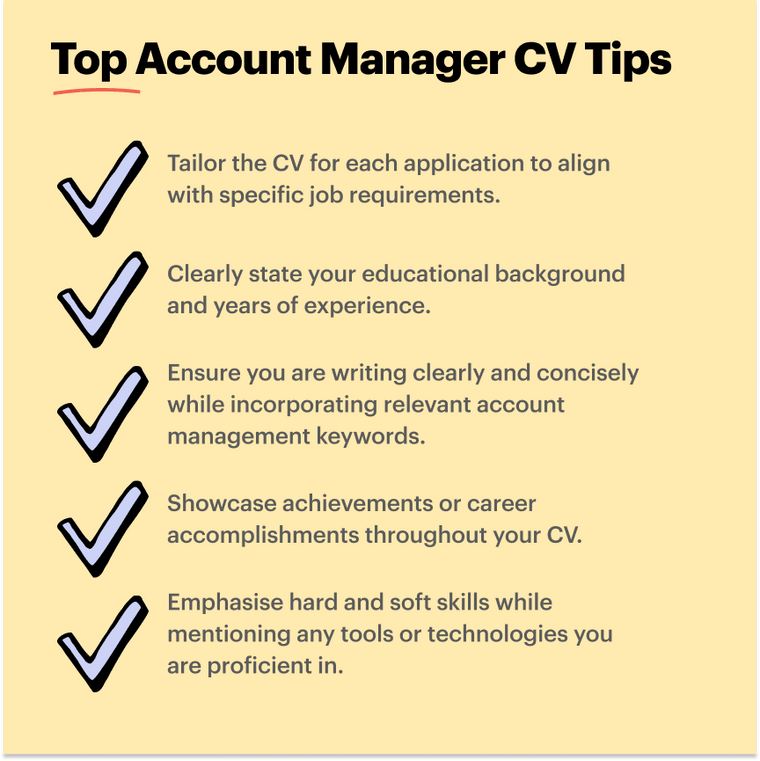 Next steps?
We offer diverse CV templates and CV examples tailored to match your career goals. If you're creating a CV with no experience, our CV Writing Service can make the process easier. Moreover, we recommend familiarising yourself with impactful methods for initiating a cover letter to enhance your job application. This will help impress employers and improve your chances of getting the ideal account management job.
FAQ
What should I put on my CV for an account manager role?
Include a clear and concise summary of your professional experience, emphasising relevant skills, achievements, and qualifications. Highlight your sales, negotiation, relationship-building, and communication skills. Showcase your successful track record, including any notable achievements and metrics.
How do you write account management skills on a CV?
List your key hard skills in a dedicated section of your CV. Incorporate soft skills such as sales, negotiation, client relationship management, communication, problem-solving, and any specific industry-related expertise. Provide concrete examples of how you've applied these skills to achieve results in your previous roles.
What is the best template for an account manager?
The best CV template is a clean and professional format that highlights your skills and experience. Depending on your career history, you can use a traditional chronological or skills-based format. Ensure your template is easy to read and includes sections for your contact information, summary, work experience, skills, and education.
What does an account manager do in the UK?
This person would be responsible for maintaining and growing relationships with clients or customers. They work to understand client needs, provide solutions, negotiate contracts, and ensure client satisfaction. Account managers may also collaborate with internal teams to meet client objectives and contribute to the company's revenue goals.
What does an account manager earn in the UK?
Account manager salaries in the UK can vary based on experience, location, and the industry. An entry-level account manager may earn around £25,000 to £35,000 per year. More experienced account managers can earn between £40,000 and £70,000 or more, with the potential for additional bonuses and commissions depending on the industry and company.
Land the interview for your dream job with CVMaker
Effortlessly create your professional CV within 10 minutes and download it whenever and wherever you want!
Create your CV
Increase your chances landing your dream job with CVMaker.