Civil Service CV
Opting for the Duke template, Samantha's experience within the civil service is clearly formatted in a straightforward way. Using the whole width of the page allows for enough room to further elaborate on achievements and experience if needed.
Start now
"Committed to upholding the principles of public service and contributing to the betterment of society. Personal achievements include mentoring junior members of the team and being recognised as a people leader."
Samantha Williams
- Senior Policy Advisor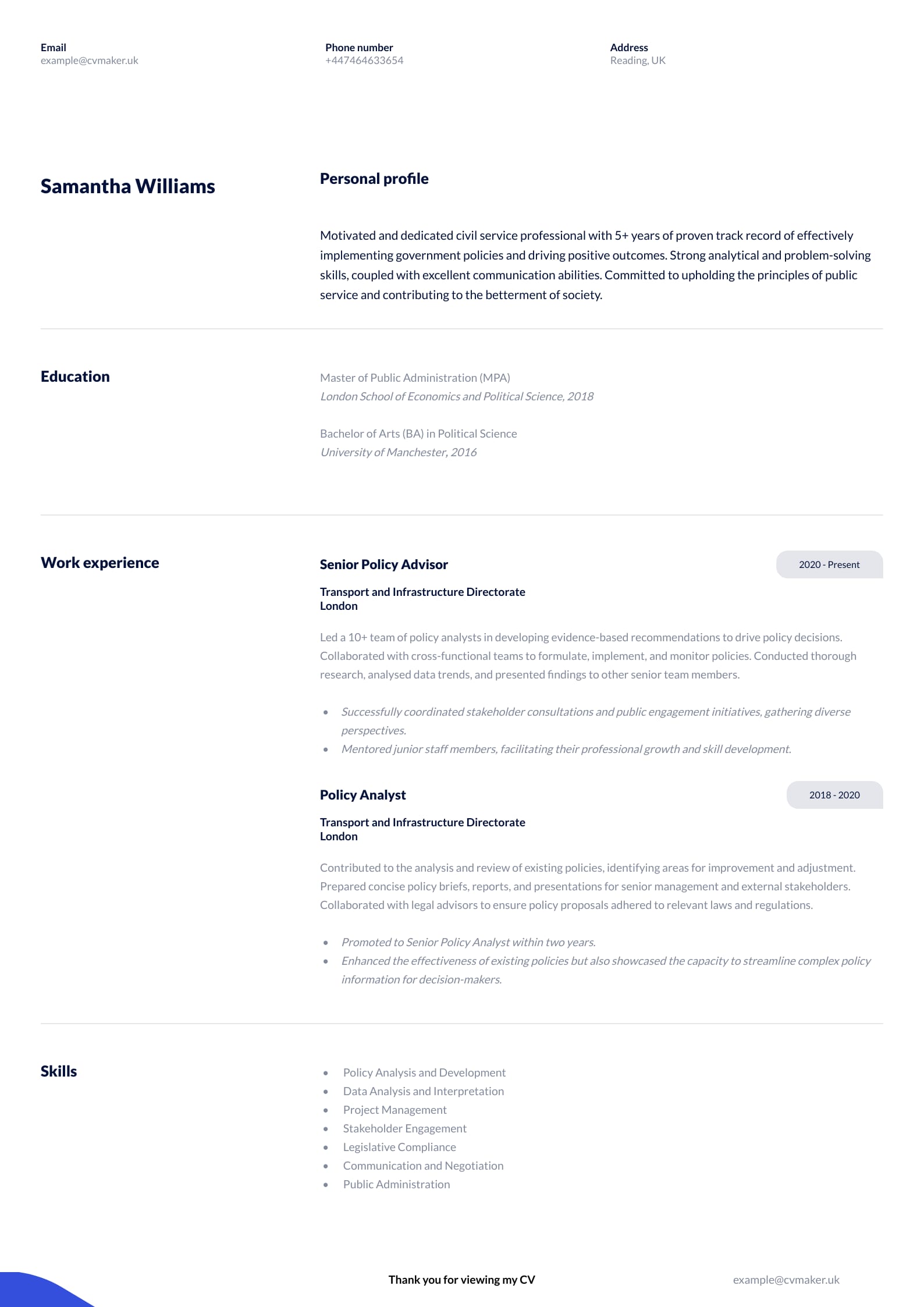 How to Write a Civil Service CV: Tips and Examples for 2023
The world of civil service offers a distinctive and rewarding career for individuals with a commitment to public welfare and a keen desire to make a tangible impact on society.
This domain values dedication and determination, making it well-suited for those who want to contribute meaningfully to various industries such as health, social care, trade, culture and sport. civil servant roles encompass diverse specialisations, each directly influencing the nation's growth and development.
In this article, we'll guide you through the process of crafting a stellar civil service CV that highlights your attributes and aligns with the sector's high expectations. We'll address the specific application criteria, ensuring that you're well-prepared to navigate this distinct professional landscape.
What does the civil service do?
As part of the government's executive branch, it handles important administrative tasks in the public sector. It puts government policies into action and has its own legal duties. Its purpose is to be independent and not influenced by politics, serving the Crown rather than Parliament. Because the civil service has a wide range of responsibilities, the jobs it offers can be very different, appealing to people from various backgrounds and skills.
Civil service career path
When you become part of the civil service, you're stepping into a profession that offers more than just a job. It provides networking opportunities, well-defined career paths, training programs and a strong sense of purpose. Moreover, there's room to explore other professional avenues too. A typical career path for a civil servant includes:
Graduate (Administrative Officer): Civil service careers often commence through the highly sought-after Civil Service Fast Stream graduate scheme. Graduates experience diverse government departments, honing skills and leadership potential while building a strong foundation.
Senior Civil Servant (Higher/Senior Executive Officer): With experience, civil servants ascend to senior roles. Here, they shape policies, ensure effective governance and contribute to the betterment of society through their expertise.
Junior Management (G7 Level): Progressing, civil servants step into junior management. They oversee projects and manage teams and resources. Their strategic input drives efficiency and impactful decision-making.
Senior Management (G6 Level): Climbing higher, senior management civil servants take charge of entire departments. Guiding crucial choices, they steer government objectives, handle resources and personnel and craft policies that resonate with society's needs.
The CV writing process: Where to start? 
Before putting pen to paper potential applicants should familiarise themselves with the Civil Service Code which promotes honesty, integrity, impartiality and objectivity. Your CV and further interactions with the civil service will need to have these attributes baked in.
Writing a perfect CV always begins with a master document. Crafting a master CV ensures that all future job-specific applications maintain the same high standards and consistency. 
A master CV will contain a solid personal statement, your entire relevant work experience, a collection of your soft, hard and technical skills, as well as all references, and any further courses and certifications on your CV.
There are plenty of career opportunities to choose from in the civil service, meaning you will probably apply for numerous positions across your career. Tweaking a master CV to make each of these applications job-specific helps you stand out as a serious candidate, whilst respecting the individual nature of any would-be new department.
Pro Tip
The Civil Service assesses candidates based on 'success profiles' including behaviours, strengths, ability, experience and technical. Be sure to cover each of these throughout your CV.
Civil Service CV example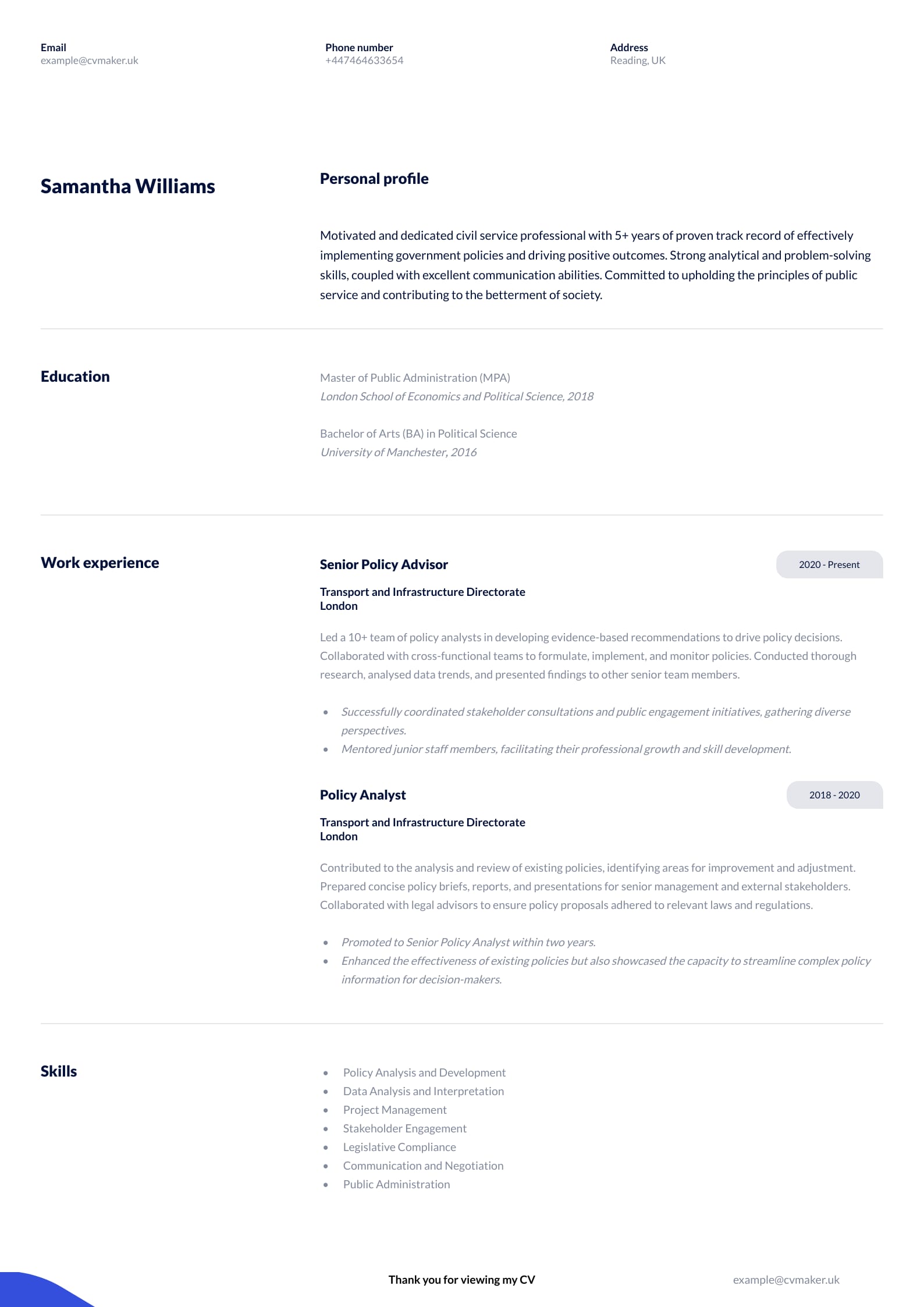 Download this civil service CV sample in PDF.
Samantha, an experienced civil servant with five years of experience, knows the importance of keeping things straightforward, impartial and professional. That's why she has opted for the Duke template. It quickly directs the reader to the most relevant information. Using the whole width of the page allows the applicant plenty of room to elaborate if needed.
What to include in a Civil Service CV? 
Competition for roles is fierce, so when writing a good CV, it's vitally important to get your unique profile across in the minimum amount of time. Employers will often use an applicant tracking system (ATS) to automatically scan the first wave of candidates. Make sure you tick the right boxes by including:
Personal profile

Work history

Education

Skills
This particular field has its own set of rules and expectations around what to include - and indeed redact - from a CV. Below are a few important considerations when drafting your document:
Competency Framework: Align your CV with the Civil Service Success Profiles, highlighting critical competencies like leadership, communication, problem-solving and collaboration.
STAR Method: Use the STAR (Situation, Task, Action, Result) method when describing your experiences, providing clear examples of how you've demonstrated the required competencies.
Key Achievements: Include specific achievements that showcase how you've made a positive impact in your previous roles, linking them to the competencies sought by the civil service.
Civil Service Behaviours: In your personal profile, demonstrate the Civil Service Behaviours, such as "making effective decisions" and "delivering at pace," in your CV by sharing relevant experiences and examples.
Quantifiable Results: Whenever possible, provide quantifiable results that demonstrate the impact of your work, whether it's in terms of cost savings, efficiency improvements or other measurable outcomes.
How to write a personal statement for a civil service CV 
The personal statement or personal profile on your CV is your opportunity to give examples of how you fit the requirements and why you should get the job.
The following steps will help tailor your skills and experience to the role you are applying for:
Stick to the provided word limit (sometimes up to 750 words).

Develop a draft offline first.

Align your statement with the requirements.

Seek a second opinion to check that what you have written is clear.

Read it again, to make sure you are happy before submission.
Environmental health intern personal statement example
Self-starting environmental health advocate, currently pursuing a degree accredited by the Chartered Institute of Environmental Health. Proficient in making effective decisions, adept at communicating and influencing and excelling in delivering results promptly. Thrives in collaborative settings, demonstrating the ability to work harmoniously within teams. On a path to contribute knowledge and skills acquired through academic pursuits to real-world scenarios in the civil service domain.
Administrative officer personal statement example 
Motivated and detail-oriented graduate with three years experience and a solid educational foundation. Proven experience in collaborative team environments underscores the ability to work effectively alongside colleagues. Proficient in IT, with data entry skills and familiarity with integrated software packages, including Windows, MS Office, email and the internet. Adept at maintaining strict confidentiality. Demonstrates adaptability in seamlessly transitioning to various office roles as needed. Strong organisational skills enable efficient task prioritisation. Effective communication extends to both written and oral interactions, spanning diverse organisational levels. Accurate and swift word processing and data input capabilities in multiple formats. The embodiment of commitment to excellence and unwavering motivation.
Senior executive officer personal statement example 
Senior civil servant with five years of hands-on experience. Collaborates seamlessly with SEA, TAG and HSSG professional advisors, ensuring a multi-disciplinary and peer-reviewed approach. Adept at employing diverse research methods, including surveys, interviews and focus groups, to comprehend requirements, challenges, preferences and policy priorities. A strong advocate for evidence-based practices, driving the integration of modern health surveillance services. Establishes robust partnerships with key stakeholders across government bodies, local health entities and scientific organisations.
What are the key skills for a civil service CV? 
Similar to other professional roles in the UK such as project manager or engineer, a candidate in this diverse sector needs to demonstrate a mix of hard, soft, and technical skills.
When listing skills on your CV consider the following: 
Soft skills

Hard skills

Communication

Policy analysis

Interpersonal

Data analysis

Organisation

Legislative knowledge

Problem-solving

Contract management

Research

Commercial awareness
If you would like to gain insight into how other potential roles present skills on CVs check our administrator and business analyst examples.
Pro Tip
When editing your master CV, always make sure your skills and experience align with the requirements of the specific job description.
How to write work experience on a civil service CV 
When detailing your work experience on a CV, it's crucial to align it with the job requirements. Customise each description to underscore skills relevant to the role, using the STAR (Situation, Task, Action, Result) model.
Whether you're listing work experience as an architect, data analyst or software developer, you should always use reverse chronological order - listing your most recent employment first.
Remember to include placements or internships as they demonstrate the practical application of skills. Whenever possible, quantify your achievements using numbers to showcase impact. Highlight transferable competencies from previous roles to display your adaptability.
Examples of work experience:
Senior civil servant | Strategic Evidence and Analysis Unit, London | 2019 - Present
Responsible for the integration of scientific research with policy-making, collaborating with various government bodies. Develop multi-disciplinary approaches, coordinate stakeholder interactions, and guide evidence-based policy. Utilise advanced data analysis tools to extract insights, underpinning robust policy decisions.
Led a cross-sectoral collaboration resulting in a 15% increase in data-driven policy adoption.

Implemented streamlined data collection methods, reducing analysis time by 20% and enhancing the accuracy of evidence used in policy formulation.
Administrative officer | Department for Administrative Affairs, London | 2017 - 2019
Assisted in formulating policies by conducting thorough research and analysis of relevant data. Worked closely with senior officers, attended stakeholder meetings and supported policy implementation. Collaborated with cross-functional teams, utilising effective communication to ensure smooth project execution.
Facilitated the successful implementation of a new digital service, resulting in a 40% reduction in response time.

Successfully contributed to the delivery of 15 policies by conducting research and collaborating with senior officers. 
Civil service intern | Department of Policy Development, London | 2016 - 2017
Supported policy analysts in researching and drafting reports on the socio-economic impacts of proposed policies. Conducted data collection and literature reviews, and contributed to drafting sections of policy reports. Utilised statistical software for data analysis, enhancing the quality of data-driven policy recommendations. Played a key role in producing reports that directly informed the revision of a major employment policy.
Compiled 300+ data points, conducted 25 literature reviews and prepared 10 detailed policy briefs.

Initiated 5 sustainable cross-department collaborations, fostering interagency communication and coordination.
Community outreach volunteer | Salford Community Center, Manchester | 2015
Collaborated with a team to organise community events, aimed at enhancing engagement and addressing local concerns. Assumed responsibility for event planning, coordinating volunteers, and promoting initiatives within the neighbourhood. Utilised effective communication and project management skills to ensure seamless event execution.
Achieved a 25% increase in event attendance

Saw a 15% rise in community participation.
Keep work experience descriptions concise, clear and results-oriented. By demonstrating how your experience matches the job's demands, you'll convey your proficiency to excel within the civil service environment.
Include your educational achievements on your civil service CV 
Completing the education section of your CV showcases the qualifications you've acquired while developing your expertise as a civil servant. Here, your formal learning contributes to your technical skills, personal growth and work history.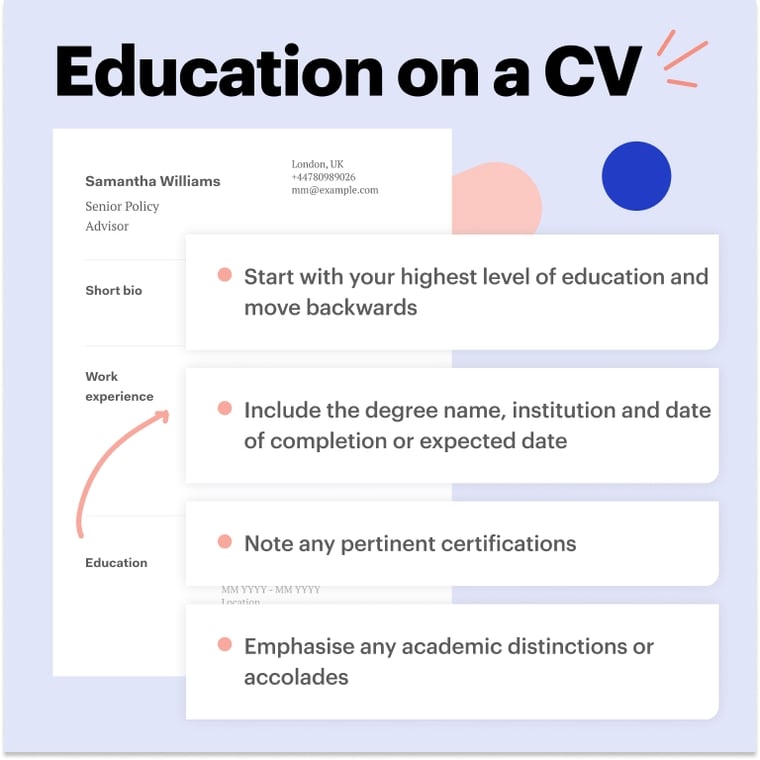 If you have little to no work experience, refer to a graduate CV example for guidance or consider a skills-based CV format to showcase education over experience. Keep the education segment succinct; a concise line for each certification captures the essential specifics.
Examples of education: 
Master of Public Administration (MPA), London School of Economics and Political Science, 2018

Bachelor of Arts (BA) in Political Science, University of Manchester, 2016
Key takeaways 
Breaking your way into the civil service is no easy task, especially with the particular application requirements to become accustomed to. Here are our five key takeaways to put your CV in the best possible position.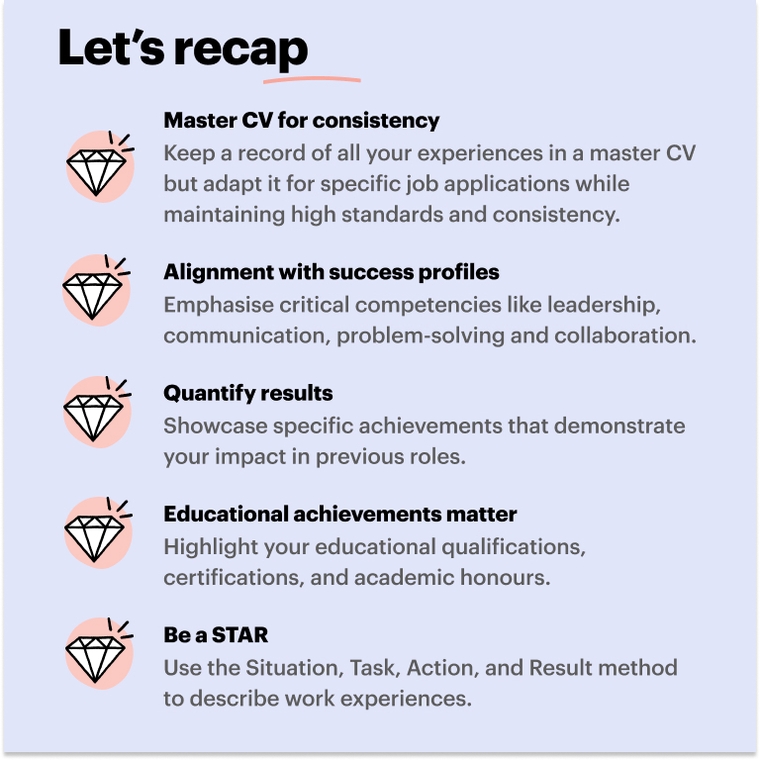 Next Steps? 
Iron out any creases using our intuitive CV builder and choose a CV template from one of our professional designs. To accompany your CV, discover our cover letter templates. If you don't want to leave anything to chance, connect with our professional CV Writing Service. Save time and easily select the CV example within the builder and tailor it to your needs.
FAQ 
How long should my CV be for a civil servant position?
Aim for conciseness, around 2 pages, focusing on key experiences relevant to the role. Highlight quantifiable achievements.
What is a standard CV UK format for the civil service?
Follow the UK standard format, including personal info, skills, work history, education and references. Tailor it to the specific role.
What is a personal statement for a civil service job application? 
A comprehensive introduction showcasing your unique offer. For civil service applications, these can be around 750 words or more. Personal statements assess your skills, experiences and suitability for the role. Showcase alignment with Civil Service competencies.
What is a civil service industry placement? 
A civil service industry placement is an opportunity to gain practical work experience within the Civil Service, enhancing your skills and understanding of its operations.
How do I find the right match for me in civil service? 
Research roles that match your skills, values and interests. Explore Civil Service job listings, descriptions and career pathways.
Do you need a CV for civil service fast stream?
While it is not mentioned on the Fast Stream application website that a CV is mandatory, it is good practice to attach one to your application. Highlight your competencies and align them with the program's requirements.
Do I need a degree to become a civil servant?
While a degree is common, it's not a universal requirement. Relevant experience, skills and qualifications can also be considered for entry into the civil service.
Land the interview for your dream job with CVMaker
Effortlessly create your professional CV within 10 minutes and download it whenever and wherever you want!
Create your CV
Increase your chances landing your dream job with CVMaker.