Civil Engineer CV
With a reputable track record of successfully completing complex projects on time and within budget. Henry selected the Harvard CV template to showcase his key skills, education, and work experience as a Civil Engineer in the UK.
Create CV
"Established Civil Engineer with over 5 years of experience designing and managing infrastructure projects. Committed to delivering high-quality solutions with a strong understanding of engineering principles."
Henry Brown
- Civil Engineer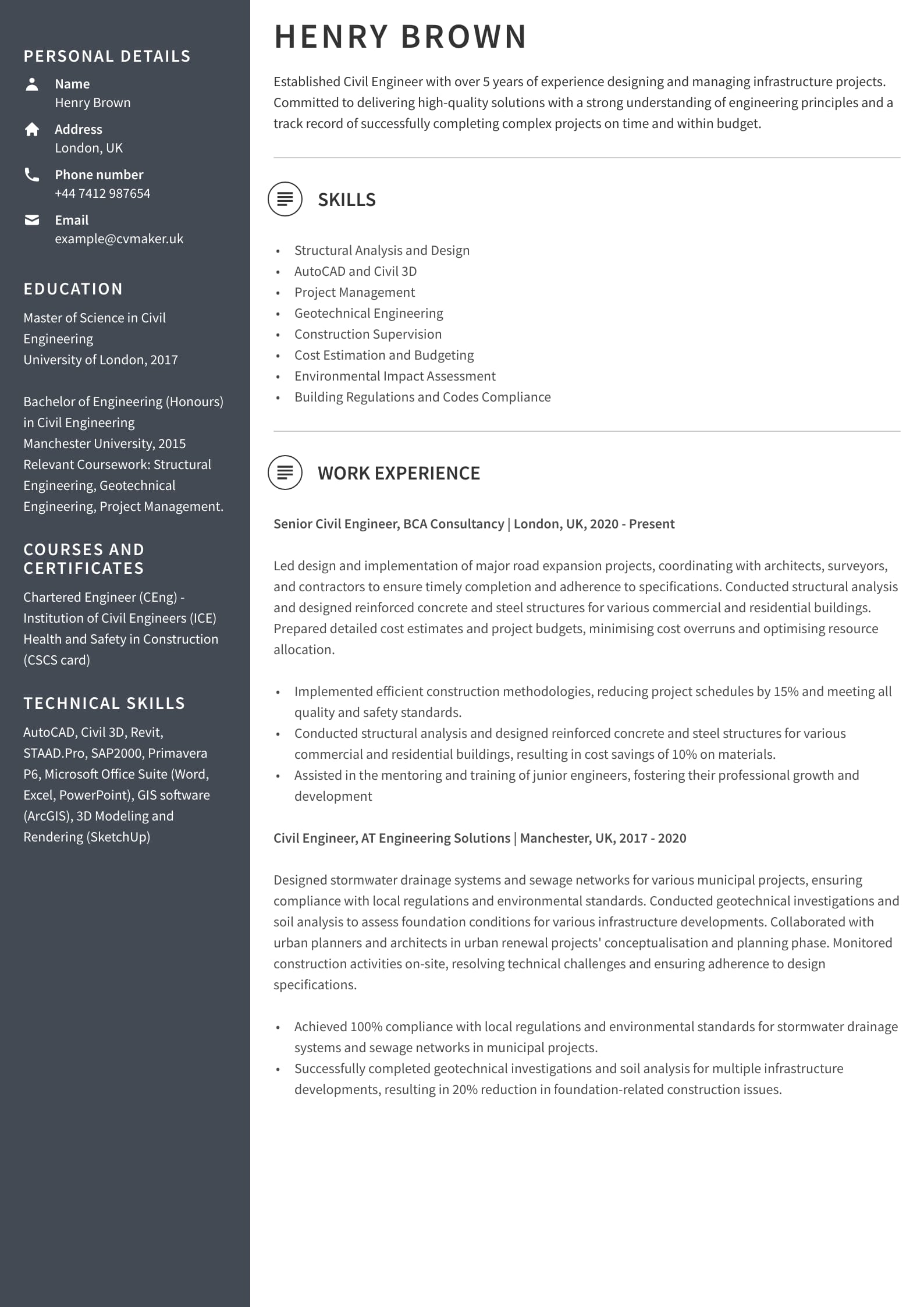 Civil Engineer CV Example and Writing Guide 2023
In the ever-evolving landscape of the modern world, the role of civil engineers stands at the forefront of shaping our societies. They play an important role in designing, constructing, and maintaining the infrastructure that surrounds us, from towering skyscrapers to expansive road networks and sustainable water management systems. Their work ensures the functionality and safety of our built environment and contributes significantly to economic growth and environmental sustainability. 
Within the engineering sector, the roles can vary, encompassing entry-level to senior positions, including but not limited to a range of specialised fields such as structural design, marine, environmental, construction, hydraulic engineering, transportation, and geotechnical engineering.
In this article, we delve into how to write a civil engineering CV by exploring what makes a good CV and provide a civil engineer CV example. Learn more about how to write a civil service CV to help you further.
The CV writing process: Where to start?
A CV is a personal marketing document, but many people forget that a generic CV might be detrimental to your job search. This is why we recommend considering the below. Start by creating a master CV that can significantly enhance the effectiveness of your writing process. A master CV is a comprehensive repository capturing all your skills, education, work experiences, and additional training or achievements. This consolidated document empowers you to tailor your applications and create job-specific CVs for different positions.
As you venture into applying for various roles, customising your CV to align with your specific job targets becomes imperative, as it heightens your chances of securing your desired positions by passing applicant tracking systems (ATS). To gain more insights into specific roles within the field, you can explore the diverse career opportunities in the UK through resources such as the prospects or the Institution of civil engineers (ICE).
Civil Engineer CV example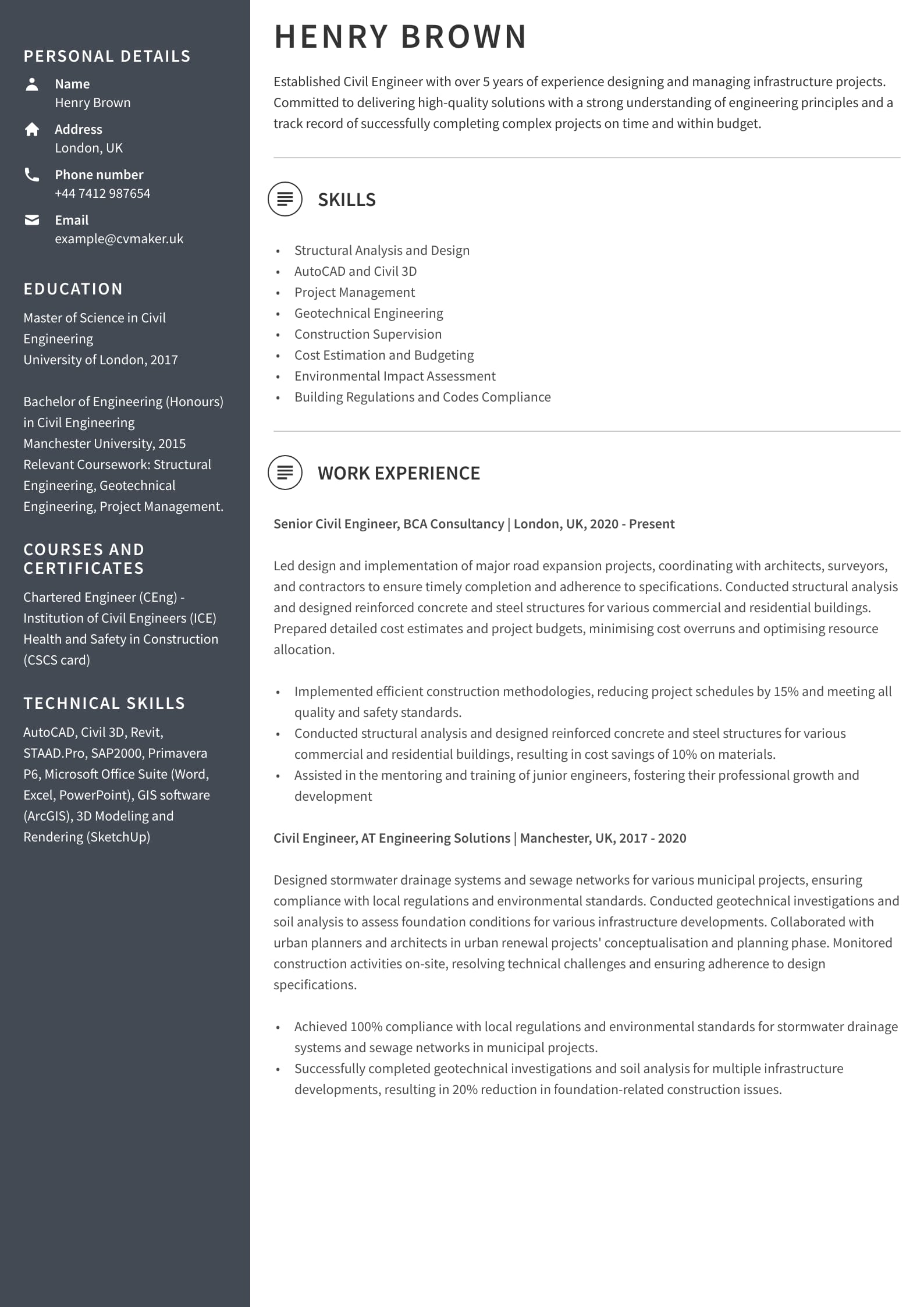 Download this Civil Engineer CV sample in PDF
Henry Brown, a seasoned and accomplished Civil Engineer, has opted for the Harvard CV template. With a deep understanding of core engineering principles, Henry's CV showcases his abiliy to provide expert guidance on complex civil engineering projects.
What to include in a civil engineer CV? 
When tailoring your CV for a specific job, ensure it highlights your qualifications and expertise pertinent to the desired role. Begin with your personal details and ensure to include a concise, professional profile outlining your career goals and key strengths. Showcase your relevant education, including degrees, certifications, and licenses that align with the industry's demands.
Include your full name, contact details (address, phone number, email), and LinkedIn (if available).

A brief paragraph highlighting your experience, skills, and career goals. 

List your educational qualifications, starting with the most recent degree. 

Detail your work experience, starting with the most recent job. 

Showcase your relevant technical and soft skills. 

List any relevant certifications, licenses, or professional affiliations you hold, such as being a licensed Professional Engineer (PE).

If applicable, highlight significant projects you have worked on, detailing your contributions and outcomes.

Mention any accolades, awards, or recognition you have received for your work.

Provide a list of software and tools you are proficient in, such as AutoCAD or Revit.

If you are fluent in multiple languages, it can be beneficial to include this information, especially if you are applying for international projects.

If you have published relevant research papers or given presentations at conferences, mention them.

Include "References available upon request" or provide professional references' names and contact information if required.
Pro Tip
A valid criminal record check (DBS) is often necessary for civil engineering positions in the UK. Be prepared to provide this document to potential employers as it demonstrates your eligibility and reliability.
Refer to our modern CV or simple CV examples for more information on different formats and templates.
How to write a personal profile on a civil engineer CV? 
Writing a compelling personal profile, also known as a professional summary or personal statement, is essential for grabbing the attention of potential employers and showcasing your unique qualities.
Keep your personal profile brief and focused by writing between 4 and 6 sentences highlighting your key soft skills, qualifications, and career goals.

Adapt your profile for each job application by researching the specific requirements of the position you're applying to.

Highlight your areas of expertise, mentioning specialised skills or knowledge you possess that set you apart from other candidates.

Incorporate industry-related keywords and phrases that recruiters might be looking for.
Graduate civil engineering CV personal profile
Enthusiastic and driven graduate civil engineer with strong academic foundation and keen desire to contribute to impactful infrastructure projects. Eager to apply theoretical knowledge gained from coursework to practical engineering challenges. Quick learner with excellent problem-solving skills, seeking opportunities to learn and grow within a dynamic engineering team.
Junior civil engineering CV personal profile
Dedicated junior civil engineer with hands-on experience in construction project support and a demonstrated ability to collaborate within multidisciplinary teams. Proficient in utilising industry software and maintaining quality control standards. Committed to continuous skill development and embracing new challenges to contribute to the successful execution of complex engineering endeavors.
Senior civil engineering CV personal profile
Seasoned senior civil engineer with extensive background in managing and overseeing large-scale infrastructure projects. Proven track record of delivering projects on time and within budget while maintaining the highest quality standards. Adept at leading cross-functional teams and harnessing innovative solutions to address complex engineering issues, demonstrating leadership in the field.
Pro Tip
Consider creating a section for career accomplishments or incorporate quantifiable achievements, such as the number of successful projects you've managed or their value, into the work experience section.
What skills should I put on my CV for a civil engineer job?
Skills on a CV are essential because they provide potential employers with valuable insights into your capabilities and qualifications. They are a snapshot of your competencies and experiences, helping recruiters or hiring managers determine whether you possess the necessary skill set to excel in the position they seek to fill. Different types of skills serve distinct purposes and play various roles in showcasing your suitability for a job:
Hard skills are specific, measurable abilities that are typically acquired through formal education, training, or certification. 
Construction Materials and Methods

Surveying and Site Layout

Project Management.
Soft skills are non-technical, interpersonal qualities that relate to how you interact with others and handle various situations in the workplace. 
Problem-Solving

Written and Verbal Communication

Building Relationships with Clients and Stakeholders.
Transferable skills are abilities that can be applied across different roles and industries. They are versatile and not specific to a particular job. When listing transferable skills on your CV, try to provide examples of how you have applied them in past projects or experiences. 
Adaptability

Flexibility

Attention to Detail.
Technical skills are a subset of hard skills and refer to specific abilities and knowledge related to a particular field or industry. 
CAD Software: AutoCAD, Civil 3D, Revit, MicroStation.

Structural Analysis Software: STAAD.Pro, SAP2000, ETABS.
Pro Tip
Create a separate section for technical skills where you list specific software or specialised design engineering tools and programs.
How to write work experience on a civil engineer CV
When writing work experience, follow these tips to effectively showcase your professional background and achievements:
List your work experience in reverse chronological order, starting with your most recent or current position. 

Highlight any notable achievements, successful projects, or contributions you made during your tenure. 

Mention any specific technical skills or software you utilised in your work, especially if they are relevant to the job you're applying for.

If applicable, demonstrate your career growth and increasing responsibilities over time.
Civil Engineer, BC Consultants, London, UK | 2019 - Present
Led a team of structural engineers in designing and analysing the foundation and structural systems for a high-rise commercial building, ensuring compliance with local building codes and standards. Utilised AutoCAD and Revit to create detailed engineering drawings, facilitating effective communication with architects, contractors, and clients. Conducted site visits and inspections to verify construction progress and adherence to engineering specifications, resolving technical challenges as they arose.
Completed construction projects with budgets up to £10M, overseeing all stages from planning to execution and ensuring on-time delivery and quality workmanship

Implemented sustainable design practices, resulting in 20% reduction in energy consumption in a LEED-certified project.
How to add education to a civil engineer CV
When adding education, follow these steps to present your engineering qualifications effectively:
Place your education section below your personal profile. If you are a recent graduate or have no work experience, you can position the education section above the work experience section.

Use a simple and organised format to present your education details. List each educational qualification as a separate entry.
Include the following information:
Full name of the degree or qualification

Name of the educational institution where you studied

Location 

Graduation year, expected graduation year, or in progress

Honours, awards, or distinctions received (if applicable).
Bachelor of Science in Civil Engineering, London University, UK | 2021
Relevant Courses: Structural Analysis, Geotechnical Engineering, Transportation Engineering, Environmental Engineering.
Pro Tip
Include only relevant educational qualifications. In most cases, this will be your highest completed degree in civil engineering. If you have multiple degrees, include the most recent and highest level of education first.
If you have completed any relevant courses or certifications, you can include them in a separate section or under the education section.
Key takeaways
In conclusion, crafting the perfect CV for an engineering job in the UK is a strategic process that requires attention to detail and a tailored approach. Following the guidelines outlined in this article, you can maximise your chances of reaching out to potential employers and securing their desired positions.
The key to success lies in presenting a well-structured CV that begins with a clear personal profile, highlighting relevant skills, education, and career aspirations. With a compelling and well-crafted CV, professionals can confidently navigate the job application process, knowing they have positioned themselves for success in pursuing fulfilling and rewarding opportunities in the dynamic landscape of the UK's engineering sector.
Next steps?
For aspiring civil engineers, ready to advance their careers or improve their CVs, explore our extensive selection of CV templates and CV examples that can be easily tailored to your career goals. Our CV Writing Service can also save you time and effort if you are writing a CV with no experience. In addition, to enhance your job application further, we recommend familiarising yourself with how to start a cover letter to make the best impression on potential employers and land your dream role.
FAQ
How do I write a good CV for civil engineering?
The article states that a good CV should have a clear and concise personal profile summarising your skills, experience, and career objectives. Additionally, it should highlight your skills, and include relevant educational qualifications, certifications, and any specialised training in civil engineering. Furthermore, a detailed work experience section, focusing on significant projects, responsibilities, and accomplishments.
What are civil engineering duties in a CV?
Typical duties include:
Designing and analysing structures, roads, bridges, and other infrastructure projects.

Conducting surveys and site investigations.

Preparing technical drawings and reports.

Collaborating with architects, contractors, and stakeholders.

Overseeing construction projects and ensuring compliance with regulations.

Evaluating environmental impact and implementing sustainable practices.

Managing project budgets and timelines.

Solving complex challenges and proposing innovative solutions.
What should I write in my engineering CV?
You should include the following sections:
Personal Profile

Education

Work Experience

Skills

Licenses

Professional Memberships.
If you have limited experience, consider a skills-based CV format. Alternatively, if you are considering a new career, check out our career change CV example. 
What is civil engineering?
Civil engineering is a branch of engineering that deals with the design, construction, and maintenance of infrastructure and public works. It encompasses various fields. For more inspiration, refer to our engineer CV example. 
How much do civil engineers make in the UK?
Civil engineering salary in the UK varies based on factors like experience, location, and company size. On average, entry-level civil engineers earn between £23,000 to £37,000 per year. With several years of experience, the salary can increase to around £44,000 to £67,000 annually. Senior civil engineers or those in managerial roles may earn £70,000 or more. 
Who does a civil engineer work with?
Depending on the project or company, they may work for a Contractor, Owner, Developer, or Program Manager. They can report to Project Managers, Construction Managers or Design Managers.
What makes a good civil engineer?
A good civil engineer should have excellent project management skills, effective leadership, technical competence, creativity, and communication. The most important skill they should have is the ability to problem-solve as the projects worked on can be complex, and they are involved in every stage.
How to become a professionally registered engineer?
According to Engineering Council, the requirements for Engineering Technician (EngTech), Incorporated Engineer (IEng), and Chartered Civil Engineer (CEng) can be found in the UK Standard for Professional Engineering Competence (UK-SPEC). Those for ICTTech are in the ICTTech Standard.
Land the interview for your dream job with CVMaker
Effortlessly create your professional CV within 10 minutes and download it whenever and wherever you want!
Create your CV
Increase your chances landing your dream job with CVMaker.