Engineer
Michael is an experienced Mechanical Engineer with five years of experience solving complex, real-world problems with innovative engineering designs. Michael has opted for the Stanford template, a clean, modern engineering CV.
Create your CV
"Qualified Mechanical Engineer with a Master of Engineering in Mechanical Design and Engineering Management. Creative problem solver, adept at collaborating with teams and key stakeholders to collect requirements and identify tasks. Swift learner, proficient in cultivating positive relationships and known for solid team collaborations while consistently delivering on time."
Michael Burton
- Mechanical Engineer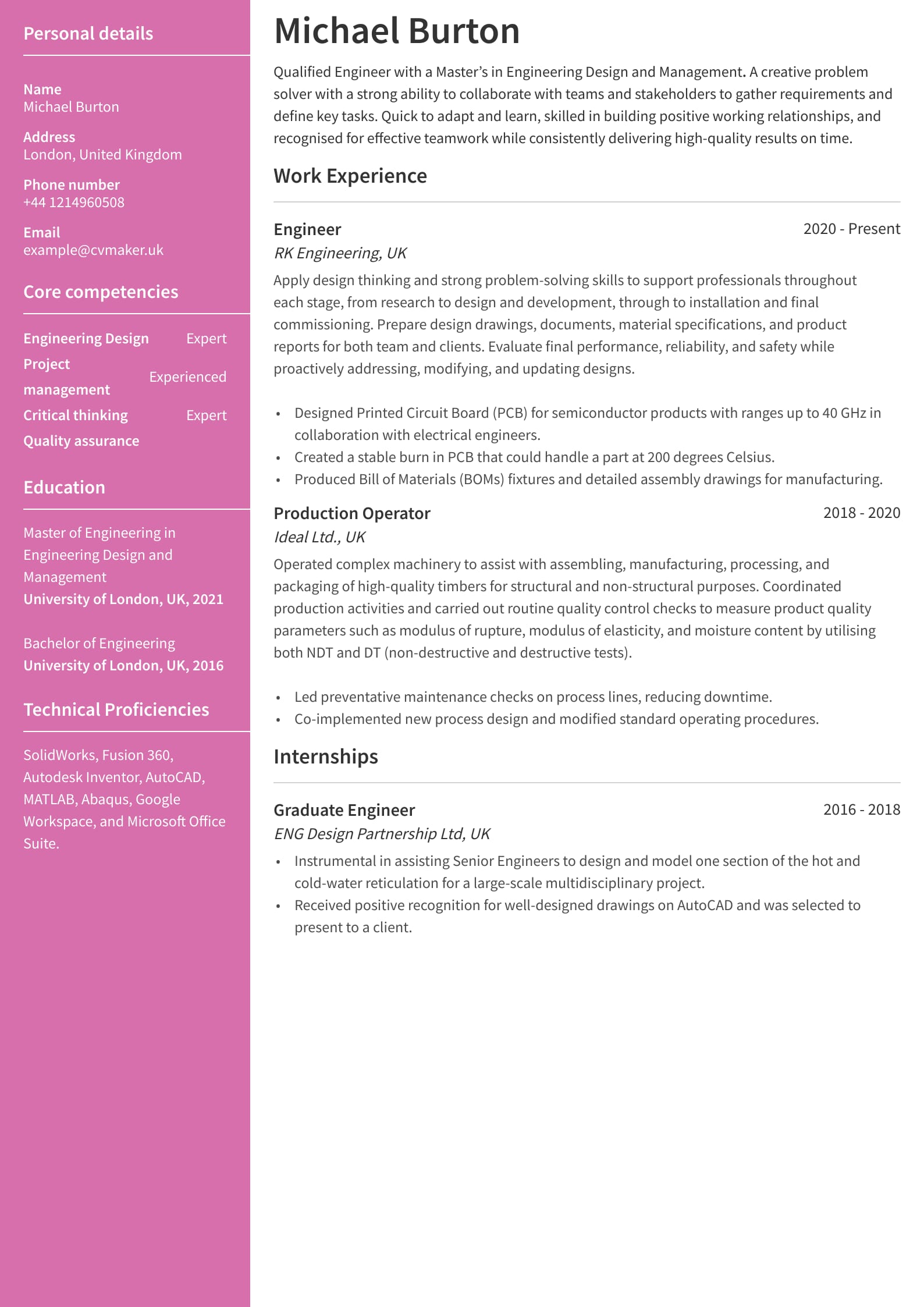 How to write an engineering CV
If you are ambitious and enjoy solving real-world problems, then a career in engineering might be for you. Whether you are an experienced engineer or just starting your career, this CV writing guide will provide insight into how to write an engineering CV and industry-standard tips to help you land more interviews.
Engineering is a broad-scope profession that includes but is not limited to:
Mechanical Engineer

Civil Engineer

Electrical Engineer

Software Engineer or Computer Engineer

Network Engineer

Industrial Engineer

Chemical Engineer

Aerospace Engineer

Sound Engineer
This article will benefit you if you've read about engineering CV examples but have yet to receive the practical steps to construct the finished product. It features the differences between writing an entry-level engineering CV and writing for an experienced professional. It includes a mechanical engineer CV example and expert advice on word choice, format, and structure per section.
The CV writing process: Where to start?
Regardless of your experience, it is a challenge to create a CV that stands out among a sea of applicants. A CV is typically the most in-demand career document required when searching for a job, so you must use the correct tools and techniques. In today's world, appearances count for a lot, but several factors must be considered. They include content, writing strategy, format, template, and additional career-related documents. In the end, the core CV sections typically include your relevant work experience, education, and key skills that target and align with your career goals. Our mechanical engineer CV example offers a practical instance of using these tips to create maximum impact. 
For more advice, see the article on how to improve your CV.
While each CV section has a unique writing strategy, the format for an engineer CV follows the same blueprint. So, if you're ready to learn how to write a CV for an engineer, let's get started.
Master CV for an engineer
Despite diverse specialities in the engineering field, a CV should follow a similar writing approach. Your specifics included in the CV must be customised to fit the exact requirements. Nevertheless, writing a CV is about following a structure and a plan to help you organise the content. We advise creating a word or Google document with all your career-related information. This will be your master CV or a working document where you can list all sections, add and edit content, and finally format it if you don't use a mechanical engineer CV template.
Pro Tip
CVMaker advises keeping track of your achievements and daily duties at every job. That way, when updating your CV, you can easily refer to this document to refresh your memory.
Job-specific CV for an engineer
A career in engineering is a challenging journey, you need to research the specific engineering field. When tailoring your CV to a specific role, refer to your existing research or conduct new research on a position of interest to ensure you are using the correct keywords and skills that are both relevant and accurate. Making a job-specific CV may seem more time-consuming, but you are guaranteed to reap the rewards with a well-written, job-specific CV.
Engineer CV Example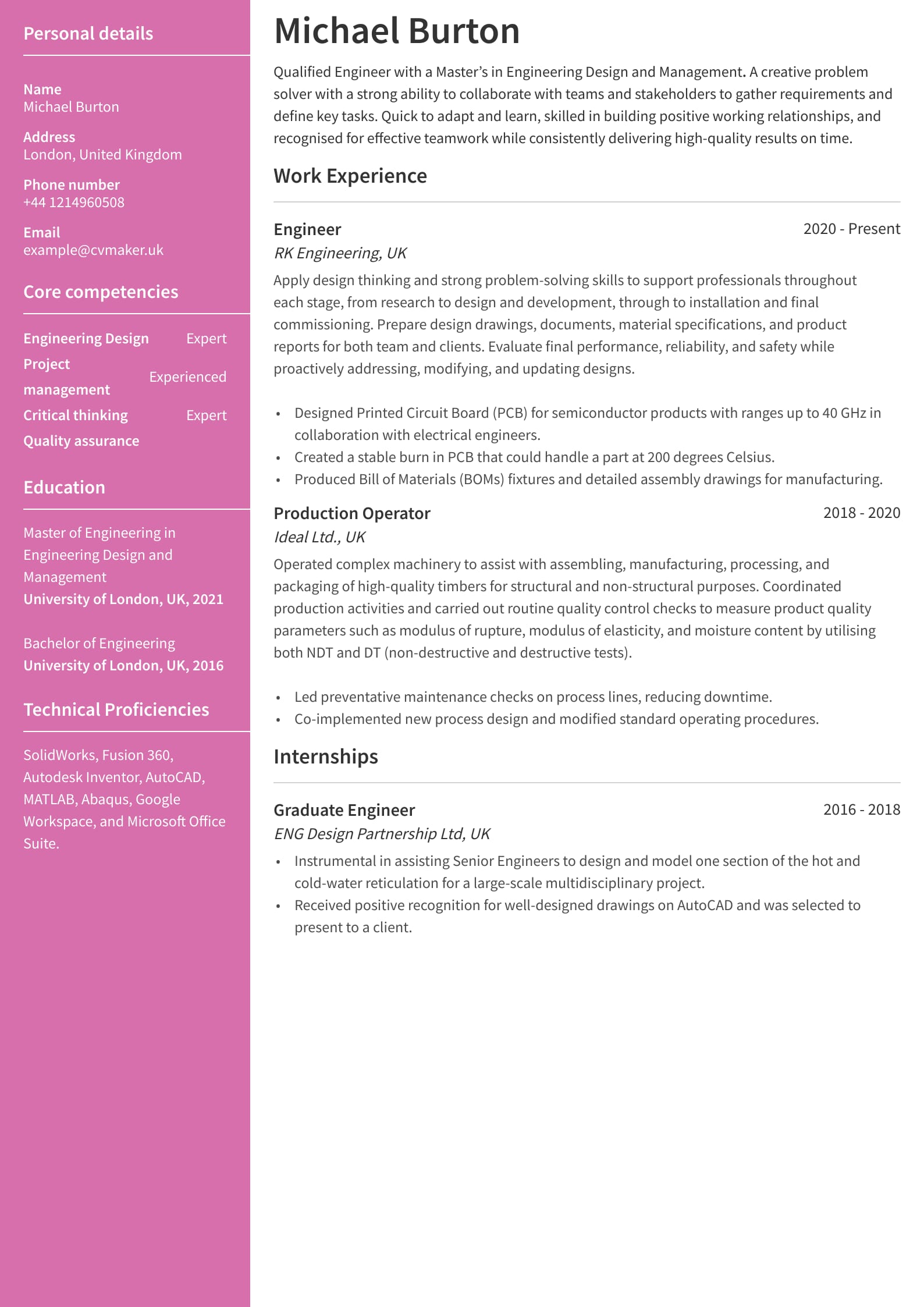 Download this CV example in PDF - Mechanical Engineer.
Michael is an experienced Mechanical Engineer with five years of experience solving complex, real-world problems with innovative engineering designs. He is a creative problem solver seeking a new challenge. Michael has opted for the Stanford template, a clean, modern engineering CV.
What to include in an engineer CV? Tips and examples
Every engineer understands the importance of a plan. Regardless of the scope or size of a project, the best engineers take time to analyse the objectives, goals, hurdles, budgets, and every variable before starting. Fortunately, writing an engineering CV is relatively straightforward. 
The truth is that the project's size or scope is irrelevant when creating your CV structure. The CV example for an engineer in this article is an excellent example of the same primary sections you'll include with any speciality. Take some time to review this Mechanical Engineer CV example, paying close attention to the layout, style, and some of the creative wording we've used to communicate skills, experience, and engineering jargon. 
When deciding what engineering CV format or template to use, experts at CVMaker recommend following a clean, clear, and well-structured layout while avoiding a graphic-heavy template. In the end, the main aim of a CV is to showcase information that is relevant to the job. There are certain preferred and optional sections on a CV. Once you have populated your job-specific CV with pertinent information, carefully assess what optional information would still be beneficial to include. For more information, refer to the article on how to write a good CV.
How to write a personal profile for an engineer CV
An engineer CV objective or a summary is a written elevator pitch outlining your application and CV Cover Letter information. A good personal profile can contain your title, experience, career goals, and soft skills pertinent to the jobs you are targeting. It's an excellent opportunity to provide further details that might grab the reader's attention, automated technology solutions, and hopefully, the hiring manager's interest.
The best way to structure this section is to write down those hard and soft skills crucial for being an exceptional engineer within your master CV document.
If you want to know more, read our personal profile article.
Examples of personal profiles for engineers
Entry-level engineer
Recently qualified Mechanical Engineer with a Master of Engineering in Mechanical Design and Engineering Management. Creative problem solver, adept at collaborating with teams and key stakeholders to collect requirements and identify tasks with strong problem-solving, research, and analytical skills. Swift learner, adept in cultivating positive relationships and known for solid team collaborations while consistently delivering on time and upholding high-quality control standards.
In the first sentence, you'll notice that they have expressed interest in applying for the specific job. This introduces another practical example of being detail-oriented. The extra effort to show that type of personalisation is the first item that separates your CV from the stack of other candidates. As you continue, you'll notice recently completed education, current certifications, and those soft skills relevant to this industry and job. Finally, the rest of his CV explains the interpersonal skills that make him a great employee and teammate.
Now, let's change it to show you an experienced applicant. You'll notice initially that the first sentence is the same. However, it showcases previous years of experience and critical accomplishments instead of focusing on his education and certifications. He finishes the CV summary by displaying his interpersonal skills – just like the entry-level position.
Experienced engineer CV
Ambitious Software Developer with 10+ years of experience across the full software development life cycle (SDLC), including design, implementation, and testing. Influential team player and swift learner, adept at cultivating positive relationships and known for solid team collaborations while consistently delivering on time and upholding high-quality standards. Creative problem solver, experienced in creating high-quality code that is clean, scalable, and reusable.
Pro Tip
Writing this section of your CV in a professional tone is always preferable. Having a CV summary that is at most 150 words is preferred. Read it out loud several times to make sure it sounds natural. 
What skills to put on an engineer CV?
An engineer can have many personality traits, but something that most engineers share among them includes technical and analytical abilities, attention to detail, and an insatiable curiosity to make a difference. When it comes to adding skills to an engineer CV, it is quite straightforward. Skills on a CV should be balanced between hard, soft, and transferable skills. In some cases, for engineering, you will need to elaborate on technical skills such as software and tools. Refer to the skills article for more information. 
A hard skill is most commonly gained through training, school, or work experiences and typically can be proven. Soft skills refer to character traits, interpersonal skills, and professional attributes that are developed and sharpened in your daily life. A transferable skill can be categorised into hard, soft, or even more technical skills, such as a specific program or tool. 
Examples of hard skills 
Agile Project management

Site management

CAD/AutoCAD engineering software

Process management

Advanced physics

Structural analysis
Examples of soft skills
Problem-solving

Critical thinking

Attention to detail

Collaboration

Time management

Communication 
Examples of transferable skills
Analytical skills

Adaptability

Interviewing

Teamwork

Public speaking

Budgeting
Examples of technical skills
SolidWorks

Fusion 360

Autodesk Inventor

AutoCAD

MATLAB

Jira and Confluence 
Work experience on an engineer CV: How to include it with tips and examples
The employment history should match what you've stated in your application. This is to ensure uniformity, which leads to honesty and transparency. We propose listing your most recent projects relevant to the role you're seeking for an engineer. However, before selecting your previous jobs, reviewing the job description is a great idea to ensure you have the relevant experience they seek. Refer to our tips on how to write a CV with no experience if you are changing careers or lack work experience.
CVMaker recommends listing your experience in reverse chronological order (or current to oldest). Include the company's name, the dates of employment, and the location while differentiating between duties versus key achievements. This will give the company an idea of your practical work experience, especially if they are looking for someone with your experience. Refer to the work experience on a CV blog for more information. 
How to list education on an engineer CV
While many job seekers believe that they should list their educational history from elementary to doctorate degree, the fact is that employers simply care about the highest level of study completed. Keep in mind that education can be formal or informal. For example, many software engineers today are self-taught through boot camps or other online courses. 
However, to become a qualified engineer in the UK, you must complete a bachelor's degree and preferably honours from an accredited university. If you are an engineering student with little to no experience, draw the attention of your CV to your education. Alternatively, if you have multiple degrees and extensive work experience, we recommend including your degree types, such as MEng, in your summary while briefly mentioning your education on your CV. 
The information you need to post in your education section is simple. Just list the name of the school, its location, dates, and the degree, diploma, or certificate earned. This will be acceptable for hiring managers and recruiters for engineering design CVs. If you have little to no experience, include projects, relevant courses, and high grades to make your CV stand out. Refer to our skills-based CV example or graduate article if you are a recently qualified engineer. 
What certifications to include for an engineer CV? 
This section varies depending on the type of engineer position you're targeting. Most jobs will not require a specific certification or licence. However, certifications in some engineering specialities or manufacturing processes help gain a competitive advantage. Some of the critical certifications you may want to list on your engineering CV include:
Level 3 Engineering, City & Guilds

Level 2 Certificate in Engineering Operations, City & Guilds

PMI Agile Certified Practitioner (PMI-ACP)

CompTIA Security+

ASQ Certified Quality Engineer (CQE)
So, how do you go about putting this section together? It's straightforward. List all your current certifications - that's all there is to it. Including those relevant to the job you're applying for is key. As the certification section can be expansive, it's a good idea to format this simply. We recommend following the format – listing the certification's name, date, and completed dates.
See the courses and certificates article for more information about the difference between courses, certifications, licenses or professional training.
Key takeaways
With insight into what makes a good engineering CV and the importance of tailoring your CV to a specific job, you are already one step ahead of the competition. As an engineer, you've trained hard to devise practical solutions to problems by following an established process. Hopefully, after reading this article, you understand that following our process is just as simple as writing a CV for a Mechanical Engineer.
The key thing we want you to take away from this article is the need for consistency and attention to detail. You might craft the most beautiful CV to persuade the sternest reader to weep. Still, if your real-world experience doesn't add up or differs significantly from what's detailed on your application or cover letter – this can raise red flags. 
When you follow these tips and use a professional CV template, your engineer CV will look great, read well, and hopefully land you that all-important interview.
Here are some additional tips to consider:
Always write your CV on a plain white background with black font.

Edit the document several times through Grammarly and then share it with a few peers to gain their perspective.

Ensure it's well-spaced, organised, and professional.

Make sure your contact information, previous employment history, and education exactly match what you've stated on your application or cover letter.

Edit the CV using Grammarly or a comparable online editor.
Next steps?
Need to polish some inconsistencies in your text or improve your writing? Check out our CVMaker website for professional CV Writing Service or our easy-to-use CV Builder. 
FAQ
Why choose a career in engineering?
If you want to make a real impact and difference in the world, consider a career in engineering. Engineers are innovators, critical thinkers, and problem solvers. They create transportation systems, unlock new ways to clean the environment, build sustainable software, or even find alternative sources of energy.
What is the main objective of an engineer CV?
A CV is a personal marketing document that, regardless of your experience or field of study, should be kept clear, concise, and targeted towards your career goals. The objective is to land more interviews to make your CV stand out by selecting the right template and adhering to a well-structured layout. For more information, see our tips on how to improve your CV.
Which engineering degrees are the best?
Your field of choice depends purely on your interests and the types of projects you wish to work on problems you wish to solve. Before specialising, take the time to research what the different types of engineering roles entail. 
Is engineering a good career choice in the UK?
Engineering is a great field to work in as it allows financial security and you to expand your horizons abroad. As an engineer, you are more likely to have the opportunity to work abroad as a specialist since you will become an expert in your field. 
Where can I apply for engineering jobs?
Engineering jobs are generally not advertised on search engine sites. In most situations, qualified people in the field will contact suitable individuals locally to fill the opening if a position becomes available. However, this is only sometimes the case.
Land the interview for your dream job with CVMaker
Effortlessly create your professional CV within 10 minutes and download it whenever and wherever you want!
Create your CV
Increase your chances landing your dream job with CVMaker.