Computer Science CV
Michael has chosen to use the Harvard template to give a clear indication of his skills, education and personal details along the left edge while leaving plenty of room for his work experience, certificates and personal profile.
Start your CV
"Results-driven computer scientist with 5+ years of experience as a Senior Software Engineer. Successfully led a cutting-edge web application, revamping user interface, resulting in a remarkable 65% increase in user engagement and a boost in customer satisfaction."
Michael Seymour
- Senior Software Engineer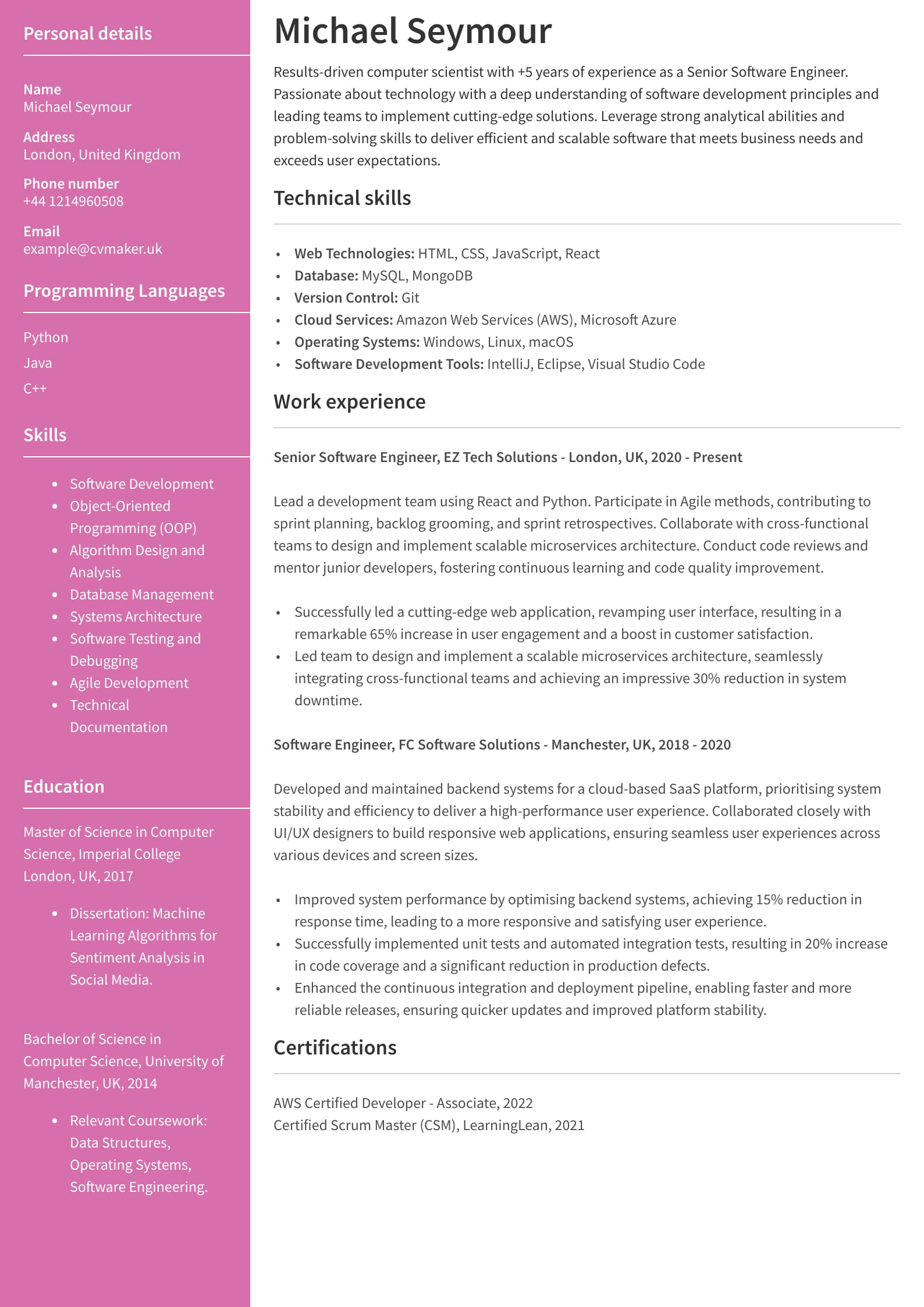 How to Write a Computer Scientist CV Guide with Tips and Examples
In the swiftly changing world of technology, computer scientists are right at the centre. The profession has seen incredible developments over the past few years, influencing every aspect of modern life, from advancements in artificial intelligence to the widespread use of smart devices.
Stepping into a computer scientist role in the UK opens up a world of possibilities. Whether you're looking to land a job as a:
This exciting sector offers diverse career paths. The demand for these experts spans sectors like finance, healthcare, and entertainment, showcasing the field's wide-reaching impact.
Crafting an application tracking system (ATS)-friendly CV is essential - and we're going to show you how to do it. This CV example guide walks you through how to position your academic achievements, showcase soft and technical skills, highlight relevant projects and structure a well-rounded work history.
Developing a compelling CV is your password to unlocking numerous exciting career opportunities within the realm of computer science in the UK.
The CV writing process: Where to start? 
Depending on the role you could be developing new hardware, drawing insights for further research, or implementing novel computing techniques and materials, all while honing expertise in various computer technologies.
So, knowing where to begin for each position you apply to can seem like a task with insufficient parameters supplied - to use an industry term.
A winning CV is more than just your combined skills and experience. And just like in other fields such as finance, healthcare or teaching, it's important to customise your CV to the job.
Whether you're a recent graduate, applying for an entry-level position or are a senior expert, we always recommend starting with a master CV. This is a detailed document that includes everything you could offer a possible employer. Even though you won't send this out, putting effort into making a good master CV is valuable. It is the base for all the job-specific CVs such as a game programmer CV or python programmer CV.
This approach not only saves you time in the future but also ensures that your applications are unique enough to catch attention while still being consistent.
Computer Science CV example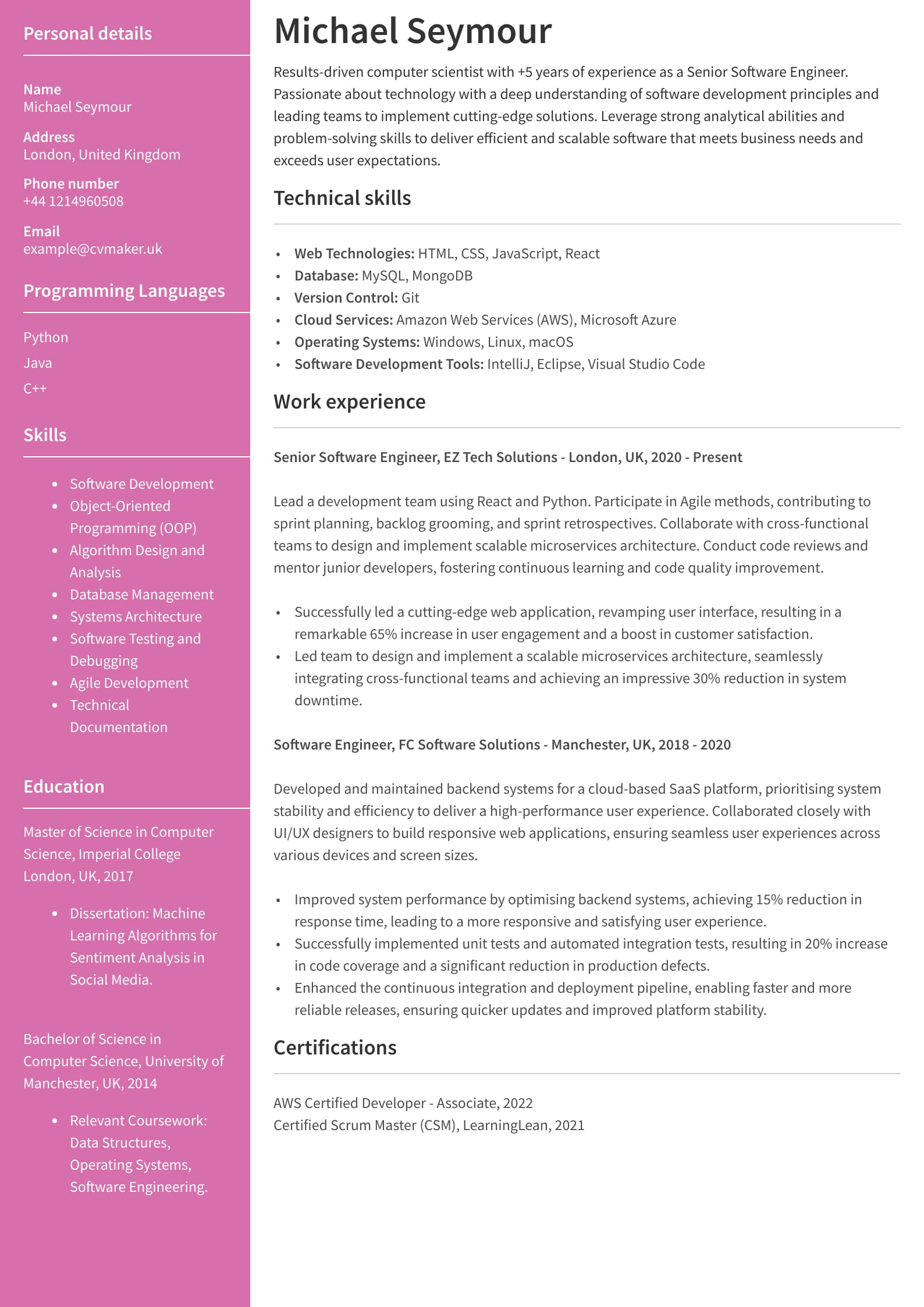 Download this Computer Science CV sample in PDF
Michael has chosen to use the Stanford template to give a clear indication of his skills, education and personal details along the left column while leaving plenty of room for his work experience, certificates and personal profile. By utilising icons and bullet points, the reader knows exactly where they are on the CV at any moment and how what they are reading links into Michael's unique offer.
What to include in a computer science CV? 
When writing a good CV, it's important to hit the key sections that give a clear picture of your personality, skills, experience and achievements.
You can also add extra sections like projects you've worked on, additional certificates, hobbies or interests. By showcasing these sections effectively, you're showing how valuable you are as a potential candidate. Your CV demonstrates how you've excelled in making technological advancements and solving problems in the field.
Crack the code with a captivating personal profile 
Many employers want to know not only what skills you bring to the table, but what kind of personality you are. An often overlooked section on a scientific or information technology CV is writing a personal profile. Stand out from the crowd with a leading power statement about your working style and the soft skills you feel represent you best.
Pro Tip
Your personal profile should be no more than 70 words or six lines of text. Avoid using personal pronouns such as 'I' or 'me'.
Computer science PhD CV personal profile example
Capable and curious computer scientist PhD with 5 years experience showcasing a robust research background. Proficient in effective communication and collaborative teamwork, fostering a culture of creativity and innovation within diverse niches of computer science. Extensive experience and honed skills establishing multiple projects whilst pushing technological boundaries.
Computer science undergraduate CV personal profile example
Organised and inquisitive undergraduate computer scientist, demonstrating a knack for analysis and meticulous attention to detail. Eager to learn and grow, with a teachable attitude that fuels constant improvement. Through coursework and projects, I've honed my skills while cultivating a strong foundation in computer science. Adept in problem-solving contributing and innovating in the field.
Senior computer scientist CV personal profile example
Adaptable senior computer scientist with 7 years experience in leadership, harnessing creativity and problem-solving skills to drive innovation. Demonstrating astute business acumen, to successfully steer projects towards impactful outcomes. A natural teacher with developed training abilities fostering an environment of learning within teams. Always updating to shape the tech landscape with a mix of technological expertise and strategic vision.
Systems engineer intern CV personal profile example
Detail-oriented systems engineer intern with a curiosity-driven approach, honing skills in verbal and written communication. Proficient in time management and organisation, ensuring efficient project execution. Adept at balancing diverse tasks while maintaining quality. Driven by a desire to learn and develop, I eagerly delve into challenges to achieve innovative solutions.
What skills should I add to my computer science CV? 
Similar to other professions, listing skills on your information technology CV is a balancing act between soft and technical abilities. Be sure to inject plenty of soft skills naturally and effectively into your personal profile, while covering harder, more technical proficiencies in their own sections elsewhere.
Getting ahead in this field requires a blend of technical ability, focused curiosity, a drive to improve processes as well as empathy and interpersonal skills.
Programming languages
Being skilled in programming languages is a big plus for job seekers in tech. These languages connect human thinking and computer actions, showing your programming skills and problem-solving ability. Putting these languages on your programmer CV proves you are solution-oriented while showing your expertise. It also demonstrates you're open to learning, as different languages suit different projects, telling employers you are ready to handle a variety of jobs.
Pro Tip
Create a section on your CV for any relevant programming languages you may have such as Python, Java or C++.
Showcasing your skills allows employers to quickly gauge if you're right for the job. Similar to professions like PhD or project manager, skills are split in two categories: hard skills and soft skills.
Hard skills are particular technical abilities you develop through education, training, or experience. For certain roles, you might need skills such as:
Data scientist:
Developing and scaling data science capabilities

Proficient in writing SQL

Experience in Python, R or another statistical programming language

Ability to use and process consumer behavioural data.
Cloud AI engineer:
Deep learning frameworks such as TensorFlow, PyTorch, XGBoost

Deliver complex Artificial Intelligence (AI) or data analytics projects

Knowledge of data warehousing concepts

Reporting tools and environments such as Apache Beam, Hadoop, Spark, Pig and Hive.
Graduate tech developer:
Coding and programming languages

Software engineering

Knowledge of backend APIs

Familiarity with frontend UIs.
Soft skills are personal qualities and attributes that enable effective communication, collaboration, and adaptability.
The skills section on your CV is an opportunity to highlight your unique qualities and prove your expertise in various areas. Soft skills in the tech sector can include:
Data scientist:
Analytical mindset

Quality assurance

Flexibility

Creative approach to getting results

Strong communication

Diplomacy and tact.
Cloud AI engineer:
Translate technical terms 

Problem-solving

Adaptability

Communication

Decision-making

Relationship-building
Graduate tech developer:
Teachable

Creative problem solving

Communication (both written and verbal)

Good listener

Team player

Collaboration.
Tips for how to write work experience on a computer science CV 
When you talk about your work experience, we recommend using reverse chronological order. Start from the most recent and work backwards. Include the company name, when you worked there, and where its location. This helps show your work history clearly.
Write a short paragraph to give an overall idea of what you did and how you improved in that role. After that, use bullet points to highlight two specific accomplishments you can measure, painting a better picture of your achievements.
Examples of work experience
Graduate Computer Scientist | NextTech Innovations, Manchester | 2021 - 2023
Contribute actively to new product and feature specification, demonstrating a comprehensive understanding of user needs and market trends. Orchestrate the independent and collaborative design and development of diverse products, adeptly handling architectural and detailed coding aspects. Maintain close cooperation with test and support teams, assuring consistent product quality.
Leading five architectural and system design projects, delivering functional and efficient products that meet stringent quality standards.

Collaborate seamlessly with multiple teams, ensuring a streamlined product shipping process and increasing end-to-end workflow productivity by 15%.
Systems Engineering Intern | Tech Dynamics Ltd, London | Summer 2020 - 2021
Engaged in full stack web development, orchestrating seamless software and hardware deployments, and effectively administrating diverse infrastructure systems. Devised automation strategies enhancing platform efficiency and conducted system-wide improvements.
Implemented innovative efficiency enhancements across platforms, reducing software deployment time by 20%, boosting operational agility.

Successfully executed 98% of system deployments within the stipulated timeline, contributing to the team's high-performance record and project success.
Computer Science Placement | Nextron Corp, London | 2019
Engaged in a comprehensive role spanning the entire solution lifecycle, from inception to enhancement of existing ones. Collaborated closely with developers and engineers, contributing to cross-functional teams. Beyond regular responsibilities, actively participated in extracurricular projects, such as hackathons, amplifying networking and experience-building endeavors.
Demonstrated keen intellectual curiosity and analytical acumen, consistently offering innovative problem-solving techniques.

Delved into projects outside of the day-to-day, showcasing versatility and dedication to skill and knowledge enrichment.
Computer scientist with little to no work experience
It may be the case that you are just beginning your journey as either a student, working part-time or changing career. It is likely you won't have much of a work history to put on your CV. In that case, take the time to attend additional courses or bootcamps to generate valuable experience and develop contacts.
Data Scientist Bootcamp | DataTech Academy, Online | Spring 2018
Participated enthusiastically in a comprehensive data scientist bootcamp, honing curiosity and problem-solving abilities. Immersed in data analysis and engineering, scientific computing, and quantitative methods, gaining proficiency in essential concepts. Acquired solid foundations in machine learning fundamentals, advancing to tackle complex problems through advanced machine learning techniques.
Demonstrated adaptability and collaborative skills in diverse team settings during the impactful Capstone project.

Contributed valuable solutions while enhancing problem-solving and teamwork skills.
How to list education on a computer science CV 
Filling out the education section of your CV shows the qualifications you gained while becoming a skilled and knowledgeable computer scientist. This is where your formal learning adds to your technical and personal skills and work background.
Keep these tips in mind to make your education section shine:
Begin with your highest level of education and work backwards, listing the institution's name, qualification earned and date of completion.

Mention any relevant certifications.

Highlight any academic honours or awards received during your studies.

If you have limited work experience, draw inspiration from an undergraduate CV example or consider using a skills-based CV format.

Keep the education section concise; a brief line for each certification is sufficient to capture the essential details.
If you have worked on any relevant projects - even hobby projects or hackathons - these are always worth mentioning on a tech-based CV. Examples of relevant projects could include:
When listing education, be sure to use the following structure, with your most recent qualification at the top:
Qualification or program name, Issuing authority or institution, Country, Date
Examples of education
Master of Science in Computer Science, Imperial College London, UK, 2017
Bachelor of Science in Computer Science, University of Manchester, UK, 2014
Enhance your CV with additional courses and certificates 
It's always a good idea to boost your CV by enriching it with supplementary courses and certificates. Explore online courses tailored to various roles, enhancing your skill set and employability. Consider enrolling in courses like:
You can also explore the various certificates available including:
These additional credentials demonstrate your commitment to continuous learning and further solidify your qualifications for diverse career paths.
Showcase your hobbies and interests on a computer science CV 
Including hobbies and interests on a technology CV adds a personal touch that helps you stand out. It shows you're not just skilled in your niche, but also a well-rounded individual. For instance, if you code as a hobby as well as at work, it highlights your passion; If you're part of a gaming club, it reflects teamwork and strategic thinking.
This extra insight paints a bigger picture of who you are, making you more relatable to potential employers. Skills like teamwork, creativity and problem-solving are brought to the fore.
Key takeaways 
Crafting an eye-catching CV in this industry can be a whirlwind of information. These practical steps can help you create a CV that portrays your strengths and qualifications in the best possible light for a successful career in the tech.
Tailor your CV: Customise your CV for each role you apply to, aligning skills and experiences with the job requirements to stand out effectively.

Craft a personal profile: Develop a concise and impactful personal profile showcasing your skills, experience, and unique attributes to capture the recruiter's attention.

Showcase skills: Highlight both technical and soft skills in your CV, demonstrating your ability to contribute effectively in various aspects of the role.

Additional certificates and training: Strengthen your CV with extra certifications and training courses that emphasise your commitment to continuous learning and expertise expansion.

Highlight work experience: Clearly outline your work history using reverse chronological order, presenting responsibilities, achievements, and quantifiable results for a comprehensive understanding of your contributions.
Next steps?
Iron out any creases using our intuitive CV builder with 20+ CV templates and professional designs to choose from. To accompany your CV, discover our cover letter templates. If you don't want to leave anything to chance, connect with our professional CV Writing Service. Draw inspiration from our CV examples to save time, emphasise important sections and make it easier for hiring managers to grasp your unique professional offer even quicker.
FAQ 
What can you do with a computer science degree? 
This degree opens doors to roles like software development, data analysis, cybersecurity and IT management across industries.
What is the difference between computer science and computer engineering? 
Computer science focuses on algorithms, software and theory, while computer engineering integrates hardware and software design for systems and devices.
What is a typical UK CV format for computer science? 
A typical UK CV includes personal details, profile, work history, education, skills, and certificates, with optional sections for projects and interests.
What are some computer science jobs without programming? 
This field offers roles in project management, consulting, technical writing and data analysis that require less programming.
What is the average salary for a computer science graduate in the UK? 
The average salary for a graduate in the UK is around £30,000 to £35,000 per year. However, some computer scientists can earn upwards of £50,000 depending on the skill set and industry. 
How to write a computer science CV with no experience?
Write a CV with no experience by highlighting relevant coursework, projects, internships and transferable skills like problem-solving and teamwork.
 What is a computer science personal statement on a CV?
A personal statement on a CV is a concise paragraph that showcases your skills, experience, and attributes, capturing the essence of your professional profile.
Land the interview for your dream job with CVMaker
Effortlessly create your professional CV within 10 minutes and download it whenever and wherever you want!
Create your CV
Increase your chances landing your dream job with CVMaker.