PhD CV
Neah Kapoor, an aspiring PhD candidate, has opted for a simple Otago template. She seeks to drive her career in sustainable development and environmental planning. With a passion for creating positive change and academic excellence, she makes an invaluable asset for shaping a sustainable world.
Create your CV
"Passionate and driven final-year masters student with a solid academic foundation, eager to embark on a PhD journey in sustainable development. Equipped with exceptional research skills and determined to advance knowledge in this field."
Neha Kapoor
- PhD candidate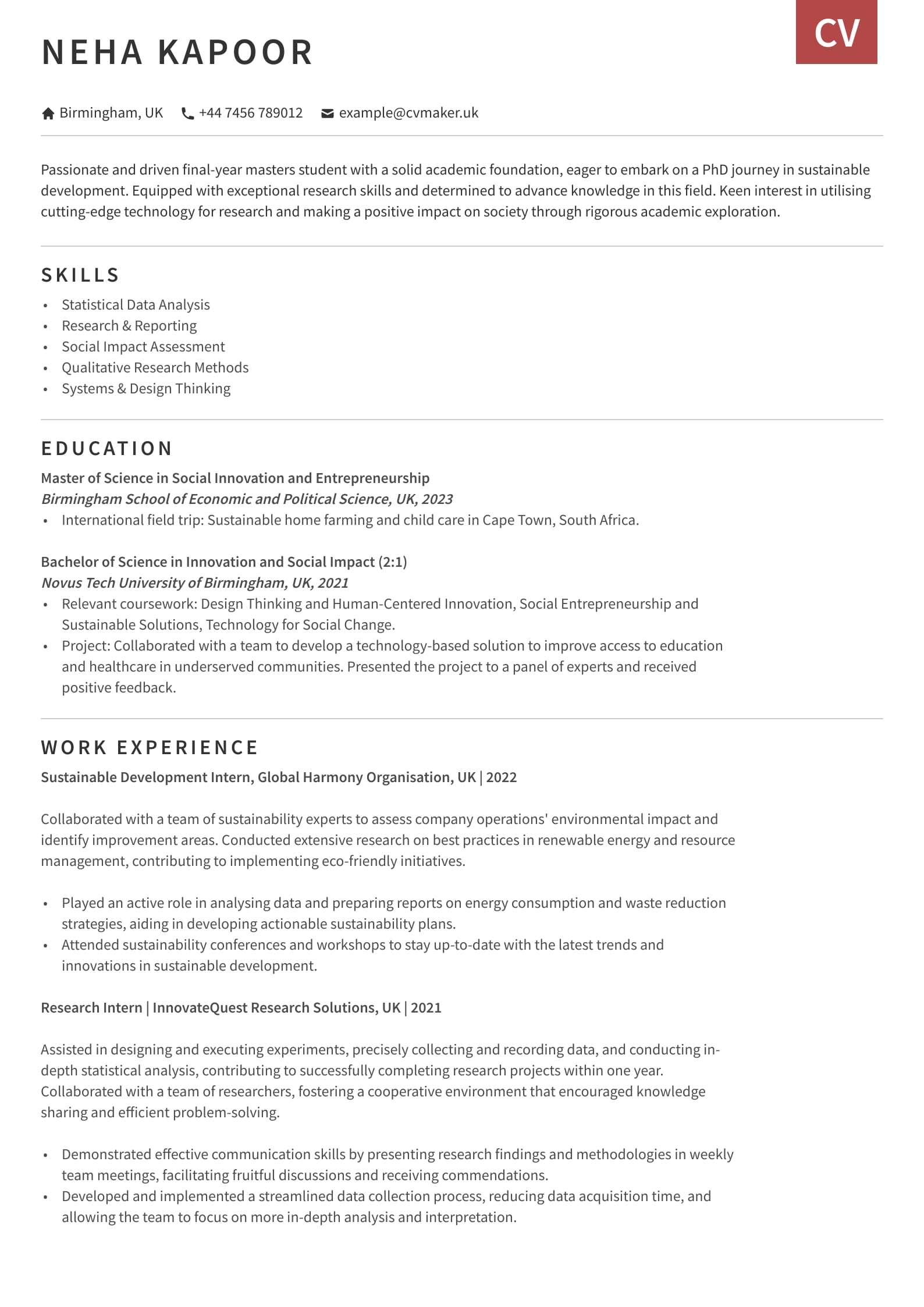 How to Write a CV for a PhD Application (Examples, Tips, and Writing Guide)
Embarking on the path to advanced research and academic excellence through a PhD is an exciting journey, demanding not just passion and dedication but also a well-crafted CV that highlights your potential as an aspiring scholar. In the highly competitive landscape of higher education, your CV is vital in determining whether you will stand out as an exceptional candidate.
Whether you are a student, a graduate, or a seasoned professional seeking to elevate your academic pursuits, this article is for you. It details the essential elements of composing a CV that captures your academic journey, research experience, and future career aspirations. From understanding the unique expectations of a PhD application to incorporating relevant experiences and honing an impactful writing style, we delve into the steps to create a good CV.
The CV writing process: Where to start?
A CV tailored explicitly for a PhD application demands a strategic approach highlighting your education, academic accomplishments, and research experience that sets you apart. This document serves as your initial introduction to prospective educational institutions and faculty members, making it imperative to leave a lasting impression that sparks curiosity and interest. Here are two essential pointers to consider:
A fundamental starting point is the creation of a comprehensive master CV, serving as the foundation to build upon as your academic journey progresses. Update it regularly, capturing personal details, educational achievements, work experience, skills, and notable accomplishments.

After that, tailor each iteration by emphasising relevant experiences and qualifications, moulding the personal profile to reflect your academic trajectory and strategically showcasing pertinent skills that set you apart in the fiercely competitive job market.
Tips on how to write a PhD CV
Gain insight into the industry and the specific requirements of your desired PhD programme.

Organise your CV thoughtfully into sections, such as personal details, personal profile, work experience, education, and skills.

Showcase concrete achievements or projects that align with your career goals. Emphasise quantifiable results to demonstrate the impact of your scholarly endeavours.

Integrate relevant keywords to optimise your CV for applicant tracking systems (ATS). This can increase your chances of passing the initial screening process.

Customise each CV to suit the specific application, showcasing how your unique set of skills and experiences perfectly align with the requirements of the programme.

Error-free and engaging writing is paramount. Thoroughly proofread your CV to ensure clarity, coherence, and an overall captivating presentation that will captivate the attention of hiring managers.
PhD CV example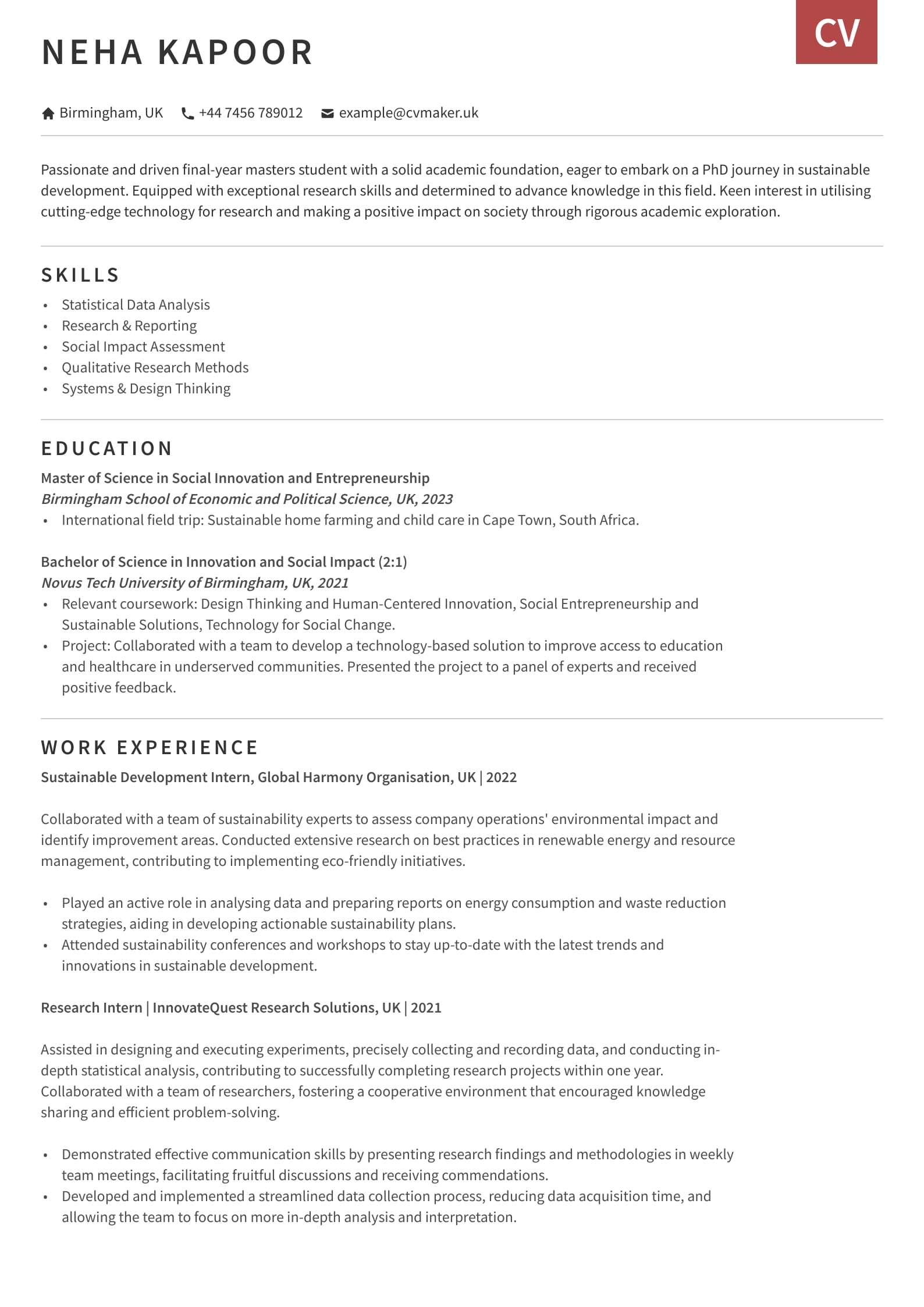 Download this PhD CV sample in PDF.
Neah Kapoor, an aspiring and dedicated PhD candidate, has opted for the Otago template to craft her impressive CV. Her passion lies in forging a career in policy analysis, with a special focus on sustainable development and environmental planning. Neah's exceptional academic background and remarkable achievements have been meticulously showcased, underscoring her potential as a valuable contributor to shaping a more sustainable world.
What to include in a PhD CV? 
A CV must be comprehensive and well-organised, showcasing your academic qualifications, research experience, and potential as a promising academic researcher or PhD student. See our tips on what to include below (if applicable):
List your degrees chronologically, starting with the most recent. Include the name of the institution, degree obtained, major/specialisation, and graduation date.

Detail your research experience, including internships, projects, or positions held in academic or research settings.

If you have teaching or short-term experience, include the details of the courses you taught, the institution, and the duration of your involvement.

List any academic papers, articles, book chapters, or other scholarly publications you have authored or co-authored. Include the full citation for each publication.

Mention any academic conferences where you presented your findings. Provide details such as the conference name, date, and location.

List the specific research methodologies, techniques, and tools you are proficient in.

Highlight academic achievements, such as winning competitions, scholarships, grants, or fellowships.

If relevant, include extracurricular activities such as hobbies and interests, demonstrating leadership, teamwork, or community engagement.

This is usually on request, but if required, provide the names and contact information of academic or professional references who can vouch for you.
What is a professional summary for a PhD CV?
A professional summary, also known as a personal profile, is a concise and impactful statement that provides a snapshot of your academic background, research expertise, and career aspirations. It serves as an introduction to your CV, capturing the attention of potential employers or educational institutions and enticing them to delve further into your qualifications. Tips on writing a professional summary:
Keep it brief, ideally limited to 4-6 lines. 

Mention that you are a PhD candidate or specify the degree you are currently pursuing.

Showcase your enthusiasm for your research area and the academic field in general.
PhD student CV personal profile example
Passionate and driven student in marine biology, dedicated to unravelling the mysteries within this captivating field. Solid foundation in marine biology and an insatiable curiosity for groundbreaking research and innovative discoveries. Aspire to leave a lasting impact on the academic landscape, driving advancements that positively influence society and transform our understanding of marine ecosystems.
Academic CV for PhD application personal profile example
Passionate PhD candidate in forestry with an insatiable curiosity for knowledge and intellectual exploration. Equipped with a strong academic background and dedication to cutting-edge research, committed to making meaningful contributions to forestry. Eager to collaborate with esteemed mentors, embracing interdisciplinary challenges to empower future generations of forestry thinkers.
Refer to our academic CV example for more tips.
What skills should be included in a CV for PhD?
Highlighting skills that demonstrate your potential as a successful researcher and scholar is essential. See our examples below:
Hard skills:
Research Methodologies

Data Analysis

Academic Writing

Literature Review

Computer Programming.
Soft skills:
Critical Thinking

Communication

Time Management

Adaptability

Teamwork

Problem-Solving.
Transferable skills:
Leadership

Organisational Skills

Teaching and Mentoring

Public Speaking

Project Management

Analytical Skills.
Pro Tip
To leave a lasting impact on recruiters, it's essential to distinguish between various types of skills on a CV.
How to write work experience on a CV for PhD application
When writing work experience on a CV, it's essential to present your research-related experiences and accomplishments clearly and concisely. See our tips below:
Start with a clear CV section heading, such as "Work Experience" or "Research Experience."

Include the company/institution name and location. 

Specify your job title or position, such as "Research Intern," "Research Assistant," "Laboratory Technician," etc.

Include the period you worked in that position, using years. 

Provide a brief overview of your tasks and responsibilities during your work experience. Focus on research-related activities, laboratory work, data analysis, academic projects, or other relevant tasks.

Highlight specific accomplishments or achievements during your work experience.

If applicable, mention any publications, presentations, or academic papers from your work experience. Include the names of supervisors or researchers you worked with and any notable collaborations.
Example
Research Intern, OceanLife Research Institute, Queensland, AU | 2022
Collaborated with a team of marine biologists in conducting field surveys to assess the biodiversity and health of coral reefs. Assisted in collecting and analysing water samples to study the impact of environmental factors on coral bleaching. Maintained and calibrated oceanographic instruments, ensuring accurate and reliable data collection during research expeditions. Attended workshops and seminars by renowned marine scientists, enhancing knowledge of current advancements in marine biology and ecological research
Conducted a comprehensive literature review on marine conservation practices, contributing to the development of a research proposal for a sustainable fishing initiative.

Contributed to drafting a research paper that investigated the symbiotic relationship between marine microorganisms and coral reefs, which was subsequently submitted for publication in a peer-reviewed scientific journal.
If you have no work experience, refer to our skills-based CV example.
Education CV section for a PhD student or applicant
The education section of a CV for a student or applicant showcases your academic qualifications and sets the foundation for your scholarly pursuits. When including your degree in this section, make sure to provide the following details:
Clearly state your degree, including the exact title or specialisation. 

Specify the field of study or research area in which you pursued. 

Mention the name of the university or institution where you earned your degree. 

Include the year of your graduation or expected date of graduation.
Example
Doctor of Philosophy in Educational Psychology Manchester University of Manchester, UK | 2022
If you have additional forms of qualifications, consider adding courses and certificates in a new section.
Key takeaways
Now that you have more insight into what makes a good CV, we encourage you to follow your passion for knowledge and academic excellence when embarking on a PhD journey. Consider these essential tips to enhance your CV for a successful application:
Showcase academic achievements and honours.

Emphasise research skills and methodologies.

Clearly state research interests and goals.

Tailor the CV for each application to align with specific program requirements. 
Next steps?
By adhering to a writing process, conducting research, and leveraging relevant skills, you can increase your chances of securing a placement. If you are not a strong writer, consider our CV Writing Services or browse our CV examples, CV templates, or cover letter templates for further insight.
FAQ
How do you write a PhD academic CV?
As an academic, highlight your research experiences, academic achievements, skills, and relevant publications by tailoring it to the specific programme requirements.
What should a CV for a PhD look like?
A good CV should follow a clear structure and clean format. The chosen template should only include relevant sections such as personal details, education, experience, skills, awards, or publications.
What is the CV of a PhD student?
As a student, you have little experience so consider utilising a skills-based format while focusing on academic background, research experiences, publications, conference presentations, and any relevant achievements or projects.
How long should a PhD CV be?
A CV for a graduate, student, or someone with little experience typically is one page. However, with academic CVs, they tend to be between two and three pages while still focusing on relevant information and avoiding unnecessary details.
Do you need a CV for PhD?
A CV is typically required when applying for a PhD programme, as it highlights your academic achievements and research experiences. Depending on the programme and, possibly, country, make sure to check the requirements and tailor your application accordingly.
Land the interview for your dream job with CVMaker
Effortlessly create your professional CV within 10 minutes and download it whenever and wherever you want!
Create your CV
Increase your chances landing your dream job with CVMaker.