Cover Letter Templates
Our Cover Letter templates have been created in collaboration with recruiters and HR specialists, ensuring they are up to the industry standard. CVMaker provides 20+ Cover Letter templates that cater to all levels, including junior, senior management, or C-level executives.
Create your Cover Letter
How much experience do you have?
Cover Letter of the month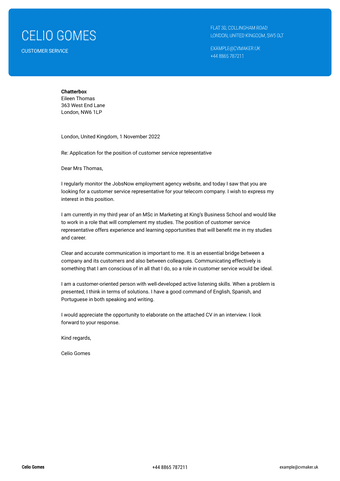 Cornell Template
A modern Cover Letter template suitable for both starters and more experienced job seekers.
Create your Cover Letter

"I've received great feedback for both my CV and Cover Letter, very pleased with CVMakers Builder.
Celio Gomes,
Customer Service Representative
Looking for inspiration?
Find inspiration from CVMakers Cover Letter examples for different professions and positions.
Easily download and create a Cover Letter.

Learn from our experts.

Use our Cover Letter examples.
Create your Cover Letter
If you've spent a lot of time and attention creating the perfect CV, you'll want to create a matching Cover Letter to stand out from the crowd. CVMaker has a wide array of CV and Cover Letter templates. With our CV Builder, you can easily create, edit, customise, and download these. In addition, our career platform allows you to manage all your job applications in one place. Read more on the about us page to see how CVMaker can help you land more interviews!
Start creating your CV
Create a professional CV quick and easy with our advanced CV Builder
+ Create CV
Land the interview for your dream job with CVMaker
Effortlessly create your professional CV within 10 minutes and download it whenever and wherever you want!
Create your CV
Increase your chances landing your dream job with CVMaker.