Cyber Security CV
Peter Clark, a seasoned Cybersecurity Specialist, selected the Otago template to emphasise his extensive experience in the field of cybersecurity. He adeptly combines strategic planning, threat analysis, and cross-functional cooperation to bolster cybersecurity outcomes.
Create your CV
"Highly skilled and certified Cyber Security Specialist with over 7 years of experience. Adept at designing, implementing, and managing robust security solutions to protect organisations from cyber threats."
Peter Clark
- Cyber Security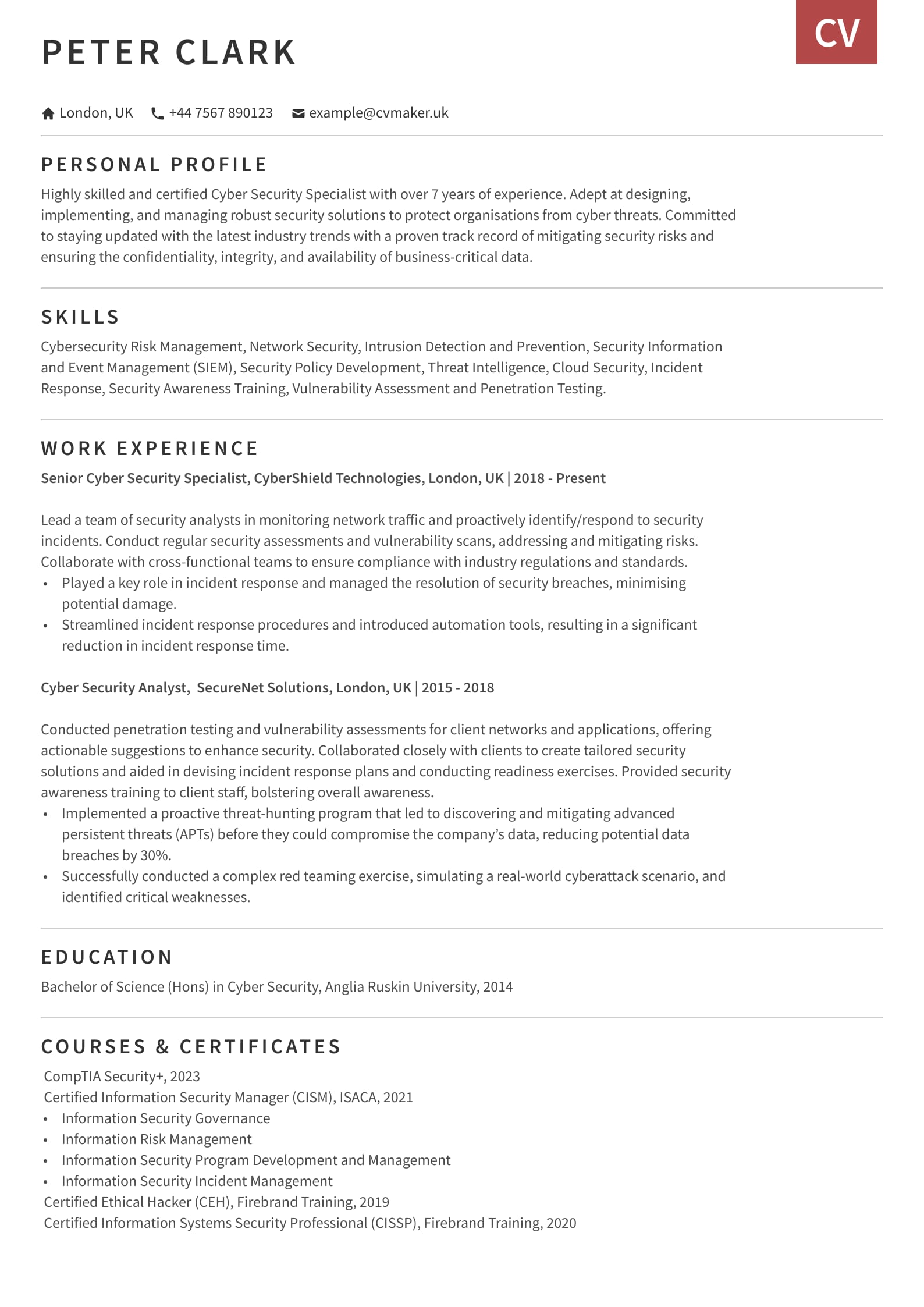 How to Write a Cyber Security CV in 2023 (Guide with Examples)
In today's digital landscapes and interconnected systems, the role of cyber security professionals has never been more critical. As businesses and organisations rely increasingly on technology, the need for vigilant guardians of data and networks has grown exponentially.
If you're considering a career in cyber security or are already on your way, you understand the gravity of this responsibility. But how can you ensure that your journey towards becoming a cyber security expert is fulfilling and strategically paved for success? That's where this article comes in.
This guide delves into the essential steps required to build a good CV that reflects your aspirations and yields positive results with applicant tracking systems(ATS), a crucial element in today's job application process.
Cyber Security CV example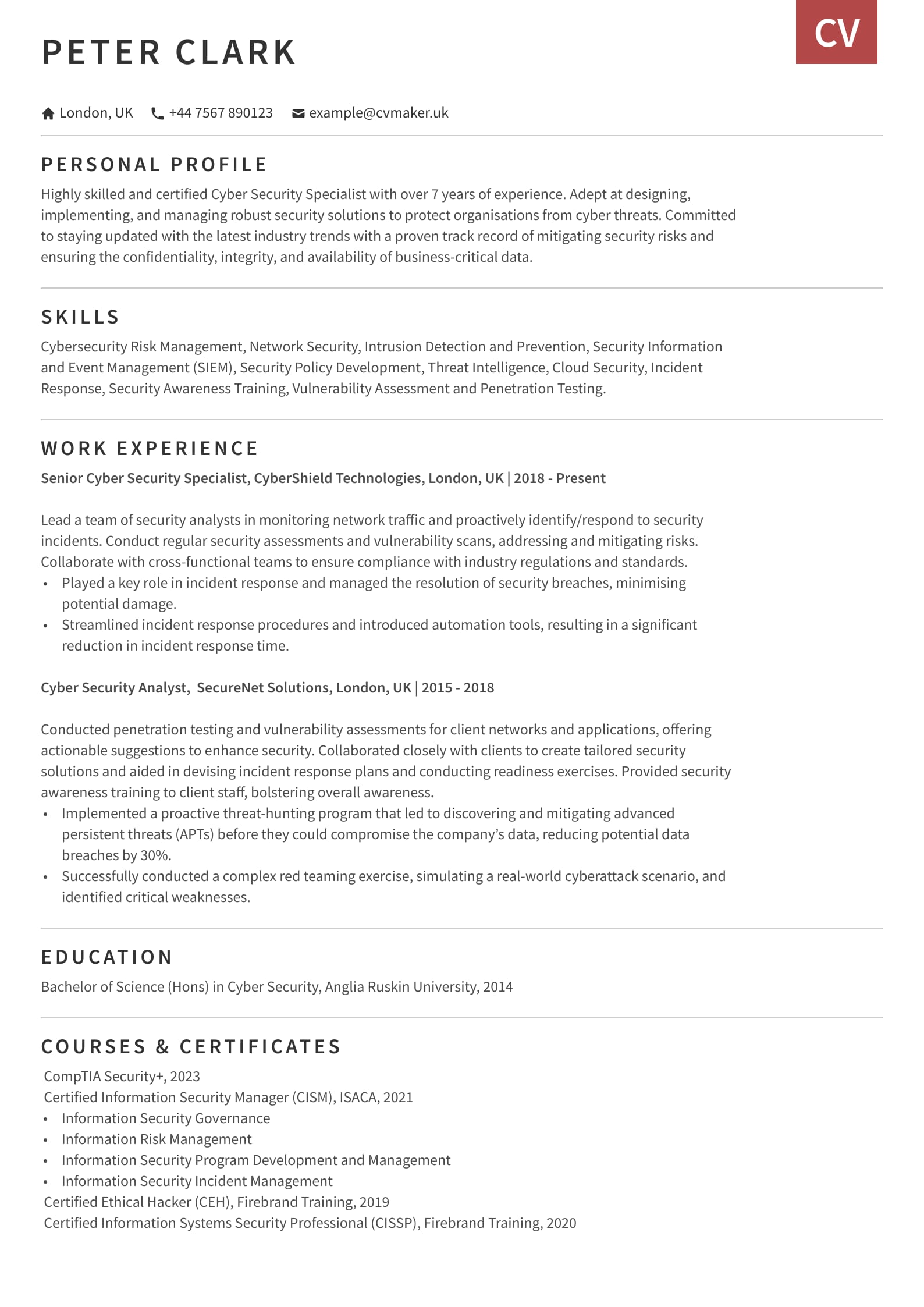 Peter Clark, a seasoned Cyber Security Specialist, selected the Otago template to emphasise his extensive experience. He combines strategic planning, threat analysis, and cross-functional cooperation to bolster cyber security outcomes. With a profound understanding of security measures, Peter provides expert leadership in developing innovative solutions.
Download this cyber security sample CV in PDF
What to include in a cyber security CV? 
Start by providing essential information, such as your name, contact details, LinkedIn profile, and location. Following that, craft a concise yet compelling personal summary that offers a glimpse into your skills, experience, and achievements. Let's delve into these critical sections with some illustrative examples and valuable guidance!
Remember, tailor your CV for each job application by emphasising the skills and qualifications that align with the specific role you're applying for. Refer to our CV writing process article for more tips on how to tailor your CV.
Indicate your cyber security skills in a personal profile
Craft a concise but impactful personal summary that highlights your core skills, significant achievements, and career objectives. This section holds significance in presenting potential employers with a concise glimpse of your background, skills, and career objectives. To compose an effective personal profile, refer to our detailed guide on how to write a personal profile.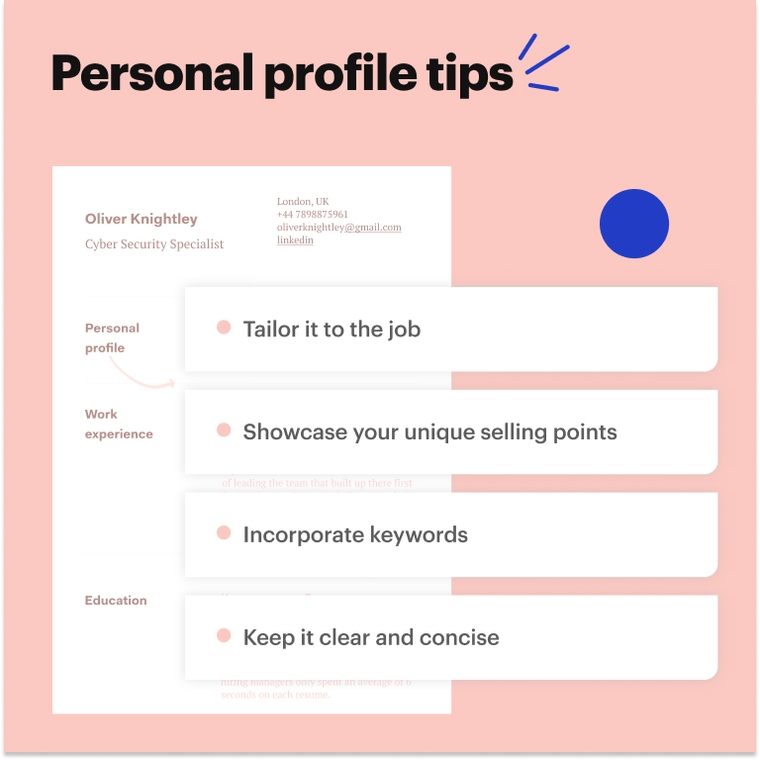 Entry-level Cybersecurity Personal Profile Example
Recent graduate, passionate about cyber security and eager to launch into this dynamic field. Possess a strong foundation in cyber security principles and a dedication to staying updated on emerging threats. Excellent problem-solving skills and attention to detail valuable asset in safeguarding digital environments and contributing to a secure digital future.
Security Architect Personal Profile Example
Experienced Security Architect with a 10-year track record of designing and implementing robust security solutions. Adept at developing comprehensive security strategies that align with business objectives while mitigating risks effectively. Excel in translating complex security concepts into understandable terms for cross-functional teams.
Chief Information Security Officer Personal Profile Example
Seasoned CISO, bringing extensive leadership and strategic vision to cyber security initiatives. Reputable track record of successfully enhancing organisations security postures through risk management, compliance, and incident response. Thrive in building and leading high-performing security teams that protect valuable assets and ensure regulatory adherence.
Cybersecurity Engineer Personal Profile Example
Results-driven Cyber security Engineer with experience in crafting and implementing security solutions. Technical prowess includes network security, vulnerability management, and secure coding practices. Excel in identifying vulnerabilities and devising solutions to fortify digital ecosystems.
Penetration Tester Personal Profile Example
Highly skilled Penetration Tester, passionate about uncovering vulnerabilities before malicious actors do. Experienced in ethical hacking, network penetration testing, and vulnerability assessments. Adept at simulating real-world cyberattacks to strengthen defences and enhance security.
Computer Forensics Analyst Personal Profile Example
Computer Forensics Analyst, specialising in digital investigations and evidence collection. Strong attention to detail and knowledge of forensic tools, enabling faster uncovering of cybercrime evidence and providing expert testimony when needed.
Cloud Security Specialist Personal Profile Example
Highly motivated Cloud Security Specialist, adept at securing cloud environments and ensuring data integrity. Strong proficiency in cloud service providers like AWS, Azure, and GCP. Dedicated to implementing robust security controls and best practices to protect cloud assets.
Incident Manager Personal Profile Example
Established Incident Manager with 5+ years of proven success in high-pressure situations, coordinating incident response efforts to minimise damage and recovery time. Strong leadership and communication skills with experience in orchestrating incident resolution and post-incident analysis.
Certified Ethical Hacker Personal Profile Example
Certified Ethical Hacker, with a mindset to identify and address vulnerabilities ethically. Experienced in penetration testing, vulnerability assessment, and ethical hacking techniques enables me to contribute to organisations security while maintaining ethical standards.
Malware Analyst Personal Profile Example
Established Malware Analyst, specialising in dissecting and analysing malicious code to identify threats and vulnerabilities. In-depth understanding of malware behaviour and reverse engineering skills enable me to contribute effectively to threat detection and mitigation efforts.
In the current landscape, cyber security holds significant importance in specific domains. Refer to our articles featuring CV examples tailored for the finance, healthcare, and civil service sectors to understand this relevance.
Enhance your CV with relevant cyber security skills.
List your skills and relevant certifications prominently. Mention industry-recognised certifications such as CISSP, CEH, CompTIA Security+, etc.
Network Security

Threat Analysis

Security Architecture

Penetration Testing

Incident Response

Certified Information Systems Security Professional (CISSP)
Including skills on a CV is vital as they demonstrate to potential employers your areas of expertise and qualifications. Concentrate on highlighting skills such as cultivating strong client relationships and identifying products that align with their requirements.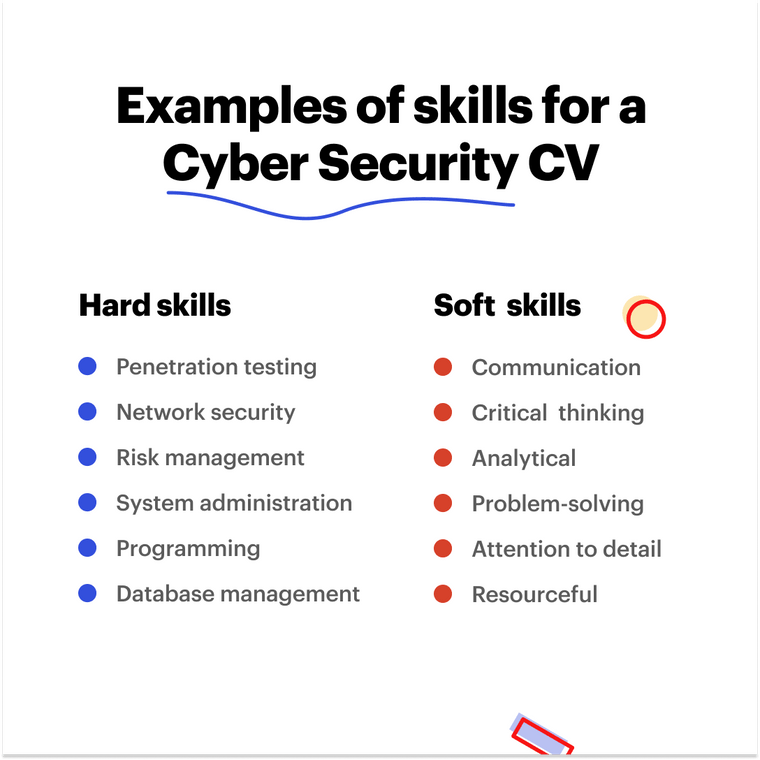 Showcase cyber security work experience
There are various strategies for different levels but the most important tip when it comes to adding experience is to showcase what you did versus what you achieved. Share details about your job duties, achievements, and how you made a positive difference. You can find more tips on how to list your work experience on a CV in our article.
Junior Cybersecurity Analyst Intern, Security Solutions, Belfast, Ireland, 2022
Assisted senior team members in monitoring network traffic for unusual activities and potential threats. Conducted regular vulnerability assessments on company systems, identifying and reporting security weaknesses. Collaborated with incident response team to analyse and respond to security incidents. 
Played a key role in documenting security procedures and assisting in the creation of training materials for new employees.

Assisted in the implementation of security policies and procedures, contributing to a more secure digital environment.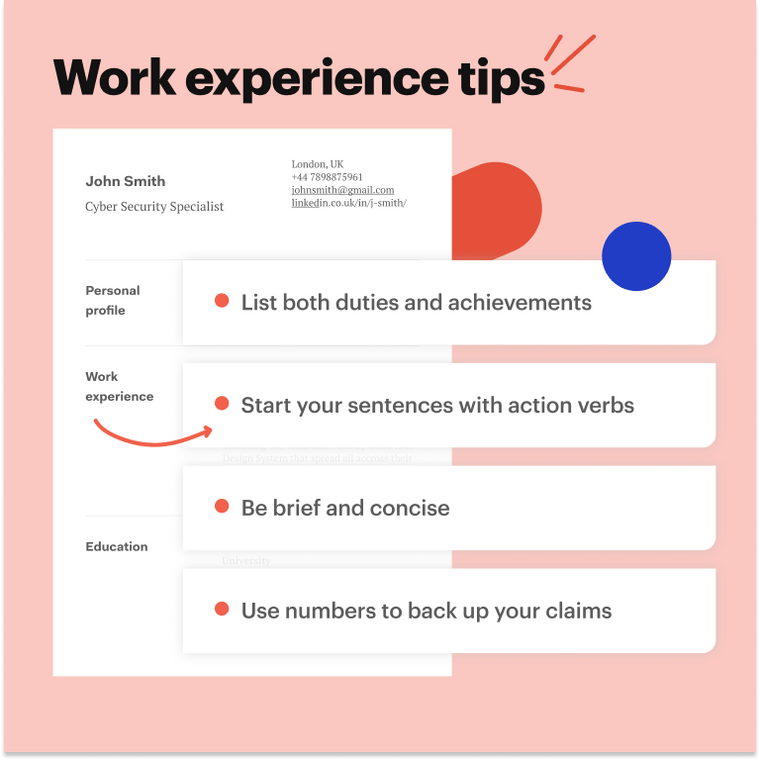 Include cyber security education and qualifications on your CV
Whether you're a recent graduate, a student, or someone with limited or no experience, it's important to include your educational background. This should encompass your degrees, institutions attended, and graduation dates.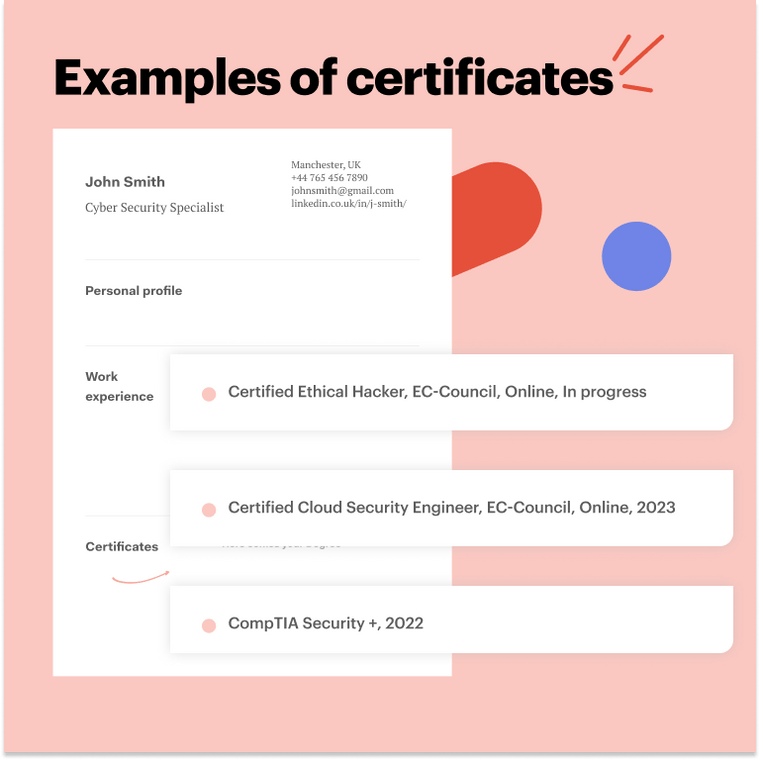 For additional guidance, visit our article on how to effectively list courses and certificates on a CV, or check out our article on how to list education on a CV for more information. If you are considering a cyber security boot camp, check out our career change CV example for more tips.
Key takeaways
Writing an effective cyber security CV requires a delicate balance between showcasing key skills and how you can successfully serve as a guardian of data and networks. By structuring your CV to include a targeted personal profile, work experience, and skills sections, you can present yourself as a strong candidate for the position.
Next steps?
We offer a diverse range of modern CV templates with an extensive range of CV examples that can be tailored to your liking. If you have little to no experience or seek professional assistance, consider our professional CV Writing Services.
FAQ
How do I write a cyber security CV?
Tailor your CV for each job application by focusing on the specific skills and experiences that match the job requirements. Additionally, keep the below in mind.
Start with a clear and concise summary at the beginning of your CV that highlights your key skills and objectives in the field. 

List your relevant work experience, including details of your roles, responsibilities, and accomplishments in each position. 

Emphasise your technical skills and highlight your certifications, such as CISSP, CEH, CompTIA Security+, or other relevant certifications. 

Include any academic qualifications, like degrees or relevant coursework.

Mention any projects or personal initiatives you've undertaken.

Showcase your problem-solving abilities, attention to detail, and teamwork skills.
What skills should I put on my CV for cyber security?
Hard and soft skills should be added depending on your career goals and level of experience. A few examples below:
Technical skills: Mention proficiency in tools and technologies like firewalls, intrusion detection systems, encryption, penetration testing, and vulnerability assessment.

Programming and scripting languages: Include languages like Python, C++, and scripting languages used in cybersecurity tasks.

Networking: Highlight your knowledge of network protocols, routing, and network security.

Operating systems: Mention expertise in Windows, Linux, and other relevant OSs.

Risk assessment and management: Showcase your ability to identify and mitigate security risks.

Security policies and compliance: Highlight your knowledge of industry standards and regulations.

Incident response: Describe your experience in handling security incidents.
Is cybersecurity a good career in the UK?
Yes, it is a promising career as it offers strong job prospects, competitive salaries, and opportunities for advancement. The increasing number of cyber threats and the importance of protecting data put cybersecurity professionals in high demand.
Where can I learn cybersecurity in the UK?
Through various means, including universities, online courses, and professional training centres. Consider institutions like the University of Oxford, University of Cambridge, or specialised cybersecurity training providers like SANS Institute or CompTIA.
How do I become a cybersecurity professional in the UK?
Start with a strong educational foundation by pursuing a degree in cybersecurity or a related field such as computer science. Additional or alternatively, obtain relevant certifications, such as CISSP, CEH, or CompTIA Security+, where you thereafter gain practical experience through internships, part-time jobs, or personal projects. Additional tips include:
Stay updated on the latest cybersecurity trends and threats.

Network with professionals in the field and seek mentorship opportunities.

Apply for entry-level positions, such as security analyst or junior cybersecurity roles, to begin your career journey.
Land the interview for your dream job with CVMaker
Effortlessly create your professional CV within 10 minutes and download it whenever and wherever you want!
Create your CV
Increase your chances landing your dream job with CVMaker.