Healthcare CV
Sarah is a dedicated Healthcare Assistant, ready to leverage her strong care and support skills within the medical sector. The professional Auckland CV template used is clear, concise, and well-formatted.
Start now
"Compassionate and dedicated healthcare assistant with a genuine passion for providing high-quality care and support to patients."
Sarah MacDonald
- Healthcare Assistant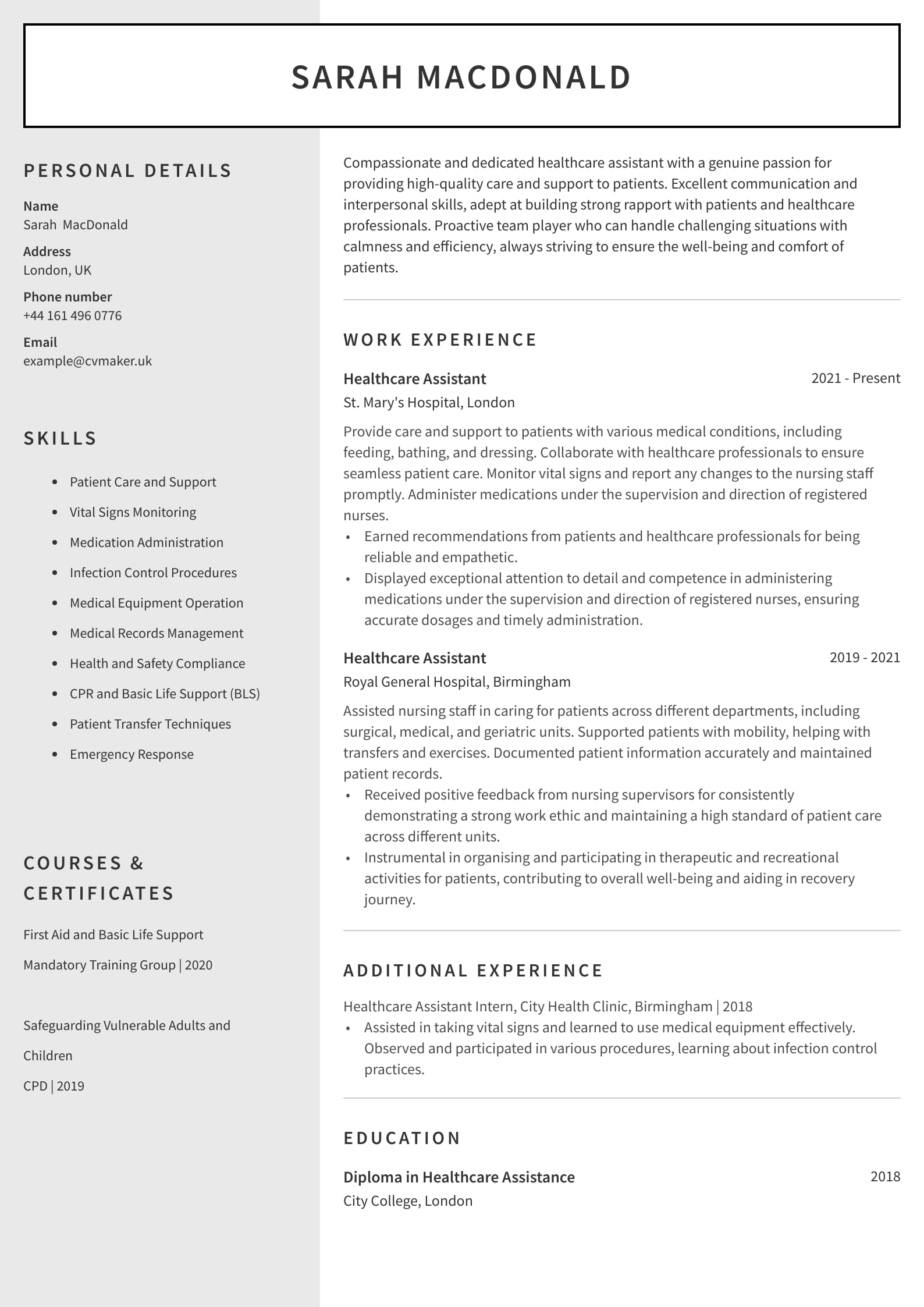 How to Write a Healthcare CV: Examples and Tips for Success
With over 1.27 million healthcare workers in the UK, this industry offers diverse job opportunities and many rewarding roles to explore. Training to become a professional in this field offers a pathway to make a meaningful impact on people's lives while pursuing a fulfilling career. If you're confident working in a supportive and fast-paced environment, we can help you write a good CV that helps you land your dream job. Suppose you're just entering the profession or starting a new career. In that case, we can also help you write a professional CV with no experience and improve your CV to advance into a senior role. 
Choosing the right career path and knowing how to impress potential employers can be daunting. To make things easier, application tracking systems (ATS) optimise your CV to help you get noticed among other candidates. Therefore, opting for a professional CV sample that aligns with your career goals can increase your chances of being shortlisted for an interview.
The CV writing process: Where to start?
When creating a CV for the first time, the writing process can be made more effective by starting a master CV. This document comprehensively records all your qualifications, skills, education and certifications, work experience, and any additional training or accomplishments. Creating a master CV enables you to tailor your application and create job-specific CVs. 
As you apply for different positions, it's essential to customise your CV to match your job targets and increase your chances of landing your desired job. In this sector, roles are often categorised into bands, ranging from entry-level to senior roles, each with varying responsibilities and requirements.
Examples of roles are:
Band 1: Nursery Assistant, Domestic Support Worker.

Band 2: Healthcare Assistant, Healthcare Science Assistant, Palliative Care Assistant.

Band 3: Emergency Care Assistant and Occupational Therapy Worker.

Band 4: Support Worker, Assistant Practitioner, Dental Nurse.

Band 5: Newly Qualified Nurse, Operating Department Practitioner (ODP), Learning Disability Nurse, Practice Manager.

Band 6: Nursing Specialist, Senior Nurse, School Nurse, Experienced Paramedic, Clinical Psychology Trainee.

Band 7: Advanced Nurse, Nurse Practitioner, High-Intensity Therapist.

Band 8: Modern Matron, Head Nurse, Clinical Physiology Service Manager, Head Orthoptist.
If you want to learn more about specific roles and bands, you can explore the different health careers in the UK with the NHS and the National Careers Service. 
Healthcare CV example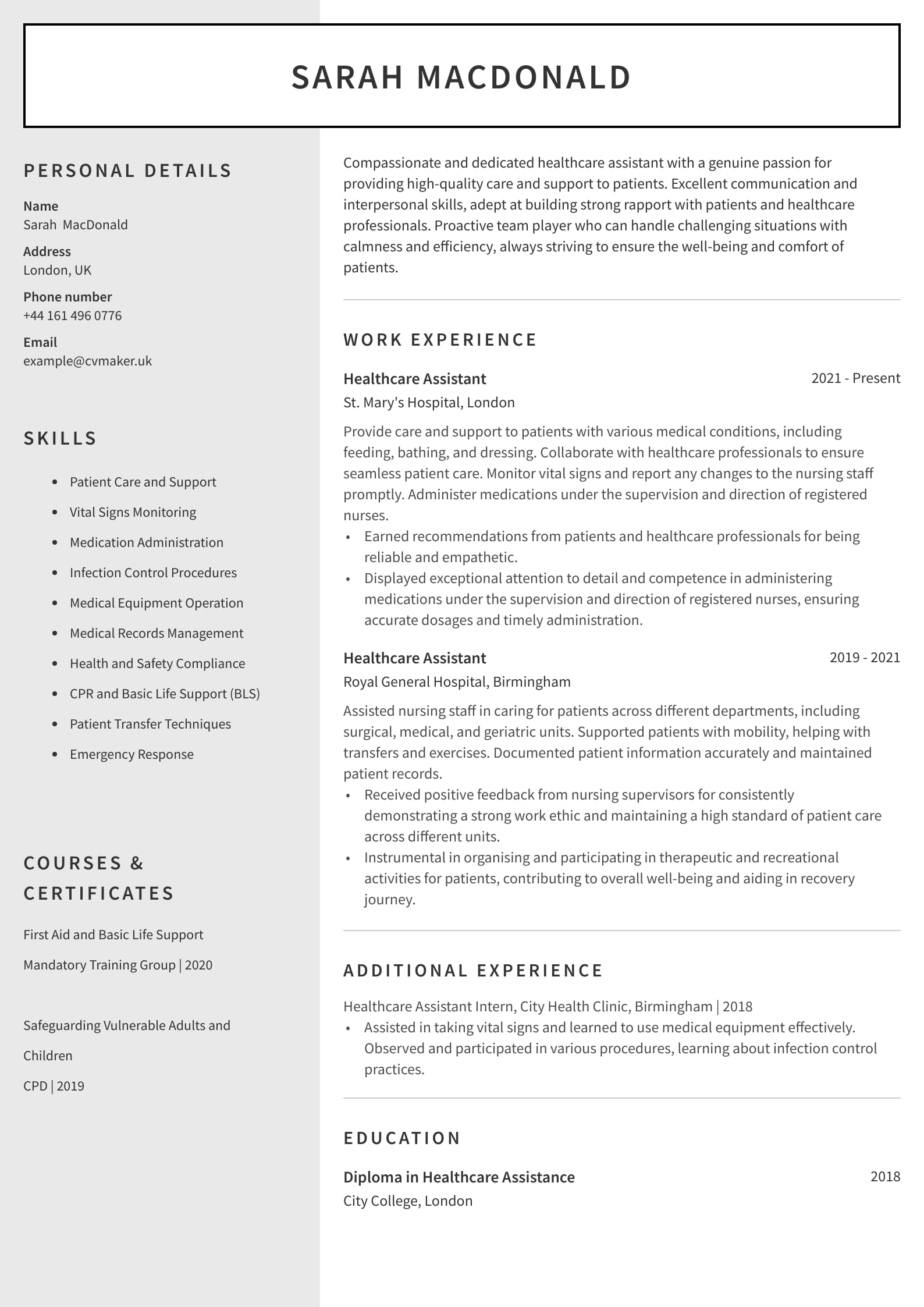 Download this healthcare assistant CV sample PDF
Sarah MacDonald's CV demonstrates three years of patient support experience. She is dedicated, reliable, and skilled, with relevant certifications and accomplishments. Her expertise includes patient care, vital signs monitoring, medication administration, and records management. The professional Auckland CV template used is clear, concise, and well-formatted.
What to include in a healthcare CV?
When crafting an effective CV, include key sections showcasing your qualifications and expertise for your desired role. Include your details, profile, relevant education, work experience, duties, and achievements. Mention specific technical skills related to healthcare, and include any relevant certifications or licences. 
For most care professionals in the UK, having a valid criminal record check to present to potential employers is also essential. Refer to our care assistant CV example for more inspiration.
Learn more about how to apply for a disclosure and barring service (DBS). Check on the UK Government website to enhance your CV. If you are consider switching sectors, refer to our career-change CV example for further guidance.
How to write a personal profile on a healthcare CV
On your CV, the personal profile must be concise and provide a brief overview of your professional background and career objectives. Emphasise relevant skills and competencies that align with your desired position. Include experiences and qualifications that showcase your suitability for the role. Potential employers also seek candidates with a genuine passion for delivering high-quality care and patient support.
Healthcare Assistant CV personal profile example
Compassionate and dedicated Healthcare Assistant with a proven track record of exceptional patient care and support. Proficient in vital signs monitoring, medication administration, and infection control procedures. Adept at building rapport with patients and collaborating effectively with fellow professionals.
Healthcare Science Assistant CV personal profile example
Detail-oriented Healthcare Science Assistant with a strong background in laboratory procedures and data analysis. Highly skilled in conducting experiments and assisting with research projects. Committed to contributing to advancements in the field and patient well-being.
Palliative Care assistant CV personal profile example
Experienced Palliative Care Assistants strongly focused on patient comfort and end-of-life care. Skilled in providing emotional support and creating a peaceful environment for patients and their families during challenging times. Empathetic and dedicated to ensuring the highest care and comfort for those in need.
Nursing Auxiliary CV personal profile example
Highly motivated Nursing Auxiliary with five years of experience delivering excellent care and supporting nursing staff in diverse clinical settings. Proficient in patient mobility assistance and daily living activities, contributing to a positive patient experience.
Healthcare Assistant (no experience) CV personal profile example
Recent Healthcare Graduate eager to launch a rewarding career as a healthcare assistant. Possesses excellent communication skills and a strong desire to make a meaningful difference in patient lives. Committed to continuous learning and professional development in the field.
Pro Tip
If you are writing a healthcare assistant CV with no experience, emphasise your passion for patient care, highlight transferable skills, and additional work experience such as volunteering in a medical setting.
Discover how to create a unique personal profile example for a CV tailored to your career goals. If you're interested in pursuing a similar role that involves helping others in a social care setting, refer to our article about a support worker role. 
What skills should I put on my CV for a healthcare job?
It's recommended to include a combination of soft and hard skills demonstrating your competence to complete various tasks and duties in your role. Use the CV skills section to present your ability to provide high-quality patients, utilise medical knowledge and tools, care, and work productively in a care setting. Especially when applying for more senior roles, highlight your expert knowledge, proficiency in medical procedures and any specialist training experience. When writing your CV, ensure this section targets keywords in the job description and aligns with your career goals.
Must-have skills:
Communication

Empathy

Teamwork

Adaptability

Problem-solving

Time-management

Detail-oriented

Patient advocacy

Critical thinking

Stress management.
Examples of soft CV skills:
Active listening

Conflict resolution

Cultural sensitivity

Emotional intelligence

Patience

Leadership

Flexibility

Interpersonal

Compassion

Verbal communication.
Examples of hard CV skills:
Medication administration

Vital signs monitoring

Infection control

Patient assessment

Emergency control

Health and safety compliance

Electronic health records (EHR)

Medical equipment operation

CPR and basic life support (BLS)

Phlebotomy.
For more information on how to write this section or if you are looking for further examples of skills, refer to our nurse CV example or our article on what skills to put on a CV.
How to write work experience on a CV for a healthcare professional
As a professional applying for entry-level, mid-, or senior-level roles, your CV should include relevant duties that demonstrate your skills, expertise, and contributions in a practical setting. Include details about previous roles, clinical experience, and any specialisations. Refer to our psychology CV example for more inspiration.
Highlight any volunteering, research projects, relevant internships and transferable skills from previous additional experiences. In addition, creating a skills-based CV can be beneficial if you're a student or recent graduate seeking a position with little to no work experience. Ensure you highlight transferable skills gained from internships, apprenticeships or volunteer work related to your career goals and the employer's requirements.
Examples of work experience:
Senior Healthcare Specialist | Vitality Healthcare Center, London | 2016 - 2021
Led a team of care professionals, coordinating patient care plans and implementing quality improvement initiatives. Conducted in-depth medical assessments, diagnosed complex cases, and prescribed appropriate treatments. Recognised for outstanding patient outcomes and dedication to maintaining the highest standards of care.
Led and mentored a team of 15 care professionals, resulting in improved patient care and increased staff morale.

Implemented a quality improvement program that reduced patient wait times by 20%, leading to higher patient satisfaction scores.

Received the "Outstanding Leadership Award" for exceptional contributions to patient care and innovative problem-solving.
Emergency Healthcare Assistant | Life Ambulance Services, London | 2019 - 2021
Responded to emergency calls, providing immediate medical assistance and ensuring patients' safety during transportation. Assisted paramedics with medical equipment, procedures, and patient assessments. Demonstrated quick decision-making skills and a calm demeanour during high-pressure situations.
Responded to over 200 emergency calls and provided immediate medical assistance.

Assisted in resuscitating a critically ill patient and demonstrated effective teamwork and life-saving skills.

Recognised for exceptional performance with the "Life Saver Award" for quick and decisive action during a challenging emergency.
Healthcare Assistant | City Hospital, London | 2022 - Present
Provide compassionate care and support to patients in various departments. Assist care professionals with patient assessments, vital sign monitoring, and medication administration. Collaborate with the nursing team to ensure a safe and comfortable patient environment.
Assisted in caring for more than 500 patients, ensuring their comfort and safety throughout their hospital stay.

Completed training in medication administration and achieved a 100% accuracy rate in drug dispensation.

Received positive feedback from patients and their families received positive feedback for providing compassionate and attentive care.
If you're ambitious to kickstart your career in the NHS, find out more about work experience. Alternatively, check your local NHS websites organisations for details on work experience programs. For aspiring care professionals considering long-term work experience placements, we suggest exploring our comprehensive Smart Guide to NHS work experience.
For more help on this section for your CV or other roles, find out more about writing work experience or listing achievements on a CV.  
How to list education on a healthcare CV
Listing education on a CV for an assistant or a more experienced senior role uses the same approach regardless of your band level or sector.
Start by listing your most recent or highest level of education and work backwards chronologically. 

Include the full name of the educational institution where you studied, such as university, college, or medical school. 

Specify the degree or qualification achieved, such as Doctor of Medicine (MD), Bachelor of Science in Nursing (BScN), or Diploma in Medical Imaging. 

Mention the dates of your attendance, covering the starting and completion or expected graduation date. 
Employers in the UK industry seek candidates with relevant training and specific qualifications. Entry-level positions like care assistants may require a minimum GCSE or equivalent. Registered nurses need a degree and must be registered with the Nursing and Midwifery Council. Doctors, clinical, management and allied health professionals must complete a medical degree, postgraduate or specialised training, and be registered. Yet, nearly all health professional CV examples require practical experience and continuous learning.
Examples of education:
Doctor of Medicine (MD), University of Medical Sciences, London, UK, 2014 - 2021 

Bachelor of Science in Nursing (BScN), City College of Nursing, Manchester, UK, 2010 - 2014 Relevant Courses: Pharmacology, Anatomy and Physiology, Patient Care Management

Healthcare Apprenticeship, NHS Training Institute, London, UK, 2020 - 2021 

Healthcare Assistant Internship, City Hospital, London, UK, 2013
Pro Tip
Prioritise listing the most recent and significant qualifications that align with the roles you're applying for. If you are a student writing a CV with only secondary-tier education, consider completing a course or internship to enhance your application.
If you're ambitious to kickstart your career in care, discover the available UK apprenticeship levels and over 350 different career choices with the NHS. In addition, learn more about working in the health and social care career and its latest education requirements or refer to our apprenticeship CV example article.
How to list courses and certificates on a healthcare CV
As a professional in this field, it's likely that you have a course or certificate that is relevant to the job you wish to apply for. To list courses and certificates on your CV, consider the following tips:
Include the full title, institution or issuing organisation that provided the training, and add the completion date for each entry. 

Focus on adding courses relevant to care work or your career goals, highlighting those that demonstrate your expertise and skills. 

Keep it concise and relevant to enhance your education and qualifications in healthcare.
Examples of courses and certificates:
Basic Life Support (BLS) Certification (UK Resuscitation Council)

Infection Control Training (National Health Service - NHS)

Medication Administration Training (UK Healthcare Training)

Safeguarding Vulnerable Adults and Children (Skills for Health, UK)

Mental Health First Aid Certification (Mental Health First Aid England)

Health and Safety in Healthcare Settings (Royal Society for Public Health - RSPH)

Phlebotomy Training (National Association of Phlebotomists, UK)

Dementia Care Training (Alzheimer's Society, UK)

Diabetes Management Course (Diabetes UK)

Wound Care Management Course (Wound Care Education Institute - WCEI, UK)

Palliative Care Training (National Council for Palliative Care, UK).
For more guidance, read our article to learn how to list courses and certificates and how this section could enhance your application. For more examples of courses and certificates that could be beneficial for your CV, refer to our medical CV example.
Key takeaways
Writing an effective modern CV  in this diverse industry requires using key strategies and tips. Start by prioritising relevant qualifications and tailoring your CV to your desired job. Emphasise transferable skills and showcase any specialised courses or certifications. Suppose you are writing a CV with no experience in the UK. In that case, you can also demonstrate your passions and skills through additional work experiences such as volunteering and internships. For more guidance and ideas about other roles in the UK, refer to our various CV examples.
Next Steps?
For social care professionals aspiring to advance their careers or improve their CV, explore our selection of over 20+ professional CV templates, easily tailored to your career goals. Our CV Writing Service can also save you time and effort if you are writing a CV with no experience. In addition, to enhance your job application further, we recommend familiarising yourself with how to start a cover letter to make the best impression on potential employers and land your dream role.
FAQ
How to write a CV for private healthcare?
Writing an effective CV for a private position, regardless of the job or sector, is always the same but should be tailored to your career goals. The content of your CV might be slightly different but should include the essential sections in this guide. List relevant medical knowledge, expertise, work experience, key achievements, and qualifications for your job targets. If you're applying for an entry-level role, consider adding references if you're a recent student or graduate looking for a medical internship or part-time work in this area.
What is a typical UK CV format for a healthcare worker?
Choose a CV template that aligns with your job targets and looks professional. Look for a straightforward, concise, easy-to-read, well-organised design. Select a CV sample that outlines education, work experience, skills, and courses and certificates, which enables recruiters to scan for critical details.
How long should a healthcare CV be?
When writing a CV in the UK, aim for 1-2 pages. Focus on essential information and follow the sections highlighted in this CV example guide. Emphasise your recent and relevant work experience, specialist knowledge, licences, medical certifications, and any accomplishments relevant to your job-specific CV.
What is the average salary of a healthcare assistant in the UK?
The average salary of a healthcare assistant in the UK ranges from £20,000 to £30,000 per year. Salaries can vary depending on location, level of experience, and the specific setting.
How to write a healthcare CV with no experience?
If you're unsure how to write a CV with no experience, we recommend listing your education and skills first. Training is usually provided for most entry-level positions in the UK, but you must have secondary-tier qualifications. Create an additional experience section, including any internships, NHS apprenticeships, or completing a care certificate to develop your specialist knowledge.
What is a healthcare professional statement on a CV?
A professional CV statement is a concise summary highlighting your relevant work experience, specialist knowledge and key accomplishments in healthcare. Tailor your summary to be job-specific and tailor it to the job you're applying for to create a strong impression on potential employers. We suggest reading the job description carefully and aligning your CV to your career goals. Use strong action verbs and medical terms to showcase your sector or desired position expertise.
Land the interview for your dream job with CVMaker
Effortlessly create your professional CV within 10 minutes and download it whenever and wherever you want!
Create your CV
Increase your chances landing your dream job with CVMaker.