Support worker
With significant experience as a Support Worker, Samantha selected the professional yet straightforward Edinburgh CV template. This template showcases her skills while also showcasing daily duties versus key achievements.
Create CV
"Compassionate Support Worker with over five years of experience in delivering clinical, physical, and emotional support to children, young adults, and adults."
Samantha Kumar
- Support Worker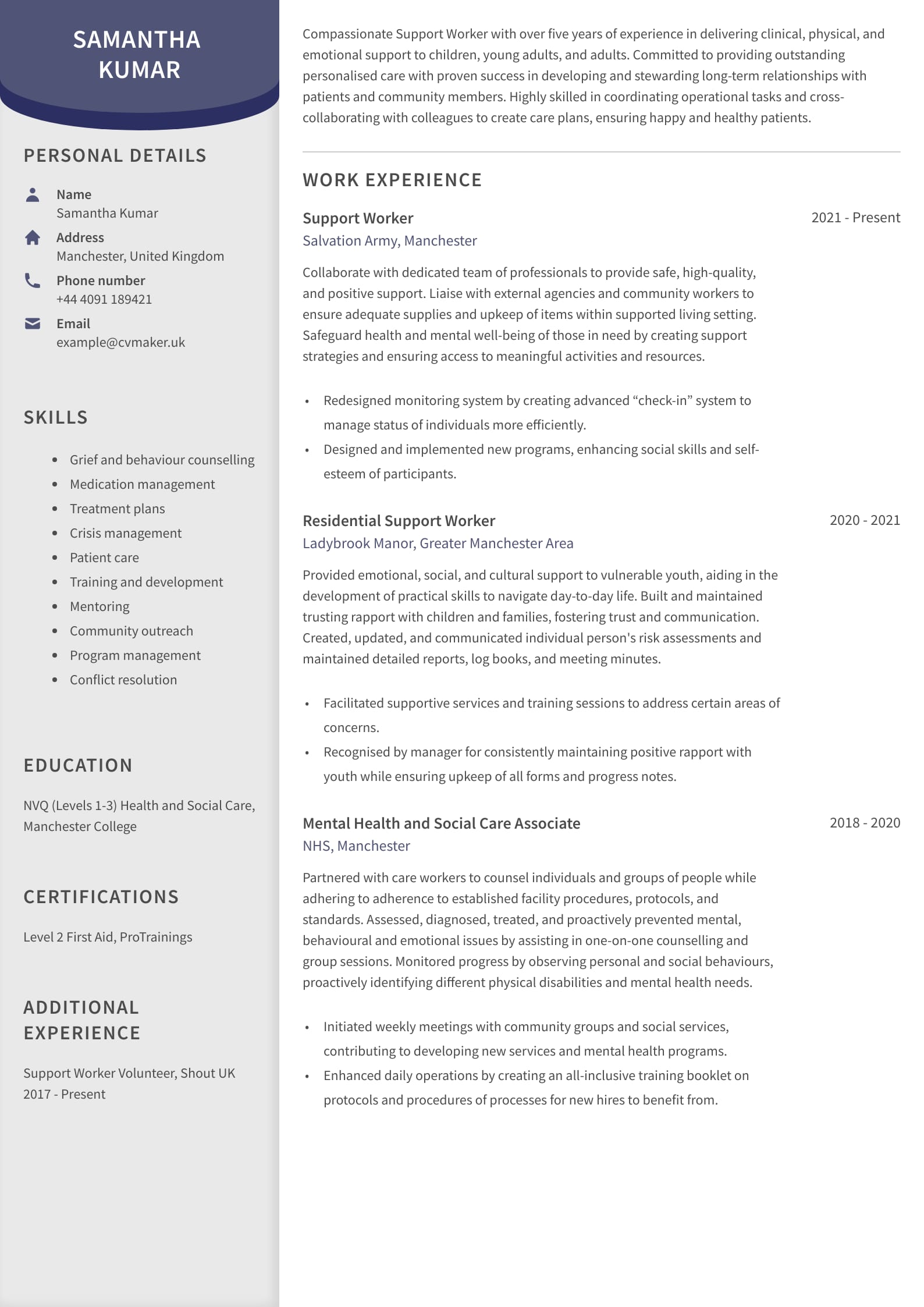 How to create a Support Worker CV?
Are you looking for a good support worker CV example? Are you a recent GCSE graduate with no work experience? Just got your NVQ diploma? Or are you looking to apply to a new position later in your caretaker career? Then this is the guide for you. Regardless of your experience, this article will support and ease the process of writing the best support worker CV to impress your potential employer and land the support worker position you deserve.
The impact of being a support worker is beyond rewarding. You can form meaningful relationships by caring one-on-one for people who have awesome life stories to share. Knowing that your help makes someone's life that bit easier to live, provides a sense of achievement. This fulfilling feeling is unmatched. A good support worker deserves a good CV; so we're here to help you out.
There are many types of support workers in different fields:
General care assistant support worker,

Disability support worker,

Elderly support worker,

Family support worker,

Learning disability support worker,

Mental health support worker;

And many more.
Whether you need a mental health support worker CV or child care support worker CV, each support worker position CV will require specific skills highlighted in order to succeed. This article will guide you to write the most compelling CV nuanced to your dream position. We also provide a CV template for support workers that you can easily edit to your needs.
Mapping out the process of writing a support worker CV
When starting any project, planning and dissecting the components is the easiest and most comprehensible way to start. This guide is divided by each heading you can find in a support worker's CV and explain the writing approach in detail. At the heart of every good tailored CV is a master CV, a comprehensive document covering all your education, skills, and working history.
Your master CV must do the following:
Flow, be logical and reader-friendly

Be plain: black font on a white background (Copying and pasting information will become easier when you make your job-specific CV)

Be error-free with no spelling mistakes or bad formatting

Be well presented, uncluttered, well-spaced, organised and professional

Start with your most recent or current job and work backwards to your first job

List education and qualifications in the same reverse chronological order

Include both soft- and hard skills you've obtained

Include accurate reference details with each job or role
Take time and ensure that nothing gets left out because this master CV forms the foundation of all future job applications. It can be as long as is necessary, so be detailed.
Contents of your CV
Personal information

Personal Profile (You can leave this blank for your master CV)

Professional Work Experience

Education and Qualifications

Skills (Hard and soft skills)

Hobbies and Interests

Languages (If applicable)

References

Additional sections
Include every job title, dates, all responsibilities and especially any achievements in each role. This is what makes you stand out as an individual, something that YOU did during your time at said position. Obviously, this will be time-consuming, but it's essential for future success. While you're writing your master CV, make copies of all relevant qualifications, awards, letters of reference and anything else that matters. Save it all together in a secure file on your device or better yet in the cloud with your CV. Keep it where you can access it easily if they are ever requested.
You can follow this structure for your master CV:
WORKING PERIOD - JOB TITLE - COMPANY
Responsibilities

Achievements
STUDY PERIOD - DIPLOMA - INSTITUTION
Study (grade level or honours if applicable)

Additional achievements

GCSE, how many subjects (grade), including maths and English

Additional achievements
Always remember to proofread and edit your master CV carefully, ensuring it is error-free. You will be using your master CV as the base for every position you will be applying to in the future. If possible, ask someone to be a second reader to check for any spelling or grammar mistakes. Any basic mistakes may lead readers into thinking that you're careless or unprofessional.
Why do I need to write a master CV? It's a waste of time!
Though it initially can be time-consuming, this will ultimately save you time and present yourself in the most concise and coherent manner in the future. Set some uninterrupted time aside to plan your writing process and plan in order to work effectively and efficiently. Once you have all your information accurately in one place from start to end, you don't ever have to do it again. All that's required is to update it annually.
Where do I put my personal statement or cover letter in my master CV?
Don't include a personal statement in your master CV. Each personal statement and cover letter must be unique and written for the job you're applying for only. This task will come in later, once you collate key requirements of the position you are applying to.
In the end, you also want to change and evolve; a support worker CV personal statement that looked good a few years ago will not be as relevant or applicable today.
CVMaker has several different templates you can use to match with your CV when sending your future employer your documents.
Sample CV support worker
Below, you can find a support worker CV sample for Samantha Kumar, an intermediately experienced support worker working in Manchester.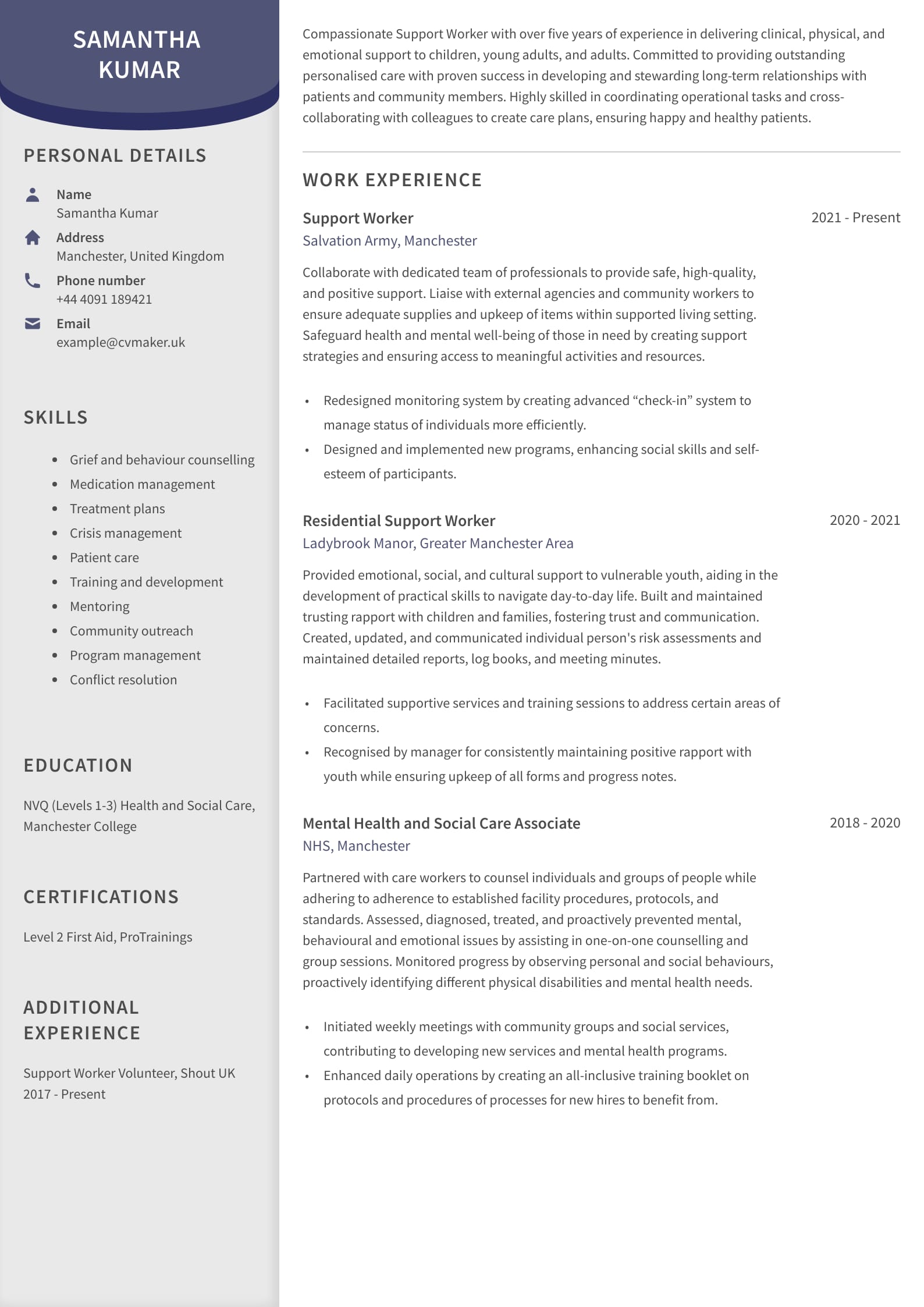 Download this example - Support Worker cv
Support worker CV example UK - Samantha Kumar - Manchester-based support worker with experience at the NHS, Salvation Army and a couple of care homes looking for a new position as a support worker at a mental health organisation.
Components of a good support worker CV
1. Personal information
The moment your reader sets eyes on your CV, they have already made a first impression of you by looking at your design choice. To help you with this, we have a great selection of pre-made CV templates that you can choose to edit - just like Samantha's above. She is using our Edinburgh template.
After looking at your CV at first glance, the eyes are drawn to the first piece of text, which is your personal details.
You should include the following information:
Your full name

Phone number

Email address

Home address

Date of birth

Drivers license type (if you have one)
You may also choose to include your LinkedIn Link to your profile, or any other professional website that is applicable to the open position you are applying for.
Do not include a picture of yourself when you're applying for care support worker jobs in the UK. Photographs and logos of oneself are not allowed. Not applying for a job in the UK?
Do
Include only personal information that you feel comfortable with.

Provide an email address that you read daily.

Include the type of driving licence you have.

Clarify your first name if it differs from your legal first name.
Do not
Use an unprofessional email address for example: "spicegurlsfan19@hotmail.com".

Forgot to include your driving license type.

Include a photo of yourself, your gender, age, religion or home address.

Enter a phone number with an unprofessional voicemail.
2. Profile summary
After knowing the basics of who you are, the reader naturally starts reading your personal profile. Here is Samantha's example of what she wrote:
"An energetic, compassionate, caring and flexible individual with 4 + years experience with assisting developing and following personal care plans notably for those struggling with mental health in an acute and challenging phase of their journey towards recovery. Experienced with managing challenging caseloads whilst always remaining a positive and sensitive approach to giving high standard of care and communication to clients, families, staff and visitors. Keen to finding a new position at a caring and open-minded mental-health focused organisation to further my career and make an impact."
Samantha introduces herself in first person without using her name or any pronouns. This is a common way to introduce yourself on your CV to come across formal. It is not recommended to use first or second person pronouns I/Me/My, She/Her, He/Him or They/Them. However, you may choose to do this to come across more personable.
What's the difference between a profile and a personal statement?
A profile summary is a brief statement included at the beginning of your CV; whereas a personal statement is a longer, separate motivation.
A profile summary is usually less than 100 words; a personal statement ranges from 500 to 1000 words.
Profile summaries can also be called – 'overview', 'professional summary', 'skills/qualification summary' or 'professional bio'.
A personal statement must contain the exact details as your profile summary but expand to give broader information about your skills and experience. It also allows you to express vital information like why you're in a specific career, why you would like to go into it, or why you're thinking of changing careers. Go over the job summary or posting and paste their requirements into a document. Write an example of how you meet those requirements. Multiple requirements can be met in one example. Share problems you have faced, and what you specifically did to overcome and solve that issue.
Which one should I be using, personal profile or statement?
Every CV benefits from a brief profile summary because it allows the reader insight into who you are before reading your CV. A personal statement or cover letter may be required from the recruiter but if not, it is up to you.
Professional, management, executive and specialist roles benefit from a personal statement. They can be used for entry into graduate training programs, placements, apprenticeships and internships as well.
That's why it's essential to take your time when you write both profile and statement, write them specifically for each job. It's your opportunity to stand out from other support workers CVs since all applicants have similar qualifications and work experience.
An optimistic, honest and informative profile summary or personal statement is your key to winning the first interview.
Need help with writing your personal statement? Read our guide on how to structure your cover letter.
What do I even say in my personal profile?
Even though a profile summary is short, it must still be relevant to the reader. Working from the job post and using your experience, include your hard and soft skills, years of experience and any keywords you can identify. You want to match your summary with the employer's requirements as much as possible.
When writing your personal profile, the reader should be able to answer the following questions:
Who are you?

How much experience do you have in that certain field of task?

What environment have you worked in?

Who have you worked with?

What are you currently searching for?
Keep these points in mind when answering the questions above –
The job title

Highlight your knowledge

Include years of experience

Cover vital soft and hard skills

Match it to the employer's requirements
Let the reader know who you are and that the rest of your CV is worth reading.
Whatever information you decide to include, keep both statements friendly, conversational and upbeat; it's the first textual impression prospective employers have of you. We have provided you with personal profile example with different ranges of experience
Professional profile summary for support workers
Support worker - Profile summary example - Senior
Adaptable and detail oriented support worker with 9+ years of experience in crisis intervention with at-risk youth and hospital treatments. Adequate experience with children with learning and developmental disabilities. Experienced in administration and facility management increasing efficiency to reduce waitlist time of facilities and costs, remaining the same quality of time and help to people. Resourceful, friendly and empathetic while working under pressure. Looking for a management position that includes front-line work for an organisation dedicated to mental health for children and young adults.
Support worker - Profile summary example - Experienced
Energetic, compassionate, caring and flexible individual with four years of experience with assisting developing and following personal care plans notably for those struggling with mental health in an acute and challenging phase of their journey towards recovery. Experienced with managing challenging caseloads whilst always remaining a positive and sensitive approach to giving a high standard of care and communication to clients, families, staff and visitors. Keen to find a new position at a caring and open-minded mental-health-focused organisation to further my career and make an impact.
Support worker - Profile summary example - Almost no experience/ Limited experience
Entry-level support worker with six months of experience in at the NHS. Experienced in making appointments, registering patients, helping change clothes and caring for facilities and environment. Able to bring a friendly and energetic attitude whilst remaining professional. Great knowledge of computers, Microsoft Office and customer service from hospitality experience as a barista. A quicker learner, interested to practice direct care and patient administration at a care home.
Work experience
Work experience is the core of your CV. This is where employers get to know where you've applied your skills and if it was in a relevant environment. Each facility wants to hire someone who they know can work independently and in a team, to provide the support needed for their target group. They want to see that you're capable of the responsibilities of a support worker and this is where you prove them that.
How to approach your support worker work experience section of your CV:
In reverse chronological order, start with your most recent job experience and start listing other relevant roles you have held.

For each role you write, make sure to include the title of your role, name of the organisation, date of employment (use the term 'present' for any position you are still holding) and responsibilities/duties that best describe your position in bullet points.

The goal is to show quantifiable achievements or professional skills you've gained - not just merely your general responsibilities. If possible, include measured or concrete examples where applicable.

Start each bullet point with a clear or strong verb like supported, achieved, created, gained, oversaw, etc.

Make sure to use keywords found in the description of the vacancy in your CV. Refer to skills to match the experience required by the recruiter by wording your list with similar adjectives or responsibilities.
Little-to- no work experience
Placements, apprenticeships, and transferable Skills.
If you have no experience or very little support worker experience, consider applying for placements and apprenticeships. Samantha did a placement between different terms during college. Samantha did an NHS placement as a mental health associate for 2 months during winter before the next term started. Placements do not have to be during the term of your studies, rather in between semesters. This can show your future employer how you're a dedicated worker by gaining experience in your free time. After your studies, you can also consider doing an apprenticeship.
What are the benefits of an apprenticeship?
Getting hands on experience is the best way to become the best support worker you can be. It is especially advantageous when applying for jobs later down the line. Such a programme can take anywhere between 6 months to 18 months to complete. By the end, you will understand the depths of the Duty of Care. Becoming capable of writing and following care plans, statutory Standards and Codes of Practice, how to properly safeguard, and how to communicate professionally to clients and colleagues. You will likely need 5 GCSEs at grades 9 to 4 (A* to C) (or other equivalent grade), this includes Maths and English.
I don't have the time for an apprenticeship or placement! What should I do?
It's not the end of the world. If you are not able to do this and are working a job for income during those times or are too busy with other extracurricular activities, consider what transferable skills you have learned in that period of time that are similar to the skills needed in the open position you are applying to. Look at the vacancy you are applying to for keywords and terms to replicate in this section. You can further explain your reasoning behind your lack of formal experience in your personal statement and how you've made up for it.
If you are unable to find an apprenticeship, again, consider what other experiences you can seek out that are similar. Consider volunteering at organisations, your school or other local community groups.
Education and qualifications required for support workers
Support workers can have a multitude of educational backgrounds. Being a good support worker does not depend on your formal education, however, there are minimum qualifications needed that your employer will be seeking. The structure of this section is very similar to your master CV.
Your education can include the following, if applicable:
University degree - Honours can be included but only recommended if it is 2:1 or a first. If you are still a student, add your expected graduation date as well.

GCSE's or A levels (or equivalent) - Most importantly include your math and english as this is usually what support worker recruiters are looking for. These must be passing grades.

Special qualifications - Support workers are expected to have at least NVQ level 2 or level 3 for more leadership/senior roles. Some employers may not require you to have finished your diploma when starting the position, but you must at least be working towards it.

Care certificates - Some people without training or any relevant experience tend to receive training on the job. During this time you may be provided with resources to complete a care certificate.With this certificate you will obtain knowledge and skills needed for support worker positions in social and health care.

Though this is a form of education - we do recommend to put this in a 'Certifications' section rather than combined with your education.

Apprenticeships - Include responsibilities you had and skills you've obtained from this experience.
If you have no work experience or more education and qualifications to show off - consider putting education prior to work experience.
Skills (Hard/professional vs. soft/personal)
Support workers in different fields require different types of skills, though many overlaps in similarity. You must not overlook any of your skills whether soft (personal) or hard (professional).
The physical and emotional support care assistant workers do require soft skills that lean more towards emotional intelligence. Technology skills are a helpful skill for administration, so being a little tech-savvy will come in handy. See what Samantha has included in her list of skills on her CV.
Your skills may not be so apparent to you because you use them daily. Take the time to figure out what you do and which skills are necessary to do your job well. To have a jump start, we have provided a list of a few examples of support worker professional skills and support worker personal skills to include in your CV. You can use any of these if applicable. You should also be looking at the vacancy you are applying for and see what type of skills they are specifically looking for so that you can add them to your list.
Support worker hard skills / professional skills:
Safeguarding

File management

Microsoft Office

Health and safety compliance

Care plan development

Knowledge of mobility aids and operation

Patient chart documentation

Sit to stand lift

Wound care

Vital sign assessment: pulse, temperature, respiration, weight

IT literate

Knowledge of mental health conditions and cognitive problems

Personal hygiene assisting techniques
Support worker soft skills / personal skills:
Adaptability

Positive and uplifting attitude

Detail oriented

Organisational Skills

Patience

Compassion and empathy

Leadership skills

Active listening

Independence

Team player

Adaptable

Open minded

Time management

Calm

Communication skills - written and verbal
Languages
I speak more than one language, should I include this on my CV?
Absolutely! This ability sets you apart from other candidates. There are a few ways you can include your multilingual skills on your CV, but consider getting a recognised test to stand out.
Hobbies and interests
Should I include my hobbies and interests?
This section is completely optional. However, if they're relevant, why not? Skills and knowledge from your hobbies and interests can be transferable to the job you are applying to. If you're unable to find work experience directly through an apprenticeship or want to stand out from other candidates that have similar experiences as you - this is the place to do it.
Do not include interests that do not have added value to the position, so focus on what transferable skills you may have learnt. The purpose of your CV is to make you stand out. So if you've had side hustles or interests that bring out qualities your job posting may look for, then including that information will only make you shine brighter.
You may also choose to leave out hobbies and interests from your CV and add them to your personal statement instead. Avoid irrelevant memberships and personal achievements that feel disconnected from what employers are looking for.
Remember that recruiters and employers are pressed for time and won't read anything immaterial. Hobbies and interests are brilliant for our health and well-being but don't include them unless they relate to the job.
A great example of a relevant interest if you're applying for a support worker job would be volunteering during your free time. This shows you are compassionate, are able to care for others (especially volunteer work at elderly homes or hospitals etc.), and persevere to better yourself and the community.
Additional sections and information
Your CV does not need to be limited to the examples we have provided. Again, this document should highlight experiences and achievements that make you stand out from other candidates.
What else can I include on my CV?
Courses

Certifications

Awards and honours

Grants or scholarships

Publications or presentations

Membership in professional associations
In case you choose to include additional information, it should be somewhat relevant to the job you are applying to and to the level of experience you have. If you are looking for more ways to demonstrate to your employer that you deserve the position aside from work experience, look for short courses or certifications that bring added value to your CV. As a support worker having a recognised first aid qualification is extremely important and beneficial. If you're looking to specialise in child care or mental health or another specific field, take up a course to learn more. Become an expert in that field.
References
References, also known as referees, are people who have experience working directly with you in a professional environment. They are able to offer greater insight into your capabilities and personal characteristics. They can be contacted by recruiters to give additional information on a candidate in regard to their skillset and suitability for the open position. If you don't have work experience, this can be a teacher or professor as well.
You should include:
Their full name,

Job title,

Their employer (company)

A brief description of your relationship with them
Despite that adding the contact details of references is common, it can also be beneficial if you decide to leave it out. See what Samantha did on her CV. If you are considering leaving out your references, note that they are available upon request. Make a conscious choice as to whether or not you include references in your CV. Our references guide can help you.
Final tips and tricks
Now that you've rocked your master CV and are a CV-making pro, go out and start applying! Don't be afraid to apply to multiple employers to better your chances. You are capable of getting your dream support worker job. Don't forget that investing time and effort into your CV will show your best self to your future employers.
Here are the key points to writing a perfect support worker CV:
Spend time crafting a comprehensive master CV

Save your master and all relevant documents in a secure file that's easily accessible

Read job posts carefully and pick up keywords

Compile a summary CV from your master using only info that's relevant to the job

Write an upbeat personal statement into the CV focusing on the job requirements and relevant learning moments you'd had

Ensure your personal statement offers solutions

Write a unique cover letter that briefly tells the reader who you are and what you offer
When you send your application:
Always send your tailored CV and cover letter in pdf format

Don't send any other documents unless specified as essential

Check that your contact details are easy to find on the CV and in the covering letter

Don't include references with an initial application
What are recruiters keeping an eye out for:
People you interact with

Tools and softwares you know

Product/service knowledge

Work produced

Environments you work in
Consistently cater your CV for each job opening you are applying for. Do not get discouraged if you do not get the first job you apply to, this is part of the application journey. Keep gaining experiences to add to your CV and make sure you annually update your master CV or between jobs.
Now that you have the skills to craft the perfect CV, we wish you the best in your upcoming interview. Good luck!
Beyond the CV: Support worker FAQs and facts
Written below you will find some extra information in regards to FAQ's and such.
Can I have a criminal record and still become a support worker?
Organisations that offer care services to vulnerable people have a duty of care to them. This means that they have to be thorough with checking who they are employing and if they pose a risk to the group of people served. Employers must request a DBS (Disclosure and Barring Service, or also known as a Basic Disclosure Check or priorly known as a Basic CRB Check) and are recommended to do regular checks throughout employment. If you have a criminal record, you are probably wondering what the chances of success in this career path is.
The quick answer to this question is yes, you can still be a support worker with a criminal record. You will not immediately be disqualified to work as a support worker just because you have a criminal record against you. However, this is also dependent on what the crimes you have committed are. You cannot be refused the role of support worker based on your criminal record if the crime committed is not relevant to the position, for eg: possession of drugs vs. supply of drugs. Additionally, the employer will be taking into consideration how long it has been since the crime you were involved with took place.
Not every crime shows up on a DBS check either as it will depend on the level of check and any filtering implemented. What will definitely show up is the barred list. This means if you are legally barred from the children and/or adult's list, you are legally not allowed to be working with these groups of people. Other information that can be found on a DBS check: spent and unspent convictions, cautions, warnings, reprimands and anything relevant for non-convictions.
If your crimes took place during your youth and are not relevant to care, your potential employer is not allowed to use this information to deny employment.
For more information, we recommend looking at Government officiated information and companies they recommend to get a DBS Check.
What are recognised institutions for health and social care?
To get your list started, here are approved social work courses at university level.
For health and social care diplomas, we recommend searching for the course at your local colleges!
What more can I do to stand out from other support workers?
Become an expert in your field. This means taking classes and courses, and reading up on information!
For example, you are looking to work as a support worker surrounding the field of mental health. The following are examples to help you grow your knowledge and expertise.
Familiarise yourself with important documents and skills such as the Mental Health Act, MHA;
Taking up courses:
There are different trainings and courses for social care available.
Check them out and see what is relevant to you.
I don't want to make this CV myself, is there a service I can hire?
At CVMaker we offer CV writing services.
Where can I find good templates to apply for jobs?
At CVMaker we offer easy-to-edit templates for CV's and personal statements!
Where can I find open positions for support workers?
Consider using the following platforms to look for job opportunities for support workers:
If these search terms do not lead you to the job you are looking for, consider using these variations:
Personal care assistant

Caretaker

Personal support worker

Support assistant

Care associate

Support associate

Care support worker

Try to mix up the variations as different employers can call it something different.
You can add additional search terms to the position if you are looking for a specific field:
Children/child care

Mental health

Physical disabilities

Elder / elderly / retirement

Learning disabilities

etc.
If you do not find a place you like, think of organisations you would like to work for and go on to their website to look for open positions or email them directly.
Need a quick and professional CV?
While applying for a job can be inspiring and motivating, we realise it could also be time-consuming or frustrating. Creating a well-designed and professional CV is undoubtedly not an easy task. If you need some assistance or guidance on improving your graduate CV, you can get in touch with us to get advice from an expert who has created thousands of CVs.
Are you looking for a graduate CV example? Then make sure to check out the CV Maker app, with which you can save time on writing and designing your CV. Choose a CV template that suits you best.
Land the interview for your dream job with CVMaker
Effortlessly create your professional CV within 10 minutes and download it whenever and wherever you want!
Create your CV
Increase your chances landing your dream job with CVMaker.