Support worker CV
With significant experience as a Support Worker, Samantha selected the professional yet straightforward Edinburgh CV template. This template showcases her skills while also showcasing daily duties versus key achievements.
Create CV
"Compassionate Support Worker with over five years of experience in delivering clinical, physical, and emotional support to children, young adults, and adults."
Samantha Kumar
- Support Worker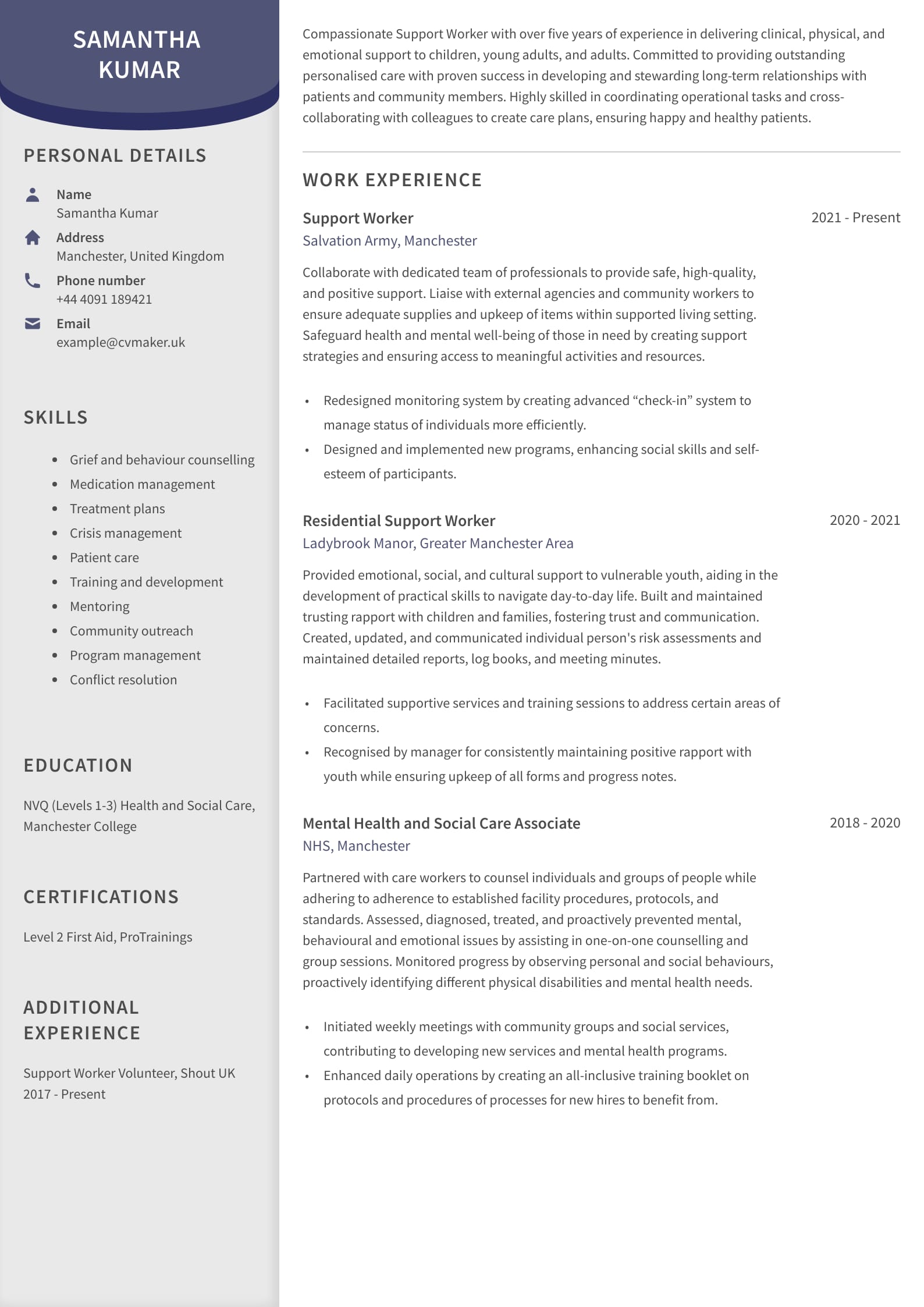 How to create a Support Worker CV?
If you're interested in pursuing a career as a support worker in the UK, you're in the right place. This CV writing guide is designed to help you no matter where you are in your professional journey, whether you're a recent high school graduate, newly qualified, or a seasoned professional seeking a new position.
We've compiled a comprehensive support worker CV example tailored to the health and social care landscape. This will provide you with the tools you need to create an impressive CV that will catch the attention of your potential employer and help you secure your dream job. With our expert guidance and tips, you can feel confident in your ability to present yourself in the best possible light and make a strong impression on those who are hiring.
Support workers play a vital role in various fields, and there are many different types of support worker roles available, such as:
General Care Assistant Support Worker

Disability Support Worker

Elderly Support Worker

Family Support Worker

Learning Disability Support Worker

Mental Health Support Worker
If you're interested in pursuing a career as a support worker, writing a compelling CV can be a daunting task, especially if you have little to no work experience. But don't worry! Our step-by-step guide will help you create a CV that effectively showcases your skills and experience, regardless of your level of experience. Let's get started and make sure you stand out from the crowd.
The CV writing process: Where to start? 
Crafting a CV requires a strategic and detail-oriented approach. To maximise your chances of success, it's crucial to carefully plan and dissect each CV section, ensuring that your career documents are tailored to the specific requirements of the job target.
To achieve this, there are two essential steps to consider. The first step is to create a comprehensive master CV, and the second is to customise your CV for each job application.
Master CV for a Support Worker CV
This comprehensive document includes all of your relevant skills, achievements, and experience in one place. By using your master CV as a basis, you can craft a highly targeted and customised CV that highlights your most relevant skills and experiences. Once you have all your information accurately in one place from start to end, you don't ever have to do it again. All that's required is to update it annually.
Job-specific CV for a Support Worker CV
When creating a support worker CV, remember employers may use an applicant tracking system (ATS) to screen applications. To increase your chances of success, make use of industry-specific terminology, emphasise key skills and experience, and customise your CV to each job application
Support Worker CV example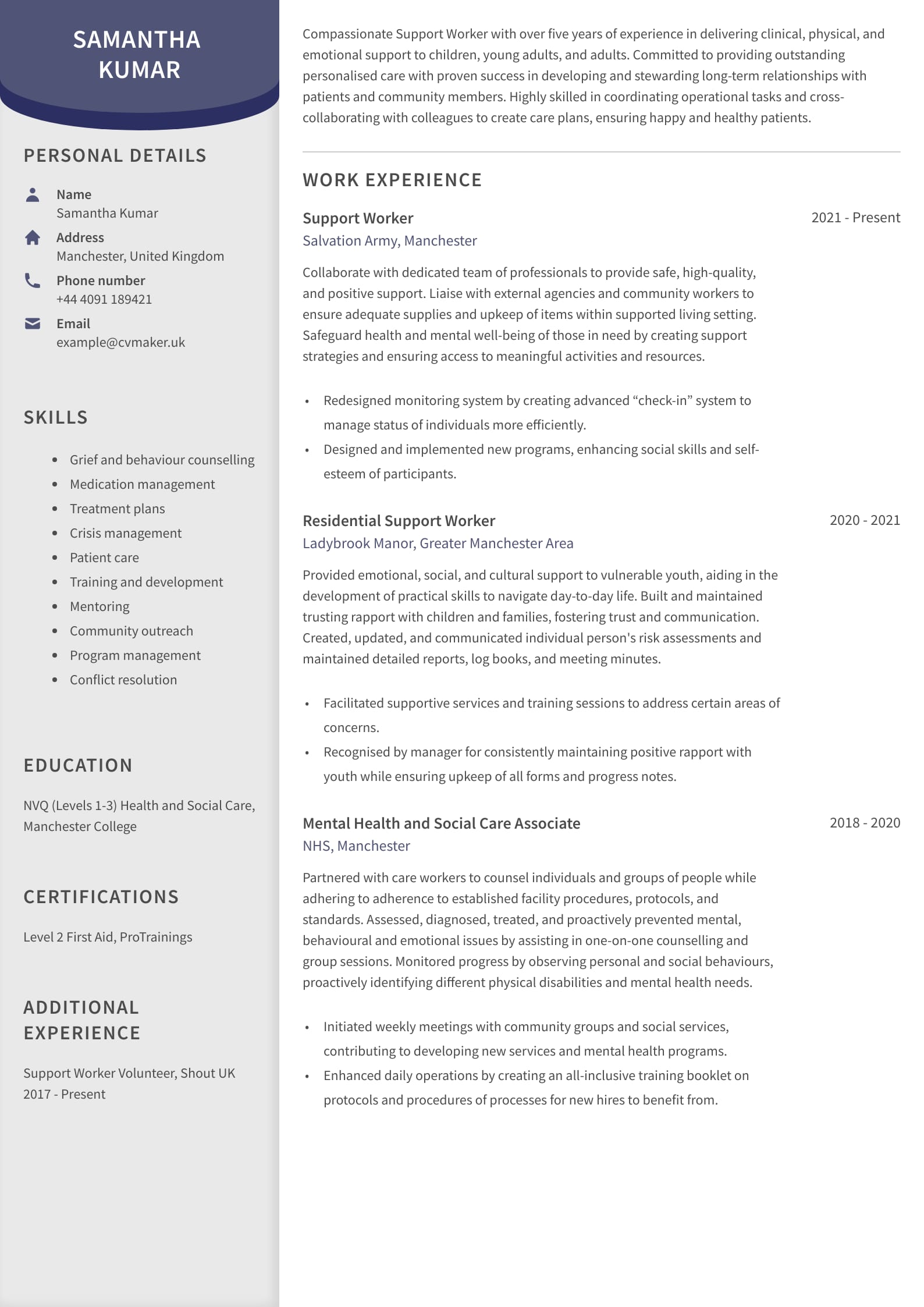 Download this example - Support Worker CV
Samantha's CV highlights her mental health expertise and experience as a support worker with well-ordered sections. It's a great model for impactful and visually appealing CVs that showcase qualifications to potential employers.
What to include in a Support Worker CV? Tips and examples 
When writing a CV for a Support Worker, you need to distinguish between primary and optional sections. The primary sections of your CV are essential in highlighting your qualifications and demonstrating your suitability for the role, while the optional sections offer supplementary information to make your CV more impressive and help it stand out from other applicants. When deciding which sections to include, consider the specific job requirements and tailor your CV accordingly.
How to write a personal profile on a  Support Worker CV 
To craft a strong personal profile, you need to highlight your unique soft skills and experience that make you an ideal candidate. Begin by briefly summarising your professional background, emphasising relevant qualifications or certifications. Below are examples of various levels of support workers:
Senior Support Worker personal profile example
Established Support Worker with over 10 years of experience in crisis intervention, hospital treatments, and supporting children with learning and developmental disabilities. Adept at building relationships with clients and their families with natural ability to be approachable and empathetic.
Mid-level Support Worker personal profile example
Compassionate and flexible Support Worker with 4 years of experience developing and following personal care plans for mental health patients. Skilled in managing challenging caseloads while maintaining positive communication with clients, families, staff, and visitor**s**.
Junior Support Worker personal profile example
Entry-level Support Worker with 6 months of experience at the NHS, skilled in scheduling appointments, patient registration, and maintaining a clean and safe environment. Committed to providing exceptional care and support while working collaboratively with other healthcare professionals.
Refer to our detailed article for more information on personal profiles or the care assistant CV example for more related tips.
How to include skills on a Support Worker CV 
In order to distinguish yourself as a strong candidate for a Support Worker role, it is important to showcase both your soft and hard skills on your CV. While it may be difficult to identify and emphasise these skills, taking the time to evaluate your strengths and pinpoint your core skills can greatly enhance your CV. Choose the right CV template to showcase the skills you have gained and the experience you have.
By highlighting your relevant experience and demonstrating your abilities in areas such as communication, problem-solving, empathy, and technical expertise, you can present yourself as a well-rounded and capable candidate for the role. To help get you started, we've compiled a list of professional and personal Support Worker skills you can consider adding to your CV.
Examples of hard skills for a Support Worker CV
Basic medical procedures

Knowledge of medical terminology and abbreviations

Proficiency in using medical equipment and devices

Understanding of infection control and hygiene practices

Medication management and administration

Developing care plans and updating patient records

Conducting health assessments and evaluations

Providing physical support and mobility assistance

Knowledge of specific conditions and disabilities
Examples of soft skills for a Support Worker CV
Empathy and compassion

Communication skills

Active listening skills

Patience and a calm demeanour in dealing with challenging situations

Flexibility and adaptability to changing work environments

Teamwork and collaboration

Problem-solving and critical thinking

Time management and organisational skills

Attention to detail
For more information, refer to our article on how to add skills to your CV.
How to include work experience in a Support Worker CV
Your work experience is the backbone of your CV, giving potential employers insight into how you've applied your skills in previous roles. To showcase your abilities as a Support Worker, it's essential to detail your work experience, starting with your most recent job. Make sure to include your job title, employer's name and location, and the dates of your employment. Including specific examples of how you positively impacted the lives of those you cared for is crucial.
For more detailed advice and examples on how to include work experience on your CV, refer to our guide on the topic. More further social care related examples, take a look at our healthcare CV example.
How to write additional work experience on Support Worker CV
If you have little to no work experience in the support worker field, don't worry! There are still ways to showcase your skills and qualifications on your CV. One way is to gain experience through placements and apprenticeships.
Placements can be done during college or in between semesters. It shows employers that you're dedicated to gaining experience and willing to work in your free time.

Apprenticeships provide hands-on experience and can take 6 to 18 months to complete. By the end, you will better understand your duties and responsibilities as a support worker, including care planning, safeguarding, and communication skills.
How to list education on a Support Worker CV
When writing about education on a Support Worker, list qualifications and relevant training such as NVQs and first aid. Employers expect sound literacy and numeracy skills, and healthcare qualifications may be required. Include university degrees with honours if it's a 2:1 or first, and special qualifications like NVQ level 2 or level 3 for senior roles. List care certificates separately under "Certifications".
If applicable, your education can include the following:
University degree: Honours can be included but only recommended if it is 2:1 or a first. If you are still a student, add your expected graduation date.

GCSE's or A levels (or equivalent): Most importantly, include your math and English, as this is usually what support worker recruiters seek.

Special qualifications: Support workers are expected to have at least NVQ level 2 or 3 for more leadership/senior roles. Some employers may not require you to finish your diploma when starting the position, but you must at least work towards it.

Care certificates: Some people without training or relevant experience tend to receive training on the job. You may be provided resources to complete the care certificate during this time. With this certificate, you will obtain the knowledge and skills needed for social and health care support worker positions.
What references to include in a Support Worker CV?
References, or referees, have experience working directly with you in a professional environment. They can offer greater insight into your capabilities and personal characteristics. Recruiters can contact them to give additional information on a candidate regarding their skillset and suitability for the open position. If you don't have work experience, this can also be a teacher or professor. Refer to our article for more information.
Key takeaways
It's great that you've taken the time to read this article on how to write crafting effective support worker CVs. By now, you should be in full gear to know how to apply the right keywords. So, as you start applying for support worker jobs, keep these key takeaways in mind and continue to invest time and effort into crafting your CV to showcase your best self to future employers.
Start by crafting a comprehensive master CV, listing all your skills, experiences, and qualifications.

Save your master CV, along with all relevant documents, in a secure file that's easily accessible.

Read job posts carefully and select keywords to tailor your CV for each application.

Create a summary CV from your master by selecting only the relevant information to the job you're applying for.

Write a strong personal profile that focuses on the job requirements and highlights any relevant learning experiences you've had.

Write a unique cover letter that briefly introduces who you are and what you can offer to the employer.
Next steps?
If you're looking to fix inconsistencies in your text or improve your CV writing, consider visiting our CVMaker website. We offer a professional CV Writing Service as well as an easy-to-use CV Builder tool.
FAQ
Can I have a criminal record and still become a Support Worker? 
Having a criminal record doesn't necessarily mean you can't become a support worker, but it will depend on the nature and severity of the offence. Employers have a legal obligation to carry out Disclosure and Barring Service (DBS) checks on all potential employees in the health and social care sector, including support workers. The DBS check will reveal any spent or unspent convictions, cautions, reprimands or warnings you may have.
What are recognised institutions for health and social care in the UK?
These institutions play a crucial role in ensuring high standards of care and professionalism in the UK's health and social care sector.
The National Health Service (NHS): This is the publicly funded healthcare system in the UK and is the largest employer of health and social care workers in the country.

Skills for Care: The UK's workforce development body for adult social care provides training and development opportunities for care workers and managers.

The Care Quality Commission (CQC): This is an independent regulator of health and social care in England, responsible for inspecting and rating care providers to ensure they meet certain standards.

The Royal College of Nursing (RCN): This is the world's largest nursing union and professional body, representing nurses and nursing students in the UK.

The Royal College of Occupational Therapists (RCOT): This is the professional body for occupational therapists in the UK, providing education, training, and support for its members.

The Health and Care Professions Council (HCPC): This is the regulatory body for healthcare professionals in the UK, ensuring that they meet specific standards of education, training, and conduct.
What more can I do to stand out from other support workers? 
Consider pursuing additional training or certifications in areas relevant to your field, such as first aid or mental health. You can also gain practical experience by volunteering in related roles, such as at a community centre, hospital, or care home. Networking can also help you stand out in the field. Attend job fairs, conferences, and events related to your industry to connect with potential employers and other professionals.
Where to find open positions for support workers in the UK?
To find job opportunities for support workers in the UK, consider searching on job platforms such as LinkedIn, Indeed, Reed.co.uk, and CharityJob using search terms like "Support Worker," "Personal Care Assistant," "Caretaker," "Personal Support Worker," "Support Assistant," "Care Associate," and "Support Associate." If you are still looking for suitable jobs, check the websites of organisations or companies you'd like to work for or email them directly.
Should you include hobbies and interests on my CV?
Consider including hobbies or interests that demonstrate qualities sought in the job posting, such as volunteering for a support worker job, which shows compassion, caregiving skills, and dedication to bettering the community. Focus on transferable skills you may have learned, as recruiters and employers will only read material information.
Land the interview for your dream job with CVMaker
Effortlessly create your professional CV within 10 minutes and download it whenever and wherever you want!
Create your CV
Increase your chances landing your dream job with CVMaker.