Midwife CV
Using a professional format for this midwife CV template, Victoria presents her experience in an organised manner, utilising the Otago template for a clear, easy-to-read layout.
Start your CV
"Dedicated and compassionate midwife with over 8 years of experience in providing exceptional care to expectant mothers. Adept at supporting women through all stages of pregnancy and childbirth, with a solid commitment to ensuring the safety and well-being of both mother and baby. "
Victoria Jenkins
- Midwife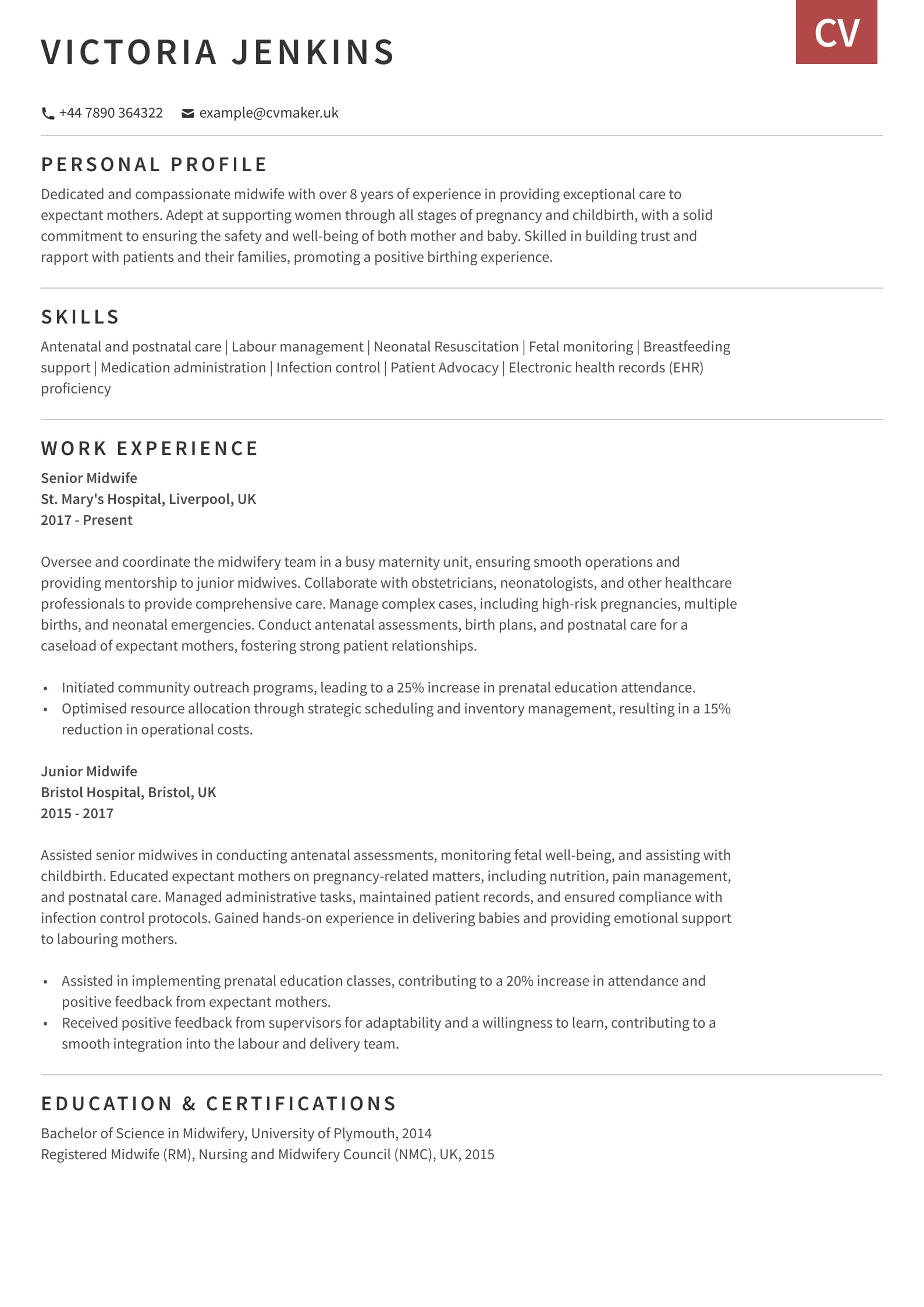 How to Write a Midwife CV: Examples and Tips
The thriving healthcare industry boasts over 1.27 million workers in the UK and continues to grow.  Pursuing a midwifery role offers an inspiring and fulfilling challenge. Crafting a modern CV is essential to enhancing your prospects of securing a job interview. 
Are you familiar with application tracking systems (ATS)? Choosing an ATS-friendly CV template can significantly enhance your job prospects. Whether you're a recent graduate, transitioning careers, or an experienced midwife aiming for a more senior role, writing a good CV is crucial for all experience levels.
From kickstarting careers to spotlighting expertise, we show you how to impress hiring managers with a professional CV. Read on to discover the fundamentals of writing a midwife CV and effectively showcasing your passion for care to women and babies.
Midwife CV Example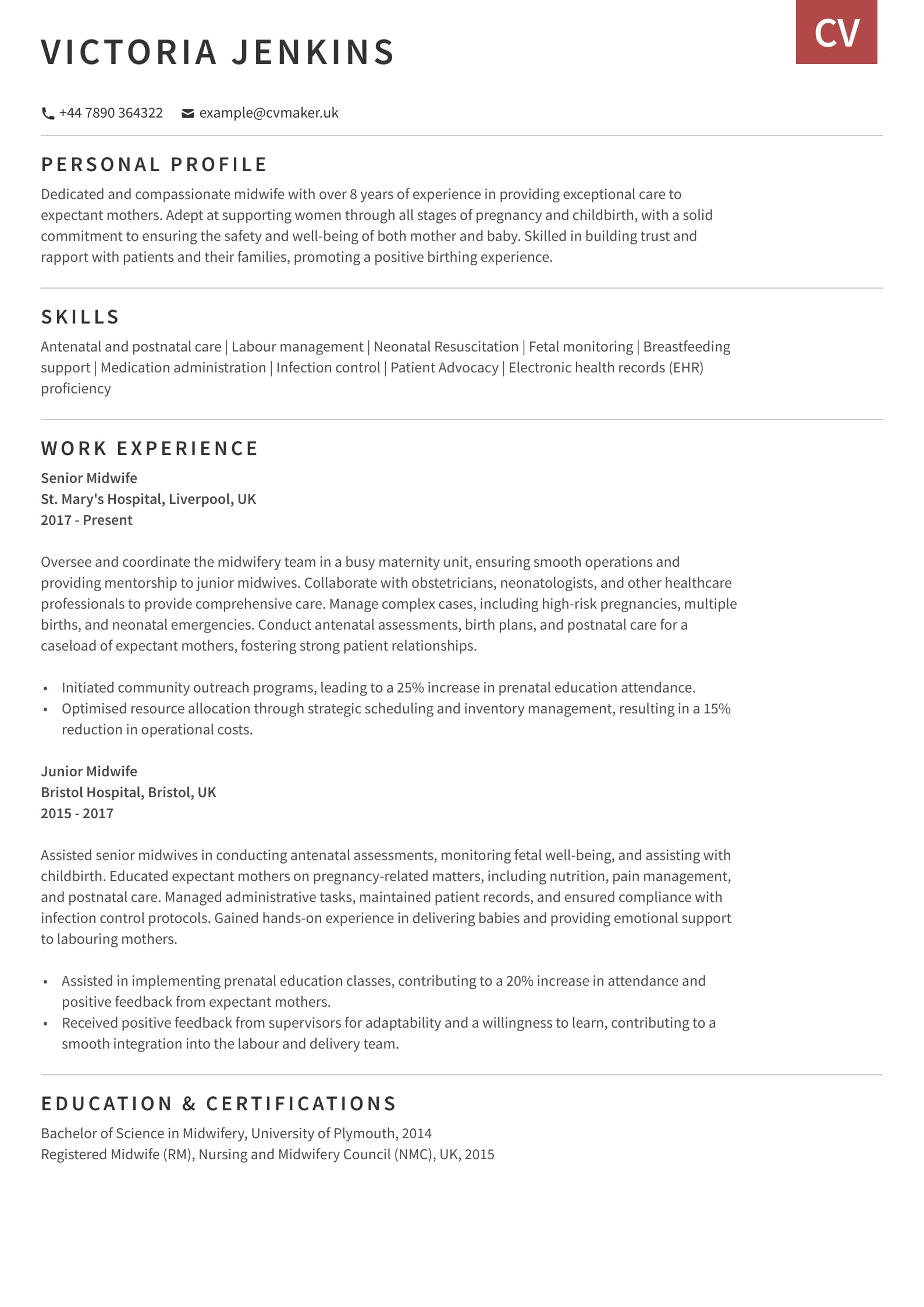 Download this midwife CV sample in PDF
Victoria, a dedicated midwife, exhibits her commitment to comprehensive maternal care in this midwife CV sample. She presents clear and concise details of her duties, expertise, and achievements. She showcases her expertise effectively by highlighting antenatal and postnatal care skills, labour management, neonatal resuscitation and foetal monitoring. Using a professional PDF format for this midwife CV template, Victoria presents her experience in an organised manner, utilising the Otago template for a clear, easy-to-read layout.
What to include in a midwife CV? 
An effective CV should include personal contact details, clinical skills, qualifications, and work experience. Consider adding courses and certificates, relevant volunteer work and professional memberships. Highlight your professional accreditation by registering with the Nursing and Midwifery Council. Align your CV skills with NHS values, showcasing your commitment to patient care and complying with industry standards. Include any enhanced background checks like DBS, occupational health assessments, and clinical references. Remember to mention a valid driving licence for outreach or home care visits.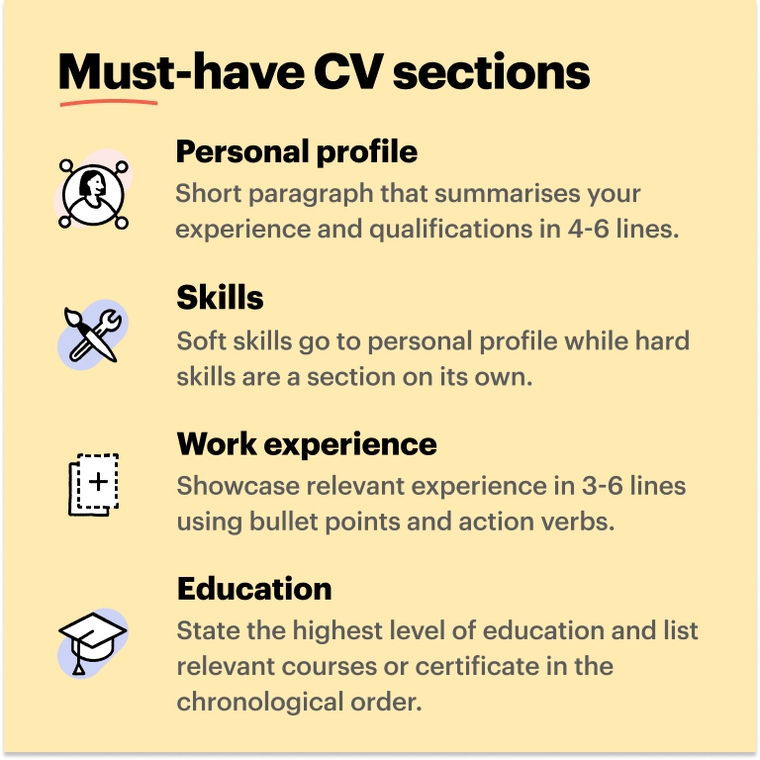 Read our helpful CV writing process guide for more tips on crafting a job-specific CV for a midwife job.
How to write a personal profile for a midwife CV 
Creating an impactful personal profile is essential to draw a recruiter's attention while summarising qualifications and expertise. Ideally, in 4 to 6 lines, this section should spotlight vital soft skills and a passionate attitude central to your role in delivery and postanatal. Highlight any specialised care experience and your commitment to patient-focused care. Learn more by referring to our article on how to write a personal profile on a CV.
Pro Tip
Ensure you write a summary that aligns with your career goals and the job application CV for a midwife job. Use targeted keywords and industry-specific language to grab the recruiters' attention. 
Midwife Care Assistant CV personal profile example
Compassionate and dedicated Midwife Care Assistant with three years of experience supporting expectant mothers through antenatal and postnatal care. Proficient in assisting midwives, ensuring patient comfort, and maintaining hygienic birthing environments. Skilled in foetal monitoring, breastfeeding support, and providing emotional reassurance. Eager to contribute nurturing care and support within a dynamic maternity team.
Registered midwife CV personal profile example
Accomplished Registered Midwife with eight years of expertise in delivering exceptional care to expectant mothers. Proficient in antenatal assessments, labour management, and neonatal resuscitation, ensuring the well-being of mothers and infants. Skilled in building patient trust and fostering positive birthing experiences. Committed to upholding the highest standards in midwifery care.
Newly qualified midwife CV personal profile example
Enthusiastic and motivated qualified midwife eager to apply academic knowledge and practical training to provide compassionate care. Skilled in antenatal and postnatal support, assisting with deliveries, and promoting breastfeeding. Possesses a strong foundation in patient advocacy and communication. Striving to learn and contribute positively to the maternity care field.
Student midwife CV personal profile example
Dedicated and aspiring midwife passionate about learning and supporting expectant mothers. Currently pursuing comprehensive education in midwifery, gaining theoretical knowledge and practical experience in prenatal care, childbirth, and postnatal support. Developing skills in patient communication, teamwork, and the essential aspects of midwifery practice. Eager to transition academic insights into hands-on care.
For more examples of personal profiles related to midwifery or hospital settings, refer to the below:
Key skills for a midwife CV 
Writing a CV for the healthcare industry requires a diverse skill set of soft, hard, and technical competencies to complete tasks diligently. Midwife skills include patient-centred soft skills like emotional intelligence, empathy, and excellent communication. List hard and technical proficiencies to showcase your practical and procedural knowledge gained from education or hands-on experience.
On the other hand, for a newly qualified midwife CV or a student midwife CV with no experience, use a skills-based CV format to emphasise transferable skills and a passion for learning. Discover more CV examples with similar skills relevant to clinical and medical settings, such as physiotherapist, dentist and psychologist.  
Hard skills

Soft skills

Antenatal and postnatal care

Communication

Labour management

Empathy

Neonatal resuscitation

Decision-making

Foetal monitoring

Teamwork

Breastfeeding support

Adaptability

Medication administration

Compassion

Infection control

Cultural sensitivity

Patient advocacy

Time management

Electronic health records (EHR)

Stress management

Obstetric emergency management

Patience
For more information or if you are looking for further examples, see what skills to put on a CV.
Showcase your work experience 
On your midwife CV, present your work history chronologically, starting with the most recent role. Ensure clarity by stating company names, employment dates, and locations. List job duties and key achievements builet points that are related to the job description. 
For students or newly qualified professionals with no experience, list relevant volunteer experiences and relevant training, such as involvement in supportive social care roles like working in a care home, food banks, or health-related charities. See our support worker CV example for more inspiration.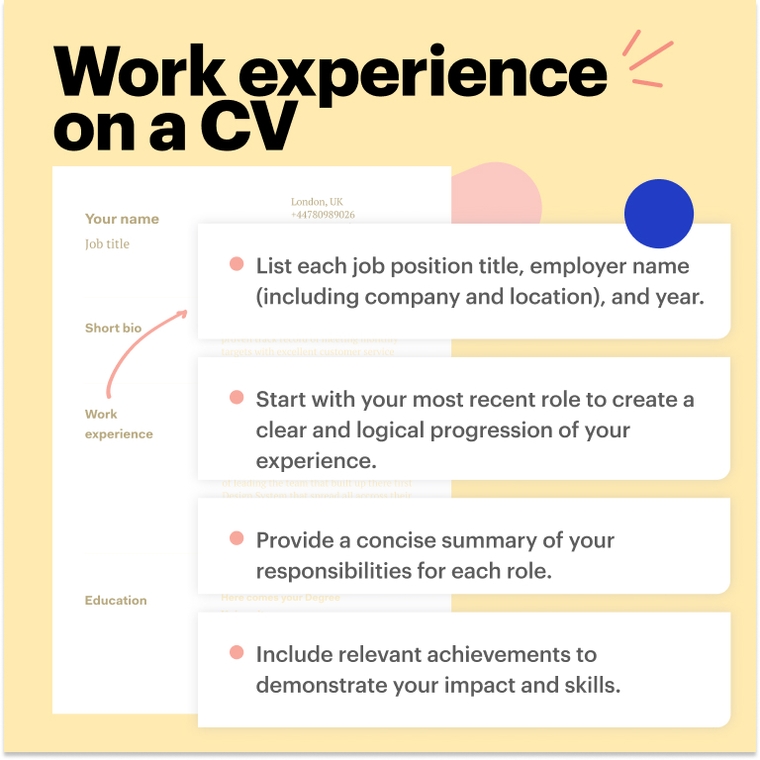 Examples of work experience for a midwife CV
Midwifery Assistant | Central Hospital, Manchester | 2017 - 2019
Assisted registered midwives in providing antenatal care, supporting expectant mothers during appointments, and maintaining accurate records of patient progress. Prepared delivery rooms and equipment for births, ensuring a clean and safe environment for labour and delivery. Provided emotional support to mothers during childbirth, conducted postnatal checks, assisted with breastfeeding techniques, and guided newborn care.
Introduced a digital record-keeping system, which made data processing and appointments 30% more efficient.

Recognised for emotional support groups, contributing to a 25% increase in positive feedback.
Registered Midwife | St. Elizabeth's Maternity Center, Liverpool | 2018 - 2021
Delivered comprehensive antenatal, intrapartum, and postnatal care to expectant mothers, utilising evidence-based practices to ensure optimal maternal and infant health. Managed high-risk pregnancies, collaborating closely with obstetricians and healthcare teams to devise personalised care plans. Facilitated childbirth education classes for expectant parents, conducted regular assessments, monitored foetal development and maternal health, and provided tailored support and advice.
Maintained consistently high patient satisfaction scores of 95% in post-delivery care evaluations.

Managed a complex breech delivery, ensuring a 100% safety rate during the procedure.
Newly-Qualified Midwife| City Hospital, Leeds | 2022 - Present
Participate in multidisciplinary teams, manage deliveries post partum care, and assist in complex cases. Collaborate with senior midwives to enhance skills in antenatal care, clinical examinations and screening. Provide parental classes, attend workshops and training sessions, and engage in continuous professional development programs.
Initiated educational workshops for new mothers, resulting in a 40% improvement in postpartum care and mental health support.

Acknowledged for exceptional teamwork during emergency deliveries and coordinated responses during critical situations.
Student midwife work experience example (little to no experience):
Volunteer at Elderly Care Home| Community Care Center, Sheffield | 2022 - 2023
Assisted elderly residents with daily activities, fostering empathy and patience while addressing their needs. Provided emotional support and companionship, promoting well-being and building rapport. Collaborated with healthcare professionals to ensure the comfort and safety of residents, developing teamwork, communication skills and a patient-centred approach. Participated in organising and facilitating recreational activities, enhancing the quality of life for elderly residents.
Received positive feedback from residents for facilitating engaging recreational activities and workshops.
Read how to write the work experience section on a CV for more examples.
Showcase your qualifications in the education section
In your midwife CV education section, mention the school's name, location, attended dates, and the attained degree, diploma, or certificates obtained. To become a midwife, individuals typically complete a Nursing and Midwifery Council-approved degree or a postgraduate course. Holding relevant qualifications in science, social and healthcare-related subjects is beneficial.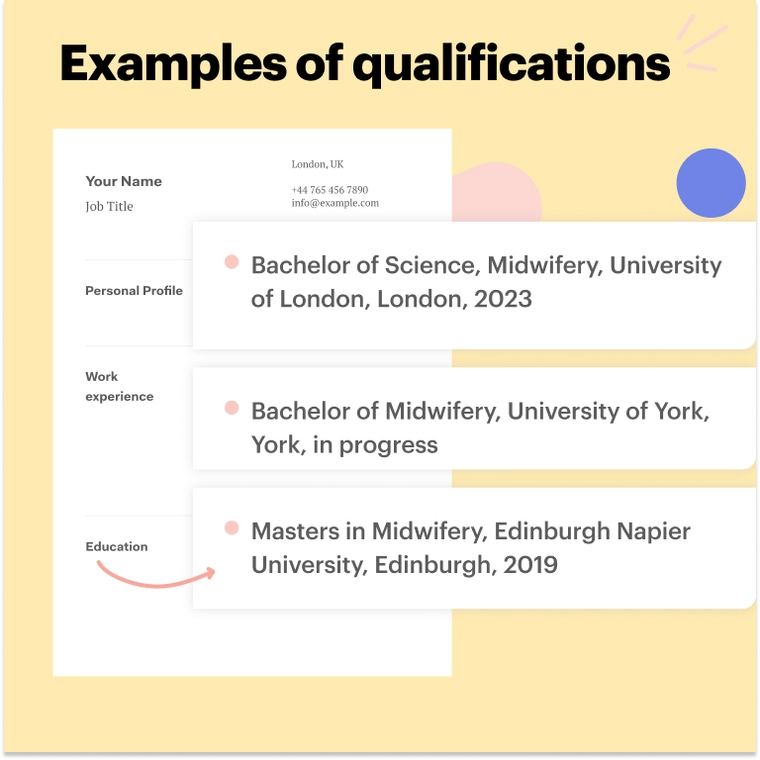 Employers also seek entry-level candidates with practical experience or training. For school leavers or graduates who need to gain work experience, consider completing an apprenticeship, which takes up to 48 months. Refer to our graduate article, especially if you're writing a newly qualified midwife CV in the UK.
Explore our helpful guide on mastering the education section CV for tips and examples.
Courses and certificates to include on your midwife CV
For a midwife CV in the UK, adding courses and certificates can significantly enhance your job prospects. The Nursing and Midwifery Council (NMC) offers programs in neonatal resuscitation, lactation consultant, and foetal monitoring workshops, all recognised and valued within the industry's practice. Highlight any NMC-approved academic courses and postgraduate studies to showcase your commitment to professional development and meeting the UK's healthcare regulations. Learn more about working as a midwife with NHS careers. 
Key takeaways 
An impressive midwife CV should include specialised skills, a passion for patient-centred care and clinical expertise across childbirth stages. Highlight clinical competencies and a commitment to ongoing professional development with NMC-aligned certifications. Use a professional and well-formatted CV to impress recruiters.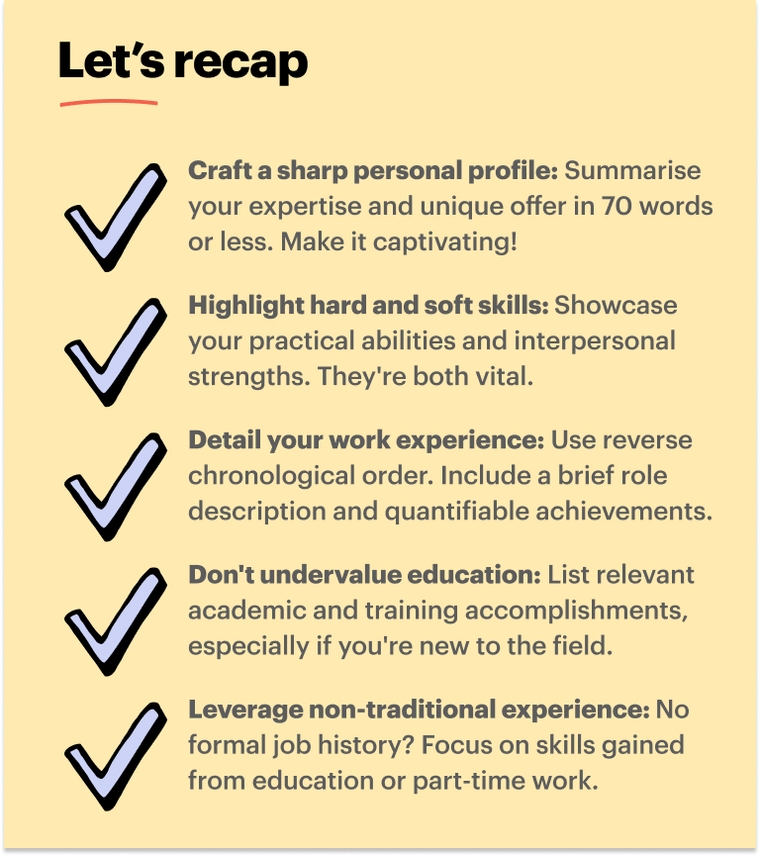 Next steps? 
To refine the CV writing process, or for graduates without experience, discover how to improve your CV and secure an interview. If you need more advice, our CV Writing Service can create a personalised application for your dream role. Explore our user-friendly CV Builder to speed up the CV writing process and write a tailored cover letter aligned with the job description to accompany your CV.
FAQ 
What qualifications do you need to become a midwife in the UK?
Becoming a midwife in the UK requires completing an NMC-approved degree in midwifery at university. These courses integrate theoretical knowledge with hands-on clinical practice, covering antenatal, intrapartum, and postnatal care. If your initial degree isn't in midwifery, pursuing a postgraduate midwifery course allows you to qualify, a crucial aspect of highlighting a newly qualified midwife CV.
Can you apply for a midwife position with no experience? 
While experience can benefit, some midwifery positions welcome newly qualified midwives or individuals with limited experience. Substantial academic achievements, a proactive approach to continuous learning, and showcasing relevant skills in maternal care and healthcare protocols in your midwife CV could compensate for limited practical experience. Explore how to write a CV with no experience for tips.
What is a professional summary for a midwife CV? 
A professional summary or personal profile for a midwife CV is a short statement that reveals your professional background and competencies. Highlight your unique strengths, passions, job-specific skills and qualifications.
Should my CV be just one page for a midwife job application? 
You should aim for one page long. Use a clear and concise format that is easy to read. Select a well-structured professional template with crucial sections and the best fonts. Read our blog on how long your CV should be for more advice.
How do I write a CV for a healthcare job in the UK?
A healthcare CV for a midwife job in the UK must include key sections highlighted in this guide and follow a chronological CV format. Include a personal profile, clinical skills, qualifications and work experience. It's optional to add a cover letter and references.
Land the interview for your dream job with CVMaker
Effortlessly create your professional CV within 10 minutes and download it whenever and wherever you want!
Create your CV
Increase your chances landing your dream job with CVMaker.