Physiotherapist CV
Emily is a dedicated Physiotherapist, ready to leverage her strong care and diagnosis skills within the medical sector. The professional Columbia CV template with a two-column layout is clear, concise, and well-formatted.
Start now
"Empathetic Musculoskeletal physiotherapist with 5 years of experience improving patients' physical well-being and quality of life. Skilled in diagnosing and treating a wide range of musculoskeletal conditions and injuries."
Emily Mitchell
- Physiotherapist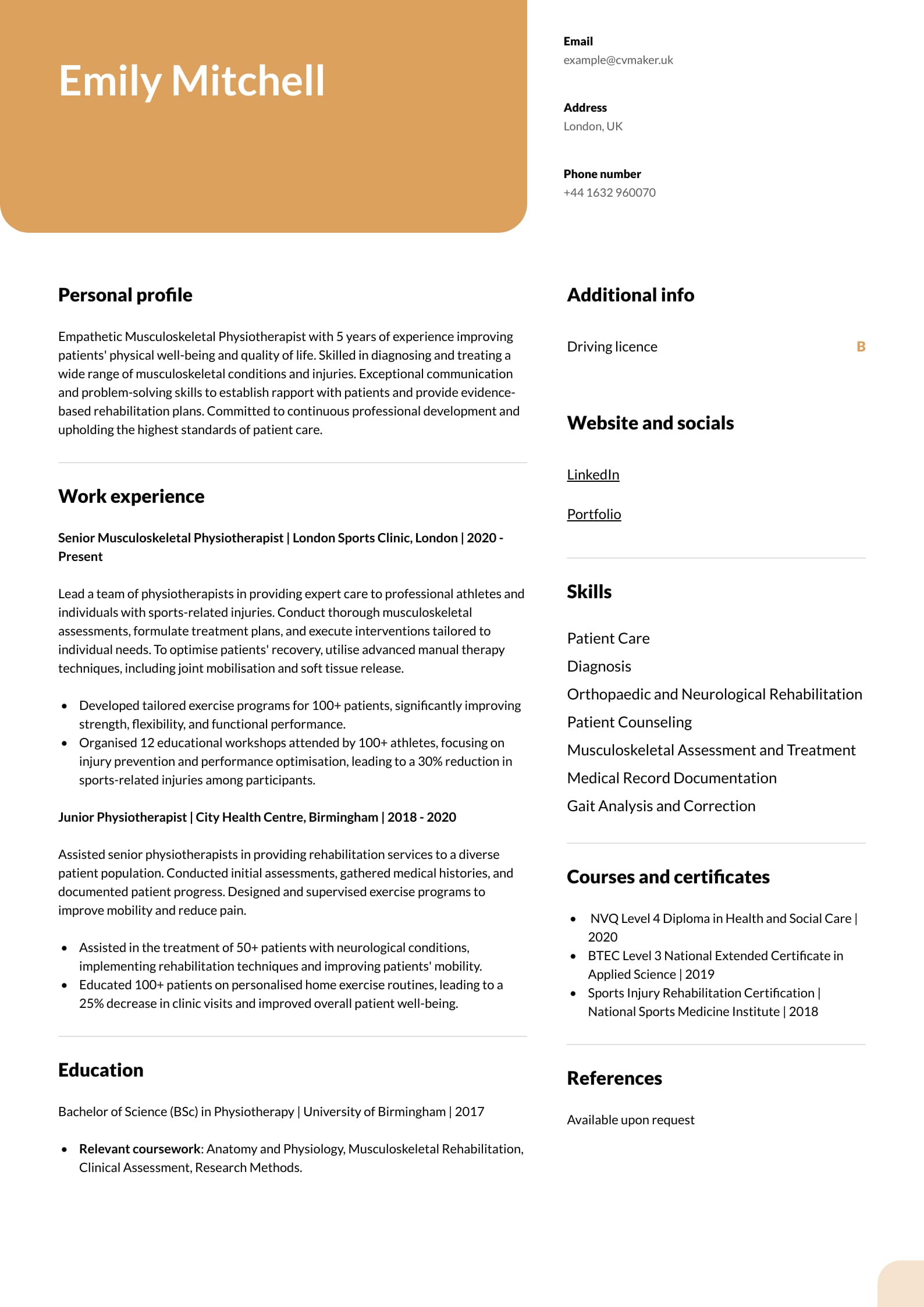 How to Write a Strong Physiotherapist CV (Guide with Examples and Tips)
In today's job market, physiotherapists are key to improving patients' well-being by restoring and maximising movement. This career is ideal for those with a strong passion for helping others, and a desire to positevely impact people's lives through personalised healthcare interventions. However, securing a position in this field requires a well-crafted CV, along with a professional CV template.
Most common roles within physiotherapy:
Musculoskeletal Physiotherapist

Neurological Physiotherapist

Cardiorespiratory Physiotherapist

Pediatric Physiotherapist

Geriatric Physiotherapist.
This step-by-step guide explores the must-have and optional components of a good CV, offering industry-specific advice and examples tailored for healthcare professionals like you. Whether you're an undergraduate, considering a career change, or a seasoned professional at the pinnacle of your career, we provide you with the knowledge and practical tips to succeed in your job search.
Physiotherapist CV example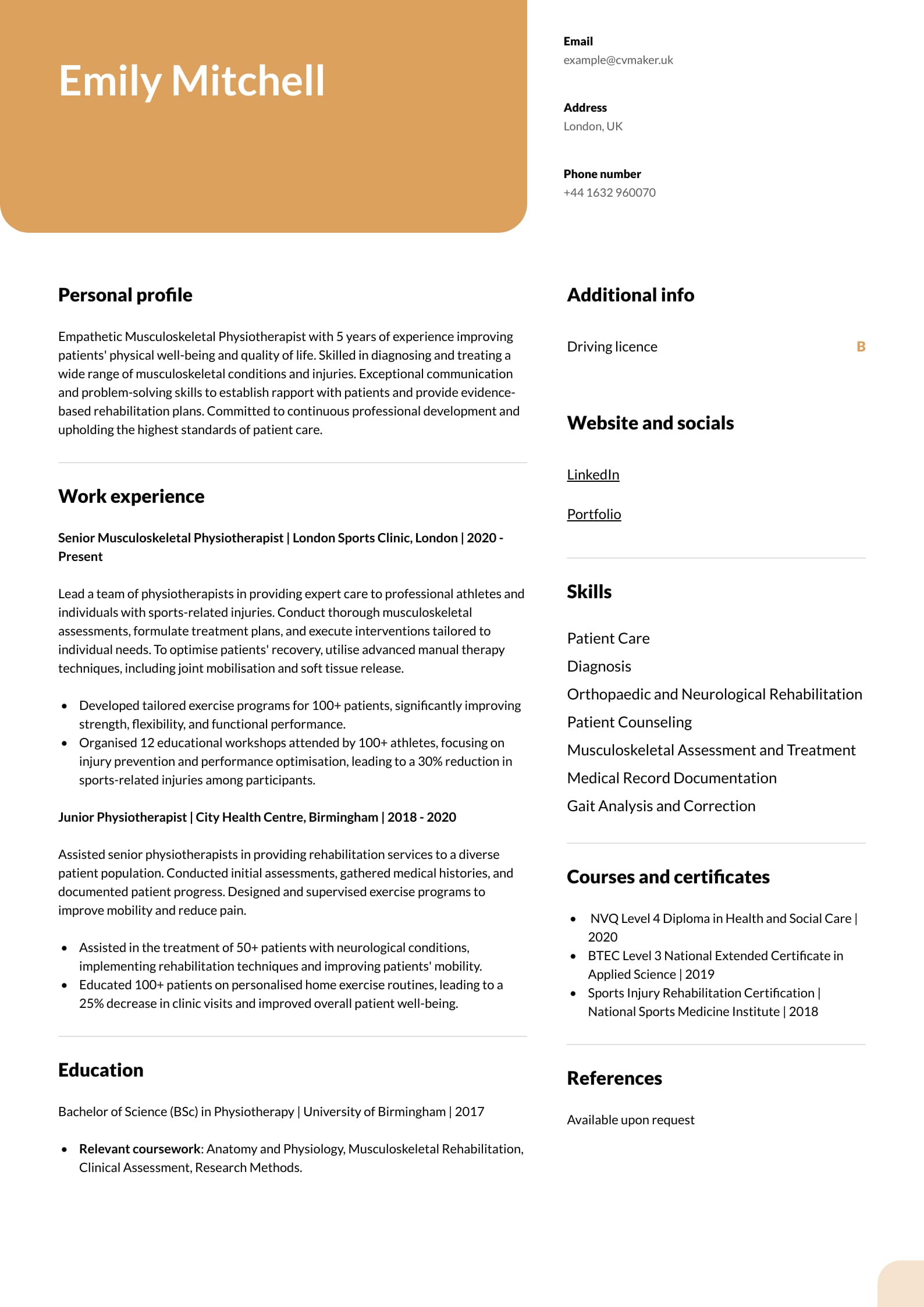 Download this Physiotherapist CV example in PDF 
This CV sample features Emily Mitchell, a physiotherapist with 5 years of experience leading teams and improving patient's well-being. She presents a comprehensive career overview, clearly and concisely describing her daily duties and measurable achievements. Emily has opted for the Columbia template with a two-column layout and a simple chronological format. 
What to include in a physiotherapist CV?
Your CV is gateaway to your professional journey, reflecting skills, experience, and dedication to continuous growth. It's crucial to make it applicant tracking system (ATS)-friendly while showcasing your patient-centred approach and eagerness to assist others. To kickstart the CV writing process, emphasise pertinent work experience, education, and key skills, aligning them with your career aspirations.
For a deeper understanding of specific roles and bands, explore various health careers in the UK through resources such as the NHS and the National Careers Service. 
Include a captivating personal profile
Your personal profile, also known as personal statement, is the first thing employers see when looking at your CV, so it's essential to make it count. Summarise your professional history, qualifications, and career goals in four to six lines. Highlight your expertise, such as musculoskeletal disorders, sports injuries, or neurological physiotherapy. Align your profile with the specific job description, emphasising the skills your employer or recruiter seeks.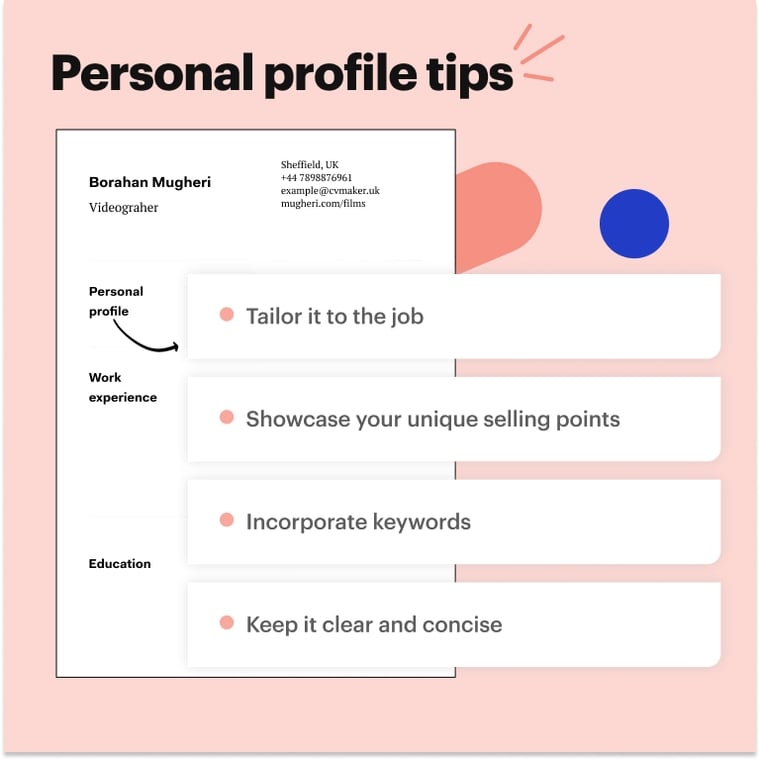 Refer to our medical CV or healthcare CV examples for more inspiration.
Physiotherapist assistant CV personal profile example
Energetic Physiotherapist Assistant with 3 years of experience in rehabilitation and patient care. Skilled in conducting musculoskeletal assessments, therapeutic exercises, and pain management techniques. Demonstrated track record in providing compassionate care and ensuring patient comfort. A dedicated team player with excellent communication skills, committed to contributing to positive patient outcomes.
Clinical physiotherapist specialist CV personal profile example
Highly skilled Clinical Physiotherapist specialist with 5 years of experience in complex musculoskeletal and neurological cases. Proven track record in developing and implementing advanced rehabilitation programs tailored to individual patient needs. Skilled in hands-on therapy, pain management, and advanced assessment techniques. Exceptional communicator and leader within multidisciplinary teams focused on achieving optimal patient outcomes.
Senior Physiotherapist CV personal profile example
Seasoned Senior Physiotherapist with 10 years of experience managing diverse patient cases. Adept at conducting comprehensive assessments, developing personalised treatment plans, and supervising junior staff. Proven expertise in manual therapy, exercise prescription, and pain management. Strong leadership skills, fostering a collaborative environment within the team.
Entry-level Physiotherapist CV personal profile example
Aspiring Physiotherapist with a degree in Physical Therapy, specialising in neurology and passionate for patient-centred care. Skilled in musculoskeletal assessment, exercise prescription, and evidence-based interventions gained through rigorous coursework and hands-on internships. Excellent interpersonal skills and the ability to empathetically connect with patients.
See how to write a personal profile on a CV for more information.
Incorporate key skills
Creating a skills section requires you to highlight skills that go beyond the basic job description. Apart from the technical expertise such as ultrasound or therapy, emphasise your ability to effectively communicate with patients and collaborate with multidisciplinary teams. Showcase your adaptability, problem-solving, and ability to lead teams. Remember to prioritise skills by most relavant to the position you're applying for. Include soft skills like empathy and communication and quantify achievements where possible.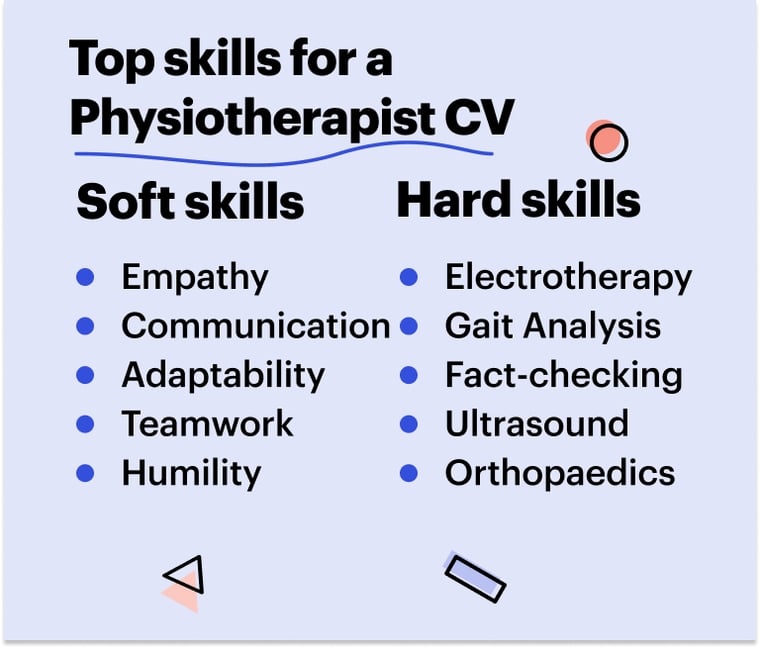 See how to put skills on a CV to learn more.
Illustrate your work experience
Your work experience is the core of your CV, demonstrating your practical expertise and the impact you've made on patients' lives. Include duties and measurable achievements on your CV. Ensure to use action verbs, incorporate keywords from a job description, and bullet points for listing outcomes and results.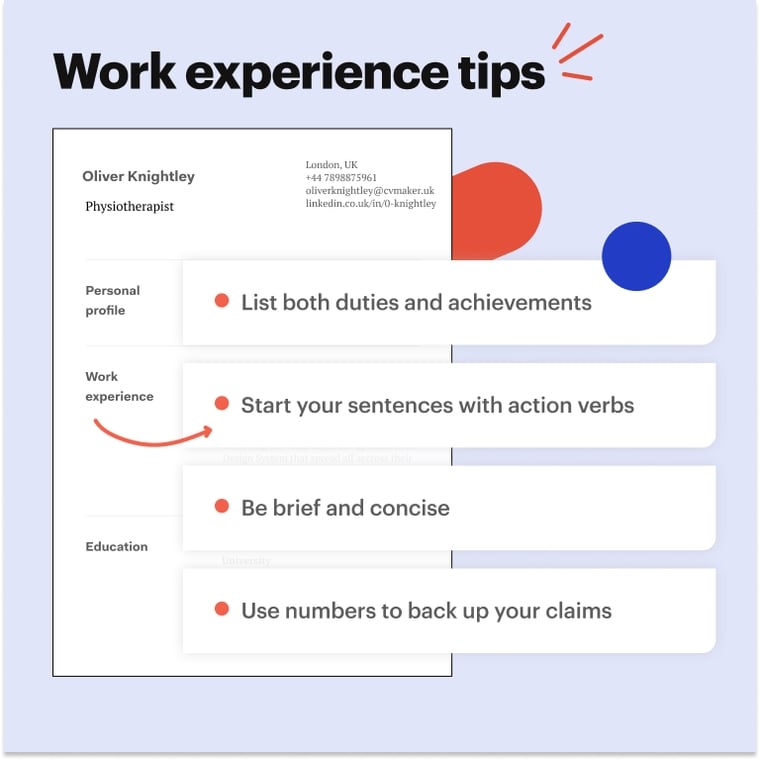 See how to write work experience on a CV for more examples.
Examples of work experience
Physiotherapist, HealthCare Plus Clinic, London | 2023 - Present
Conduct comprehensive patient assessments and develop tailored treatment plans for various musculoskeletal conditions. Implement evidence-based physiotherapy interventions, including manual therapy, therapeutic exercises, and pain management techniques. Collaborate with multidisciplinary healthcare teams to optimise patient care and enhance treatment outcomes.
Enhanced clinic efficiency by 25% through a streamlined patient assessment process.

Received recognition for achieving a 15% improvement in patient satisfaction scores through personalised treatment plans and an empathetic care approach.
Physiotherapist, London Sports Rehabilitation Center, London | 2020 - 2023
Conducted assessments of athletes' injuries and design customised rehabilitation programs to expedite recovery and prevent future injuries. Administered manual therapy techniques and implement progressive exercise regimens tailored to individual needs, focusing on sports-related injuries. Collaborated closely with coaches and trainers to ensure seamless integration of physiotherapy with athletes' training programs.
Facilitated the recovery of professional athletes, enabling them to return to their respective sports 30% faster than the average rehabilitation timeline.

Implemented specialised injury prevention workshops for local sports teams, resulting in a 20% reduction in sports-related injuries during the competitive season.
Physiotherapist, Community Health Services, Birmingham | 2015 - 2020
Conducted comprehensive home assessments for elderly patients, identify mobility issues, and create tailored exercise plans to improve their quality of life. Provided specialised physiotherapy for patients recovering from surgeries or managing chronic conditions, focusing on pain management and enhancing functional abilities. Collaborated with community nurses and social workers to ensure holistic care, addressing physical and psychological aspects of patients' well-being.
Developed a community-based fall prevention program, leading to a 25% reduction in fall-related hospital admissions among elderly residents.

Recognised for outstanding patient care, receiving the Patient Choice Award in 2018 for consistently exceeding patient expectations and improving their overall quality of life.
If you have no experience in physiotherapy, consider opting for a student, skills-based CV, or simple CV template to help you efficiently showcase your achievements and projects. 
Example of work experience for entry-level physiotherapy CV
Physiotherapy Intern, University of Edinburgh Medical Center, Edinburgh | 2021 - Present
Assisted senior physiotherapists in patient assessments and developing tailored treatment plans. Engaged in research projects, conducting literature reviews and data collection. Facilitated community outreach programs, providing physiotherapy consultations and educational workshops.
Received commendation for compassionate patient care, enhancing overall patient satisfaction.

Organised and led a health and wellness camp, positively impacting community health.
Refer to nurse, care assistant, and personal trainer CV examples for more details.
Gain strength with a CV in the education section
To effectively present your educational background, focus on formal education and accredited certificates that can boost your CV. Start by listing your formal education, such as your university degree or high school diploma, followed by any specialised training or courses you have finished.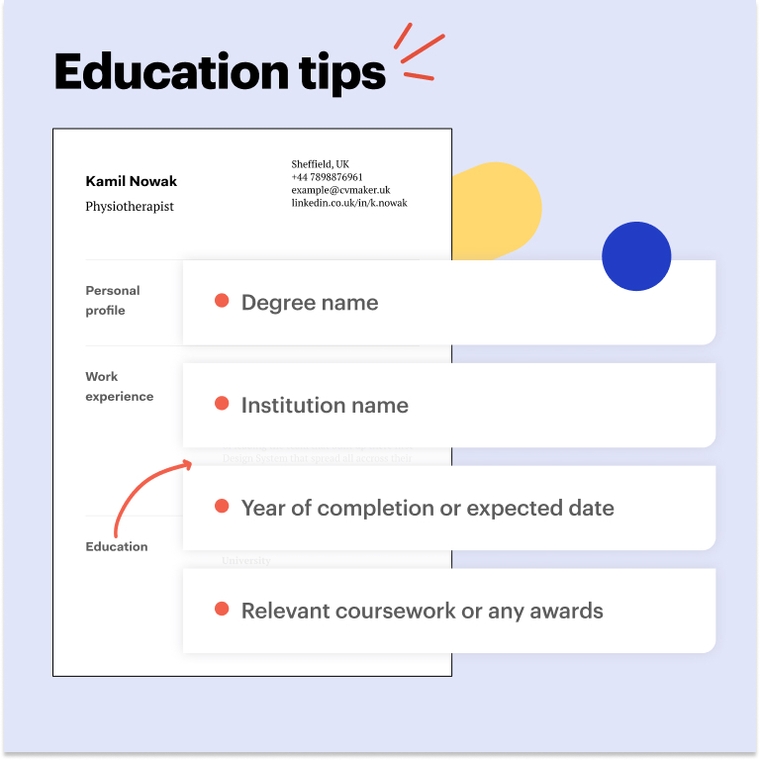 Refer to how to arrange education on a CV for more information.
The most common pathway to enter this profession is completing a bachelor's degree or integrated master's in physiotherapy or related subjects, such as sports science, biology, or healthcare. Additionally, consider internships or apprenticeship programs to help increase your chances of landing your dream job.
Examples of education
Doctorate in Physiotherapy | Imperial College London, London | 2015 - 2019
*Relevant courses: Advanced Cardiopulmonary Rehabilitation, Neurological Interventions, Research Methodology.*
Master's Degree in Physiotherapy | University College London, London | 2016 - 2018
*Relevant courses: Advanced Musculoskeletal Assessment, Pediatric Physiotherapy, Clinical Research Methods.*
Bachelor's Degree in Physical Therapy | King's College London, London | 2013 - 2016
*Relevant courses: Orthopedic Physiotherapy, Geriatric Rehabilitation, Exercise Physiology.*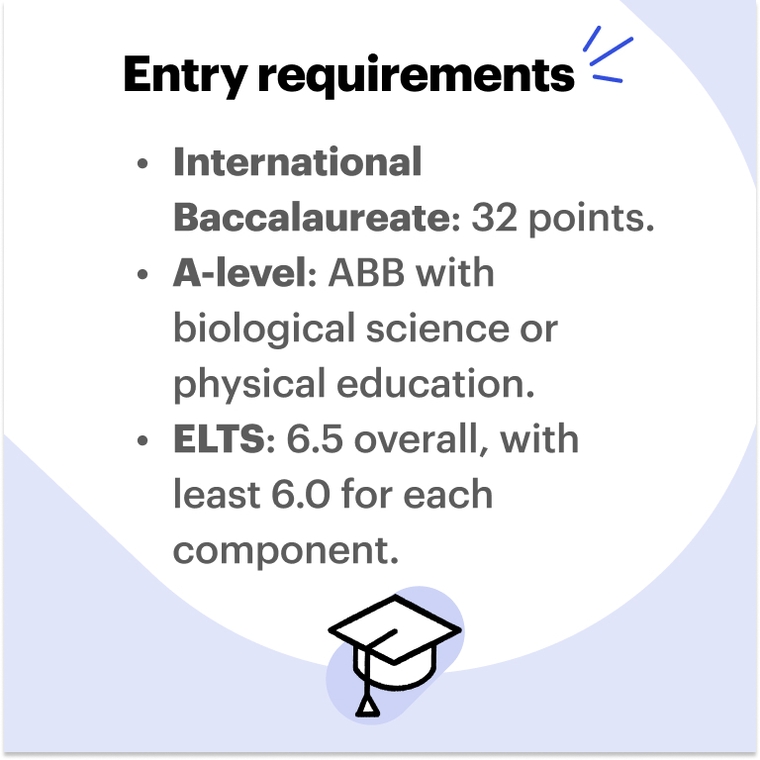 Refer to NHS or Chartered Society of Physiotherapy for more detailed information about entry requirements and role descriptions.
Boost your CV with courses and certificates
Bolstering your core sections with additional training and certification is a great way to highlight your commitment to continuous learning and further validate your qualifications. Remember to keep it short and only include relevant courses for a specific job. If you have extra space, you could also include awards received, workshops, seminars, or contributions to research or publications in the field.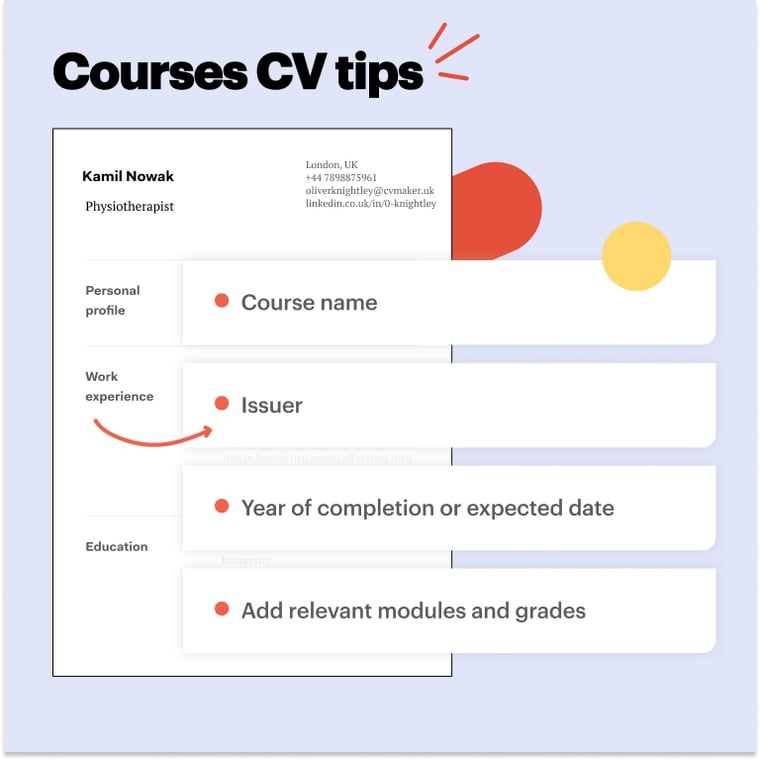 Examples of course providers:
See the courses and certificates in a CV article for more inspiration. 
Key takeaways
Creating an impactful physiotherapist CV requires a blend of technical expertise, empathy, and dedication. Tailor your CV to showcase your skills and experience, emphasising your ability to impact patients' lives through rehabilitation and therapeutic interventions positively.
Next Steps?
If you want to improve your career documents, head over to our CV Writing Services. Our ready-to-use CV and cover letter builder provides over 20 professional templates to create an eye-catching CV. To accompany your CV, learn more about how to start your cover letter. Take the next step towards your dream now!
FAQ
How do I write a physiotherapist CV with no experience?
We suggest writing a skills-based CV and showcasing projects, even without formal education, to demonstrate transferable skills, creativity and commitment. Start with a personal statement reflecting your passion for healthcare and desire to learn. Highlight relevant coursework or mention any internships, part-time and volunteer work. If you're unsure about what job to apply for, explore the National Career Service page and research your desired salary depending on your experience and band within your field. Additionally, take a look into our article on how to negotiate salary during a job interview.
Fore more information, read our article for tips on how to write a CV with little to no experience.
What is the best format for a physiotherapist?
We suggest using a reverse chronological format, starting with your most recent positions and working your way backwards. Choose a simple template with readable font and clear headings. Remember, the contents of your CV are way more impactful than heavy visuals. Avoid listing outdated or irrelevant information. 
Are physiotherapists clinicians?
Yes, physiotherapists are clinicians who assess, diagnose, and treat patients with physical problems caused by injuries, illnesses, or disabilities.
Are physiotherapists doctors in the UK?
No, physiotherapists are not qualified as doctors. They are healthcare professionals with specialised training in physiotherapy. Nonetheless, you can still get a Doctor of Physical Therapy (DPT) or Doctor of Physiotherapy (DPhysio) degree that could help you advance in your career or receive higher degree.
What physiotherapist qualifications do I need?
To become a physiotherapist in the UK, you need a bachelor's degree in physiotherapy from a recognised university. Additionally, registration with the Health and Care Professions Council (HCPC) is mandatory to practice legally.
What is the job description for a physiotherapist?
Physiotherapists assess patients' physical conditions, develop treatment plans, and provide hands-on therapy. They also educate patients about managing their conditions and prevent future injuries.
What is a 'Band 5 physiotherapist' job description?
A Band 5 Physiotherapist is an entry-level position according to NHS. The job includes working under supervision and treating various patients and conditions. The daily duties include patient assessment, implementing treatment plans, and assisting senior physiotherapists in complex cases.
Land the interview for your dream job with CVMaker
Effortlessly create your professional CV within 10 minutes and download it whenever and wherever you want!
Create your CV
Increase your chances landing your dream job with CVMaker.