Personal Trainer CV
The two-column Wheaton CV template effectively showcases Henry's extensive experience as a personal trainer. Combining his education and certificates in one area allows an potential employer to clearly see his qualifications.
Start your CV
"Passionate and motivated Personal Trainer deeply committed to making clients feel their best and achieve their fitness goals. Able to design personalised fitness programs to suit any client's needs."
Henry Fitzgerald
- Personal Trainer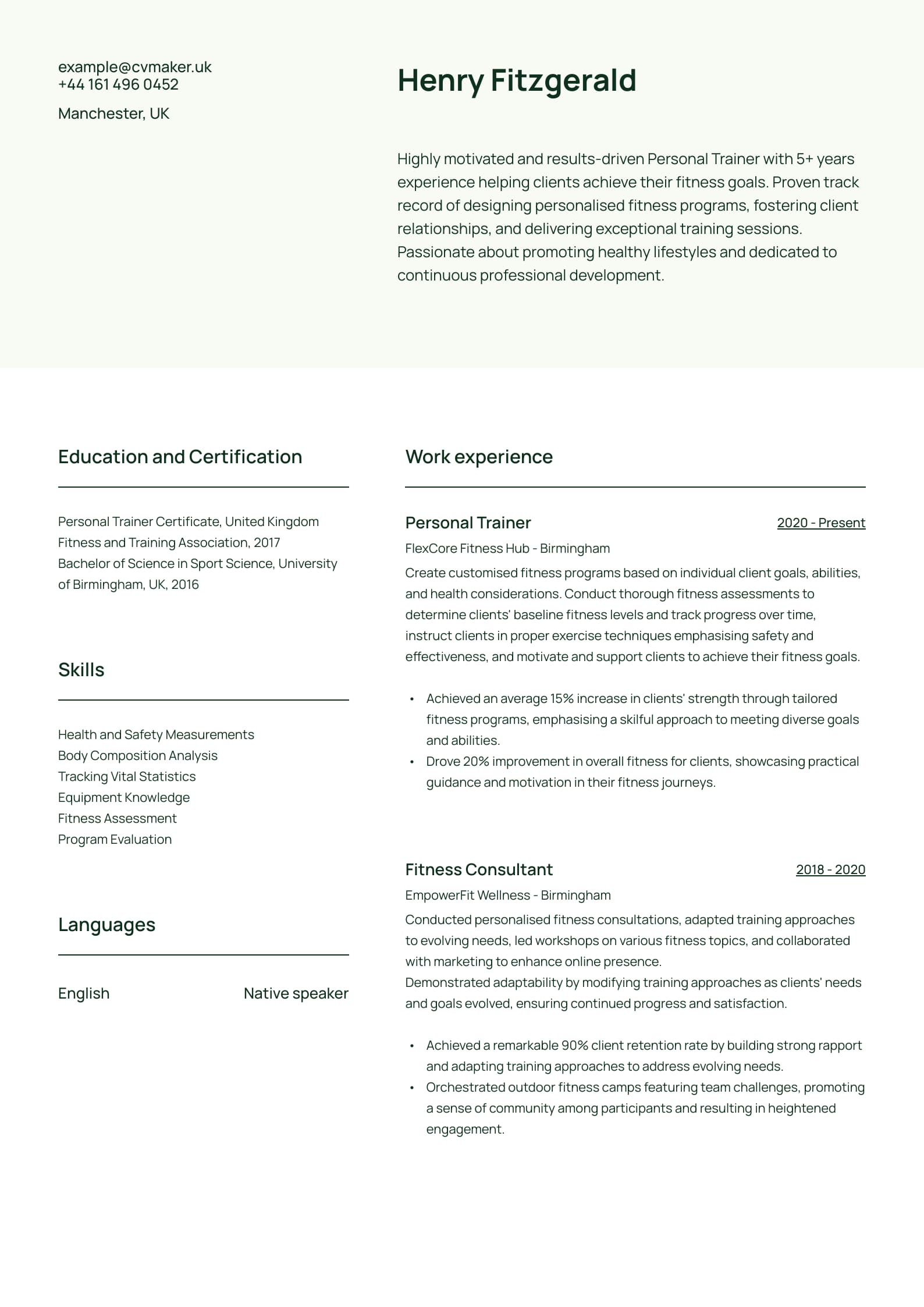 How to Craft a Personal Trainer CV: Writing Guide with Tips and Examples
In the personal training industry, where the pursuit of fitness, health, and well-being is paramount, a career as a personal trainer can be immensely rewarding. Whether you're a seasoned fitness expert or newly qualified with little to no work experience, we show you how to write a good CV to help you stand out in this competitive field.
With the growing demand for fitness professionals, correctly presenting your skills, qualifications, and expertise is crucial. Are you familiar with application tracking systems (ATS)? Consider using a professional personal trainer CV template to attract recruiters and increase your chances of being shortlisted for an interview. Recruiters use ATS to scan applications, so ensure it is easy to read and well-formatted when applying for your dream job. 
The CV writing process: Where to start?
Starting your personal trainer CV might seem daunting, but it becomes a manageable process with the right approach. Your CV is a snapshot of your qualifications and skills, so beginning with a clear structure is crucial.
One essential step is to create a master CV before applying for jobs, including all your qualifications, certifications, and experiences. Then, create a tailored job-specific CV that focuses on your job targets. Ensure you regularly update your CV as it evolves with your career. Find out more about writing a master CV versus a job specific CV.
Personal Trainer CV example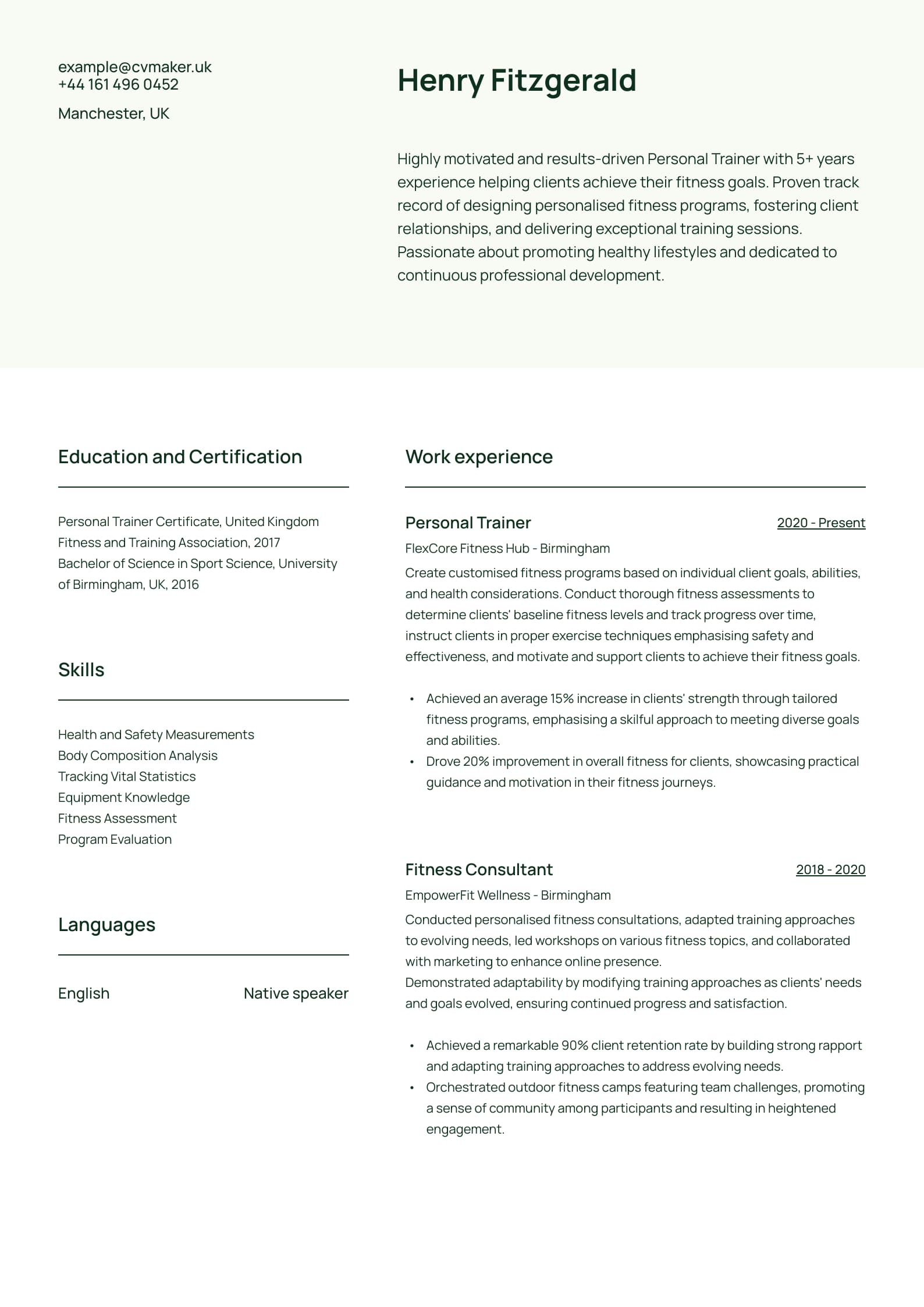 Download this Personal Trainer CV example in PDF 
In this personal trainer CV example, Henry emphasises his extensive experience in the fitness industry. He showcases five years of expertise and accomplishments in fitness program design, nutrition counselling, and client assessment. His Personal Training certificate and Sports Science degree underscore his knowledge and commitment to professional development. This professional personal trainer CV template is well-formatted and includes vital sections that are relevant and tailored to his career goals.
What to include in a personal trainer CV? 
In your personal trainer CV, start with contact information, including your full name, phone number, email address, and LinkedIn profile. Then, write a personal profile and briefly highlight your expertise and notable accomplishments. Then, list your educational background and relevant skills in specialised industry areas. 
Include relevant licences, certificates and qualifications such as the Level 3 Certificate in Personal Training, first aid certification, and CPR training. You can also include specialist certifications tailored to your niche or areas of expertise, such as strength and conditioning or sports nutrition.
Referring to the above in your cover letter can significantly enhance your CV for a personal trainer. If you are shortlisted for a job interview, potential employers may request to see evidence of liability insurance and a passed enhanced background check. 
If you have just started writing your CV or are newly qualified to apply for your first role, refer to our guide on improving your CV  for expert tips and ideas. 
Warm up with a well-written personal profile 
In your profile, you should craft a concise yet impactful introduction showcasing your personality and attributes. Highlight your qualifications, skills, and any areas of speciality that distinguish you in the field.  Include your job title, relevant fitness experience, career aspirations, and any applicable soft skills to show a commitment to helping clients achieve their fitness goals.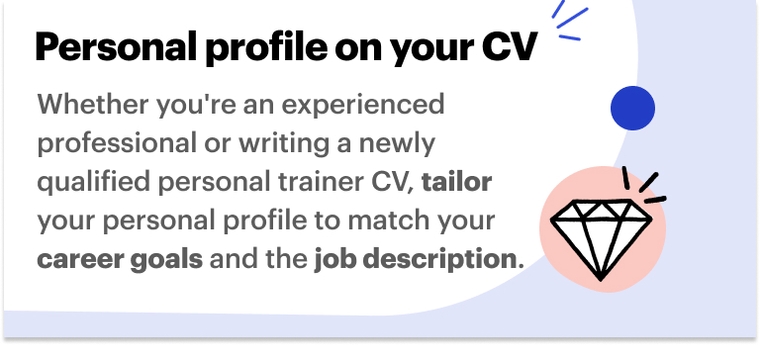 Personal trainer personal profile example
A highly experienced personal trainer with over five years of expertise in the fitness industry. Holds a Level 3 Certificate in Personal Training and additional certifications in health and safety. Proficient in designing tailored fitness programs, conducting comprehensive assessments, and motivating clients to achieve their goals. Adept at tracking progress and adapting strategies to ensure optimal results.
Freelance personal trainer personal profile example
A seasoned freelance personal trainer with a strong track record of success, specialising in individualised fitness solutions. Skilled in adapting training approaches to meet evolving client needs while maintaining a strong focus on safety and effectiveness. Proficient in personalised program design, nutrition counselling, and fitness assessment. Committed to continuous professional development and promoting healthy lifestyles.
Personal trainer with no experience personal profile example
Newly qualified personal trainer passionate about launching a fitness career. Holds a recently earned Level 3 Certificate in Personal Training and is enthusiastic about applying newfound knowledge. Demonstrates excellent communication skills and a commitment to assisting clients in achieving their fitness goals. Committed to delivering safe and effective training sessions while focusing on continuous learning and professional growth.
For more expert tips on how to write a stand-out personal profile, refer to our article.
Essential skills for a personal trainer CV 
You must showcase a diverse skill set on your CV, which includes hard and soft skills. This section must demonstrate your qualifications and ability to deliver exceptional fitness training and client experiences. 
Emphasise soft skills such as excellent communication, teamwork, and attention to detail while highlighting hard and technical skills such as physical fitness techniques and expertise in designing personalised fitness programs. Refer to our dancer CV example for more inspiration.
If you're writing a newly qualified personal trainer CV or have little to no work experience, you should underscore your commitment to continuous learning and professional growth. Consider writing a skills-based CV to emphasise your transferable skills and qualifications instead of focusing on your work experience. Alternatively, if you have recently changed fields or transitioning roles, refer to our career change CV for more information.
Soft Skills

Hard Skills

Empathy

CPR and first aid

Patience

Knowledge of exercise equipment

Adaptability

Fitness assessment tools

Leadership

Program evaluation

Time management

Sport-specific training
Interested in a role similar to personal training? Browse our footballer CV example. Additionally, refer to our article for more guidance about what to include in the personal trainer CV skills section.
Work experience is the core of your CV 
As the fitness industry evolves and becomes more in demand, finding as much relevant work experience as possible is essential. Showcase your practical skills, knowledge, and specialisations in the fitness industry. For seasoned expert trainers, it's an opportunity to demonstrate a successful track record of helping clients reach their fitness goals. Here, emphasise relevant work in fitness centres, gyms, private training, sports classes, and other specialised areas like sports conditioning or nutrition coaching.
You can still impress potential employers if you're a recent school leaver or student with little to no work experience. Consider finding a part-time job, volunteer work, or internships that exhibit transferable skills. Any previous customer service-oriented roles can highlight your communication skills while volunteering at sports events will indicate your passion for fitness.
Candidates seeking more specialised personal training opportunities can explore many paths to enhance their skills and knowledge. For example, you can earn specialised certifications through apprenticeships or internships, which provide hands-on training and practical experience in a specific area. 
Pro Tip
Networking on social media can promote your expertise or freelance business to potential clients. Build an online presence and connect with professionals in the industry to enhance your career prospects.
Work experience examples
Fitness Studio Trainer | FitLife Studios, Coventry, UK | 2021 - Present\ Conduct one-on-one and group training sessions, customising workout plans to individual client needs and fitness levels. Perform comprehensive fitness assessments to evaluate clients' strengths, weaknesses, and goals, creating data-driven workout strategies. Consistently meet or exceed client expectations by closely monitoring progress and adjusting training programs accordingly.
Successfully led fitness challenges, resulting in an average 10% improvement in participants' strength and endurance.

Achieved a 20% increase in client retention through personalised training programs.

Implemented nutritional guidance, resulting in a 15% improvement in clients' overall health and fitness.
Gym Instructor | Peak Fitness Club, Birmingham, UK | 2019 - Present\ Instruct clients on proper equipment usage and exercise form, ensuring their safety and effectiveness in achieving fitness goals. Conduct comprehensive fitness assessments to evaluate clients' physical condition, strengths, weaknesses, and fitness goals. Provide ongoing guidance and motivation to clients, tracking their progress and adjusting exercise plans to ensure continuous improvement.
Develop and recommend tailored exercise programs resulting in a 15% increase in gym membership conversions.

Led various group fitness classes and received positive feedback from 100% of all participants in a survey.

Achieved an impressive 20% improvement in clients' overall cardiovascular fitness levels through specialised cardiovascular training programs.
Apprenticeship Personal Trainer | ABC Fitness Center, London, UK | 2023 - Present\ Shadow and assist senior trainers in conducting comprehensive fitness assessments, gaining hands-on experience evaluating client levels and needs. Actively participate in workshops, seminars, and educational sessions led by experienced mentors. Assist in the overall operation of the fitness centre, ensuring equipment maintenance and gym cleanliness to provide a welcoming environment for members.
Achieved an outstanding 80% pass rate in certification exams, demonstrating a solid commitment to professional growth.

Assisted in conducting fitness assessments and received positive feedback, contributing to a 10% improvement in client satisfaction.
Personal trainer with little to no work experience:
Intern | XYZ Fitness Center, Manchester, UK | 2022 - Present\ Assist senior trainers in conducting fitness assessments and tracking client progress. Support the development of personalised workout plans for clients, promoting a positive training atmosphere. Actively pursuing additional certifications and staying updated on fitness industry trends.
Collaborated with senior trainers in fitness assessments and contributed to a 15% increase in client satisfaction.

Attained an exceptional 90% pass rate in certification exams.
Refer to our internship CV example for more inspiration.
For more tips on what to write on your newly qualified personal trainer CV, refer to our guide if you have little to no experience. Alternatively, read how to add work experience to your CV for more guidance.
Gain strength with the education section on your CV 
Typically, employers do not request higher education qualifications for personal trainer roles, although if you have attended university or are plannning to, the most relevant subjects include:
Fitness and personal training

Health and fitness management

Health, nutrition, and exercise science

Personal training

Sports science and personal training.
Here are other ways to gain educational qualifications on your CV:
Online learning: Explore courses and webinars from UK-based providers like Future Fit and HFE. These platforms offer specialised and quick courses that you can complete at home. Find a course relevant to your career goals with the National Careers Service.

REPs (Register of Exercise Professionals): REPs is a UK-based organisation accrediting fitness professionals. They offer various training courses and workshops in sports-specific training, exercise referral, and nutrition. Check their website for available courses. 
Examples of education:
Advanced Nutrition Certification Nutrition Institute, Manchester, UK, 2018

Personal Trainer Certificate, United Kingdom Fitness and Training Association, 2017

Bachelor of Science in Sport Science University of Birmingham, UK, 2016.
For more guidance, refer to our article on how to master the education section on your CV.
Enhance your CV with courses and certificates
Though there are no specific educational requirements for becoming a personal trainer in the UK, specific qualifications are highly valued and will help you gain recognition from potential employers and clients.
It is, however, essential to obtain recognised certifications from accredited organisations. Qualifications like the Level 3 Diploma in Personal Training and Level 2 Gym Instructor are often preferred. These certifications cover essential topics such as fitness assessment, program design, and client interaction.
Consider enrolling in college courses like the Register of Exercise Professionals (REPs), which sets industry standards. 
Gaining certifications from recognised institutions such as UK Coaching or with professional bodies like (CIMSPA) is also beneficial. These credentials can be completed during academic studies, apprenticeships, or specialised training programs. Additionally, it is recommended to gain first aid qualifications, preferably one that includes a cardio-pulmonary resuscitation (CPR) certification. 
Learn how to add courses and certificates in your CV in our guide for more information. 
Show your motivation with additional sections 
In addition to including professional qualifications and work experience on your CV, you can showcase your motivation, interests, and accomplishments. Including an additional section will reveal your passion for personal growth and highlight your commitment to developing skills. Consider adding hobbies and interests on your CV and highlighting achievements relevant to your job targets to impress potential hiring managers and employers. 
Here are some ideas on how to become more specialised and enhance your personal trainer CV:
YMCA awards: This is a leading UK-based awarding organisation in the fitness industry. They offer a range of specialised qualifications and courses, including exercise for older adults, strength and conditioning, and more. Find out more about YMCA personal training opportunities on their website.

Active IQ: This is another recognised awarding organisation in the UK that provides a wide array of fitness qualifications and specialisations. They offer courses in aquatic exercise, group training, and functional training. Refer to this website for more information.

Fitness events and conferences: Attend UK-based fitness events and conferences such as Elevate, the UK's most extensive fitness and physical activity trade show, which often includes seminars and workshops on specialised fitness topics.

Specialised workshops: Many fitness training providers in the UK offer specialised workshops and seminars. Look for providers like Premier Global NASM, Train Fitness, or Future Fit Training.

Local gym chains: Some UK gym chains, such as David Lloyd Clubs, offer in-house training and development programs for their trainers, including specialised training in group fitness, functional training, and more.

Professional associations: Join professional associations specific to the UK, such as the Chartered Institute for the Management of Sport and Physical Activity (CIMSPA).

Networking: Connect with fitness professionals in the UK through social media platforms, fitness forums, and industry events.
To pursue a client-focused role with similar skill sets, look at our CV examples for customer service, hospitality, and healthcare professions.
Key takeaways 
Writing a modern CV is essential to stand out in the competitive and evolving fitness industry. To impress potential employers, emphasise your certifications and qualifications from reputable organisations, showcasing your expertise and skills. Include client-focused work experience, specialised training and relevant accomplishments. Add relevant achievements, awards, and other recognitions that demonstrate to impress employers. If you're an experienced trainer, conclude with references from satisfied clients or colleagues.
Next Steps? 
If you're writing a newly qualified personal trainer CV or have little to no work experience, use our expert CV Writing Service to craft a tailored CV and cover letter to land your dream role. We can help you save time and effort when applying for your next job and increase your chances of success. For more inspiration, browse our collection of CV examples for popular professions in the UK.
FAQ 
What qualifications do I need to be a personal trainer in the UK? 
In the UK, you typically need a Level 3 Diploma in Personal Training or an equivalent qualification accredited by organisations like REPs (Register of Exercise Professionals). Additional certifications and specialisations, such as nutrition or sports-specific training, can further enhance your CV.
How long does it take to become a personal trainer in the UK? 
The duration can vary based on individual circumstances, but it often takes 3 to 6 months to complete a Level 3 Diploma in Personal Training. If you pursue additional certifications or a higher educational degree, it may take longer.
Do personal trainers need a CV? 
Personal trainers should have a CV when seeking employment opportunities and applying. A well-structured CV should ideally be 1 page and highlight your qualifications, experience, and skills. Refer to our how long should a CV be article for more information.
What is a personal trainer's CV personal statement?
It is a brief introduction summarising your passion for fitness, dedication to helping clients achieve their goals, and commitment to professional development. Include your most relevant expertise and skills in this concise summary. It's an opportunity to make a strong first impression and pique the interest of potential employers or clients.
Land the interview for your dream job with CVMaker
Effortlessly create your professional CV within 10 minutes and download it whenever and wherever you want!
Create your CV
Increase your chances landing your dream job with CVMaker.