Apprenticeship CV
Amirah is a passionate apprentice, ready to leverage accounting skills within the finance sector. The modern Erasmus template presents her skills easily and concisely, while giving an overview of relevant work experience, courses, qualifications.
Start now
"Qualified accountant with ACA qualification, possessing a strong foundation in financial principles and strategies that drive business growth"
Amirah Khan
- Apprenticeship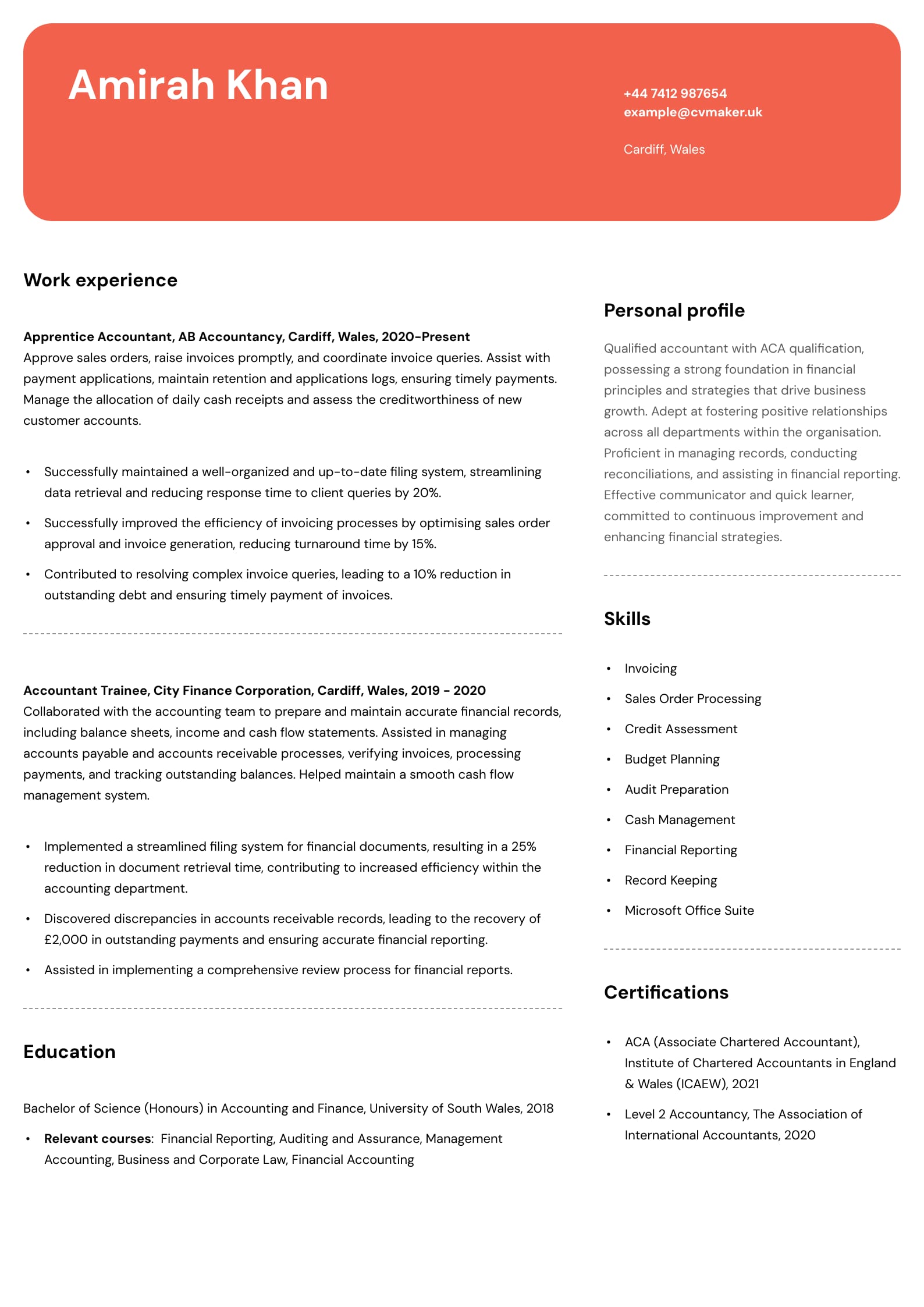 How to Write a CV for an Apprenticeship in 2023 (Free Step-by-Step Guide)
Lack of experience and uncertainty can naturally leave you unsure of how to approach your apprenticeship CV and make a lasting impression on potential recruiters. However, apprenticeships offer abundant opportunities for job seekers of all ages and backgrounds, providing a direct pathway to professional success. Whether you're a school leaver, changing careers, or someone seeking to enhance your skills, this guide equips you with tips and examples to help you craft an impressive CV that effectively sails through applicant tracking systems (ATS).
The CV writing process: Where to start? 
Crafting a good CV as an apprentice demands a strategic approach, underlining your educational background, work experience, and key skills. It serves as your initial introduction to potential employers and mentors, making it crucial to leave a memorable impression that piques their interest. Here are two essential pointers to help you create an outstanding CV:
Master CV: Start by developing a comprehensive master CV, laying the groundwork for your academic and professional journey. Regularly update this document to include personal profile, educational accomplishments, work experiences, skills, and notable achievements.

Job-specific CV: Tailor each version of your CV to highlight relevant experiences and qualifications to align with your chosen career path. Strategically showcase pertinent skills that distinguish you in the highly competitive job market, capturing the attention of recruiters.
For more information, use the National Career Services to find an apprenticeship and tailor your CV accordingly.
Apprenticeship CV example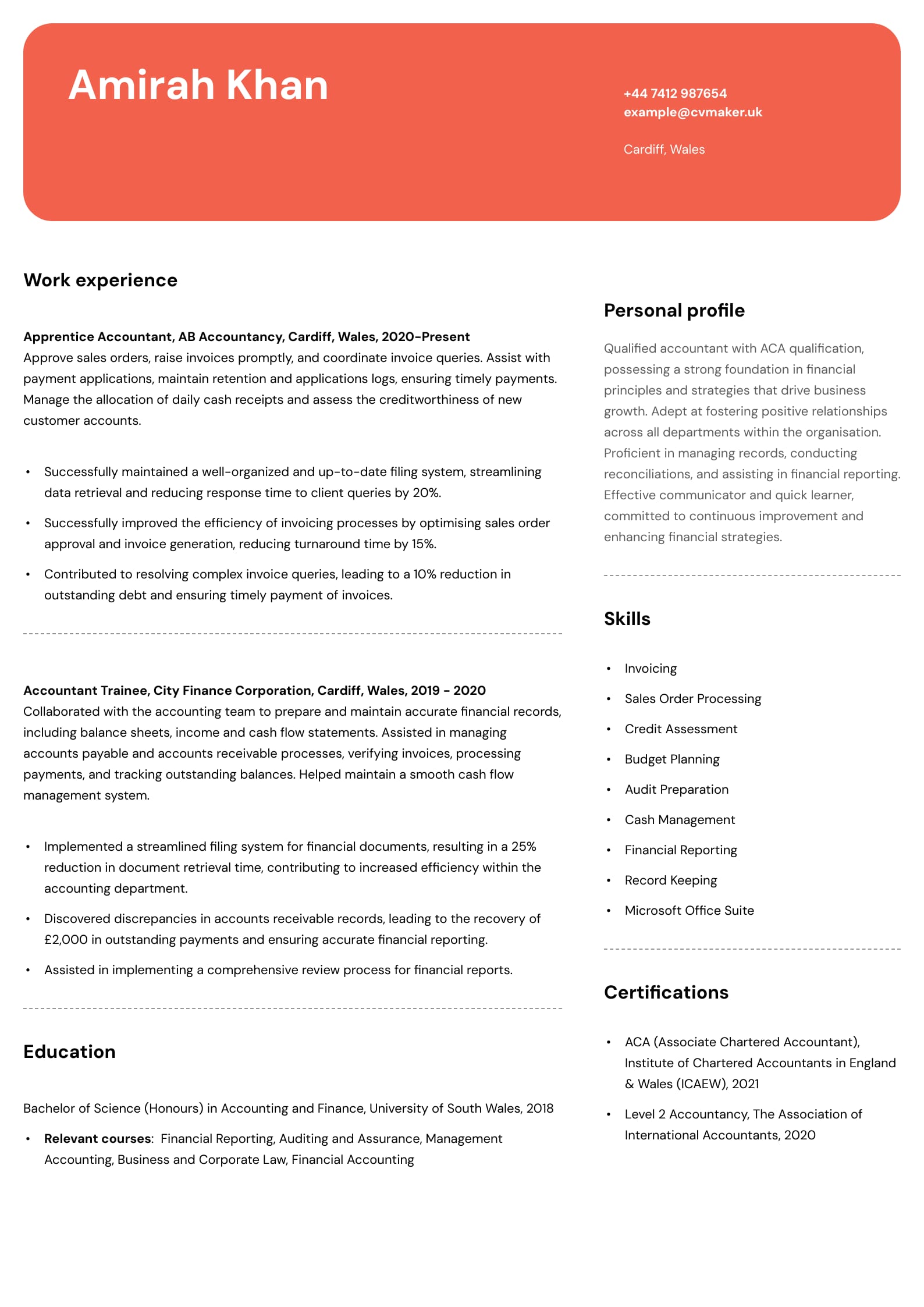 Download this apprenticeship CV sample in PDF
This CV sample features Amirah, a passionate and qualified apprentice with a keen interest in accounting. Her exceptional academic background and remarkable achievements have been thoughtfully showcased, underscoring her potential as a valuable asset for the organisation. Amirah's two-column Erasmus CV template concisely showcases areas of expertise and relevant experience, while his personal profile highlights in-depth knowledge of accounting and finance. 
​​What to include in a CV for an apprenticeship? 
There are certain must-have and optional sections on a CV. Beyond adding core sections such as work experience, skills, and personal details, focus on researching the job description to determine which additional details could further bolster your profile. 
Refer to the cornerstone article on how to write a good CV to learn more.
Start off with an eye-catching personal profile 
Your personal profile, also known as a personal statement, is a snapshot of your qualifications, achievements, and career goals, aiming to captivate the attention of recruiters. This section offers a concise yet impactful glimpse into how you envision yourself in the field. It should showcase your passion for learning and eagerness to adapt to different situations. Doing so allows employers to gauge your potential and commitment to excel professional environment.
Accounting CV apprenticeship example for personal profile
Results-driven accounting apprentice with a solid foundation in finance and an eye for detail. Skilled in handling financial data and analysis. Eager to contribute my analytical skills and dedication to accuracy to support the business success.
For more insights, refer to the accountant CV.
Childcare Assistant CV apprenticeship example for personal profile
Compassionate childcare assistant apprentice with a nurturing nature and experience in creating a safe and stimulating environment for children. Dedicated to providing exceptional care and promoting children development through engaging activities.
Explore the care assistant CV for more in-depth advice.
IT Business Analyst CV apprenticeship example for personal profile
Analytical and tech-savvy IT business analyst apprentice with expertise in data analysis and problem-solving. Adept at collaborating with teams and applying technical knowledge to support business objectives. Eager to contribute to digital transformation and optimise processes.
Take inspiration from the business analyst CV for crafting your version.
Library Assistant CV apprenticeship example for personal profile
Detail-orientated library assistant apprentice with a genuine passion for literature and organisation. Customer-focused with excellent communication skills to assist library patrons effectively. Enthusiastic about promoting reading and learning within the community.
See our teacher CV for more information.
Nurse CV apprenticeship example for personal profile
Compassionate nursing apprentice with a strong desire to care for the well-being of patients. Knowledgeable in medical terminology and dedicated to patient-centred care. Committed to learning and making a positive impact on the lives of patients.
Refer to the nurse CV to find out more. 
Marketing Assistant CV apprenticeship example for personal profile
Creative and results-driven marketing assistant apprentice with a talent for crafting compelling brand stories. Proficient in social media management and digital marketing strategies. Eager to collaborate with marketing teams and contribute to successful campaigns.
For more information, read the marketing CV article. 
Electrical engineering CV apprenticeship example for personal profile
Innovative electrical engineering apprentice with a passion for electrical systems and technology. Eager to apply theoretical knowledge to real-world applications. Proactive and eager to learn from experienced professionals to develop technical expertise and contribute to cutting-edge engineering solutions. Excited to contribute to cutting-edge engineering projects and innovations.
Check out the engineering CV for further guidance.
Hairdressing CV apprenticeship example for personal profile
Creative and customer-orientated hairdressing apprentice with a flair for style and current trends. Excellent communication skills and a passion for providing outstanding customer service. Excited to learn and contribute to creating personalised looks that enhance clients confidence.
List your work experience on an apprenticeship CV
When writing your CV, the best strategy is to highlight work experience and achievements directly related to your job target. Whether you're childcare assistant, hairdresser. The key to capturing the recruiter's attention is to include specific and measurable achievements which align with the specific program or role description. See our five tips below to best showcase your work experience.
Work experience example 
Electrical engineer | Aberdeen, UK | 2023-Present
Collaborate with senior engineers on electrical system design and implementation projects. Assist in troubleshooting electrical issues and conducting system testing and analysis. Participate in project meetings, contributing ideas and insights for process improvement.
Designed and implemented a low-power consumption electrical system for a new building, resulting in a 20% reduction in energy costs compared to the previous system.

Led a team in conducting electrical tests on critical equipment, identifying and resolving potential faults, resulting 30% decrease in system downtime.

Presented a research project on renewable energy integration at an industry conference, receiving recognition for innovative ideas and approaches in sustainable electrical engineering.
Highlight your education for an apprenticeship CV
When applying for an apprenticeship, showcasing the appropriate qualifications is crucial. To become an apprentice in the UK, you typically need to have a relevant educational background or specialised training. If you are still studying for it, mention it in your personal profile or cover letter, indicating your progress or expected date of completion. Tailor the CV sections and keywords based on the specific apprenticeship role you're targeting. 
For entry-level apprenticeships, prioritise the education section, while for roles valuing practical experience, emphasise work experience. Alternatively, opt for a skills-based CV format to elaborate on relevant expertise when uncertain about the ideal format.
Explicitly state your degree name with the specialisation or chosen track. 

Specify the field of study or research area in which you pursued. 

Mention the university or institution name where you earned your degree. 

Include the year of your graduation or expected date of completion.
Structure:
[Degree] in [program name], [institution/school name], [Location], [date range, year of graduation, or in progress]
Intermediate apprenticeship CV example
Plumbing and Heating Apprenticeship, City & Guilds College, London, UK, 2021
Advanced apprenticeship CV example
Digital Marketing Apprenticeship, The Open University, Milton Keynes, UK, 2022
Higher apprenticeship CV example
Accounting and Finance Apprenticeship, Association of Accounting Technicians (AAT), London, UK, 2020
Degree apprenticeship CV example
Bachelor of Science in Computer Science, University of Oxford, UK, 2024
Showcase your skills for an apprenticeship CV
When writing your apprenticeship CV, it's essential to emphasise a diverse set of soft and hard skills that align with the specific program's requirements. Start by incorporating key soft skills within your personal profile, such as adaptability, teamwork, and problem-solving, to showcase your versatility and ability to thrive in diverse work environments. As for the hard skills, we encourage you to highlight them in a separate section called 'Skills' or 'Areas of expertise'. 
Pro Tip
If you are transitioning to a new role from a different background, draw attention to you transferable skills acquired from your previous experiences. Remember, many soft skills are applicable across different apprenticeship positions, so don't let you hold you back from pursuing your dream job.
Hard Skills:
Data analysis

Freelance management

Project management

Sales

Statistical analysis.
Soft Skills:
Attention to detail

Organisation

Writing

Communication

Customer service.
Transferable Skills:
Adaptable

Time management

Analytical thinking

Team collaboration

Problem-solving.
Include relevant courses for an apprenticeship CV
Enrich your CV with relevant courses and certificates to demonstrate your industry-specific knowledge and dedication to continuous learning. Keep the list concise, limiting it to one to two lines maximum. Additionally, consider including relevant courses from secondary and higher education, along with any certifications or awards earned. Remember to customise your CV for each application, tailoring them to specific role and industries.
Key takeaways
Knowing what to include and how to structure your CV for an apprenticeship is essential to gain a competitive edge in the job market. Remember, a successful CV effectively markets yourself, highlighting your relevant qualifications and genuine passion for your subject or field. Using our CV example and insights you're one way ahead of competitors to create outstanding CV and seize that opportunity. 
Harness a captivating personal profile: summarise your key career accomplishments, qualifications, and career goals in 4-6 lines, ensuring it is brief and without personal pronouns.

Highlight relevant experiences: Organise your experiences in reverse chronological order, showcasing any relevant work, volunteering, or academic achievements that demonstrate your suitability for the role.

Showcase relevant skills: Emphasise a diverse set of skills like problem-solving, adaptability, and practical knowledge, along with any specific technical abilities related to your job target.

Education and traineeships: Present your education, including relevant coursework or awards concisely. Briefly mention program's name and university name to showcase your dedication and passion for this career path.

Courses and professional training: Demonstrate your commitment to professional growth by mentioning any additional courses or certifications you have pursued to enhance your skills and knowledge.
Next steps?
Smooth out any imperfections using our user-friendly CV builder, offering over CV templates. To complement your CV, discover our collection of cover letter templates. If you don't want to leave anything to chance, connect with our professional CV Writing Service. Draw inspiration from our CV examples to save time, emphasise important sections and make it easier for hiring managers to grasp your unique professional offer even quicker.
FAQ
How to write a CV for an apprenticeship?
A well-crafted apprenticeship CV should display your genuine passion for learning and professional growth. Emphasise your ability to adapt to new challenges, work collaboratively, and resolve problems effectively. It should showcase your educational qualifications, any relevant certifications, and practical experience in the field. Distinguish yourself from other applicants by highlighting specific skills or achievements that demonstrate your potential as an apprentice.
If you need further support, see how to improve your CV.
Are apprenticeships competitive?
Yes, they can be competitive, especially degree apprenticeships, which tend to be more challenging to secure compared to intermediate ones. The level of competition also varies depending on the specific program and the company offering it. 
To increase your chances of success, focus on building a strong CV with relevant experience and references, even if you don't have all the required qualifications. Additionally, demonstrating genuine interest in the company and position you're targeting are essential steps to stand out and increase your likelihood of being selected.
Do you need a CV for an apprenticeship?
Once you find the ideal position, you usually need both a CV and a cover letter. It's a good idea to apply for a few apprenticeships at a time. Doing so could increase your chances of success but remember to tailor your CV for each job application. Additionally, this means you're not waiting for a response from one employer.
How to write a CV for a degree apprenticeship?
Highlight relevant academic achievements, transferable skills from extracurricular activities, work experience, or volunteering. Tailor your CV to showcase how your skills align with the program's requirements. Include a well-crafted personal profile reflecting enthusiasm for learning and practical experience.
Degree apprenticeships take three to six years to complete, combining on-the-job training with a full bachelor's or master's degree. The entry requirements are higher, typically needing 112-120 UCAS tariff points from A levels and 2 GCSEs at Grade C/4 or above in English and Mathematics. Applicants must be 18 or older due to the academic nature of the program.
See the academic CV for more details.
Are apprenticeships classed as students?
They can be regarded as a form of full-time education but it could differ depending on your specific circumstances. Usually, this applies to students or pupils under the age of 18 years old in England. You can receive training from an apprenticeship provider, an employer, or a college. It usually takes from one to five years to gain your qualification. 
See our undergraduate and internship articles for more inspiration.
Are apprenticeships vocational?
Yes, it is a type of vocational education and training (TVET) which combines classroom learning as well on-the-job training. This type of training allows people from all walks of life to acquire knowledge, skills, and know how to to perform a specific job. They consist of basic training (theory) and practical application needed to perform a specific job in any industry. 
Can apprenticeships be part-time?
Yes, tney can be both full-time and part-time. Usually, apprentices need to work at least 30 hours and a maximum of 40 hours per week. If you intend to work fewer hours you can arrange an agreement with your employer and ask for 16 hours a week. This situation often applies to those who have caring responsibilities or have a second job on the side.
Land the interview for your dream job with CVMaker
Effortlessly create your professional CV within 10 minutes and download it whenever and wherever you want!
Create your CV
Increase your chances landing your dream job with CVMaker.