Banking CV
The Columbia template conveys Oliver's skills and expertise clearly and concisely. He is an experienced bank manager with over 5 years of experience and an ability to combine effective communication with an eye for detail and an excellent customer service mindset.
Start your CV now
"Highly motivated and results-driven Bank Manager with 5+ years of experience in the financial sector, specialising in branch operations. Adept at leading and inspiring teams to achieve and exceed targets while ensuring regulatory compliance."
Oliver Knightley
- Bank Manager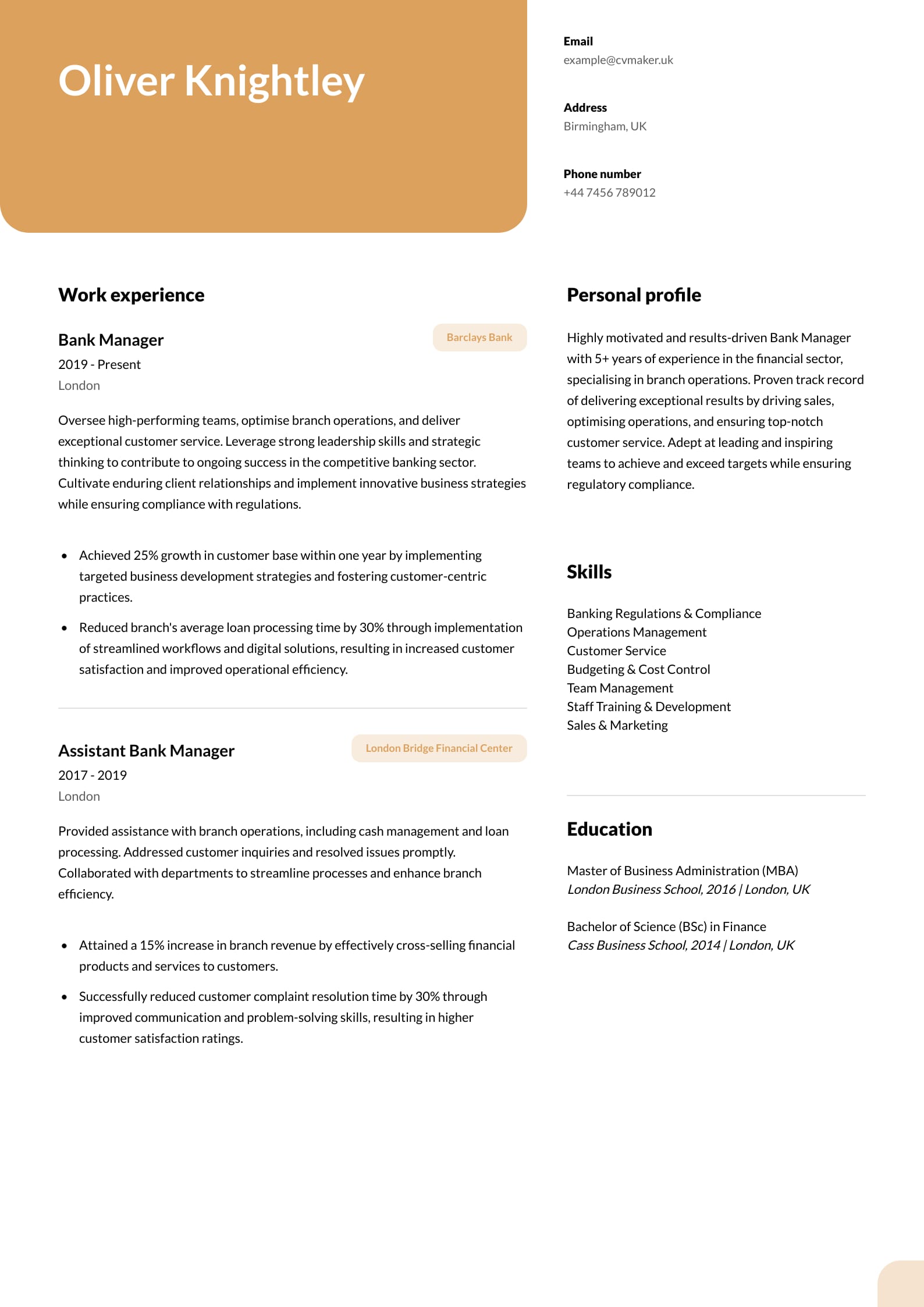 How to Write a Banking CV in 2023 (Guide with Tips and Examples)
In today's competitive market for banking roles in the UK, crafting an exceptional CV is the key to landing your dream job.
Whether you're an experienced customer service representative lining up a promotion to branch manager, an aspiring graduate eager to embark on a fulfilling career, or an entry-level applicant seeking opportunities in a new sector, a well-crafted banking CV can make all the difference.
In this comprehensive guide, we'll walk you through the process of creating a professional CV that aligns with your career goals and plays nicely with the applicant tracking system (ATS). From providing personal statement examples for banking to sharing valuable tips and utilising banking CV templates, we aim to equip you with the necessary tools to stand out from the competition and secure your desired role.
The CV writing process: Where to start?
With recruiters spending about seven seconds skimming through CVs, you must quickly and effectively highlight the work experience, education and skills that match the job you're aiming for.
Whether you're eyeing a role as a:
Bank assistant

Assistant bank manager

Graduate banker

Bank branch manager

Customer service representative.
Your position in the industry plays a vital part in keeping things running smoothly. You'll provide support and coordination across different departments, manage projects and schedules, organise meetings and deliver top-notch customer service.
We suggest creating a master CV as a valuable approach when applying for the various banking roles out there. This comprehensive document serves as the foundation for all job-specific CVs, encompassing your relevant skills, experiences, education, interests, and further training. While you shouldn't send the master CV directly to employers, it becomes a handy reference for tailoring each application to specific roles. Highlight your unique selling points, thoroughly research the job description, and ensure your CV showcases your understanding and alignment with the position's requirements.
Banking CV example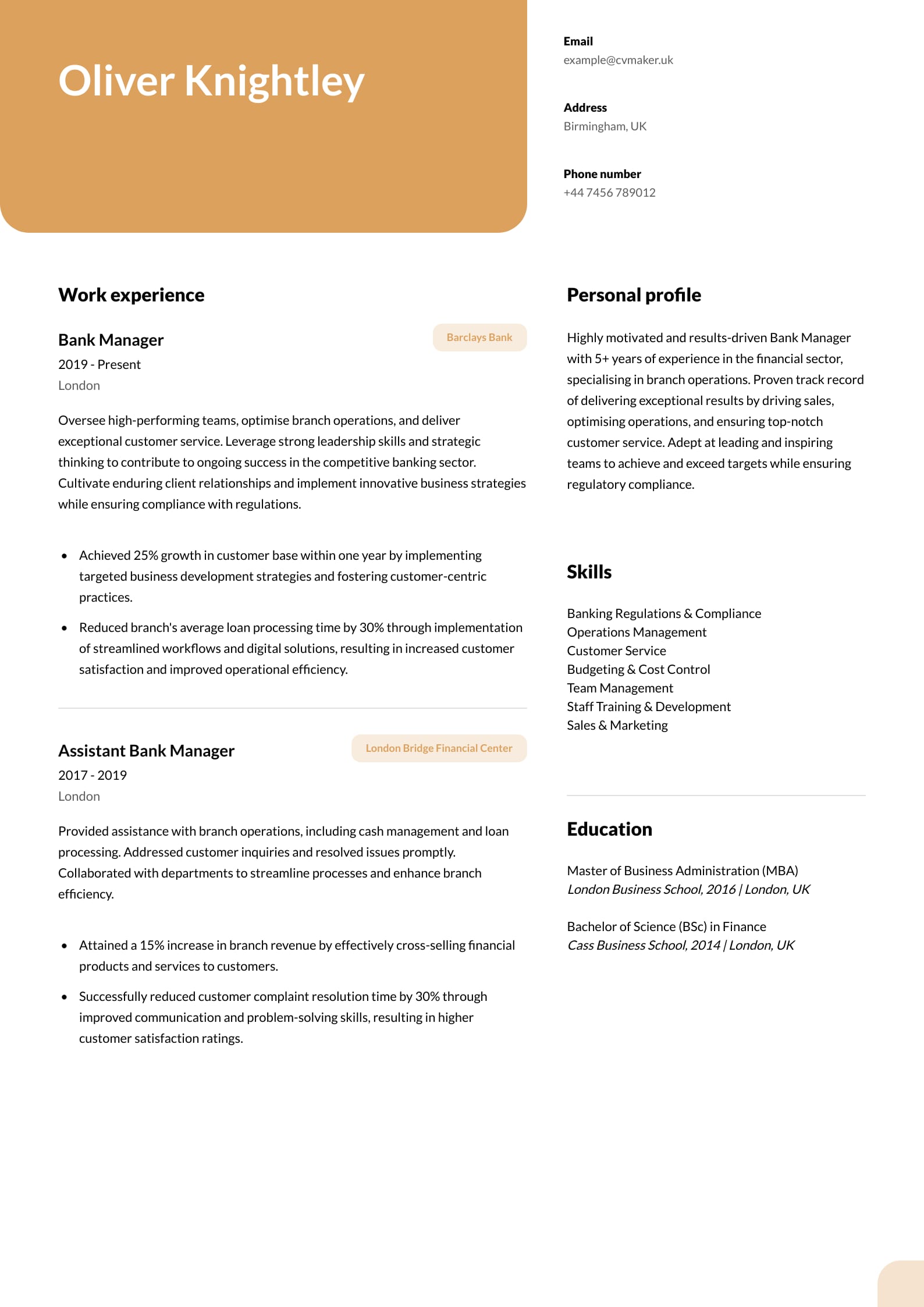 Download this Banking CV Example in PDF
Oliver is an experienced Bank Manager with over 5 years of experience and an ability to combine effective communication with an eye for detail and an excellent customer service mindset. His CV perfectly showcases soft skills via the personal profile and hard skills through a short but effective skills section. He demonstrates his suitability for the role and his strong work history in a fluid and easy-to-scan manner. Listing technical abilities at the end of the CV is an excellent way to underscore his value as a candidate. The Columbia template conveys Oliver's skills and expertise clearly and concisely.
What to include in a banking CV?
Ensure your CV includes vital sections like a personal profile, personal details, work experience, education, skills, and certifications. To enhance its impact, consider optional sections, such as career accomplishments or academic achievements. A well-crafted personal profile is essential as it's the initial opportunity to impress potential employers and effectively showcase your individual strengths.
Whether creating a branch manager, customer service representative or an entry-level banking CV, you can find more helpful hints and tips in our how to write a good cv and how to write a personal profile articles.
Pro Tip
Use the personal profile to show your research into company values and job-specific requirements.
Leverage interest with a captivating personal profile
Many banks take an interest in more than your skills and experience. In addition, they want to know who you are as a person and how your individual attributes will help make a difference to a diverse customer base. That's why including a clear and succinct personal profile on your CV is always beneficial.
Private banker CV personal profile example
Dedicated private banker with 10 years experience. Exceptional interpersonal and communication abilities, actively engaging clients through attentive listening and relevant questioning. Proficient in articulating complex financial concepts in a simple and understandable manner. Possesses a deep understanding of the industry and demonstrates empathy for individuals in diverse financial situations.
Customer service representative CV personal profile example
Seasoned customer service representative with five years experience in diverse environments catering to individuals from all walks of life. Passionate about making a positive difference in people's lives. Empathetic, patient, responsive, and actively listening to ensure each customer feels valued and heard throughout their journey. Committed to delivering exceptional service that leaves a lasting impact on customer satisfaction.
Corporate banker CV personal profile example
Results-driven corporate banker with seven years experience. A track record in demonstrating initiative and exceptional interpersonal skills. Diligently detail-oriented, with a high level of emotional intelligence. Possesses practical communication abilities, fostering strong client relationships and delivering precise financial solutions.
Banking internship CV personal profile example
Self-starting and teachable intern with an analytical and detail-oriented approach. Two years gaining valuable experience in a corporate setting. Excellent communication skills with a long-standing interest in the banking industry. High emotional intelligence and an empathetic, customer-oriented outlook.
School leaver CV personal profile example
Recent high school graduate eager to embark on a rewarding journey in the industry. A keen eye for detail and a proactive approach, committed to delivering exceptional results, excellent communication and interpersonal abilities to connect with others effectively. Enthusiastic about the banking sector with a desire to learn and grow within this dynamic field.
What skills should I put on my banking CV?
When working on your CV, remember that listing your skills is an opportunity to show hiring managers you have the right mix of soft and hard skills for the job.
To make your CV clear and effective, include soft skills in your personal profile and create a separate section to highlight hard skills and any relevant technical abilities. If you're switching careers, highlight transferable skills from your previous roles.
This is your chance to shine and demonstrate your expertise and unique qualities for the role. In the banking industry, a winning candidate has industry-specific knowledge and a friendly, communicative approach.
As well as other sectors such as accounting and finance, a mix of soft skills can be applied to roles within this industry. Remember, some of these soft skills will be relevant for more than one position.
Private banker CV:
Excellent communication

Attentive listening

Making complex financial concepts understandable.
Customer service representative CV:
Customer-orientated

Empathetic

Detail-oriented.
Branch bank manager CV:
Organisation and prioritisation

Service-oriented

People management.
Hard skills are abilities developed during your career, making you especially suitable for the role. These are otherwise known as 'learned skills'. Below are a few examples of hard skills by role in the finance sector. Although not as transferable as soft skills, some of these will be relevant for more than one position.
Private banker CV:
Knowledge of economics and accounting

Investments

Portfolio management
Customer service representative CV:
In-branch technologies and digital services

Data entry

Product knowledge

Salesfloor experience.
Branch bank manager CV:
Handling sales targets and budgets

Understanding marketing, business and sales plans

Knowledge of accounting and economics

Team management

Sales and negotiation skills.
Borrow our tips for how to write work experience
When it comes to writing work experience, hiring managers want to get the information as quickly and easily as possible. 
To make a substantial impact, separate your day-to-day duties from key achievements and tailor each to match the specific job requirements. Below you can see we have opted for one short paragraph explaining general duties followed by two or three bullet points outlining key achievements.
Examples of work experience:
Branch Manager | Big Family Bank, Manchester, UK | 2021 - present
Oversee the smooth functioning of the branch office, guiding both customers and employees towards the branch's success. With a comprehensive understanding of various branch operations and the ability to provide expert guidance to bank employees and customers, ensuring seamless daily operations.
Successfully increased the customer base in the local area by 10% within the first year in the role.

Achieved target revenue year-on-year, leading the branch team in surpassing financial goals.
Customer Service Representative | Globo Bank, London, UK | 2018 - 2021
Delivered exceptional service to customers by handling inquiries, processing transactions, and ensuring efficient day-to-day branch operations. Responsibilities included managing a high volume of customer interactions while adhering to strict protocols and safety guidelines.
Successfully resolved an average of 150 customer inquiries per week, maintaining a high level of customer satisfaction and receiving positive feedback in 90% of interactions.

Consistently exceeded branch targets over three consecutive years, contributing to the team's overall success and recognition within the bank.
School leaver with little to no work experience
If you have recently graduated from high school and have little to no work experience in the finance industry, don't worry. You can always find relevant experience for entry-level positions from previous roles you may have held. In the example below, we leverage the knowledge gained working in a supermarket to match the profile of a bank customer service representative.
Sales Assistant | SuperMart, London, UK | 2017 - 2018
Used strong analytical and critical thinking skills to address customer needs. Effectively communicated with customers, ensuring a positive shopping experience on the sales floor. Worked in a fast-paced environment and stayed calm under pressure to handle financial transactions with precision and an eye for detail.
Processed an average of 200 transactions per week, demonstrating accuracy and efficiency in handling monetary exchanges.

Successfully completed three training courses in customer service, enhancing my expertise and customer-centric approach.
If you need help with how to add experience to your CV if you're coming from a different sector, refer to our career change CV example.
How to list education on a banking CV
There's no getting around the fact that your education section is going to be broadly similar to the next candidates. So, how do you include education on a CV so it pops off the page? Whether you're applying for the roles of bank assistant, assistant bank manager, graduate banker, bank branch manager or customer service representative, consider these tips:
Begin with your highest level of education and work backwards, listing the institution's name, qualification earned and date of completion.

Mention any relevant certifications or licences obtained in banking or finance.

Highlight any academic honours or awards received during your studies.

If you have limited work experience, draw inspiration from a graduate CV example or consider using a skills-based CV format.

Keep the education section concise; a brief line for each degree or certification is sufficient to capture the essential details.
Examples of education:
Financial Analysis and Decision Making with Xero and Tableau Microcredential, FutureLearn | Online 2022
(CertRDB) Certificate in Retail and Digital Banking, London Institute of Banking and Finance | UK 2021
Master of Business Administration (MBA), London Business School, | London, UK 2016
Bachelors of Arts (Hons) Business Administration, University of Winchester | UK 2013
Examples of apprenticeships:
An excellent way to get ahead in this sector and to give your CV that extra dimension is to seek out and apply for an apprenticeship in banking.
A banking apprenticeship starts with finding the right fit for you. Banks offer a range of apprenticeships for various positions, such as:
Credit Collector or Controller

Financial Services Customer Adviser

Investment Operations Administrator

Mortgage Adviser

Compliance or Risk Officer and

Financial Adviser
Take time to explore these roles and their prerequisites to align them with your career goals. By planning your career path and researching available apprenticeship programs, you can discover the ideal opportunity to kickstart your career. Refer to our student CV for more examples.
Balance your CV with additional courses and certificates
Similar to our advice on writing a CV as a business analyst, you might consider including additional courses and certificates to further showcase your experience and eligibility for your desired job. These courses are not compulsory but could make all the difference to your application:
Courses and certificates demonstrate a commitment to professional development as well as your growing expertise in a certain area. Whether you participated in an online course or elected a relevant module during your studies, this section is where you show it off:
[Title], [Organisation/Issuer], [Date]
(CertRDB) Certificate in Retail and Digital Banking, London Institute of Banking and Finance | UK 2021
Key Takeaways
Make your CV stronger and draw inspiration from other industries as well taking into consideration our top five tips:
Tailor your CV for banking roles: In the competitive UK banking industry, customising your CV for specific roles like Bank Assistant, Assistant Bank Manager, Graduate Banker, Bank Branch Manager or Customer Service Representative is crucial.

Personalise your profile: Incorporate a captivating personal profile highlighting your unique attributes and alignment with company values and job requirements.

Showcase relevant skills: Emphasise a mix of soft skills like communication, empathy, and attention to detail along with hard skills specific to banking roles.

Highlight work experience: Organise your work experience in reverse chronological order and use bullet points to showcase quantifiable achievements and contributions.

Education and apprenticeships: List your education in a concise manner, including relevant certifications and awards. Consider apprenticeships as a valuable route to jumpstart your career and demonstrate dedication to the field.
Next steps?
Iron out any creases using our intuitive CV builder with 20+ CV templates and professional designs to choose from. To accompany your CV, discover our cover letter templates. If you don't want to leave anything to chance, connect with our professional CV Writing Service. Draw inspiration from our CV examples to save time, emphasise important sections and make it easier for hiring managers to grasp your unique professional offer even quicker.
FAQ
What are the different types of banking jobs in the UK?
The UK banking industry offers a wide range of job opportunities, including roles such as bank assistant, assistant bank manager, graduate banker, bank branch manager, customer service representative (e.g., cashier or clerk), private banker, corporate banker, and investment banker. Each position requires a specific set of skills and qualifications, so it's essential to tailor your CV accordingly.
How to write a good banking CV?
To create a professional banker CV, start with a clear and impactful personal profile that showcases your relevant skills and aligns with the job description. Organise your work experience in reverse chronological order, emphasising quantifiable achievements and contributions. Highlight both soft and hard skills, focusing on industry-specific knowledge and a customer-oriented approach. Customise your CV for each role, emphasising how your attributes and expertise will benefit the bank and its customers.
What is a typical UK CV format for a banker?
A typical UK banker CV format includes the following sections:
Personal information

Personal profile

Work experience (in reverse chronological order)

Education and qualifications

Skills (soft and hard skills relevant to the industry)

Certifications and additional courses

References (optional).
How long should a banking CV be?
Your CV should be concise and impactful. Aim for a maximum of two pages, focusing on relevant experiences and achievements. Avoid lengthy paragraphs and use bullet points to make the CV easily scannable for recruiters.
What is the average salary of a banker in the UK?
The average salary of a banker in the UK varies depending on the specific role and level of experience. Entry-level positions may start around £20,000 to £30,000 per year, while more experienced bankers in managerial positions can earn over £60,000 annually. Investment bankers and private bankers often earn higher salaries, with the potential for substantial bonuses.
How to write a banker CV with no experience?
If you have no prior experience, focus on transferable skills gained from previous roles, such as customer service, analytical thinking, and communication. Highlight any relevant coursework, certifications, or volunteering experience that demonstrates your interest in the sector. Emphasise your enthusiasm to learn and grow within the industry.
How to write a CV for investment banking?
For an investment banking CV, highlight your financial acumen, analytical skills, and attention to detail. Emphasise any relevant internships, coursework, or certifications related to finance and investment. Showcase your ability to work under pressure, excellent communication skills, and any experience with financial modelling or data analysis. Refer to our investment banking CV example for more inspiration.
What is a banking personal statement on a CV?
The personal statement on a CV is a concise paragraph that introduces you as a candidate and showcases your key attributes and career goals within the financial industry. Tailor the personal statement to align with the specific role you're applying for, emphasising your passion for finance, customer service, and problem-solving abilities.
Land the interview for your dream job with CVMaker
Effortlessly create your professional CV within 10 minutes and download it whenever and wherever you want!
Create your CV
Increase your chances landing your dream job with CVMaker.