Bookkeeper CV
In this CV sample, Sophie showcases herself as a skilled Bookkeeper with a background in the finance sector. Her CV highlights her expertise in various accounting software packages and her extensive experience in diverse financial and accounting tasks.
Start now
"Detail-orientated, organised Bookkeeper with 8+ years of experience maintaining precise financial records."
Sophie MacDonald
- Bookkeeper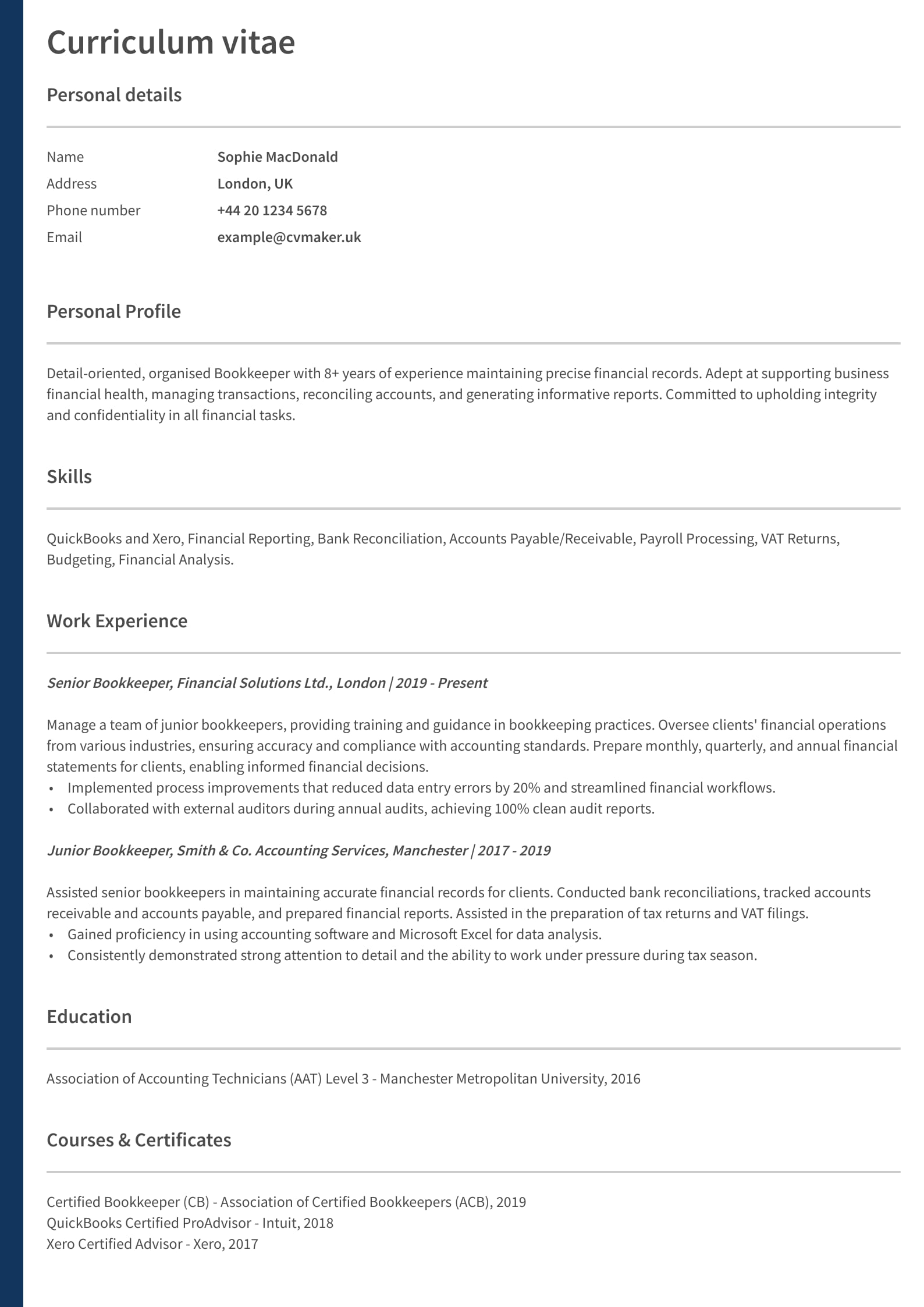 How to Write a Bookkeeper CV in 2023 (Guide with Examples)
Bookkeepers are financial custodians, entrusted with a critical role. Their primary responsibility revolves around the meticulous upkeep and organisation of a company's financial records and transactions. With expertise in accounting software and tools, they guarantee the accuracy and compliance of financial data, safeguarding its integrity.
With the rising demand for bookkeeping jobs offering lucrative income and flexibility, it's essential to grasp the significance of creating a tailored CV that resonates with applicant tracking systems (ATS). Your CV isn't just a piece of paper; it's your gateway to opportunities. Join us to uncover the key elements of an effective CV and gain valuable insights into its various sections. Whether you're starting or advancing in your bookkeeping career, we've got you covered!
Bookkeeper CV example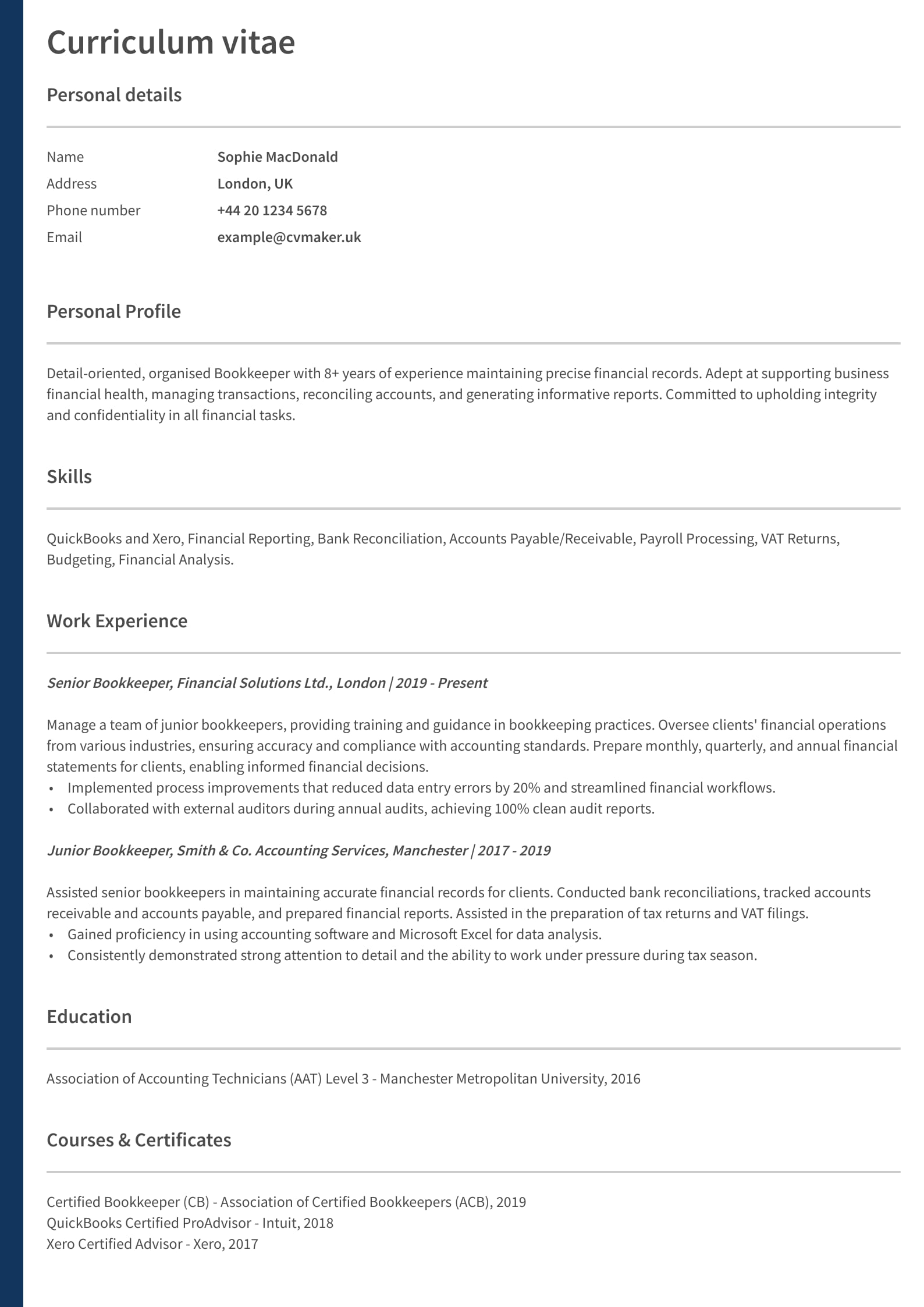 Download this bookkeeper sample CV in PDF
In this CV example, Sophie presents herself as an accomplished Bookkeeper with experience in the finance industry. Her personal profile underscores her proficiency in financial record-keeping and emphasises her aptitude for maintaining accurate financial data, streamlining processes, and excelling in communication. 
For additional examples, visit our CV examples page or explore our extensive collection of CV templates.
What to include in a bookkeeper CV? 
Writing an effective bookkeeper CV requires careful attention to detail, ensuring that you highlight your relevant skills, experience, and qualifications. A good CV can significantly increase your chances of securing a job interview.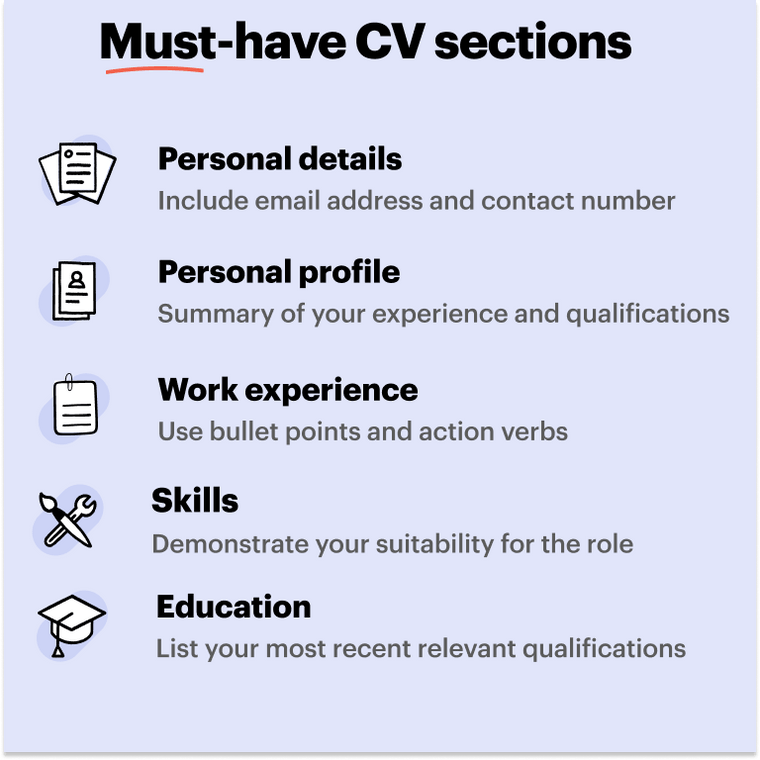 Indicate your bookkeeper skills in a personal profile
Create a concise yet impactful personal profile. This section should briefly summarise your bookkeeping skills, certifications, and career aspirations. This part is important for showing potential employers a brief overview of your background, skills, and career goals.  Refer to how to write a personal profile on a CV or see the following examples.
General Bookkeeper Personal Profile Example
Detail-oriented General Bookkeeper with 5+ years of experience in maintaining accurate financial records. Proficient in various accounting software and adept at reconciling accounts, managing expenses, and ensuring compliance. Strong analytical skills and a commitment to delivering precise financial data.
Double-Entry Bookkeeper Personal Profile Example
Highly skilled Double-Entry Bookkeeper with a track record of maintaining balanced financial records. Detail-focused and well-versed in handling complex transactions with accuracy. Proficient in utilising double-entry accounting principles to provide reliable financial insights.
Payroll Bookkeeper Personal Profile Example
Payroll Bookkeeper with expertise in managing payroll processes, ensuring timely and accurate payments. Proficient in using payroll software and addressing employee inquiries. Committed to maintaining confidentiality and adhering to payroll regulations.
Freelance or Virtual Bookkeeper Personal Profile Example
Seasoned Bookkeeper offering remote financial services to businesses. Proven ability to manage financial records, reconcile accounts, and provide real-time financial insights. Adaptable and tech-savvy, ensuring seamless collaboration from a distance.
Nonprofit Bookkeeper Personal Profile Example
Motivated Nonprofit Bookkeeper dedicated to supporting the financial health of nonprofit organisations. Proficient in grant accounting, fund management, and compliance reporting. Passionate about helping nonprofits achieve their missions through sound financial management
Entry-Level Bookkeeper Personal Profile Example
Recent graduate and entry-level bookkeeper, eager to launch a career in accounting. Strong attention to detail, quick learner, and proficient in basic accounting software. Enthusiastic about gaining practical experience and contributing to a dynamic team.
To find more CV examples, formats, or templates for different job scenarios, you can browse through the following categories:
Pro Tip
A well-crafted CV should not only list your qualifications but also demonstrate how your skills and experiences make you a valuable asset.
Enhance your CV with relevant bookkeeper skills
Showcase your bookkeeping skills, including proficiency in accounting software (e.g., QuickBooks, Xero), data analysis, financial reporting, and attention to detail. Create a dedicated section to your core skills, emphasising those most relevant to bookkeeping.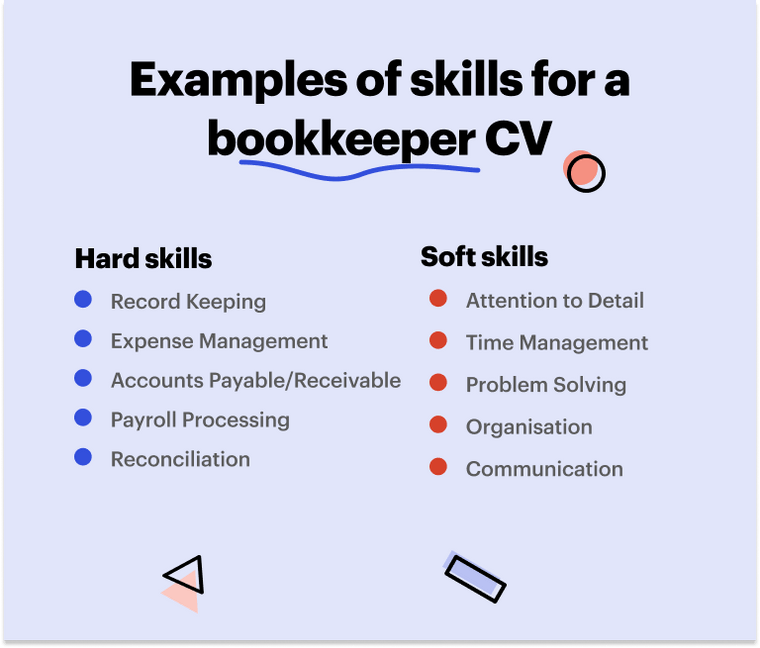 For additional guidance, see our example below or refer to our article on what skills to put on a CV.
Showcase your bookkeeping work experience
It might be challenging to write your experience in just a few lines but we recommend listing only your key day-to-day duties followed by a few key achievements. Detail your relevant work experience, focusing on bookkeeping roles and responsibilities. Make sure to mention any significant achievements, such as reducing financial errors, improving financial processes, or meeting tight deadlines.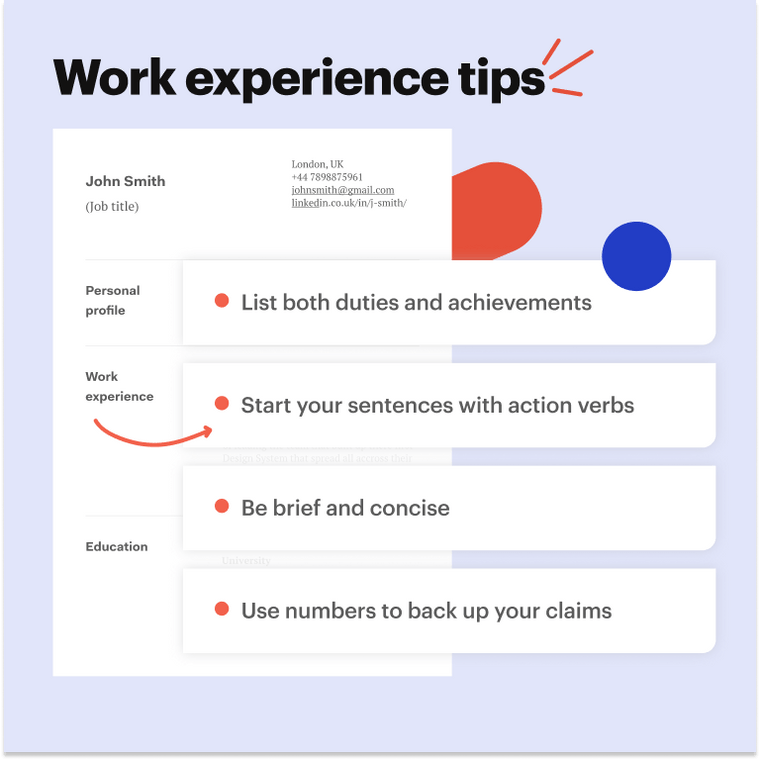 For additional guidance, see our example below or refer to our article on how to write work experience on a CV.
Junior Bookkeeper, Accounting Services, UK | 2021 - Present
Assisted senior bookkeepers in maintaining financial records for clients. Entered and organized financial transactions into accounting software. Reconciled bank statements and identified discrepancies. Prepared monthly financial reports and assisted in budgeting.
Successfully reduced data entry errors by 20% through meticulous attention to detail, ensuring accurate financial records for clients.

Assisted in the implementation of a streamlined expense tracking system, improving efficiency and saving approximately 5 hours per week.
Freelance Bookkeeper, Various Companies, UK | 2019 - Present
Manage a diverse portfolio of clients from various industries. Conducte monthly financial reconciliations and produced accurate financial statements. Advise clients on improving financial practices and reducing expenses. Ensure timely and accurate tax filing for clients.
Grew client base by 50% over two years through referrals and exceptional service, generating increased revenue.

Implemented cloud-based accounting solutions for clients, improving accessibility and collaboration while reducing their software costs by 25%.
Senior Bookkeeper, Financial Consultants, UK | 2010 - September 2023
Oversaw a team of junior bookkeepers and provided training and guidance. Managed complex financial transactions, including investments and acquisitions. Conducted in-depth financial analysis to identify cost-saving opportunities. Developed and maintained internal accounting policies and procedures.
Led the successful transition to advanced accounting software, resulting in a 30% reduction in reporting time and increased data accuracy.

Negotiated vendor contracts resulting in cost savings of $100,000 annually, significantly improving the company's bottom line.
For different CV formats or templates, consider the following:
Alternatively, if you have little to no experience, we have more information on how to write a CV with no experience. 
Include bookkeeper education or relevant qualifications
Including education on your CV is crucial. While a degree isn't always necessary, it is highly regarded. Entry-level roles may not demand formal qualifications but can benefit from basic bookkeeping knowledge. As you gain experience and relevant qualifications, you can achieve certified bookkeeper status, such as through AAT's Bookkeeping Qualification, signifying advanced competence.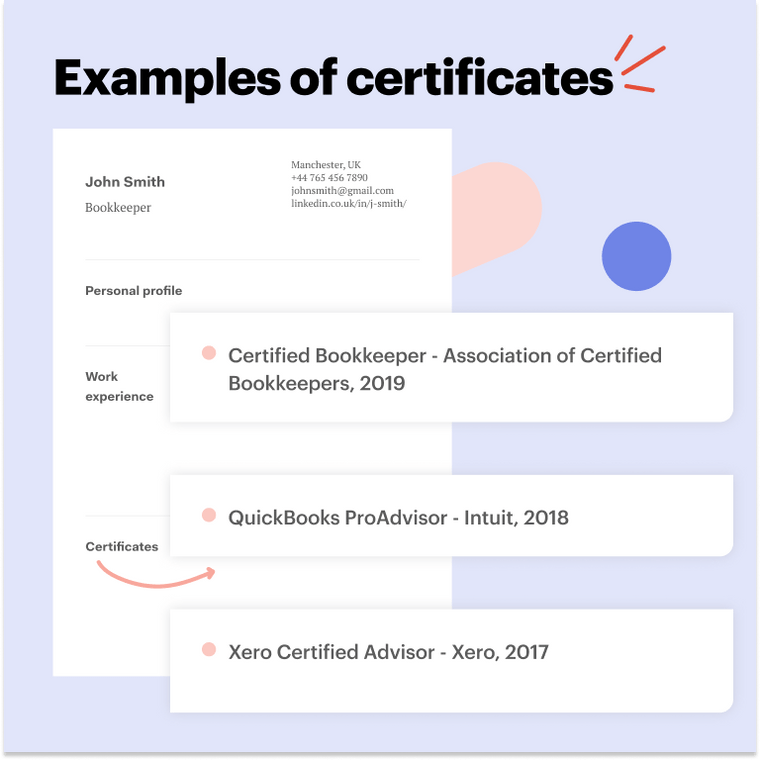 Learn more about listing courses and certificates on your CV for additional details.
Key takeaways
Writing an effective bookkeeper CV requires a delicate balance between showcasing key skills and how you can oversee a company's financial data while remaining compliant. By structuring your CV to include a targeted personal profile, work experience, and skills sections, you can present yourself as a strong candidate for the position. 
Next steps?
We offer a diverse range of professional CV templates with an extensive range of CV examples that can be tailored to your liking. If you have little to no experience or seek professional assistance, consider our professional CV Writing Services.
To explore CV examples for different career paths in finance, take a look at the following:
FAQ
How do I write a CV for a bookkeeper?
Make sure to highlight your relevant qualifications, experience with accounting software, attention to detail, and proficiency in tasks like data entry, reconciliation, and financial reporting.
What does a bookkeeper do?
They are responsible for maintaining accurate financial records, including recording transactions, reconciling accounts, managing payroll, and producing financial reports for an organisation.
How to become a bookkeeper in the UK?
Consider pursuing relevant qualifications such as AAT (Association of Accounting Technicians) certification, gaining practical experience through internships or entry-level positions, and staying updated on accounting software.
How much do bookkeepers make?
Bookkeepers' salaries in the UK vary depending on experience and location but generally range from £28,000 to £37,000 per year.
How do you describe bookkeeping skills on a CV?
Describe bookkeeping skills on your CV by emphasising your proficiency in accounting software, data accuracy, attention to detail, financial analysis, and ability to maintain organised financial records.
What is the difference between a bookkeeper and an accountant?
Bookkeepers focus on day-to-day financial transactions, record-keeping, and ensuring accuracy in financial records, while accountants take a broader role, including financial analysis, tax planning, and providing strategic financial advice to businesses. Check out ATT's definition for more details.
Land the interview for your dream job with CVMaker
Effortlessly create your professional CV within 10 minutes and download it whenever and wherever you want!
Create your CV
Increase your chances landing your dream job with CVMaker.