Investment Banking CV
James, a qualified CFA with an MBA and over 5 years of experience in finance has selected the Cornell CV template. Committed to delivering exceptional results with a proven ability to thrive in fast-paced environments, he is hoping to land a more senior role.
Create your CV
"Solid foundation in investment banking with excellent analytical and research skills, enabling me to identify lucrative opportunities and make informed decisions."
James Harrison
- Investment Banking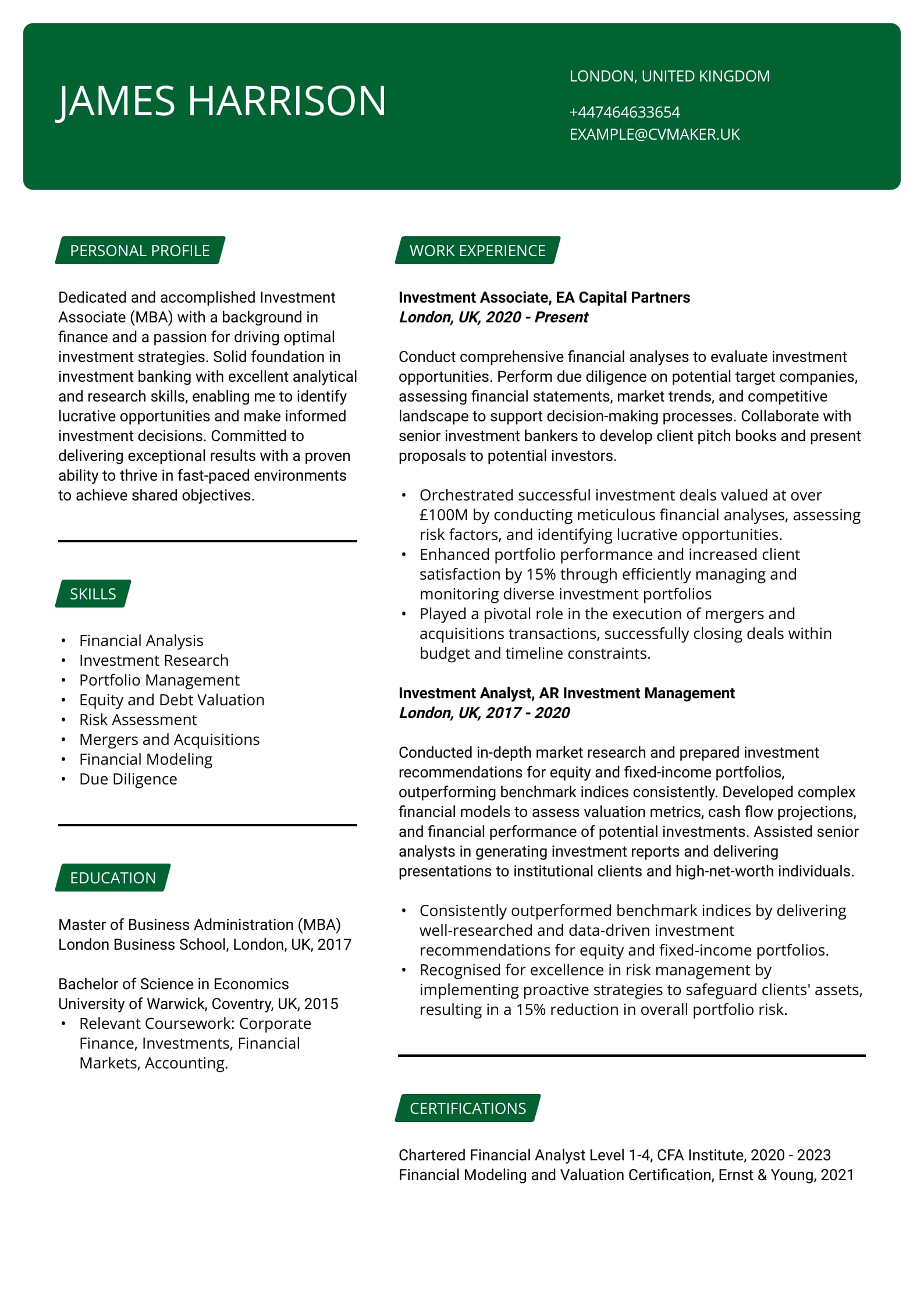 How to Write an Investment Banking CV in 2023 (Writing Guide and Examples)
In today's fast-changing global economy, investment bankers play a crucial role as architects of financial markets, shaping investment decisions worldwide. Beyond transactions, they advise on mergers, underwrite securities, and raise capital for entities from corporations to governments. The realm of investment banking offers diverse career paths, like mergers and acquisitions, capital raising, asset management, and more.
Common jobs include:
Investment Analyst

Investment Banking Associate

Vice President

Director/Managing Director

Mergers and Acquisitions Specialist

Equity Research Analyst

Corporate Finance Specialist

Risk Management Specialist

Compliance Officer.
Whether you're a recent graduate, a student, or just looking to refine your CV, this article is for you. We provide professional advice on what makes a good CV and examples of how to write the key sections of a CV.
The CV writing process: Where to start?
For established finance professionals or aspiring investors and analysts, crafting a powerful CV that is applicant tracking system (ATS) friendly begins with creating a master CV. This comprehensive document should contain all skills, education, certifications, work experiences, and notable achievements. This allows you to customise applications and tailor job-specific CVs for better impact and relevance. Once you have a better understanding of all our past experiences, then it will be a lot easier to create a CV that is tailored to a specific job title, which is the end goal, both making sure it passes applicant tracking systems and showing recruiters you took the time and effort to apply for the job.
Investment Banking CV example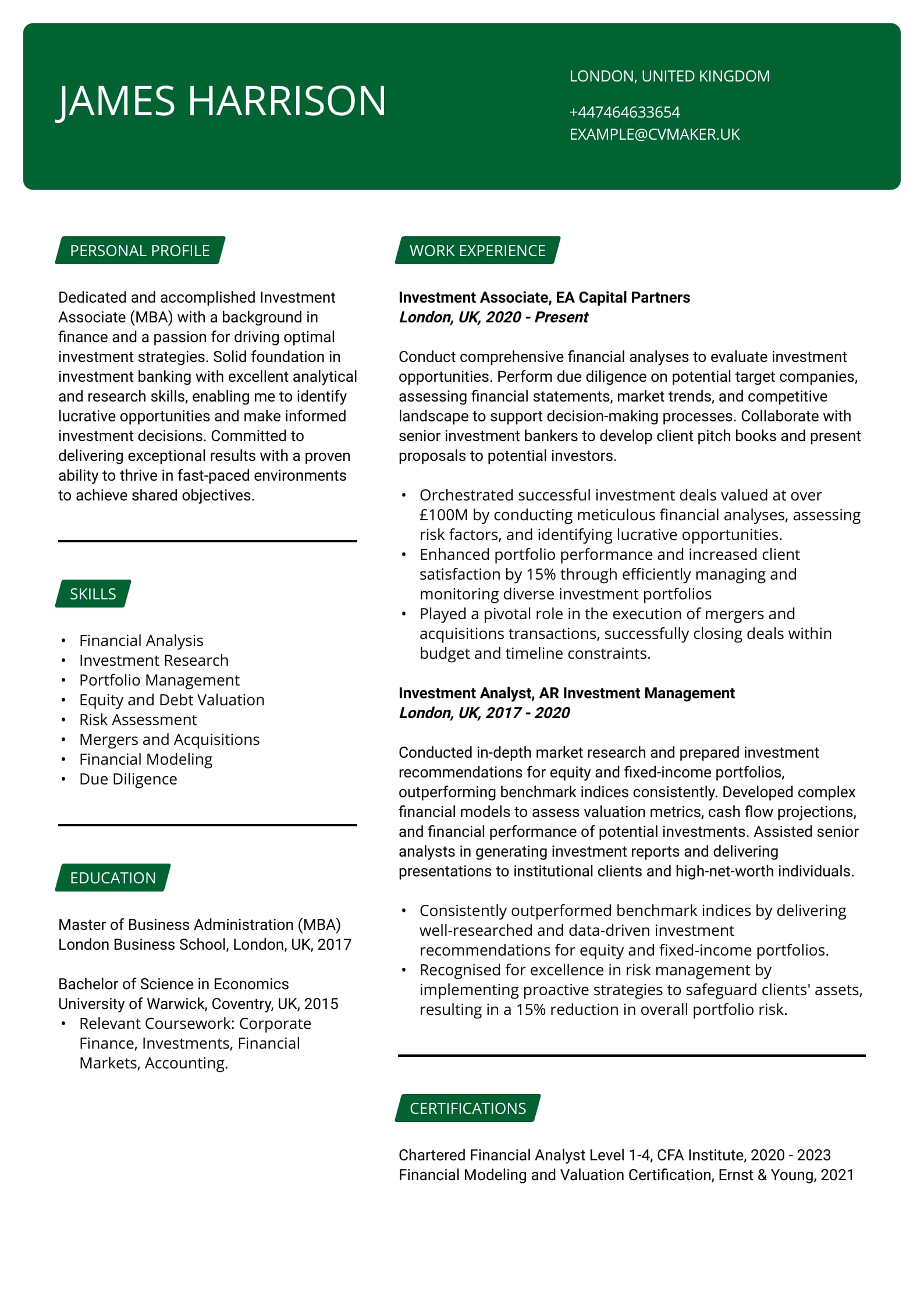 Download this Investment Banking CV sample in PDF
What to include in an investment banking CV? 
A good CV means various things, such as ensuring it is tailored towards your career goals, formatting, and having the necessary and relevant sections. For an investment banking CV, you should include the following key elements: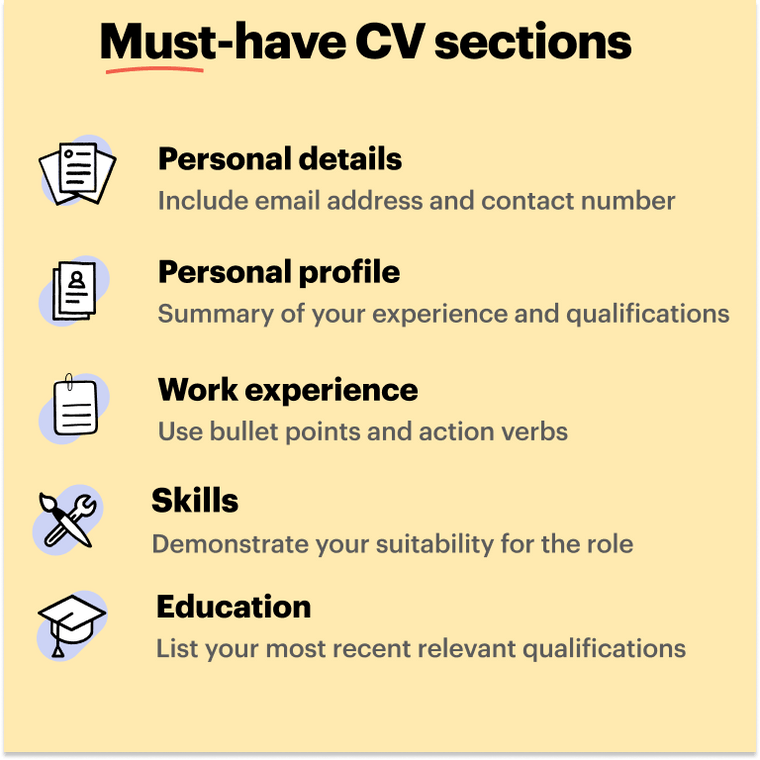 Create a strong personal profile
This CV section is the summary at the top of your CV, briefly mentioning relevant experience, soft skills, and qualifications for the desired position. It is most likely the first thing recruiters or hiring managers will read. Therefore, it should be well-written and aligned with your career goals by including relevant soft skills. 
Investment Analyst CV Personal Profile
Experienced Investment Analyst with demonstrated success in uncovering valuable insights that drive informed investment decisions. Strong foundation in quantitative research and financial modelling with proven ability to evaluate risk and return profiles of various investment opportunities. Adept at translating complex financial data into actionable strategies and possess a track record of contributing to successful investment outcomes by creating sound portfolio-management strategies.
Managing Director CV Personal Profile
Established Managing Director with experience leading high-performing teams and driving strategic initiatives to deliver exceptional results. Proven track record of successfully managing complex financial projects aligned with business goals and investment strategies. Dynamic leadership style that fosters a collaborative and innovative environment, empowering teams to excel. Deep understanding of market dynamics and a knack for identifying growth opportunities.
Portfolio Manager CV Personal Profile
Dedicated Portfolio Manager with a career spanning 15 years in the financial industry. Known for crafting and executing investment strategies that consistently outperform benchmarks. Highly skilled in asset allocation, risk management, and market research. Adept at navigating dynamic market conditions, ensuring optimal risk-adjusted returns.
Investment Banking Associate CV Personal Profile
Results-driven Investment Banking Associate, ready to leverage strong analytical skills and financial acumen to contribute to successful transactions and client relationships. Experienced in conducting due diligence, financial modelling, and market research. Well-versed in supporting senior bankers in deal execution with proven ability to communicate complex financial concepts internally and externally.
Refer to our personal profile article for more tips and 15+ examples.
Pro Tip
Tailor your CV to the specific job you're applying for, focusing on relevant experiences and skills that match the requirements of the investment banking position.
Differentiate between hard and soft skills
Skills on a CV are important for two reasons: they act as a snapshot of your competencies and experiences and help recruiters determine whether you possess the necessary skill set, and secondly, they are required to surpass ATS. Moreover, skills demonstrate your ability to perform specific tasks, work effectively in a team, and handle challenges that may arise in the workplace.
For more inspiration on how to write a CV, refer to our banking CV example.
Include relevant work experience
Whether you have years of experience or just starting your career, this section can be leveraged to showcase what you did versus what you achieved in a specific role, be it an internship or a more senior position. 
Investment Analyst, Capital Management, London, UK | 2020 - Present
Construct and manage investment portfolios, ensuring optimal asset allocation and risk management. Monitor the performance of investments, conducting regular reviews and making recommendations for adjustments. Prepare detailed investment reports, presentations, and documentation for internal and external stakeholders. Collaborate with research providers and industry experts to enhance research capabilities and stay updated on market trends.
Implemented a refined asset allocation strategy that led to an average annual return increase of 2.5% over the last two years.

Spearheaded partnerships with leading research providers and industry experts, resulting in access to timely and relevant market insights.
Managing Director, Crawford Investments, London, UK | 2020 - Present
Manage a team of senior analysts, portfolio managers, and support staff, fostering a collaborative and high-performance culture. Provide strategic leadership and direction to the investment team, overseeing all aspects of investment management and client relations. Direct the construction and management of diverse investment portfolios, ensuring alignment with risk tolerance and growth targets.
Represented the firm at prominent industry conferences, seminars, and client meetings, resulting in a 15% increase in new client acquisitions over the past year.

Achieved a 97% client retention rate by consistently delivering strong portfolio performance and providing exceptional service that exceeded client expectations.
Portfolio Manager, Sandown Asset Management, London, UK | 2020 - Present
Manage a diverse portfolio of client accounts, implementing investment strategies aligned with risk profiles and financial goals. Oversee the trading and rebalancing of portfolios to optimise asset allocation and achieve desired performance outcomes. Collaborate with the investment research team to identify emerging trends and opportunities in the market.
Developed and maintained strong client relationships, addressing inquiries, concerns, and providing exceptional customer service.

Effectively managed a diverse portfolio of client accounts, consistently outperforming the market benchmark by an average of 4% annually.
Investment Banking Associate | EFG Capital, London, UK | 2020 - Present
Support senior investment bankers in executing capital raising, mergers and acquisitions, and financial advisory transactions. Conduct detailed financial analysis, including valuation modelling, discounted cash flow analysis, and financial statement review. Prepare pitch books, prospectuses, and financial presentations for client meetings and investor roadshows. Assist in due diligence processes by analysing industry trends, competitive landscapes, and target company financials.
Played a pivotal role in executing multiple high-profile capital raising and M&A transactions, with a cumulative transaction value exceeding £500 million.

Redesigned pitch books and financial presentations for client meetings and investor roadshows, resulting in improved clarity and effectiveness of communication.
Refer to our work experience article for more tips and examples. Alternatively, if you have no experience, check out our skills-based CV example.
Showcase your educational qualifications and certificates
Typically, to enter into this career path, a bachelor's or associate's degree in business, finance, economics, or accounting is required. So, when it comes to including it on your CV, it's really important to write out the full degree, and if you are a recent graduate or student, consider adding relevant courses, achievements, or projects to make this section stand out even more. Check out our article for more examples and tips on including education on a CV.
When considering additional CV sections to add, having your Chartered Financial Analyst (CFA) can be highly advantageous. It is widely considered the apex for professional development in investment management and is valued by employers for roles and functions in every sector of the global finance industry. These roles include but are not limited to portfolio management, commercial banking, investment banking, financial analysis, private wealth management, or financial advisor roles.
Refer to our courses and certificates article for more tips and examples.
Key takeaways
Now that you have more insight into what makes a good CV, we have summarised a few tips to consider when writing your investment banking CV. 
Next steps?
For investment professionals aspiring to advance their careers or improve their CV, explore our extensive selection of CV templates that can be easily tailored to your career goals. If you are seeking a writer, we check out our CV Writing Service, which will save you time and effort. In addition, to enhance your job application further, we recommend familiarising yourself with how to start a cover letter to make the best impression on potential employers and land your dream role.
FAQ
What should I put on my CV for investment banking?
Make sure to highlight relevant education, financial analysis skills, and relevant certifications like CFA.
What are the primary duties and responsibilities of an investment banker?
Advising clients on financial transactions, conducting market research, creating financial models, and facilitating mergers, acquisitions, or fundraising.
How long should a CV be for investment banking?
Aim for 1-2 pages, emphasising key qualifications and achievements. Refer to our article on how long should a CV be for more tips and examples.
How to write a CV for Goldman Sachs?
Tailor your CV depending on the job title. If applicable, emphasise quantitative skills, financial expertise, teamwork, leadership, and any previous experience that is relevant to the division you're applying for.
How to write a CV for JP Morgan?
Focus on strong analytical abilities, adaptability, teamwork, leadership, and any experience in finance, consulting, or related fields. Refer to our finance CV example for more inspiration. 
Is a CFA good for Goldman Sachs?
Yes, a CFA can enhance your qualifications for roles related to asset management and investment analysis.
How do I get a CFA in the UK?
Enroll in the CFA program, study for three exams, fulfil work experience requirements, and adhere to the CFA Institute's guidelines.
How to become an investment banker in the UK?
Typically involves a strong academic background in finance or related fields, relevant internships, networking, and potentially pursuing postgraduate studies like an MBA.
Is investment banking a good career in the UK?
It can be lucrative and prestigious but demanding in terms of hours and stress. Success depends on individual skills, preferences, and career goals.
How much do investment bankers make in the UK?
Vary widely based on experience and role but can range from £60,000 to over £150,000 annually, excluding bonuses.
Top investment banks to work for in the UK?
These include Goldman Sachs, JP Morgan, Morgan Stanley, Barclays, and Deutsche Bank with Danske Bank UK named the top financial services company to work for in 2023.
Land the interview for your dream job with CVMaker
Effortlessly create your professional CV within 10 minutes and download it whenever and wherever you want!
Create your CV
Increase your chances landing your dream job with CVMaker.