Trader CV
Oliver Morgan's CV utilises the well-structured California template to present essential information. He is a seasoned investment trader known for making well-informed decisions and expertly details his previous work experience and skills.
Start now
"Dedicated and results-driven Trader with over 10 years of experience. Strong quantitative skills for modelling and optimising trade strategies."
Oliver Morgan
- Senior Trader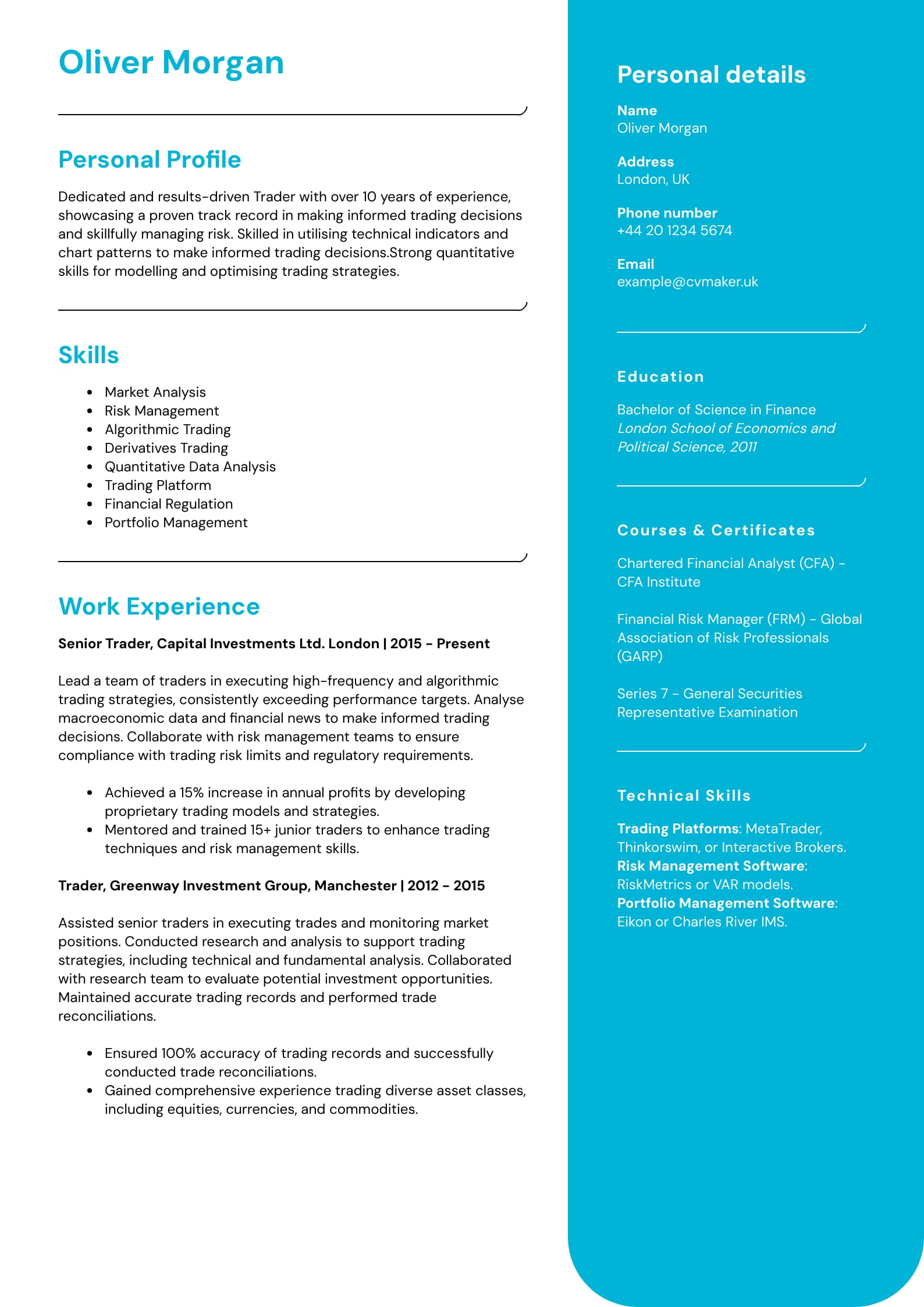 How to Write a Trader CV: Best tips and Examples
Pursuing a career as a trader in the UK's vibrant financial landscape boasts many rewarding opportunities. It's worth noting that just as the London Stock Exchange evolved over centuries, your modern CV should also adapt to the current financial job market. From stock traders who navigate the complexities of the stock market to crypto traders handling digital currencies, this sector is diverse and thriving.
In this guide, we explain the process of crafting a standout trader CV and guide you to potential financial success in this competitive industry. You must first optimise your CV to navigate application tracking systems (ATS) by choosing the best format and CV template. Creating an ATS-friendly CV is crucial to help increase your visibility to recruiters, making you more likely to get shortlisted for an interview. 
Trader CV example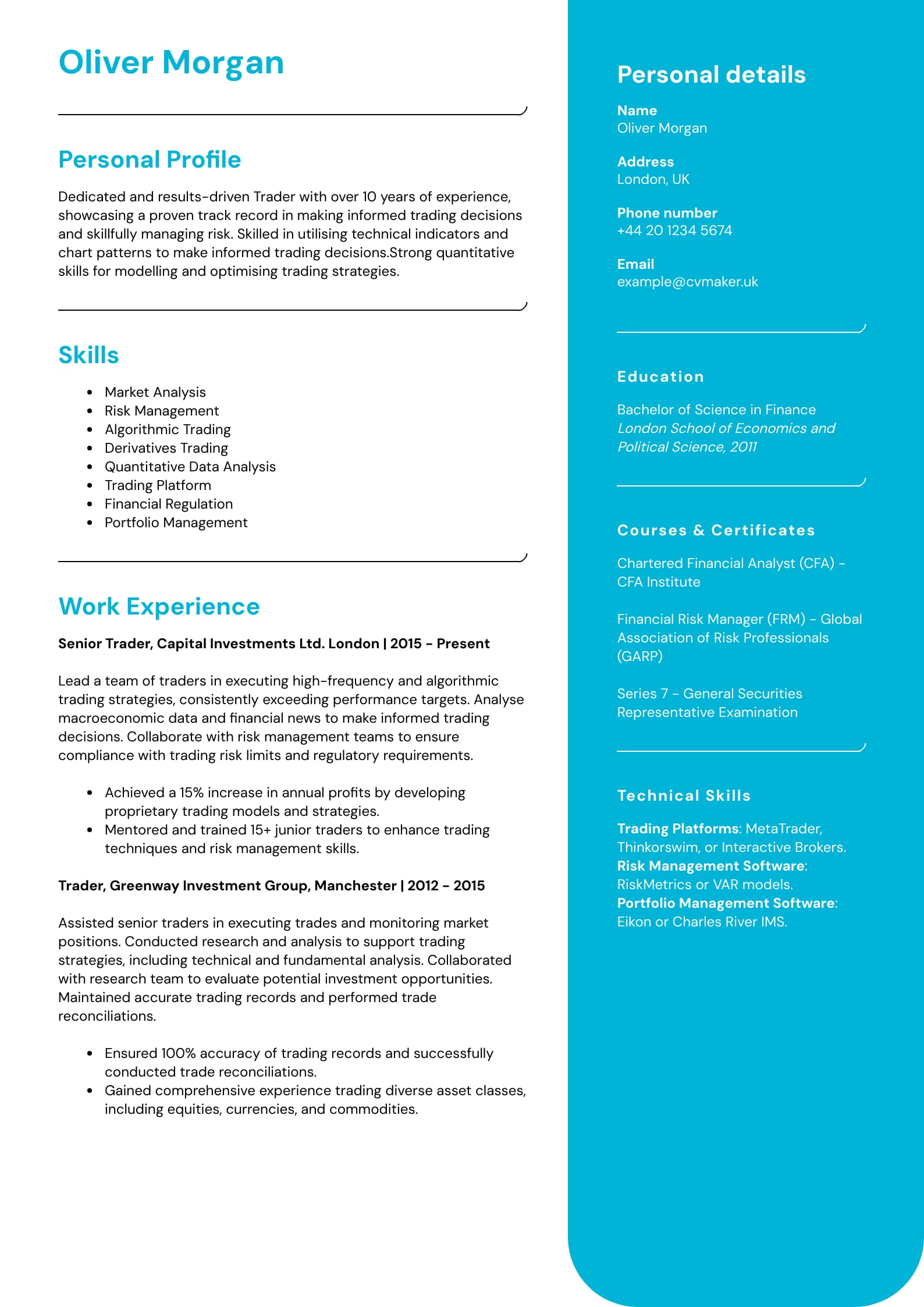 Download this trader CV sample as PDF
Oliver Morgan is a seasoned investment trader known for making well-informed decisions and effectively managing risk. With a strong background in market analysis, algorithmic trading, and quantitative data analysis, his role as a Senior Trader at Capital Investments Ltd. led to a 15% annual profit increase. His educational foundation in Finance and industry certifications further enhance his expertise in trading platforms and risk management software. His CV utilises the well-structured California template to present essential information.
What to include in a trader CV? 
In a trader CV, provide an overview of your qualifications and expertise. Start by outlining your contact information, including your name, location, and up-to-date contact details. Follow this with a concise personal summary that encapsulates your trading skills and career objectives. When delving into your work experience, tailor your CV for each job application by emphasising achievements that align with the specific role you're pursuing. 
Reference our article on the CV writing process, which focuses on the distinction between master and job-specific CVs and offers valuable insights for enhancing your job prospects. For more guidance on landing your dream job, refer to our article on how to write a good CV. 
For those proficient at handling data and working with numbers, refer to our CV examples for these roles:
Start with a strong personal profile 
A personal profile or summary on your trader CV example should concisely express your current situation, years of industry experience, valuable soft skills, and future career goals. Avoid personal pronouns for brevity and precision. This segment presents a valuable opportunity to introduce yourself and underscores any areas of specialisation.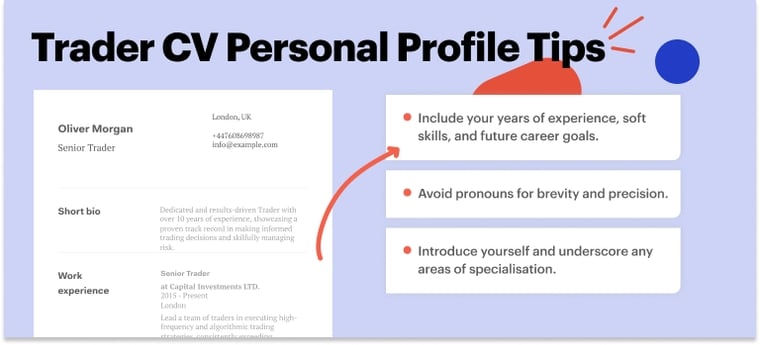 Senior Trader CV personal profile example
A seasoned Senior Trader with over five years of experience excelling in the complex financial markets. Proven expertise in asset classes, including equities, derivatives, and commodities. Proficient in market dynamics and risk management. Thrives in high-pressure environments, consistently delivering exceptional results. Adept at capitalising on emerging opportunities, contributing significantly to portfolio growth and profitability.
Stock Trader CV personal profile example
Dedicated Stock Trader with an unwavering commitment to staying at the forefront of industry trends, economic events and equity markets. Adept at analysing data, identifying promising stocks, and executing precise trades. Consistently generated substantial returns for clients and employers. Able to adapt to changing market conditions, ensuring a proactive approach to portfolio management.
Trader Graduate CV personal profile example
Enthusiastic and well-prepared Trader Graduate with a solid foundation in trading principles and a commitment to professional growth. Equipped with academic achievements and hands-on trading experience, they possess a strong understanding of risk management, technical analysis, and market psychology. Ready to contribute to a dynamic trading team and impact an organisation.
Junior Trader CV personal profile example
An ambitious Junior Trader driven by a commitment to excel in the financial industry. With a robust educational foundation and a rapid acquisition of essential trading skills, they are well-versed in market research, trade execution, and risk assessment. Eager to analyse trends and make informed decisions, they seek an entry-level role and aspire to contribute to a mentorship-focused team that values professional development.
See the personal profile on a CV article for more ideas on what to write.
Include your work experience 
A trader plays a pivotal role in the dynamics of various markets, from waste paper trade to equities, forex, commodities, and cryptocurrencies. Your primary responsibilities involve executing buy and sell orders for clients or employers. You'll be analysing market data, identifying potential trading opportunities, optimising portfolios, and managing positions while adhering to risk management strategies.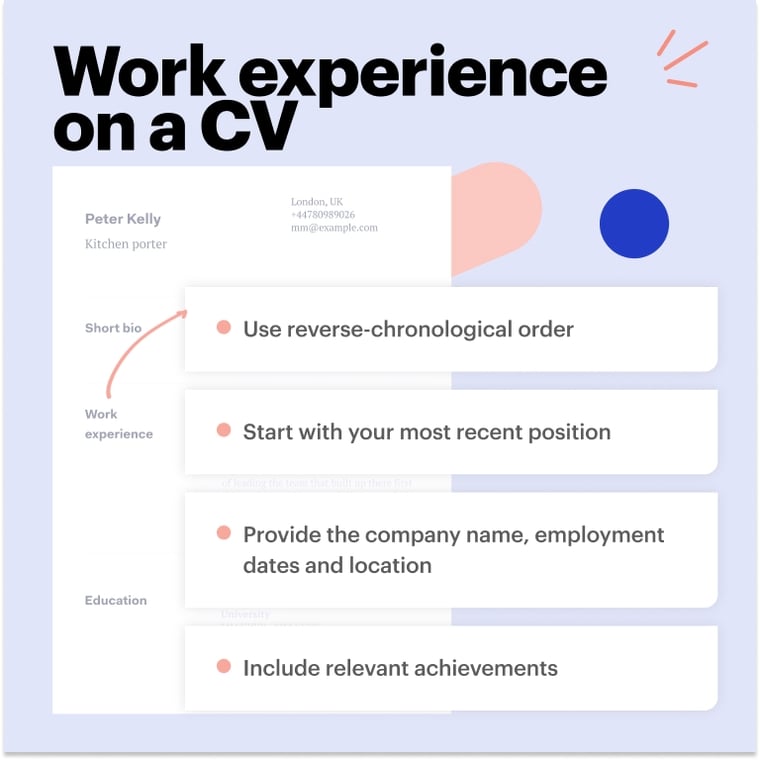 For instance, a multi-trader CV example illustrates an ability to diversify asset allocation effectively, while a crypto trader CV example must highlight proficiency in trading digital assets. Suppose you're a graduate or aspiring junior trader entering the workforce; highlight relevant transferable skills, interests or relevant undergraduate coursework. Moreover, consider opting for a project-based or a skills-based CV if you have little to no work experience to enhance your suitability for the role.
Improve the impact of your CV by incorporating quantifiable achievements and showcasing your unique strengths. Emphasise how your contributions align with business objectives and offer deeper insights into your capabilities and measurable outcomes. For further guidance, explore practical strategies for detailing your work experience on your CV.
Pro Tip
If you are just starting out in your trader career, highlight relevant transferable skills.
Work experience examples 
Expert Trader | Alpha Investment Group | London, UK | January 2015 - Present
Led a team, executing complex trading strategies across asset classes: equities, derivatives, and forex markets. Collaborated with research analysts, using machine learning and analysis to identify high-probability opportunities. Successfully navigated market volatility and geopolitical risks, delivering exceptional returns while ensuring compliance with regulations and risk management protocols.
Managed a multi-million-pound portfolio, achieving superior risk-adjusted returns, exceeding benchmarks, and generating annual profits exceeding £2 million. 

Developed proprietary trading algorithms, reducing execution time by 30% and improving trading efficiency by 15%.
Junior Trader | Investment Group Limited| London | 2019 - 2023
Assisted senior traders by meticulously analysing market trends and researching potential trading opportunities within equities and commodities markets. Swiftly executed buy and sell orders in high-pressure trading environments, showcasing sharp decision-making skills and adept risk management. Collaborated closely with research analysts to formulate effective trading strategies and actively participated in daily trading meetings to exchange market insights. Diligently monitored and managed trading positions while adhering to risk limits, thereby enhancing the overall profitability of the team. 
Demonstrated a consistent 10% reduction in trade execution time by applying research insights.

Contributed to a noteworthy 5% increase in trade success rate.
Equity Trader | Alpha Capital Management | London | 2016 - 2023
Managed an equity portfolio, optimising returns and minimising risk. Conducted thorough market analysis, pinpointing promising stocks for precise trading strategies. Collaborated with research analysts to assess opportunities and report to management. 
Oversaw a £5 million portfolio, outperforming the FTSE 100 by 8%, resulting in an extra £400,000 annually. 

Executed high-frequency trading strategies, maintaining a remarkable 99.9% success rate with an average daily trade volume of 500,000 shares.

Contributed to a model reducing transaction costs by 10% and increasing annual returns by 12%.
Commodity Trader | Delta Commodities LLC | Manchester | 2016 - 2022
Specialised in trading commodities, including agricultural products and energy futures, to maximise profits while managing risks. Conducted market research, monitored price trends, and used technical analysis to identify trading opportunities. Implemented hedging and speculative strategies, consistently exceeding profit targets. Collaborated with trading partners and institutions to negotiate favourable terms and contracts.
Negotiated a supplier contract, reducing costs by 15% and saving £200,000 annually.

Introduced a trading strategy resulting in a 25% increase in annual profits by capitalising on seasonal price fluctuations in agricultural commodities.
Key skills for trader professionals 
Trading offers many career opportunities, and diverse skills are essential to thrive in this dynamic industry. The skills section of your CV for a trading role is a crucial component that demonstrates to employers that you are suitable for the role. It's a chance to showcase the specific qualities and proficiencies that make you a valuable asset. 
When adding skills to your CV, ensure they align with the job requirements. Use concrete examples from your experiences to support your claims to make your skills section more informative and credible.
Soft skills

Hard skills

Adaptability

Trading expertise

Decision-making

Market analysis

Problem-solving

Risk management

Teamwork

Trade execution

Communication

Algorithmic trading

Analytical thinking

Financial modelling

Detail-orientated

Regulatory compliance
Pro Tip
Make sure your skills align with the job description and tailor your CV for each job you are applying for.
Showcase your education
In this section, chronologically list your relevant secondary and tertiary education, starting with the most recent. If you have an area of speciality, consider enhancing your qualifications by taking relevant courses and obtaining certificates to highlight your ongoing commitment to professional development.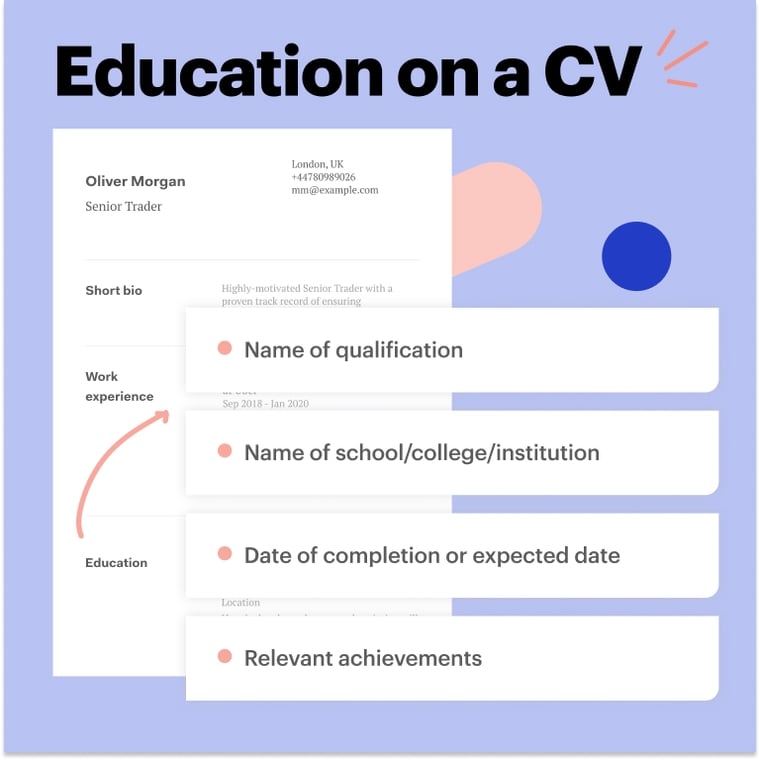 Typically, employers will request a relevant degree to apply for and work in this profession. Otherwise, consider completing an internship if you are a school leaver with no work experience or qualifications. 
For detailed entry requirements, refer to the National Career Service to learn more about this job profile. In addition, refer to our article about the CV education section for extra guidance.
Key takeaways 
Crafting a compelling CV for a trading role requires a strategic approach, highlighting your ability to excel in financial markets and manage investments. By structuring your CV to encompass a tailored personal profile, work experience, and skills sections, you can position yourself as a competitive candidate for the role. You should demonstrate your expertise in trading and financial markets, presenting a persuasive application to attract potential employers. For extra tips and advice, read our article on how to improve your CV. 
Next Steps? 
To ensure that your CV accurately represents your qualifications and experiences, explore our array of products and services:
Cover letter template: enhance your application with a corresponding cover letter template designed with a clean format.

CV Writing Service: collaborate with our skilled professionals for personalised feedback and expert guidance in tailoring your CV for a specific job.

Career blog: explore our comprehensive guides and articles to educate yourself on the most effective strategies for enhancing your job prospects.
Investing time refining your CV can increase your chances of securing that crucial job interview or advancing into a more senior role. 
FAQ
How do I write a trader CV with no experience?
Creating a CV with no experience can be accomplished by emphasising your relevant qualifications and transferable skills. Utilise a skills-based or project-based trader CV template showcasing your knowledge of financial principles, markets, risk management, and analytical abilities. Mention any related coursework or certifications. Use this format to highlight your potential value to employers. Consider gaining practical experience through internships or an apprenticeship.
Are trader jobs in demand in the UK?
Trader jobs are in demand in the UK, particularly in major financial hubs like London. The financial sector in the UK is robust, and trading roles are essential for managing investments, hedge funds, and other financial activities. While the demand can fluctuate based on economic conditions, there remains a consistent need for skilled traders who can navigate the complexities of the financial markets.
What qualifications do I need for a trader job?
A solid educational background is essential to secure a trader job in the UK. A degree in finance, economics, or a related field is commonly required. Additionally, certifications like the Chartered Financial Analyst (CFA) can be beneficial. It's also crucial to demonstrate a deep understanding of trading principles, risk management, and market analysis in your CV. Look at specific job postings, as some employers may require additional qualifications or licenses.
How much do trader jobs pay in the UK?
Salaries in the UK vary based on factors such as the level of experience, the type of trading (e.g. equities, stock, crypto, commodity forex), and the financial institution. On average, junior traders may earn £40,000 to £60,000 annually, while experienced traders can potentially earn six-figure salaries or more. Bonuses and profit-sharing are standard in the industry and can significantly boost total compensation.
What should a trader's CV look like?
A trader's CV in the UK should be well-structured and concise. Use a precise and professional format with clear sections including a personal profile, skills, work experience, education, and certificates. Highlight your trading skills, market analysis proficiency, and risk management abilities. Mention your educational background and any relevant coursework or certifications. Ensure you tailor your CV to the specific trading role you're applying for and include industry-specific keywords in the job description.
Land the interview for your dream job with CVMaker
Effortlessly create your professional CV within 10 minutes and download it whenever and wherever you want!
Create your CV
Increase your chances landing your dream job with CVMaker.