Data Analyst CV
Samuel has selected the Michigan template due to its simple and minimalistic layout. This CV example showcases his relevant experience and technical skills in a clear and concise manner.
Start now
"Strategic thinker with 5+ years of experience within data analysis. Able to break down complex problems into manageable components, while effectively conveying technical concepts to technical and non-technical stakeholders."
Samuel Wilson
- Senior Data Analyst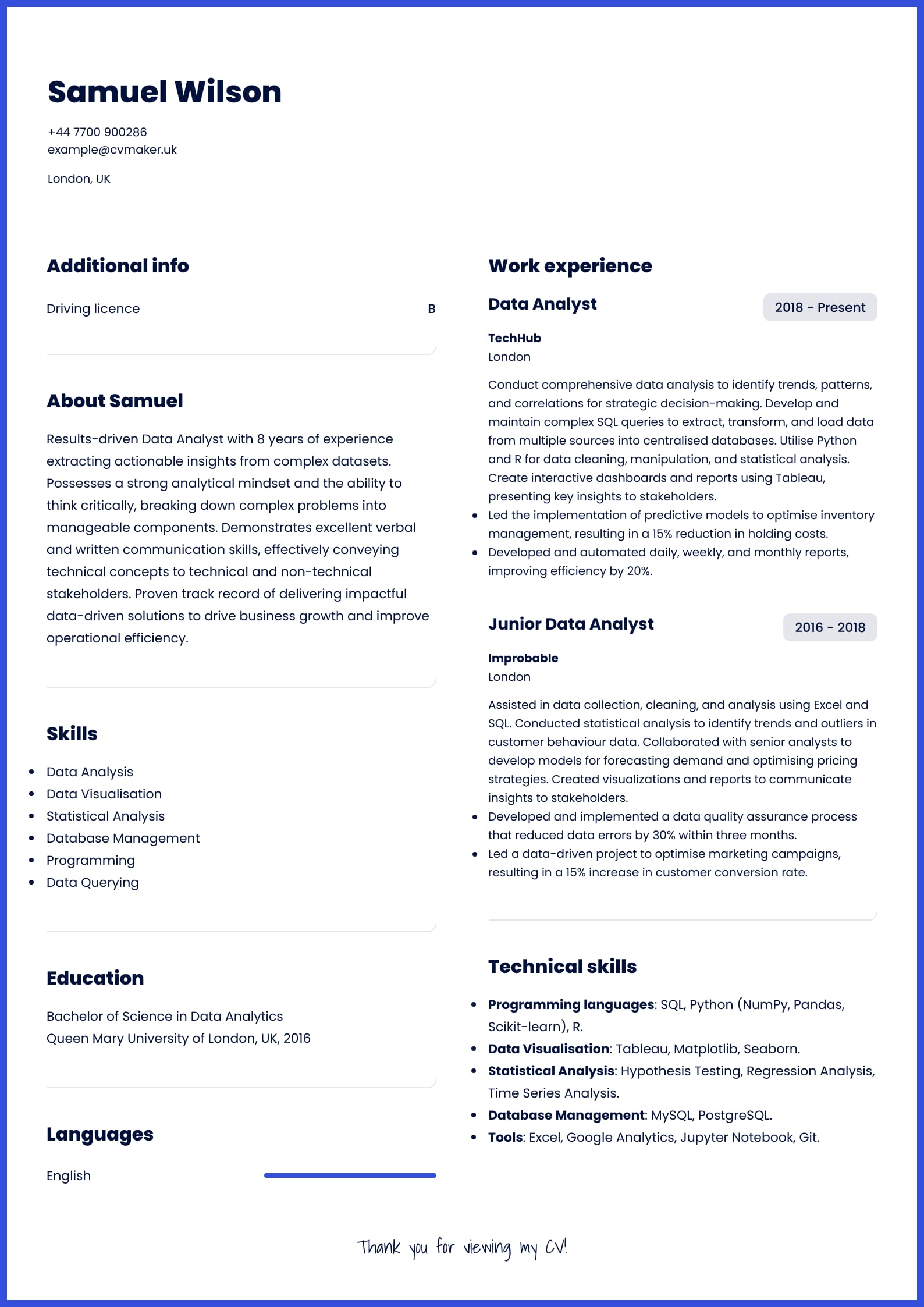 How to Write a Data Analyst CV with Tips and Examples
In today's competitive job market, aspiring data analysts in the UK face unique opportunities in a rapidly developing industry. Data scientists, analysts, and engineers all play a vital role in extracting insights from complex datasets and have to be detail-oriented to provide accurate analysis, excellent problem-solvers, communicators, and highly organised. However, writing a good CV for potential employers can be an extra hurdle, especially if you need to optimise your data analyst CV for applicant tracking system (ATS) software. Did you know that improper formatting and generic CVs lead to rejection of 75% of qualified applicants?
Crafting a stellar CV is crucial to stand out and secure interviews as the demand for skilled data analysts soars across sectors. Our mission is to help you pursue your aspirations and career goals with an ATS-friendly CV template to showcase the best of your qualifications, skills, and experience for a career in this field.
The CV writing process: Where to start? 
In the UK, jobs in this sector can be lucrative yet competitive, and technical skills are in high demand. A master CV that includes all relevant qualifications and skills is the foundation for creating future job-specific CVs for different roles and should emphasise relevant qualifications and experiences suited to your job targets.
Master CV 
A master CV is a comprehensive document that includes all your relevant qualifications, skills, and experiences. It serves as a valuable resource to save time and effort when tailoring your CV for specific job applications. By creating a master CV, you can easily update and customise your application to make it relevant to your career goals. It provides a holistic view of your expertise and allows you to showcase the best of your capabilities.
Job-specific CV  
A job-specific CV for a data analyst role is a targeted version of your master CV. It should focus on your essential skills, qualifications, experiences, and achievements that align with the job description and are relevant to your career goals. This tailored CV demands extra effort but significantly increases your chances of securing your desired role.
Data Analyst CV Example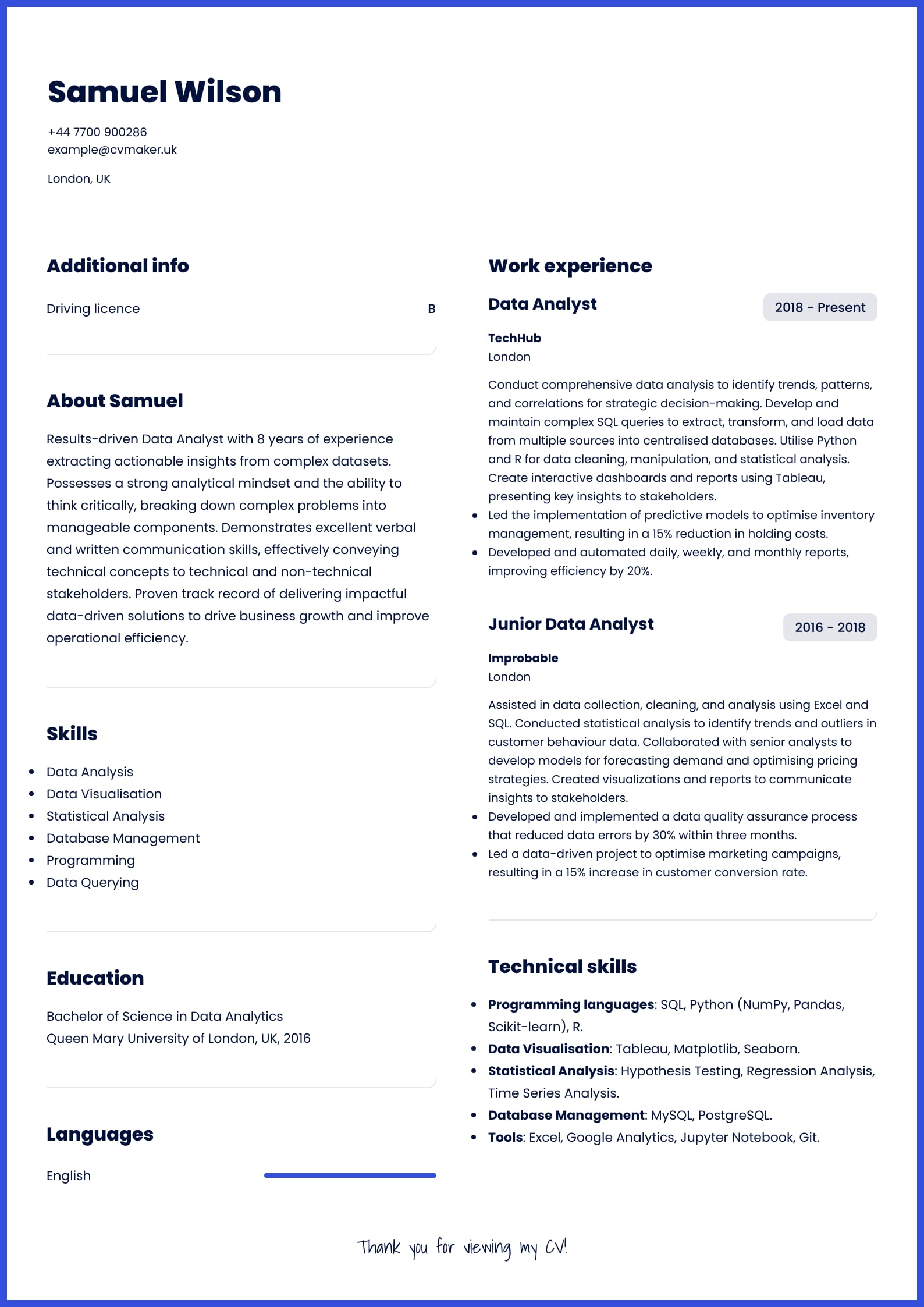 Download this CV sample - Data Analyst CV PDF.
In this example, Samuel demonstrates his 5+ years of expertise and technical skills in extracting actionable insights from complex datasets, data analysis, visualisation, querying, and programming. He highlights excellent analytical thinking, problem-solving, and verbal and written communication skills. The Michigan CV template ensures clarity and organisation, making it easy to read and look professional.
What to include in a CV for data analyst?
Crafting your CV requires a comprehensive overview of your qualifications and suitability for the role, including personal details, skills, work experience, and education. Tailor your CV by highlighting relevant keywords and critical skills that align with the job description. This guide delves into each section to help you create a compelling CV.
How to write a personal profile on a data analyst CV?
Your personal profile summarises your relevant qualifications, experiences, and career objectives. It offers an opportunity to make a solid first impression on potential employers and showcase your unique strengths.
What you add in your personal profile will differ according to your background and expertise. If you're a recent graduate or with a few years of experience, emphasise your professional experiences, accomplishments, actionable achievements, and specialisations that align with your job targets.
Pro Tip
For an entry-level CV with little to no work experience, highlight your education, relevant internships or projects, and transferable skills.
Example of personal profile for an entry-level data analyst CV
Highly motivated entry-level Data Analyst seeking an internship. Certified in Data Visualisation with the Future Learn specialist school. With strong problem-solving abilities, who can work collaboratively in a team-oriented environment. Committed to delivering accurate and actionable insights to support data-driven decision-making. Eager to contribute and grow as an entry-level data analyst in a dynamic and collaborative work environment.
Example of personal profiles for a graduate data analyst CV
Driven and analytical graduate with a master's degree in Data Science. Proficient in data manipulation, statistical analysis, and visualisation using Python and R. Skilled in implementing machine learning algorithms to extract valuable insights from complex datasets. Excellent communication skills for translating technical findings into actionable insights. Proactive and eager to contribute to data-driven decision-making in challenging, dynamic environments.
Example of personal profiles for a senior data analyst CV
Highly experienced Senior Data Analyst with a proven track record of delivering valuable insights and driving data initiatives across diverse industries. Proficient in advanced statistical analysis, data modelling, and machine learning techniques. Strong leadership abilities are demonstrated through successful cross-functional team leadership and stakeholder collaboration to solve complex business problems.
Learn how to write a compelling personal profile that aligns with your career goals.
What skills should I put on my CV for a data analyst role? 
Whether you are pursuing a career as a data engineer or financial analyst, you need a combination of skills to excel in your field. When thinking about data analyst skills for your CV, separate a list of soft and hard skills to highlight specialisations and technical expertise. By doing so, you effectively showcase qualifications and increase your chances of securing your desired role.  If you have little to no work experience or have recently graduated, highlight any transferable skills from additional experiences and choose to create a skill-based CV.
Consider the following for skills that can also be used for a data architect or data modeller role:
Written and verbal communication skills are essential in this role, as you'll be frequently tasked with collaborating and presenting findings to clients or stakeholders clearly and concisely.

Attention to detail and critical thinking skills are essential for conducting thorough data analysis and managing projects. Strong problem-solving abilities help in identifying patterns and extracting meaningful insights.

Solid mathematical and statistical analysis abilities will be required to navigate complex statistical concepts and precisely manipulate data.

Proficiency in programming languages and database management such as Python or R, knowledge of SQL. Learn about data visualisation tools like Tableau or Power BI.

A comprehensive understanding of statistical software packages like SAS, R, or SPSS is vital to handle large datasets, conducting advanced statistical analyses, and improving overall analytical efficiency.
If you have technical skills and are interested in similar professions in the UK, consider exploring similar career paths, such as software developer. For a first job in the data analysis field, highlight relevant coursework, internships, or part-time experiences.
An entry-level data analyst CV should focus on soft and hard skills relevant to the position. Soft skills demonstrate your ability to collaborate, communicate effectively, and manage your responsibilities efficiently. Showcase your strong analytical and problem-solving skills, attention to detail, and ability to use Python, SQL, and Excel data analysis tools. Highlight your eagerness to learn and adapt to new technologies and methodologies in data analysis.
A mid-senior data analyst CV should emphasise an ability to provide exceptional data analysis and work effectively as part of a team. Showcase your expertise in statistical analysis, data modelling, and visualisation using tools such as R, Tableau, or Power BI. Demonstrate your strong communication skills and ability to translate complex data insights into actionable recommendations for business stakeholders. Highlight your project management skills and experience in leading data-driven initiatives that have resulted in measurable business outcomes.
A specialist or data analyst manager CV should showcase your excellent interpersonal skills and ability to assist customers in a busy or fast-paced environment. Highlight your in-depth knowledge of data analysis techniques, data mining, and predictive modelling. Emphasise your leadership skills and experience in mentoring and managing a team. Showcase your expertise in driving data-driven decision-making and delivering insights to senior management. Highlight your ability to develop and implement data governance policies and procedures to ensure data integrity and compliance.
For more ideas on what to include in your skills section, read our article on what skills to put on a CV.
How to write work experience on a CV for a data analyst role
In the work experience section of your CV, it is essential to separate your duties from your accomplishments. This distinction helps highlight your practical application of data analysis skills and demonstrates your impact in previous roles.
For an entry-level CV, showcase relevant internships, volunteer work, or academic projects involving data analysis. For a graduate or senior position CV, highlight your professional experience, including specific achievements and projects that showcase your expertise and if you have little to no work experience.
Entry-Level data analyst CV work experience example
Data Analyst, Global Analytics, London, UK, 2020 - Present
Conduct data analysis to identify trends and patterns. Develop and maintain SQL queries for data extraction and transformation. Utilise Python and R for data cleaning and statistical analysis. Create interactive dashboards and reports using Tableau. Assist in data collection and quality assurance. Collaborate with cross-functional teams to define analysis objectives. Continuously learn and apply new techniques. Support data management systems and processes.
Developed a data visualisation dashboard using Tableau, enhancing data accessibility and improving decision-making efficiency.

Collaborated with senior analysts to create user-friendly visualisations that enhanced the efficiency of data interpretation and analysis by 5%.
Graduate data Analyst CV work experience example
Junior Data analyst, Veridex Corporation, London, UK, 2019 - 2021
Conducted exploratory data analysis and performed statistical analysis using R and Excel on large datasets. Assisted in developing data-driven solutions to improve operational efficiency and customer satisfaction.
Prepared comprehensive reports and presentations that provided actionable insights, resulting in a 10% increase in operational efficiency.

Collaborated with cross-functional teams to streamline data collection processes, reducing data processing time by 20%.
Senior Data Analyst CV work experience example
Lead Data Analyst, Pristel Enterprises, London, UK, 2010 - Present
Analyse complex data sets using advanced statistical techniques, machine learning algorithms, and data visualisation tools. Lead a team of data analysts to develop and implement data-driven strategies and solutions.
Drove a 15% revenue increase by collaborating with stakeholders to identify business objectives and successfully implementing impactful data projects.

Improved data storage and retrieval efficiency by 25% by designing and maintaining efficient data models and databases.

Played a pivotal role in driving business growth and profitability by delivering compelling findings and insights to executive management, resulting in a 10% increase in annual revenue and a 20% improvement in profit margins.
For more information on this section, refer to our article on how to write work experience.
How to list education on a data analyst CV
Education plays a vital role in data analysis, and nearly all specialist roles require higher educational qualifications, but for some entry-level and junior roles, this is not mandatory. To succeed in this field in the UK, a bachelor's degree in a relevant field such as Computer Science, Mathematics, Statistics, or Data Science is typically required.
For example, if you are writing your CV for a data management or data engineer, list your education in reverse chronological order, starting with your most recent degree. Include the institution, degree title, dates of study, and any relevant coursework or academic achievements.
If you are just starting out in the field, we recommend gaining a specific qualification or enrolling in a course to gain more knowledge. If you're a student and graduate, learn more about gaining relevant certificates for your job targets and how to list courses.
By combining education and hands-on experience, you will strengthen your CV and stand out as a highly qualified candidate for specialist roles.
Consider these options to gain educational qualifications:
Secondary education such as GCSEs and A-Levels in relevant subjects may help, such as business information systems, computer science, economics, information management, mathematics, and statistics.

Bachelor's degree in Data Science. A first degree is often, but only sometimes, required.

Master's degree in Business Analytics or Data Science

Postgraduate Diploma in Data Analysis and study statistical analysis, data modelling, database management, and data visualisation.

Practical experience with real-world data analysis projects through internships or apprenticeships.
If you need help with how to list education with examples and tips, refer to our helpful article in this section.
Key Takeaways
Crafting a professional CV requires a strategic approach to stand out in a competitive market. It's essential to demonstrate technical skills, gain educational qualifications and have knowledge of essential programming software or tools to succeed in this role. To help leverage your application even more, we can also show you how to improve your CV for a data analyst position and find a job that aligns with your career goals.
Next Steps?
Are you looking for a ready-to-use CV template? Then check out our CV Writing Service, which will save you time writing and designing your CV from scratch. Create an account and choose from one of our professional CV templates that suits your career goals. If you need more guidance and inspiration when applying for an entry-level position, explore our blog for more ideas on how to land your dream role.
FAQ
How do I write a good data analyst CV? 
To write a good CV for UK roles:
Highlight your relevant skills, experiences, and qualifications.

Include specific examples and actionable insights

Quantify your achievements in your personal profile to demonstrate your capabilities.

Tailor your CV to the job you're targeting

Write a cover letter that aligns with your career goals to impress potential employers.
What is the best format for a data analyst CV?
When it comes to a data analyst CV format UK, there is no definitive rule, as preferences can vary among employers. However, the one-column layout is more commonly used and considered standard for UK CVs. We recommend using an industry-standard reverse chronological order to organise your CV. Use an ATS-friendly CV template to boost your chances of getting your application read and being shortlisted for an interview.
How do I write a data analyst CV with no experience? 
Writing a CV with no experience for UK roles can be challenging, but there are strategies to overcome this hurdle. Focus on highlighting your education, qualifications, relevant coursework or projects, and any internships or part-time positions related to your job targets. Consider completing a relevant course or mention practical hobbies and interests on your CV. If you have no work experience, create a skills-based CV to highlight your transferable skills or any certificates in data analysis tools, programming languages, and software.
What should a CV have for an entry-level data analyst? 
We recommend listing your education and skills for an entry-level CV in the UK. Training is usually provided for most entry-level positions in the UK. But, consider adding an additional experience section on your CV and list relevant hobbies, interests, or volunteer work relevant to the role to enhance your application even more. Learn more about what to add on your CV by referring to the business analyst CV example.
What is a good summary for a data analyst CV?
A good summary and personal profile should be concise and impactful. List your achievements, key strengths, career goals, and qualifications to help you stand out. Mention any knowledge or expertise in data analysis, statistical analysis, and proficiency in relevant programming languages and tools. Tailor your personal profile to match the job you're targeting and use keywords from the job description.
What skills are required for a beginner data analyst? 
If you're applying for your first job in this field or are a student, or graduate with little to no work experience, highlight transferable skills. We recommend using a skills-based CV and emphasising soft skills such as effective communication, problem-solving, attention to detail, analytical skills, and teamwork. Tailor your skills section on your CV to align with the job description and career goals.
What is the expected salary for a data analyst job in the UK?
In the UK, the average salary for a job within this field ranges from £25,000 to £60,000 per year for higher roles, depending on your experience level, location, and company size.
What job opportunities are there for data analysts in the UK?
There are diverse employment opportunities in the UK, with various sectors and roles available, from entry-level internships and graduate schemes to juniors and senior managerial roles. Getting your foot through the door allows the opportunity to become a risk analyst or business intelligence analyst with a few years of experience or an additional qualification. In this field, you also have the opportunity to specialise in market research, business intelligence, and logistics. If you want to discover more about this role and the different sectors available in the UK, explore a career in data analysis with the National Careers Service or browse a job profile here.
Land the interview for your dream job with CVMaker
Effortlessly create your professional CV within 10 minutes and download it whenever and wherever you want!
Create your CV
Increase your chances landing your dream job with CVMaker.