Business Analyst CV
Omar, an accomplished business analyst with over five years of experience, selected the Edinburgh template to convey his skills and expertise clearly and concisely. He has the ability to combine effective communication with an acute analytical mindset.
Create your CV
"Experienced Senior Business Analyst with expertise in gathering, data analysis, and project management. Always identifying areas for improvement and implementing strategic solutions. "
Omar Khan
- Senior Business Analyst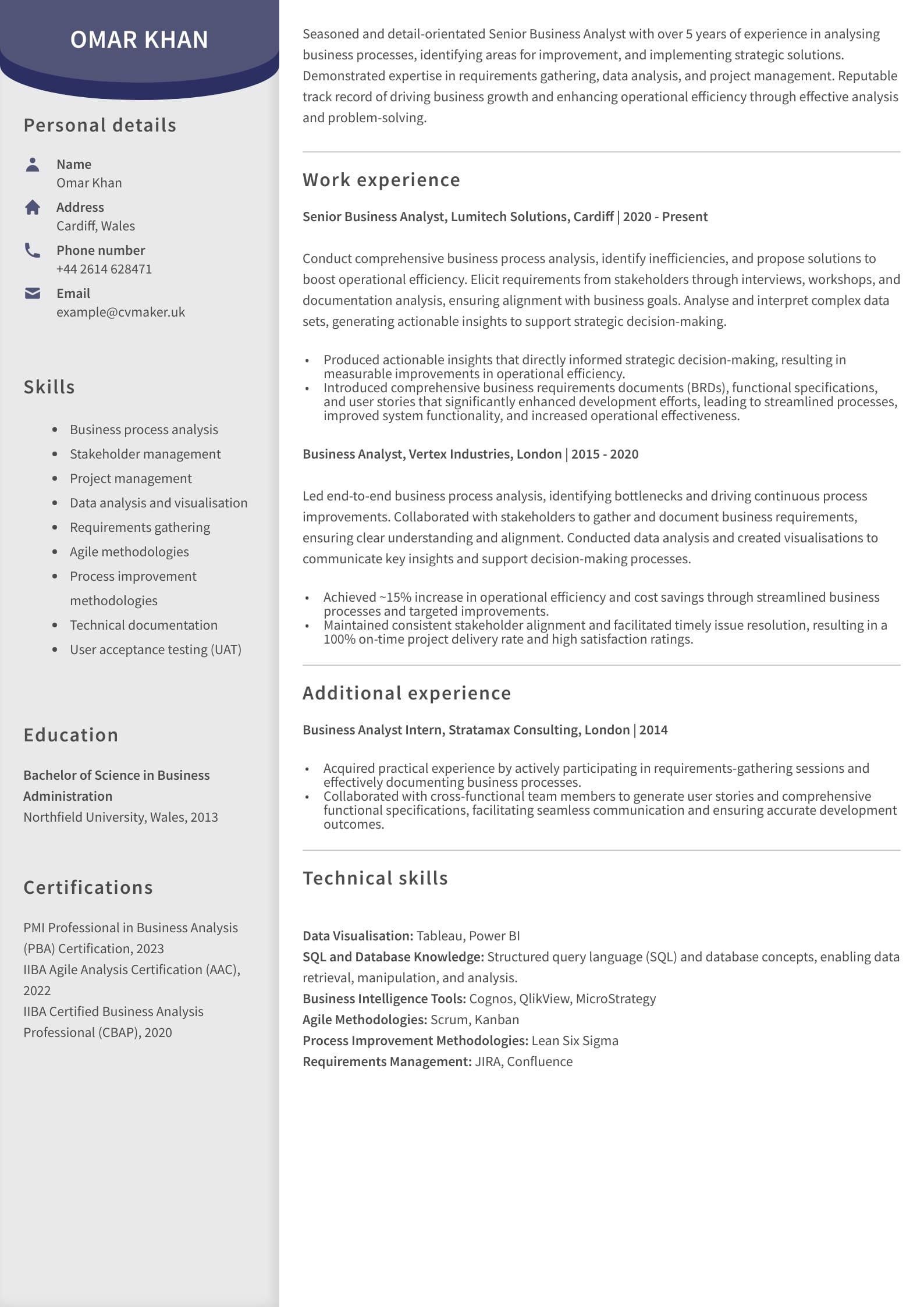 How to Write a Business Analyst CV: Tips and Examples
Whether you want to become a junior, mid-level or C-level senior in this field, you're going to need an eye-catching business analyst CV to set you apart from the competition.
Hiring managers can receive upwards of 50 applications for a business analyst position in the UK, and take an average of 5-7 seconds to form an opinion. That's why it's crucial you prepare a modern CV that catches their eye and quickly conveys your unique value.
Top-quality analysts are in high demand across the UK. Successful applicants need to show sharp analytical skills with an excellent ability to communicate. Getting this across over one (maximum two) pages can be a daunting task.
With the right guidance, you can create a good business analyst CV that showcases your expertise, stays on the good side of the applicant tracking system (ATS), and impresses hiring managers. This article provides a comprehensive guide on how to write a CV for this type of role, offering valuable tips and examples to help you succeed.
The CV writing process: Where to start?
There are many types of jobs to apply for, such as:
Agile Business Analyst

Business Intelligence Analyst

Business Process Analyst

Business Analyst Intern

Graduate Business Analyst

Junior Business Analyst

Senior Business Analyst

Technical Business Analyst.
As well as there being different types and levels of analysts, they can be found in almost every sector: The Home Office, Virgin Atlantic, Oxfam and even at early-stage startups. So, where do you begin?
For each application, it's important to craft a CV specific to that job. However, some core competencies will keep cropping up no matter where you apply. That's why it's always worth creating a master CV.
Master CV
Your master CV contains all your professional experience, relevant qualifications and additional information. It's the resource you will refer back to and build from when creating each job-specific CV. Keeping your master CV up to date is essential to giving the best representation of your abilities time and again.
Creating a master CV not only saves time but also provides a comprehensive list of your skills and achievements, builds self-confidence in your abilities and assists in salary negotiations or promotion requests.
Job-specific CV
Employers and recruiters are on the lookout for the ideal candidate who matches their requirements. They can spot a copy-and-paste job a mile away and want to assess your suitability for the role and the effort you've invested in your application.
That's why it's crucial to customise your CV for every job application, emphasising the most relevant and recent experiences. It's also key to focus on the qualifications, skills and experiences relevant to the type of job you're applying for.
Business Analyst CV example UK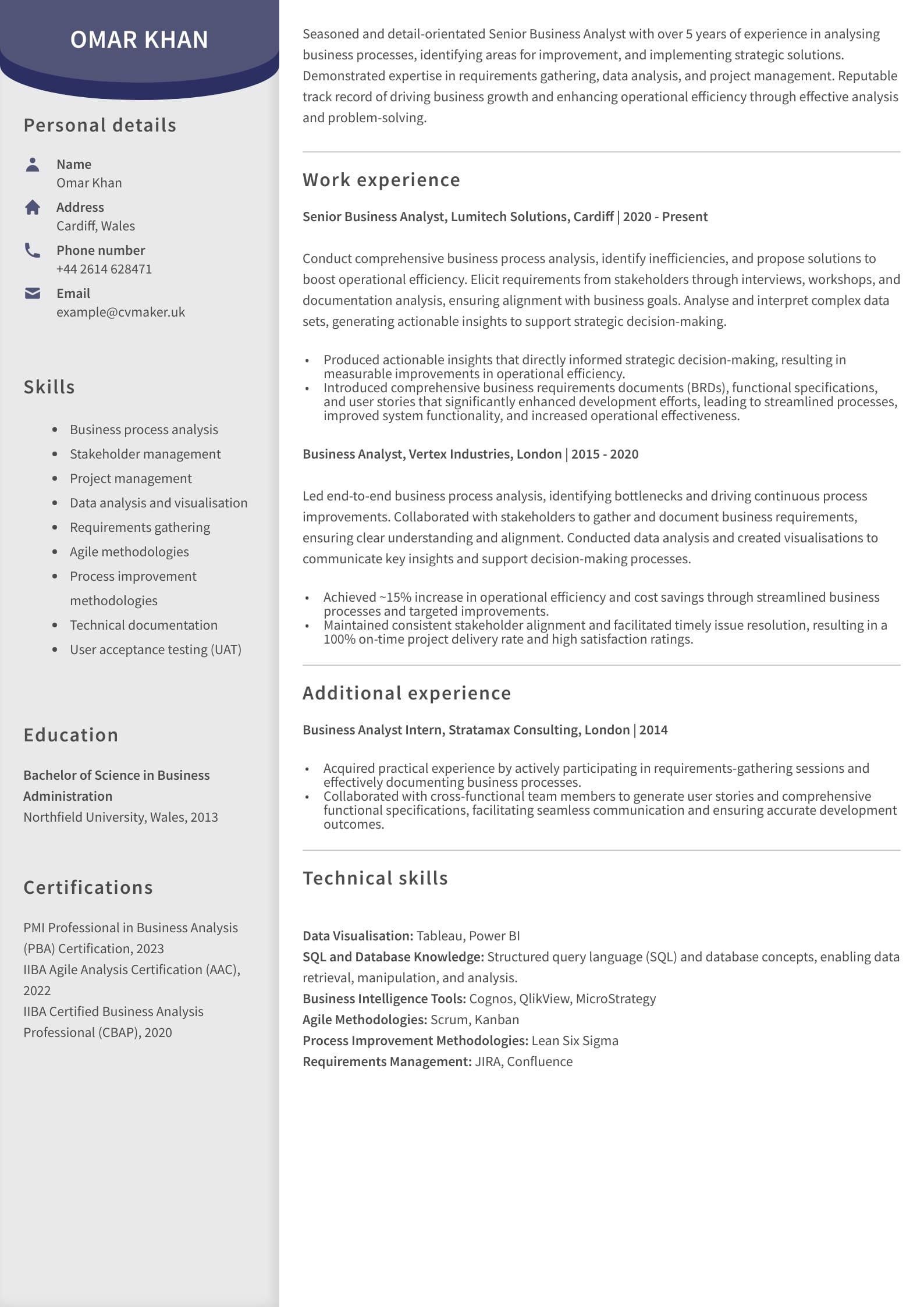 Download this CV example - Business Analyst CV PDF.
Omar is an accomplished senior business analyst with over 5 years of experience and an ability to combine effective communication with an acute analytical mindset. His CV perfectly showcases both soft skills via his personal profile and hard skills through a short but effective skills section. He demonstrates his suitability for the role and his strong work history in a fluid and easy-to-scan manner. Listing his technical abilities at the end of the CV is an excellent way to underscore his value as a candidate. The Edinburgh template conveys Omar's skills and expertise clearly and concisely.
What to include in a business analyst CV?
When preparing your business analyst CV in the UK, you will want to make it as readable as possible with key sections highlighting your qualifications, skills and experience. These often include personal details, personal profile, education, work experience, skills and any further training relevant to the position.
Taking inspiration from our senior business analyst CV sample or using a business analyst CV template is a great way to speed up the CV writing process, bring these sections to the hiring manager's attention, and make their job of approving you for the next round that bit easier.
How to write a personal profile on a business analyst CV
A personal profile is a hook by which you pull the hiring manager into your CV and invite them to learn more about you. It's your opening statement and something many applicants neglect. Writing a great personal profile on a CV is key to making a lasting first impression. Below are a few tips to keep in mind when writing a business analyst CV summary:
Include soft skills like:
Communication skills

Interpersonal skills

Ability to work in fast-paced environments.
State your career goals such as:
Experience level and reach goals

Highest level of education

Main career accomplishments.
Be clear and concise. Keep your profile to a maximum of 70 words or six lines. Remember, personal profiles do not use personal pronouns like 'I' or 'my'.
Pro Tip
Align your personal profile with the job description. Not only will this show your suitability for the role, but also demonstrate your ability to research the organisation and position.
Personal profile example for an agile business analyst CV
Passionate and results-driven Agile Business Analyst with 3 years' experience and a deep understanding of agile principles. Customer-focused with a proven ability to analyse and prioritise business requirements to deliver valuable solutions. Foster collaboration and continuous improvement, driving efficiency and adaptability. Flexible team player and supportive of those around me, ensuring timely and quality deliveries.
Personal profile example for business analyst CV
Resourceful and adaptable professional seeking a career transition from Executive Assistant to Business Analyst. Equipped with a strong ability to maintain an excellent overview of company operations. Possess a keen eye for identifying patterns and trends, enabling the prediction of future actions. A knack for working independently with databases, extracting valuable insights to drive informed decision-making. Exceptional communication skills fostering effective collaboration to facilitate seamless knowledge transfers.
Personal profile example for business analyst intern CV
Motivated recent graduate with a degree in IT Communications, eager to kickstart a career as a Business Analyst. Equipped with a diverse skill set, including excellent communication, a strong analytical mindset, and a constant drive for self-improvement. Solution-oriented and thrives when uncovering insights and identifying effective solutions. Open to guidance and continuously seeking opportunities to enhance professional skills. Collaborative approach with a desire to contribute to the success of the business analysis team.
Personal profile example for business intelligence analyst CV
Experienced Business Intelligence Analyst with a keen eye for recognising patterns and trends, driving future business goals. Proficient in translating technical terminology into actionable insights for management, facilitating informed decision-making. Committed to data-driven practices, prioritising continuous improvement, data quality, governance, integration, security, and visualisation. Collaborative approach fostering effective teamwork to achieve scalable and flexible solutions.
Personal profile example for a business process analyst CV
Dynamic and insightful Business Process Analyst with 3 years of experience, dedicated to assessing business requirements and delivering evidence-based recommendations to drive process improvements. Takes pride in a holistic perspective, enabling a panoramic approach to business and thinking as a customer, ensuring insights align with needs. Possesses a strong analytical mindset, diligently analysing data to determine what is truly valuable for informed decision-making.
What skills should I put on my business analyst CV?
Listing skills on your CV is more than telling hiring managers what you're good at; it's quickly letting them know you have the soft and hard skills needed for the job.
When crafting your CV, you must format it for clarity. Integrate soft skills into your personal profile, while dedicating a separate section highlighting hard skills and technical abilities. If you're changing careers, leverage transferable skills from previous roles.
Your skills section is a chance to showcase your expertise and unique qualities for the role. Remember, an excellent candidate in this field is that perfect mix of deep technical knowledge combined with a personable and highly communicative attitude. Make sure your hard and soft skills show this in abundance.
Examples of soft skills
Soft skills are the necessary transferable skills to work together effectively with our colleagues. While they are often not as easy to define as hard skills, they are nevertheless the basis for functioning working relationships and something recruiters look for when hiring for this job type.
These include, but are not limited to:
Written and verbal communication

Flexibility and adaptability

Ability to follow through on commitments

Analytical and problem-solving skills

Planning, organisation and time management.
Learn more about soft skills you can add to your CV by checking other job roles with similar requirements like an accountant.
Examples of hard skills
Hard skills are technical abilities specific to the job, industry or discipline. They are generally learned through education, training or practical experience. Similar to a project manager, a business analyst needs an array of hard skills to be confident in their role. In the context of this sector for jobs like business intelligence, data analyst or management analyst, hard skills would include:
Business, Systems Analysis or Quality Assurance

Using data visualisation techniques and tools

Generating documentation

Creating reports

Technical writing

Competency in Microsoft applications including Excel, Word and Outlook

Writing SQL scripts

Mathematics skills.
How to write work experience on a business analyst CV
When writing work experience on a CV, it is important to be specific about your responsibilities as well as your achievements. Recruiters and hiring managers want to hear about day-to-day duties and your overall legacy in your previous role. Here are some tips on how to showcase your work history:
Arrange work experience in reverse chronological order, starting with your most recent job.

Clearly outline your responsibilities and accomplishments for each role, emphasising quantifiable results whenever possible. Begin each bullet point with action verbs like 'managed', 'developed', 'prepared', and 'analysed'.

Customise your experience and job titles to align with the requirements of the position you're applying for.

Highlight the skills and experiences that are most relevant to the job description.

Utilise numbers and percentages to quantify your achievements. For example, you could state 'increased business efficiency by 15%' or 'successfully entered 3 new markets in 5 years'.

Demonstrate your industry knowledge and expertise by incorporating industry-specific jargon and acronyms.

Keep it tight by using bullet points instead of lengthy paragraphs, making your experience easier to read.
Example of work experience for a senior business analyst CV
Senior Business Analyst | XYZ Corporation, London, UK | 2020 - Present
Manage the end-to-end delivery of complex projects, including requirements gathering, process mapping, and solution design. Develop comprehensive business cases to successfully secure budget approvals for strategic initiatives. Translate technical data into actionable insights for C-level management. Communicate effectively across teams to increase operational efficiency.
Spearhead the implementation of a streamlined data analytics solution, improving data accuracy and accessibility, resulting in a 25% reduction in data retrieval time enabling quicker data-driven decision-making.

Lead a cross-functional team in developing and implementing a new CRM system, increasing sales efficiency by 20% and improving customer satisfaction ratings by 15%.
Example for a business analyst CV with little or no work experience
If you have little or no work experience, try to focus on achievements which also serve the goals of the role you are applying for. Include duties which are also relevant to the position. See the example below:
Corporate Sales Representative | ABC Corporation, London, UK | 2018 - 2020
Excelled in building and maintaining client relationships, negotiating contracts, and achieving sales targets. Leveraged my strong analytical, problem-solving, and research skills to conduct market research and competitor analysis to identify growth opportunities. Developed effective sales strategies and delivered compelling presentations to potential clients by collaborating with cross-functional teams.
Consistently exceeded quarterly sales targets, achieving a 20% increase in revenue year-over-year.

Collaborated with product development teams to customise solutions and meet client needs, resulting in a 15% increase in customer satisfaction.
How to list education on a business analyst CV
Knowing how to write the education section on a CV is essential to showcase achievements and qualifications that highlight your knowledge as well as skills that essential in this field. Whether you're writing an agile business analyst CV, a business intelligence analysis CV or a junior/senior business analyst CV, there are some general tips to help you create an education section that pops:
Start with your highest level of education and work your way backwards. Include the name of the institution, qualification earned, and date of completion.

Mention any relevant certifications or licences obtained in business analysis.

Highlight any academic honours or awards received during your studies.

If you have little to no work experience, consider using a skills-based CV format or refer to a graduate CV example for inspiration.

Keep the education section tight. A brief line for each degree or certification is enough.
Examples of education:
Master of Science in Data Analytics, London Metropolitan University | UK, 2023
Bachelor of Science in Computer Science, University of London | UK, 2021
Scrum Master Certification Training, Business Analysis School | Online, 2023 - present
If you are about to graduate or have recently left university, be sure to check out our article packed with career advice for entering the workforce after graduation.
How to list courses and certificates on a business analyst CV
Including courses and certificates in your CV adds an extra dimension to your application and show you're always willing to improve. But remember, keep it short and relevant for the position you are applying for. Below are a few tips when it comes to listing certifications and professional training on your CV:
Create a dedicated section for courses and certificates.

Include the course or certificate name, institution or provider, as well as completion date.

Highlight courses and certificates that showcase your skills and knowledge, like data management, product owner, SQL, Excel, and Scrum management.

Keep the focus on recent and relevant courses and certificates for the job you're applying for.
Examples of certifications:
The IIBA Business Analysis Certifications
ITOnline Learning Business Analysis Certificates
Make your CV stronger and draw inspiration from other industries. Explore CV examples in engineering, software developer, accountant to see how professionals across the working world present their experience.
Key takeaways
So far we've covered what makes a good business analyst, the importance of a strong personal profile, how to showcase your skills and drawing attention to your qualifications. It's a lot of information to take in, especially if this is your first time creating this type of CV. Let's take a moment to summarise the key takeaways.
Craft a Master CV using a professional CV template: Create a comprehensive Master CV that includes all your professional experience, qualifications, and additional information. Update it regularly and use it as a reference for job-specific CVs.

Write a compelling personal profile: Use your personal profile to make a lasting first impression. Highlight your career goals, experience level, and relevant soft skills. Keep it concise and aligned with the job description.

Showcase relevant skills: List both soft and hard skills in your CV. Most in demand soft skills include communication, flexibility, and analytical abilities. Hard skills may include data analysis, report creation, and proficiency in specific software or tools.

Highlight work experience: Arrange your work experience in reverse chronological order, focusing on responsibilities and achievements. Use action verbs and quantify your accomplishments. Customise your experience to match the job requirements.

Keep it concise and readable: Use bullet points, avoid lengthy paragraphs, and maintain a clean format to make your CV easy to read. Capture the attention of hiring managers by highlighting key sections and information.
Next Steps?
Looking to iron out any creases or elevate your CV writing? Look no further! Our easy-to-use CV builder offers more than 20 expertly designed templates to create eye-catching CVs and cover letters. If you don't want to leave anything to chance, connect with our professional CV Writing Service.
FAQ
What does a business analyst do?
A business analyst is responsible for analysing an organisation's processes, systems, and operations to identify areas for improvement. They gather and analyse data, elicit requirements, and collaborate with stakeholders to facilitate effective decision-making and drive business success.
What are the different types of business analyst jobs in the UK?
There are various types of jobs within this field in the UK, including Agile Business Analyst, Business Intelligence Analyst, IT Business Analyst, Data Analyst, Financial Business Analyst, and many more. Each role has specific requirements and focuses on different aspects of business analysis.
How to write a good business analyst CV?
Tailor your CV to the specific job requirements, highlighting your relevant skills, experience, and qualifications. Use clear and concise language, focus on measurable achievements, and demonstrate your ability to analyse data, communicate effectively, and drive business outcomes.
What is a typical UK CV format for a business analyst?
A business analyst CV format in the UK can include reverse chronological order and one or two-column layouts. Common sections for a CV include personal details, personal profile, education, work experience, skills, and any relevant certifications or training. It's important to use a clear and organised layout, an appropriate font, correct headings, and margins. Using a professional template can help guide you choose the best CV format.
How long should a business analyst CV be?
Your CV should ideally be around two pages in length, providing enough detail to showcase your qualifications and experience without overwhelming the reader. Be selective in choosing the most relevant information and use concise language to convey your accomplishments effectively.
What is the average salary of a business analyst in the UK?
The average salary of a business analyst in the UK can vary depending on factors such as experience, industry, and location. However, according to recent reports, the average salary for a job in this sector in the UK ranges from £35,000 to over £100,000 per year in some cases.
How to write a business analyst CV with no experience?
If you are writing a CV with no experience, focus on transferable skills gained from other roles or educational projects. Highlight your analytical abilities, problem-solving skills, and any relevant coursework or certifications. Emphasise your willingness to learn and adapt, and consider showcasing relevant personal projects or internships. For further guidance, refer to our student CV example.
What is a business analyst professional summary on a CV?
A professional summary on a CV is a concise paragraph at the beginning of your CV that highlights your key qualifications, skills, and experience. It provides a snapshot of your expertise and acts as a hook to capture the reader's attention and entice them to delve further into your CV.
Land the interview for your dream job with CVMaker
Effortlessly create your professional CV within 10 minutes and download it whenever and wherever you want!
Create your CV
Increase your chances landing your dream job with CVMaker.