Supply Chain CV
Utilising the full width of the page to maximise space and showcase the applicant's full potential, Tejas has opted for the Berkeley template. With clear section headings and plenty of white space, this clean and confident format presents a qualified candidate quickly communicating their value.
Start now
"Results-driven Supply Chain Coordinator with 6 years of experience optimising operations to improve efficiency and reduce costs. Experience in inventory control processes, reducing excess inventory levels by 15% and ensuring optimal stock levels to meet customer demand."
Tejas Taneja
- Supply Chain Solutions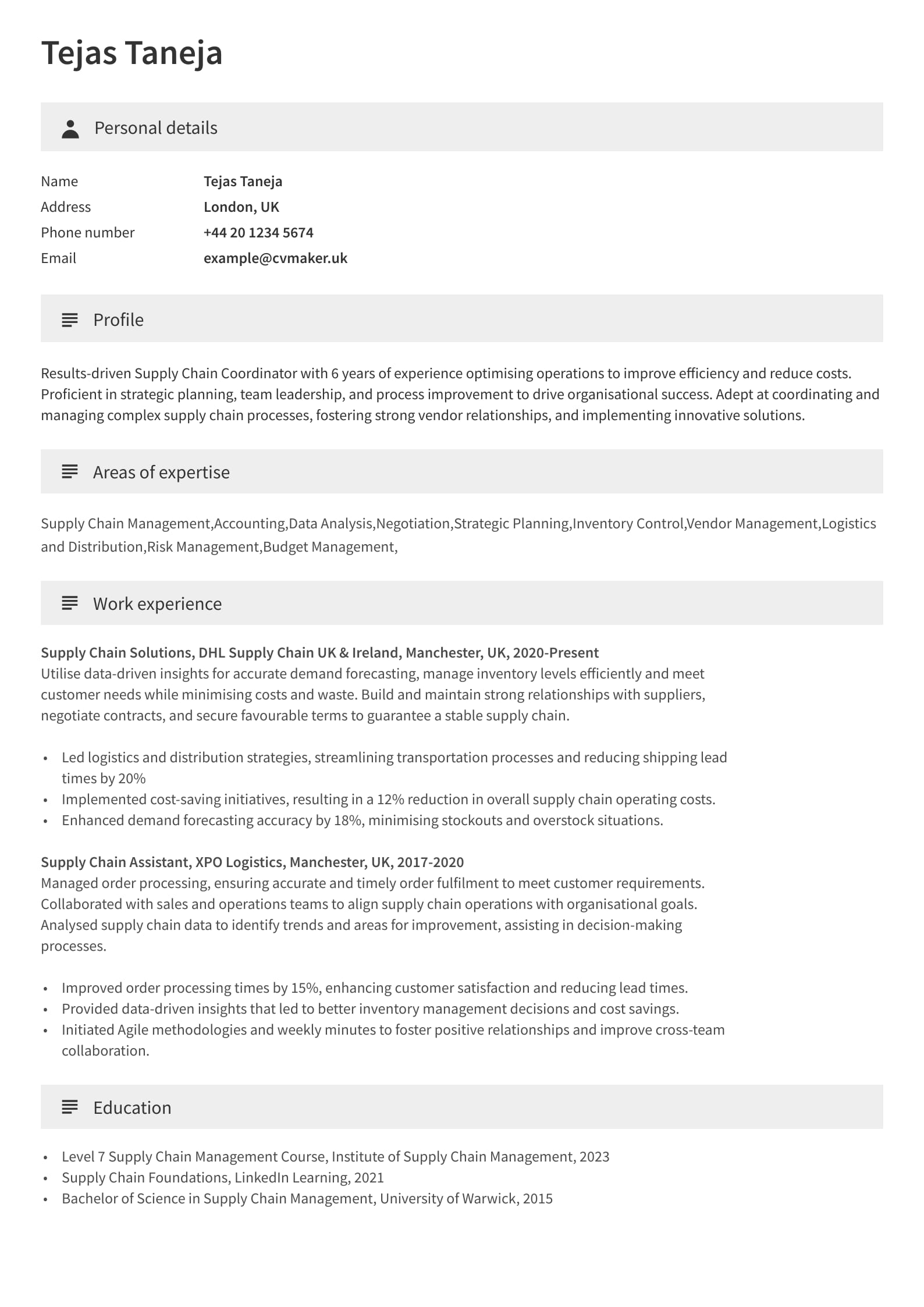 How to Write a Supply Chain CV: Best Tips and Examples
In the UK's bustling business landscape, supply chain professionals are the linchpins, ensuring seamless procurement and delivery operations. Their role is indispensable, making them the backbone of modern commerce.
In this diverse environment, job roles come in all shapes and sizes including:
Supply chain analyst 

Supply chain assistant 

Supply chain officer 

Supply chain graduate.
Whether inventory and logistics or quality control and procurement, professionals in the field ensure goods and services move efficiently. Ideal for individuals with a sharp eye for detail and a passion for logistics, this sector suits those looking to perform at the heart of business operations.
In this comprehensive guide, we show what to include on a competitive CV template, how to present skills and experience to the best effect and help you prepare an applicant tracking system-friendly CV, ensuring your application meets no roadblocks along the way.
Supply Chain CV example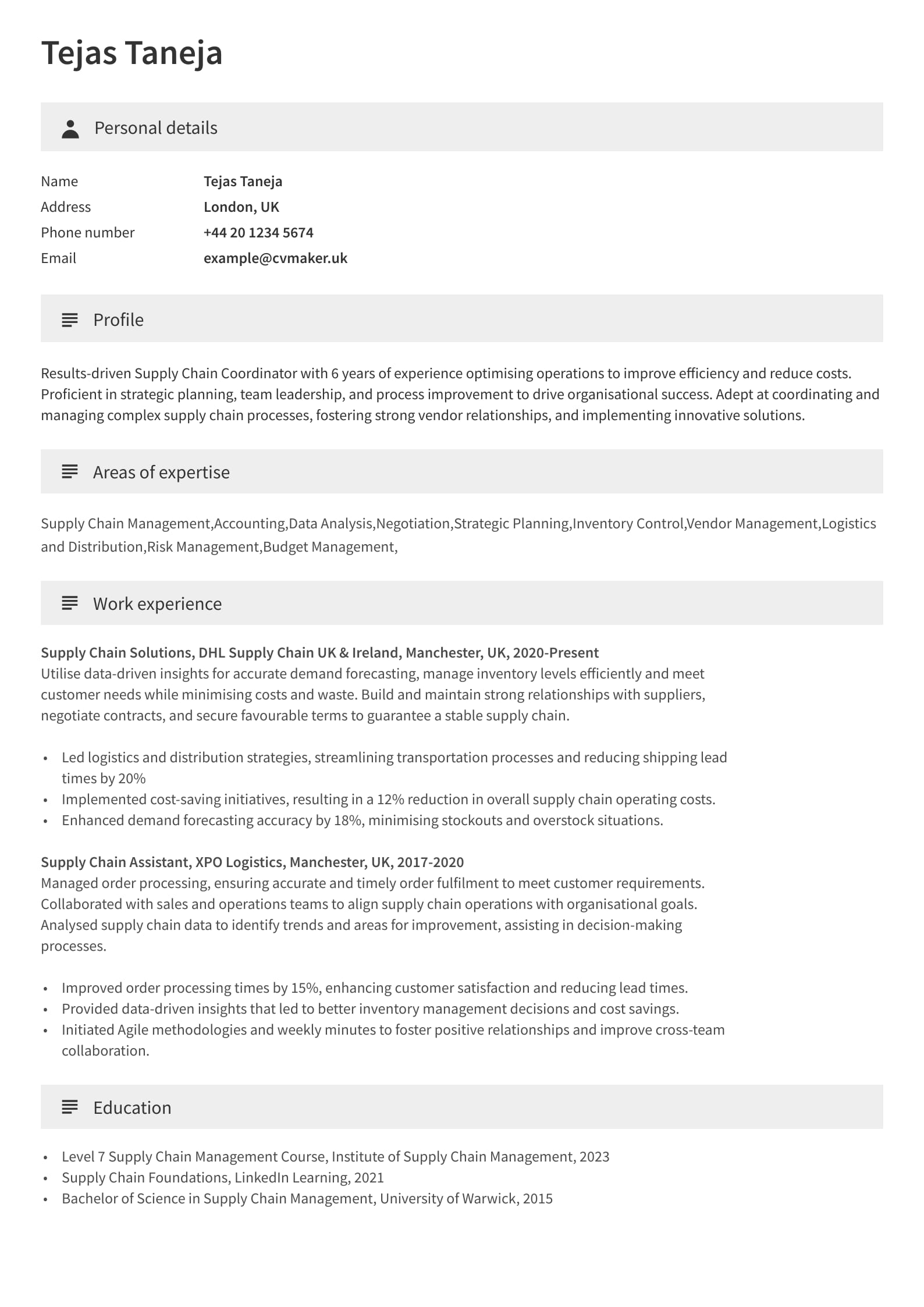 Download this Supply Chain CV sample as PDF
Utilising the full width of the page to maximise space and showcase the applicant's full potential, Tejas has opted for the Berkeley template. With clear section headings and plenty of white space, this clean and confident CV format presents a qualified candidate quickly communicating their value to any potential employer.
What to include in a supply chain CV? 
Similar to warehouse or project manager roles, opportunities in this field can be diverse and require applicants to show an ability to think logically, whilst displaying an aptitude for problem-solving. 
Given the vast array of roles and career levels within the sector, understanding your motivations and aspirations is crucial when writing a good CV. It is also important for a modern CV to be as bespoke as possible; begin with identifying the area you're most interested in.
Consider the following:
What type of role are you interested in?

What are your long-term career aspirations?

What specific skills and experiences do you possess?

What industries or sectors are you passionate about?
Once you've reflected on these points, it's time to structure your CV. To do this effectively, we always recommend starting with a master CV.
This all-inclusive document covers your entire hard and soft skill sets, complete work history and all relevant education and training. This will not be sent out to employers, but act as a base when creating job-specific CVs later on. This process ensures you save when preparing applications, whilst making each one as individual as possible.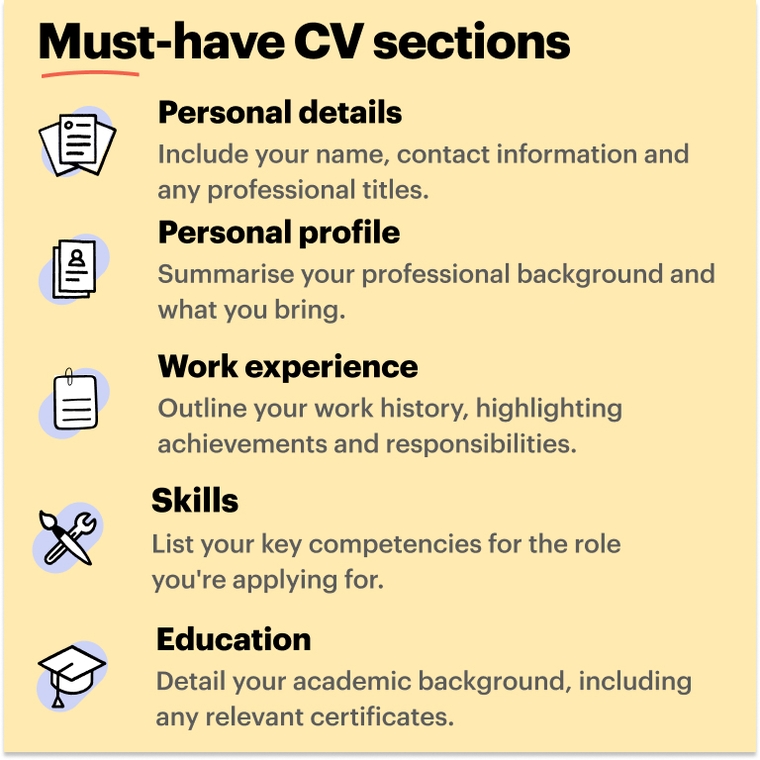 Start with a strong personal profile 
A personal profile on a CV, often referred to as a professional summary or personal statement, is a concise introduction at the beginning of your CV. Used in professions from business analyst to customer service, this section is your golden opportunity to make a powerful first impression within supply chain managerment.
It's the prime real estate on your CV where you can showcase your soft skills, personal attributes and the unique value you bring to a potential employer. 
Remember, you have a mere few seconds to grab the recruiter's attention, and a well-crafted personal profile can do just that.
You might want to include:
A strong opening line that grabs the attention.

Your current role or job title.

How experienced or senior you are in your field.

The soft skills that define you.

The unique value you'd add to the team.
Pro Tip
Keep your profile succinct, ideally no more than 70 words, and avoid using personal pronouns such as 'I' or 'Me'.
Supply Chain Manager CV personal profile example
Dynamic Supply Chain leader with a proven 6-year track record in streamlining operations and driving efficiency in processes. Expertise in strategic planning, risk management, and stakeholder collaboration. Committed to achieving operational excellence and delivering value.
Supply Chain Specialist CV personal profile example
Detail-oriented Supply Chain professional with 7 years experience analysing and optimising supply chain workflows. Demonstrated ability in vendor management, cost reduction, and process improvement. Passionate about leveraging data to drive decision-making and achieve business goals.
Supply Chain Officer CV personal profile example
Ambitious Supply Chain Officer with 3 years experience and a solid foundation in supply chain operations and logistics management. Skilled in inventory control, demand forecasting, and supplier negotiations. Adept at collaborating cross-functionally to ensure timely delivery and customer satisfaction.
Supply Chain Graduate CV personal profile example
Energetic and analytical Supply Chain graduate with a strong academic background in supply chain management. Keen interest in logistics, procurement, and distribution. Eager to apply theoretical knowledge to real-world scenarios and contribute to supply chain excellence.
Pro Tip
Notice how sought-after soft skills such as leadership, strategic planning, collaboration, detail orientation, analysis and decision-making have been incorporated. Always ensure that your personal profile aligns with the specific requirements and expectations of the job you're applying for.
Include your work experience 
The work experience section of your CV is where you demonstrate your professional track record. It's a testament to your hands-on experience in the industry and showcases your accomplishments.
For supply chain professionals, it's essential to highlight relevant responsibilities, as these roles often encompass a wide range of tasks. Given the diverse nature of roles in this field, it's crucial to present your experience succinctly, ensuring each entry is relevant and impactful. 
Common responsibilities for professionals include:
Negotiating contracts with suppliers and customers.

Overseeing product storage and distribution.

Using software to track goods.

Analysing performance.

Working with procurement managers to source the right products.

Planning and implementing logistical strategies.
When listing your work history remember to keep it relevant, succinct and as clear as possible. Format your entries using one short paragraph to outline your main duties, followed by two bullet points communicating quantifiable results.
Work experience CV examples
Supply Chain Analyst | Fast Track Logistics, Wolverhampton | June 2019 - Present
Optimise the supply chain system by analysing data on pricing, productivity and resources. Collaborate closely with procurement managers and logistics teams to identify inefficiencies and recommend solutions.
Achieved a 15% reduction in operational costs through data-driven analysis and process optimisation.

Streamlined vendor management, resulting in a 20% faster procurement cycle.
Supply Chain Assistant | A2C Transport Solutions, Dundee | January 2018 - May 2019
Assisted in various processes, including inventory management, order processing and liaising with suppliers. Played a pivotal role in coordinating between different departments to ensure smooth operations.
Contributed to a 10% increase in on-time deliveries by optimising order processing workflows.

Assisted in reducing supplier lead times by 8% through effective communication and relationship management.
Supply Chain Officer | SuperTrans Industries, Bolton | March 2017 - December 2018
Oversaw product storage, handling and distribution, ensuring timely and efficient delivery of goods. Managed relationships with suppliers and coordinated with the logistics department to streamline distribution processes.
Successfully reduced storage costs by 12% by implementing an efficient inventory management system.

Enhanced supplier relationships, leading to a 5% reduction in product lead times.
Supply Chain Graduate intern | VEN Logistics, Croydon | June 2016 - February 2017
Gained hands-on experience in various processes, from procurement to distribution. Worked under the guidance of senior managers to understand the intricacies of the logistics industry.
Assisted in a project that improved order tracking accuracy by 18%.

Contributed to a team initiative that reduced shipment delays by 10%.
Learn more about how to write an internship CV.
Key skills for supply chain professionals 
Listing your skills on a CV requires as much attention as your personal profile or your work experience. What you choose to list will be a testament to your expertise and your ability to handle the multifaceted challenges of the industry.
While soft skills can be woven in elsewhere, hard skills deserve their own dedicated space, making sure they pop and immediately catch the eye of potential employers.
Supply chain analyst CV skills:
Hard skills

Soft skills

Data analysis and interpretation

Critical thinking

Industry software proficiency (e.g., SAP or Oracle)

Problem-solving

Demand forecasting

Communication
Supply chain assistant CV skills:
Hard skills

Soft skills

Inventory management

Organisation

Order processing

Collaboration

Basic knowledge of indsutry software

Time management
Supply chain officer CV skills:
Hard skills

Soft skills

Logistics coordination

Leadership

Supplier relationship management

Problem-solving

Product storage

Communication
Supply chain graduate CV skills:
Hard skills

Soft skills

Academic knowledge of industry concepts

Eagerness to learn

Basic data analysis

Adaptability

Familiarity with industry tools and software

Teamwork
To learn more about how to showcase your skills to contribute to environmentally responsible and efficient supply chain operations, read our sustainability CV example.
Add your education 
For supply chain professionals, your CV education section is the flourish that caps off your hands-on experience and technical skills. It's an essential space to showcase your foundational knowledge and commitment to the field. Whether you're applying as an analyst, logistics coordinator, procurement specialist, or a recent graduate, here's how to make your education section stand out:
Start with your most recent educational achievements and list them in reverse order. Include the institution's name, the qualification you received, and the date of completion.

List any courses, certifications, or training that are relevant to supply management and logistics.

Did you achieve any distinctions or awards during your studies? Highlight them.

If you're a recent graduate with limited work experience, consider referencing a graduate CV example.

Keep it concise. A line or two for each educational entry is sufficient to convey the essential details.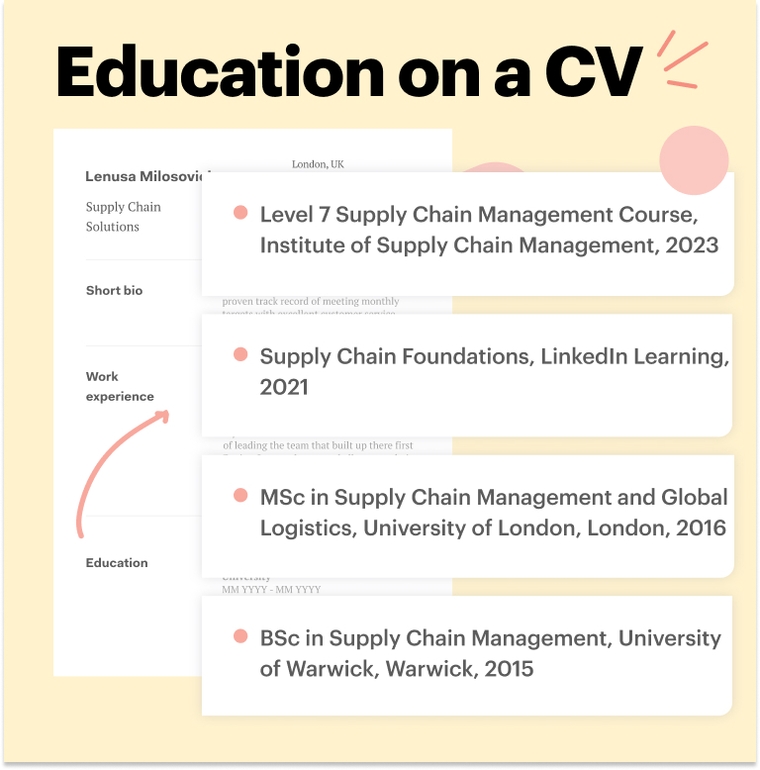 Choose the best CV format
Selecting the appropriate supply chain CV format is more than just a matter of aesthetics; it's about presenting your professional journey most effectively. For many professionals, the right format can make a significant difference in how your expertise, achievements, and skills are perceived by potential employers.
The right format dictates the flow of information and highlights the aspects of your career that you deem most important. Whether you have a linear career progression, have taken breaks or are transitioning from a different sector, the format you choose can accentuate your strengths and downplay any potential weaknesses:
Remember, there are numerous CV templates to choose from, each tailored to different career stages and preferences. The key is to select one that aligns with your professional narrative and ensures your most relevant experiences take centre stage.
Key takeaways 
When creating a CV, especially for roles within this field, it's essential to maintain a holistic view. Your CV should not just be a list of qualifications but a narrative that showcases your journey, skills and potential.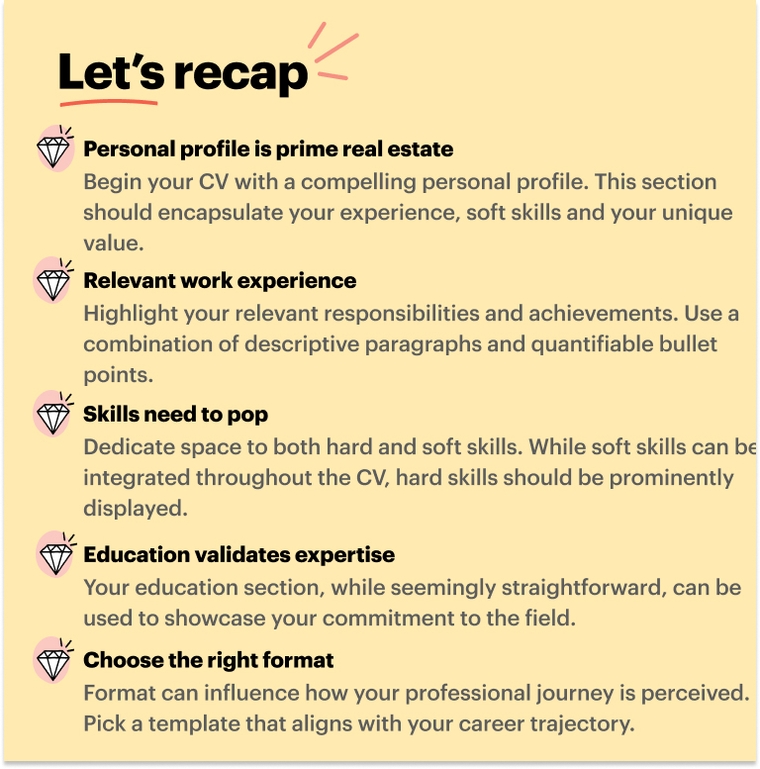 Next Steps? 
To accompany your CV, discover our cover letter templates. If you don't want to leave anything to chance, connect with our professional CV Writing Service. Draw inspiration from our CV examples to save time, emphasise important sections and make it easier for hiring managers to grasp your unique professional offer even quicker.
FAQs 
How do I write a supply chain CV with no experience?
Begin with a strong personal profile highlighting your passion and academic knowledge in this field. Emphasise relevant coursework, certifications and transferable skills from other roles or extracurricular activities. Consider using a skills-based CV format, and don't forget to include any internships or volunteer work related to the field. Learn more about how to write a CV with little to no experience.
Are supply chain jobs in demand in the UK?
Yes, these types of jobs are in high demand in the UK. With the complexities of modern commerce and the need for efficient logistics and procurement processes, industry professionals play a pivotal role in ensuring seamless operations, making them indispensable in the UK's bustling business landscape.
What qualifications do I need for a supply chain job?
While a degree in supply chain management, logistics or a related field is beneficial, many roles also value relevant certifications and training. Experience, coupled with qualifications like CIPS (Chartered Institute of Procurement & Supply) or APICS certification, can further enhance your prospects in this sector.
How much do supply chain jobs pay in the UK?
Salaries for supply chain jobs in the UK vary based on experience, location and the specific role. Entry-level positions for graduates might start at around £20,000 to £25,000 annually. Experienced professionals can earn upwards of £60,000, with senior roles in large companies potentially reaching six figures.
Land the interview for your dream job with CVMaker
Effortlessly create your professional CV within 10 minutes and download it whenever and wherever you want!
Create your CV
Increase your chances landing your dream job with CVMaker.