Warehouse CV
Andrew has selected the Cornell template because of the two-column layout. It presents his qualifications, including licenses and technical proficiencies, in a straightforward and easy-to-read way.
Create your CV
"Safety-conscious Warehouse Operative with an MBA and 4 years of experience managing high-volume logistics and operations. Skilled in order processing, inventory management, and quality control with a strong proficiency in forklift and pallet jack operation, ensuring efficient and smooth operations."
Andrew Hyde
- Warehouse Operative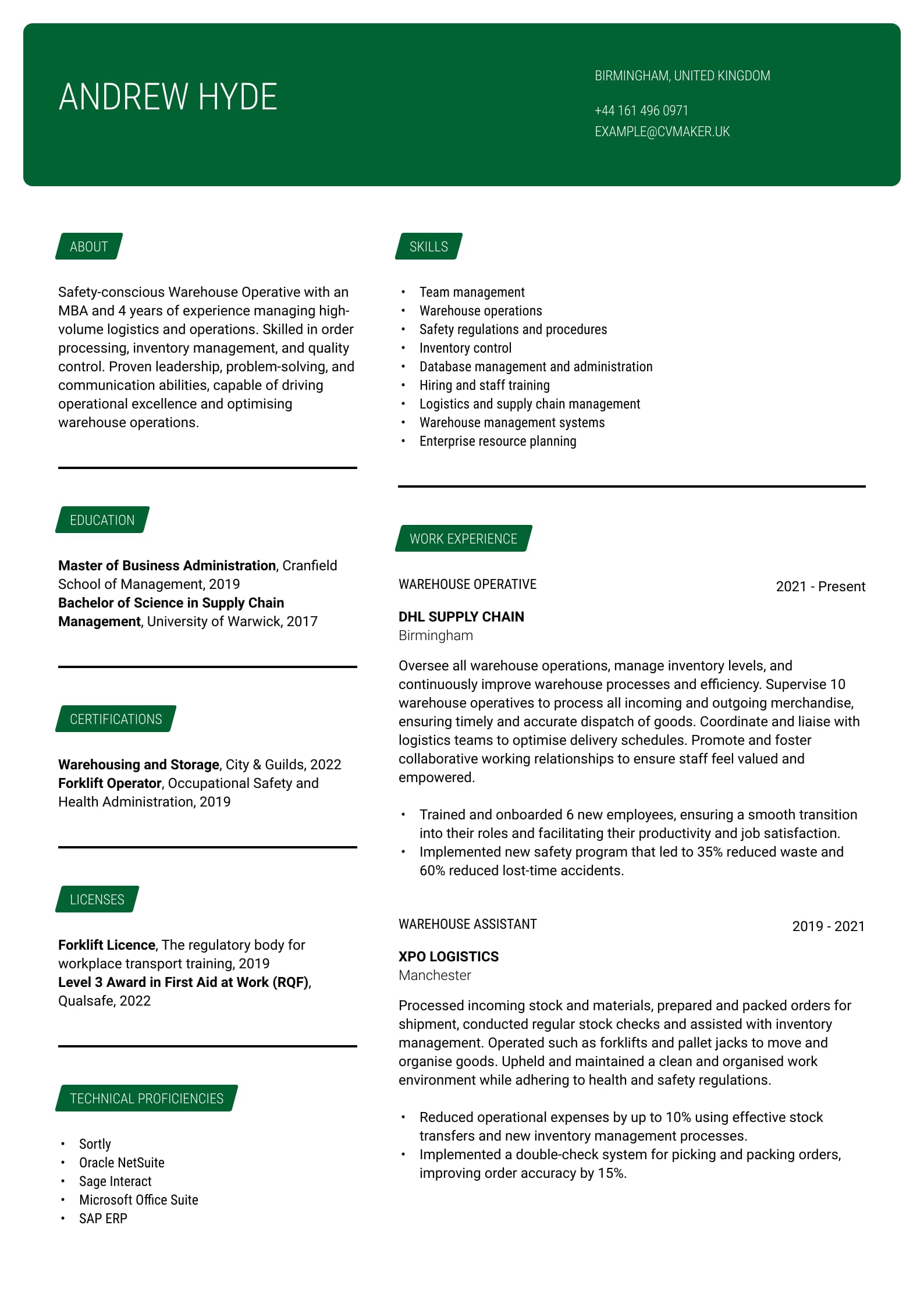 How to Write a Winning Warehouse CV with Examples and Tips
Consider a career in warehousing, a rapidly expanding industry driven by the growing popularity of e-commerce and online retail. There is a wide range of job opportunities available, including positions such as managers, supervisors, forklift drivers, stockers, order pickers, and more. This industry offers a rewarding career path with endless opportunities for growth and advancement.
Whether you're just starting out in the workforce or looking for a new challenge, a career in warehousing offers on-the-job training, competitive pay, and room to grow. So why not take the first step towards a rewarding career in warehousing today? As a warehouse professional, you will play a vital role in ensuring that products are delivered to customers quickly and efficiently. You'll have the opportunity to work with cutting-edge technology and develop valuable skills that will serve you well throughout your career.
We offer a range of HR-approved professional templates designed to enhance your chances of securing an interview and passing Applicant Tracking Systems (ATS). Our straightforward process, with examples and tips, is an excellent resource for anyone looking to write or improve their CV. If you're ready to take the next step in your career, let us help you get started!
The CV writing process: Where to start?
Crafting a strong CV is essential to standing out in today's competitive job market. It's crucial to focus on the key sections highlighting your work experience, education, and critical skills relevant to your career goals. With recruiters spending only nine seconds scanning a CV, you must make a powerful first impression.
If you're interested in a role, such as a warehouse operative, you'll need to showcase your reliability and productivity in a fast-paced environment. While many skills can be learned on the job, some positions may require licenses or certifications, such as operating a forklift.
To get started, create a comprehensive master CV with all your relevant skills and experiences. From there, adapt it to create job-specific versions tailored to the requirements of the roles you're applying for. By tailoring your CV and including relevant information, you can significantly increase your chances of securing a job interview.
Master CV
When creating a CV for a warehouse job, it's important to have a comprehensive master CV that includes all the relevant information in one document. This approach can save time in the long run, as you can easily tailor it for specific job applications.
A master CV serves as a solid foundation to build from and helps ensure that you don't miss any relevant information. Keeping it up-to-date and regularly reviewing it will ensure you accurately reflect your skills and experience. It's important to keep your master CV up to date and regularly review it to ensure that it accurately reflects your skills and experience. By doing so, you can be confident that you're presenting yourself in the best possible light to prospective employers.
Job-specific CV
Creating a job-specific CV is crucial to increase your chances of landing your dream job. To tailor your CV to the desired position, you should research the job requirements and carefully select relevant information from your master CV. This effort is worthwhile since a tailored CV is more likely to catch the attention of recruiters and pass through Applicant Tracking System (ATS) software.
Warehouse CV example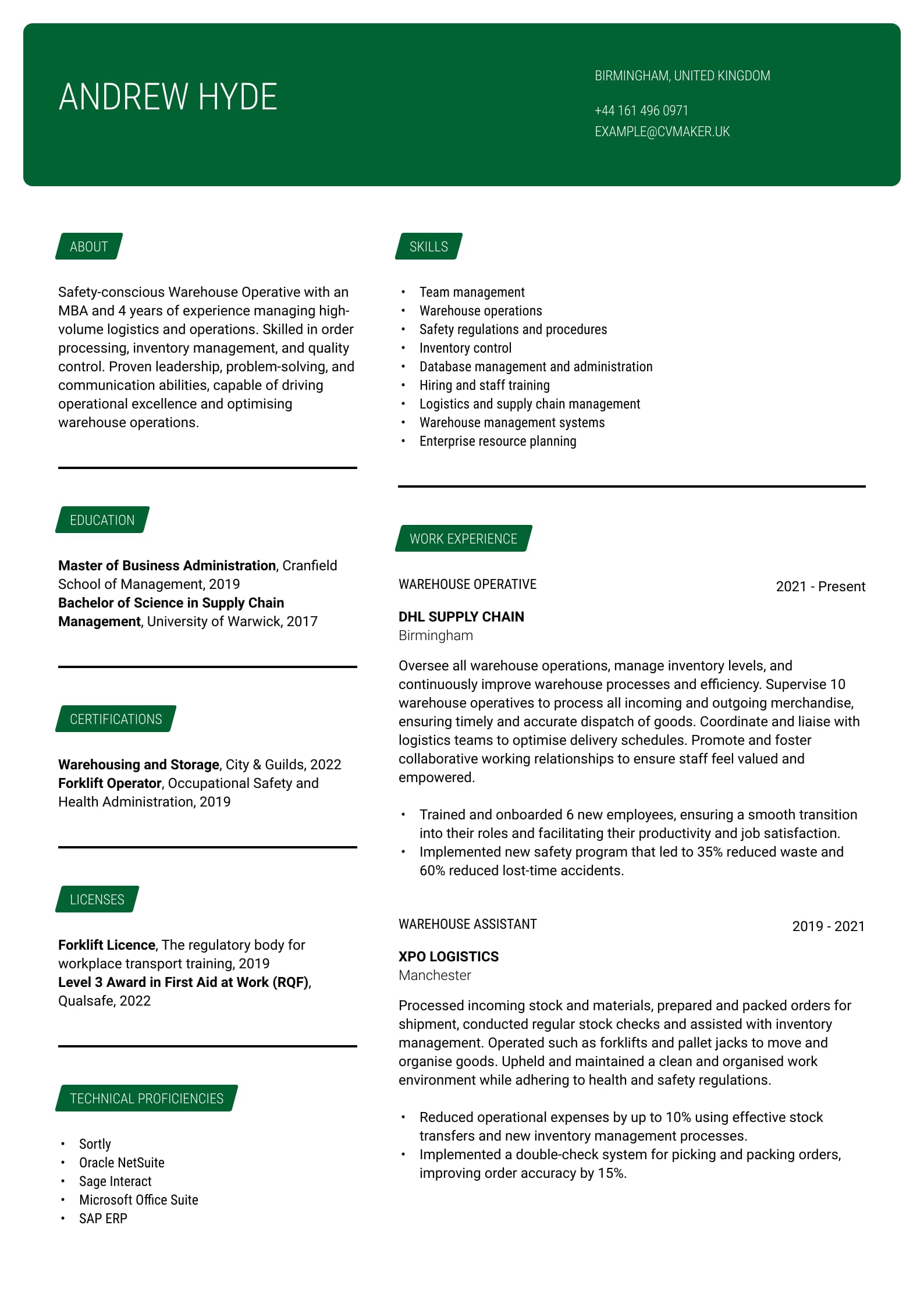 Download this Warehouse Operative CV sample.
Andrew's CV showcases his extensive experience in the logistics and manufacturing industry in a professional, well-structured, and concise manner. The format and structure of his CV are easy to read and highlight his technical and operational skills, with a focus on order processing and inventory management. Moreover, the CV includes his relevant certifications and licenses required to qualify to this role.
What to include in a warehouse CV?
When crafting a CV, it's essential to highlight your relevant skills and experience, including any licenses or certifications you may have, such as forklift operation. Make sure to use a well-structured layout and template that presents your information. Some sections include personal details, personal profile, work experience, education, skills, and certifications.
How to write a personal profile on a warehouse CV
The personal profile section of your job application is the first thing recruiters or hiring managers will see, so it's essential to make a positive impact. To craft a compelling personal profile, focus on highlighting your relevant skills and summarising your expertise. This can include your job title, pertinent work experience, career objectives, and any soft skills that are relevant to the job you're applying for.
Warehouse Operative personal profile example
Highly motivated Warehouse Operative with 5+ years of experience ensuring timely and efficient customer delivery. Track record of ensuring smooth operation of a warehouse by managing inventory, organising stock, and maintaining the cleanliness and safety of the warehouse. Adept at receiving, storing, and distributing goods and materials with proven success in performing regular stock checks and maintaining accurate records of inventory levels.
Warehouse Assistant personal profile example
Qualified and enthusiastic Warehouse Assistant with experience supporting warehouse team to ensure smooth operation. Skilled in preparing and organising inventory for storage, assisting with shipping and receiving, and maintaining accurate records of inventory levels. Knowledgeable in conducting regular stock checks and quality control checks to ensure that inventory is in good condition.
Warehouse Manager personal profile example
Established Warehouse Manager with over 10 years of experience overseeing all aspects of warehouse operations. Proven success in developing and implementing policies, processes, and training programmes to manage costs and maximise efficiency. Excellent communication and interpersonal skills with proven ability to oversee inventory control and stock management while ensuring staff adhere to safety procedures.
Warehouse Worker personal profile example
Experienced and dependable Warehouse Worker with experience as a Package Handler and Longshoreman. Certified forklift operator certification and proficient in Radio Frequency (RF) equipment. Adept at receiving and processing incoming stock while adhering to all safety protocols and company policies. Committed to meeting deadlines, completing preventive maintenance requirements, and generating comprehensive reports to track progress.
Shipping and Receiving Clerk personal profile example
Highly motivated and physically fit Shipping and Receiving Clerk with experience coordinating international goods movement across multiple facilities. Proficient in managing inventory, conducting inspections, maintaining detailed records, and driving continuous process improvement. Demonstrates a track record of meeting strict deadlines while ensuring a safe and productive working environment. Possesses exceptional organisational, communication, and interpersonal skills, enabling effective collaboration with colleagues and providing excellent customer service.
Forklift Operator personal profile example
Certified Forklift Operator with over five years of experience loading and unloading warehouse items. Committed to maintaining a clean and safe work environment, conducting regular safety checks on equipment, and upholding accurate records of all activities. Demonstrated expertise in safely and efficiently handling goods, ensuring all items are stored securely. Possesses strong attention to detail and an ability to work well under pressure and with minimal supervision.
Refer to our driver CV example article for more inspiration on how to create a forklift operator CV.
How to write skills on a warehouse CV
Warehouse skills, like other professions, depend on your specific areas of expertise, but when it comes to writing a CV, we recommend adding your soft skills into your persona profile and creating a separate section for hard skills or technical proficiencies.
Working in this area requires a combination of technical and interpersonal skills. For example, a Warehouse Operative should have excellent communication skills, be able to work independently and within a team, and have strong attention to detail. They should also be physically fit and able to work long hours standing, lifting, and moving heavy loads.
A Warehouse Manager should have good leadership skills, manage and motivate a team, and have experience in inventory management, logistics, and supply chain management. They should also have strong communication and problem-solving skills. Refer to our supply chain CV example for more inspiration.
A Warehouse Worker should have excellent time management skills, be able to prioritise tasks, and have the ability to work under pressure. They should also have a good understanding of health and safety regulations and be able to operate warehouse equipment safely. Ultimately, the most important skills for this type of job are attention to detail, problem-solving, teamwork, and strong communication skills.
When writing your skills section, there should be a balance of hard, soft, and transferable skills.  highlight transferable skills if you have limited to no work experience.
Examples of soft skills:
Attention to detail

Effective communication

Strong problem-solving skills

Time management

Teamwork

Leadership.
Examples of hard skills:
Forklift operation

Inventory management

Quality control

Knowledge of industry-specific management software

Safety regulations

Stock rotation.
Find out more about what skills to put on a CV.
How to write work experience on a warehouse CV 
To impress potential employers, you need to include work experience one way or another. Experience comes in many forms but when it comes to adding it to your CV, we have an article that dives deeper into how to write work experience. Here are some tips to keep in mind:
Start with your most recent job and working your way backwards in time.

Include relevant experience only.

Avoid including outdated or short-term experience but aim to incorporate it into additional experience while removing dates. You can always elaborate within an interview.

Include keywords relevant to your job target this applies to your entire CV.

Provide measurable outcomes or key achievements.

Emphasise transferable skills from past work experience or studies.

Keep it clear and concise by focusing on what you did versus what you achieved.
Work experience example for a Warehouse Manager CV
Warehouse Manager, AC Logistics, 2018 - Present
Oversee daily warehouse operations, including managing a team of warehouse operatives, and ensuring that goods were received, stored, and dispatched on time. Maintain accurate inventory records, resolve discrepancies, and coordinate with suppliers and transport companies to optimise delivery schedules. Lead and conduct regular health and safety audits to maintain a safe working environment while overseeing staff training and development.
Trained and onboarded 6 new employees, ensuring smooth transition and facilitating increased productivity and job satisfaction.

Implemented new safety program that led to 35% reduced waste and 60% decrease in lost-time accidents.
Find out more about how to write work experience or how to list achievements on a CV.
How to list education on a warehouse CV 
In the UK, a higher education degree is optional for a career in warehousing. However, employers generally expect candidates to have at least a secondary or tertiary education and GCSEs. When listing education on a CV, it's sufficient to include basic information such as the school's name, location, dates attended, and degree, diploma, or certificate earned. Below are some examples of the types of education for starting a career in this field:
A good general education standard is essential for entry-level roles in warehousing. GCSEs in Maths and English are usually required.

Vocational qualifications such as BTECs and NVQs in Warehousing and Storage can provide a good foundation for a career in warehousing.

Apprenticeships offer the opportunity to learn while working and can provide a mix of practical training and academic study.

Pursuing a diploma in logistics, warehousing or supply chain management can be helpful for those aspiring to move up to management roles in these fields.
How to list courses and certificates on a warehouse CV
When targeting a specific role, it's essential to include any relevant courses or certificates you've completed. This demonstrates your commitment to continuous learning and can set you apart from other candidates. Listing the certification name, completion date, and the issuing organisation is important. If you're looking to enhance your skills in warehousing, here are some examples of courses and certificates that could be beneficial:
Forklift Truck Operator Certificate.

NVQ Certificate in Warehousing and Storage Operations.

International Warehouse and Inventory Management Certificate.

Chartered Institute of Logistics and Transport Certificate in Logistics and Transport.

Health and Safety in a Warehouse Environment Certificate.

Institute of Supply Chain Management Certificate in Supply Chain Management.

IOSH Managing Safely Certificate.
Pro Tip
While not all roles require specific certifications or licenses, taking relevant specialised courses can show your dedication and commitment to the field and make your CV stand out to recruiters.
Key takeaways
Crafting a well-written CV and cover letter is vital if you want to stand out from other candidates in the competitive job market. Our strategic approach can help you do just that. By following this guide, you'll take a step closer to achieving your career goals and landing your dream job in this industry.
Next Steps?
If you'd like to kickstart your journey but aren't quite sure where to start, we can help you create a job-specific CV, consider our CV Writing Service. If you're looking for more inspiration, simply refer to our CV examples or guide on how to write a good CV.
FAQ
What is the best warehouse CV format?
There are various styles and formats that you can use for your CV, depending on your career objectives and job targets. Recruiters typically prefer CVs that are easy to scan and read, with the information presented clearly and concisely. As such, it's essential to ensure that your CV is well-organised and effectively highlights your relevant skills and experiences.
How to structure a warehouse CV
Including all relevant information about your skills and experience in your CV is crucial while keeping the overall structure concise and easy to read. A well-structured CV can significantly improve your chances of standing out among other applicants and catching the attention of potential employers. By presenting your qualifications and achievements in a clear and organised manner, you can demonstrate your suitability for the role and increase your chances of landing an interview.
How long should your warehouse CV be?
When creating a CV in the UK, the length can vary from one to two pages depending on experience. It is recommended to prioritise essential information and avoid repetition. Emphasis should be on recent and relevant work experience and individual strengths and accomplishments.
What is the best CV template for a warehouse CV?
There are many perfect CV templates, but choosing one for your CV must be professional and well-structured. We have diverse templates suitable for different roles and industries, which are always customised to align with your career goals.
How to write a warehouse CV with no experience?
If you have limited to no work experience,  prioritise the education, skills, and additional experience sections on your CV. Try highlighting your transferable skills or other experiences related to your job targets. We also advise creating a skills-based CV, especially if you're a graduate or newly qualified.
What type of education is required for warehouse workers? 
To become a warehouse worker in the UK, some employers may require applicants to have GCSEs at grade 4 (C) in English and Maths or equivalent. You may also need basic computer literacy skills. If you have limited qualifications or work experience in this field, you can complete relevant and specialised courses to enhance your CV.
Should I include hobbies and interests on my warehouse CV?
Only include hobbies and interests on your CV if they are relevant to the position you are applying for. For instance, if you are applying for a job that demands physical strength, including activities like CrossFit can be beneficial and should be mentioned on your CV.
What are the essential skills for Warehouse Operative CV?
You will require strong physical stamina and ability to perform manual labour tasks. Additionally, the below skills are essential:
Excellent organisational and time management skills.

Attention to detail for accurate inventory management.

Basic mathematical skills for counting, measuring, and calculating stock levels.

Proficient in using warehouse management systems and technology.

Knowledge of health and safety regulations and ability to follow protocols.

Effective communication and teamwork skills to collaborate with colleagues and supervisors.

Flexibility and adaptability to work in a fast-paced environment.

Problem-solving skills to address any issues that may arise during warehouse operations.

Forklift operation and other relevant machinery skills.
What are the duties of a warehouse worker?
The duties can vary depending on the specific role and industry. However, some common responsibilities include:
Receiving and unloading incoming shipments.

Checking and inspecting deliveries for accuracy and quality.

Storing, organising, and maintaining inventory.

Picking and packing orders for shipment.

Operating warehouse equipment, such as forklifts, pallet jacks, or order pickers.

Maintaining cleanliness and orderliness of the warehouse space.

Conducting regular inventory counts and reconciling discrepancies.

Collaborating with team members to ensure efficient workflow and timely fulfilment of orders.

Following health and safety protocols to ensure a safe working environment.
How much do warehouse workers make in the UK?
The average wages for warehouse workers in the UK can vary based on factors such as location, experience, and specific job responsibilities. A warehouse worker salary in the United Kingdom is £22,408 per year or £11.49 per hour in 2023.
How much do Amazon warehouse workers get paid in the UK?
The pay for Amazon warehouse workers in the UK can also vary based on factors such as location, experience, and specific job roles. The hourly wage for an Amazon warehouse worker in the UK is around £11 per hour.
Land the interview for your dream job with CVMaker
Effortlessly create your professional CV within 10 minutes and download it whenever and wherever you want!
Create your CV
Increase your chances landing your dream job with CVMaker.