Driver CV
Harry Brown is an experienced HGV driver who has opted for the Otago template. His simple CV displays relevant work experience, skills, and education in a brief and concise manner.
Start now
"Experienced HGV driver with 5 years of experience and adept at navigating a diverse road network. Highly-dedicated worker with exceptional customer service skills."
Harry Brown
- HGV Driver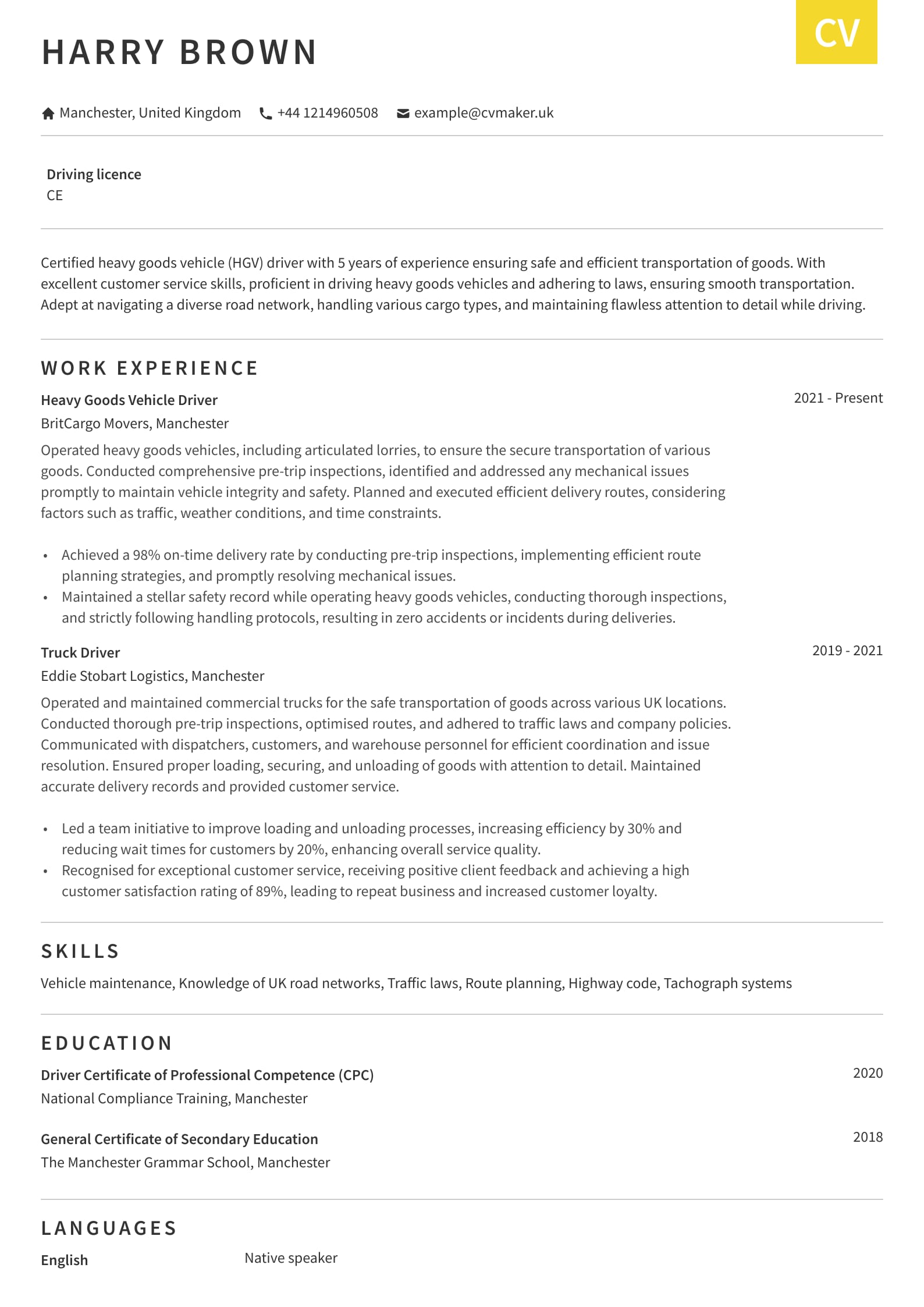 How to Write a UK Driver CV: Example and Writing Guide
In the fast-paced transportation sector and the increasing demand for reliable drivers in the UK, writing a good CV that sets you apart from the competition is essential. This job involves more than just operating a vehicle; it requires exceptional navigational skills, attention to detail, and a strong commitment to safety.
Did you know that poorly formatted and generic CVs can lead to a rejection of your application, even if you have professional driving qualifications and experience? With our applicant tracking system (ATS)-friendly templates and expert guidance, we will maximise your chances of securing your dream job and accelerate your driving career.
The CV writing process: Where to start? 
If you aspire to land a driving job in the UK, creating an impressive CV is essential to stand out. Knowing where to begin is crucial, whether your career goal is to be a bus, lorry, or delivery driver.
Master CV 
A master CV is a comprehensive document that shows all the essential information about your driving qualifications, skills, and experiences. This document is valuable, saving you time and effort. Keep this document updated to match your job targets when customising your CV for different roles.
Job-specific CV
A job-specific CV is a tailored version derived from your master CV. This targeted CV should use keywords from the job description and focus on the qualifications, skills, and experiences relevant to the specific driving position you are applying for. Customising your CV maximises your chances of securing your desired job.
Driver CV example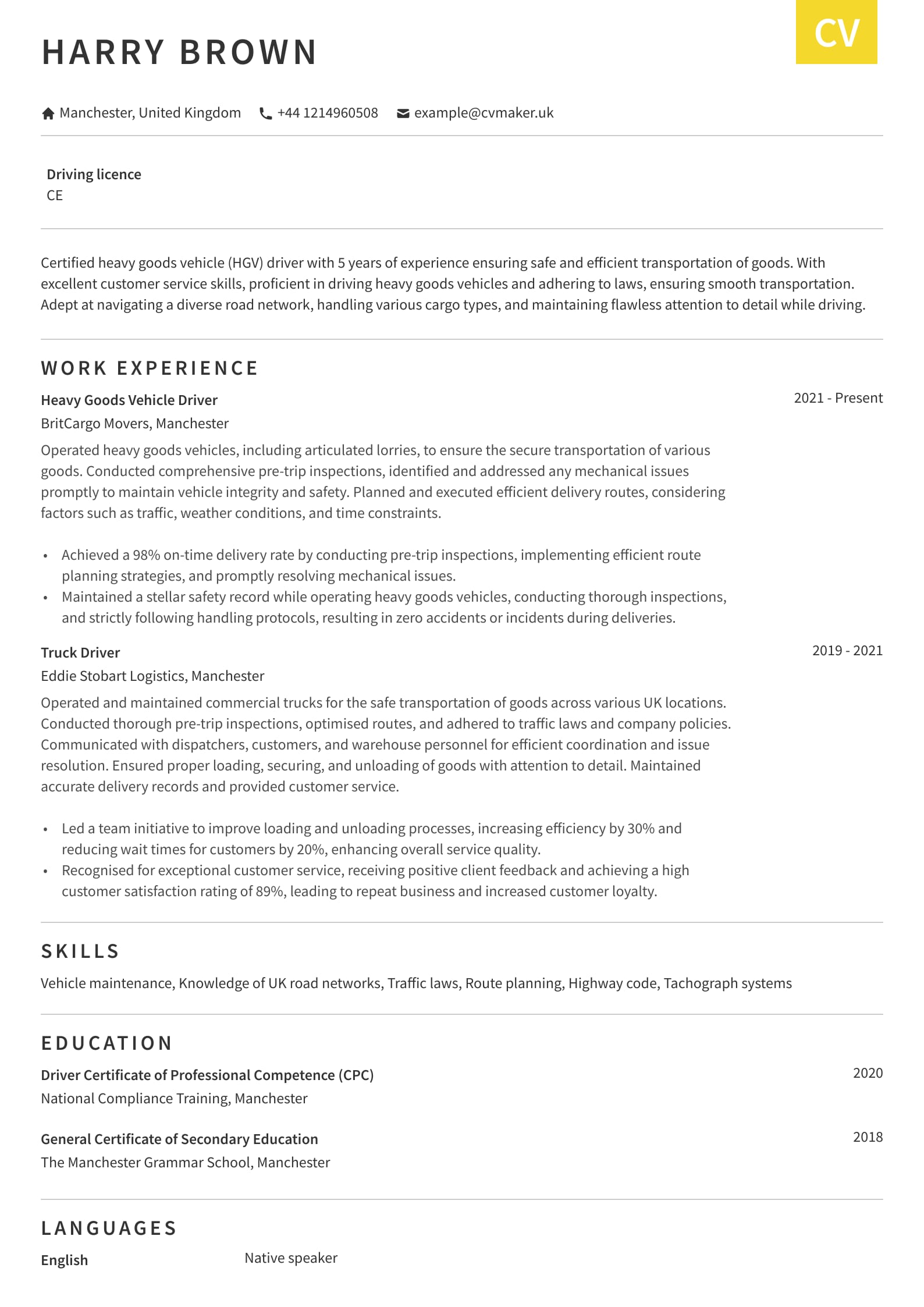 Download this CV sample - HGV Driver CV PDF
In this CV example, Harry presents his five years of experience and skills as a safety-focused heavy goods vehicle operator. He demonstrates exceptional customer service abilities, proficiency in driving heavy goods vehicles, adhering to regulations, and navigating diverse road networks. His professional Otago CV template highlights expertise in vehicle maintenance, knowledge of UK road networks, and familiarity with tachograph systems.
What to include in a driver CV? 
When creating your CV, you must provide a comprehensive overview of your qualifications and suitability for the role. Let's explore each section, starting with the personal profile, and create a professional CV for your dream job. If you have little to no work experience, we've included some useful tips to help get you started.
How to write a personal profile on a driver CV? 
Your personal profile is crucial in summarising your relevant qualifications, experiences, and career objectives. It is an opportunity to make a strong initial impression on potential employers and highlight your unique strengths.
Pro tip
If you have little to no work experience, leverage your education, relevant internships or projects, and transferable skills in your personal profile.
Example of personal profile on a HGV driver CV
Experienced and reliable HGV driver with in-depth knowledge of UK road networks, regulations, and navigation skills. Proven track record of safe and efficient transportation of goods. Strong expertise in handling various cargo types and maintaining vehicle integrity. Committed to exceptional customer service, meeting tight schedules, and prioritising safety. Seeking to utilise expertise and HGV driver certificate in a reputable organisation.
Example of personal profile on a delivery driver CV
Efficient delivery driver with excellent knowledge of local routes, traffic patterns, and efficient navigation strategies. Strong communication and customer service skills, ensuring positive interactions with clients. Proven ability to manage time effectively, meet tight delivery deadlines, and handle multiple deliveries. Committed to exceptional service, maintaining vehicle cleanliness, and secure transportation of goods.
Example of personal profile on a lorry driver CV
Dependable lorry driver with expertise in safe and efficient transportation of goods. In-depth knowledge of UK road networks, regulations, and load handling. Skilled in operating specialised equipment and resolving challenges in diverse driving conditions. Committed to vehicle integrity, exceptional customer service, and optimising routes for timely deliveries.
Example of personal profile on a bus driver CV
Professional and customer-oriented bus driver committed to passenger safety and satisfaction. Excellent knowledge of local routes, traffic regulations, and efficient navigation. Strong communication and interpersonal skills, ensuring a pleasant and comfortable experience for passengers. Proven ability to handle diverse passenger needs, manage challenging situations, and adhere to schedules. Committed to maintaining a clean and well-maintained bus while providing reliable transportation service.
Example of personal profile on a train driver CV
Dedicated and safety-conscious train driver with expertise in efficient and reliable transportation. Extensive knowledge of rail networks, signalling systems, and safety procedures. Strong problem-solving skills and calmness in unexpected situations. Excellent communication and teamwork abilities for smooth coordination. Committed to providing punctual, comfortable, and safe journeys for passengers.
Refer to our article on writing a compelling personal profile on your CV that aligns with your driving career goals.
What skills should I put on my driver CV? 
Operating a vehicle requires performing various domestic and commercial driving skills. Whether you're seeking a position to operate an HGV, use a forklift in a warehouse, or do deliveries, these jobs demand a multitude of skills and customer service experience as well as technical knowledge similar to a mechanic.
When crafting your CV, it is essential to include a combination of hard and soft skills relevant to the specific driving role you are targeting. Separate a list of soft and hard skills to highlight specialisations, certifications, and technical expertise relevant to your driving role.
You should also consider the transferable skills you have gained from part-time work or apprenticeships that you can showcase for your next role and add to a skills-based CV if you have little to no work experience.
Soft skills

Hard skills

Excellent communication

Valid and clean driving licence

Customer service

Knowledge of UK road regulations

Time management

Vehicle maintenance and inspection

Reliability and punctuality

GPS navigation and map reading

Problem-solving

Manoeuvring large vehicles

Adaptability

Operating specialised equipment

Attention to detail

Tachograph systems and record keeping

Independence

Route planning and optimisation

Collaboration

Hazard perception and defensive driving

Stress management

Cargo handling

Professionalism

Vehicle loading and securing

Work ethic

First aid and emergency response

Flexibility

Vehicle tracking and telematics systems

Safety-consciousness

Vehicle safety features and maintenance
A skilled bus driver CV should highlight strong navigational abilities, commitment to passenger safety, and exceptional customer service skills. Highlight an adherence to traffic laws, accurate record-keeping, and conduct pre-trip inspections. Showcase your practical communication skills, ensuring a comfortable experience for diverse passengers. You must hold a full driver's licence with at least one year of UK driving experience and be willing to train for a current PCV licence and qualification card. Demonstrate a willingness to learn and progress into supervisory and management roles.
A proficient delivery driver CV should showcase exceptional time management skills, a solid understanding of route planning, and a commitment to on-time delivery. Highlight your ability to handle various types of cargo, ensuring proper loading, securing, and unloading. Showcase your attention to detail in maintaining delivery records and verifying shipment accuracy. Demonstrate your ability to navigate efficiently using GPS and maintain a clean driving record while managing a high volume of deliveries.
An HGV Class 2 lorry driver CV should emphasise expertise in operating heavy goods vehicles (HGVs), adherence to safety regulations, and effective management of complex logistics. Showcase your proficiency in conducting pre-journey inspections, accurately recording deliveries and mileage, and managing cargo loading and unloading. Highlight your ability to navigate diverse terrains and maintain vehicle performance through routine maintenance checks. Demonstrate your dedication to time-sensitive deliveries, adapting to changing schedules, and efficiently coordinating multiple deliveries within tight timeframes.
For more ideas on what to include in your skills section, read our article on what skills to put on a CV in the UK.
How to write work experience on a driver CV 
In general, you should separate your duties from your accomplishments to showcase the practical application of your driving skills to further enforce your capabilities for your desired role. Take a look at the following work experience CV samples:
Experienced bus driver CV work experience example:
Bus Driver, Griffin Transportation, London, UK, 2018 - Present
Safely operate buses to transport passengers to their destinations and adhere to traffic laws and company regulations. Conduct pre-trip inspections to ensure the bus works appropriately and report any issues or maintenance needs. Maintain accurate records of daily routes, passenger counts, and any incidents or accidents during the shift. Follow established routes and schedules, and adjust to accommodate traffic or unexpected delays.
Implemented a new routing system that reduced travel time by 10% and improved on-time performance by 15%.

Recognised for outstanding customer service and achieved a customer satisfaction rating of 95%.

Completed defensive driving training resulted in zero preventable accidents or incidents in the past two years.
Experienced HGV Operator CV work experience example
HGV Operator, Streamline Logistics, London, UK, 2018 - Present
Ensure the safe operation of heavy goods vehicles (HGVs) to transport goods and strictly follow traffic laws and company regulations. Conduct thorough pre-journey inspections and promptly report any issues or maintenance needs to maintain proper working conditions. Maintain accurate and detailed records of deliveries, mileage, and any incidents or accidents during transportation. Adapt to designated routes and schedules. Strictly adhere to safety procedures and protocols, and ensure the secure load and unloading of goods.
Streamlined delivery operations by implementing an innovative routing system, reducing delivery time by 20%.

Received recognition for maintaining an impeccable safety record and consistently meeting delivery deadlines.

Completed specialised training in advanced driving techniques, enhancing vehicle handling skills and reducing fuel consumption by 15%
For more details on including this section on your driving CV, refer to our article on how to write work experience.
How to list education on a driver CV 
While educational qualifications for this type of role are typically not required, employers often look for a good standard of education, such as GCSEs. In addition to education, certificates and licences are crucial for certain positions, especially for operating a heavy goods vehicle. For all driving positions in the UK, you'll need a  Certificate of Professional Competence and licence.
When listing education on your CV, provide an overview of your educational background and highlight additional qualifications or training. Include any relevant courses and certificates related to driving or vehicles, such as a CPC course or a specialised driving course in auto repair, to demonstrate your driving skills and vehicular expertise.
In the UK, gaining educational qualifications for a driving role can be achieved through specific certifications and vocational courses. Obtaining the DVSA Approved Driving Instructor (ADI) qualification is essential for driving instructors.
Drivers of heavy goods vehicles (HGVs) or passenger-carrying vehicles (PCVs) must acquire the mandatory Certificate of Professional Competence (CPC) by completing 35 hours of periodic training every five years.

Vocational qualifications such as the Level 2 Certificate in Driving Goods Vehicles or Road Passenger Vehicle Driving can also enhance your driving qualifications.

Additional automotive engineering or mechanics courses can provide valuable vehicle maintenance and troubleshooting knowledge.
Combining educational qualifications with practical experience and licences strengthens your prospects in the competitive driving industry.
Education examples on a driver CV:
Example 1:
Level 2 Certificate in Driving Goods Vehicles, XYZ Driving School, London, UK, 2021.
Notable Courses: Hazard Perception, Emergency Manoeuvres, Safe Driving Practices, Adverse Weather Conditions, City Driving Skills.
Example 2:
Certificate of Professional Compliance (CPC) ABC Driving Academy, London, UK, 2019.
For more information on how to list education on your CV , refer to our helpful article in this section.
Key takeaways 
Writing an exceptional CV requires a careful approach to thrive in the demanding and competitive transportation industry. You must emphasise your driving expertise, gain relevant driving licences and qualifications, and demonstrate flexibility and a willingness to comply with strict conduct. Using practical examples and insightful tips in this guide, you can effortlessly create a CV tailored to your career goals, whether entry-level or seeking to advance your career and improve your CV for higher-level driving roles.
Next Steps?
If you're looking for a convenient CV template for a driving position, our CV Writing Service is here to assist you. Save time and effort using our pre-designed templates tailored to your job targets. Create an account and select a professional CV template aligned with your career aspirations. For additional support and inspiration in pursuing an entry-level driving role, browse our career blog, where you'll find valuable insights and tips to help you land and pass an interview for your dream role.
FAQ 
How do I write a CV as a driver? 
To write a modern CV, here are some top tips:
Highlight your relevant skills, experiences, and qualifications.

Include essential driving licences and certificates.

Use specific examples, actionable insights and quantify your achievements.

Tailor your job application with a complimentary cover letter that aligns with your career goals and the employer's requirements.
What are the different driver salaries in the UK?
Salaries in the UK vary across different roles. For example, bus or coach drivers earn an average salary of £18,000 to £35,000 per year, while train drivers typically earn around £24,000 to £65,000 annually. HGV drivers earn between £22,000 and £40,000 annually, depending on experience and the type of goods transported. Delivery van drivers earn between £16,000 and £27,000 per year on average. All salaries vary based on experience, location, and role requirements.
What should I put on my CV for a driving job? 
To write an effective driving CV, include essential sections such as your full driver's licence details, driving experience, and relevant certifications. Highlight your knowledge of vehicle maintenance, adherence to traffic laws, and familiarity with route planning software or GPS systems. Include any specialised driving experience or qualifications, such as HGV or passenger transportation. Lastly, emphasise soft and hard skills like road safety knowledge, excellent communication skills, and punctuality.
How to become a lorry driver in the UK? 
To operate a lorry in the UK, you must meet specific requirements which are especially important if you are going through a career-change and do not have prior experience. Start by obtaining a full car driving licence. Then, pursue a professional driving qualification, such as a Large Goods Vehicle (LGV) or Heavy Goods Vehicle (HGV) licence. Complete the necessary training and pass the practical and theory tests specific to the licence you seek. Obtain a Driver Certificate of Professional Competence (CPC) by completing 35 hours of periodic training every five years.
How much do UK bus drivers get paid? 
Bus driver salaries in the UK range from £18,000 to £34,000 annually, depending on location, company, and experience. The hourly wage may differ for part-time, full-time, or overtime work. Additional benefits and bonuses may also be provided.  Find out more about a bus driver's job profile, including salary expectations, with the National Career Service.
What type of HGV licence should I get? 
In the UK, the type of HGV licence you should obtain for your CV depends on the weight and type of vehicle you intend to drive. There are four categories: C1, C, C+E, and C1+E. Category C1 allows you to drive smaller rigid vehicles, while Category C covers larger ones. Category C+E is for articulated or drawbar vehicles, and Category C1+E is for larger vehicles towing a trailer. Choose the appropriate HGV licence category based on the vehicle you plan to operate and update your CV accordingly.
What is the training for drivers in the UK? 
In the UK, training typically includes practical driving lessons and theoretical knowledge tests. You must complete training specific to the licence and job you're targeting, such as LGV or HGV training. Training covers various aspects, including vehicle control, road safety, traffic laws, and hazard perception. Learn more about training as a driver in the UK.
How much does a Driver Certificate of Professional Competence (CPC) training cost in the UK? 
The cost of Driver CPC training in the UK varies depending on factors such as training provider, location, and the number of modules required. On average, the training cost ranges from £50 to £100 per module. The total cost may vary since 35 hours of periodic training are required every five years. Researching different training providers and comparing prices is advisable to find the best option that suits your budget and training needs. Find out how to get licensed and your driver CPC card.
How much are UK driving lessons?
The cost of driving lessons in the UK varies depending on location and instructor, typically ranging from £20 to £30 per hour. Discounts may be available for block bookings or intensive courses. Additional fees might apply for theory test preparation and practical test bookings. Find out more about driving lessons and learning to drive.
Land the interview for your dream job with CVMaker
Effortlessly create your professional CV within 10 minutes and download it whenever and wherever you want!
Create your CV
Increase your chances landing your dream job with CVMaker.