Supermarket CV
This CV sample features Sally Harrison, a Shelf Stacker aspiring to become a Supermarket Assistant, boasting a proven track record at Sainsbury's and Asda. With a strong retail and customer service background, Sally is a proactive, results-driven candidate. Her skills and languages section underscores her an ideal fit for the role.
Start your CV
"Detail-orientated Shelf Stacker with over 2 years of experience efficiently managing and organising shelves in large supermarket chains. Dedicated to maintaining fully stocked and organised displays, ensuring products are easily available to customers."
Fatima Farooqi
- Supermarket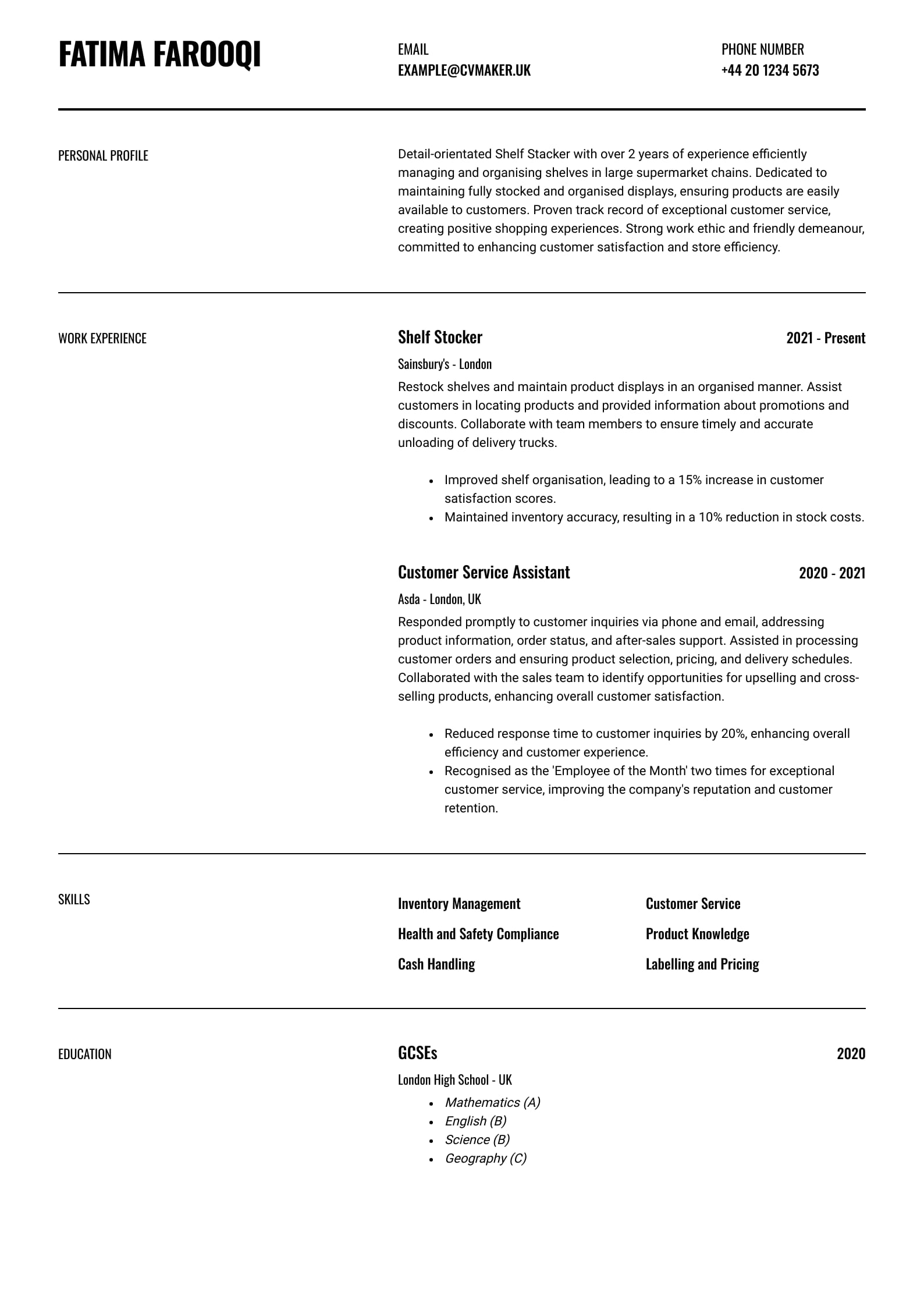 How to Write a Supermarket CV? See our tips and tricks with examples
In supermarkets such as Tesco or Asda, where products line the shelves and endless customers come and leave, landing a job requires more than just showing your customer-orientated approach. A simple CV is your gateway to your supermarket career, aiming to present your skills and experiences in the best light possible with a professionals CV template.
Explore our CV examples to help you create a tailored CV:
Whether you're a school leaver, student aspiring to kickstart your career or become a store manager, or looking for seasonal work, this guide walks you through the core elements of an applicant tracking system (ATS)-friendly supermarket CV, offering insights and tips to help you stand out from the competition.
See how to write a good CV article for more information.
Supermarket CV example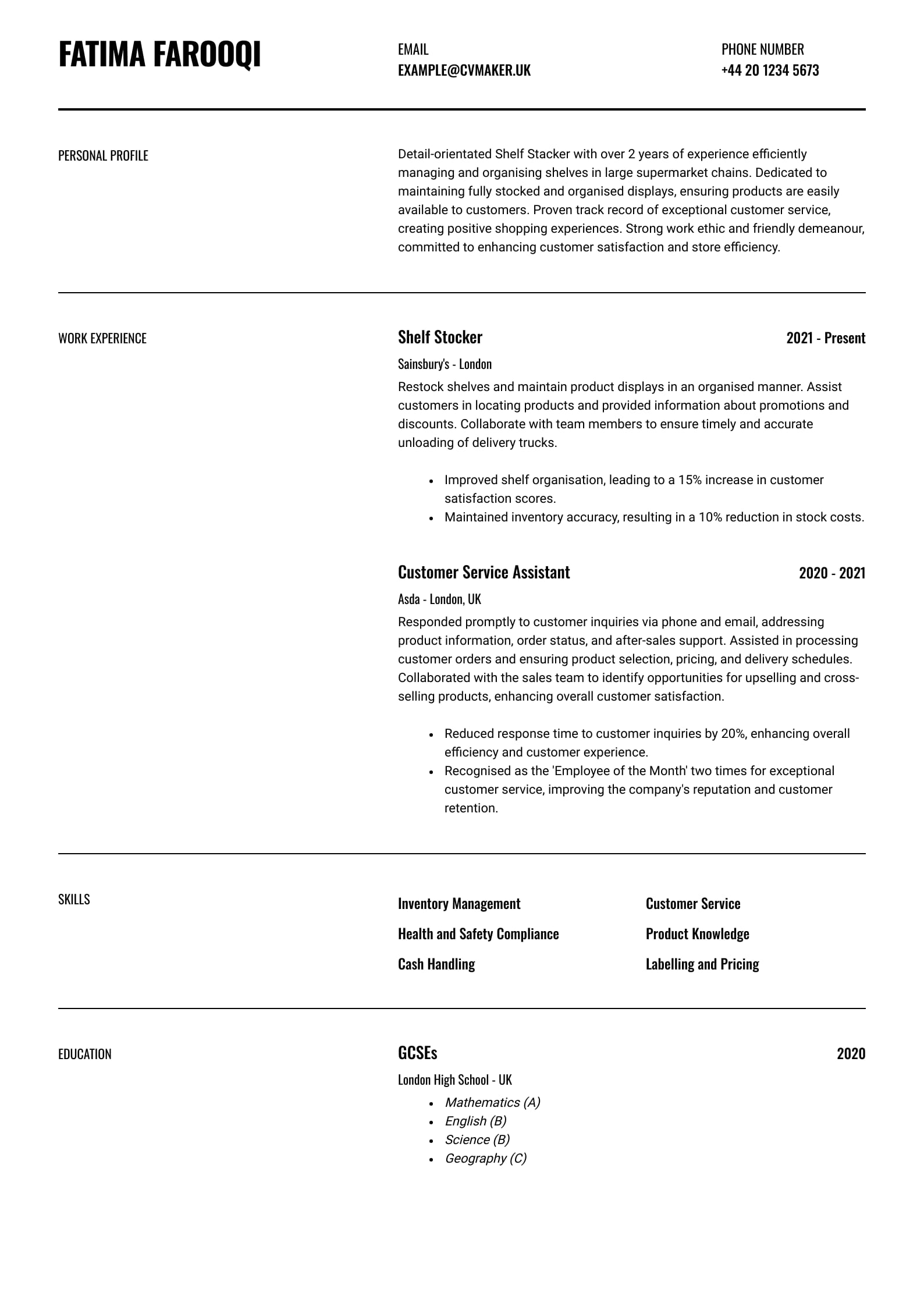 Download this supermarket CV sample in PDF
This CV sample features Sally Harrison, a Shelf Stacker aspiring to become a Supermarket Assistant, boasting a proven track record at Sainsbury's and Asda. She has opted for the modern Wisconsin template that briefly summarises her qualifications, skills, and experience. With a strong retail and customer service background, Sally is a proactive, results-driven candidate. Her skills and languages section underscores her ideal fit for the role.
What to include in a supermarket CV?
Your supermarket CV should comprehensively overview your skills, experiences, and qualifications. It should be clear and concise while tailored to a specific job you're applying for. Below are the must-have sections we suggest you focus on for your next job application.
See our related CV example articles to learn more: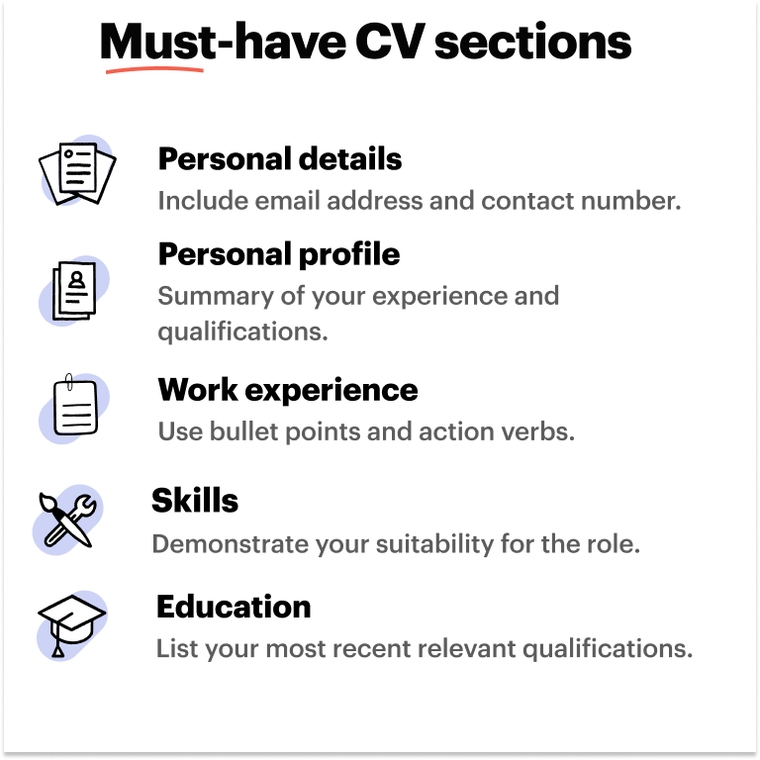 For more information on additional CV sections, refer to the following articles:
Refer to master CV versus job-specific CV for more tips.
Leverage interest with a captivating personal profile
This section emphasises the skills and competencies that make you an asset in a supermarket setting. These could include product knowledge, cashier proficiency, and inventory management. Tailor these skills to match the requirements of the supermarket position you're applying for. Allgin with the job description and include main keywords. Include abilities such as excellent customer service, product knowledge, cash handling, handling heavy goods, and proficiency in using supermarket technology.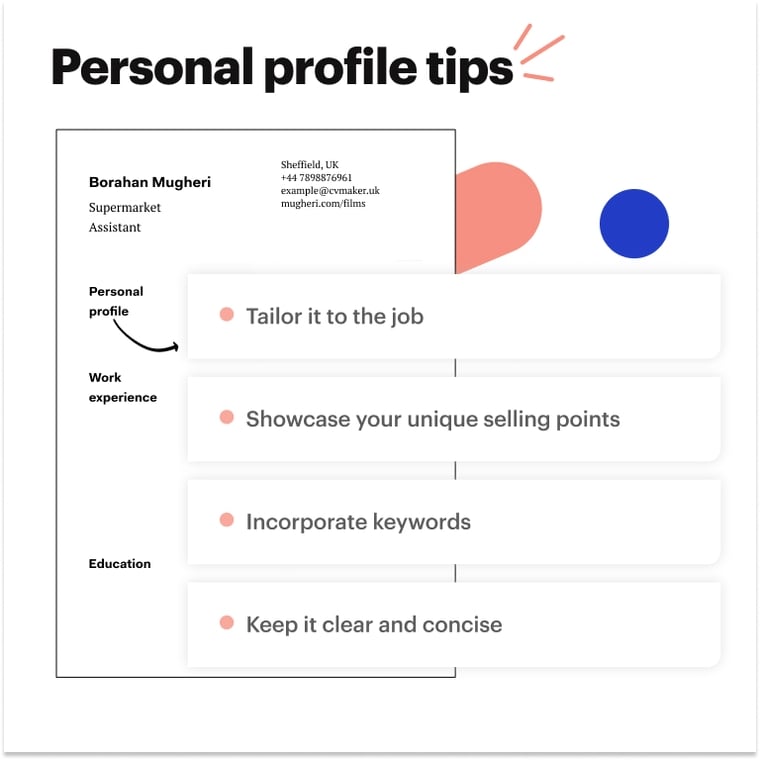 Examples of achievements for personal profile:
Demonstrated exceptional customer service track record, addressing inquiries and concerns professionally and courteously.

In-depth knowledge of supermarket products, allowing for effective customer guidance and recommendations based on their needs.

Proficient in operating POS systems, accurately handling cash transactions, and maintaining a balanced till.
Examples of personal profile for a supermarket CV:
Supermarket Assistant CV personal profile example
Dedicated Supermarket Assistant experience, skilled in delivering exceptional customer service, maintaining store organisation, and ensuring product knowledge. Team player who excels in fast-paced environments, adapts to changing priorities, and upholds health and safety standards. Proficient in cash handling and POS systems, committed to providing positive shopping experience for all customers.
Grocery Operations Manager CV personal profile example
Results-driven Grocery Operations Manager with 10 years of experience overseeing the grocery department in bustling supermarkets. Natural leader, adept at building and mentoring high-performing teams, ensuring smooth store operations. Experienced negotiating with suppliers, adept at consistently procuring high-quality products while optimising costs.
Supermarket Manager CV personal profile example
Seasoned Supermarket Manager with 5 years of experience elevating store performance and customer satisfaction. Committed to driving effective sales strategies to exceed company targets consistently. Natural leader, adept at fostering a positive and collaborative work environment, empowering teams to deliver exceptional service. Skilled in merchandising and promotional activities, effectively enhanced product visibility and boosted sales.
See how to write a CV personal profile for more information.
Present relevant skills for a CV
Highlight both hard and soft skills relevant to the supermarket industry. Hard skills might include cash handling, stocking shelves, and operating machinery, while soft skills encompass communication, teamwork, and problem-solving abilities.
See the top skills employers look for in a CV article for more details.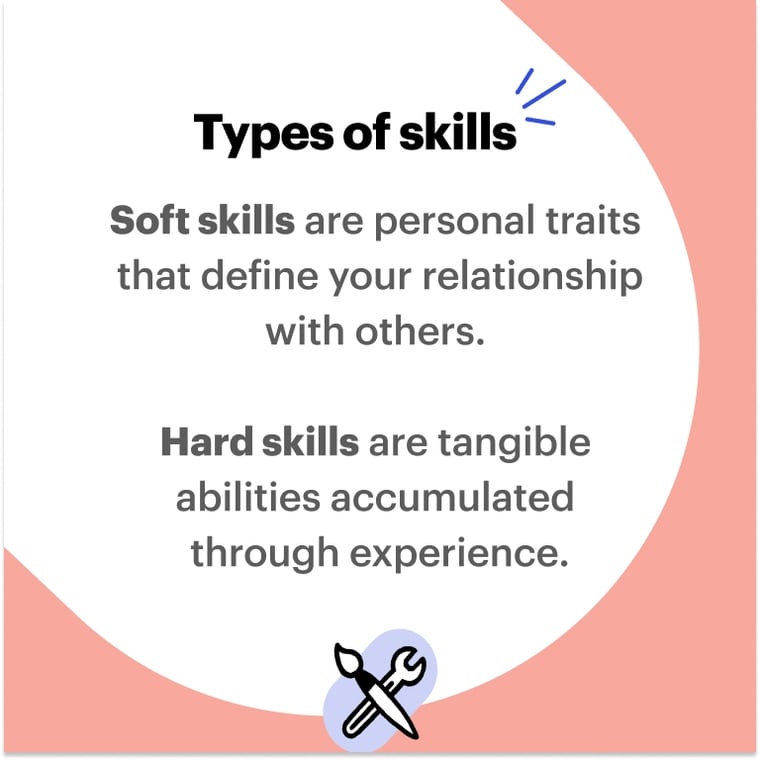 Soft skills

Hard skills

Customer Service

Health and Safety Training

Teamwork

Inventory Management

Communication

Product Knowledge

Adaptability

Cleaning and Sanitisation

Problem-Solving

Ordering and Receiving

Time Management

Safety Procedures

Attentive

Sales Reporting

Patience

Cash Register

Empathy

Sales

Resilient

Product Merchandising
Transferrable skills

Technical proficiencies

Leadership

EPOS Now

Organisation

Zoho Inventory

Decision Making

Zebra DataWedge

Business Strategy

Deputy

Negotiation

WordPress

Team Management

Meta Business Manager

Conflict Resolution

Cleardata

Delegation

QuickBooks

Commercial Awareness

Salesforce

Presentation

Microsoft Office Suite
See how to put skills on a CV to learn more.
List achievements-based work experience for your CV
When detailing your work experience, focus not just on duties but also on achievements. Mention how you contributed positively to the supermarket's operations, whether by improving customer satisfaction, increasing sales, or enhancing the store's overall efficiency
Explore the National Careers Service for all UK requirements to gain insights into a specific job role.
Take a look at Reed and official UK job finder to learn more about specific requirements whether you're a graduate undergraduate, or seeking to achieve new heights.
Examples of work experience for a supermarket CV:
Supermarket Assistant, Morrisons, London, UK, 2021-Present
Assist customers in locating products, provided detailed information, and addressed inquiries, ensuring high customer satisfaction. Maintain inventory levels, restocked shelves, and conducted regular stock checks to ensure product availability and prevent shortages. Operate cash registers, processed payments, and provided accurate change to customers during transactions.
Implemented a customer engagement initiative, leading to a 15% increase in overall sales within the first quarter of its implementation.

Optimised stock management procedures, reducing stock discrepancies by 20% and ensuring accurate product tracking.

Consistently received feedback from customers for outstanding service, contributing to a 95% customer satisfaction rate.
Grocery Operations Manager, Asda, Manchester, UK, 2020-2022
Managed a team of 15 staff members, provided training, scheduled shifts, and fostered a positive work environment to enhance team productivity. Supervised stock levels, conducted regular stock audits, and liaised with suppliers to maintain optimal inventory levels and minimise wastage. Ensured the freshness and quality of products, implemented quality control measures, and promptly addressed customer complaints about grocery items.
Implemented efficient inventory management strategies, reducing wastage by 25% and saving the company £50,000 annually.

Introduced a performance-based incentive program, resulting in a 30% increase in staff productivity and a significant improvement in customer service ratings.

Negotiated favourable terms with suppliers, leading to a 15% reduction in procurement costs while maintaining the quality of grocery products.
See how to write work experience on a CV for more details.
Enhance your CV with the education section
In this section, provide details about your educational background, including any relevant courses or certifications for a CV. Even if you have limited formal education, include your highest level of completed studies.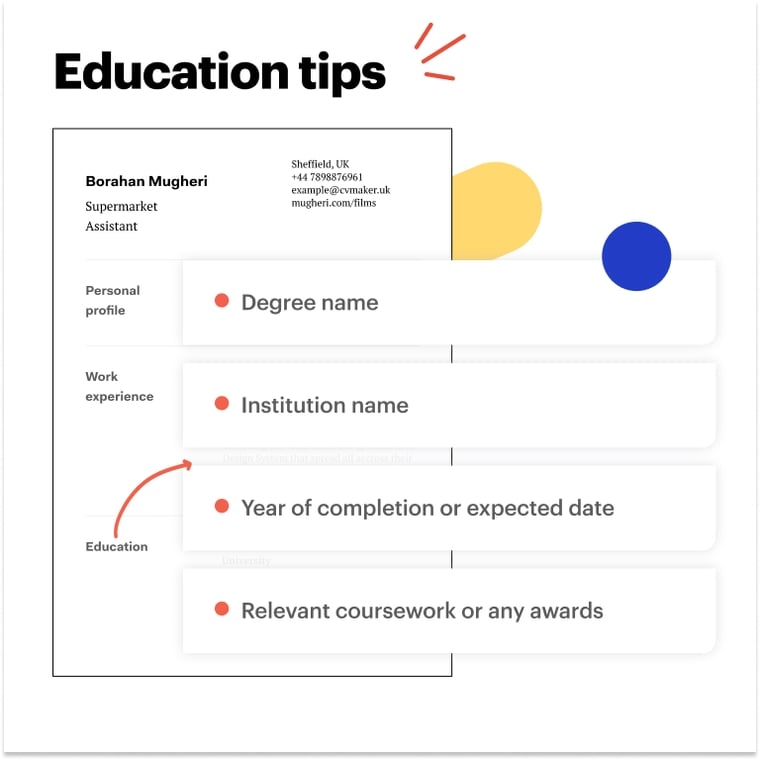 Refer to Indeed to learn more about minimum requirements for each job within supermarket.
Examples of education for a supermarket role:
GCSEs, Dulwich College, London, UK, 2019
Mathematics (A)

English (B)

Science (B)

Geography (C).
For more examples and details, refer to the following articles:
See how to add education on a CV for more inspiration.
Include references to help you verify your expertise
Offering references can boost your credibility. Mention that references are available upon request, indicating your willingness to provide them if necessary. The most common way to do it is just to write the simple phrase, 'Available upon request'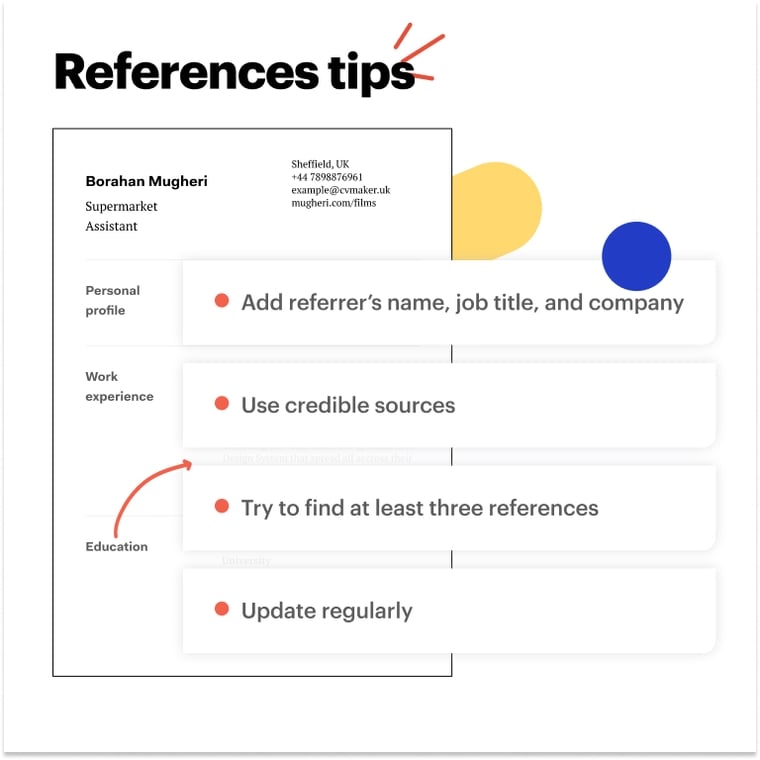 Refer to the article on how to add references to a CV for more details.
Key takeaways 
Working in a supermarket or retail industry offers plenty of career opportunities for job seekers of any age, background, or experience. Whether you aim to get a part-time job as a cashier, driver, or shelf filler or advance to new heights, such as department manager, operations manager, or supply chain manager. Creating a well-structured and ATS-friendly CV is your key to unlocking this. Follow our advice and showcase your proactiveness and passion for customer service to secure your job interview and achieve new heights in your future career.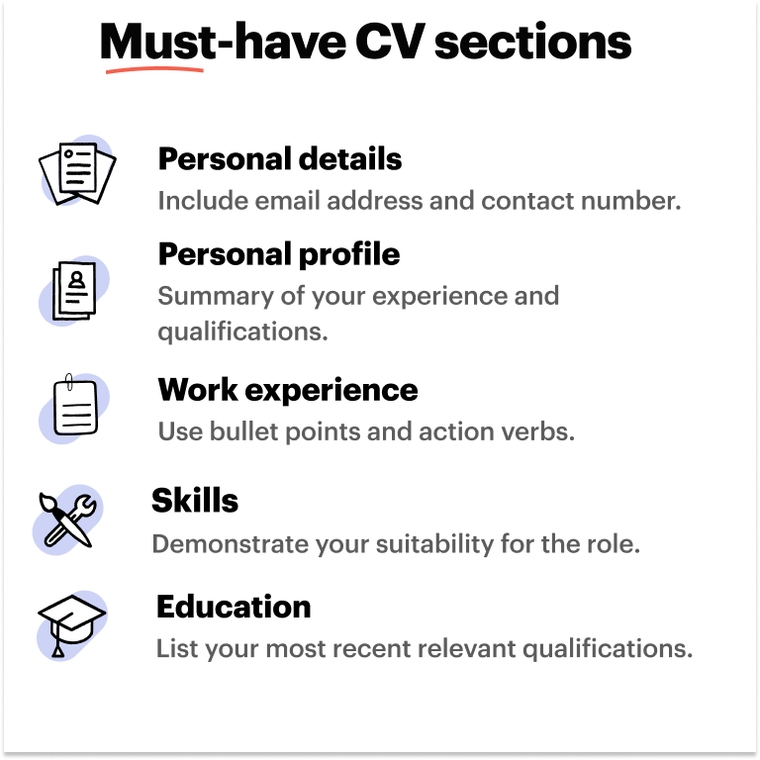 Next Steps? 
Explore our services below to help you get started, create from scratch or improve your CV within a few seconds:
We wish you all the best with your supermarket job search!
FAQ
What is the best format for a supermarket CV?
The best format is chronological, emphasising your personal profile, work experience, skills, and education. Alternatively, you could opt for a project-based or combination format, depending on your experience and career goals. 
How to write a supermarket CV with little to no work experience?
We suggest using a skills-based format instead of a chronological one. You could also emphasise your education over work experience if you're a recent graduate. Highlight transferable skills, such as communication, teamwork, and adaptability. Include any volunteer work, internships, or coursework related to customer service. Emphasise your eagerness to learn and contribute to the team.
Refer to how to write a CV with no experience article for more details.
What is the role of a supermarket employee?
Supermarket employees assist customers, handle transactions, restock shelves, maintain cleanliness, and ensure a positive shopping experience.
Explore diverse career paths within a supermarket:
Cashier

Retail or Sales Associate

Store Manager

Customer Service Representative

Stock Clerk

Grocery Department Supervisor 

Loss Prevention Officer

Online Shopping Assistant

Human Resources Coordinator.
What skills do you need to work at a supermarket?
Key skills for any job in a supermarket could include customer service, communication, teamwork, problem-solving, attention to detail, and the ability to work efficiently under pressure.
How can I make my supermarket job sound good?
Highlight your achievements and contributions in your supermarket job, such as improving customer satisfaction, increasing sales, or implementing efficient store processes. Emphasise your dedication to providing exceptional customer service and your ability to work effectively in a fast-paced environment.
Land the interview for your dream job with CVMaker
Effortlessly create your professional CV within 10 minutes and download it whenever and wherever you want!
Create your CV
Increase your chances landing your dream job with CVMaker.