Sales CV
Having progressed through a series of roles with increasing scope and responsibility, Robert selected the Cornell CV template to showcase his career growth and key skills.
Start now
"Established sales professional with 10+ years of experience in exceeding sales targets. Influential leader, adept in mentoring cross-functional and performance-driven teams."
Robert Tippins
- Sales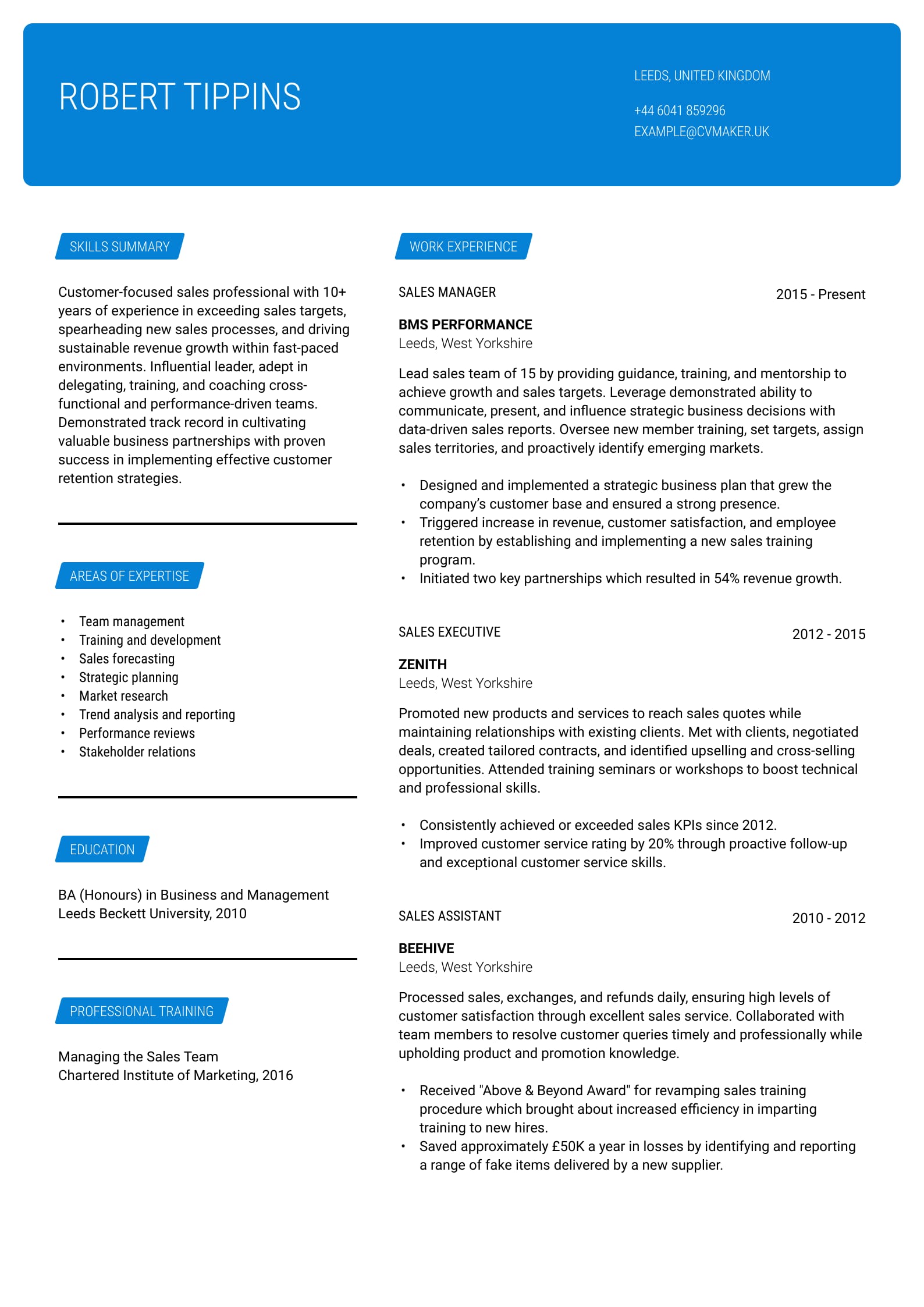 How to create a sales CV? Best writing tips and examples!
Passionate about cultivating relationships, driven by the thrill of closing deals, and thriving in a dynamic, fast-paced environment? If so, a career in sales could be your ultimate calling. Sales positions span across industries, from retail to hospitality, offering a lucrative and rewarding career path.
Recognising that success in sales starts with a well-crafted CV highlighting your unique skills, achievements, and experience, we provide a range of tools and resources. These include HR-approved templates and expert advice to help you create an ATS-friendly CV that captures the attention of recruiters and hiring managers.
To craft a strong CV, it's essential to present key information in a way that aligns with your career goals. Ready to learn how to write a compelling sales CV? Let's get started!
Sales CV example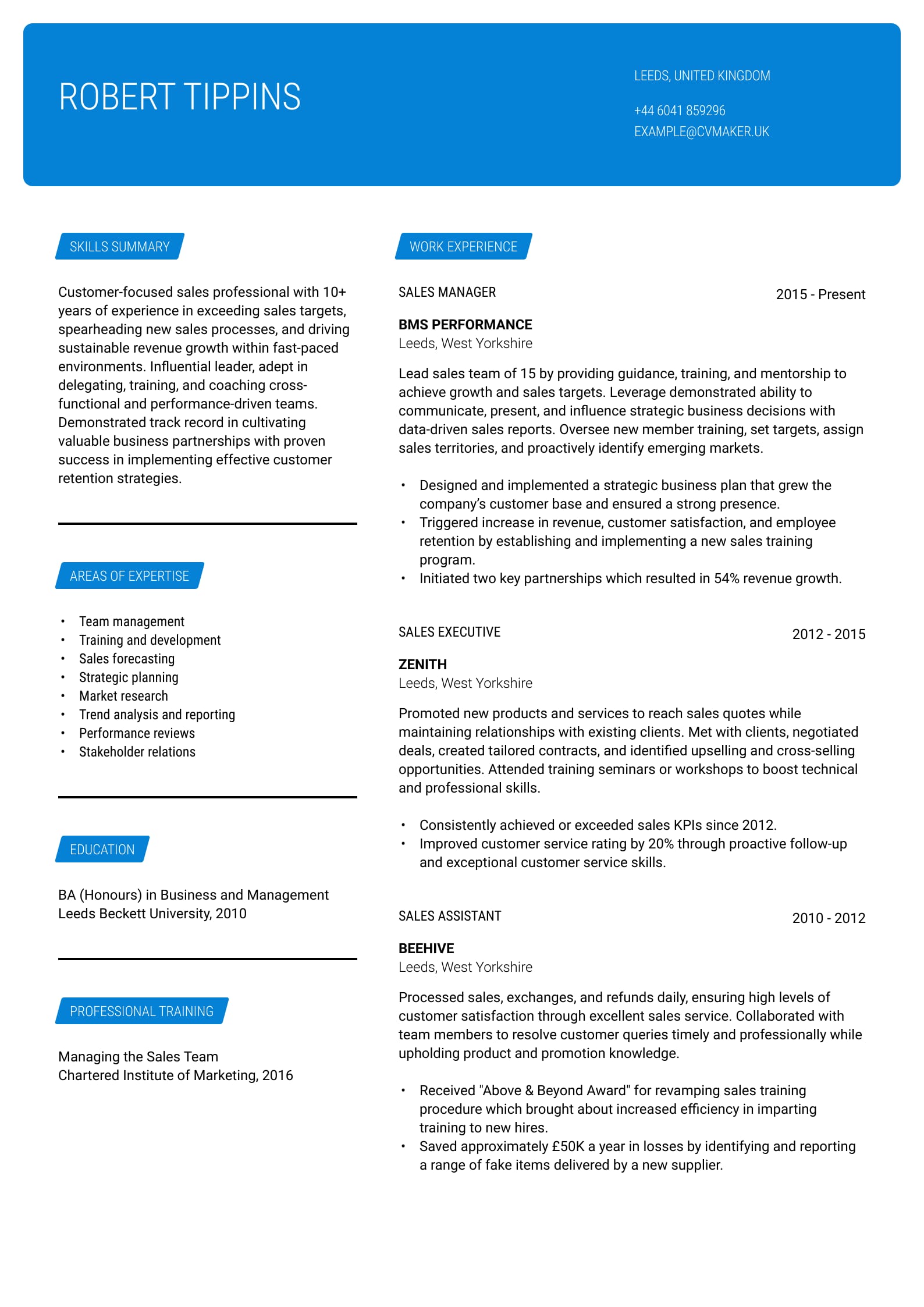 In this example, Robert Tippins presents himself as a customer-focused sales professional with over ten years of experience in managerial sales. The information in his CV emphasises his unique skill set and capacity to exceed his targets and be an effective team leader. This CV template conveys a successful career with a professional, concise, and well-structured layout.
What to include in a sales CV?
After delving into the details of the position, it's time to commence crafting your CV. Before you embark on the writing process, ensure you comprehend the distinction between a master CV and a job-specific CV; find detailed insights in our CV writing process article.
A good CV should encompass crucial segments like a personal profile, skills, work experience, and education. While the example provided pertains to a Sales Manager, a comparable approach is applicable to any sales role. Below, you'll find a list of recommended sections. Once you've populated your CV with essential information, contemplate the inclusion of supplementary sections.
To learn more about which sections are worth including, read the article on how to write a good CV.
Showcase your career goals in a personal profile
Your personal profile is the first thing recruiters will see, so make it eye-catching and memorable. Highlight any industry-specific knowledge or expertise that could benefit potential employers. A good sales CV should demonstrate your ability to sell, build customer relationships, and identify business opportunities.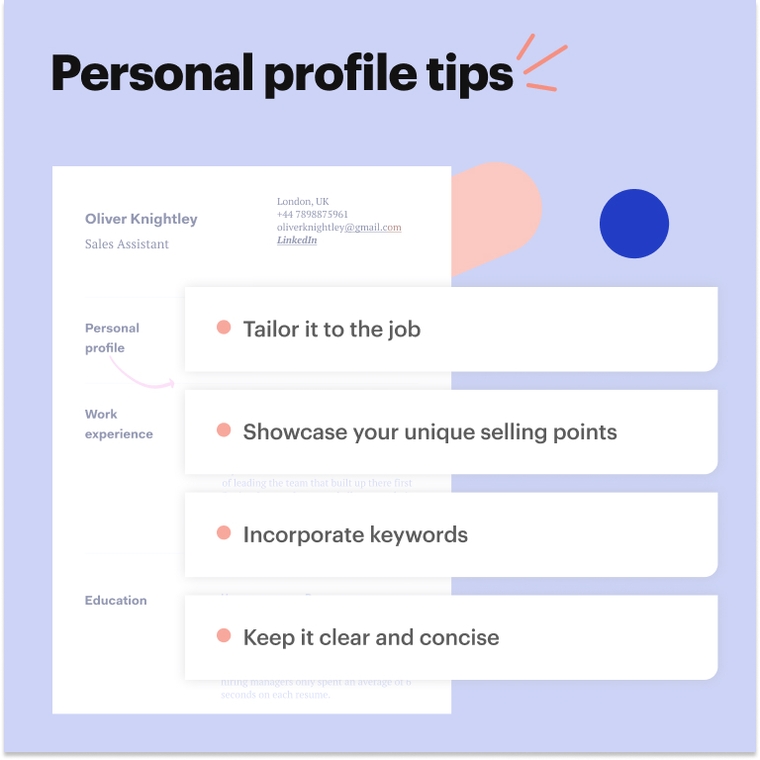 Sales Assistant personal profile example
Highly motivated Sales Assistant with three years of experience delivering exceptional service and exceeding targets in fast-paced, dynamic environments. Proactive and empathetic communication skills, with a customer-focused approach to resolving queries.
B2B Sales Professional personal profile example
Experienced and adaptable B2B sales professional with track record of driving business growth through strategic networking and partnerships. Exceptional interpersonal and negotiation skills honed in high-level B2B sales environments over five years. Skilled in enhancing business reputation and increasing profitability.
Sales Manager personal profile example
Experienced Sales Manager with proven success in driving growth in the hospitality industry for over six years. Skilled in building and maintaining strong client relationships, leading high-performing sales teams, and exceeding sales targets. Demonstrated understanding of effective sales techniques to achieve business goals.
Sales Representative personal profile example
Results-driven sales professional with a proven track record of exceeding targets and cultivating lasting client relationships. Adept at identifying customer needs and tailoring solutions to drive revenue growth. Energetic and motivated team player with excellent communication skills and a passion for delivering exceptional customer service.
Director of Sales personal profile example
Accomplished sales leader with a strategic vision for driving company growth. Proven ability to build and manage high-performing sales teams, implement effective sales strategies, and foster key partnerships. Seasoned in analysing market trends and competitor landscapes to capitalise on emerging opportunities. Committed to achieving and surpassing organisational objectives through innovation and leadership.
Regional Sales Manager personal profile example
Dynamic regional sales manager with a history of successfully expanding market share and optimising sales operations. Skilled in developing and executing sales plans tailored to specific regions, leading to increased profitability. Strong leadership qualities combined with a hands-on approach to coaching and motivating sales teams. Expertise in forging alliances with key stakeholders to drive business success.
Retail Sales personal profile example
Customer-focused retail sales professional with a passion for delivering an exceptional shopping experience. Proven expertise in product knowledge, merchandising, and resolving customer inquiries to ensure satisfaction. Adept at building rapport and trust, with a keen understanding of customer needs. Energetic and detail-oriented team player dedicated to driving sales and fostering a positive retail environment.
Check out our retail CV example for more tips or refer to our article on how to write a personal profile on a CV.
Boost your CV with the best sales skills
Emphasise the skills and traits that are relevant to the specific position. For example, showcasing your leadership abilities, organisational skills, multitasking capabilities, and task management experience can make a significant impact if you're applying for a sales manager role.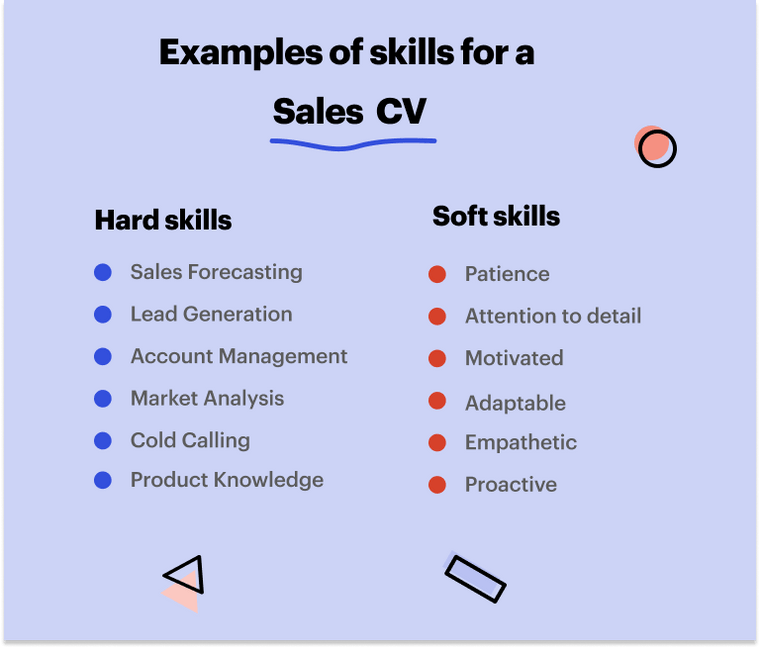 For more examples and tips, refer to our article on how to put skills on a CV.
Mention relevant sales work experience
To write a competitive CV, start by researching the specific job you are targeting and tailoring your work experience to align with its requirements. Use strong action verbs and relevant keywords to effectively summarise your duties and accomplishments in 4-6 lines. Focus on measurable and practical achievements demonstrating your potential value to the employer.
If you have extensive experience spanning 10-15 years, consider leaving out dates and emphasising transferable skills and knowledge gained. Conversely, if you have limited experience, consider creating an additional experience section to showcase relevant skills and bolster your CV. For more guidance, refer to how to write work experience on a CV.
Sales Assistant, Primark, London, UK | 2020 - present
Greet and assist customers with product inquiries and purchases, providing exceptional service to increase customer satisfaction and loyalty. Maintain weekly and monthly targets by upselling and cross-selling products to customers. Collaborate with team members to ensure the store is well-stocked, clean, and visually appealing. Handle cash and card transactions accurately and efficiently, following all cash-handling procedures.
Increased revenue by 20% in the first quarter of employment through effective upselling techniques and building customer relationships.

Achieved 100% accuracy in processing orders and maintaining inventory records, reducing errors and improving customer satisfaction ratings.
Sales Associate, TelePerformance, Belfast, Northern Ireland, 2020 - Present
Proactively engage with customers to understand their needs and recommend suitable products or services, resulting in a consistent achievement of monthly targets. Regularly update product knowledge to provide accurate information to customers, enhancing their shopping experience and fostering trust in the brand.
Established strong client relationships through effective communication, follow-up, and personalised service, leading to a 30% increase in customer retention for three consecutive years.

Collaborate with the marketing team to execute promotional campaigns and product launches, contributing to a 15% boost in overall sales during promotional periods.
Sales Manager, MediHealth, Brighton, UK, 2015 - 2023
Led a high-performing sales team of 10 members, implementing effective strategies. Conducted regular performance reviews, provided constructive feedback, and recognised top-performing team members, contributing to a positive and motivated work environment. Analysed market trends and competitor activities to identify new business opportunities.
Developed and executed comprehensive training programs for the team, resulting in a 30% improvement in individual and team sales performance.

Collaborated with cross-functional teams to streamline processes, reducing order processing time by 15% and enhancing overall operational efficiency.
If you have no experience, consider creating a skill-based CV to show how your current qualities and abilities would make you an ideal candidate for the role.
List education or sales qualifications
The education section is a vital part of a CV as it highlights your qualifications and training in the field. For sales assistant positions, secondary-tier education may be enough, but for managerial roles, a degree, certification, or relevant experience may be required.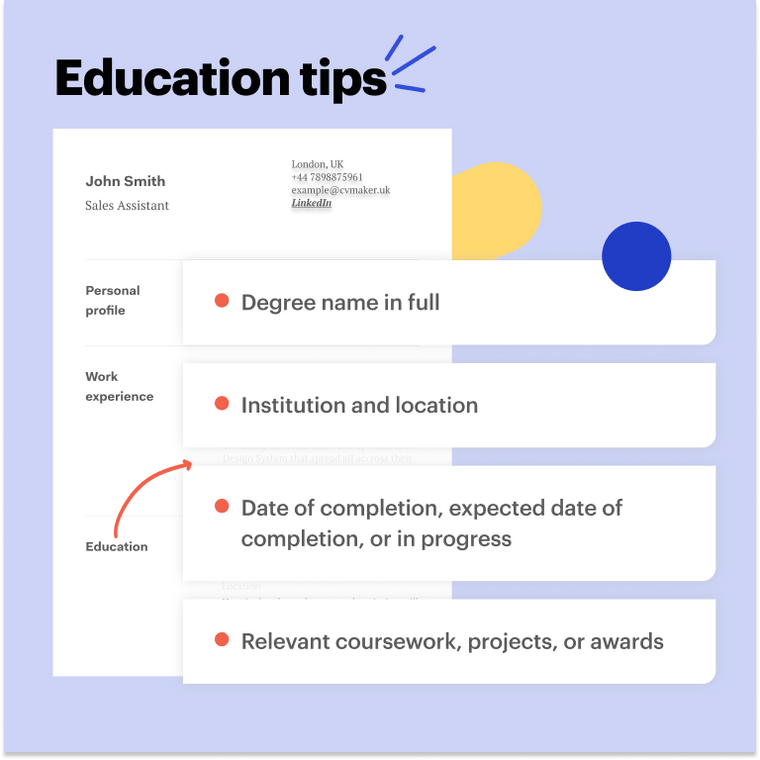 Learn more by reading our article on how to list courses and certificates on a CV. Alternatively, refer to the below to upskill yourself in sales!
Key takeaways
Writing a CV can be time-consuming and stressful, especially if you're a recent graduate entering the workforce or changing careers. This guide provided key insight and expert advice on landing your dream job with a great CV!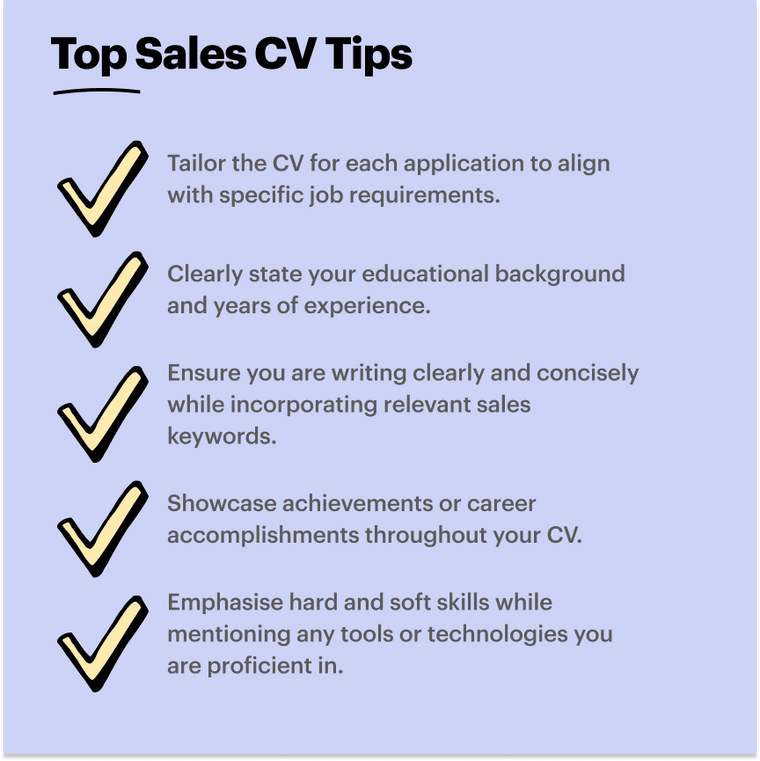 Next steps?
Crafting a CV that grabs the recruiter's attention can be daunting, but with our professional CV Writing Service and extensive range of cover letter templates, you can create a sales CV that lands you an interview. Our experts will help you tailor your application to your desired role, ensuring you showcase your skills and experience in a cornice manner.
FAQ
How to write a sales CV with little to no work experience?
With the right approach, you can highlight your skills and achievements in a way that catches the eye of potential employers.
Highlight relevant skills such as communication, customer service, and attention to detail

Include relevant coursework or certifications.

Mention volunteer work or internships demonstrating sales abilities.

Tailor your CV to the job description and use keywords from the listing.

Emphasise how your skills and experience can benefit the company.
What format to choose for a sales CV?
The three most common formats for a CV are chronological, functional, and combination. Choose a chronological format if you have consistent work experience, a functional format if you have transferable skills or no experience, and a combination format if you have both sales and transferable skills to highlight.
What to include in the Sales Assistant CV?
To write a good CV, highlight your relevant work experience, education, skills, and achievements that showcase your sales abilities. For Sales Assistant roles, emphasise transferable and soft skills to make your CV stand out. Include communication, negotiation, problem-solving skills, and knowledge of sales techniques and software that align with the position you're applying for. Explore similar career paths such as our estate agent CV example.
What are the different types of sales career paths?
Each sales role requires different skills and experiences, so it's important to research and understand the specific requirements of the role you are interested in before applying. Here are some examples of sales roles, which can vary based on experience and competency level:
Inside sales: responsible for maintaining relationships with current clients.

Outside sales: face-to-face selling to customers outside of the office.

Sales support: work in a team to support salespeople.

Client services: ensure customer satisfaction and increase sales to existing customers, similar to inside sales.

Lead generation/development: research and network to obtain new business contacts that may become customers.

Business development: focus on selling by any means, including door-to-door or cold calling

Account manager: focus on existing accounts and continue selling new services or products to these accounts.
How do you interview for a sales position?
Prepare thoroughly for an interview by researching the company and its unique selling points. Tailor your responses to the interviewer's questions and concerns regarding your ability to contribute to the success and how you would fit into the company culture. Showcase your communication skills, confidence, and sales success in previous roles. Refer to our blog for more job interview tips.
Land the interview for your dream job with CVMaker
Effortlessly create your professional CV within 10 minutes and download it whenever and wherever you want!
Create your CV
Increase your chances landing your dream job with CVMaker.