Sales Manager
Having progressed through a series of roles with increasing scope and responsibility, Robert selected the Cornell CV template to showcase his career growth and key skills.
Create your CV
"Senior sales professional with 10+ years of experience in exceeding sales targets. Influential leader, adept in mentoring cross-functional and performance-driven teams."
Robert Tippins
- Sales Manager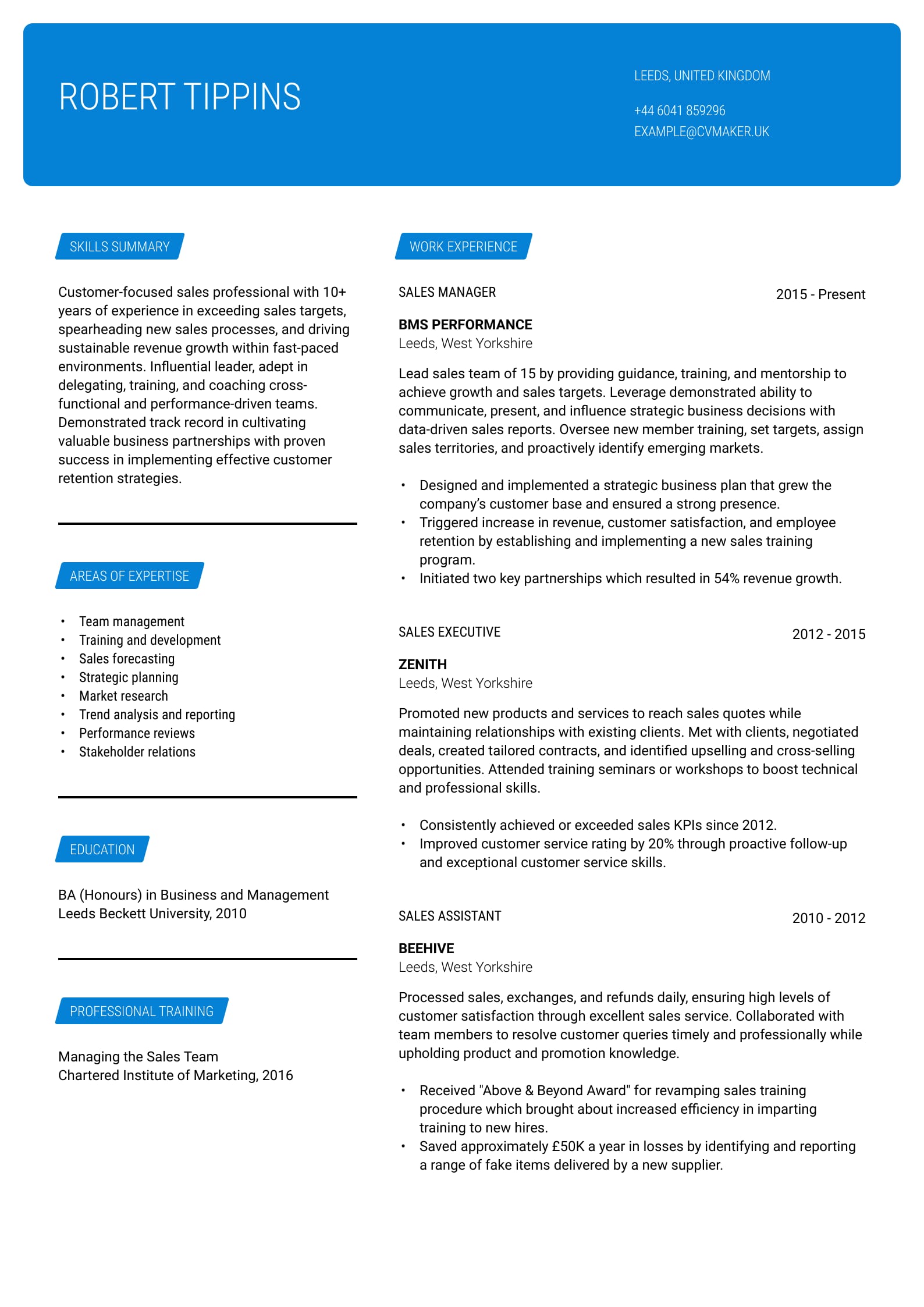 How to create a sales CV? Best writing tips and examples!
Are you someone who loves working with people, enjoys competition and thrives in a fast-paced environment? If so, pursuing a career in sales might be right for you. Sales jobs are available in virtually every industry, from retail to hospitality. Whether starting your career or becoming a C-level executive, CVMaker has got you covered.  
Tailoring your CV to ATS (Applicant Tracking Systems) is essential, as recruiters and hiring managers to rely on it to hire candidates more efficiently and faster. That's why you need to ensure it is scannable and includes all the keywords and requirements stated in the job post of your desired position. To help you achieve your career goals, at CVMaker, we offer all the tools and resources to optimise your CV for ATS and increase your chances of getting noticed by recruiters. Use our HR-approved templates to make your sales CV stand out and sell yourself with confidence. 
To get started, read this guide to find out what recruiters are looking for in a sales CV and proven techniques to get you noticed. Use our expert advice to get ahead of competitors by creating a compelling sales CV.
The CV writing process: Where to start?
A sales CV doesn't significantly differ from other CVs, as the main goal is to only display the key information in a way that aligns with your career goals. However, unlike other CVs, a sales CV places greater emphasis on measurable results and motivation to drive revenue or achieve success. Did you know recruiters only spend an average of 9 seconds reviewing your CV? Knowing this makes it even more critical to make a lasting impression.
Before jumping into writing, we advise researching the company culture and type of industry you want to work in. Doing so will give you a better insight into what skills and experience are better to include to tailor your CV accordingly. Get to know the brand personality and a job of interest, as this will make you better prepared and eventually help your land your dream job. 
Are you ready now? Then let's get started!
Master CV for a sales CV
A master CV is an all-encompassing document with a comprehensive overview of an individual's professional background and experience. It provides an organised, concise, and detailed summary of all your qualifications and skills. CVMaker suggests creating a master CV that can easily be accessed and updated throughout one's career journey. This document will facilitate you to build an outstanding and relevant CV in less time.
When applying for a specific job, such as a sales role, you can quickly assess which areas are relevant to the job requirements and industry. Therefore, your master CV should contain core sections such as education, work experience, certifications, awards, publications and presentations, volunteer work, and anything else you have completed.
Job-specific CV for a sales CV
If your CV is generic, recruiters and hiring managers will most likely not consider you for a role in your application if it's not suitable, so it's vital to get creative when writing a CV for a sales job. To make a job-specific CV, highlight your customer service or sales experience first and then focus on other transferable experiences.
Have you assisted customers in a retail environment, or have you ever had sales or marketing responsibilities? Then list it upfront on your CV while focusing on key requirements from a job post. Additionally, consider listing any specialised training courses that you have taken which are job-specific and highlight any certificates. Finally, include any awards or recognition you have received in this industry.
Sales CV example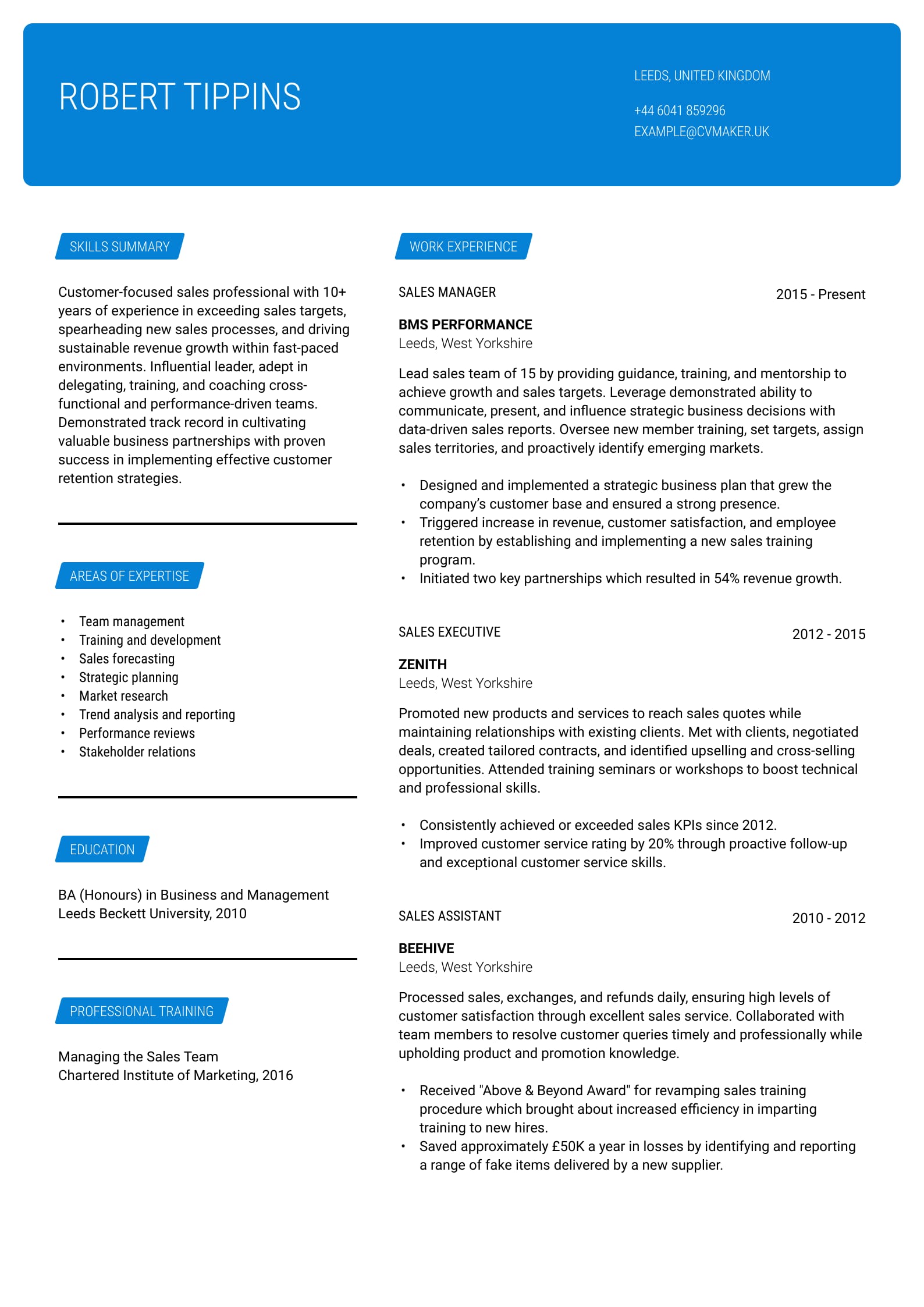 Download this CV example - Sales Manager
In this example, Robert Tippins presents himself as a customer-focused sales professional with over ten years of experience in managerial sales. The CV emphasises Robert's unique skill set and capacity to exceed his sales targets while effectively leading different teams. By using a simple yet professional CV template a recruiter can see a successful career history with a concise, and well-structured layout.
What to include in a sales CV? Tips and examples
After researching the role, it's time to start writing. A good sales CV must include fundamental sections such as work experience and personal profile. To write a successful CV for sales, showcase your customer service skills, product knowledge, and experience working in a fast-paced environment. 
Below is a list of recommended sections for your next sales CV. Once you have populated your CV with essential information, consider adding additional sections. To learn more about which ones are worth including, read the article on how to write a good CV.
How to add a personal profile for a sales CV
A personal profile for your CV is the first thing recruiters will see, so ensure it is eye-catching and memorable. Emphasise any industry-specific knowledge or expertise that could benefit your potential employers. An ideal sales CV should show an ability to sell and close deals, build strong customer relationships, and identify opportunities to help a business thrive. Use our tips and techniques as guidance to improve your CV and eventually land your dream job.
If you need help with ideas on what to write, read our guide on how to write a personal profile to ensure your personal statement accurately reflects your career ambitions.
Examples of personal profiles for a sales CV
A personal profile for a sales role should include relevant keywords and phrases to demonstrate your qualifications and skills. Concise writing is essential in showcasing these abilities. Below are the examples:
Sales Assistant personal profile example
Outgoing and motivated sales assistant with over two years of work experience in the fashion industry. Adept at maintaining positive relationships while ensuring the highest customer satisfaction. Excellent interpersonal and leadership skills. Consistently exceeded monthly sales goals by 20% through effective upselling techniques and building long-lasting partnerships with customers. Awarded the Employee of the Month in 2021.
B2B sales professional personal profile example
Adaptable and motivated sales professional with five years of experience in high-level B2B sales environments. Proven track record of expanding businesses by successfully networking and forming smart partnerships. Exceptional interpersonal and negotiation skills. Highly skilled in increasing the prosperity of a business while working to enhance its reputation.
Sales Manager personal profile example
Results-driven and ambitious Sales Manager with over six years in the hospitality industry. Proven track record of exceeding sales targets, building lasting client relationships and leading high-performing sales teams. In-depth knowledge of effective sales techniques to achieve sales targets. Awarded a Sales Manager of the Year in 2020 for achieving the highest sales growth in the division. Achieved over £250K in sales each quarter from 2020 tilll the present.
How to include skills on a sales CV
A career in sales requires excellent communication skills, as well as a genuine interest in helping others. You must build relationships with consumers, identify their needs and interests, and provide them with the best product or service for their situation. Sales professionals must also be organised, efficient, and goal-orientated to succeed.
Examples of skills to include in a sales CV It is crucial to highlight relevant abilities and qualities when creating a CV for a sales role. For example, if you're writing a sales manager CV, you should demonstrate strong organisational skills, leadership qualities, task management, and an ability to multitask. Below are a few examples of unique capabilities to include, regardless of whether you're a sales manager or assistant.
Hard skills:
Team management

Business development 

Innovation

Lead generation and management

Marketing or sales knowledge

Negotiation
Soft skills
Analytical thinking

Leadership

Communication

Team-work

Attentive

Problem-solving
How to list work experience on a sales CV
Write an impressive sales CV by preparing ahead of competitors. To do so, research the job you're targeting and list your work experience accordingly. Then, use action verbs and relevant keywords to summarise duties and achievements effectively in 4-6 lines. List your achievements as measurable and practical so the recruiter can see how they can benefit and improve their business. In the end, this section aims to accurately reflect your achievements and relevant knowledge that aligns with your career goals. 
If you have experience going back 10-15 years, it's more beneficial to leave out the dates and include transferable skills or knowledge gained without going into too many details. On the other hand, if you lack the necessary experience or have extra space, consider creating an additional experience section on a CV to boost your CV. To learn more, read the article on how to write a CV with no experience to list any short-term experience or side jobs.
For more inspiration, look at our customer service or retail examples for other work responsibilities and duties related to an assistant sales role.
Examples of work experience for a Sales Manager CV
Improved customer service rating by 20% through proactive follow-up and exceptional customer service skills.

Initiated increased revenue, customer satisfaction, and employee retention by establishing and implementing a new sales training program.

Consistently achieved or exceeded sales KPIs since 2012.
How to show additional experience for a sales CV
Showcase your talents through volunteer work and internships to make your CV stand out. Focus on explaining your key achievements and how this additional experience can strengthen your application while considering that you can elaborate further within an interview.
Do you have little work or industry experience, or are you a graduate? If so, remember it's always possible to gain relevant sales experience by volunteering or taking an online course to boost your CV.
Examples of additional experience for a sales CV
Completed an ISM Certificate in Sales & Marketing (Level 2) certificate.

Volunteered for a local charity and gained experience in cash handling.

Attended a sales training program on consultative selling techniques and participated in interactive role-playing exercises to enhance sales skills.
How to list education on a sales CV
Like the other sections of your CV, listing education is another vital aspect of your sales CV. To become a sales assistant, only secondary-tier education is required. However, depending on the company, candidates applying for sales managerial positions might have to be certified, hold a degree, or have several years of experience in the related field.
When listing your education, provide details about relevant courses and subjects taken from GCSE onwards and any additional certifications gained. To put education on a CV, add the date, institution name, and program name to display how long you studied and your key achievements. 
Pro Tip
If you are beginning your career, or have limited work experience, show your educational background before mentioning any employment history.
Key takeaways
After reading this article, you'll be better equipped with expert advice and skills to secure your dream job. Pursuing a career in sales provides ample opportunities for both personal and professional growth, so leverage this adaptability to succeed in your future endeavours. With the right mindset and self-confidence, you can thrive in this fast-growing and dynamic field. Believe in yourself, and we wish you success in your career journey.
Additional tips on landing a sales job:
Attach a cover letter alongside your CV

Write concisely and persuasively 

Aim at one or two pages of CV.

Create a job-specific CV for each sales job you apply for

Use exact keywords and phrases from the job listing and highlight all needed skills or attributes.

Personalise your CV to meet employers' needs and job requirements. 

Use professional templates to help seal the deal on your sales job.
Next steps?
Crafting a CV that grabs the recruiter's attention can be daunting, but with our professional CV Writing Service, you can create a sales CV that lands you an interview. Our experts will help you tailor your application to your desired role, ensuring you showcase your skills and experience in a cornice manner. Additionally, we can assist you with writing a corresponding cover letter or reviewing your LinkedIn profile. 
FAQ
What format to choose for a sales CV?
CVMaker insists you take advantage of the most desirable CV format: reverse chronological order. Recruiters and HR manager favour this CV type since it allows easy access to your most recent career details. Moreover, it gives them a quick overview of what you've achieved so far! 
What to include in the sales assistant CV?
The first step in writing your sales assistant CV is understanding what sections to include. If you're unsure what you should put on a CV for a sale role, consider formatting and structuring your CV using the recommended format and structure. CVMaker suggests the following fundamental sections:
Personal details

Personal profile, also known as personal statement

Work experience

Skills section

Education section
How to write a sales CV with little to no work experience?
If you have limited work experience or have changed careers, consider creating a skill-based CV to show how your current qualities and abilities fit a sales job. This skill-based approach effectively showcases transferable skills to help you transition into a new role.
What are the different types of sales career paths in 2023?
There are many different career paths and types of sales roles that you can explore. These positions vary with competency and experience levels and include:
Inside sales: Responsible for serving current clients and maintaining the company's relationship with them.

Outside sales: Face-to-face selling to customers outside the office.

Sales support: Work in a team to support the salespeople.

Client services: Ensure customer satisfaction and increase sales to existing customers. Similar to inside sales.

Lead generation/development: Research and network to obtain new business contacts that may become customers.

Business development: Sell, sell, sell by any means, including door-to-door or cold calling.

Account manager: Focus on existing accounts and continue selling new services or products to these accounts.
How do you prepare for an interview for a sales position?
During your job interview, it is essential to have familiarity with the company when responding to questions related to sales, as this demonstrates that you have researched the company and are knowledgeable about the culture. Your responses should be tailored to answer questions such as 'will you fit into our culture?' and 'what can you do to improve our sales numbers?'. Preparing for such questions will show the hiring manager that you understand their needs and goals.
Land the interview for your dream job with CVMaker
Effortlessly create your professional CV within 10 minutes and download it whenever and wherever you want!
Create your CV
Increase your chances landing your dream job with CVMaker.