Sales Manager
Having progressed through a series of roles with increasing scope and responsibility, Robert selected the Cornell CV template to showcase his career growth and key skills.
Create your CV
"Senior sales professional with 10+ years of experience in exceeding sales targets. Influential leader, adept in mentoring cross-functional and performance-driven teams."
Robert Tippins
- Sales Manager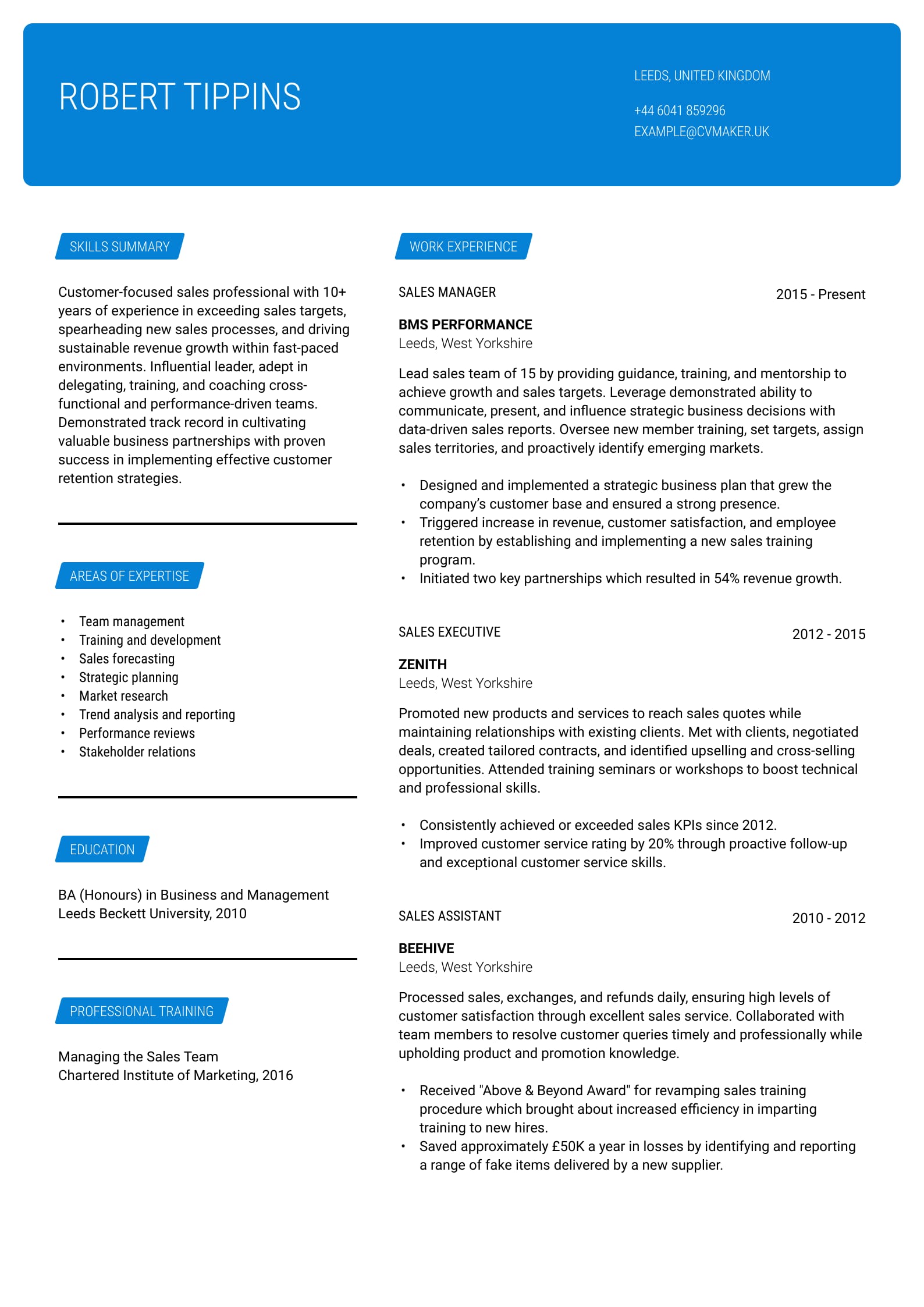 How to create a sales CV? Best writing tips and examples!
Considering applying for a sales job? You need to start with a sales CV that opens the door to an interview. A CV that'll get a hiring manager to stop sifting through their pile of CVs and reach out to you instantly.
The most effective way to do this is to focus on your career achievements. It's often said that you should sell the solution to a problem rather than a product offering or features. The same applies to your application. Highlight your winning negotiating, relationship building and problem-solving abilities. This will transform your CV into a story of exceeded sales targets, lucrative contracts won and large amounts of revenue generated.
So before you hit send on your next sales application, read this below and build yourself the perfect sales CV that'll open up opportunities for you.
A great sales CV is like the best of your initial pitches: it gets you in front of the client (or in this case hiring manager) so you can make the sale. Get your presentation in order and you will be on your way to your next sales gig.What does a sales professional do?
Sales professionals sell, of course, but there's more to it than offering a product or service and walking away. Sales professionals must know about what they are selling. But they also have to understand their clients, the market and what differentiates what they sell from other like products.
The seven types of sales jobs
Not all sales jobs are alike. Here are seven different roles for salespeople:
1. Inside sales: Responsible for serving current clients and maintaining the company's relationship with them.
2. Outside sales: Face-to-face selling to customers outside the office.
3. Sales support: Work in a team to support the salespeople.
4. Client services: Ensure customer satisfaction and increase sales to existing customers. Similar to inside sales.
5. Lead generation/development: Research and network to obtain new business contacts that may become customers.
6. Business development: Sell, sell, sell by any means including door-to-door or cold calling.
7. Account manager: Focus on existing accounts and continue to sell these accounts new services or products.
The sales job market is very much dependent on what you sell. The advertising sales industry is completely different from the car sales market. Many high-tech companies are ramping up after pandemic layoffs, and salespeople are needed, but difficult to find, according to the Wall Street Journal. That's does not apply in all sales areas.
Some salespeople may generate their own leads, while others will either receive leads from marketing department or have people walk into their place of business looking to buy. Salespeople may have one client who they are responsible for, which means they must have a great relationship with that client and be able to anticipate and address their needs and any problems that arise. Other salespeople have repeat clients or must continuously find new sales targets.
CV example - Sales CV role - Cornell template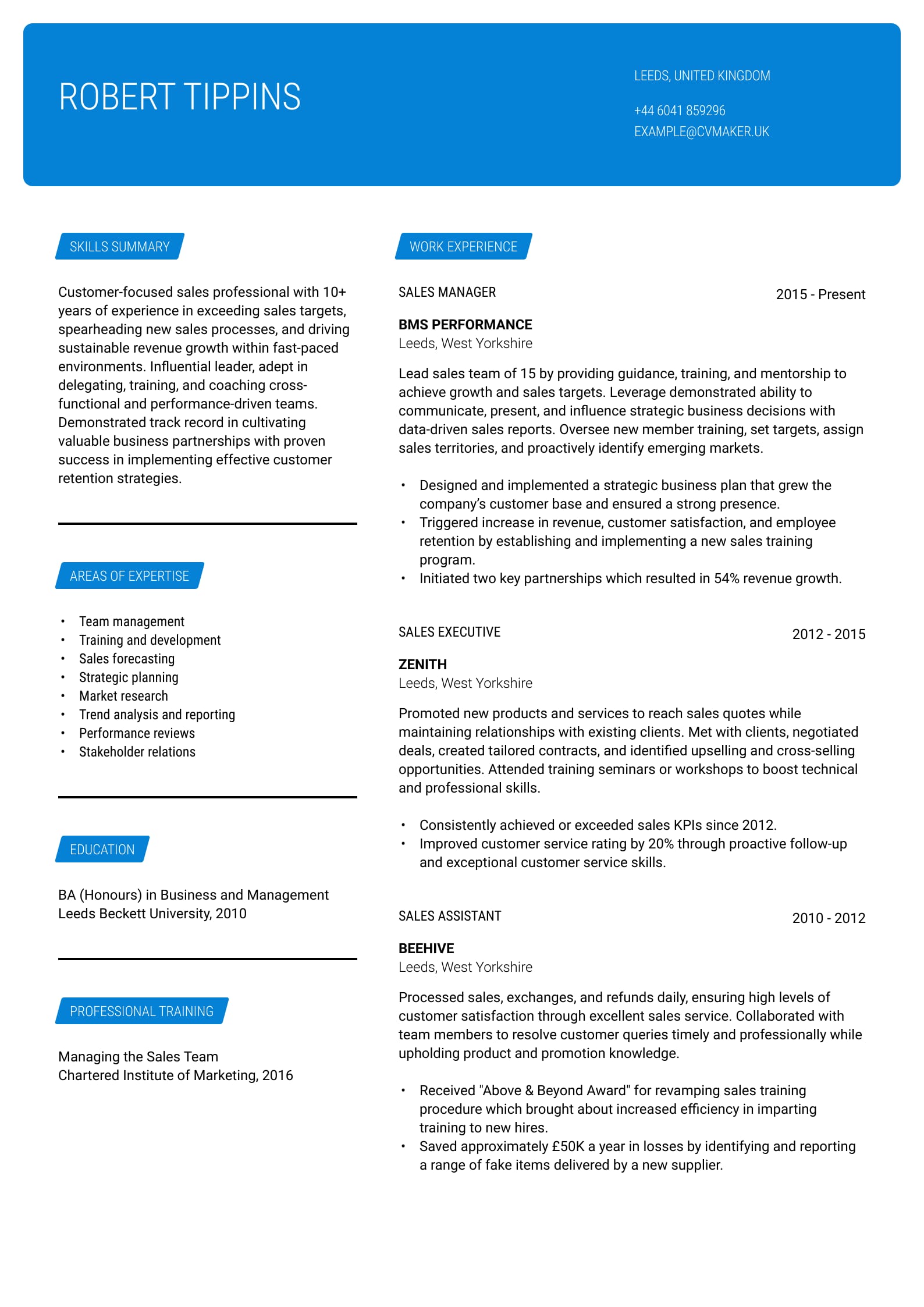 Download this CV example - Sales Manager role
What should I include in my sales CV?
The very first step in writing your sales CV is understanding what sections to include. Your CV should contain the following elements:
Personal details

Personal statement

Work experience

Skills section

Education section

References (optional)

Languages (optional)
Within that framework, you need to address the sales needs of your prospective employer in the tone that matches the company's style. Just as you research your clients before making your pitch, you should research the company here and aim your pitch directly at the hiring manager or your prospective boss. This has the dual purpose of answering the questions, "Will you fit into our culture?" and "What can you do to lift my sales numbers?"
A great CV sells you as well as you sell products
A sales CV must represent your experience and your role as a salesperson. Take these steps to help ensure you get the interview:
Directly address the needs of the company and show how you can fill those needs with skills you have already demonstrated.

Make a professional first impression with a clean, easy-to-read sales cv layout and design.

Focus on the keywords and phrases you need to include to avoid being filtered out by the ATS.
ATS optimisation
Almost all large companies use an Applicant Tracking Systems to scan and sort CVs. To help you beat the algorithms designed to filter out weaker CVs, make sure you personalise you application for each job. Here are some steps to make that process easy:
Analyse the job listing and highlight all needed skills and attributes.

Mark the ones you have.

Check your CV to make sure they are included at least once.

Use exact keywords and phrases from the job listing.
Targeting not only helps you beat the ATS, but it tells the hiring manager that you want that specific job.
How to write a CV for a sales professional?
Here we recommend you stick with the most popular CV format: reverse chronological order. Why? Recruiters and hiring managers like it best. They know exactly where to find the information that is important to them and they can quickly see where you are in your career right now.
Personal statement - your elevator pitch
Within your sales CV, this section is the one place you can show off your smooth sales talk. The rest of your CV consists of bulleted items, but here you have the freedom of 4-5 sentences. Describe your sales style while you wow them with your sales numbers.
Don't repeat what you will detail in your experience section, but put a spotlight on one or two of your greatest sales achievements. You can find a CV example for your personal statement below.
Personal statement example
Experience and motivated Sales Professional with five years of experience in high level sales environments. Proven track record of expanding businesses by successfully networking and forming smart partnerships. Self motivated and driven to help increase the prosperity of a business while working to enhance their reputation.
Sales CV skills - attributes in demand
What makes you a great salesperson? Can you explain your top skills? That's what you are tasked with doing in the skills section of your sales CV. Sales takes top soft skills but you also need a depth of knowledge in your industry and be a savvy user of sales applications.
Create a list that speaks directly to the needs of your targeted employer by reviewing the job listing and your research one more time. Choose skills that match closely with those the new position demands.
Try to find a balance between your interpersonal skills and your technical expertise. Below you will find hard and soft skills examples.
Sales skills section example
Soft Skills: self-awareness, self-regulation, communication, social skills, motivation, empathy.

Hard skills: analytical thinking, team management, business development, innovation.
CV layout and design: showcase your style
You know how important first impressions are, so apply that knowledge here. Use these helpful hints for presentation to enhance the look of your sales CV.
Think easy-to-read. While you want to capture attention, your real goal is to get your document read. Keep your margins at one inch and use a clear, legible font. Leave ample with space.
CV Maker tip:
The key components of your CV are your contact information and your most recent job and title. This is where HR managers look first, so make sure these items are easy to find.
Finally, make sure your CV text and formatting are free of typos and errors. Using an online builder tool such as the one from CVMaker to get your job hunt going quickly.
Key takeaways for a sales CV
Focus each CV on your targeted job by personalising your sales CV to address the needs of each employer.

Use your excellent communication and sales skills to sell your prospective employer on you.

Take advantage of the CVMaker online CV builder to help you seal the deal on you new job!
Land the interview for your dream job with CVMaker
Effortlessly create your professional CV within 10 minutes and download it whenever and wherever you want!
Create your CV
Increase your chances landing your dream job with CVMaker.