Estate Agent CV
Deniz has chosen the Wheaton template as a starting point for a crisp and cool CV. Embracing ample negative space, a contemporary font, and optimal section spacing, she demonstrates that, much like her deals, her CV is meticulously crafted with careful consideration rather than hurriedly put together.
Start your CV
"Highly motivated and results-driven Real Estate Agent with over 5 years of experience in the UK property market. Proficient in negotiating and closing deals, complemented by strong interpersonal skills for fostering enduring client relationships."
Deniz Yildiz
- Real Estate Agent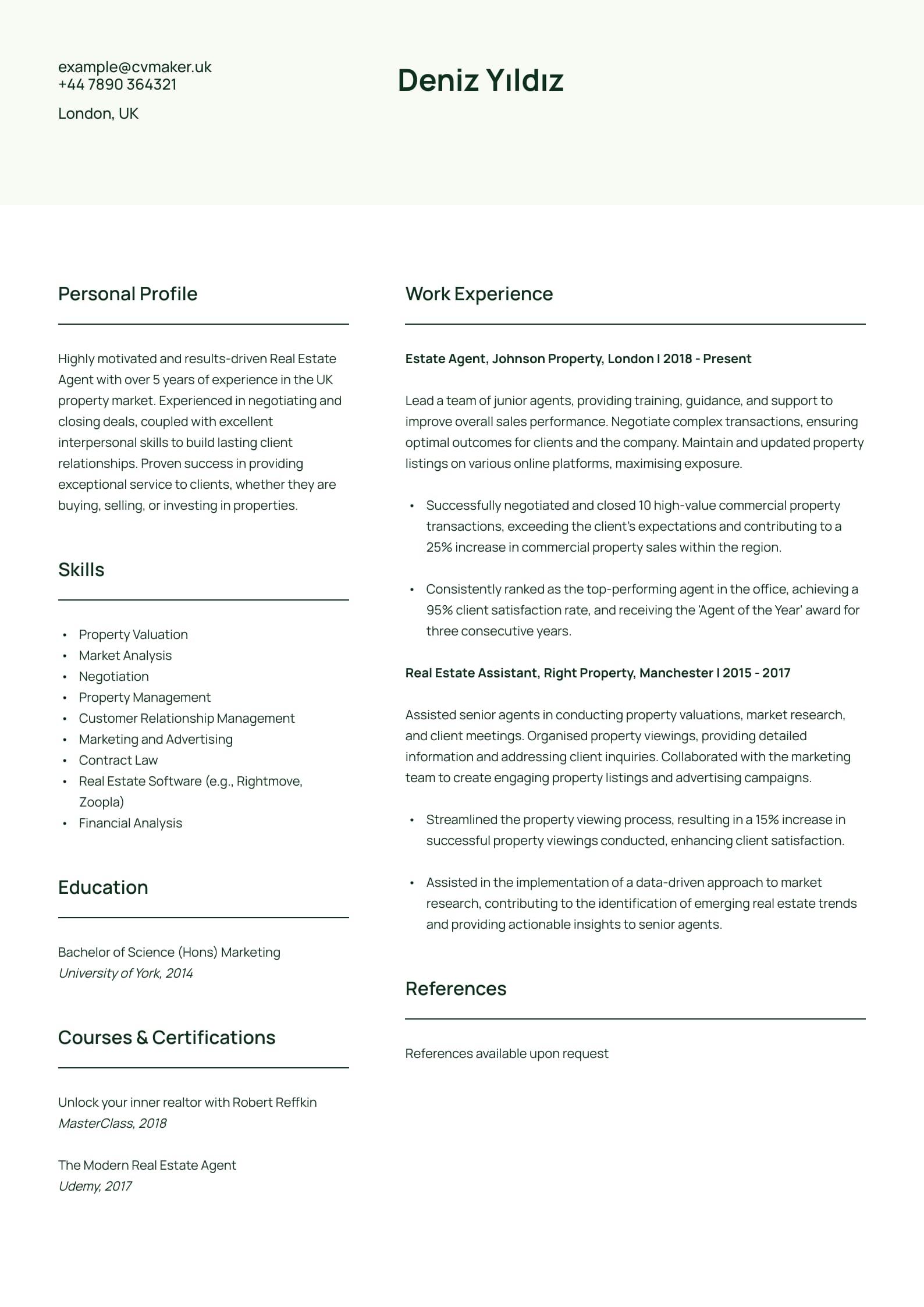 How to Write a Estate Agent CV: Examples and Tips
Real estate is a fast-paced and rewarding field, where agents are the key players in guiding clients through the significant milestones of buying or selling properties.
From suburban homes to commercial complexes, the industry offers a range of opportunities for those with a knack for negotiation, a talent for relationship-building and a drive to succeed in a competitive environment. In the UK, entry-level positions typically don't require a licence, but you can grow into different roles such as:
Buyer agent

Seller agent

Property consultant

Valuer

Office owner

Regional investor.
Your CV is the foundation of your professional persona in the real estate sector. Crafting a CV template that stands out is crucial in showcasing your potential and landing your dream job as an estate agent.
In this guide, we show you how to create a professional modern CV tailored for the UK real estate market. We share tips and strategies on how to write a good CV, helping you unlock new doors in this dynamic field
Estate Agent CV example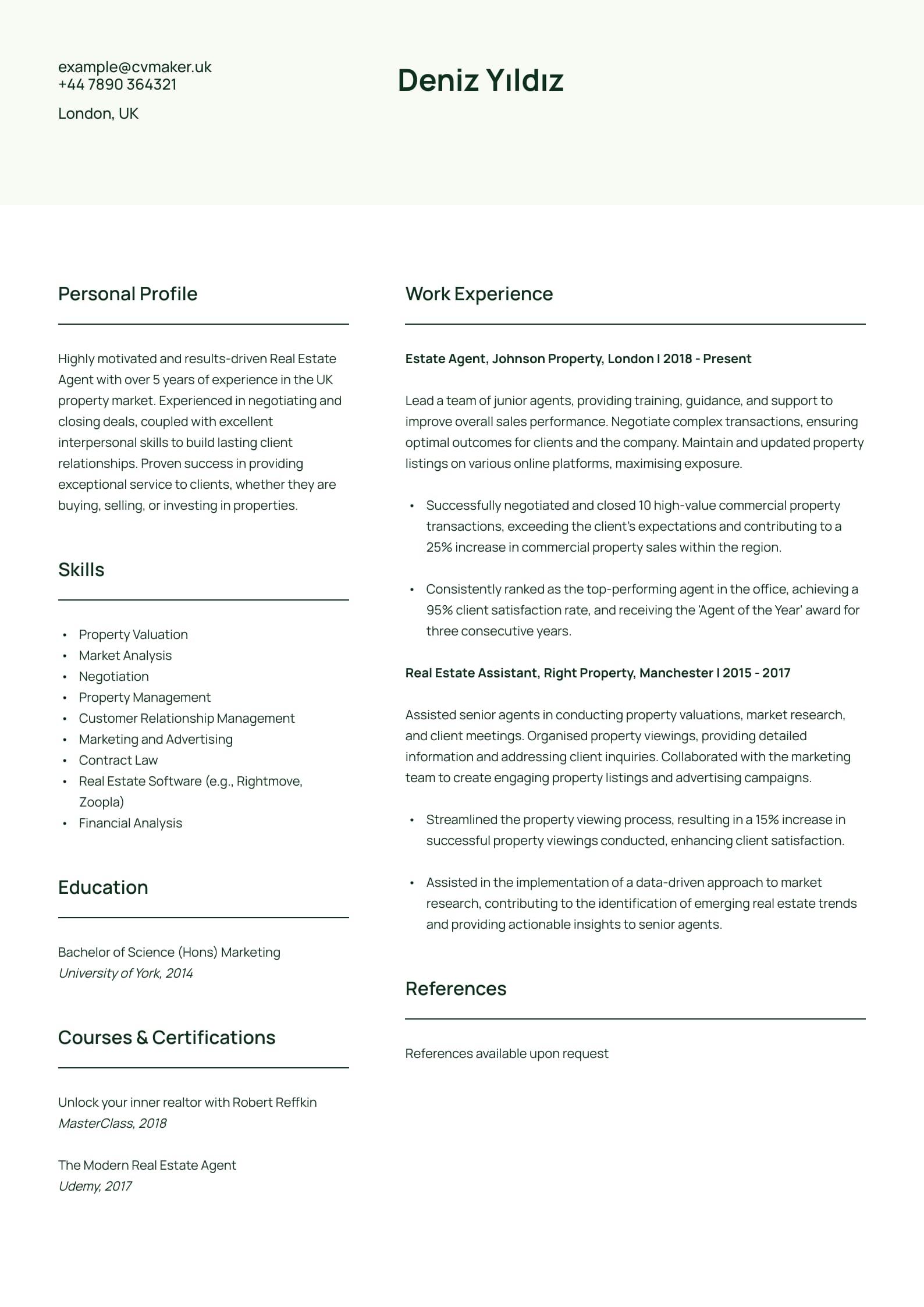 Download this estate agent CV example in PDF.
Deniz has chosen the Wheaton template as a starting point for a crisp and cool CV. Utilising lots of negative space, a modern font and the perfect distance between each section, Deniz shows, just like her deals, her CV is never rushed and always thought through.
What to include in an estate agent CV? 
Real estate is often a second career for many, and hiring managers are on the lookout for candidates with diverse skill sets who can confidently transition into the role. They value clear, concise information that highlights a candidate's potential. Key sections of a real estate CV might include:
Personal details

Personal profile

Professional experience

Education and qualifications

Relevant estate agent skills

Awards

Additional certifications or training.
Creating a CV for a career in real estate, much like in hospitality or making a career change, demands a thoughtful approach that showcases your transferable skills and eagerness to enter a new field. Before you dive into writing, consider the following: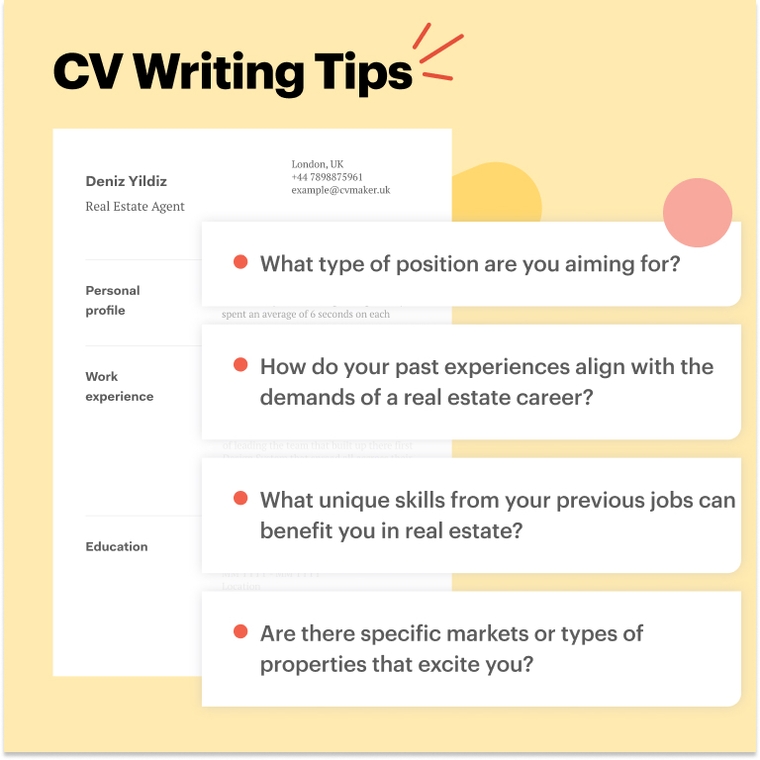 When thinking about where to start writing your CV, an effective tactic is to compile a master CV - a detailed inventory of all your professional experiences and accomplishments. While this version is for your eyes only, it's a valuable resource from which you can craft job-specific CVs tailored to different job descriptions.
Show your passion in your personal profile 
A personal profile on a real estate CV is a quick pitch at the top of your document, showcasing your best skills and past wins. Whether you want to be a listing agent, property valuer or team lead, this is your chance to grab a client's or office owner's attention, showing them what you can do.
It tells them who you are, what you've achieved, and where you're heading in the property world. For a step-by-step on nailing this section, check out our guide on how to write a personal profile, complete with tips and examples.
Trainee estate agent CV personal profile example
Eager and dynamic individual with a strong foundation in customer service and sales, seeking to launch a career as a Trainee Estate Agent. Brings forth a keen interest in real estate markets combined with excellent communication and negotiation skills. Committed to learning and excelling in property valuation and client advisory services to facilitate successful real estate transactions.
Estate agent CV personal profile example
Seasoned estate agent with a proven six-year track record of exceeding sales targets in competitive markets. Offers a robust network of local contacts and a deep understanding of property law and market trends. Specialises in delivering exceptional client experiences through superb negotiation and interpersonal skills, ensuring smooth transactions and client satisfaction.
Property sales negotiator CV personal profile example
Results-driven property sales negotiator with four years experience, a flair for persuasive communication and a passion for real estate sales. Demonstrates a history of successfully closing deals by leveraging outstanding negotiation tactics and in-depth knowledge of the property market. Adept at building relationships and crafting win-win scenarios for buyers and sellers alike.
Junior estate agent CV personal profile example
Motivated junior estate agent with two years experience building a comprehensive understanding of the real estate sector, eager to apply developing knowledge and internship experience to real-world property sales. Recognised for exceptional sales support skills and the ability to quickly learn from senior agents. Dedicated to contributing to team success through hard work, attention to detail and excellent organisational skills.
In the UK, estate agents can offer an apprenticeship as a junior estate agent. Learn more about how to write an apprenticeship CV.
Pro Tip
A well-crafted personal profile should not only list your qualifications but also demonstrate how your skills and experiences make you a valuable asset.
Key skills for an estate agent CV 
Knowing how to list skills on a CV for a real estate position is an opportunity to shine and demonstrate the expertise you bring to real estate. Hard skills should be listed in a skills section. Soft skills can be woven into your personal profile and demonstrated through your work experience.
Remember, if you're preparing a CV with little to no work experience, transferable skills from other professions should be prioritised. Real estate is a profession which responds well to applicants who bring expertise from other industries. Consider writing a skills-based CV if you are just starting out in this role.
Hard skills

Soft skills

Property valuation

Communication

Knowledge of real estate law

Negotiation

Local and regional market analysis

Client service

Real estate CRM software proficiency

Networking

Financial analysis

Persuasion

Marketing and advertising

Problem-solving

Property management

Time management

Real estate development

Adaptability
Common transferable skills from other professions:
Sales expertise (from sales)

Candidate assessment (from recruitment)

Customer relationship management (from retail)

Strategic planning (from business management)

Conflict resolution (from customer service)

Project coordination (from administrative roles)

Marketing campaign management (from marketing)

Team leadership (from any supervisory position)
Include relevant work experience 
For work experience on an estate agent CV, where hands-on experience can be as telling as formal qualifications, it's essential to detail your history of sales, client management, and property knowledge. Just as a lawyer must showcase their understanding of the law and a consultant their expertise in advising clients, a real estate agent's CV must reflect a deep understanding of property markets and client relations.
For guidance on structuring this crucial section, consider exploring how to write work experience for clear, impactful descriptions that resonate with potential employers.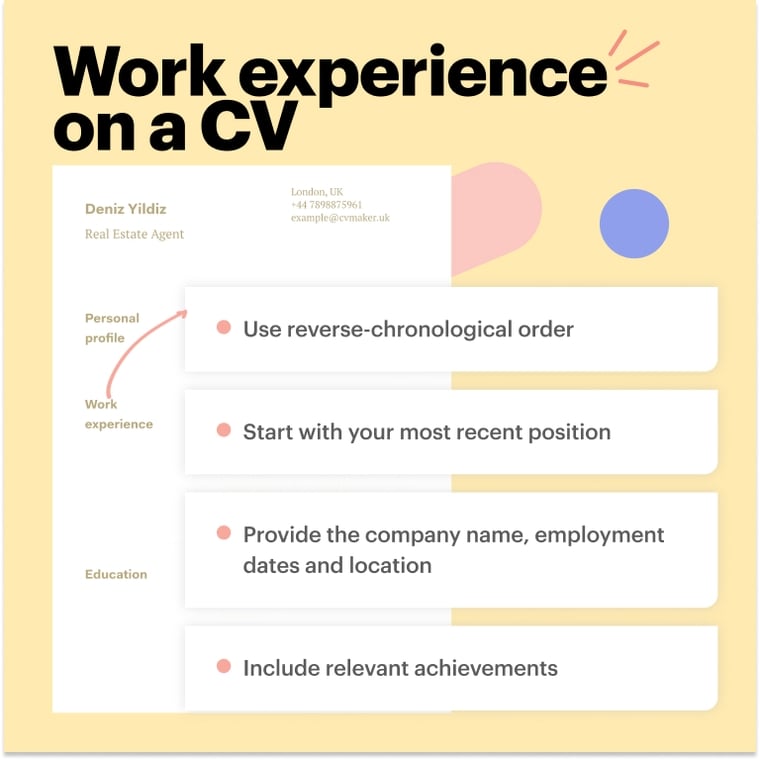 Estate Agent CV work experience examples
Junior estate agent, Homefront Realty, Leeds, 2021 - Present
Engage with clients to understand their property needs, providing guidance on market trends and property values. Support senior agents in organising open houses and viewing appointments, ensuring a smooth client experience. Maintain property listings and client databases, utilising CRM software to track sales processes and client communications.
Assisted in increasing the branch's quarterly sales volume by 20% through effective client follow-ups and enhanced property presentations.

Contributed to a 30% increase in client retention by developing personalised property portfolios based on individual client preferences and investment profiles.
Estate agent, Cityscape Estates, Bristol, 2019 - 2022
Managed a portfolio of residential properties, driving sales through strategic marketing and personalised client services. Negotiated sales and rental agreements, optimising terms for clients and ensuring compliance with regulatory standards. Cultivated strong relationships with buyers and sellers, facilitating smooth transactions and consistent referrals.
Achieved a record-setting sale of a residential property at 25% above market value, highlighting negotiation expertise and market knowledge.

Initiated a partnership with a local staging company, resulting in a 15% faster sale rate of listed properties.
Property consultant, Langosta Properties Consultancy, Malaga, 2017 - 2020
Delivered expert advice on property investment and market dynamics, guiding clients through the acquisition and sale of high-value properties. Conducted comprehensive market analyses, providing clients with insights into investment opportunities and trends. Developed tailored investment strategies, aligning with clients' long-term financial goals.
Directed a property portfolio restructuring for a major client, which increased their investment returns by 18% within two years.

Orchestrated a client-exclusive seminar series on market trends, which contributed to a 25% growth in consultancy services uptake.
Tips on how to write an estate agent CV with little to no experience
If you're joining the industry from another profession or as a graduate or school leaver, be sure to emphasise transferable skills gained from your previous experiences such a volunteer work, part-time work or school-based acvitivies.
Volunteer, Intake School, Sheffield, 2023
Proactively engaged in a variety of activities to gain practical understanding and skills relevant to the real estate industry. Volunteered to assist at local property auctions to gain insight into the property sales process and valuation methods. Completed a series of online courses focused on real estate fundamentals, property management, and digital marketing strategies for the property market.
Conducted independent research on local property market trends, compiling a comprehensive report that identified potential growth areas and investment opportunities.

Initiated a community project to refurbish a local landmark, coordinating with stakeholders and managing schedules, which honed project management and negotiation skills applicable to real estate transactions.
Discover more tips on how to write a CV with little to no work experience to set yourself ahead of the competition.
How to include education on an estate agent CV 
Understanding the nuances of real estate requires a solid educational foundation, which is why detailing your academic achievements is crucial. Begin by listing your most recent qualifications and work backwards. Be sure to list the official title of the qualification given, the institution that awarded it and the year of completion.
The education section demonstrates a commitment to the field and equips you with theoretical knowledge that can be applied in practice. Ensure your qualifications are clearly presented by effectively writing the CV education section.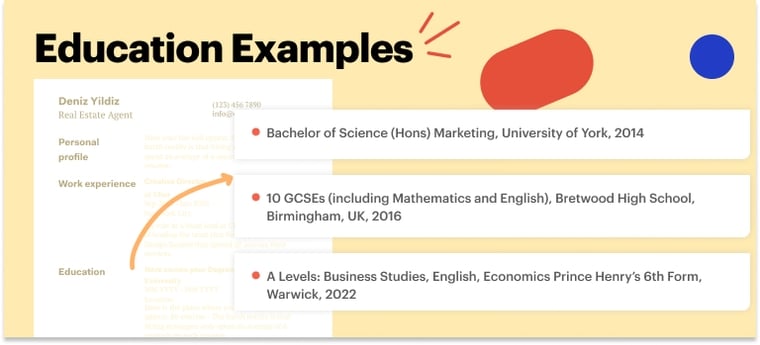 Awards on a CV
Awards and achievements on a CV are an important part of quantifying success as a real estate agent. Awards can be listed throughout a CV, in its own section, in the beginning, or incorporated into education or work experience. It depends on the number of awards you have and the spacing on your CV. Awards show you have a history of success in the industry and demonstrate to clients you are a trustworthy and customer-oriented professional.
Individual offices, larger regional franchises and industry-wide bodies all have annual awards real estate agents can participate. While being nominated may seem like a closed shop at first, it is worth persevering through as they are highly sought-after by employers and can turn a good CV into a great one.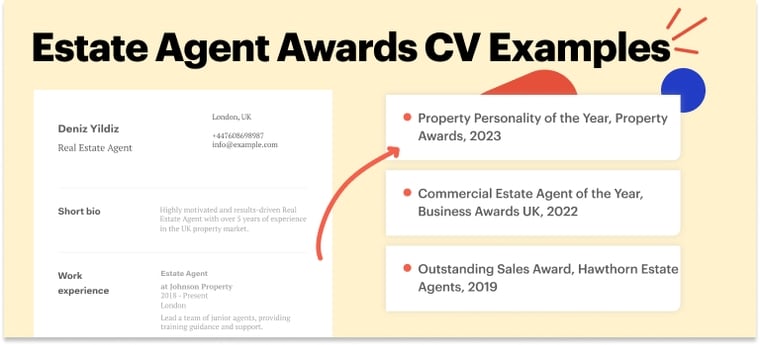 Key takeaways 
Let's recap a few key takeaways for crafting an excellent real estate CV:
Identify your niche: Clearly define your real estate speciality, whether it's as a buyer agent, seller agent, or property consultant. Tailor your CV to showcase skills and experiences that align with these roles, emphasising any relevant pre-employment activities or transferable skills.

Craft a compelling personal profile: Your personal profile should be a snapshot of your professional identity, highlighting your passion for real estate and your key achievements. Make it engaging and specific to the role you're targeting.

Highlight key skills: List hard skills such as property valuation and market analysis, and soft skills like communication and negotiation. Remember to include transferable skills from other industries, which are highly valued in real estate.

Detail relevant work experience: Use clear, impactful language to describe your work experience. Focus on quantifiable achievements to demonstrate your effectiveness in previous roles, even if they weren't in real estate.

Education and awards matter: Include your educational background, starting with the most recent qualifications. Also, mention any industry awards you've received, as they add credibility and highlight your success in real estate.
Next steps?
Iron out any creases using our intuitive CV builder with 20+ templates and professional designs to choose from. To accompany your CV, discover our cover letter templates. If you don't want to leave anything to chance, connect with our professional CV Writing Service. Draw inspiration from our blog for tips on how to save time, emphasise important sections and make it easier for hiring managers to grasp your unique professional offer.
FAQs
What qualifications do you need to be an estate agent in the UK? 
No formal qualifications or licence are required to start as an estate agent in the UK, but employers may prefer a strong educational background or a degree in a relevant field like business or marketing.
Can you apply for an estate agent position with no experience? 
Yes, you can apply for an estate agent position with no experience by highlighting transferable skills, voluntary work, hobbies and interests, or relevant courses that demonstrate your potential and eagerness to learn.
What is the must-have information for an estate agent CV? 
An estate agent CV must include contact information, a personal statement, work experience, key skills relevant to real estate, education, and any professional awards or recognitions.
What is the best CV format in the UK for an estate agent CV?
A reverse-chronological format is best for an estate agent CV in the UK, showcasing your most recent and relevant experiences first, and highlighting your career progression. Ensure your CV is easy to read and use a consistent format. Refer to our chronological CV example for more inspiration.
Land the interview for your dream job with CVMaker
Effortlessly create your professional CV within 10 minutes and download it whenever and wherever you want!
Create your CV
Increase your chances landing your dream job with CVMaker.