Hospitality CV
Ram's choice of the Cambridge template for his CV is a testament to his commitment to professionalism and attention to detail. His exceptional track record in the hospitality industry speaks volumes about his expertise and accomplishments.
Create CV
"Experienced hospitality management professional with 5+ years of experience overseeing hotel operations and delivering exceptional guest experiences. Skilled in staff supervision, operations management, and customer service."
Ram Singh
- Hospitality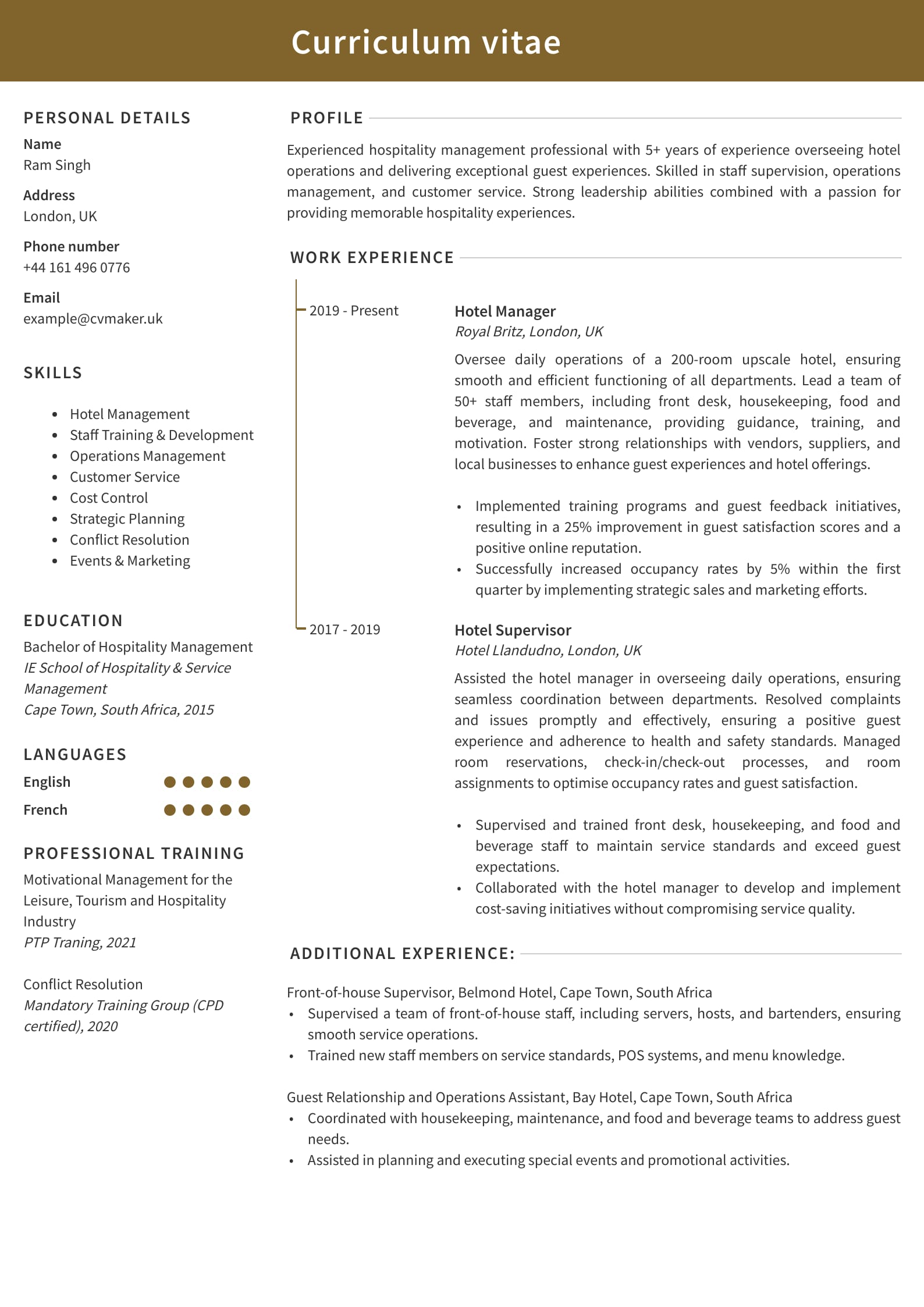 How to Write a Hospitality CV in 2023 (Writing Guide and Examples)
The hospitality industry is centred around delivering leisure services and encompasses a wide range of job roles. From customer-facing personnel who interact directly with guests to support staff who ensure smooth operations behind the scenes, each role plays a crucial part in the industry's functioning.
Irrespective of your specific position, there is one essential element that every hospitality worker requires to unlock their career potential: a well-crafted CV. Luckily, you've arrived at the perfect place to learn how to create one for yourself. We are here to assist you with a simple, step-by-step guide to enable you to craft a compelling CV specifically tailored for hospitality jobs.
The CV writing process: Where to start?
When it comes to writing a CV, it is important to be strategic and tailor it to align with your career goals. To begin, start by creating a comprehensive master CV. Regularly update it with personal details, work experience, education, skills, and achievements. Thereafter, tailor it to create job-specific CVs by highlighting relevant experiences and qualifications, customising the profile, and emphasising relevant skills to stand out in the job market. Tips to keep in mind:
Research the desired industry and job role to understand employers' specific needs.

Organise your CV structure with key sections: personal details, personal profile, work experience, education, and skills.

Showcase achievements related to your career goals, emphasising quantifiable results.

Incorporate keywords from the job description to optimise for applicant tracking systems (ATS).

Customise each CV for the specific application, showcasing how your skills match the role's requirements.

Proofread for errors, ensuring a concise and engaging CV that captivates hiring managers.
By tailoring your CV towards your hospitality career goals, you increase your chances of standing out among other candidates and landing your desired job. Below is a hospitality CV sample created using our very own CV and cover letter-building tool.
Hospitality CV example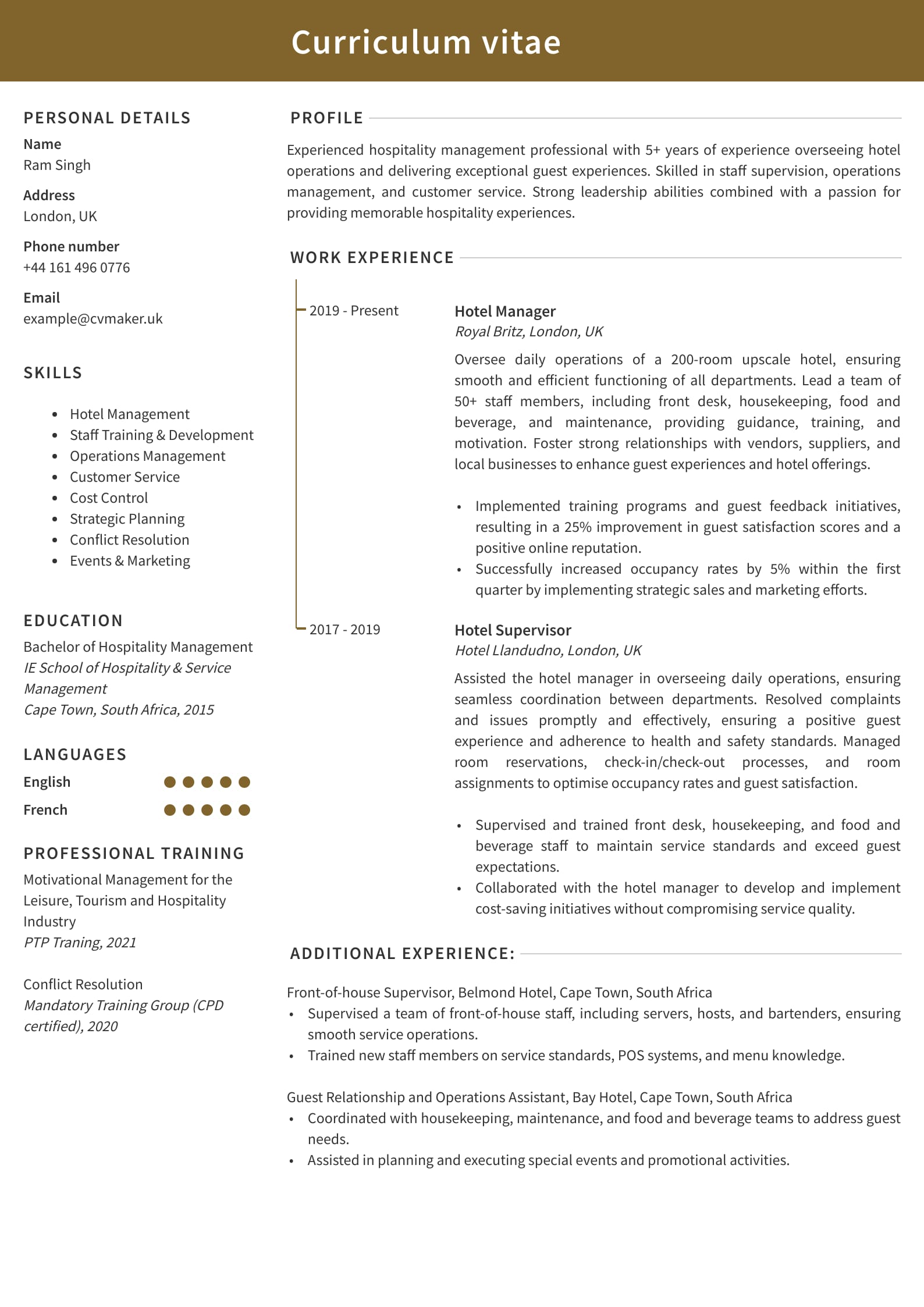 Download this hospitality CV sample in PDF.
Ram is an experienced hospitality management professional with over 5 years of expertise in overseeing hotel operations and consistently delivering exceptional guest experiences. His skill set includes proficient staff supervision, adept operations management, and exceptional customer service capabilities. His track record of success and dedication to the industry make him a highly valued asset.
What to include in a hospitality CV?
A good CV places emphasis on readability and strategically highlights essential sections that effectively showcase your qualifications, skills, and experience. These sections encompass various aspects such as personal details, a compelling personal profile, comprehensive education history, work experience, and a list of relevant skills. By meticulously organising and presenting these sections in a coherent manner, you can create a CV that captures the attention of employers and effectively communicates your suitability for a job.
How to write a personal profile on a hospitality CV
A personal profile is your chance to really highlight your professional experience. When writing a personal profile, make sure to highlight your strengths and achievements, leaving a positive impression of why you are the best candidate for the job.
Hospitality graduate CV personal profile
Recent Hospitality Management graduate driven by a passion for delivering exceptional guest experiences. Equipped me with a strong foundation in hotel and restaurant operations, customer service, and event management. Excellent communication skills with a keen eye for detail, and a collaborative spirit that allows me to work effectively within diverse teams.
Refer to our student or graduate CV example for more tips.
Hotel Operations Manager CV personal profile
Results-oriented and seasoned Hotel Operations Manager with 10+ years of success in leading high-performing teams and optimising hotel operations. Strong problem-solving skills with a proven ability to overcome obstacles and deliver exceptional results. Dynamic leader with proven ability to foster a culture of teamwork, employee growth, and guest satisfaction.
Restaurant Manager CV personal profile
Dedicated and hands-on Restaurant Manager with 5+ years of experience in overseeing restaurant operations with a keen appreciation for culinary excellence. Solid background in overseeing daily restaurant activities, ensuring high standards of service, hygiene, and customer satisfaction. Adept at building strong relationships with staff and patrons, fostering a welcoming atmosphere and repeat business.
Refer to our waiter or bartender CV example for more tips.
General Manager CV personal profile
Strategic and results-driven General Manager with a diverse background in the hospitality industry. Track record of successfully leading large teams, driving revenue growth, and optimising operational efficiency. Possess a deep understanding of hotel and restaurant operations, revenue management, and customer engagement.
Housekeeper CV personal profile
Meticulous and reliable Housekeeper with demonstrated ability to maintain impeccable cleanliness and organisation in hospitality settings. Keen eye for detail and a proactive approach, ensuring guest rooms and public areas are consistently presented to the highest standards. Excellent time management skills and the ability to prioritise tasks efficiently.
Refer to our cleaner CV example for more tips.
Chef CV personal profile
Innovative and creative Chef with a passion for culinary artistry and a dedication to delivering exquisite dining experiences. Diverse background in preparing and presenting a wide range of cuisines, with a focus on using fresh, locally sourced ingredients. Strong leadership and team-building skills enable me to inspire and motivate kitchen staff to perform at their best. Adaptable and open to experimentation, continuously seeking ways to elevate the dining experience and surprise guests with unique flavours and textures.
Refer to our chef CV example for more tips.
What skills should I put on my hospitality CV?
The best skills for hospitality jobs depend on the specific career path you pursue within the industry. When showcasing your abilities on your CV, it's essential to highlight a mix of soft skills, hard skills, and transferable skills relevant to your desired role.
Examples of hard skills:
Front Desk Operations

Food and Beverage Knowledge

Sales and Marketing

Event Planning

Point of Sale (POS) Systems

Budgeting and Financial Management.
Examples of soft skills:
Communication

Customer Service

Problem-Solving

Adaptability

Teamwork

Time Management

Conflict Resolution.
Examples of transferable skills:
Leadership

Multicultural Awareness

Customer Relationship Management (CRM)

Leadership

Project Management

Sales and Marketing

Training and Development.
Pro Tip
When constructing your CV, tailor your skills section to match the specific job you're applying for, highlighting the most relevant skills for that position. Additionally, provide concrete examples of how you've demonstrated these skills in your previous work experiences to showcase your capabilities effectively.
Refer to our article on how to include language skills in a CV or a barista CV example for more inspiration.
How to write work experience on a hospitality CV
Regardless of whether you possess relevant experience or are embarking on the early stages of your career, the work experience section of your CV offers a valuable platform to highlight your skills and accomplishments. Notably, in the dynamic and fast-paced industry, it becomes crucial to emphasise the tasks you performed and the achievements you attained in your past or current roles. This approach effectively showcases your ability to thrive and make a significant impact within the demanding hospitality sector.
Examples of work experience
Hotel Operations Manager, LuxeHaven, UK | 2019 - 2023
Led and managed daily hotel operations, overseeing a team of 50+ employees and maintaining a strong focus on guest satisfaction and employee engagement. Oversaw the successful planning and execution of large-scale events and conferences, ensuring seamless coordination and guest satisfaction. Conducted regular staff training and development programs, maintained a high standard of cleanliness and hygiene.
Implemented efficient systems and processes to enhance guest experiences, resulting in a consistent increase in positive guest reviews by 25% over the past two years.

Fostered a culture of excellence, teamwork, and customer service, resulting in the hotel being awarded "Best Customer Service Hotel" in the region for three consecutive years.
Front-of-house Manager, SereneVista Hotels, UK | 2019 - 2023
Managed all front-of-house operations, including a team of 30+ reception, concierge, and guest services team members, ensuring smooth and efficient guest experiences from arrival to departure. Collaborated closely with housekeeping, maintenance, and F&B departments to ensure seamless communication and coordination. Conducted regular staff meetings to communicate updates, new procedures, and address concerns, fostering a positive and collaborative work environment.
Implemented innovative guest engagement strategies, resulting in a 15% increase in positive guest feedback and a TripAdvisor rating of 4.7 out of 5.

Implemented a training program focused on enhancing staff's soft skills, resulting in improved guest interactions and a 25% reduction in guest complaints.
If you have little to no experience, refer to our skills-based CV example. Alternatively, if you are switching careers and have an interest in food and beverage or perhaps travel and tourism, check out our article on how to write a career change CV for more tips.
How to list education section on a hospitality CV
The UK is one of the world's top destinations for people to enter into a career in hospitality. Moreover, tourism is a major industry and contributor to the economy with endless job opportunities. When it comes to including education or courses and certifications on a CV, it is important to have formal qualifications for more management positions.
Key takeaways
Working in this industry can be a highly gratifying career path if you excel at your craft. Nevertheless, it is also undeniably one of the most challenging fields. To increase your chances of landing more job interviews, it is essential to have a well-crafted CV that showcases your skills effectively. A few pro tips to keep in mind:
Organise the CV with clear and distinct sections for easy readability.

Emphasise relevant work experience that aligns with the job you're applying for.

Ensure a polished and error-free CV to make a strong first impression.

Use concise and impactful language to showcase your skills and achievements.

Tailor the CV to the specific job role, focusing on what makes you a perfect fit.

Quantify your accomplishments whenever possible to demonstrate your impact.
Next steps?
Our professional CV templates are well-structured and can be easily recreated in our CV Builder. If you are seeking professional writing support, find out more about our CV Writing Services or refer to our 40+ CV examples for inspiration.
FAQ
What is a professional summary for a hospitality CV?
This section should highlight your key strengths and qualifications relevant to the industry. It should also emphasise your ability to deliver outstanding customer service, efficiently manage hotel operations, and create a warm and inviting atmosphere for guests.
How to write a hotel management CV?
Always start with a personal profile (also known as a professional summary) that showcases your expertise and skills in managing hospitality operations. Thereafter, include relevant work experience, emphasising your accomplishments and leadership abilities. Highlight your communication, problem-solving, time management, and team-building skills. Additionally, include any certifications or training programs related to hotel management.
What are hospitality management skills?
These skills include strong communication to interact with guests and staff, problem-solving abilities to handle various situations, time management to meet deadlines and handle tasks efficiently, and leadership qualities to motivate and lead the team to success.
How to write a hospitality CV with no experience?
Focus on highlighting transferable skills and any relevant educational qualifications or certifications. Emphasise your passion and willingness to learn and grow. Moreover, include any volunteer work, internships, or part-time jobs demonstrating your ability to work in a service-oriented environment. Refer to our skills-based or career-change CV examples for more information.
What are the different career paths within the hospitality industry?
Hotel Management

Food and Beverage Management

Event Planning and Management

Travel and Tourism Management

Hospitality Consulting

Resort Management

Front Desk Operations

Sales and Marketing

Human Resources in Hospitality

Restaurant Management.
See examples of our sales, marketing, or human resources CVs for more inspiration.
Land the interview for your dream job with CVMaker
Effortlessly create your professional CV within 10 minutes and download it whenever and wherever you want!
Create your CV
Increase your chances landing your dream job with CVMaker.