Chef
Christopher Stanley has opted for the Oxford template due to its easy to read format and presents her work experience, personal profile, and skills in a cohesive and well-structured form.
Create your CV
"Ambitious Sous Chef with over 7 years of experience leading culinary teams in high-end restaurants and hotels. Reputable track record of overseeing staff, streamlining kitchen operations, and creating innovative menus that exceed guest expectations. Certified in health and safety regulations with proven success in promoting collaborative and efficient work environments."
Christopher Stanley
- Sous Chef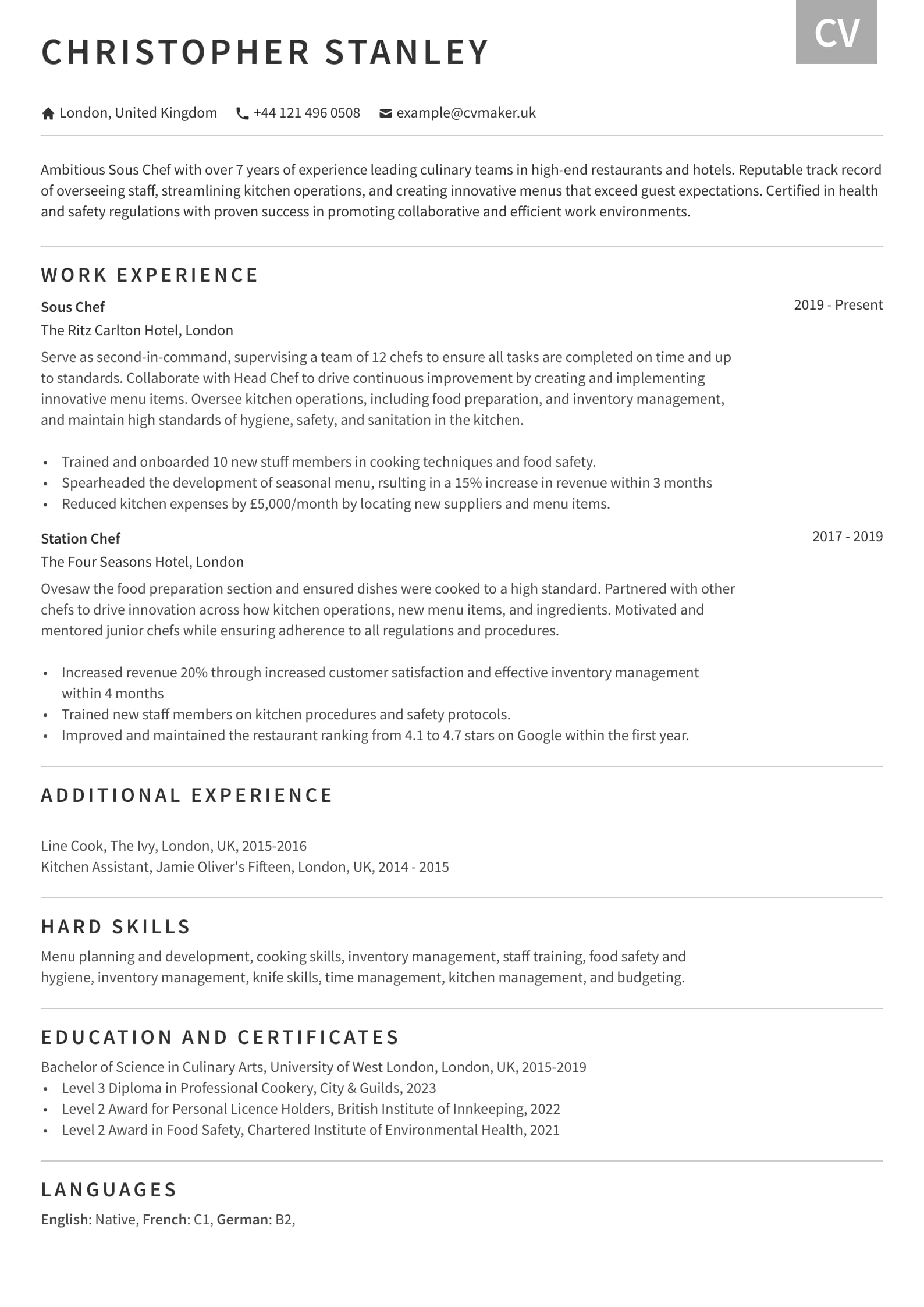 How to sharpen your Chef CV: writing guide, example, and tips
Just as Chefs sharpen their knives, you need to hone your CV to showcase your achievements and career aspirations. Your CV is a ticket to your dream job; however, the journey towards it can be challenging, especially when you don't know where to start. Furthermore, the process might not always be straightforward, given the demanding nature of the job that entails long working hours and fast-paced work environments. A Chef CV should reflect your passion for cooking, creativity, and ability to work under pressure, whether you want to work in a restaurant, catering, or culinary school. 
Are you familiar with ATS? It stands for applicant tracking system (ATS). This automated software is used by recruiters and hiring managers to screen CVs based on several factors, such as years of experience, expertise with certain tools, or knowledge of an industry niche. Creating an ATS-friendly CV will increase your chances of getting noticed and eventually being invited to an interview. 
This Chef CV writing guide covers everything you need, regardless of your role in the culinary industry. From Head Chef to Commis Chef, we'll show you what sections to include and what information to list. Our step-by-step process gives insight into the UK job market, providing the latest industry examples and tips to help you create an outstanding CV reflecting your skills and experience. So, whether you're a seasoned professional or just starting your culinary career, let's dive in and create a Chef CV to help you stand out and land your dream job.
The CV writing process: Where to start?
To create an effective Chef CV, starting with a clear understanding of your career goals is essential. Take a step back and think about the type of Chef role you're interested in. Answering these questions will help you tailor your CV to the job you're applying for and increase your chances of success.
Once you have a clear idea of your career goals, it's time to start the CV writing process. We recommend creating a master CV and a job-specific CV.
Master CV for a Chef
The master CV is a comprehensive document including all your skills, experience, and achievements. It serves as a foundation for your job-specific CVs, allowing you to quickly and easily tailor your CV to any job you apply for.
For more details, see our cornerstone article on how to write a good CV.
Pro Tip
Keep this document up-to-date as you gain new skills and experiences. Doing so can help you keep track of all your changes and achievements from past to present. Ultimately, it ensures consistency, allowing you to easily copy and paste the necessary information for your job-specific CV.
Job-specific CV for a Chef
The job-specific CV should be tailored to the specific job you're applying for. It should highlight the skills and experience that are most relevant to the job, using keywords and phrases that match the job description. Doing this will make you more likely to stand out from other applicants and increase your chances of being selected for an interview.
There is a common misbelief that creating a generic CV and using it to apply for several jobs increases your chances of landing a job. In reality, this strategy can be detrimental to your job search and backfire your chances of landing a job interview.
Chef CV example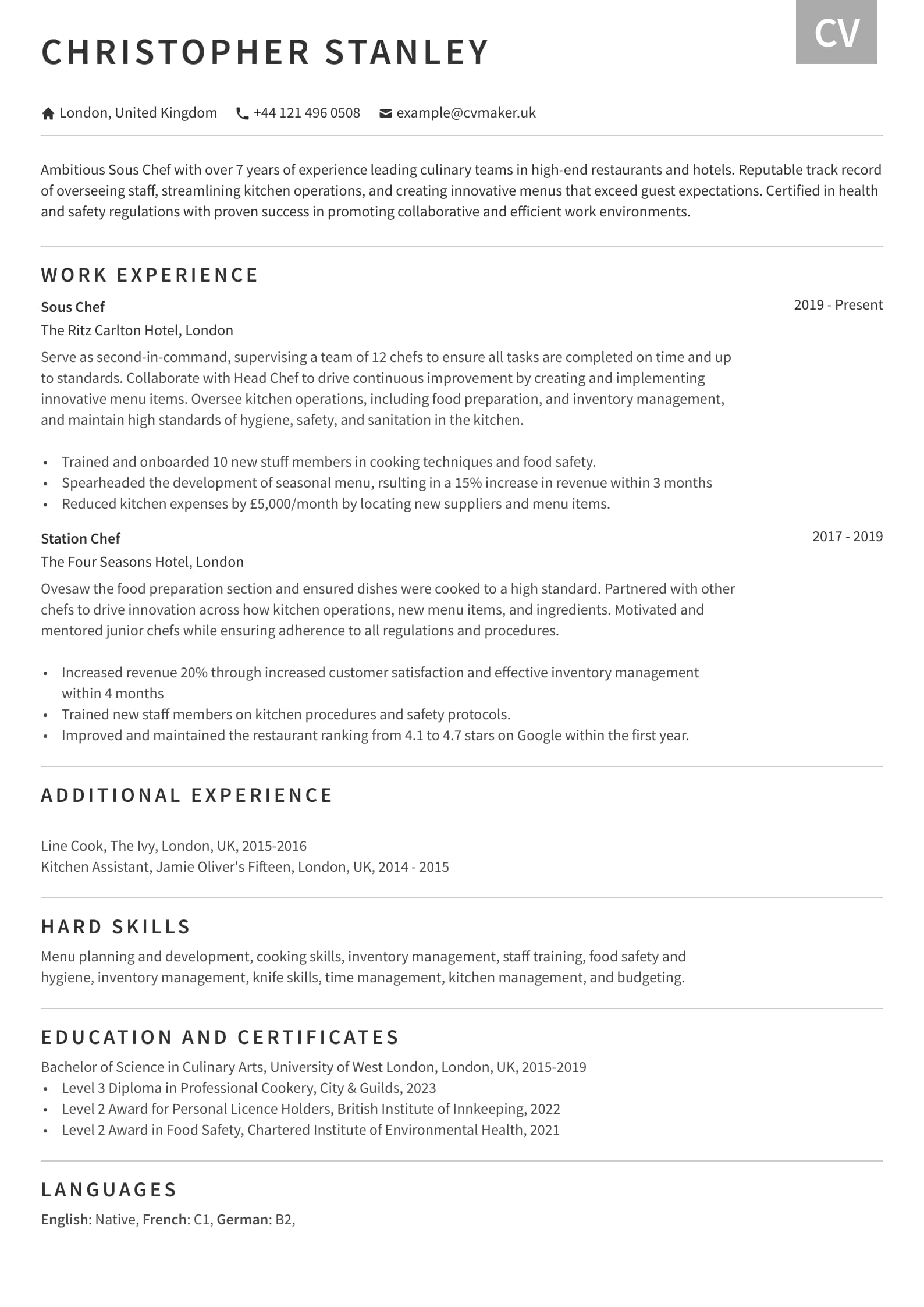 Download this CV example in PDF - Chef CV
Meet Christopher Stanley, a Sous Chef with a proven track record of leading teams and a goal of progressing to Head Chef. With measurable achievements such as reducing kitchen expenses by £5,000 per month and expertise in training and onboarding new staff and food safety protocols, Christopher showcases relevant hard skills. His education and accredited certifications further demonstrate his competence and qualifications, making him an ideal candidate.
What to include in a Chef CV?
While a Chef CV follows the same foundation as other CVs, it requires specific writing strategies and information tailored to the culinary industry. After following the necessary steps of preparation, writing, editing, and proofreading, including creating both a master and job-specific CV, you're ready to make a great impression on potential employers. Ensure you clearly and effectively communicate your strengths and skills using a simple, section-by-section approach.
How to write a personal profile on a Chef CV 
The personal profile section is a summary at the top of your CV highlighting your relevant experience, soft skills, and qualifications aligning with your target job. As recruiters or hiring managers often see this section first, it's crucial to devote sufficient time to crafting it. Your personal profile should be easily scannable and well-crafted to make a lasting impression. Refer to how to write a personal profile for more information.
Examples of personal profile on a Chef CV
Head Chef personal profile example
Ambitious Head Chef with over 10 years of experience in high-end restaurants and hotels. Skilled in menu planning, food preparation, presentation, and kitchen management. Proven success in leading teams of up to 20 Chefs and kitchen staff to deliver high-quality dishes that exceed customer expectations. Possess excellent communication and leadership skills that enable me to foster a positive and collaborative work environment.
Chef de partie personal profile example
Detail-oriented Chef de Partie with 5 years of experience in the culinary industry. Skilled in food preparation, cooking techniques, and kitchen safety. Proven success in working collaboratively with Chefs to deliver exceptional dishes that surpass customer expectations. Adept at managing inventory, maintaining hygiene standards, and implementing food safety protocols to ensure optimal kitchen performance.
Commis Chef personal profile example
Enthusiastic Commis Chef with 2 years of culinary experience. Proficient in food preparation, cooking methods, and maintaining kitchen safety standards. Demonstrated success in collaborative teamwork to consistently deliver high-quality dishes exceeding customer expectations. Exceptionally detail-oriented with a drive to foster a positive and productive work environment.
Sous Chef personal profile example
Highly skilled Sous Chef with over 8 years of experience in the culinary industry. Adept at creating menus, preparing food, presenting, and managing kitchen. Proven success in leading teams of up to 10 Chefs and kitchen staff to deliver high-quality dishes that exceed customer expectations. Strong communication and leadership skills with a focus on creating a positive and collaborative work environment.
Assistant Chef personal profile example
Ambitious Assistant Chef with 3 years of culinary experience, skilled in food preparation, cooking techniques, and kitchen safety. Proven track record of collaborating with other Chefs to deliver high-quality dishes that exceed customer expectations. Strong communication skills with a focus on fostering a positive and productive work environment.
Pastry Chef personal profile example
Creative Pastry Chef with over five years of experience in established hotels and resorts. Skilled in pastry preparation, baking techniques, and dessert presentation. Successfully led teams of up to five pastry Chefs to provide an exceptional dining experience to customers. Eager to leverage interpersonal and leadership skills to collaborate with other cooks to create innovative menus and push the boundaries of pastry artistry.
What skills to put on a Chef CV
There are three main categories of skills to consider when crafting your CV: hard skills, soft skills, and transferable skills.
Hard skills are measurable abilities you can gain through a course, training, or on-the-job experience.

Soft skills come naturally and can be developed further through daily life experiences.

Transferable skills fall somewhere in between and can be useful to highlight if you want to showcase related or similar skills to a potential employer.
To showcase your hard and transferable skills, we recommend creating a separate 'Skills' section and listing them there. As for soft skills, it's best to include them in a personal profile section. For more information, refer to our guide on how to list skills to craft a standout CV.
Examples of soft skills on a Chef CV
Attention to detail 

Communication

Creative thinking

Leadership 

Time management

Problem-solving

Teamwork

Collaboration

Empathy
Examples of hard skills on a Chef CV
Kitchen management and operations

Culinary techniques and cooking methods

Food preparation and handling

Menu development or recipe creation 

Knowledge of cooking equipment and tools

Food safety knowledge 

Sanitation practices

Plating and presentation

Business and financial management
How to write work experience on a Chef CV 
For any type of Chef, work experience is the core section of your CV. It's essential to clearly state what you did and what you achieved, whether you're Sous Chef or Chef de Partie. We recommend following the reverse chronological order, listing the most recent jobs first. You can also include if you have gained short-term experience or completed an internship.
Examples of achievements in work experience on a Chef CV
Spearheaded the development of a new menu resulting in a 20% increase in restaurant revenue within four months.

Mentored and trained a team of six junior Chefs, achieving a 35% increase in their KPIs within three months.

Coordinated and led a team of 10 Chefs to deliver top-rated dishes for a corporate event with 500+ guests.

Implemented effective kitchen safety protocols, resulting in a 75% reduction in accidents

Conceptualised and introduced a new dessert menu, resulting in a 30% increase in dessert sales and outstanding customer reviews.
How to list education on a Chef CV 
Athough a specific qualification or training is not always required to become a Chef, most Chefs acquire their skills and knowledge through hands-on experience in kitchens. However, those who aspire to become head Chefs may pursue a culinary degree or participate in an apprenticeship program further to develop their skills and advance in their careers. Additionally, completing specialised training or certification programs in food safety or nutrition can enhance Chef's qualifications and make them more competitive in the job market.
Institution/school name

Degree type

Location

Date range, year of graduation, or in progress
Structure: [Degree] in [program name] [institution/school name], [Location], [date range, year of graduation, or in progress]
Examples of how to list education on a CV
Diploma in Culinary Arts, Westminster Kingsway College, London, UK, 2023-In progress
Bachelor of Arts in Culinary Arts Management, University of West London, London, UK, 2017
How to list courses and certificates on a Chef CV
To continuously improve your culinary skills, you may want to consider enrolling in courses or obtaining certificates. These can provide you with additional knowledge and expertise in different areas of the culinary arts. Besides, it is also a good practice to keep a record of these certifications in your master CV and have them ready for job interviews. Moreover, including relevant language skills, hobbies, or interests in your CV can showcase your passion and dedication to the field of culinary arts.
Examples of courses and certificates on a Chef CV
Level 2 Food Safety in Catering, Chartered Institute of Environmental Health (CIEH), 2018 
Level 3 NVQ in Professional Cookery, City and Guilds, 2019 
Level 3 Supervising Food Safety in Catering, CIEH, 2019
NVQ Level 3 in Professional Cookery, Birmingham Metropolitan College, Birmingham, UK, 2015-2016.
Key takeaways
Securing a Chef job can be challenging but achievable with the right strategy and mindset. From identifying your writing strengths and weaknesses to presenting your career history briefly and concisely, you can stand out from other candidates and build confidence over time. Our CV examples and writing tips can guide you through the process.
Remember, the job search process is complex, and setbacks are common. However, staying focused and persistent while gradually improving your skills and tailoring your CV to each job post can make the process easier. We encourage you to keep honing your writing and editing skills through continued practice and effort, which can benefit your next job search and career development.
Additional tips:
Craft your CV to be concise and persuasive, making it easy to read, coherent, and ATS-friendly. 

Personalise your CV and accompany it with a cover letter. 

Use professional language while incorporating relevant keywords and sections to customise your job-specific CV. 

Avoid using personal pronouns such as 'I', 'me', or 'us' in your CV. 

Ensure that your CV meets the specific requirements of your target job by tailoring it accordingly. 

Keep your CV up-to-date and include only relevant information. 

Regularly review and update your CV to ensure it always showcases your skills and experience in the best light.
Next steps?
We offer a variety of over 20 professional templates. Additionally, if you already have a CV but need help with proofreading or polishing inconsistencies, our professional writers are here to assist you.
Don't hesitate to contact us if you need assistance with your job application. We are dedicated to helping you succeed in your career journey. For more information on how to write a graduate CV, including a skills-based CV example, check out our helpful articles.
Stay creative and motivated throughout the process of mastering your CV writing skills. We wish you the best of luck in your job search!
FAQ
How to get a job as a Chef in the UK?
All in all, becoming a Chef requires hard work and dedication. Note that a degree in culinary arts is not a direct path to becoming a Chef. While it is true it can help you land a job as a line cook or prep cook, in reality,  you need more than that. Your passion and the right skills can help you advance your career and become the best version of yourself. If you desire to work in a restaurant with Michelin stars, you must have an outstanding profile with exceptional experience and achievements.
How to format a Chef CV?
To format your Chef CV, you must ensure it's well-organized, easy to read, and visually appealing. Start by choosing a template that matches your target job and reflects your personality. Opt for an appropriate font style and size while keeping it legible and professional-looking.
To break up the sections, use bullet points to highlight your skills, experience, achievements, and headings. Be consistent with your formatting, and make sure the applied layout is consistent throughout the document.
How long should your Chef CV be?
A Chef CV should ideally be no longer than two pages, as hiring managers tend to not have the time to read through a 3 or 4 pages CV. Focus on highlighting your most relevant skills, experience, and qualifications.
What is the best CV template for a Chef CV?
Although you might want to opt for a colourful and visually-heavy CV, that shouldn't be your goal. The CV template for a Chef CV should be simple, clean, and professionally designed. Moreover, it needs to follow a reverse chronological format, with the most recent jobs at first. A graphically heavy template may distract recruiters or hiring managers from essential information, making it harder to see the relevant sections. Choose a template that is easy to customise while allowing you to effectively showcase your skills and experience briefly. 
Land the interview for your dream job with CVMaker
Effortlessly create your professional CV within 10 minutes and download it whenever and wherever you want!
Create your CV
Increase your chances landing your dream job with CVMaker.