Baker CV
This bakery CV example uses the Erasmus template and presents Rana's 10-year career in the industry. The well-structured CV showcases her expertise in team collaboration, driving daily operations, and ensuring quality control to deliver baked goods of the highest standard.
Start your CV
"Dedicated and creative baker with over 10 years of experience in crafting delicious baked goods. Passionate about creating mouthwatering pastries, bread, and cakes which are matched through a commitment to delivering exceptional customer service. "
Rana Devi
- Baker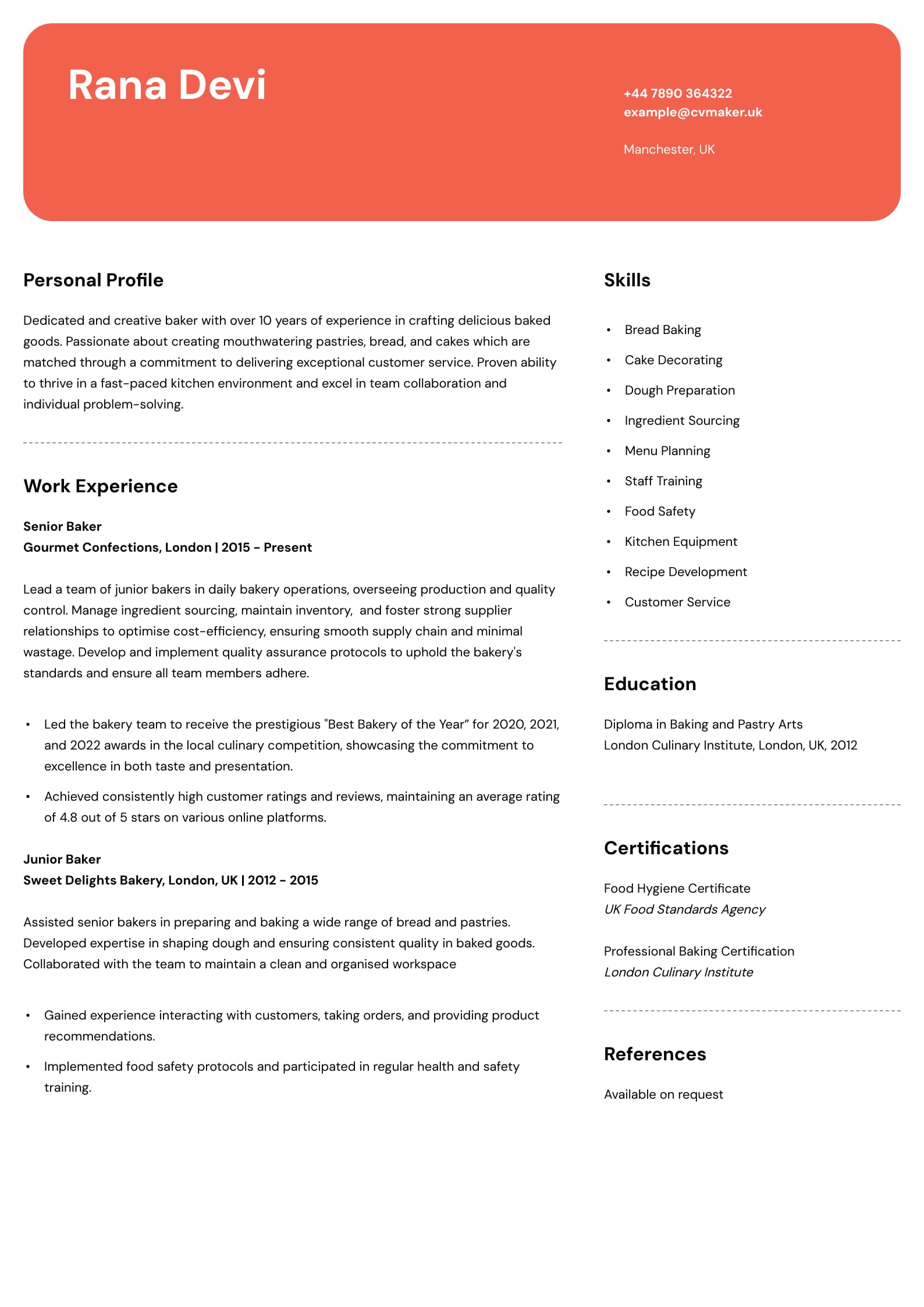 How to Write a Baker CV: Best Examples and Tips
The baking industry has surged in popularity since the emergence of TV shows like The Great British Bake Off and the increased interest in breadmaking during lockdown. Fuelled by TikTok and sourdough trends, it has become a dynamic and sought-after sector. From the tempting cruffins to exploring diverse baking cultures and regions, this profession has flourished with creativity and innovation.
As we knead, proof, and bake through this guide, we show you how to write a good CV that rises to perfection and stands out in the competitive industry. Whether you are looking for your first role or aiming to advance your career, writing a modern CV is your secret ingredient. This comprehensive guide explores how to write a baker CV to showcase your passions, skills and experience that align with your career goals, from the industrial to the artisanal. 
To maximise your chances of success, you must first optimise your CV to navigate application tracking systems (ATS) by choosing a professional CV template to help increase your visibility to hiring managers and chances of landing an interview.
Baker CV Example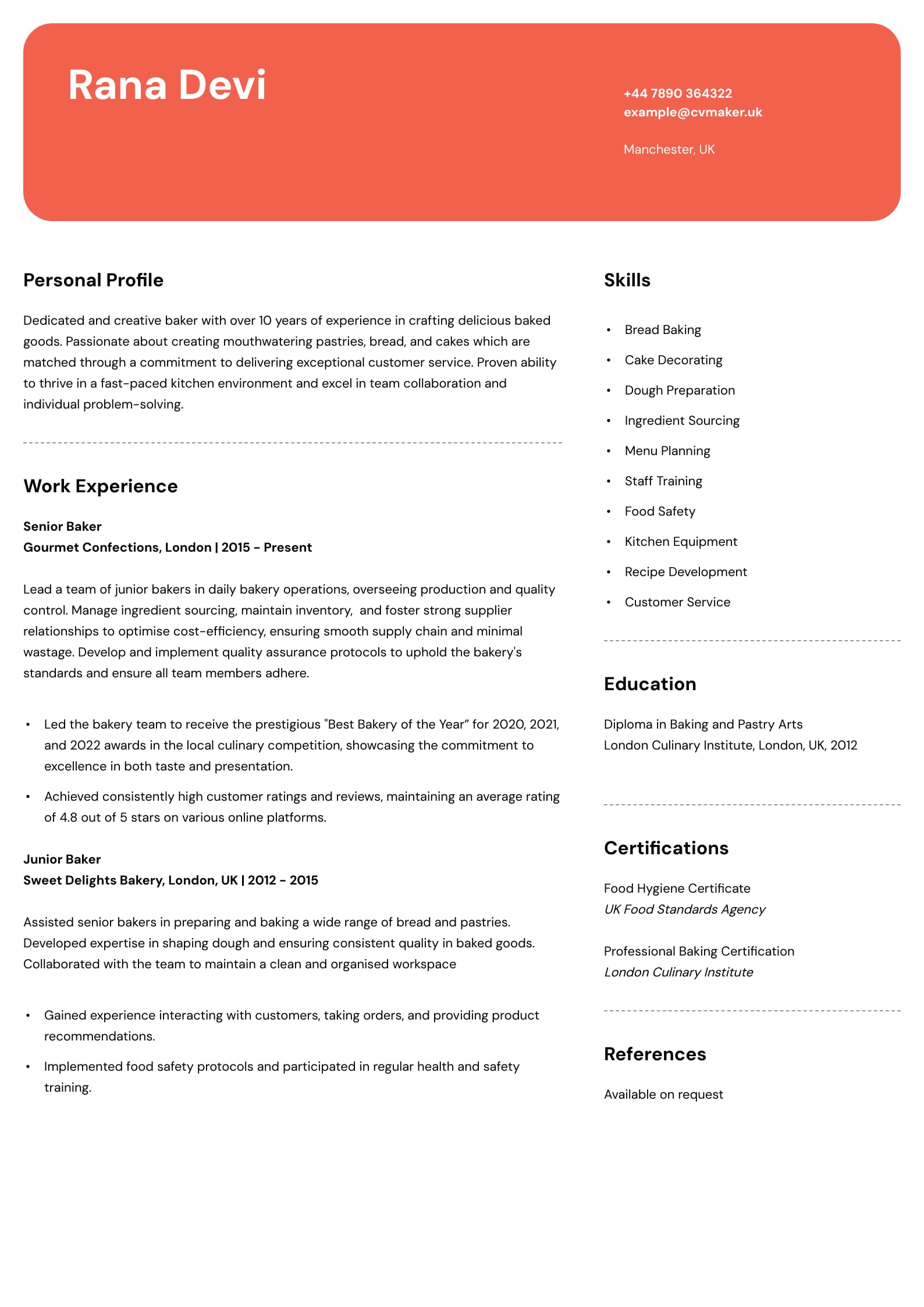 Download this sample CV for a baker job in the UK
This bakery CV example uses the Erasmus template and presents Rana's 10-year career. The well-structured CV template showcases her expertise in team collaboration, driving daily operations, and ensuring quality control. In this baker CV sample, she includes relevant certifications and achievements to emphasise her proficiency in inventory management, quality assurance protocols, and building strong supplier relationships. 
What to include in a Baker CV? 
It is essential to include elements that showcase your baking skills, qualifications, and experiences. Whether you're an aspiring baker or a seasoned professional, following a suitable structure and only including relevant content is vital.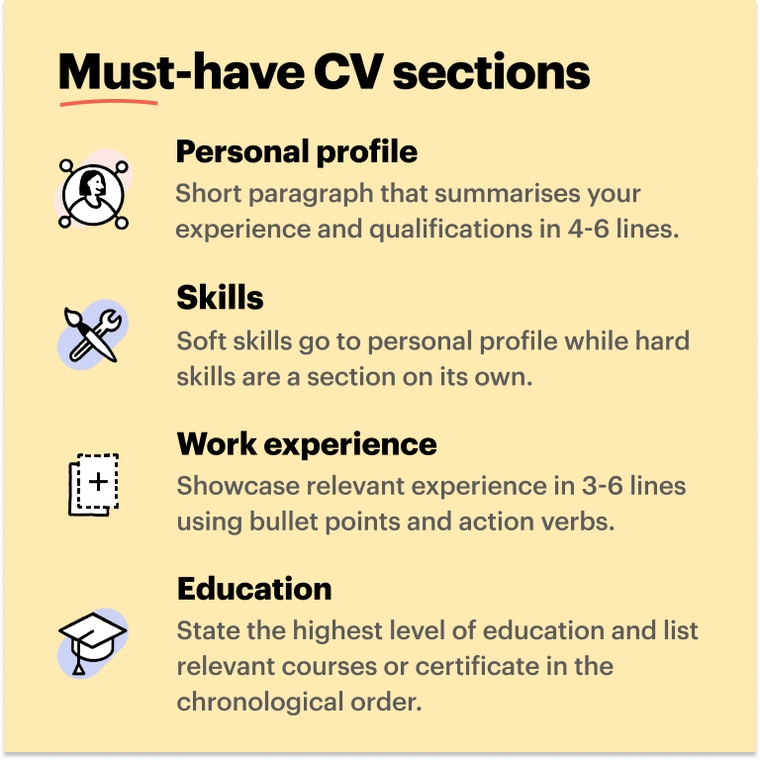 Start with contact information, then a personal profile to express your passion for delivering and producing exceptional baked goods. The work experience section should outline previous roles, emphasising competencies in health and safety, food preparation, attention to detail and customer service. Highlight skills that evidence your proficiencies and expertise, and support this with relevant qualifications to validate formal training and your commitment to quality and safety protocols. Lastly, obtaining and including a food hygiene certificate is essential for this role. 
For additional guidance, refer to our CV writing process article on how to structure and write a job-specific CV. 
Pro Tip
Should you use references on your CV? Typically, this is optional. Instead, save sharing your references for the interview if the employer requests it.
Showcase your passion in your personal profile
When crafting a personal profile or professional summary for your baker CV, write a concise statement that conveys your unique qualities and expertise. Start with a solid opening sentence, mentioning your years of experience and any specialisations. Be passionate and use descriptive language to express your enthusiasm for baking.  Showcase relevant skills, your commitment to delivering high-quality baked goods, create unique products, and your ability to excel in fast-paced kitchen environments. 
Artisan Baker CV personal profile example
Creative Artisan Baker has over a decade of experience crafting exquisite bread and pastries. Proficient in traditional baking methods and dedicated to using the finest ingredients to create high-quality products. Proven track record of fostering a collaborative team atmosphere with proven success in exceeding customer expectations with innovative recipes and presentations.
Bakery Assistant CV personal profile example
Detail-orientated Bakery Assistant with a strong work ethic and hands-on experience in ingredient preparation, cleanliness, and multitasking. Committed to upholding high hygiene and organisation standards to support smooth bakery operations. Demonstrates exceptional teamwork in a bustling, customer-centric environment, focusing on order accuracy and customer satisfaction.
Baker CV personal profile example
Experienced Baker with a ten-year track record of leading bakery operations and creating a variety of baked goods including delicious bread, pastries, and cakes. Known for delivering high-quality products and maintaining industry standards. Proven ability to innovate by implementing new techniques, leading to improved customer retention and loyalty.
Bread Baker CV personal profile example
Dedicated Bread Baker specialising in crafting various delectable bread products. Possesses a profound passion for breadmaking and a firm grasp of various techniques, from traditional to contemporary recipes. Commitrf to delivering exceptional bread by prioritising quality and flavour.
Read our article on the personal profile on a CV for the best examples and tips. 
Discover how to highlight key skills for a baker CV
Include the perfect mix of hard and soft skills on your baking CV, demonstrating your technical competencies, interpersonal communication and ability to collaborate effectively in a professional kitchen. Tailor this section to match the job you're applying for and highlight the skills relevant to your role such as familiarity with baking equipment and a variety of baking processes.
Pro Tip
Think about the tasks and responsibilities you'll be doing. For example, a bakery assistant CV should demonstrate teamwork to achieve an efficient workflow and prepare the kitchen for service. For a senior or head baker CV, emphasise your ability to manage, lead, and oversee kitchen operations.
Consider using a skills-based CV format if you have little to no work experience or are changing careers to showcase your transferable skills gained from previous roles such as a bartender or waiter/waitress.
Hard skills

Soft skills

Baking techniques

Detail-orientated

Pastry preparation

Time management

Ingredient measurement

Creativity

Recipe development

Teamwork

Food safety and hygiene

Adaptability

Dough shaping

Customer service

Equipment operation

Problem-solving

Staff training

Stress management

Recipe modification

Leadership

Cake decorating

Communication
For more information, refer to our guide on how to list skills on a CV.
Enhance your baker CV with work experience 
Your CV work experience section should include practical baking knowledge and skills from prior or current employment. Reference current or previous roles relevant to this industry, such as customer service or working in hospitality, especially if you have little to no prior baking experience.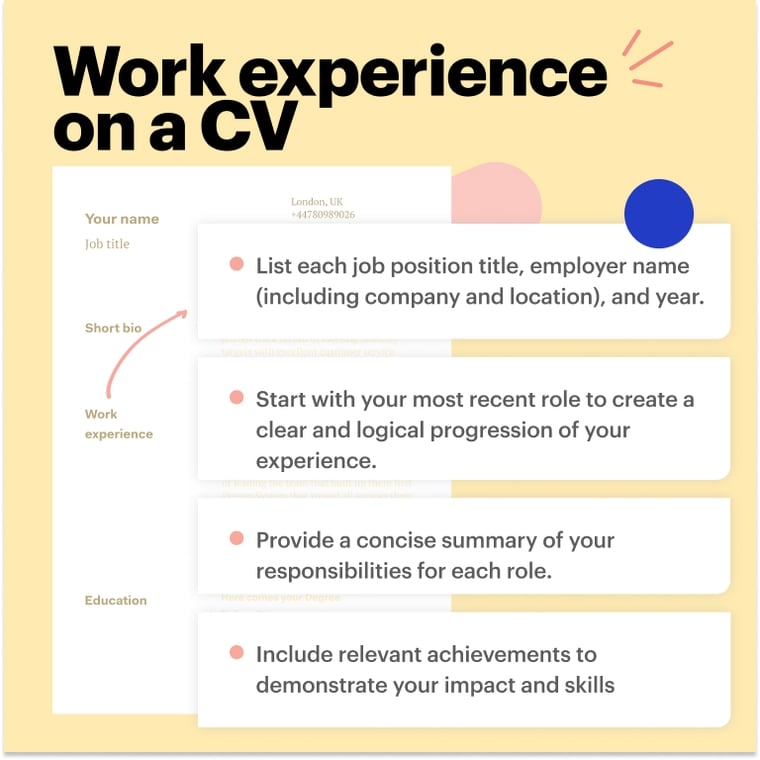 Provide a clear, organised overview of your work responsibilities, emphasising your tasks and key achievements for each job. Use measurable outcomes and figures wherever possible to showcase your impact. With more experience, you can consider general chef, supervisor, production manager, or commercial sales role. Alternatively, you can pivot to technical advising, development baking, or specialise in sectors like patisserie.
Alternatively, consider working alongside your studies to gain transferable skills. Discover writing tips for a part-time CV and why it's valuable for a bakery assistant CV.
Examples of work experience on a baker CV
Artisan Baker | Artisan Breads & Delights, Edinburgh | 2016 - Present
Curate and produce a daily selection of artisanal bread and pastries to a high-quality standard. Manage and train a team of junior bakers, ensuring adherence to baking techniques and standards. Oversee the sourcing of finest-quality ingredients, vendor relationships, and cost-efficient inventory management. 
Produced and curated a daily selection of artisanal bread, leading to a 15% increase in sales.

Streamlined kitchen processes, reducing waste by 25% and saving £800 monthly.
Bakery Assistant | Flourish Bakeries, Glasgow | 2019 - Present
Assist the Head Baker in preparing and baking a diverse range of bread and pastries while ensuring consistent quality. Play a key role in implementing a waste reduction program and minimising food wastage. Undergo customer service training, actively participate in customer interactions, and contribute to customer satisfaction.
Helped implement a program, leading to a 20% reduction in food wastage.

Received customer service training, contributing to a 10% increase in positive feedback.
Head Baker | Dough Delights Bakery, London | 2018 - Present
Direct and supervise a team of five bakers, overseeing all aspects of kitchen operations, including production and quality control. Develop and implement a rigorous quality control system to uphold high standards and reduce product returns. Revamp the menu and introduce new product lines to diversify offerings and boost sales.
Participated in an eco-friendly kitchen initiative, achieving a 10% reduction in waste.

Assisted in introducing new product lines, contributing to a 5% increase in monthly sales.
Example of baker CV with little to no experience:
Kitchen Porter | Culinary Delights Restaurant, London | 2021 - 2023
Washed and sanitised kitchen equipment, utensils, and dishes, prioritising food safety standards. Managed waste disposal, separating and recycling, and promoting eco-responsible kitchens. Assisted the culinary team with food preparation including cake decorating. Maintained kitchen orders for seamless workflows.
Quickly learned bread and pastry preparation techniques through on-the-job training and home learning.

Achieved a company-sponsored Food Hygiene Certificate.

Improved storage efficiency for chefs, reducing clutter by 30%.
Explore the kitchen Porter CV example for more inspiration as well as the barista CV example.
Include relevant qualifications and education 
Listing relevant certifications and qualifications of your training or education on your bakers CV is essential to demonstrate your knowledge of job requirements and industry standards. While only sometimes mandatory, formal qualifications and training can significantly enhance your career prospects.
Consider completing a diploma or certificate program in pastry or culinary arts. These programs cover essential skills like dough preparation, baking techniques, and presentation. Acquiring a Food Hygiene Certificate is often necessary for ensuring food safety compliance. Moreover, advanced courses and certifications can provide a competitive edge for those looking to specialise. 
Our apprenticeship CV provides practical tips and examples for those seeking entry-level roles or just starting their careers.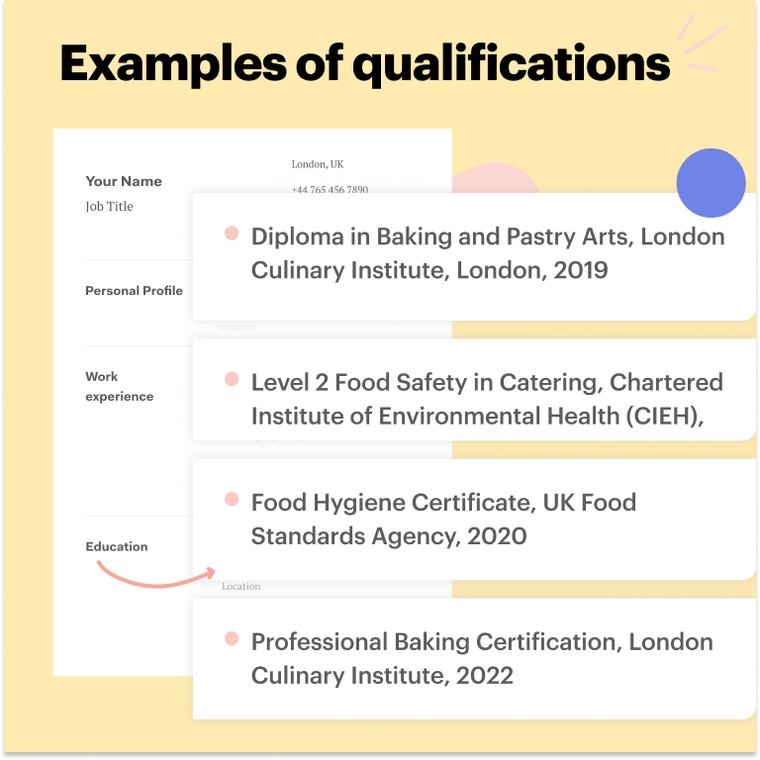 Read how to master the CV education section for more guidance and expert tips. 
Key takeaways 
Creating an outstanding baker CV should highlight relevant skills, qualifications and certificates to showcase your ability to deliver consistent, high-quality goods in a kitchen environment. With practical examples and valuable insights in this guide, you can easily craft a CV to impress a potential employer that is tailored to your career objectives, whether experienced or looking to improve your CV for more advanced roles.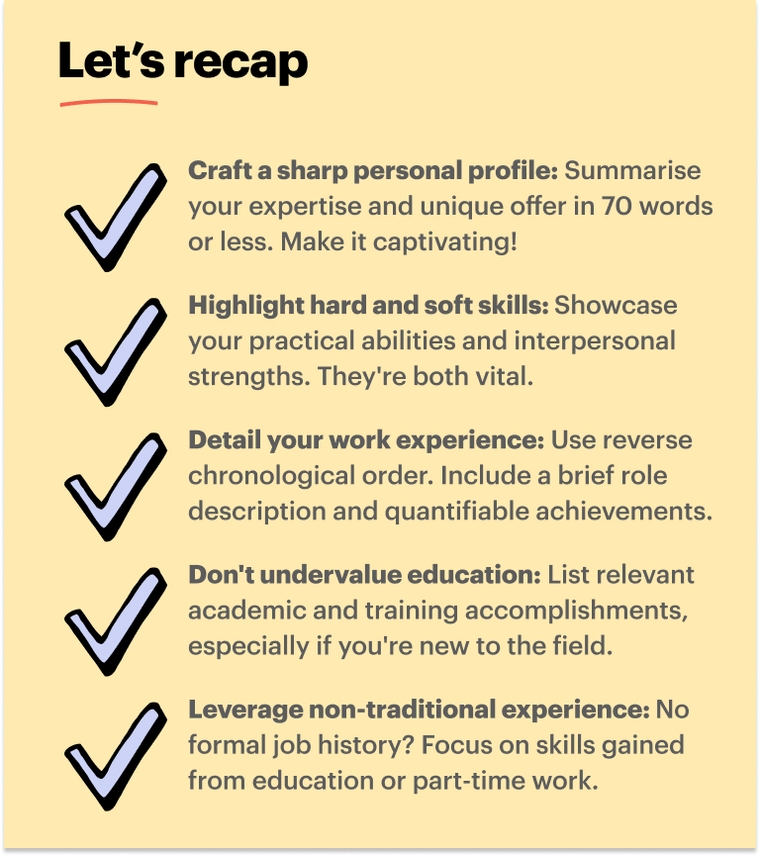 Next Steps? 
If you're ready to apply to your dream role, finding a tailored baker CV template can be time-consuming. Our CV Writing Service is readily available to streamline your job application process. For additional guidance and inspiration to discover valuable insights and tips to help secure a job interview.
FAQ 
What qualifications do you need to be a baker in the UK?
Formal qualifications are not required to enter this profession, but having relevant certifications or education is beneficial. Aspiring professionals can gain practical skills through apprenticeships or on-the-job training opportunities. Consider courses in baking or pastry arts from culinary institutes or completing a food safety and hygiene qualification.
Can you apply for a baker position with no experience? 
Yes, courses and apprenticeships are available for those who need more work experience. On your bakery CV sample, emphasise relevant transferable skills or culinary passions in a section for hobbies and interests on a CV to show your dedication and willingness to learn. Learn more about how to write a cover letter to accompany your CV if you have little to no experience.
What is the best CV format in the UK for a baker CV? 
The best CV format for a baker in the UK is typically chronological, which lists work experience and education in reverse order. This CV is ideal when you have a consistent work history and aim to highlight your career progression. A skills-based CV format also effectively emphasises your qualifications and skills, particularly if you have employment gaps or are changing careers. 
What is a baker's job description in the UK? 
A baker CV job description typically includes preparing and baking various breads, pastries, and desserts. Responsibilities may include mixing ingredients, shaping dough, monitoring baking times, and decorating finished products. Bakers also ensure cleanliness, adhere to food safety regulations, and manage inventory. Search for job opportunities with the National Careers Service. 
What should a UK CV look like for a baker's job?
A CV for a bakery job should have a clear and professional format and structure. Start with your contact details and a brief personal profile highlighting your baking expertise. Include work experience, education, and skills. Remember to tailor your CV to the specific job description. Use clear, concise language and include bullet points for easy readability. Explore our CV examples for more inspiration on what to write. Furthermore, read how long your CV should be to find the ideal CV length for the role you are applying for.
Land the interview for your dream job with CVMaker
Effortlessly create your professional CV within 10 minutes and download it whenever and wherever you want!
Create your CV
Increase your chances landing your dream job with CVMaker.