Kitchen Porter CV
Peter showcases his expertise in this kitchen porter CV example by highlighting relevant qualifications and certifications. The CV template is Yale, which is well-formatted with a professional design.
Start now
"Committed and exceptionally skilled Kitchen Porter, boasting a solid history of sustaining a clean and organised kitchen atmosphere. Able to collaborate well with kitchen staff, as well as train and supervise newer team members."
Peter Kelly
- Kitchen Porter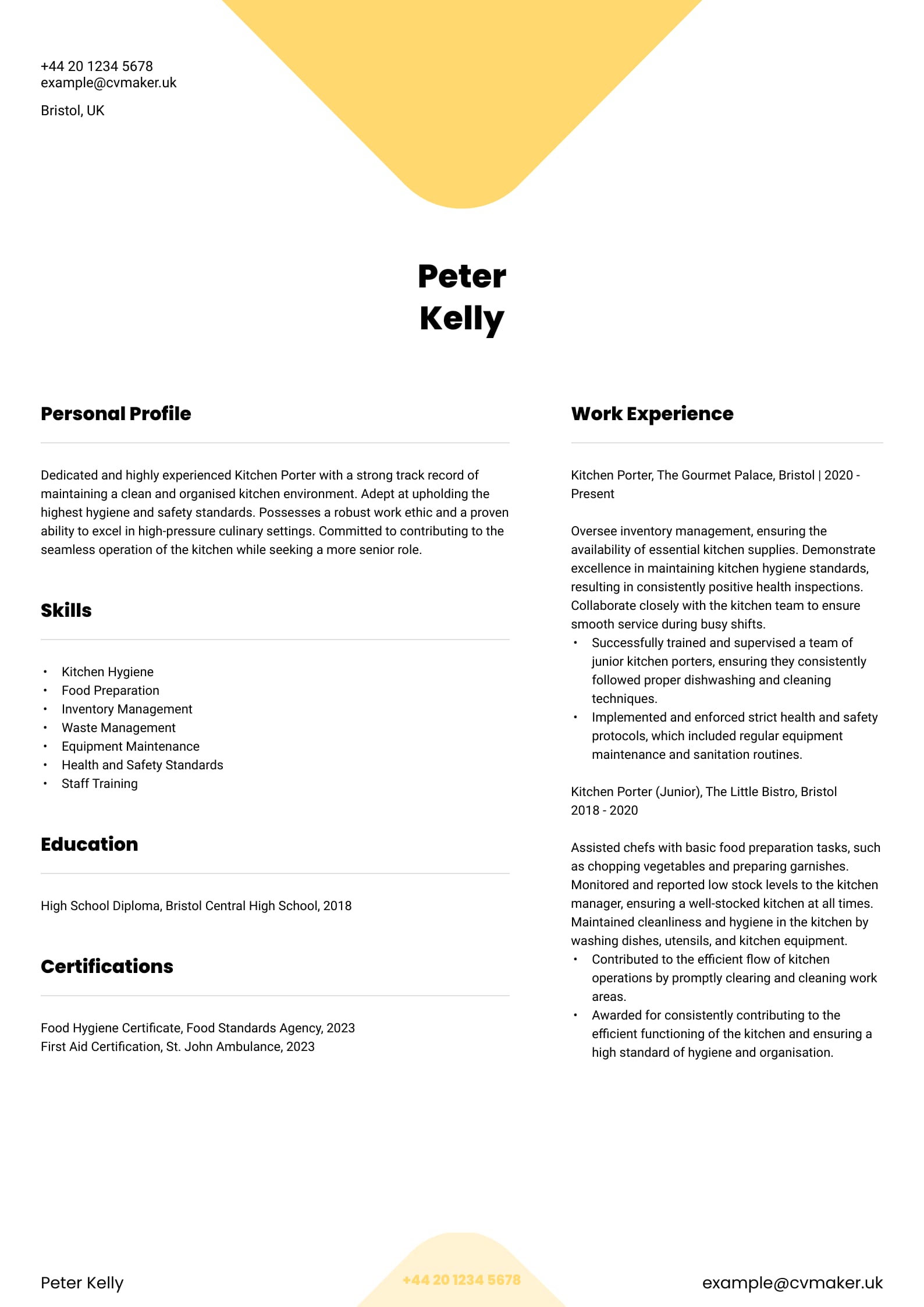 How to Write a Kitchen Porter CV that Shines: Tips and Examples
Did you know that some of the world's most renowned chefs, including Gordon Ramsay and Marco Pierre White, started their culinary journeys as kitchen porters? This role is often a stepping stone for those passionate about cooking who aspire to become professional chefs. Not only does an effective modern CV help you stand out in competitive industries, but a professional application tracking systems (ATS)-friendly CV is crucial.
In this guide, we show you how to write a good CV that showcases your skills and qualifications in the culinary sector. We also explore a range of roles within this profession, ensuring that your CV template aligns perfectly with your career goals. Whether you're an experienced professional or a looking for a first job, our insights, tips, and sample kitchen porter CV provide the direction and inspiration to kickstart your career.
Kitchen Porter CV example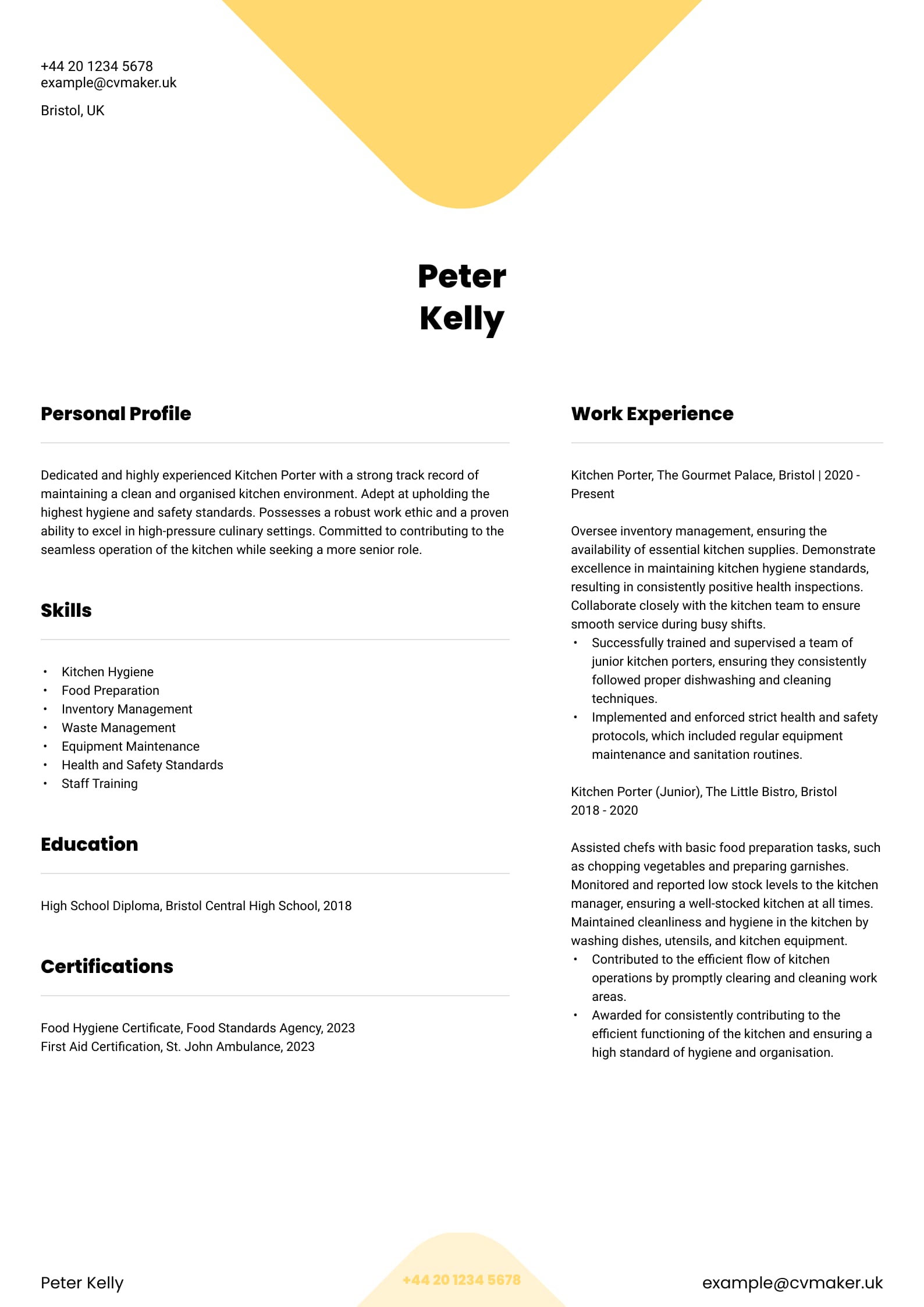 Download this kitchen porter sample CV in PDF
Peter showcases his expertise by highlighting relevant qualifications and certifications. His work experience section demonstrates his accomplishments, ability to excel in high-pressure culinary settings, and commitment to maintaining an organised kitchen environment. His skills illustrate his ability to work efficiently, comply with safety standards, and train staff, which applies to his career goals. The kitchen porter CV template is Yale, which is well-formatted with a professional design. 
What to include in a kitchen porter CV? 
Your kitchen porter CV must include essential information and sections. Start with your contact details, including your name, phone number, email address, and location. Then, craft a concise yet impactful personal summary tailored to each role, which showcases your accomplishments and career goals.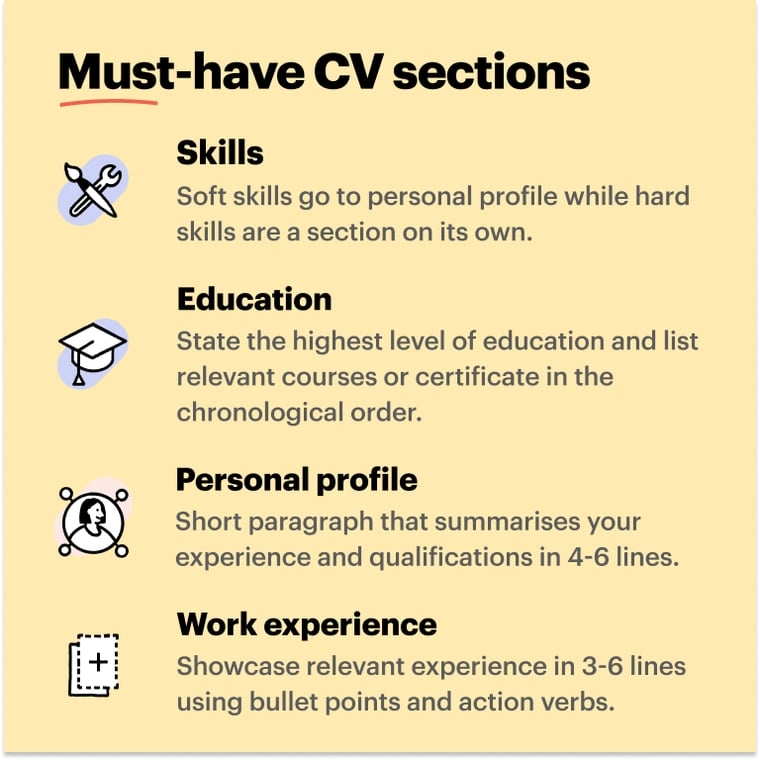 Focus on emphasising applicable skills and qualifications that align with the job requirements, as indicated in the job description. For more guidance on fine-tuning your CV for success in the hospitality industry, consult our comprehensive CV writing process article. 
Refer to the job profile of a kitchen porter with the National Careers Service or explore related roles with similar skill sets:
Start with a strong personal profile 
Begin your kitchen porter CV by constructing a concise yet compelling personal profile summary. This section provides prospective employers with a quick insight into your background, essential skills, and career goals. For comprehensive guidance on creating a compelling personal profile, consult our in-depth guide on how to write a perssonal profile.
Kitchen porter CV personal profile example
Dedicated and detail-oriented kitchen porter with a solid commitment to maintaining impeccable hygiene standards, ensuring seamless kitchen operations, and supporting the culinary team. Proficient in dishwashing, cleaning, and waste management. Skilled at thriving in fast-paced environments, consistently delivering cleanliness and order while complying with safety standards.
Kitchen assistant CV personal profile example
Experienced kitchen assistant with a proven ability to handle diverse tasks and foster effective collaboration in a fast-paced culinary setting. Skilled in inventory management, food preparation, and maintaining a hygienic kitchen environment. Committed to delivering top-tier culinary experiences, assisting colleagues, and working as a team to ensure seamless kitchen operations.
Include your work experience 
The work experience section in your CV is a pivotal area for showcasing your abilities and accomplishments that are relevant for kitchen porter roles. Rather than listing job duties, emphasise how your tasks or responsibilities impacted kitchen operations. Focus on highlighting periods you worked effectively in a team or collaborated with others. Mention how you have supported and coordinated with colleagues to achieve common goals.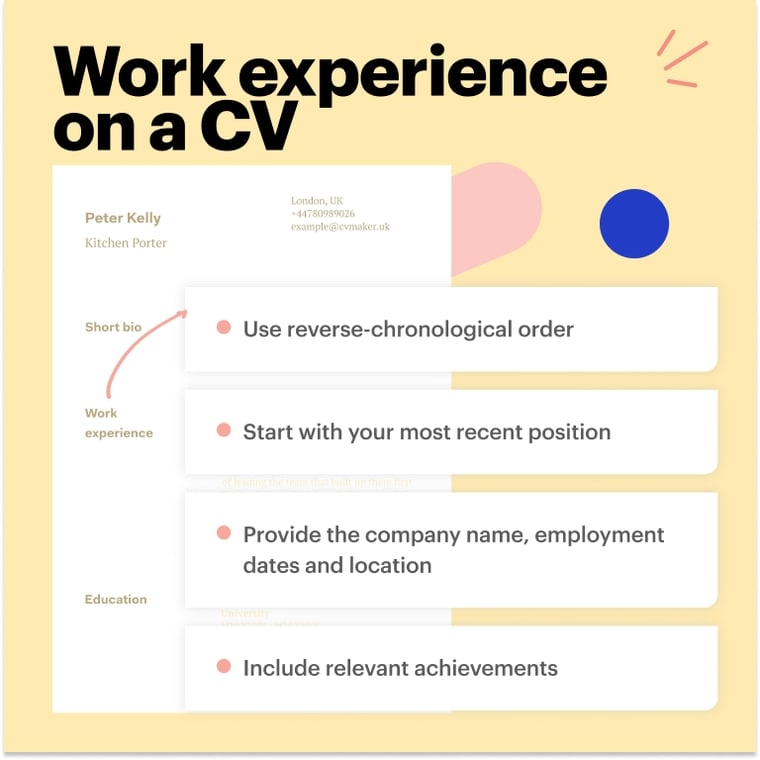 Once you gain more experience and pursue additional training, opportunities may arise to transition into front-of-house, such as wait staff, managerial roles, or training to become a chef. 
Pro Tip
Quantify your achievements into measurable outcomes. For example, include the number of dishes cleaned per shift, the volume of food prepped, or any efficiency improvements you contributed. 
Examples of work experience for a kitchen porter CV
Kitchen Porter | Culinary Delights Restaurant, London | 2019 - 2023
Washed and sanitised kitchen equipment, utensils, and dishes, prioritising food safety standards. Managed waste disposal, separating and recycling, and promoting eco-responsible kitchens. Assisted the culinary team with chopping, peeling, and portioning. Maintained kitchen orders for seamless workflows.
Reduced kitchen equipment cleaning time by 25% via a structured schedule, enhancing peak-hour efficiency. 

Minimise food wastage by 20%, saving £500/month with a waste reduction program.

Improved storage efficiency, reducing clutter by 30%.
Kitchen Assistant | Café Bistro Delights, Manchester | 2020 - Present
Support kitchen operations by assisting with ingredient prep and operating appliances safely. Ensure a clean workspace following sanitation guidelines. Assist chefs to improve efficiency, reduce wait times, and enhance menu diversity through daily specials. Collaborated in high-pressure settings for timely peak-hour service.
Sustained 100% compliance with food safety standards. 

Increased daily food prep output by 40%, resulting in faster service times.

Consistently maintained kitchen cleanliness at a rating of 95% or above in internal kitchen audits.
Provide insights into your responsibilities and achievements on your CV to showcase your potential to employers. For additional guidance on effectively presenting your work experience on your CV, refer to our comprehensive article.
Key skills for a kitchen porter CV 
Incorporating your skills into your CV for a kitchen porter is essential, as it demonstrates your capabilities and experience to potential employers. A kitchen porter's role often demands multitasking, from washing dishes to assisting with food preparation and cleaning. Focus on highlighting how you maintain impeccable cleanliness standards, contribute to kitchen efficiency, and collaborate with the culinary team.
Hard skills are specific, teachable abilities or knowledge, while soft skills are more general interpersonal attributes and personal qualities. Alternatively, if you have little to no work experience, create a skills-based CV to showcase your abilities to potential employers. 
Soft skills

Hard skills

Teamwork

Dishwashing

Flexibility

Cleaning

Adaptability

Waste management

Attention to detail

Food preparation assistance

Problem-solving

Food and safety hygiene standards

Efficiency

Customer service
Refer to our article skills on a CV for more inspiration.
Add an education section
Whether you're a recent school leaver, a student, or just entering the workforce with little to no work experience, it's crucial to detail your educational background to your kitchen porter CV. This section should encompass your academic qualifications, the institutions attended, and completion dates.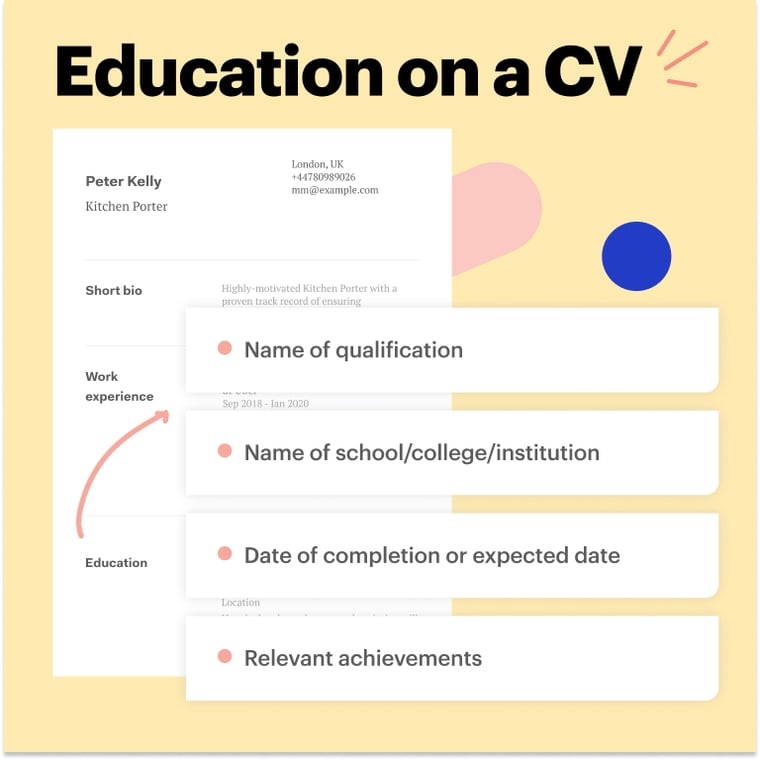 You do not need to complete higher education to become a kitchen porter in the UK. However, gaining certificates during on-the-job training is a legal requirement, so highlight any culinary or food safety courses you may have completed. List your secondary or tertiary qualifications or courses in reverse chronological order.
Examples of education:
GCSEs, CVMaker Secondary School, Birmingham, 2016-2018 Notably: English, Mathematics, Science, and Food Technology.

Level 2 Food Safety and Hygiene for Catering Certification, Chartered Institute of Environmental Health (CIEH), 2019

Basic Culinary Skills Course, Community College of Culinary Arts, Staffordshire, 2020.
If you require more information, see the education on a CV article.
Best CV format for a kitchen porter role
Your kitchen porter CV format improves the readability, presentation, and visual appeal for recruiters. How long your CV should be depends on your experience, qualifications and role you are applying for. The chronological CV format arranges your work history in reverse order, which is ideal if you have relevant experience because it clearly presents your roles, responsibilities, and accomplishments.
Alternatively, if you have little to no work experience, opt for the functional format, which emphasises transferable skills. You can also mention any applicable training or certifications. For a balanced approach, choose the combination format, blending elements of chronological and functional formats to spotlight your skills and certifications while presenting a detailed work history. 
For more tips on increasing your chances of being shortlisted for an interview, refer to our article on improving your CV. Or, if you are writing a kitchen porter CV with no experience because you recently changed industries, read our career change article.
Include courses and certificates 
Consider enrolling in relevant courses and certificates to boost your employability and improve your skills. This proactive approach equips you with the latest knowledge, demonstrates a commitment to professional growth, and makes your CV more appealing to recruiters. Whether it's a food safety course, culinary training, or any other relevant certification, it adds an extra layer of qualification and commitment to your CV, setting you apart in the competitive culinary job market.
Examples of courses: 
Level 1 Award in Introduction to Employment in the Hospitality Industry

Level 1 Certificate in General Cookery

Level 2 Award in Food Safety

First Aid Certification

Food Hygiene Certificate.
Search for available courses with the National Careers Service and complete a course relevant to your career goals.
Key takeaways
Creating a compelling kitchen porter CV is pivotal in the highly competitive culinary industry. To do this, emphasise your core skills and relevant work experiences, specifically focusing on achievements. Remember to list relevant qualifications and certifications, particularly those related to food safety and hygiene. Finally, maintain a well-structured and formatted CV tailored to your job targets.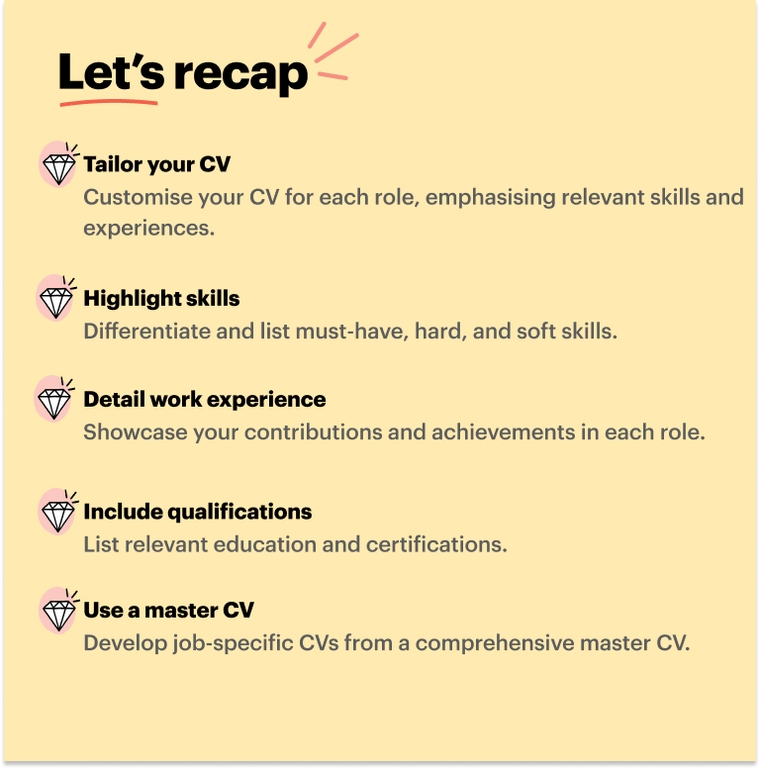 Next Steps? 
Ready to craft your impressive kitchen porter CV? Begin with our easy-to-use CV builder to kickstart your career. Explore our career blog for invaluable insights and tips to help secure your dream role more effectively. If you need more support applying for jobs, consider using our CV Writing Service to save time and effort.
FAQ 
How do I write a kitchen porter CV with no experience? 
When crafting a kitchen porter CV with no experience, highlight your transferable skills, consider volunteering in customer service, and complete relevant courses. Emphasise soft skills such as adaptability, teamwork, and organisation. Ensure you write a strong personal statement expressing enthusiasm and a willingness to learn. For those entering the field, an apprenticeship course can also help you gain practical knowledge and find a kitchen job.
Are kitchen porter jobs in demand in the UK? 
As the UK hospitality and food sector surges, kitchen porter, assistant, and chef jobs are also in higher demand. Therefore, there are many career opportunities and job vacancies available. You'll need to meet the role's demands and be flexible to work shifts that may sometimes fall on an evening or weekend. To increase your chance of success, stay current with the latest industry requirements to impress employers.
What qualifications do I need for a kitchen porter job? 
Kitchen porter positions do not typically require formal qualifications, but Maths and English GCSEs may be requested. Food safety and hygiene certifications are beneficial, and employers often seek candidates with strong, soft skills like teamwork and adaptability. Ensure you read the employer's job description when writing your CV and applying for roles.
How much do kitchen porter jobs pay in the UK?
The salary for kitchen porter jobs in the UK varies depending on location, level of experience, and the specific employer. On average, salaries range from £16,000 to £20,000 per year. In some cases, the compensation package may include additional benefits and perks. It's important to research specific job listings and employer policies for precise salary information.
Land the interview for your dream job with CVMaker
Effortlessly create your professional CV within 10 minutes and download it whenever and wherever you want!
Create your CV
Increase your chances landing your dream job with CVMaker.