Lawyer CV
Andrei has chosen the black & white Wisconsin template because of its minimalistic and one-column layout. It summarises his work history, qualifications, and key skills in a concise manner, making him the perfect candidate for his new career.
Get started
"Established Employment Lawyer with 5+ years of proven success in delivering expert legal advice and representation in law firms. Strong advocacy and public speaking skills complemented by proficiency in drafting compelling legal documents"
Andrei Popescu
- Employment Lawyer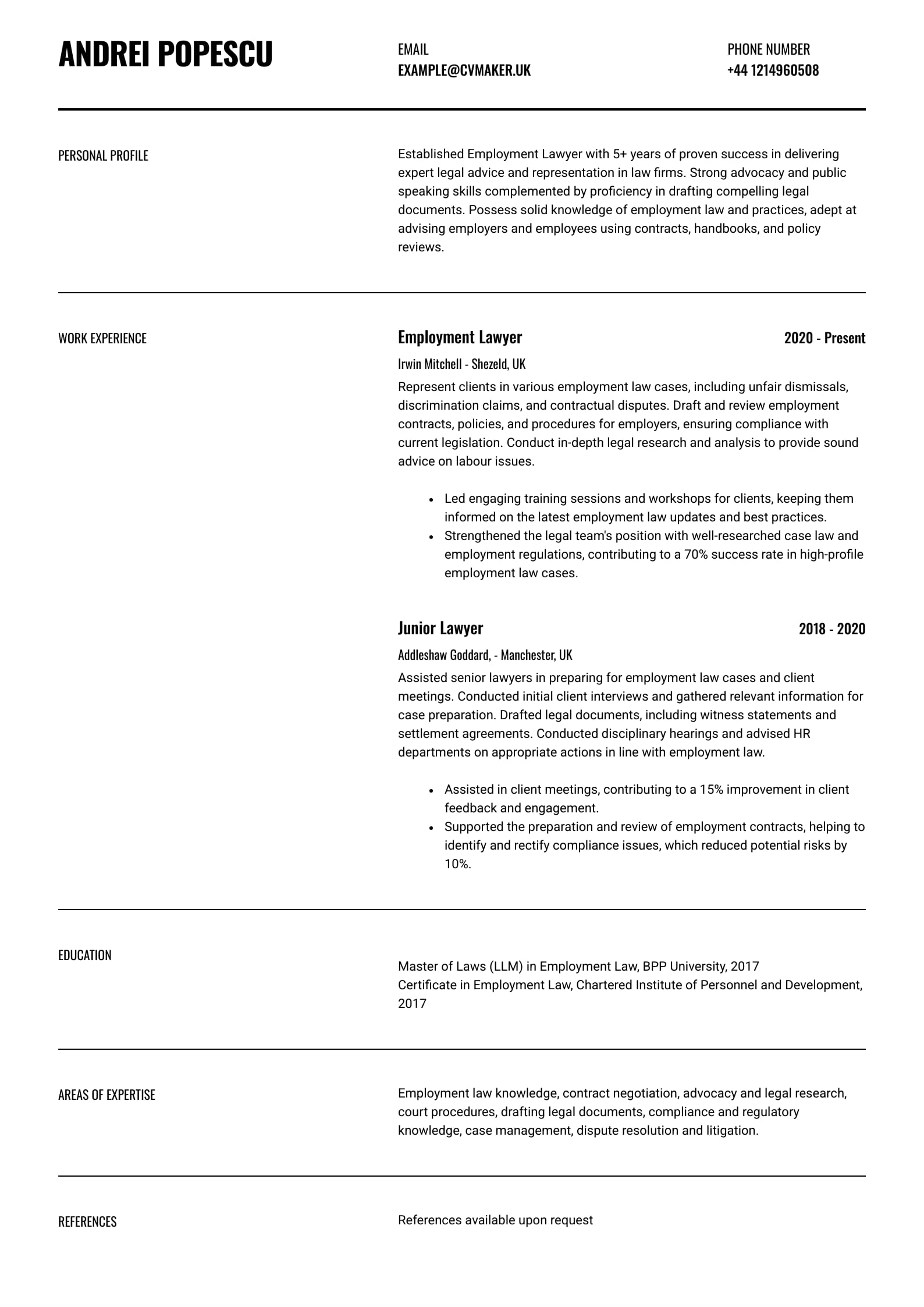 Persuasive Lawyer CV (Step-by-step Guide with Examples)
In the UK, becoming a lawyer boasts a staggering 2% success rate. These numbers may look intimidating, but don't let them discourage you from pursuing your dream job. They play a pivotal role in providing legal advice, drafting documents, and representing clients in courtrooms across the UK.
As this lucrative field continues to demand sharp expertise and a deep understanding of UK law and the job market, staying ahead in your career journey is crucial. Embracing AI-powered tools like ChatGPT and navigating tech-driven changes bring new challenges and opportunities. Yet, the demand for skilled legal professionals remains ever-high, as they play a crucial role in resolving civil and criminal cases, ensuring that justice prevails within society.
Whether you are a recent law school graduate, a paralegal, or a seasoned Chief Legal Officer (CLO), this guide helps you navigate the complex legal job market. Discover our expert tips and CV templates for creating a compelling CV, propelling your legal career to new heights.
The CV writing process: Where to start?
Just as lawyers skillfully win cases in court, the CV process reflects the lifecycle of drafting legal documents, including initiation, planning, and execution. It is essential to market yourself efficiently to meet rigorous industry standards. Before you start writing your CV, we suggest carefully examining the job description and researching the industry you are targeting.
Most common types of lawyers:
Solicitor

Barrister

Conveyancer

Property lawyer

Paralegal

Arbitrator

Chartered legal executive

Registered foreign lawyer.
Gaining insights into what hiring managers expect from your application could help you compile splendid career documents that closely align with their requirements. By strategically highlighting your strengths, you can present a compelling case for your legal expertise and present yourself as a top-notch candidate.
See the article on writing a good CV to learn more about master and job-specific CVs.
Lawyer CV example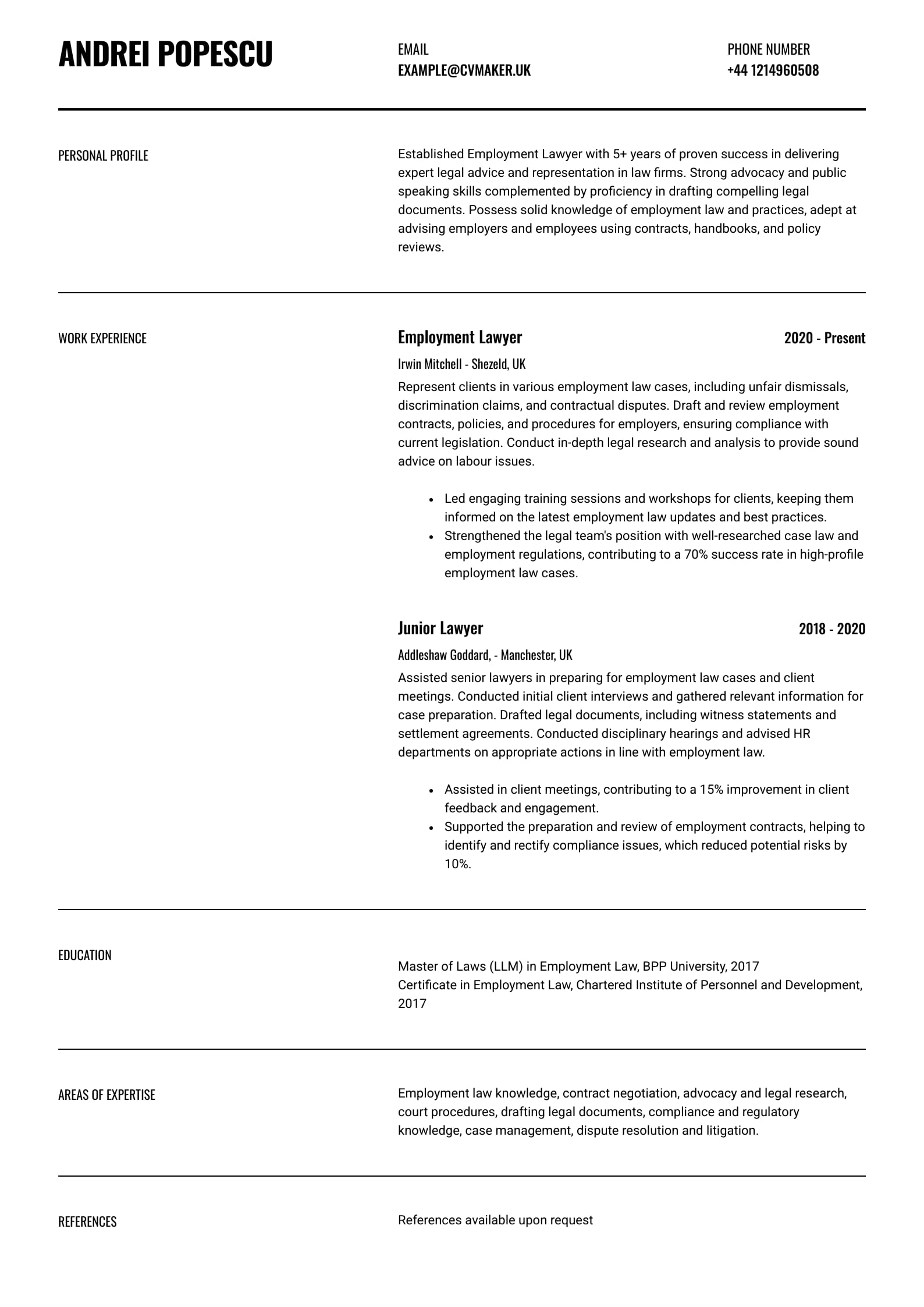 Download this lawyer CV example as a PDF
Andrei Popescu is an experienced mid-level lawyer with a specialisation in employment law. His skill set includes drafting compelling legal documents, conducting thorough research, and representing clients in diverse labour law cases. With a strong advocacy background, he is a suitable candidate for his next role. He has opted for the simple layout and two-column Auckland template that conveys his qualifications and expertise in an easy-to-read format.
What to include in a lawyer CV?
There are core and optional sections you need to take note of when preparing your lawyer CV. The core sections could include personal details, personal profiles, work experience, education, and skills. The optional sections, on the other hand, are additional experience, references, and languages.
Areas of law in the UK:
Employment law

Corporate law

Clinical negligence law

Family law

Tax law

Criminal law

Environmental law

Human rights law

International law.
There is no uniform way of writing a CV, and the way you write it depends on factors such as the type of job or industry and your professional background. The last but not least step is optimising your CV for applicant tracking systems (ATS), as your recruiters or hiring managers can parse your CV for years of experience, technical skills, and the right qualifications.
How to write a personal profile on a lawyer CV
A personal profile, also known as a personal statement, is a brief snapshot of your key qualifications and career aspirations in four to six lines. It provides a quick overview of your personality and shows how you can contribute to the law sector you're trying to enter. Highlight your notable achievements, areas of expertise, and years of experience. Instead of listing your skills in a separate section, use this personal statement to mention your main capabilities. Good soft skills for a personal profile include 'communication', 'negotiation', 'attention to detail' and 'organisation'.
Commercial CV Lawyer personal profile example
Detail-oriented commercial lawyer with 5 years of experience working in contract law and corporate transactions. Proficient in negotiating, drafting commercial agreements, and ensuring regulatory compliance. Trusted for providing practical and strategic legal advice to businesses. Committed to delivering favourable outcomes while mitigating legal risks.
Employment CV Lawyer personal profile example
Dedicated employment lawyer with extensive experience in labour and employment law. Adept at handling employment disputes, conducting workplace investigations, and advising on HR policies and compliance. Strong litigation skills with a successful record of representing clients in employment-related lawsuits. Committed to advocating for fair workplaces and protecting the rights of employers and employees.
Associate lawyer CV personal profile example
Attentive associate lawyer with a Bachelor of Law (LLD) degree and a successful track record in handling complex legal cases. Skilled in legal research, providing strategic advice, and drafting precise legal documents. Demonstrated ability to communicate complex legal concepts clearly to clients and stakeholders. Committed to upholding the highest ethical standards while advocating for clients rights and interests.
Corporate CV lawyer personal profile example
Accomplished corporate lawyer with 9 years of experience, specialising in mergers and acquisitions, corporate governance, and securities law. Proven track record of advising corporate clients and facilitating business transactions. Skilled in drafting shareholder agreements and corporate policies. Dedicated to driving business growth and maximising shareholder value.
In-house lawyer CV personal profile example
Versatile in-house lawyer with expertise in contract negotiation, intellectual property, and regulatory compliance. Strong experience working as a key legal advisor within corporate legal departments. Skilled in collaborating with cross-functional teams and providing timely legal support. Proactive in identifying legal risks and protecting the interests of the organisation.
Litigation lawyer CV personal profile example
Litigation Lawyer CV Personal Profile Example Highly analytical litigation lawyer with a strong track record in civil and criminal litigation. Skilled in legal research, case analysis, and courtroom advocacy. Excellent communication skills with a history of negotiating settlements and representing clients effectively. Committed to achieving justice and fair outcomes for clients.
Senior lawyer CV personal profile example
Seasoned senior lawyer with expertise in corporate law, litigation, and regulatory compliance. Adept at leading legal teams, mentoring junior lawyers, and managing high-profile cases. Proven track record of providing strategic advice to senior executives and board members. Dedicated to upholding the highest ethical standards and advancing the legal profession.
Trainee lawyer CV personal profile example
Ambitious trainee lawyer with a Bachelor of Laws (LLB) seeking valuable experience in a dynamic legal environment. Proficient in legal research, drafting documents, and supporting senior attorneys. Excellent communication and interpersonal skills with a strong commitment to professional development. Eager to contribute to the success of a forward-thinking law firm and gain expertise across diverse legal areas.
What skills to put on a lawyer CV?
Incorporating the right legal skills is crucial not only to impress hiring managers but also to navigate ATS. Carefully opt for the most prominent skills that showcase valuable capabilities that could benefit the organisation or law firm. The key is to differentiate between soft and hard skills because. So, make it easy for employers to recognise your strengths and enhance your prospects for a successful legal career.
If you're a trainee or transitioning to a different role, try to incorporate transferable skills such as 'problem solving', 'project management', or 'critical thinking' from previous experience. This could further help you land your job, especially if you're seeking a career change.
Examples of hard skills:
Writing

Legal knowledge

Commercial awareness

Legal research

Data management

Knowledge of substantive law and legal procedure

MS Office Suite.
Examples of soft skills:
Initiative

Empathy

Public speaking

Resilience

Conflict resolution

Persistent

Attentive.
Example of technical skills:
Legal research: Westlaw, LexisNexis

Case management systems: Clio, MyCase, PracticePanther

E-discovery: Relativity, Nuix

Document automation: HotDocs, Contract Express

Legal billing: Bill4Time, TimeSolv

Legal analytics: Bloomberg Law, Ravel Law

Cybersecurity and data privacy compliance: GDPR, CCPA, HIPAA.
How to write work experience on a lawyer CV
The work experience section is the foundation for any CV in the legal field, as that's what most job hiring managers ask you to have. Focus on showcasing tangible achievements rather than just listing duties. Emphasise your most recent and relevant legal roles that align with your targeted legal positions. Tailor your CV to a specific job by demonstrating your expertise, legal prowess, and the valuable contributions you've made as a lawyer.
Examples of achievements:
Drafted and negotiated contracts for high-profile corporate clients, resulting in a 20% increase in business agreements.

Developed and executed 30+ winning trial strategies, securing critical court decisions and favourable judgments for clients.

Trained and onboarded 5 paralegal teams to address legal issues in mergers and acquisitions, contributing to the successful completion of multimillion-pound deals.
See the achievements article for more guidance.
Examples of work experience:
Senior Lawyer, Smith & Associates Law Firm, New York | 2016-Present
Represent clients in complex litigation cases, handling trial preparation, legal research, and drafting legal documents. Collaborate with senior attorneys on legal strategy and case analysis. Advise corporate clients on compliance with regulatory requirements and conduct due diligence in M&A transactions.
Achieved favourable outcomes in 85% of cases, leading to increased client referrals and high client retention rates.

Negotiated settlements for clients, successfully resolving 90% of cases out of court, saving time and resources for both clients and the firm.

Received recognition for outstanding contributions to a landmark litigation case.
Corporate Legal Adviser, TechLink Inc., San Francisco | 2014 - 2020
Provided legal guidance and support to the company's management and cross-functional teams. Drafted and reviewed various commercial contracts, ensuring legal compliance and risk mitigation. Led the legal team in intellectual property matters, securing three successful patent registrations and enabling the company's expansion into international markets.
Designed and implemented internal legal training for employees on contract best practices.

Counselled with external counsel to manage litigation cases effectively, resulting in an impressive 80% success rate in favour of the company.

Received commendation for exceptional legal counsel in a high-stakes M&A negotiation.
Pro Tip
If you have held several short-term jobs or internships, only pick the most relevant ones that could add value to your legal background. In turn, this helps streamline your CV and make it more impactful to potential employers.
How to list education on a lawyer CV
Education is a testament to your legal acumen, expertise, and qualifications. Showcase your relevant legal training and academic achievements to demonstrate your capabilities in handling complex legal matters and commitment to professional excellence. Legal work is intellectually challenging and competitive, so universities expect excellent A-level grades as evidence that you'll be able to cope with the demands of studying law.
Examples:
Bachelor of Laws (LLB), University of London, London | 2020 - 2023
Graduated with First Class Honours.
Bachelor of Laws (LLB), University of Manchester, Manchester | 2017 - 2020
Obtained Upper Second Class Honours (2:1).

Recipient of the Law Scholarship for outstanding academic performance.
Legal Practice Course (LPC), City Law School, London | 2014 - 2017
Completed extensive advocacy training for courtroom practice.
Pro Tip
If you're a trainee or have no experience, you usually require a minimum of two A levels, with three A grades needed for the most popular courses. Entry requirements for an undergraduate law degree at top universities typically range from AAA to AAB.
How to list courses and certificates on a lawyer CV
As a lawyer, showcasing your professional development through relevant courses and certifications can bolster your qualifications and demonstrate your commitment to staying up-to-date with the latest law best practices. Renowned legal institutions like The University of Law, The City Law School, and The Chartered Institute of Legal Executives (CILEx) provide specialised certificates tailored to various legal specialisations. Incorporating these certifications into your CV not only enhances your credibility but also showcases your expertise in specific legal domains.
Examples of courses and certificates:
Qualified Lawyer Transfer Scheme (QLTS), Solicitors Regulation Authority (SRA)

Bar Professional Training Course (BPTC), Bar Standards Board (BSB)

Chartered Legal Executive (CILEx), Chartered Institute of Legal Executives (CILEx)

Higher Rights of Audience (HRA), Solicitors Regulation Authority (SRA)

Advanced Criminal Litigation and Advocacy Certificate, Solicitors Regulation Authority (SRA)

Notary Public, The Faculty Office of the Archbishop of Canterbury

Certified Fraud Examiner (CFE), Association of Certified Fraud Examiners (ACFE).
Pro Tip
If you have participated in other activities or gained related experience, such as attending conferences, contributing to journals, volunteering, or working for NGOs, consider creating a separate section for 'Additional experience'. List all your relevant side jobs and accomplishments here to showcase your interest and diverse skill set.
Key takeaways
After reading this article, you should have a better understanding of what hiring managers expect in your CV and how to format and structure your lawyer CV effectively. Technologies rapidly shape the legal landscape, so take advantage of that and demonstrate your proficiency in the latest tools and legal knowledge. See our key takeaways below:
Keep your CV concise, focusing on the most relevant information.

Write a compelling personal statement that showcases your passion and noteworthy achievements in the legal sector.

Differentiate between soft and hard skills by incorporating the former in the personal profile section.

Quantify your achievements with specific metrics and numbers whenever possible.

Highlight both duties and achievements, such as drafting documents or securing court decisions.

Showcase your relevant education alongside qualifications or certificates.

Proofread your CV thoroughly for spelling and grammar errors.
Next steps?
If you need to improve your legal writing skills, reach out to our CV Writing Services. We're here to answer all your pressing questions. For further inspiration, explore 40+ CV examples to guide yourself in structuring and writing your CV concisely. Additionally, see how to start a cover letter and submit an application with no worries.
FAQ
What should a lawyer CV look like?
It should include core sections such as personal details, work experience, education, and skills. Use clear section headings, a professional font (no less than 10 points), and maintain consistent fonts, sizes, and layout. Lastly, while listing your achievements or awards, utilise bullet points and appropriate spacing to enhance readability.
Are lawyers solicitors?
In the UK, the term "lawyer" is a broad term used to describe anyone who is a legal practitioner qualified to offer legal advice or representation in one or two branches of law. In England and Wales, solicitors and barristers fall under the category of lawyers. Solicitors handle personal legal matters such as divorces, wills, and employment claims, whereas barristers are involved in higher court cases. On the other hand, in the US, the legal profession is not divided into two, and individuals practising law are commonly referred to as 'Attorneys'.
How do I write a good CV for a legal internship?
A CV for a legal internship includes your personal details, relevant work experience, education, extracurricular activities or achievements related to the world of law. Emphasise your legal research and writing skills, attention to detail, and ability to work in a team. Highlight any relevant coursework, volunteer work, or participation in law-related organisations.
See our school leaver for more guidance.
What is the best format for a legal CV?
We recommend you use a reverse chronological format, starting with your most experience and working your way backwards. Most hiring managers expect candidates to have that, so it's better to be on the safe side in this case. If you have little to no experience, have career gaps, or seeking a career change, consider creating a skills-based CV which lists your skills types and achievements instead of focusing on work history. Lastly, use a consistent font and professional template that aligns with the company's culture.
How do I write a CV for a law student?
Start with including your personal details, education, relevant coursework, and any legal internships or apprenticeships you might have taken. Since you don't have much experience as a student, we suggest using a skills-based approach and focusing on transferable skills from your studies. Highlight your academic achievements, legal research abilities, and participation in law-related activities or organisations. Show your passion for law and commitment to professional growth. Lastly, create a degree description to show how your education and expertise can contribute to your target industry.
Land the interview for your dream job with CVMaker
Effortlessly create your professional CV within 10 minutes and download it whenever and wherever you want!
Create your CV
Increase your chances landing your dream job with CVMaker.