Sustainability CV
Using the Wheaton template Charles draws the eye to a powerful personal profile and gives his work experience, skills and education room to impress down below. A clear design brings his value across with ease.
Start your CV now
"Established Environmental Manager MSc and PMI with 5+ years of experience in environmental conservation, sustainability, and regulatory compliance. Oversee environmental impact assessments for major construction projects."
Charles Bunting
- Senior Environmental Manager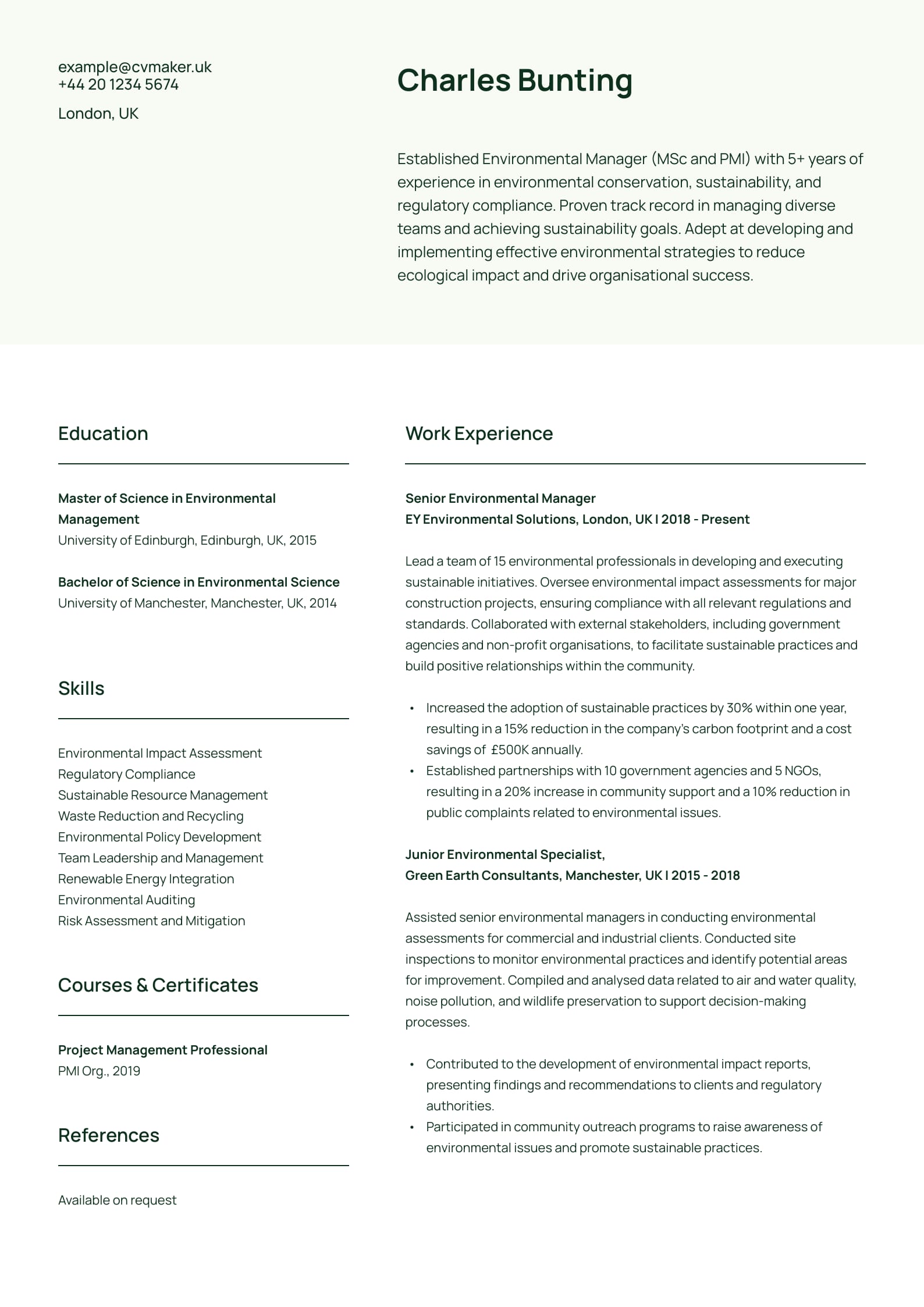 How to Write a Sustainability CV: Best Guide with Examples to Make a Big Impact
Now more than ever the sustainability sector in the UK needs dedicated and passionate individuals to drive impactful change for the better. From the automotive industry to retail, finance and engineering, for sustainability experts, it's currently an applicant's market.
The key to landing interviews in this essential field is knowing how to write a good CV and using it to forge exciting job opportunities, pursue continuous learning and contribute to potentially world-saving initiatives. 
You might be putting down roots in sustainability or have your sights set on roles such as:
Sustainability analyst

Environmental consultant

Green energy project manager

Conservation policy maker

Corporate sustainability officer.
To be successful, you require an effective CV template that clears the hurdles of application tracking systems (ATS) and positions you as the ideal candidate.
In this comprehensive guide, we walk you through the essentials of creating a modern CV primed for an impactful career in sustainability, reflecting your dedication and true potential.
Sustainability CV example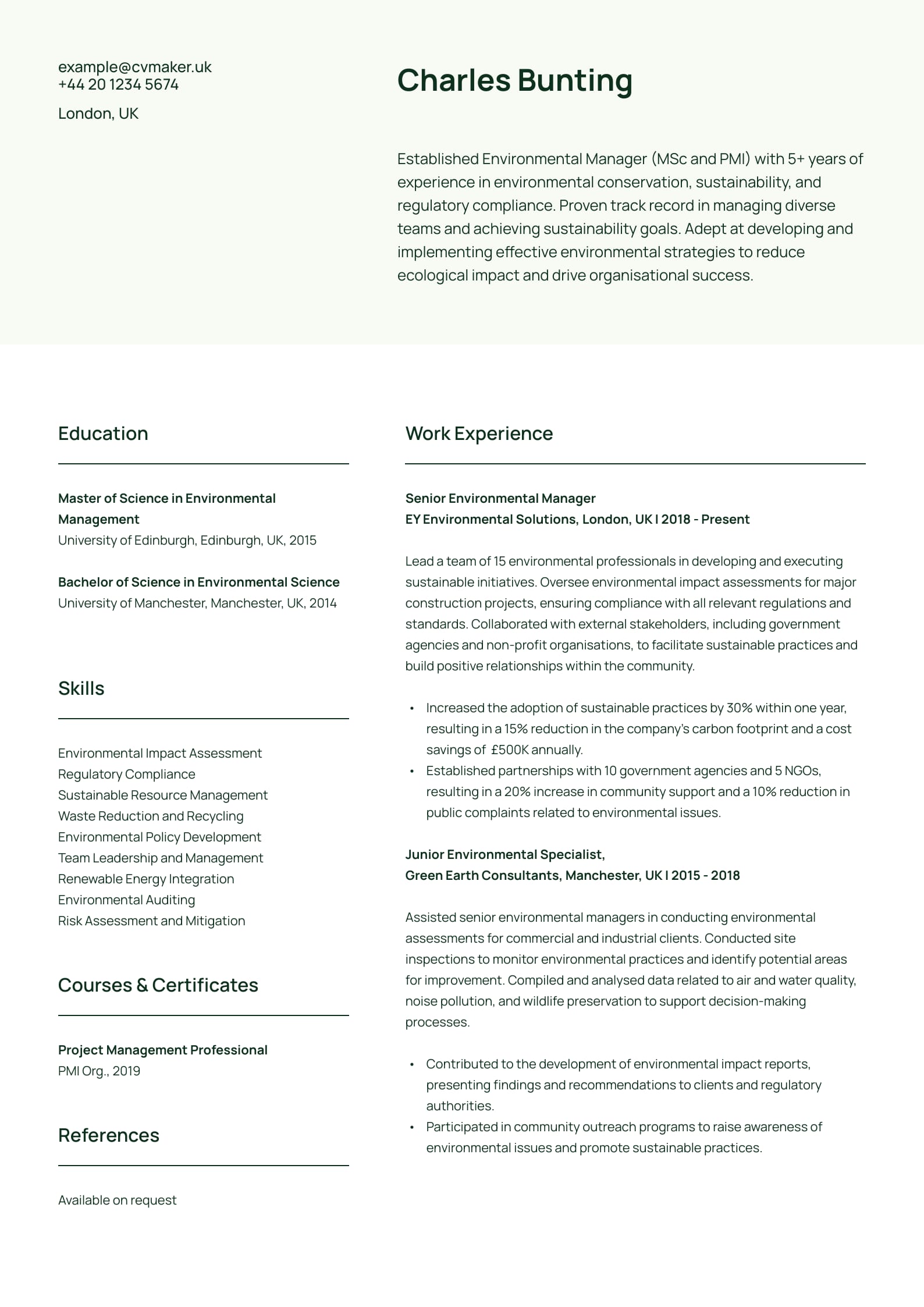 Download this sample CV for a sustainability job in the UK
Using the Wheaton template Charles draws the eye to a powerful personal profile and gives his work experience, skills and education room to impress down below. A clear design brings his value across with ease.
What to include in a sustainability CV?
Writing a CV for a career in sustainability, much like for roles in civil service or project management, requires a strategic approach that reflects your unique skills, passions and career goals. Before you start writing, it's important to reflect on several key aspects:
What specific role are you targeting?

Where do you see yourself in the future of this field?

Which unique skills and experiences do you bring to the table?

Are there particular industries or sectors that ignite your passion?
Remember, hiring managers appreciate clarity and ease of access to information. They're looking for candidates who can present themselves confidently and concisely.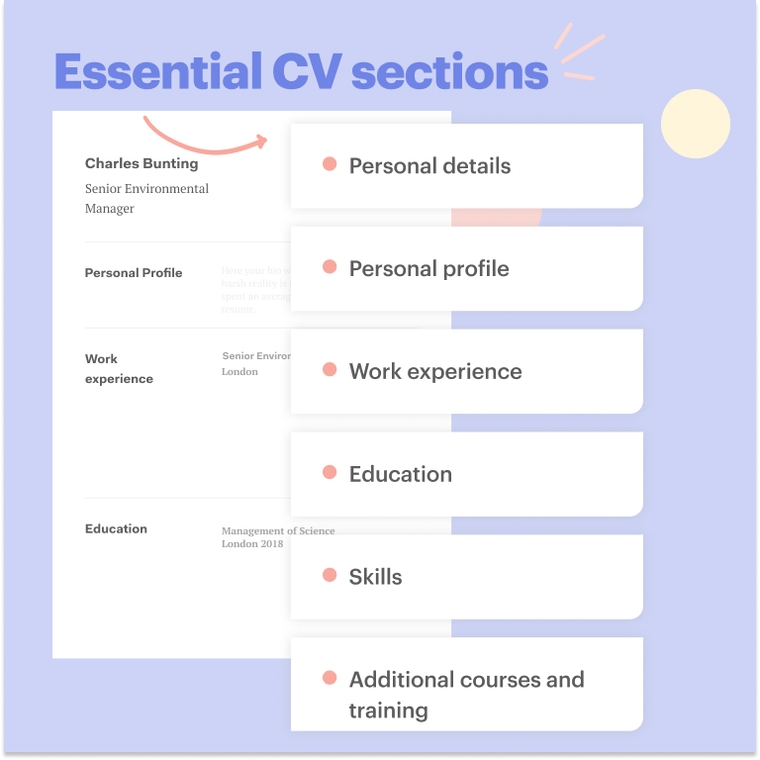 One effective strategy in the CV writing process is to create a master CV - a comprehensive document detailing all your skills, experiences and achievements. This doesn't get sent to employers but instead serves as a rich source you can draw from to tailor CVs specific to the job description.
Highlight your sustainability goals in a personal profile
A personal profile is a brief summary of your skills, experiences and goals, tailored to a specific job application. It's your chance to highlight your qualifications and tell recruiters what you want to achieve. For a more detailed guide, find out how to write a personal profile with tips and examples.
Sustainability Consultant CV Personal Profile Example
Sustainability Consultant with over 4 years of experience in environmental consultancy and a qualified BREEAM Assessor. Known for exceptional communication, meticulous attention to detail and robust organisational skills. Adept at building client relationships, conducting comprehensive BREEAM assessments and contributing to all aspects of sustainability consultancy.
Sustainability Manager CV Personal Profile Example
Seasoned sustainability manager with over 5 years of experience, excelling in driving operational sustainability initiatives across multiple verticals. Renowned for leading carbon emissions reduction strategies and advancing the resource efficiency agenda. Demonstrates exceptional project management, negotiation and presentation skills. Proven expertise in BREEAM and embodied carbon, with a strong focus on delivering sustainable performance.
Social Sustainability Adviser CV Personal Profile Example
Dynamic social sustainability advisor with over three years of hands-on experience in managing and overseeing social and sustainability issues. Proven track record in delivering sustainability pillars, developing action plans, and generating new social value initiatives. Known for exceptional teamwork, analytical thinking, and organisational skills. Committed to promoting social value and building strong relationships with local communities and schools.
Junior Sustainability Adviser CV Personal Profile Example
Motivated junior sustainability adviser with two years experience implementing comprehensive sustainability strategies. Skilled in ESG reporting, with a deep understanding of climate change and the importance of biodiversity. Known for exceptional project management and stakeholder communication, thriving in cross-functional teams. Committed to promoting corporate responsibility and advancing sustainability goals in alignment with global standards.
Pro Tip
Personal profiles do not use 'I' or 'me', are no longer than 70 words in length and always mention the years of experience.
Include key skills for a sustainability CV
The sustainability sector is diverse and full of opportunities requiring various skills. These essential skills are typically grouped into three categories: hard, soft and technical.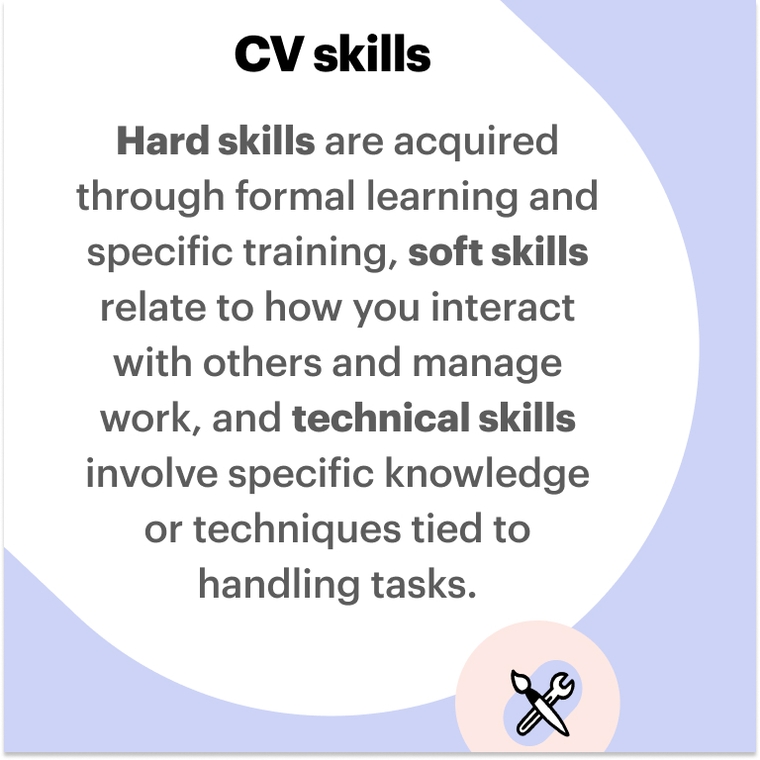 Remember, it's not just about your degrees or jobs you've had; it's about showing you have the right skills for the job you want. See here for an in-depth look at how to list skills on a CV.
Hard skills

Soft skills

Technical skills

Environmental auditing

Leadership and team management

Proficiency in data analysis software

Knowledge of sustainable development practices

Critical thinking and problem-solving

Environmental impact assessment

Waste management strategies

Strong communication and interpersonal abilities

GIS (Geographic Information Systems) capabilities

Environmental laws and regulations

Adaptability and resilience

Competency in climate modelling software

Carbon footprint analysis

Project management and organisation

Understanding of renewable energy systems
Showcase your previous work experience
As it is for a computer scientist or business analyst, work experience is a cornerstone of your CV, offering tangible proof of your capabilities in action.
In the sustainability sector, it's not just about the roles you've held, but the impact you've made - so knowing how to write work experience properly is paramount. Employers want to see how your actions have driven change or added value, reflecting your potential contribution to their objectives.
Work experience CV examples
Sustainability Consultant | Cli-Mate Sustainable Auditing, London | 2018 - Present
Leading complex sustainability projects from conception to implementation, collaborating with small and multi-national companies to promote environmental strategies and solutions. Conduct rigorous sustainability assessments, develop bespoke sustainability frameworks and provide strategic advice to enhance clients' sustainability performance.
Spearheaded a cross-functional team to develop an innovative waste reduction program, resulting in a 25% decrease in client's operational waste within a year.

Authored a comprehensive sustainability policy adopted by three major corporate clients, impacting over 5,000 employees.
Sustainability Manager | Green Innovation Services, Birkenhead | 2015 - 2020
Oversaw the development and execution of sustainability initiatives, ensuring compliance with environmental regulations and standards. Managed a team dedicated to sustainability projects, setting strategic goals. Acted as the primary liaison for sustainability communications between departments and external stakeholders, ensuring alignment with corporate sustainability commitments and objectives.
Conceptualised and launched a sustainability volunteer program that fostered community engagement, with 80% employee participation in its first year and established partnerships with local environmental organisations.

Orchestrated a company-wide sustainability initiative that reduced energy consumption by 30% over 18 months, significantly lowering operational costs and enhancing the company's public image as a leader in environmental responsibility.
Sustainability Coordinator | International Research Institute Scotland, Stirling | 2018 - 2022
Played a pivotal role in supporting various sustainability projects, coordinating corporate sustainability plans and engaging with stakeholders to foster a culture of sustainability. Assisted in the development and dissemination of sustainability reports, ensuring accuracy and compliance with relevant standards. Organised and facilitated workshops and meetings to educate employees and stakeholders on sustainability practices and initiatives.
Managed a water conservation project that saved 20% in water usage across company operations within the first year, contributing to the company's reputation for environmental stewardship.

Instrumental in organising an annual sustainability fair that increased community engagement, attracting over 3,000 participants and securing sponsorship from five major industry players.
Junior Sustainability Advisor  | Planet Protectors, Bristol | 2020 - 2022
Contributed to research on sustainability issues, supported the implementation of sustainability policies and participated in community outreach programs. Helped gather data for sustainability reporting.
Contributed to a community outreach program that educated over 1,000 community members on recycling practices.

Supported a greenhouse gas emissions study that informed the company's new carbon reduction initiative.
Sustainability Associate with no experience
If you're applying for a sustainability role with little to no experience, or considering a career change, it's important to focus on your soft skills and any relevant volunteer work. These aspects can demonstrate your commitment and potential in the sustainability field.
Sustainability Associate | Green Initiatives Group, Ipswich  | 2023
Engaged in supporting various sustainability projects, assisting in research and data collection, and participating in community outreach programs. Actively involved in internal sustainability initiatives, contributing to the development of environmentally friendly practices within the organisation.
Assisted in organising a community recycling drive, which collected over two tons of recyclable materials and raised awareness about waste management in the local community.

Volunteered in a tree-planting campaign, helping to plant over 500 trees in urban areas, contributing to the town's green space development and carbon offsetting efforts.
Enhance your CV with the education section
Mastering the education section on a CV is key in sustainability roles. Here you show the knowledge and skills to understand and address environmental challenges. It complements your practical experience, showcasing your commitment to the field. Whether you're a recent graduate or a seasoned professional, highlighting your educational background is recommended.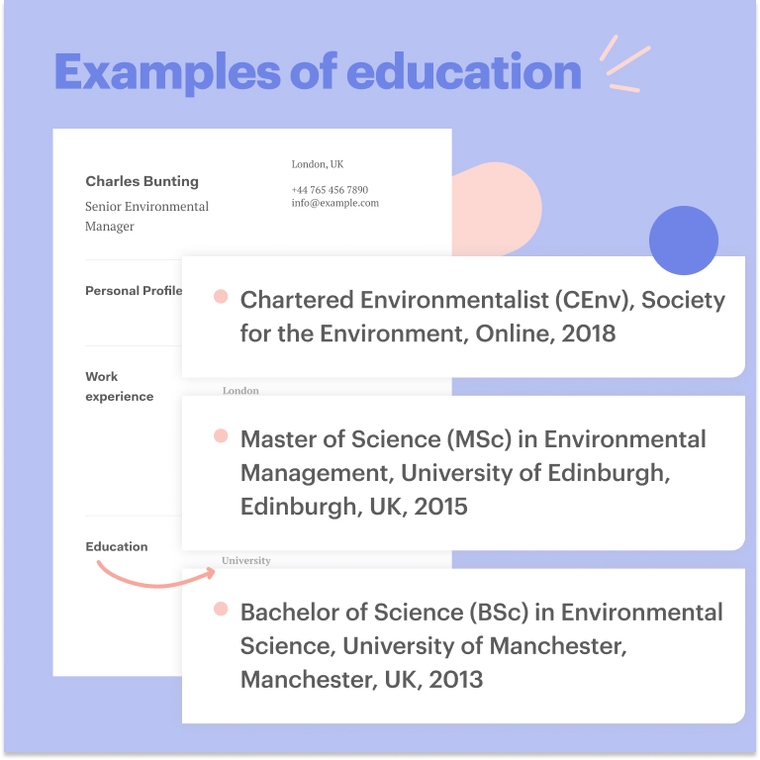 If you're a recent graduate with limited work experience, consider referencing a graduate CV example or using a skills-based CV format.
Add relevant additional sections for sustainability roles
To give your CV an extra dimension, you may consider including further training and even languages.
Additional courses and certifications in sustainability are highly valued in the industry as they demonstrate specialised knowledge and skills. These certifications can set you apart in a competitive field, showing your commitment to continuous learning and staying updated with the latest practices and standards. They are particularly important for those looking to advance their careers or pivot into more specialised roles within sustainability.
Some sustainability certifications include
Roles in this sector often require international collaboration, such as supply chain management - and you can't expect everyone to speak excellent English. That's why it is always a huge plus to include any languages on a CV you may speak to help stand out. Don't be afraid to include works in progress, as this shows you are willing to learn.
Key takeaways
We've covered a lot in this comprehensive guide. Let's break it down into five points you can keep on your desk when crafting an amazing sustainability CV.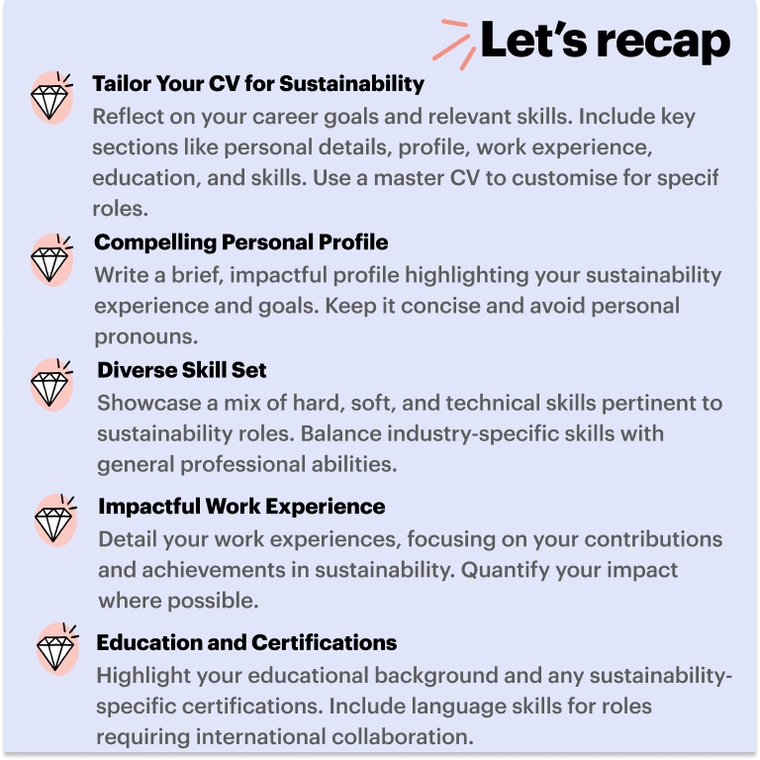 Next Steps?
Iron out any creases using our intuitive CV builder with 20+ templates and professional designs to choose from. To accompany your CV, discover our cover letter templates. If you don't want to leave anything to chance, connect with our professional CV Writing Service. Draw inspiration from our blog for tips on how to save time, emphasise important sections and make it easier for hiring managers to grasp your unique professional offer.
FAQs
What qualifications do you need to work in sustainability in the UK?
Typically, a degree in environmental science, sustainability, or a related field is beneficial. Additional certifications like Chartered Environmentalist (CEnv) or NEBOSH Certificate in Environmental Management can enhance prospects.
Can you apply for a sustainability position with no experience?
Yes, you can apply. When you write your CV, focus on transferable skills, volunteer work, internships or relevant coursework. Highlight soft skills. you have gained from your work history and enthusiasm for sustainability.
What environmental jobs are in demand in the UK?
Roles like sustainability consultant, environmental manager, renewable energy project manager and Conservation Officer are in demand. Jobs focusing on sustainable energy, climate change, waste management, and environmental health policy are also sought after.
What is the best CV format in the UK for a sustainability CV?
Reverse chronological order is generally preferred, showcasing your most recent and relevant experiences first. Include your personal details with up-to-date contact details. Ensure your CV is ATS-friendly and includes a skills section, along with impactful work achievements. Refer to our chronological CV example article for more insights.
Land the interview for your dream job with CVMaker
Effortlessly create your professional CV within 10 minutes and download it whenever and wherever you want!
Create your CV
Increase your chances landing your dream job with CVMaker.