Care Assistant CV
Emma has opted for the simple one-column Otago template. It showcases her relevant skills and qualifications in a concise and easy-to-read manner. Her personal profile and work history present her as a passionate and caring professional who is ready for the new challenge.
Start now
"Qualified and compassionate Care Assistant with a demonstrated track record of 5 years in delivering exceptional physical and emotional support to adults and the elderly. Natural leader with strong conflict resolution skills, adept at guiding and motivating teams of medical workers."
Emma Thompson
- Care Assistant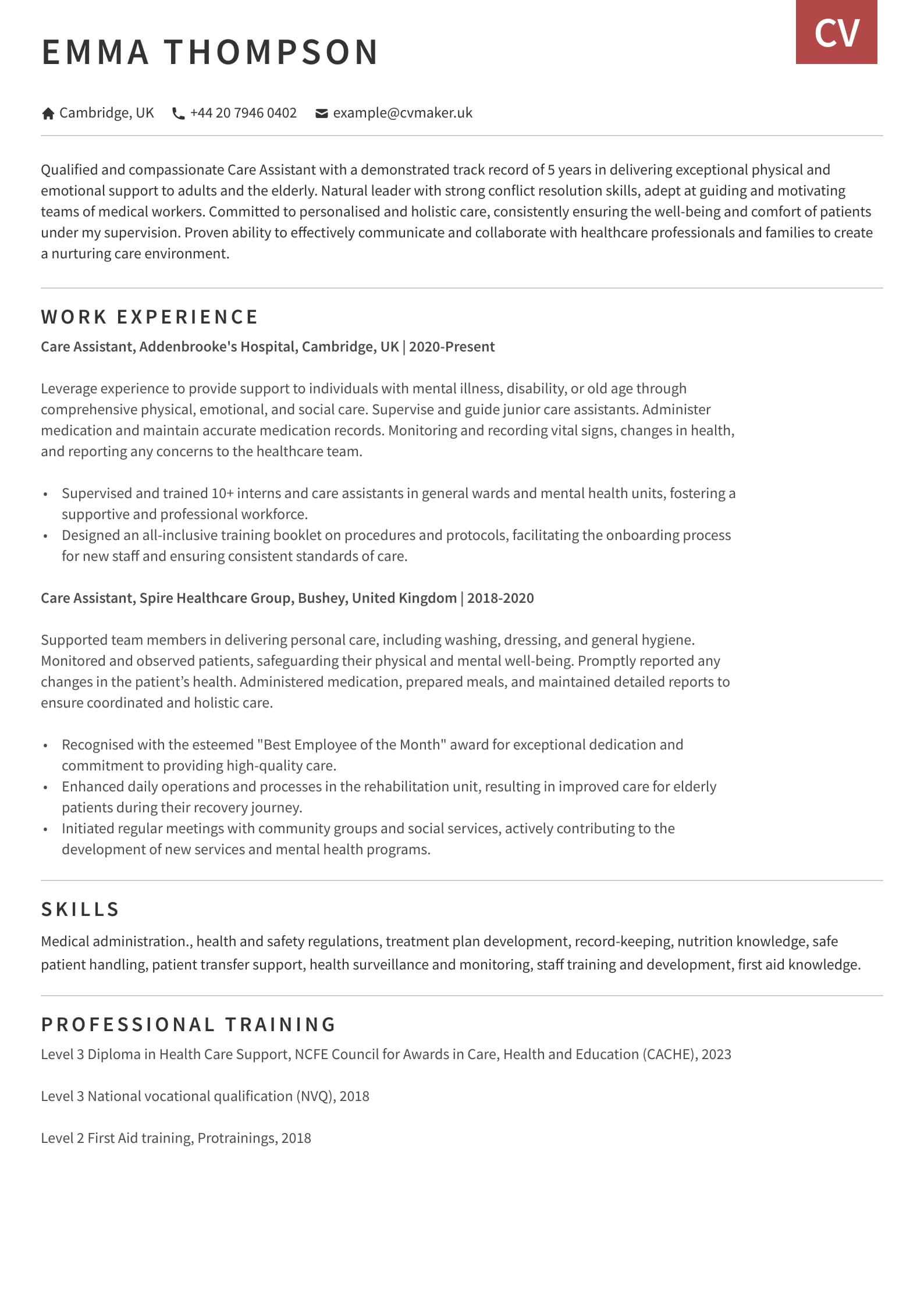 How to Write a Care Assistant CV (Free Step-by-Step-Guide)
If you have a genuine passion for making a positive impact on people's lives, a career as a care assistant could be an ideal match for you. Naturally, getting started in this field may present some challenges, but rest assured, the rewards far outweigh the time and effort invested in the job search.
As a caregiver, you become a vital part of the community, offering support to those who are less capable of managing on their own. This role demands diligence, empathy, and patience, which will enable you to provide the best possible care to those in need. Your day-to-day routine would typically include assisting sick, elderly or disabled persons with activities such as personal care, household tasks, companionship and transportation.
If you're considering pursuing this career, read on to learn more about how to create a successful CV that would set you apart from other candidates. This article provides valuable insights and practical examples of how to format and showcase your key skills in the UK.
The CV writing process: Where to start?
To create a good CV, it's essential to adopt a strategic approach. Your CV should be applicant tracking system (ATS)-friendly and showcase your desire to help others, demonstrating a patient-centred attitude. Focus on highlighting relevant work experience, education, and key skills, while aligning them with your career goals.
Job opportunities in various sectors within the UK:
Healthcare facilities

Residential care homes

Domiciliary care agencies

Childcare centres

Mental health organisations.
While tailoring your CV for each job application is crucial, some information and skills keep on recurring from one job to another. To make this process a breeze, we recommend creating a master CV and then using it to apply for several jobs within the healthcare industry.
Master vs job-specific CV
A hiring manager's goal is to find top talent for a specific job opening. To meet this goal, create a master CV and then use it to customise for every job application. In a nutshell, it is a career log that encompasses all your work history, relevant qualifications, and areas of expertise. A master CV is a resource you can refer back to and build from when creating a CV for each job you apply for. Adjust your qualifications, skills and experiences to the job description and type of job you're applying for. Demonstrating confidence in what you do and maintaining a record of your achievements would be a successful tactic for marketing yourself effectively.
For more information, read the article on how to improve your CV.
Care Assistant CV example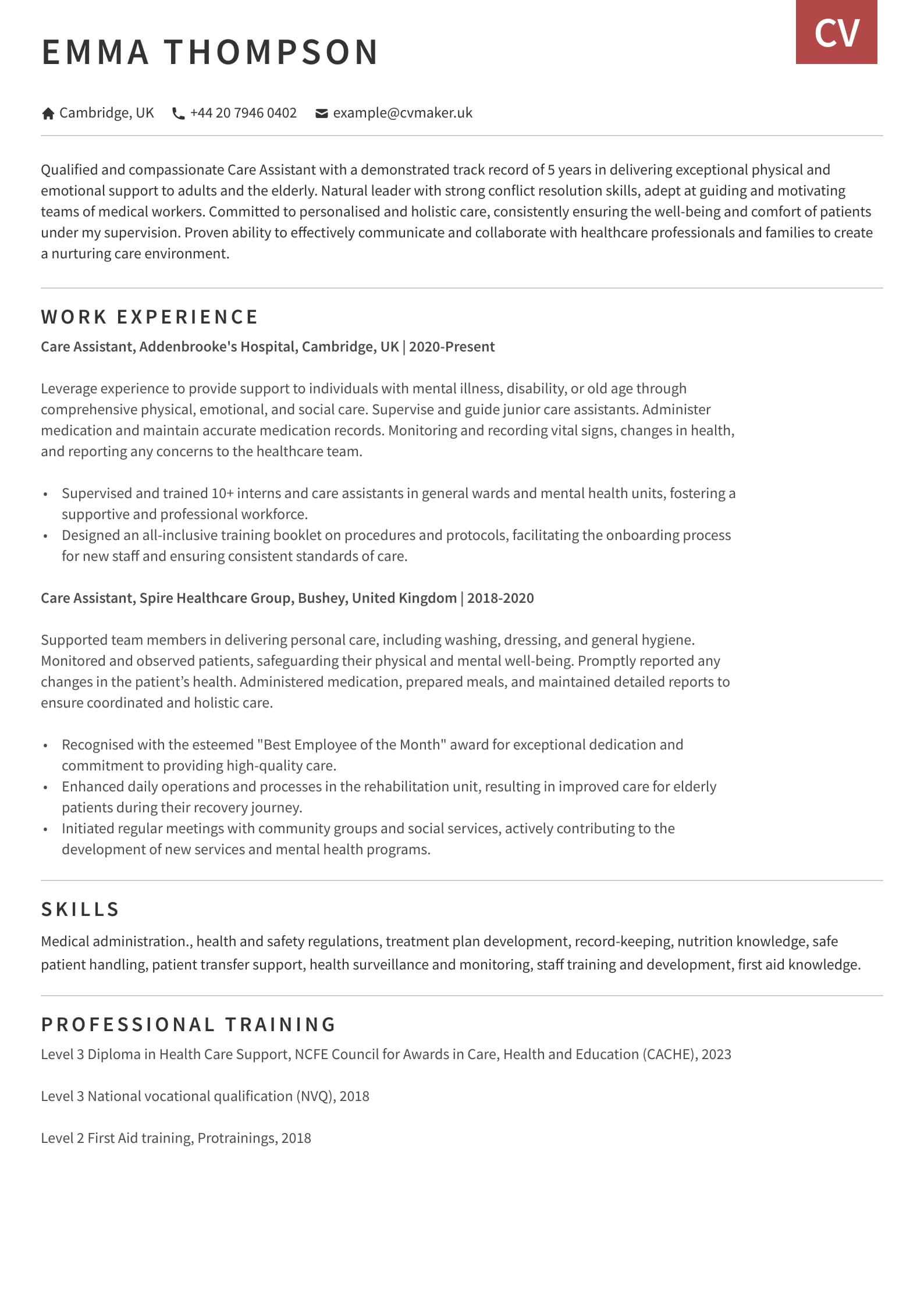 Download this CV example - Care Assistant CV as a PDF
Emma Thompson is a care assistant with over 5 years of work experience in the clinical sector. This CV highlights her mental health expertise, focusing on adult and elderly care. Emma's personal profile section presents her as a leader who guides and helps people grow personally and professionally. Emma demonstrates her suitability for the senior role by presenting her relevant work experience section clearly and concisely. As for the CV format, she has opted for the one-column Otago template with a professional font and simple chronological format.
What to include in a care assistant CV? 
It needs to include personal details, personal profile, education, work experience, skills, and other optional sections. The key is to make it as readable as possible while making sure you know how to differentiate between mandatory and optional sections. Emphasise and bring these sections as high as possible on a CV to catch your hiring manager's attention.
Read our pharmacist and support worker articles to learn more.
How to write a personal profile on a care assistant CV
A personal profile is a hook which pulls the recruiter or hiring manager to your CV and invites them to learn more about you. It's your opening statement and something many applicants, unfortunately, neglect. Writing a great personal profile on a CV is key to making a lasting first impression. Below are a few tips to remember when writing your CV summary:
Include soft skills such as communication and the ability to work in fast-paced environments.

State your career goals, such as experience level and specific job target, highest level of education and main career accomplishments.

Be clear and concise, keeping your profile to a maximum of 70 words or six lines. Remember, personal profiles do not use personal pronouns like 'I' or 'my'.
Pro Tip
Align your personal profile with the job description. Not only will this show your suitability for the role, and it will demonstrate your ability to research the organisation and position.
Senior Care Assistant CV personal profile example
Experienced Senior Care Assistant with over 10 years of experience in crisis intervention, hospital treatments, and supporting children with learning and developmental disabilities. Adept at building strong relationships with clients and their families with a natural ability to be approachable and empathetic. Strong interpersonal skills with a proficiency in overseeing and monitoring diverse teams of care workers while adhering to personal needs.
Care Assistant with no experience CV personal profile example
Compassionate nursing graduate committed to providing exceptional care and support while working collaboratively with other healthcare professionals. Excellent interpersonal skills, adept at providing physical and emotional support to people in need. Skilled in scheduling appointments, patient registration, and maintaining a clean and safe environment.
Emergency Care assistant CV personal profile example
Enthusiastic Emergency Care Assistant with over 5 years of experience providing emergency medical care to patients. Demonstrated track record of helping patients with life-saving care, with a strong ability to respond to cases of sudden injury and illness and answer emergency calls. Adept at helping them with meal preparation, basic cleaning, and hygiene.
Health Care Assistant CV personal profile example
Passionate Health Care Assistant with over 7 years of experience providing exceptional patient care. Proven track record of providing essential care, reading care plans and observation charts, and ensuring the patients are comfortable and stress-free. Adept at assisting patients with daily activities, checking vital signs and assisting hospital staff when requested.
Social Care Assistant CV personal profile example
Attentive Social Care Assistant with over 8 years of experience providing exceptional care to elderly patients. Demonstrated track record of assisting clients or families in care facilities with routine tasks. Skilled in coordinating community services such as food stamps and first aid. Proficient in patient mobility and helping clients with completing the necessary paperwork on time. Excellent communication skills, with the ability to foster lasting relationships and resolve conflicts with visitors or staff.
Live-in Care Assistant CV personal profile example
Empathetic Live-in Care Assistant with over 6 years of experience providing exceptional care to elderly patients. Demonstrated track record of providing exceptional emotional and physical care, companionship, and dealing with household tasks. Adept at maintaining patient-centred 24-hour-a-day care for the elderly and adults.
Elderly Care Assistant CV personal profile example
Established Elderly Care Assistant with over 9 years of experience providing exceptional care to elderly patients. Excellent communication and leadership skills, enabling positive relationships with families, clients, and staff. Skilled in day-to-day care, administering medication, and helping with general household jobs.
Childcare Assistant CV personal profile example
Experienced Childcare Assistant with over 5 years of experience providing exceptional care to children. Excellent supervision skills, ensuring reassurance and comfort and keeping children safe and clean. Demonstrated track record of assisting school teachers with basic needs for children, such as bathing, feeding, monitoring movement, and diaper changing.
Refer to our medical CV example or healthcare CV example for some more inspiration on how to write a captivating personal profile.
What skills to put on a care assistant CV
When crafting your CV, it is crucial to format it for clarity. You should integrate soft skills into your personal profile while dedicating a separate section highlighting hard skills and technical abilities. Moreover, written and verbal communication skills are essential as you will be frequently tasked with collaborating and presenting findings to clients or stakeholders clearly and concisely.
Soft skills examples

Hard skills examples

Empathy

Patient care

Communication

Safeguarding elderly

Attentive

Dispensing medication

Teamwork

Care plans

Active listening

Patient record keeping

Compassion

Control of Substances Hazardous to Health Regulations (COSHH)

Patient

Treatment protocols

Observation

Mental health support
To learn more, see the nurse CV example and our article on how to add skills on a CV.
How to write work experience on a care assistant CV 
When writing work experience, it is essential to be specific about your duties as well as your achievements. List them separately in three to four lines while addressing the main requirements of a job post. Recruiters and hiring managers want to hear about day-to-day duties and your overall legacy in your previous role. Below are some tips on how to showcase your work history:
Arrange work experience in reverse chronological order, starting with your most recent job.

Clearly outline your responsibilities and accomplishments for each role, emphasising quantifiable results whenever possible.

Begin each bullet point with action verbs such as 'managed', 'developed', 'prepared', and 'analysed'.

Customise your experience and job titles to align with the requirements of the position you're applying for.

Utilise numbers and percentages to quantify your achievements. For example, you could state 'improved patient satisfaction reviews by 15%' or 'Led and trained 10 new care assistants.'

Demonstrate your industry knowledge and expertise by incorporating industry-specific jargon and acronyms.

Keep it tight using bullet points instead of lengthy paragraphs, making your experience easier to read.
Read further and find out how to write a CV with no experience.
Example of work experience on a CV
Care Assistant, Royal London Hospital, London, UK, 2022-Present
Provide comprehensive physical, emotional, and social care to individuals with mental illness, disability, or old age. Supervise and guide junior assistants. Administer medication and maintain accurate medication records. Monitor and record vital signs and changes in health and report any concerns to the healthcare team.
Designed and implemented a new system for tracking patient progress and treatment plans, resulting in a 20% increase in patient satisfaction.

Conducted training sessions for new staff on best practices for patient care and safety.

Collaborated with the healthcare team to develop a new protocol for managing patients with complex medical needs that resulted in a 30% reduction in hospital readmissions.
To learn more, read our article about work experience on a CV.
How to list education on a care assistant CV
When writing about education, list qualifications and relevant training such as NVQs and first aid. Employers expect sound literacy and numeracy skills, and healthcare qualifications may be required. Include university degrees with honours, whether 2:1 or first and special qualifications like NVQ level 2 or 3 for senior roles. List care certificates separately under "Certifications".
If applicable, your education can include the following:
University degree: Honours can be included but only recommended if it is 2:1 or a first. If you are still a student, add your expected graduation date.

GCSEs or A levels (or equivalent): Most importantly, include your math and English, as this is usually what recruiters seek.

Special qualifications: NVQ level 2 or 3 is expected for more leadership/senior roles. Some employers may not require you to finish your diploma when starting the position, but you must at least work towards it.

Accredited certificates: Some people without training or relevant experience tend to receive training on the job. You may be provided resources to complete the care certificate during this time.
Education section examples
Bachelor of Science in Nursing, University of Edinburgh, 2019

Bachelor of Arts in Psychology, University of Manchester, 2018

Diploma in Health and Social Care, Open University, 2020
See the article on how to add education for more inspiration.
How to list courses and certificates on a care assistant CV
Including courses and certificates in your CV helps you with your application and shows you're always willing to improve. But remember, keep it short and relevant for the position you are applying for. Below are a few tips for listing certifications and professional training on your CV:
Create a separate section for courses and certificates.

Include the following details: course name, institution, or provide name, and completion date.

Focus on courses and certificates that showcase relevant skills and knowledge.

Keep the focus on recent and relevant courses and certificates for the job you're applying for.
Examples of courses and certificates for a care assistant CV
NCFE CACHE level 3 Diploma in health care support, 2021

Level 3 National vocational qualification (NVQ), 2020

Diploma in Health and Social Care, 2019

Care certificate, Skills for Health, 2018

Level 4 Diploma for Hearing Care Assistant, Business and Technology Education Council (BTEC), 2022
Find out more by reading how and where to place your courses and certificates on a CV.
Key takeaways
This article has covered how to prioritise the key CV sections, where to place your key qualifications and skills, and how to format your CV efficiently. Use our examples above and demonstrate your ability to craft a splendid CV, impressing recruiters with time and effort put into application. By leveraging our best practices, you can enhance your CV, even without extensive professional or educational history.
Read job posts carefully and select keywords to tailor your CV for each application.

Emphasise your qualifications and relevant professional training you have undertaken on your way.

Focus on your achievements and highlight any additional experience, such as courses, certificates, or achievements.

Create an accompanying cover letter that introduces yourself and elaborates on parts of your CV that were not unfolded in detail.

Save your master CV, along with all relevant documents, in a secure file that's easily accessible.
Next Steps?
If you're looking to improve your CV writing skills, head over to our CV Writing Services. Our ready-to-use CV builder offers the opportunity to choose a CV template from over 20 professional designs to create an eye-catching CV. To accompany your winning job-application, learn more about how to start your cover letter.
FAQ
How to write a care assistant CV with no experience?
If you have little to no work experience, there are still ways to showcase your skills and experience on a CV effectively. Switch the focus of your CV to your relevant qualifications and certifications and place them at the top of your CV. If you're a school leaver, we suggest highlighting your GCSE (or equivalent) qualifications in English and sciences. Usually, you don't need a university degree, but employers would expect you to have a basic healthcare qualification, such as BTEC or NVQ, in the UK.
To learn more, read on how to create a skills-based CV.
What does a care assistant do?
Working in their clients' homes, care homes, or communities, they tailor their services to suit their clients. Some of their duties include day-to-day tasks such as washing, dressing, and supporting vulnerable people with their mobility.
How to choose the best care assistant CV format?
The best format is reverse-chronological, which is a standard format recruiters know. This format allows you to create a professional CV that matches the hiring managers' expectations. To make it more readable, set left alignment only, have one-inch margins and leave a double space between your CV sections. Opt for a professional CV font such as Times New Roman or Garamond.
How to structure a care assistant CV?
Create a clear and readable CV structure by setting left alignment only for your text, having one-inch margins, and leaving a double space between your CV sections. See the steps below:
Start with your personal details and add them at the very top of your CV.

Create a powerful personal summary.

List your hard skills in a separate section while keeping soft skills in the personal profile section.

Arrange your work experience by listing duties as well as achievements specific to your job target.

Mention relevant education or professional training you have undertaken.

Additionally, add your driving license and relevant job expertise, such as safeguarding or emergency care.
How long should your care assistant CV be?
A CV should ideally be one to two pages long, providing enough room to showcase your key qualifications and experience without going into too much detail. A one-page CV is preferred if you're a student or seeking a career change. Choose wisely what relevant information you want to put on a CV and use concise language to convey your accomplishment effectively. When you finish writing, save your file as a PDF or Word document to keep everything neat and intact.
What is the difference between nursing and care assistants?
Healthcare assistants (HCA) have fewer responsibilities than nurses when it comes to collecting samples, treating wounds, and monitoring vital signs.. The HCA program is shorter than the practical nursing course, making it ideal for those who want to enter the workforce as soon as possible. Unlike nursing, there are no formal entry requirements for becoming an HCA. However, having GCSEs in English and maths or BTEC or NVQ healthcare qualifications can significantly improve your chances of getting a role.
Can you name 5 key duties of a care assistant?
The job is to help patients with basic day-to-day needs, including monitoring health, maintaining hygiene, safe mobility around the home, meal preparation, and cooking. They also assist with medication management and administrative tasks like paying bills. Their role also includes getting to know their clients personally and providing them with mental support, which contributes to physical and emotional well-being.
What are the different types of care assistant jobs in the UK?
Care assistants are essential in many different areas, and there are various types of roles available in the UK, such as
Live-in Care Assistant

Domiciliary Care Assistant

Childcare Assistant

Social Care Assistant

Emergency Care Assistant

Disability Care Assistant

Mental health Care Assistant.
Land the interview for your dream job with CVMaker
Effortlessly create your professional CV within 10 minutes and download it whenever and wherever you want!
Create your CV
Increase your chances landing your dream job with CVMaker.