Medical CV
Using the Erasmus template, Ali is able to clearly list his accomplished work history on the left while highlighting his skills, education and professional memberships on the right.
Get started
"Putting patient care above all else, Ali is an experienced and committed healthcare giver. With over 5 years of experience in various clinical settings, including general medicine and emergency care. "
Ali Ahmed
- Medical Doctor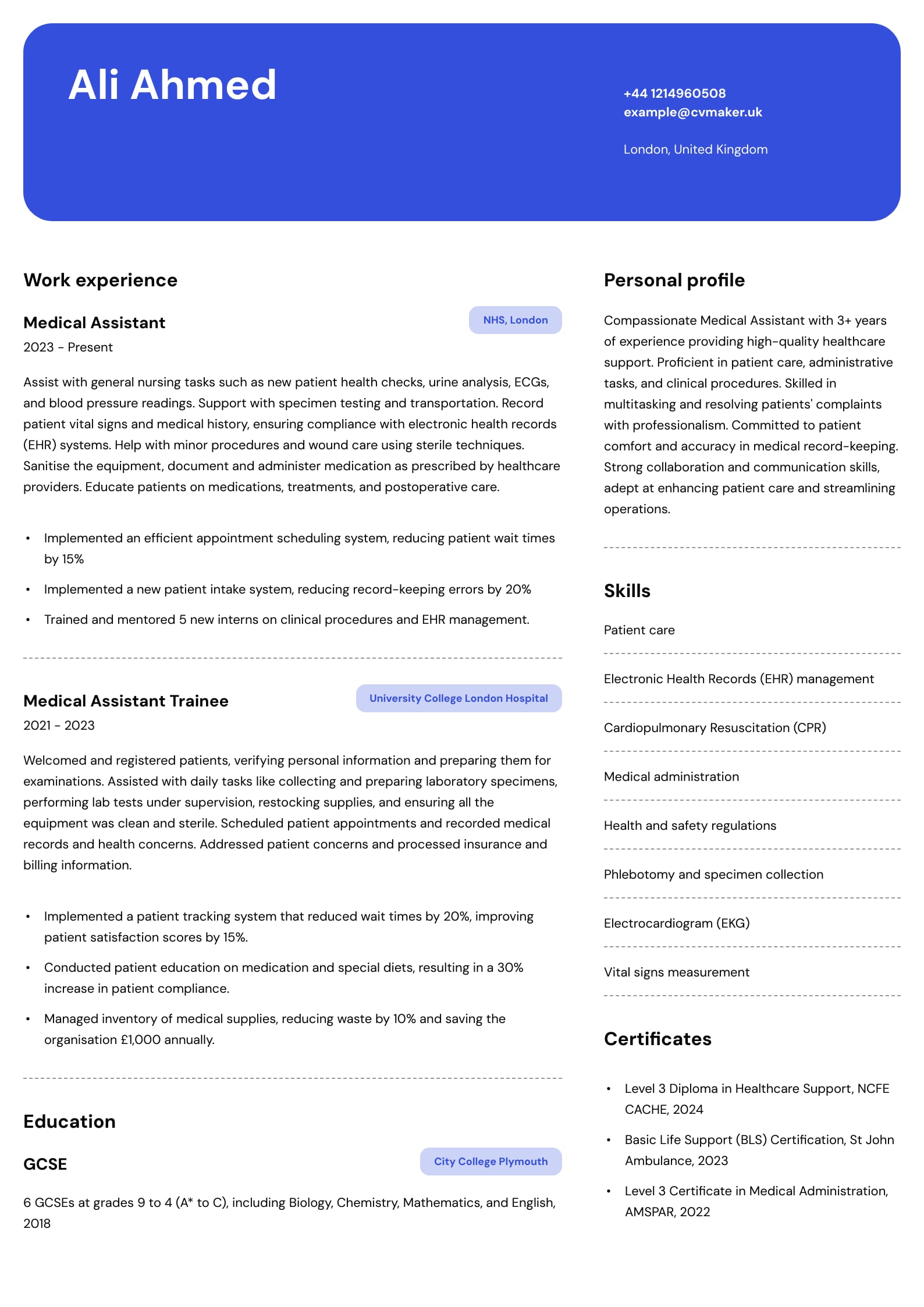 How to Write a Medical CV Guide with Tips and Examples
If you're looking for guidance on creating an eye-catching medical CV that adheres to the rigorous standards of the UK healthcare industry, this article is for you.
Whether you're an experienced doctor or a recent graduate just beginning your career, writing a CV that is highly accurate, tells your unique professional journey and meets the specific requirements of your field is a must.
In this comprehensive guide, we walk you through the process of creating a professional medical CV template that resonates with employers. While our primary focus will be on doctors in the UK, we will also share ready-to-use examples relevant to other roles within the healthcare industry, such as biomedical scientist, lab technician, intern and medical consultant.
The CV writing process: Where to start?
Putting pen to paper (or finger to keyboard) is always tough. A good place to start when writing a UK medical CV is to highlight the specific care you provide.
Emphasise the responsibilities and accomplishments present in your previous roles. Showcase your patient-centred approach and desire to help others. Focus on relevant work experience, education, and professional skills aligned with clear goals.
Although there is a diverse range of employment opportunities within this sector, everyone should customise their CV for each application.
In addition to positions in the field such as a nurse, pharmacist or support worker, there are various other roles qualified persons can apply for including:
Doctor

Biomedical scientist

Laboratory technician

Medicine intern

Laboratory assistant

Medical consultant
Those working in this field will apply for jobs at many different levels throughout their career, from a foundation training program to a senior doctor.
Regardless of your level, it's important to craft a CV specific to the job you are applying for. From a CV for a medical internship to a CV for a medical officer, it is important to be as clear, concise and above all consistent as possible. We recommend basing each CV you make on a master CV.
Master CV
Your master CV should contain:
Employment history

Education and qualifications

Awards

Accreditations and post-nominal letters

Courses and conferences

Publications

Quality audits

Teaching

Interests

References.
Don't worry if you're an undergraduate, student or intern and this looks like a lot right now. Below we take you through how to prepare your work history on a medical CV with little to no experience.
Creating a master CV not only saves time but also provides a comprehensive list of your skills and achievements, increases the consistency in the quality of your applications and assists in salary negotiations or promotion requests.
Job-specific CV
As an experienced or aspiring doctor, crafting a job-specific CV for each position you apply to is essential. It not only emphasises the skills and experiences most relevant to the job but underscores your own unique history and sets you apart from other candidates. This is particularly crucial in today's healthcare job market, where recruiters often utilise applicant tracking systems (ATS) to filter applicants based on specific criteria like keywords, experience, and education.
By tailoring your CV to the job description and incorporating relevant keywords, whether you're applying for a role as a biomedical scientist, student intern or senior doctor, you can significantly enhance your chances of securing an interview.
Medical CV example UK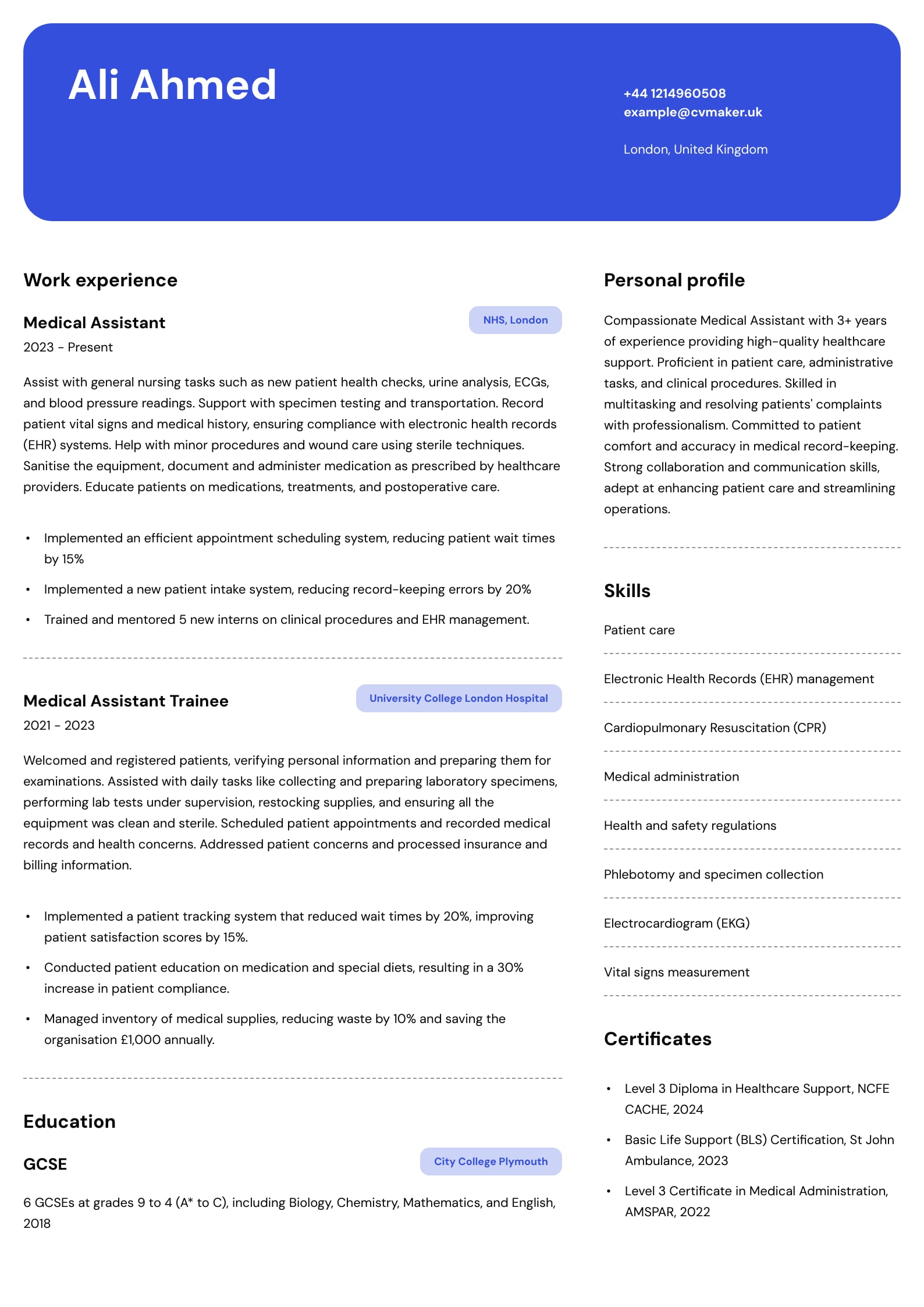 Download this CV example - Medical CV PDF
This CV sample shows that Ali, a Doctor in General Medicine, is a qualified and experienced healthcare professional. Using the Erasmus template he is able to clearly list his accomplished work history on the left while highlighting his skills, education and professional memberships on the right. Using a lighter font for his personal profile draws the eye of the reader, while pink labels make his previous employers pop off the page.
What to include in a medical CV?
When building your CV as a doctor, student doctor, or biomedical scientist, it is essential to create a well-structured document that effectively showcases your qualifications, skills, and experience.
Key sections to consider include:
Personal details including post-nominal letters

Personal profile highlighting your professional attributes

Education

Work experience

Relevant hard, soft and technical skills

Additional training relevant to your field.
Including certifications and further training is something that all employers will expect to see on a medical doctor CV. Make sure you're up to speed with how to add courses and certificates on a CV in 2023.
How to write a personal profile on a medical CV
A strong personal profile plays a crucial role in your CV as it provides a brief snapshot of your professional background, skills, and aspirations. It is an opportunity to make a strong first impression and grab the attention of potential employers. A well-crafted personal profile sets the tone for the rest of your CV and showcases your suitability for the position. Read on for more personal profile CV samples.
Pro Tip
Align your personal profile with the job description. Not only will this show your suitability for the role, but also demonstrate your ability to research the organisation and position.
Below are a few tips to keep in mind when writing a personal profile and creating the best medical CV possible:
Be clear and concise

Keep your profile to a maximum of 70 words or six lines

Remember, personal profiles do not use personal pronouns like 'I' or 'my'.
Biomedical scientist CV personal profile example 
Motivated biomedical scientist with expertise in molecular biology and laboratory techniques. Contributes to groundbreaking projects, striving for continuous learning and professional development. Seeks a role in a reputable research institution to make a significant impact on patient care.
Laboratory technician CV personal profile example 
Enthusiastic medical intern with a strong theoretical foundation and a passion for patient care. Demonstrates excellent communication skills, establishing rapport with patients and collaborating with healthcare professionals.
Laboratory assistant CV personal profile example
Proactive laboratory assistant supporting research and experiments. Proficient in sample preparation, tests, and documentation. Skilled in maintaining equipment and ensuring safety compliance. Thrives in fast-paced environments, delivering organised multitasking.
Medical consultant CV personal profile example
Dedicated medical consultant providing exceptional patient care and strategic leadership. Demonstrates expertise in diagnosis, treatment, and management of complex conditions. Builds strong relationships with patients, families, and staff. Passionate about medical education and mentorship, contributing to the professional development of junior colleagues.
Pro Tip
Your personal profile should always fit the specific role and highlight your unique attributes and career aspirations. It should be concise, engaging, and demonstrate your fit for the position.
What skills should I put on a medical CV?
A CV format for medical professionals should put as much focus on skills as it does on professional experience. Many junior doctor, medical consultant or other healthcare CV templates will prioritise work history. Employers want to know what competencies and value you will bring too.
Listing skills on your CV is an opportunity to add an extra dimension to your offer and is vital to highlight your capabilities as an excellent healthcare professional.
A successful candidate in this field possesses more than just sound industry knowledge. They exhibit a non-judgmental nature, effective communication skills, and the ability to work well under pressure. Including your skills on your CV demonstrates to potential employers that you possess the qualities and competencies necessary to excel in a medical role.
When it comes to crafting a compelling CV, it's crucial to include a range of relevant skills. Below you can find a few examples of the different types of skills you can showcase:
Hard skills
These are otherwise known as 'learned skills' and are often the techniques, practices and abilities developed through professional training, practical experience or formal education. For professions such as doctor, biomedical scientist or laboratory technician these could include but are not limited to:
Clinical diagnosis and treatment

Medical procedures and techniques

Laboratory testing and analysis

Specialised research and data analysis

Surgical skills

Electronic health records management

Knowledge of industry software and technology

Pharmacology and medication management

Emergency response and first aid.
Although sometimes considered a soft skill, foreign languages are certainly a sought-after hard skill in the healthcare industry.
Soft skills
These are the human-centred attributes complimenting our learned skills. Healthcare professionals who can mix an extensive range of technical knowledge with an ability to empathise and communicate are highly sought-after individuals. Indeed, soft skills are critical to patient satisfaction and safety. For example:
Effective communication with patients, colleagues and interdisciplinary teams

Compassion and empathy

Problem-solving and critical thinking

Decision-making under pressure

Time management and organisation

Adaptability and flexibility

Teamwork and collaboration

Attention to detail

Patient advocacy and patient-centred care.
Technical skills
These are hard skills pushed into a more specialist direction. A CV for a medical lab technician will have very different technical skills from a junior doctor CV. Being able to use Microsoft Word is a hard skill; performing diagnostic tests on bodily fluids is a technical skill.
This section is a must for applicants creating, for example, a CV for extremely specialised positions. Examples of technical skills include but are not limited to:
Proficiency in medical imaging and radiology.

Competence in electronic medical record systems.

Fluency in industry terminology.

Expertise in using specialised equipment and instruments.

IT skills for medical data analysis and research.

Knowledge of medical coding and billing systems.

Familiarity with telemedicine and virtual healthcare technologies.
Tailor the skills section of your CV to reflect the specific job requirements and highlight the skills most relevant to the position you are applying for. By showcasing a combination of hard, soft and technical skills, you present yourself as a well-rounded healthcare professional capable of delivering exceptional patient care. For more inspiration, refer to our care assistant CV example.
How to write work experience on a medical CV
When organising your work experience in a CV, it's best to showcase it in reverse chronological order. Start by mentioning the company name, employment dates and location to provide a clear timeline.
To make a strong impact, strategically separate your duties from key achievements and tailor them to match the job requirements you're applying for. This approach not only gives employers a comprehensive view of your practical experience but also demonstrates your dedication to aligning your CV with their specific needs.
Here are a few general tips on how to include work experience on your CV:
Arrange work experience in reverse chronological order, starting with the most recent position.

Include the hospital, clinic or laboratory name, employment dates and location for each role.

Review the job description and align work experience with the specific requirements of the position.

Select relevant experiences that demonstrate skills, knowledge and accomplishments.

Clearly outline responsibilities and duties.
For more detailed guidance on this topic, you can find valuable insights by reading the work experience and hobbies and interests articles available on our career blog.
Pro Tip
Split your work experience into two elements: a main paragraph and two further bullet points. Use the paragraph to outline your day-to-day responsibilities, then specify two quantifiable results in the bullet points.
Example of work experience for a laboratory assistant:
Medical Laboratory Assistant | Osbourne Clinic, Birmingham, UK | 2020 - Present
Provide valuable support to the Pathology team of Scientists, ensuring the smooth and efficient functioning of laboratory operations. Administer specimens, manage inquiries and prioritise a demanding workload. Prepare reagents, solutions and specimens following standard protocols maintaining strict adherence to safety guidelines. Work under pressure to maintain accuracy and strict protocols.
Manage the processing and analysis of a high volume of blood samples, averaging 85 samples per week, ensuring accurate and timely results.

Developed and implemented streamlined lab processes, reducing documentation time by 2 hours per day and enhancing efficiency and productivity.
Example of a medical student CV with little or no work experience:
If you have little or no work experience, for example, if you have recently finished your medical degree or foundation training, try to position your experience toward the soft and hard skills you gained during your mandatory placements in various specialities.
In addition, volunteer experience can provide an extra dimension to your work history and highlight your commitment to helping others and patient-oriented care.
Volunteer | St. Cecilia's Hospice, Birmingham, UK | 2016 - 2017
Acquired and developed valuable skills relevant to the medical profession. Engaged with individuals in need of social care and fostered empathy, compassion, and effective communication. Performed various administrative tasks relating to resident records and medication distribution. Collaborated within a diverse team emphasising adaptability, cultural sensitivity and teamwork in delivering holistic care.
Provided comfort and support to over 30 hospice residents during a combined 100 hours of volunteering.

Worked together with hospice staff and residents' families to develop a constructive space for hospice feedback.
How to list education on a medical CV
When it comes to showcasing your education on a doctor CV, it's important to highlight your accomplishments and qualifications that truly reflect your knowledge and skills.
Whether you're a junior doctor, a specialist or a consultant, here are some helpful tips to make your education section stand out:
Begin with your highest level of education and work your way backwards, mentioning the institution's name, the qualification earned and the completion date.

Remember to mention any relevant certifications or licences you've obtained in your specific field of expertise.

If you received any academic honours or awards during your studies, be sure to highlight them to demonstrate your exceptional performance.

If you have limited professional experience, consider using a skills-based CV format or refer to a graduate CV example for inspiration.

Keep the education section concise and to the point. A brief line for each degree, certification or specialisation is sufficient to showcase your educational background.
By following these tips, you can effectively showcase your educational achievements and credentials, showcasing your dedication to continuous learning and professional growth in this field.
Examples of education:
Bachelor of Medicine, Bachelor of Surgery (MBBS), Birmingham Medical School | UK, 2014
Foundation Programme Certificate of Completion (FPCC) | UK, 2018 - 2020
Specialty Training, Certificate of Completion of Training (CCT) | UK, 2020 - 2023
If you are about to graduate or have recently left university, check out our article packed with career advice for entering the workforce after graduation.
Additional sections for a medical CV
You might consider including the following sections on your CV to further showcase your experience and eligibility for your desired job:
Publications can add further insight into your knowledge and areas of expertise. When listing publications on a CV, include the title, authors, journal name, publication date and any relevant details.
[Author(s)].[Title]. [Journal]. Year]. [Pages]. [PubMed Identifier (PMID) number:]
Byrd J, Field H, Bell D. The impact of sugar consumption on adolescent adults. British Medical Journal. 2019. 341-356. PMID: 12345668990
Courses and certificates demonstrate how you are committed to your professional development as well as your expertise in a certain area. Whether you participated in an online course or during your studies, you can add it in this section.
[Title], [Organisation/Issuer], [Date]
ILS (Immediate Life Support) Course, Resuscitation Council UK, 2021
Teaching can play an important role in the life of a medical professional. Include any teaching experience you have, whether it be formal or informal. There is a not a specific way to list this on your CV but be sure to mention the topic you taught, who you audience were and your successes from this experience.
Informal teaching sessions for medical students, Kingston Hospital, Ongoing
Clinical Skills Teacher, University of Bristol Medical School, 2019-2023
Refer to our teacher CV example to discover more about how to add teaching experience on your CV.
Key takeaways
It doesn't matter if you're a junior doctor, laboratory assistant or intern, building a compelling CV can be a rabbit hole of details and information. Let's take a minute to recap the key takeaways when building the best example medical CV.
Customise your CV to showcase the specific care you provide and emphasise responsibilities and accomplishments in previous roles.

Craft a job-specific CV for each position, highlighting skills and experiences relevant to the job description to stand out in the competitive healthcare job market.

Create a master CV that includes employment history, education, awards, certifications, courses, publications, quality audits, teaching, interests and references for comprehensive and consistent applications.

Structure your work experience in reverse chronological order, clearly outlining responsibilities, achievements and quantifiable results to demonstrate practical experience and alignment with job requirements.

Incorporate a robust personal profile that highlights professional background, skills and aspirations, tailored to the position and showcasing research and alignment with the organisation.
Next Steps?
Looking to iron out any creases or elevate your CV writing? Look no further! Our easy-to-use CV builder offers a CV template to suit your needs with 20+ professional designs to choose from. To accompany your CV,  discover our cover letter templates. If you don't want to leave anything to chance, connect with our professional CV Writing Service.
Draw inspiration from our CV examples to save time, emphasise important sections and make it easier for hiring managers to grasp your unique professional offer even quicker.
FAQ
What is a medical CV?
A CV is a document that summarises a healthcare professional's qualifications, education, work experience, skills and achievements. It provides a comprehensive overview of an individual's background and suitability for their desired roles. Along with your CV, you need a professional cover letter. Read more about how to start a cover letter to make a bigger impact for your job application.
What are the different types of medical jobs in the UK?
In the UK, there are various jobs, including doctors, nurses, pharmacists, biomedical scientists, laboratory technicians, consultants, interns and more. These roles span different specialities and levels within the healthcare industry.
How to write a good medical CV?
To write a good CV, focus on organising your qualifications, skills and experience in a clear and concise manner. Tailor your CV to the specific job, highlighting relevant achievements and using action verbs. Emphasise soft skills like effective communication and compassion, along with hard skills specific to your field.
How to improve the readability of a medical CV?
Begin each bullet point with a strong action verb to convey a proactive approach. Keep bullet points concise and focused, using clear and specific language. Use bullet points to enhance readability.
How to improve your CV as a medical student?
Improve a CV format for students in this field by highlighting your education, clinical placements, research projects and any relevant volunteer work. Showcase your knowledge and skills, including soft skills like teamwork and problem-solving. Include any leadership roles, presentations or publications. Seek mentorship and professional guidance to ensure your CV effectively represents your potential as a future healthcare professional.
What is the best format for a medical CV?
The best format for a medical CV is generally reverse chronological, starting with your most recent experience. Include sections such as personal details, education, work experience, skills, certifications, publications and references. Use clear headings, bullet points and a professional font. Tailor the content to the job requirements and ensure readability.
How to write a medical CV with no experience?
If you have limited experience, focus on highlighting your education, relevant coursework, clinical placements, research projects and any volunteer work in the healthcare sector. Emphasise transferable skills like communication, teamwork and problem-solving. Showcase any leadership roles or extracurricular activities. Consider using a skills-based format, focusing on your abilities rather than extensive work experience.
What is a medical personal statement on a CV?
A personal statement on a CV is a brief paragraph that introduces yourself as a professional, highlighting your career goals, values and aspirations. It provides insight into your motivation and passion for healthcare. Tailor the personal statement to the specific job and use it to make a strong first impression on potential employers.
How to list publications on a medical CV?
When listing publications on a CV, include the title, authors, journal name, publication date and any relevant details. Use a consistent citation style throughout. Separate publications into categories such as peer-reviewed articles, book chapters or conference proceedings. Highlight any impactful or significant publications. Consider including hyperlinks to online versions or providing a separate list of publications as an appendix if needed.
How to list achievements on a medical CV?
Showcase key achievements on your CV, such as successful projects, improvements in patient care or contributions to research. Quantify achievements with specific numbers or percentages when possibleC. Provide context by describing the size of the healthcare facility, the types of patients worked with or the complexity of cases.
Land the interview for your dream job with CVMaker
Effortlessly create your professional CV within 10 minutes and download it whenever and wherever you want!
Create your CV
Increase your chances landing your dream job with CVMaker.