Pharmacist CV
Julia has opted for the California CV template because its easy to read layout and two-column structure. It presents her relevant skills and work experience in a concise and brief manner.
Start now
"Established and customer-oriented senior clinical pharmacist with over 5 years of experience in hospital and community settings. Reputable track record of compounding and dispensing medications, providing pharmaceutical advice, and monitoring customer's drug therapies."
Julia Dawson
- Clinical Pharmacist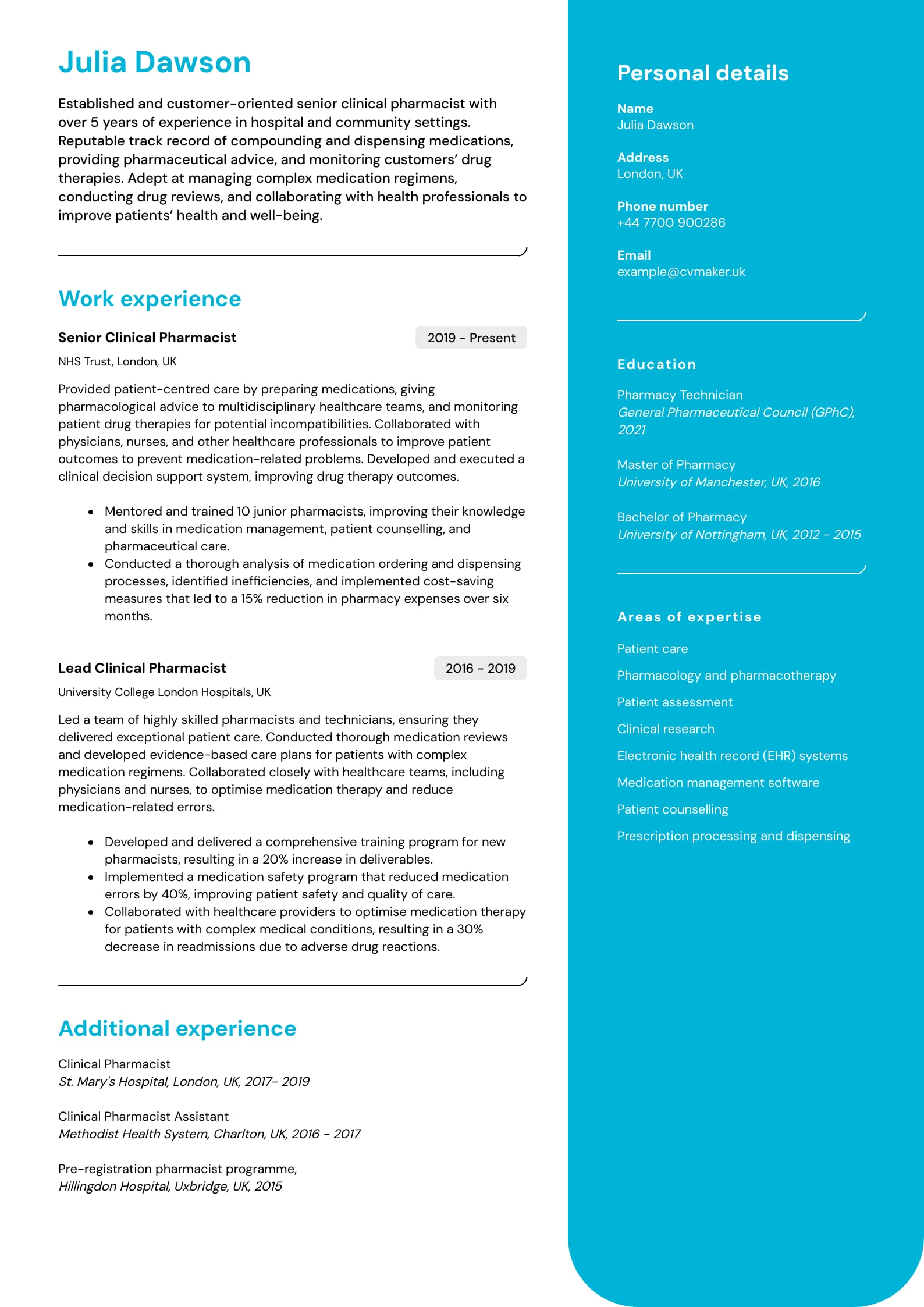 How to Write a Pharmacist CV Guide with Tips and Examples
A pharmacist works closely with physicians, nurses, administrators, and other allied health professionals to make sure patients receive the correct medication in the right quantity. A keen eye for detail and empathy towards others are key skills in this profession. It is a rewarding and stimulating career path which enables you not only to help people and improve health outcomes but get to work in various industries and settings. Examples of career paths under the umbrella of pharmacy include but are not limited to:
Clinical Pharmacist

Pharmacy Manager

Pharmacy Technician

Pharmaceutical Scientist

Community Pharmacist

Industry Pharmacist

Pharmaceutical Sales Representative.
Standing out from a pool of candidates can be a daunting task, and it can take just a few seconds for recruiters to decide on your suitability. Presenting skills effectively in your CV that are relevant to the position you are applying for becomes key to catching their attention. Our article provides you with the basics of what makes the best pharmacist CV. Use our expert guidance to help you craft a stellar CV that meets the latest industry standards. For more details or advice, see our CV examples page.
To help you land your dream job, we cover the essentials you need; whether you are writing a newly-qualified pharmacist CV or a locum pharmacist CV.
The CV writing process: Where to start?  
A good CV should include relevant keywords that demonstrate your skills and expertise. Recruiters and hiring managers can parse your CV using an automated software known as Applicant Tracking System. Read our blog article for more advice on how to make your pharmacy CV ATS-friendly.
To get started, you need to get familiar with the entire process of CV writing. We recommend first creating a master CV and using it as a reference tool for your future job-specific CVs. Following these steps enable you to confidently present yourself in an interview and impress potential employers.
Master CV
A master CV is a career document that logs your entire academic and career history. It forms the foundation of all future job applications and can be as long as necessary, so be detailed. Ultimately, the main aim of CV writing is to tailor it to a specific role. Creating a document containing your previous work history, education, courses, or professional training is beneficial when creating a job-specific CV.  It makes the CV writing process go more smoothly when you already have all the information you need for a job-specific CV at hand.
Job-specific CV
It is crucial to create a job-specific CV for every position you apply for. Not only does it highlight the skills and experience most relevant to the job, but it also helps you stand out from other applicants. This is particularly important due to the increasing use of ATS by recruiters, which filter candidates based on specific keywords, experience, and education. By tailoring a CV to the job description for specific roles, such as assistant pharmacist, using relevant keywords can increase your chances of getting shortlisted for an interview.
To learn more, read the article on how to improve your CV.
Pro Tip
When listing past positions, include everything you can recall from teams you collaborated with, patients you assisted, or any challenges you may have faced. By documenting this now, you might be able to incorporate it into your job-specific CV later.
Pharmacist CV example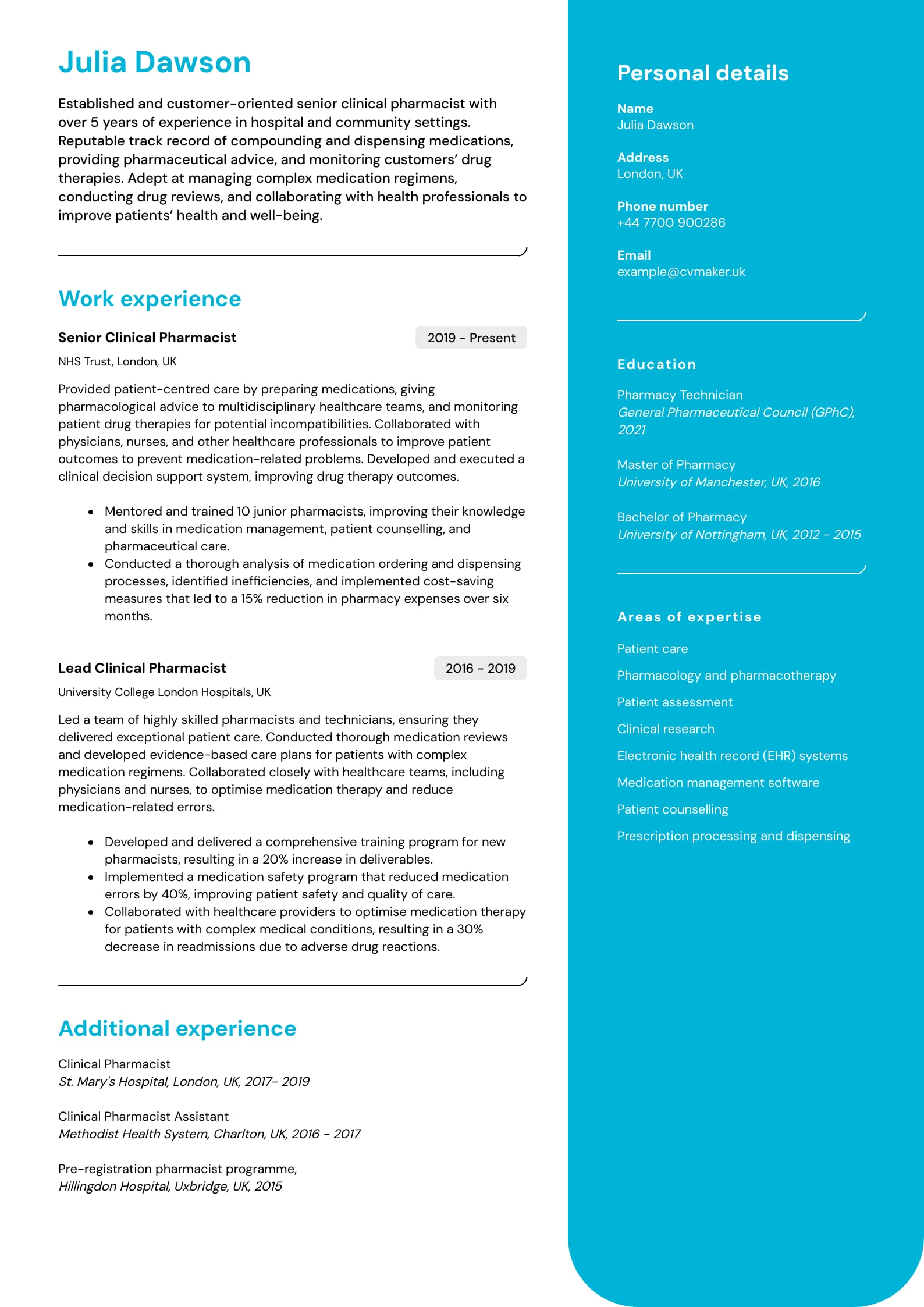 Download this CV sample in PDF - Pharmacist CV
Julia Dawson is a senior clinical Pharmacist experienced in diverse healthcare settings, with a passion for science and improving health outcomes. Her profile highlights communication and interpersonal skills, with expertise in drug therapy, safety monitoring, and patient education. The California template presents her skills and experience in a clear and visually appealing manner.
What to include in a pharmacist CV?
A well-crafted CV highlights your experience, skills, and achievements, demonstrating your ability to provide pharmaceutical services efficiently. Consider that certain sections come highly recommended, others are optional and should be included based on their relevance to your career goals.
Your CV complements other career documents such as cover letters, thank you letters, and LinkedIn profiles. Instead of including all of your experiences on a CV, strategically use all available resources to market yourself effectively.
To learn more about mandatory and optional sections, read our cornerstone article on how to write a good CV.
How to add a personal profile for a pharmacist CV 
A personal profile, also known as a summary, is a section at the top of your CV that briefly mentions relevant experience, soft skills, and qualifications for the desired position. It is most likely the first thing recruiters or hiring managers will read. Therefore, it should be well-written. See our assistant pharmacist CV sample, one for a newly qualified role, and others to learn how to craft a professional and concise summary.
Clinical Pharmacist CV personal profile example
Patient-centred Clinical Pharmacist with 5+ years of experience in medication therapy management, patient counselling, and disease state management. Proficient in evidence-based medicine and integrating clinical pharmacy services into the healthcare system. Motivated and collaborative professional dedicated to providing exceptional service to patients.
Hospital Pharmacist CV personal profile example
Experienced hospital Pharmacist with a passion for delivering high-quality patient care. Skilled in aseptic techniques, intravenous drug preparation, and dispensing. Possess strong knowledge of hospital pharmacy regulations, policies, and procedures, ensuring that all medication-related practices are carried out with precision and accuracy.
Community Pharmacist CV personal profile example
Knowledgeable and friendly community Pharmacist with 6 years of experience in dispensing, counselling, and health promotion. Skilled in managing medication-related problems, patient education, and over-the-counter medication recommendations. Committed to providing exceptional customer service and improving patient outcomes.
Clinical Pharmacologist CV personal profile example
Compassionate clinical pharmacologist with 6 years of experience in hospital and community settings. Strong clinical knowledge, including medication therapy management, drug interactions, and pharmaceutical calculations. Skilled in patient-centred care and collaborating with healthcare teams to improve patient outcomes.
Pharmacy Manager CV personal profile example
Results-orientated Pharmacy Manager with 10+ years of experience managing pharmacy operations, driving sales growth, and overseeing staff development. Proven ability to maintain compliance with industry regulations, develop robust quality assurance processes and streamline workflow processes to optimise pharmacy performance. Adept at leveraging strong communication and leadership skills to develop and maintain productive relationships with patients, physicians, and pharmacy team members.
Pharmaceutical Sales Representative CV personal profile example
Detail-orientated Pharmaceutical Sales Representative with 3+ years of experience in building relationships with healthcare providers, increasing revenue growth, and driving brand awareness. Strong knowledge of the pharmaceutical industry and product portfolios. Proven track record of delivering sales targets while upholding ethical standards in the delivery of patient care.
Refer to the article on how to write a personal profile on a CV to see more examples and tips.
How to write work experience on a pharmacist CV
The work experience section on a CV aims to include your most recent job positions relevant to the job you are targeting. List previous positions in reverse chronological order, with the most recent positions being first. Use concise sentences and action verbs to summarise your duties and achievements in 4 to 6 lines. You want to show specific achievements and skills that showcase your abilities like strong communication skills and extent knowledge of pharmacy software.
Work experience example:
Pharmacy Manager, Boots Pharmacy, London, UK, 2018-2021
Managed a team of pharmacy technicians and ensured the timely processing of prescriptions, exceptional customer service, and proper inventory management. Maintained inventory levels and ordered medications in a timely and cost-effective manner. Counselled patients on medication usage, potential side effects, and drug interactions.
Collaborated with doctors to develop effective medication plans resulting in a 10% increase in patient adherence to prescribed treatments.

Decreased medication costs by 10% through effective inventory management, sourcing cost-effective suppliers, and minimising drug waste via storage and expiration tracking in accordance with the pharmaceutical guidelines.

Collaborated with doctors and healthcare professionals to create effective medication plans, resulting in a 10% increase in patient adherence to prescribed treatments.
For related CV examples, see the nurse article.
How to include skills in a pharmacist CV
Adding relevant skills to your CV is more straightforward than you might think. There are three main types of skills that can easily showcase you are the right fit for the position: hard, soft, and transferable. Choose specific skills that match the keywords in the job description to demonstrate your ability to perform the job successfully. Hard skills are technical skills gained through on-job training or through a course, whereas soft skills are personal attributes or qualities that define your relationship with other people. Transferable skills are abilities you can apply and adapt across different roles, industries, and contexts.
Examples of soft skills:
Communication

Collaboration

Detail-orientated

Empathy and compassion

Teamwork

Empathy

Time management

Organisational skills.
Examples of hard skills:
Medication dispensing

Pharmaceutical knowledge

Quality assurance

Medication distribution

Pharmaceutical research

Prescription processing

Drug interaction management

Compounding expertise.
Examples of transferable skills:
Problem-solving

Critical thinking

Adaptability

Customer service

Leadership

Analytical

Interpersonal

Project management.
How to list education on a pharmacist CV
You need to add the relevant qualifications to your CV which are applicable to the job you are applying for. Choose the qualifications that highlight specific knowledge and skills needed for the job. If you are enrolled or have completed a pre-registration program, include this on your CV. Take a look at the following tips and examples to effectively write the education section on your CV:
Begin with your highest level of education and work backwards in chronological order. List the name of the institution, the degree earned, and the graduation date. If you are still enrolled in your master's of pharmacy, just add 'in progress' in the education section.

Any additional qualifications like the pharmacist foundation training scheme should also be included in the education section.

If you are a recent graduate or have limited work experience, you can highlight relevant coursework that demonstrates your knowledge and skills in accounting. Consider a skills-based CV, or refer to our graduate CV example for more information.
Structure
[Degree] in [program name], [institution], [Location], [year of graduation, date range, or in progress]
Examples of education:
Master of Pharmacy, University College London, UK, 2023-In progress
Bachelor of Pharmacy, University of Manchester, UK, 2022
Read our article on how to list education to find out more.
How to list courses and certificates on a pharmacist CV
When listing courses and certificates on a CV, highlight those that are most relevant to the job you are applying for. Here are some tips to help you effectively list courses and certificates on your CV.
Examples of courses and certificates:
Foundation Pharmacy Framework, Royal Pharmaceutical Society (RPS), 2022 Independent Prescribing course, Keele University, 2023
Medicines Use Review Training Program, University College London (UCL), 2023
Clinical Pharmacy International Practice Certificate, University of Manchester, 2022
Pre-registration Pharmacist Training Program, General Pharmaceutical Council (GPhC), 2022
Key takeaways 
Drawing on the above examples and tips, you are now equipped with all the knowledge to be one step ahead of your competitors. We have covered what makes a good pharmacist CV, the types of sections to include, and the importance of optimising it for ATS. Use our expert knowledge to craft a well-structured CV that showcases your unique abilities and achievements. Apply with confidence, and let your talents shine in your next job!
Next steps?
Looking for a professional and easy-to-follow CV template for your CV? Check out one of our 20 professional templates that can help you create a tailored and well-formatted CV. Our CV Writing Service offers quick reviews and complete rewrites, ensuring your CV targets keywords and includes all essential sections.  Benefit from our all-in-one career platform, receive feedback from industry professionals, and attach a compelling cover letter to showcase your qualifications.
Additional tips
Ensure you use simple and professional language

Personalise your CV to meet job requirements

Include a cover letter alongside your CV

Avoid using personal pronouns such as 'I', 'me', or 'us' in your CV

Exclude outdated information

Proofread your CV for any errors or inconsistencies

Seek feedback from experienced professionals

Read your CV and cover letter aloud before handing them in

Use up-to-date and accurate information
FAQ
What are relief and locum pharmacists?
Relief pharmacists and locum pharmacists share similar job functions, but the main difference lies in the nature of work contracts. Relief pharmacists receive assignments through agencies or job-matching sites, whereas locum pharmacists work independently as 'freelancers' and need to look for open shifts themselves. This distinction highlights how relief pharmacists rely on external sources for work opportunities, whereas locum pharmacists take a proactive approach in managing their assignments.
How to write a pharmacist CV with little to no experience?
To write a CV with little to no work experience, prioritise your education section over work experience. If you are writing your pre-registration CV, consider using a skills-based CV format. We also suggest creating a separate section called 'additional experience' where you can further expand on your part-time and voluntary work. The strategy is to briefly mention hobbies and interests in your CV or cover letter and elaborate on them in your job interview.
See the internship CV example and student CV example articles for more guidance on how to get started with your career.
How to write a good CV for a pharmacist?
Highlight your proficiency in software, problem-solving, and teamwork, which are vital skills for success. Switch the focus of your CV to educational achievements, professional certifications, and relevant work experience to distinguish yourself from other candidates with similar qualifications. Moreover, emphasise accomplishments in previous roles, such as a pre-registration pharmacist or locum pharmacist. Conclude with professional affiliations or volunteer experiences.
See the article on how to improve your CV for more information.
How to write a CV from a community to a GP practice pharmacist?
You can effectively write a CV to change from a community to a GP practice pharmacist. If you are want to join a GP practice, you need to know how to make a smooth transition from one to another. When writing your CV, mention your experience in providing clinical services, team collaboration with other healthcare professionals, and patient care. Showcase your knowledge of medication management, dispensing, and patient counselling. Additionally, emphasise any relevant certifications or professional training, such as in clinical pharmacy. Finally, demonstrate your ability to adapt to new environments and communicate effectively with diverse healthcare teams.
What is the average salary of a pharmacist in the UK?
Salaries can vary depending on factors such as experience, location, and size of the organisation. The average salary in the UK is around £40,000 per year, with senior positions or executives earning up to £70,000 per year.
How to become a pharmacist?
In the UK, you need to have a degree in pharmacy from an accredited university or get certifications from institutions such as the General Pharmaceutical Council (GPhC). The degree typically takes four years to complete and includes both academic coursework and practical experience. After completing the degree, you must complete a one-year pre-registration training program and pass a registration exam before being able to practise in this field.
Where to look for pharmacist jobs in the UK?
You can work in different settings, such as retail, hospitals, or government agencies. You can find vacancies on the following job sites or various association platforms:
Job search sites:
Pharmacy associations:
Land the interview for your dream job with CVMaker
Effortlessly create your professional CV within 10 minutes and download it whenever and wherever you want!
Create your CV
Increase your chances landing your dream job with CVMaker.