Teacher CV
Lisa opted for the Creative Hopkins CV template that strategically displays her work experience, education, and key skills. With a passion for teaching English, this modern template will help you stand out from the crowd.
Create your CV
"Bilingual educator with professional experience as an English Teacher. Skilled in teaching students from diverse backgrounds with proven success in developing creative, engaging, and robust lesson plans."
Lisa Pearse
- English Teacher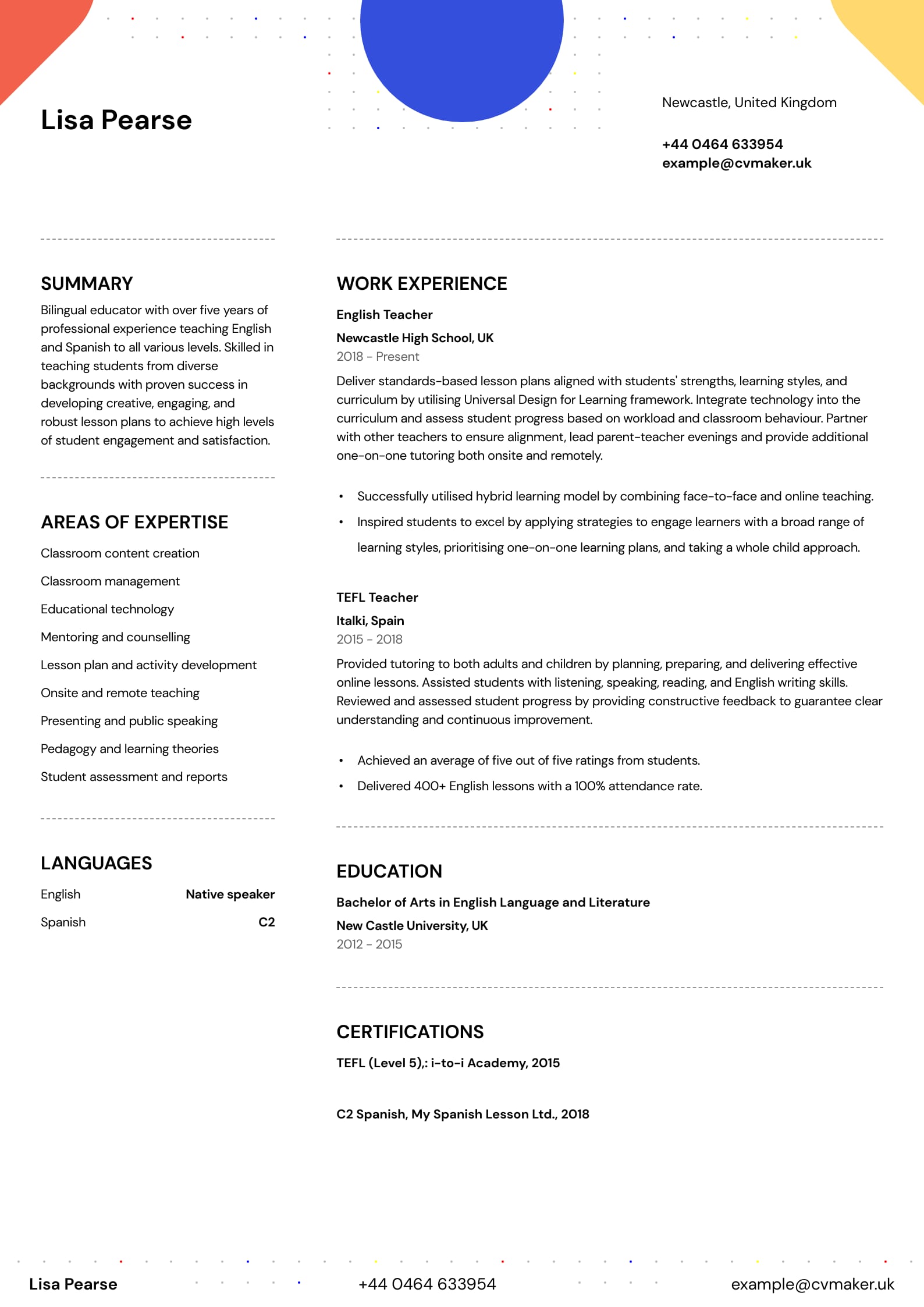 How to Write an Impactful Teacher CV in 2023 (Guide with Examples)
Being a teacher is not only a rewarding profession, but it also gives you the opportunity to shape someone's life and bring out their true potential. Just as teachers inspire and empower their students, your CV should captivate and impress employers. Your CV is a golden ticket to get you through the door of your desired school. Ultimately, a teacher CV aims to showcase relevant experience and qualifications to demonstrate suitability for specific teaching positions.
If you're a teacher looking for a new role or a job seeker seeking a career change in the education sector, this step-by-step guide provides examples and practical tips to help you align your CV with the latest UK standards. As of 2022-2023, the total amount of entrants to the Initial Teacher Training (ITT) has decreased by 20% compared to last year, making it more crucial for you to actively pursue and seise job opportunities. Knowing how to write a teacher CV and what to include makes you more likely to succeed in your teaching career. Draw inspiration from our teaching CV writing guide below.
Let's get started!
The CV writing process: Where to start?
Creating a solid CV as a teacher is essential to securing a job in a school or academia. By tailoring your CV to the specific job and making it Applicant Tracking System (ATS) friendly, you can increase your visibility and eventually get shortlisted for a job interview.
To kickstart the CV writing process, we advise creating a master CV with all your experience, qualifications, skills, and achievements. Whether you need a primary school teacher CV, a teacher assistant CV, or a CV for an experienced teacher, use it as a reference for tailoring your CV to specific teaching roles and applications.
For more information, refer to the article on how to write a good CV.
Master CV
A master CV includes everything you have completed or achieved professionally and academically. It is your go-to document when creating a CV for specific job targets. Save it in a plain Word document or Google Docs so you can easily access it anytime.
For more information, please refer to the article on how to improve your CV.
Pro Tip
As you progress through your career, update your master CV regularly. Include it in your document whenever you change a job, complete training, or acquire new expertise.
Job-specific CV
A job-specific CV aims to tailor your application to a specific role, such as English teacher or headteacher. Unlike the generic CV summarising your qualifications, a tailored CV focuses on relevant experience, skills, and accomplishments. The typical requirements for teachers in different regions of the UK are as follows:
England and Wales requirements:
Initial Teacher Training (ITT) or Initial Teacher Education (ITE)

Postgraduate Certificate in Education (PGCE)

GCSE C/4 or above

Qualified Teacher Status (QTS)

Experience working with children in a mainstream UK school in the age group for which you're applying

Relevant degree in a subject you wish to teach

Disclosure and Barring Service (DBS) check

Induction period

Postgraduate teaching apprenticeship
Scotland requirements:
Professional Graduate Diploma in Education (PGDE)

Teaching Qualification (TQ)
By incorporating one or more of these criteria and tailoring your CV to a specific role, you can significantly increase your chances of getting noticed. It's important to align your CV with the vision and values of your desired school and demonstrate how you can contribute to preparing students for their future success.
Teacher CV Example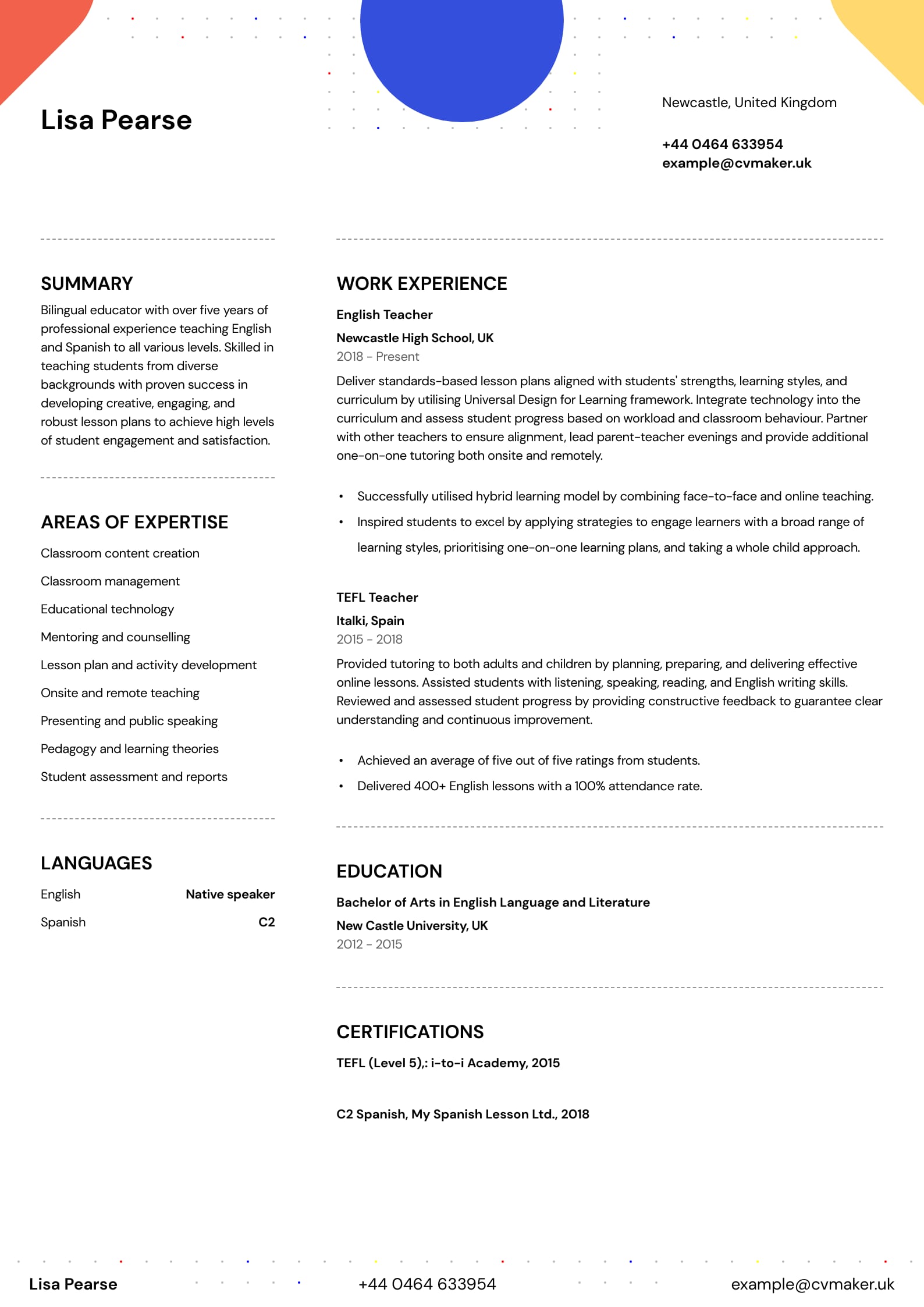 Download this teacher CV sample in PDF
An established bilingual educator, Lisa Pearse, selected the Hopkins template to showcase key knowledge and skills. Her work experience and areas of expertise sections provide a detailed yet concise overview of relevant skills in an easy-to-read form. Lisa's profile presents her as creative, engaging, and adaptable for work in different classroom environments. With a deep understanding of pedagogy and teaching methods supported by her educational degree in English language and literature, she is a suitable candidate for her next job position.
What to include in a teacher CV?
When creating a CV as a teacher in the UK, it's essential to include main sections that provide a comprehensive overview of your skills, experience, and accomplishments. These include personal details, profile, work experience, education, skills, and achievements. Optional sections can include volunteer roles, courses and certificates, or technical proficiencies. By effectively highlighting these sections, you demonstrate your value as a teacher. Your CV showcases how you are successful in promoting a thriving learning experience.
See the academic CV and student CV examples for more inspiration.
How to write a personal profile on a teacher CV
Your personal profile, also known as a summary, is the first section that catches the eye of the recruiter. It serves as a brief professional statement that reflects your career aspirations and goals. A personal profile for a teacher or other education-related roles highlights your unique qualities and showcases versatility and adaptability. It also provides a glimpse into your teaching experience and passion for learning.
Pro Tip
Even with little experience, your CV can showcase a good work ethic, charismatic personality, and positive attitude. You can emphasis these essential skills in your personal profile sections.
English Teacher CV personal profile example
Meticulous and passionate English Teacher with over five years of experience providing weekly lesson plans and teaching students in diverse classroom settings. Committed to creating a supportive and inclusive learning environment, fostering academic growth and personal development. Strong interpersonal and organisational skills with the ability to use diverse teaching methods to meet student needs.
High School Teacher CV personal profile example
Dedicated and resourceful High School Teacher with six years of experience combining hybrid learning theories and research-based pedagogy to drive student growth. Skilled in teaching students from diverse backgrounds in online and classroom learning environments. Proven success in developing creative and robust lesson plans to achieve high levels of student engagement.
Primary School Teacher CV personal profile example
Highly motivated Primary School Teacher with a bachelor's degree in Education Studies. Demonstrated track record of delivering engaging lessons across multiple age groups. Passionate about creating a nurturing classroom environment that promotes student and academic growth. Adept at designing teaching methods to cater to student learning needs.
Secondary School Teacher CV personal profile example
Qualified and compassionate Secondary School Teacher with over 8 years of expertise across various year groups. Well-versed in fostering an engaging learning environment and employing various teaching methods. Skilled at developing and implementing interactive and engaging lesson plans to stimulate a better learning environment. Passionate about transformative education and continuous academic growth of students.
Teaching Assistant CV personal profile example
Adaptable and established Teaching Assistant with a bachelor's degree in English language and literature. Proven track record of assisting teachers with excellent organisational and communication skills. Well-versed in fostering positive relationships with a passion for helping students thrive academically.
What skills to include on a CV as a teacher
When crafting a teaching CV, highlight the soft and hard skills you have gained throughout your career. This section can be challenging, but we advise you to conduct thorough research about the job requirements. Oftentimes the job post will mention different hard and soft skills required for the job.
As a teacher, you possess a versatile skill set and the ability to handle various responsibilities. Whether you're working with children or university students, teachers should have excellent communication skills, manage student progress, develop curriculums, and adapt to different learning styles.
If you have little to no experience, consider creating a skills-based CV or highlighting transferable skills from previous roles.
Examples of hard skills:
Student administration

Lesson development

Classroom management systems

Language skills

Presentation

Exam supervision

Assessment and grading.
Examples of soft skills:
Flexibility

Collaboration

Problem-solving

Compassion

Empathy

Critical thinking

Resilience.
Examples of transferable skills:
Listening

Communication

Adaptability

Leadership

Creativity

Time management

Emotional intelligence.
How to write work experience on a teacher CV
When writing work experience, highlight experience and achievements directly related to the role you're applying for. Remember that recruiters want to see specific, measurable achievements from your career. Below are a few tips on how to write a work experience section:
Start sentences with action verbs such as 'coached', 'developed', and 'improved' without using first-person pronouns.

Use a reverse chronological order, starting with the most recent ones and working backwards.

Back up your teaching career with evidence. Instead of describing, try demonstrating why you're qualified and best suited for the role.

Use numbers and percentages to quantify your achievements.

For experiences older than ten years, exclude the dates and add them into a custom 'Additional Experience' section instead.

Showcase what you did versus what you achieved by writing down your duties, supported by ideally two achievements that should be listed in bullet point format.

Use industry-specific terms and acronyms to demonstrate your competence.
Example of how to put work experience on your teacher CV:
Secondary School Teacher, Oxford High School, 2017-Present
Employ interactive teaching methods, ensuring the active involvement of each student while fostering a positive learning environment. Provide regular feedback and maintained a record of student progress while proactively addressing improvement areas. Attend departmental meetings, parents' evenings, and school-wide training events.
Successfully applied a hybrid learning model by combining face-to-face and online teaching during COVID-19.

Improved grade average from 55% to 70% in one year by introducing additional after-school lessons.

Developed lesson plans for Years 9, 10, and 11 with a class of an average of 20 to 25 students.
How to include education on a teacher CV
Knowing how to include your education on your CV is important to showcase the appropriate qualifications. To become a teacher in the UK, you typically need to obtain a relevant degree or specialised training. However, if you are currently studying to become a teacher, you can mention this within your personal profile or cover letter instead. You can also include phrases such as 'in progress' or 'expected date of completion' to demonstrate your current situation and career aspirations.
Placing education above work experience on a CV for a teaching job depends on the specific role. For entry-level roles such as newly qualified teachers (NQT) or teaching assistants, prioritising the education section can be more beneficial, especially if the job description strongly emphasises the requirements. However, for highly qualified teaching roles such as headteacher or principal that value practical experience, emphasising work experience may be more effective. If unsure, opt for the skills-based layout where you can elaborate on your relevant areas of expertise.
Tips on how to arrange education on a teaching CV:
Begin with your highest level of education and work backwards in chronological order.

List the degree name fully and the name of the institution where you have obtained your qualifications.

Include the year of completion or say 'in progress' if you still haven't graduated.

Include any relevant coursework or professional training relevant to your job target, especially if you're a recent graduate.

Mention any academic honours, awards, publications, or other pertinent achievements.

If applicable, mention any relevant teaching certifications or licenses you have obtained.

Keep the education section concise, providing a single line for each degree or certification.
Example of education in a teacher CV:
Postgraduate Certificate in Education (PGCE) in English, University of London, UK, 2019
Distinction in Teaching Practice

Relevant coursework: Literature Pedagogy, Language Acquisition, Classroom Management.
Bachelor of Arts in English Literature | King's College London, UK, 2018
Professional development course in Teaching English as a Foreign Language (TEFL), International TEFL Academy, 2020
Pro Tip
If you lack secondary or tertiary education but possess other forms of education, such as certificates or professional training, you can incorporate them in the section called 'Education' or 'Professional Training.'
When to include additional experience on a teacher CV?
The additional experience section on your CV allows you to include relevant experiences that fall beyond your primary qualification. These include volunteer work, courses and certificates, hobbies and interests, or student society involvement. Including this section can demonstrate your commitment and eagerness to learn. For example, volunteering with children in or outside an educational setting will help you develop teaching experience such as being a nanny. You can develop transferable skills or expand your network to support your future teaching responsibilities.
Pro Tip
To improve your CV, we advise avoiding short-term or outdated experiences on your CV, as they can diminish your chances of success.
What accomplishments to list for a teacher CV?
Adding career accomplishments or achievements to a teacher CV can be a great addition. Furthermore, they show your aspirations and what motivates you to teach. Use actionable descriptions and apply them to your desired role. Additionally, when mentioning career accomplishments, elaborate on how they are relevant to your career goals or skills you obtained. Keep them concise and aim for one to two lines per achievement.
Examples of achievements for a teacher CV:
Supported 10 students by managing lesson planning and providing thorough feedback to help them improve their language learning.

Designed new teaching strategies to engage students with a broad range of learning styles, prioritising one-on-one education and taking a whole-child approach.

Achieved remarkable academic progress, increasing the grade average from 55% to 70% within one academic year by means of introducing after-school lessons.

Led a community outreach program and successfully distributed over 500 books to children, resulting in higher literacy rates and access to reading materials within the target population.

Volunteered at a local non-profit organisation, assisting with event coordination, resulting in a 20% increase in funds raised compared to last year.
When to include references on a teacher CV?
If you get shortlisted for a job interview, and the hiring manager requests references, it would be appropriate to include them. To do so, add them at the end of your CV and list your full name, job title, employer name, and type of professional relationship. Alternatively, you can always say instead 'references available upon request' at the bottom of your CV.
Examples of references on a CV:
Emma Johnson (Line Manager and Supervisor), Head of English Department, Oakwood Secondary School.

James Wilson (Former colleague), Headteacher, Maple Primary School.

Dr. Rebecca Turner (Teaching Advisor), Education Consultant, Education Services UK.
How to add courses and certificates to a teacher CV
When listing courses and certificates on a teacher CV, you need to list the course or certificate name, the institution name where you acquired it, and the year of completion. Include courses and certificates most relevant to the teaching role you are applying for. Additionally, you can briefly describe key learnings or pertinent knowledge to demonstrate your suitability for your job target. Using one of the courses and certificates for teachers below, you can leverage your degree or work experience to teach English within the UK or abroad:
Start with a dedicated section called 'Courses and certificates' or 'Professional development'.

List the course or certificate name, followed by the provider or institution name.

Include the year of completion for each course or certificate.

If applicable, mention any notable achievements or key learnings.

Prioritise courses and certificates that are directly related to the teaching field or that enhance your skills and qualifications for the specific job you are applying for.

If you have completed multiple courses or certificates, consider grouping them to make your writing more cohesive.

Include a brief description of the skills acquired from each course or certificate.

Highlight any practical experience or practicum components in your training.
Examples of courses and certificates:
To learn more, see the article on different routes to get into teaching.
When to include languages on a teaching CV?
The best way to include language skills on a CV is to create a separate section called 'Languages'. Strong language skills are essential for a teacher as you need to interact with colleagues or students on a daily basis. Moreover, some students may not be native speakers and might struggle to speak a language fluently in the classroom. Hence, having bilingual or multilingual skills as a teacher could benefit professional and personal growth.
Tips on how to add languages to a teacher CV:
Take a recognised test to evaluate your language proficiency.

Only add relevant language skills that you can use in a professional setting.

Include language proficiency using the CEFR language framework.

Mention your ability to work in a multilingual environment in the personal profile or work experience section.

Additionally, you add the name of the credited provider or university where you acquired your diploma.
Key takeaways
Knowing what to include and how to include it on your teacher CV is important to be one step ahead of the competition. Use our English CV sample for teachers to teach yourself the best strategies and navigate the education sector. Remember, a successful CV aims to market yourself and leave a long-lasting impression while showing relevant qualifications and a keen interest in teaching. If unsure, look at our CV teacher example above and use them as a reference to create your career documents for a specific job.
CV tips for a teacher:
Focus on your most recent teaching experience or related roles.

List relevant degrees, certifications, and specialised training in the education field.

Highlight your soft skills, such as collaboration and communication and hard skills, such as classroom management or lesson planning.

Highlight your additional experience that could include a professional development program, conferences, or other training qualifications.

Demonstrate your ability to work in different classroom environments to address diverse student needs.

Include volunteer work or extracurricular activities that display leadership and community involvement.

Showcase technical proficiencies such as Learning Management System (LMS) or Assessment software such as School Information Management System (SIMS).
Next steps?
If you need to iron out inconsistencies in your CV or want to create your teaching CV from scratch, we have designed an all-on-one career platform to assist you in every step. Using our intuitive CV Builder, you can choose from one of the 20 professional templates to create a modern CV. If you want a CV or cover letter review, check out our CV Writing Services.
FAQ
How to write a good CV for a teacher?
A good CV for a teacher should demonstrate a candidate's passion for teaching, ability to foster positive relationships, and resolve conflicts. A strong CV should showcase your educational background, teaching certifications, and relevant work experience. Focus on skills or achievements that could differentiate you from other candidates who may have similar qualifications. Additionally, highlight your areas of expertise and ability to engage and inspire others as a teacher.
What is the best CV format for teachers?
The best format for teachers is reverse chronological, starting with your most recent teaching position and moving your way backwards. While the look of your CV is important, it should not overshadow the content. Instead, select the appropriate format and layout that best showcases your qualifications and teaching experience.
How long should a teacher CV be?
The CV length for teachers ranges from one to two pages. Focus on your most recent experience and qualifications, strongest skills, and career accomplishments relevant to your job targets. Ensure to avoid repetitive information.
How to write a CV as a teacher with no experience?
If you lack experience as a teacher, consider emphasising sections such as education, courses and certificates, and additional experience. Within them, you can highlight your transferable skills or related positions you can use in your next teaching position. Alternatively, consider creating a skills-based CV where you can focus more on your technical proficiencies and projects.
How much do teachers get paid in the UK?
According to the UK Department of Education, the median salary for a teacher in the UK ranges from £28,000 to £38,000 a year, with the salaries in London fringe ranging from £29,000 to £40,000 a year. Experienced teachers can earn even more by progressing into the upper pay range or becoming leading practitioners.
What kind of teaching jobs are available in the UK?
The UK offers a wide range of teaching opportunities. Depending on your career aspirations or motivations, there is a teaching job to suit you and align with where you are in your career. You can find teaching jobs in secondary or primary schools, be a teaching assistant, or look for a role in special education.
How long does it take to become a teacher in the UK?
Before you apply for teaching training, you first need to obtain your QTS. It can take anywhere from 9 months full-time or up to 24 months part-time.
Land the interview for your dream job with CVMaker
Effortlessly create your professional CV within 10 minutes and download it whenever and wherever you want!
Create your CV
Increase your chances landing your dream job with CVMaker.