Teacher
Lisa opted for the Creative Hopkins template that strategically displays her work experience, education, and key skills. With a passion for teaching English, this modern template will help you stand out from the crowd.
Create your CV
"Bilingual educator with professional experience as an English Teacher. Skilled in teaching students from diverse backgrounds with proven success in developing creative, engaging, and robust lesson plans."
Lisa Pearse
- English Teacher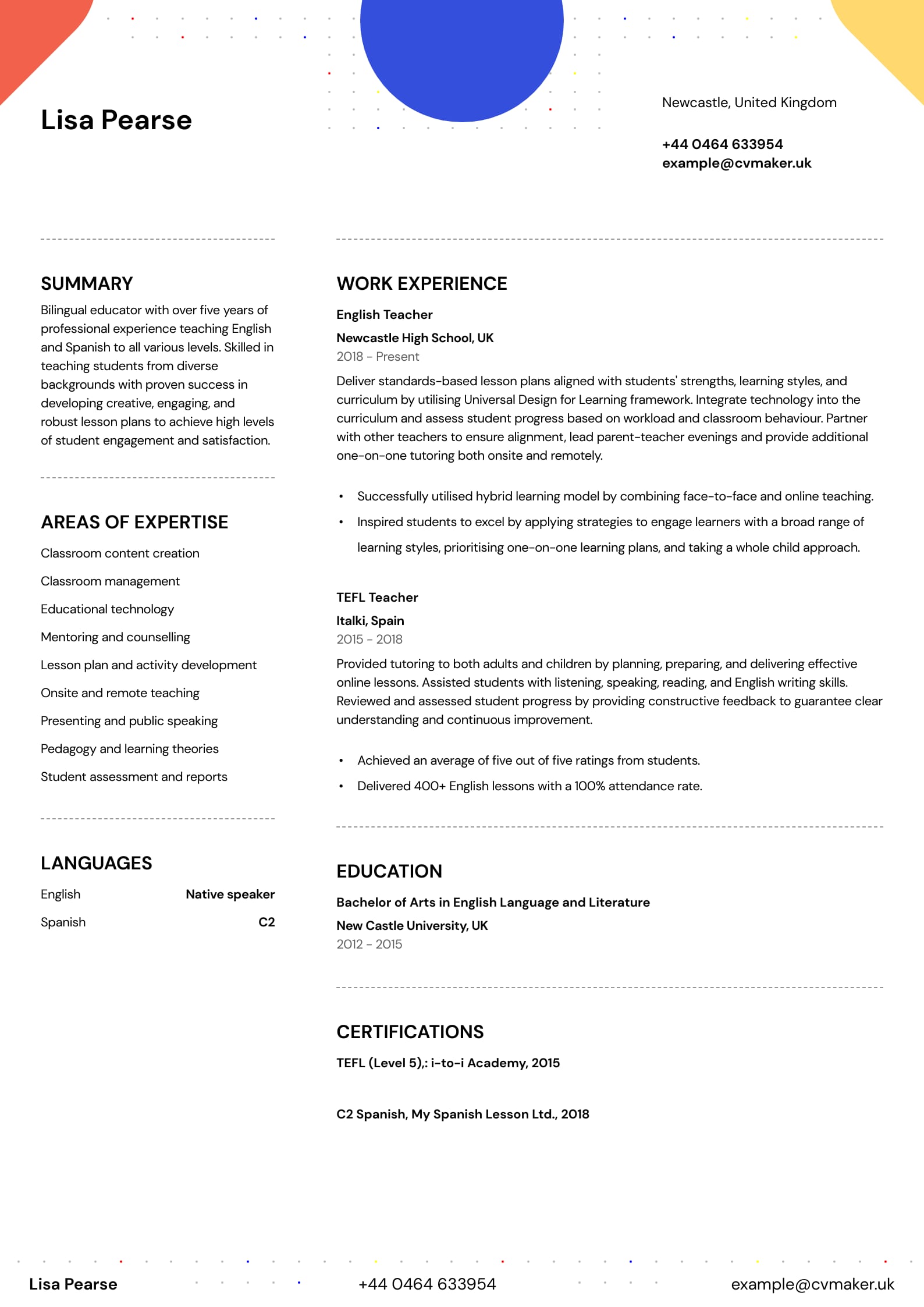 How to write a teacher CV with tips and examples
Are you a teacher looking to update or create a new CV? Perhaps you are seeking a career change within the educational services sector. With CVMaker, you get access to 20+ professional CV templates and examples, empowering you to write the perfect teacher CV. We'll guide you through the must-knows of becoming a teacher, different types of roles, and how to write a CV that aligns with the latest industry standards.
An essential part of CV writing is tailoring your CV and optimising it for Applicant Tracking Systems (ATS). That's why CVMaker advises that you use an ATS-friendly template and writing approach to increase your chances of being noticed and landing more interviews. Following the CV tips in this article, you can confidently market yourself. We cover the basics and provide guidelines and examples on how to write a teacher CV. 
The CV writing process: Where to start?
The CV structure and content are crucial to landing an interview. Studies have shown that the average time it takes a recruiter or hiring manager to read your CV is 9 seconds. Hence, making the CV more concise and tailored to the industry and specific job is crucial. CVMaker suggests using the following guide to construct an eye-catching teacher CV that will impress your recruiters and land you more interviews! Learn more from our experts at CVMaker about how to write a good CV 
Pro Tip
Create a list of requirements, skills, and keywords you collated during this phase. Utilise your list with your master CV to reword and paste information on your job-specific CV.
Master CV for teachers
A master CV includes everything you have completed or achieved professionally and academically. Ensure you include all the information and create copies of all relevant qualifications and certificates accumulated over the years. You can refer to these documents later when you start applying for jobs or need to submit additional documents. Save all this information on one file and preferably online in places such as Google drive so you can easily access it anytime, any place.
When writing a CV, there are two main parts, one being a master CV and the other a job-specific CV. The main difference is that a master CV is essentially the log of your work and academic history. Therefore, it is a reference for tailoring your CV per job application.
Pro Tip
Always update your master CV regularly when you change jobs or complete in-house training or professional courses. This can include volunteer roles, certificates, courses, or other accomplishments.
Job-specific CV for teachers
Compared to a master CV, a job-specific CV is something you'll use to apply for a particular role, such as an English Teacher or Headteacher. It must be relevant and include keywords and skills related to the job description or vacancy. You're more likely to attract the attention of recruiters or hiring managers if you take the time to write an accurate and tailored job-specific CV for the company and role you apply to.
Make sure your  CV is at most two pages long and uses actionable descriptions of your achievements and how they apply to the role. Then, if you need help figuring out where to start, take an in-depth look at your company's work culture. Browse the company website, highlighting any core values, job requirements, and skills you should consider on your application, including your CV and cover letter.
Teacher CV Example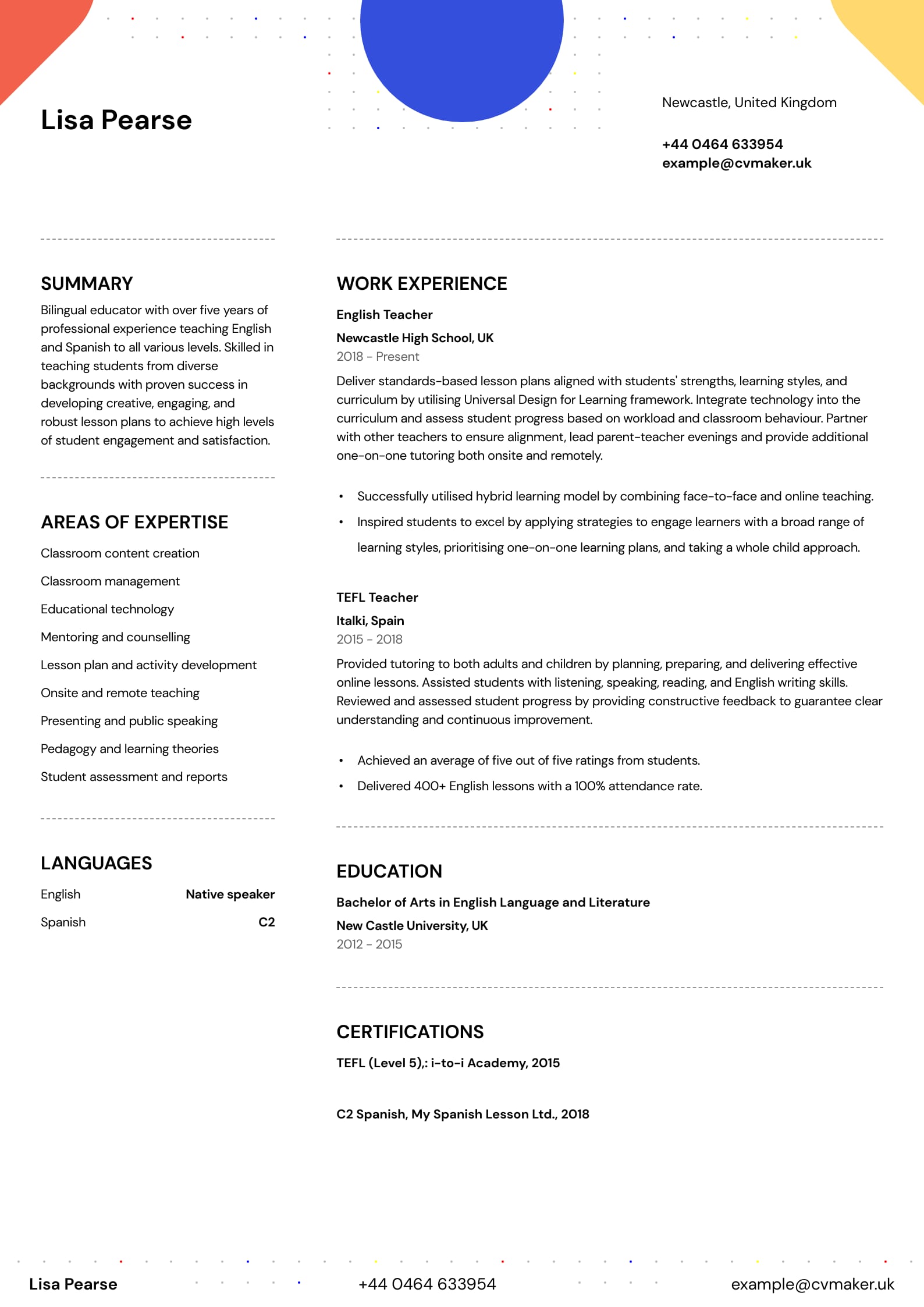 Download this CV example - a teacher CV.
In this example, Lisa Pearse is a bilingual educator with over five years of professional experience teaching English and Spanish at various levels. She highlights her expertise and skills and outlays her success in achieving a high level of student engagement and support throughout her career.
What to include in a teacher CV? Tips and examples
When constructing your job-specific CV, there are additional sections that you must add and a few that are optional. In this section, we'll advise you on what beneficial details and information to include for your teacher CV bar work role.
How to write a personal profile on a teacher CV
Your personal profile, also known as a profile summary, is the first section that will catch the eye of the recruiter. It serves as a brief professional statement that should evolve to reflect your current aspirations and goals. Your profile summary should be personable, unique, and eye-catching. 
When writing a compelling personal profile for a teacher or other education-related role, we advise you to include relevant information only. Your statement is a section of your career goal and should be different and adapted for every job. Refer to our article on how to craft an excellent personal profile or summary for your CV.
Examples of personal profile for a teacher CV
Below is an example of personal profiles for a teacher that you can incorporate into your CV. Take note of how the sentences are written, the keywords, and how soft skills are incorporated. For example, the language and expressions you use are crucial for your personal profile and will showcase how much knowledge and expertise you have for the prospective role.
Experienced teacher profile summary
Dedicated and resourceful educator with professional experience applying hybrid learning theories and research-based pedagogy to drive student achievement in online and classroom learning environments. Skilled in teaching students from diverse backgrounds with proven success in developing creative, engaging, and robust lesson plans to achieve student satisfaction.
What skills to include on a teacher CV
When it comes to identifying the professional skills gained throughout your teaching career,  CVMaker helps you differentiate between types of skills and how to list skills on a CV. Skills come in many forms and are unique to every individual. Some candidates may craft a skills-based CV if they have little to no work experience, have just graduated, or have been unemployed for a while.
Briefly explained, the difference between these two is that hard skills are tangible and measurable. In contrast, soft skills are a collective term for personal characteristics. The skills section can be tricky, but we advise you to thoroughly research the job requirements, as they will frequently add hard and soft skills within the description. You may even notice transferable skills as hard or soft skills. They are obtained regardless of professional background and experience and are beneficial to add to your CV if you are new to a role.
Are you bilingual and specialising in teaching languages? If so, refer to our career blog on how to add language skills to your CV here.
Here are a few examples below for an English Teacher, or read more on what skills to put on your CV. 
Examples of hard skills
Student administration

Lesson development 

Classroom management systems

Language skills
Examples of soft skills
Problem-solving 

Supportive 

Empathic

Critical thinking
Examples of transferable skills 
Listening 

Communication

Adaptability

Leadership
Work experience on a teacher CV with tips and examples 
Once you have listed all your information and researched the types of jobs you are targeting, start by writing about your work experience. Aim for approximately four to six lines explaining your daily duties using active verbs and relevant keywords. In doing so, you will craft the perfect teacher CV to align with your experience and career goals. 
In this section, CVMaker advises listing your previous work experience. Preferably in reverse chronological order. This means listing your current or most recent experience first. If you have experience that is not in teaching or outdated, consider identifying transferable skills that you developed relevant while keeping in mind to include experience older than 15 years into the additional experience. Find out how to list work experience.
Examples of how to put work experience on your CV
'Successfully utilised hybrid learning model by combining face-to-face and online teaching'.

'Supported students by managing lesson planning and providing thorough feedback to help them improve their language learning.'

'Inspired students to excel by applying strategies to engage learners with a broad range of learning styles, prioritising one-on-one learning plans, and taking a whole-child approach.
Pro Tip
Back up your teaching career with evidence, such as statistical data. Instead of describing, try demonstrating why you're qualified and best suited for the role. For example, refer to a data-backed accomplishment such as 'Improved grade average from 55% to 70% in one year by introducing additional after-school lessons.
How to include the education section on a teacher CV
In the UK, you need the correct qualifications to teach. However, if you are currently studying teaching or seeking an internship, then you can mention this within your summary or cover letter. You can also include the words 'in progress' or 'expected date of completion 2025' to show your journey to becoming a qualified teacher.
Tips on how to arrange education on a teacher CV
If you are highly qualified for the role you are applying for, consider moving the education section to the top of your CV.

If your secondary/tertiary education is irrelevant to your career goals, then keep it after the work experience section.

Suppose you do not have secondary/tertiary education but have other forms of education, such as certificates or professional training. In that case, you can call the section Education/Professional Training with an additional section for Certifications if applicable. 
When to include additional experience on a teacher CV?
The purpose of your CV is to convince the recruiter that you took the time to apply for this role. So, how can you strategically include information that will make you stand out against other candidates? The additional experience section is one way to ensure you don't forgo previous experience, but at the same time, it doesn't introduce red flags such as short-term experience. This includes but is not limited to ​​hobbies and interests, volunteer experience, extracurricular activities, or student societies. For example, volunteering with children in or outside an educational setting will help you develop teaching experience. You can develop transferable skills such as communication, listening, empathy, leadership, and problem-solving that could support your future teaching responsibilities.
What achievements to list for a teacher CV?
Suppose you have little to no experience in the education industry. In that case, CVMaker suggests highlighting achievements such as courses, certificates, or projects from past experiences. Elaborate on how these are relevant to your career goals or what skills you obtained while keeping in mind that too much information can also be detrimental to your job search. Instead, think of achievements that would be applicable. These examples would demonstrate to the recruiter how you have achieved and accomplished other activities outside of a professional environment. 
Pro TIp
Even with little experience, your CV can showcase a good work ethic, charismatic personality, and positive attitude. In turn, this will set you apart from the competition.
How to add courses and certificates to a teacher CV
New to the teaching industry? That's no problem because, in this section, we'll explore ways to enhance your CV, regardless of your experience and accomplishments. To boost your chances of getting hired, consider completing a course or gaining a certificate to develop your knowledge, skills, and expertise. Taking professional or academic certificates and courses could drastically enhance your teaching application. 
For example, consider completing a bachelor's degree in education and then gaining the Qualified Teacher Status (QTS) by following a programme of Initial Teacher Training (ITT). Secondly, Postgraduate Certificate in Education (PGCE) programmes are a popular graduate route into teaching in England while you train towards your Qualified Teacher Status (QTS). 
Last but not least, if you have neither of these qualifications, then you can teach English as a Foreign Language (TEFL), where you can leverage any degree or work experience with an online TEFL certificate to teach English within the UK or abroad.
Are references required for a teacher CV?
References on a CV are never mandatory but rather optional. You should only provide references upon request once your application is accepted. At the early stages of the recruitment process, the purpose of your CV is just to feature your skills and experience. On the other hand, if you attend a job interview and your hiring manager asks for references, it would be suitable to provide them. Our CV reference guide can help you decide whether it's appropriate to include them in your bar work CV.
When to include languages on a teacher CV?
Can you speak more than one language? If so, you're lucky because this is a unique way to stand out from the crowd and get your CV noticed! Feature your language section on your bar work CV to impress recruiters and showcase your multilingual abilities. The ability to communicate eloquently with your students is essential. You'll commonly interact with colleagues or students, discussing complex information in simple explanations. Moreover, some students may not be native and, therefore, have difficulties speaking a language fluently. A multilingual environment as a teacher is advantageous for professional and personal growth.
 Tips on how to add languages to a teacher CV
Take a recognised test to evaluate your language proficiency.

Ensure that you include your proficiency level rating in this section.

Learn how to add unique language skills to a CV.

Mention past work experience that relates to communicating with others in a multicultural or multi-lingual environment.
Key takeaways
In this guide, we've outlined that a well-written CV should convince the recruiter that you are the right candidate for the role and have a keen interest in teaching. 
CV tips for a teacher:
Keep the language of your CV concise, simple, and short. 

Thoroughly proofread your documents and check for spelling or grammar errors.

Write a persuasive cover letter to accompany your CV.

Write a comprehensive master CV and update it regularly.

Write a clear and relevant personal summary that shows your top soft skills and career goals.

If possible, include measurable outcomes to showcase your achievements.

Include hobbies, interests, and achievements to stand out if you have limited work experience.
Next steps?
If you are short on time and need an urgent CV crafted in minutes, our dedicated team will speed up the process by doing all the work for you. Our professional CV templates are well-structured and formatted, so you needn't worry about the final touches. Instead, let us design your CV in a few easy steps, saving you time and hassle. Please find out more about our CV Writing Services here.
Teacher CV Example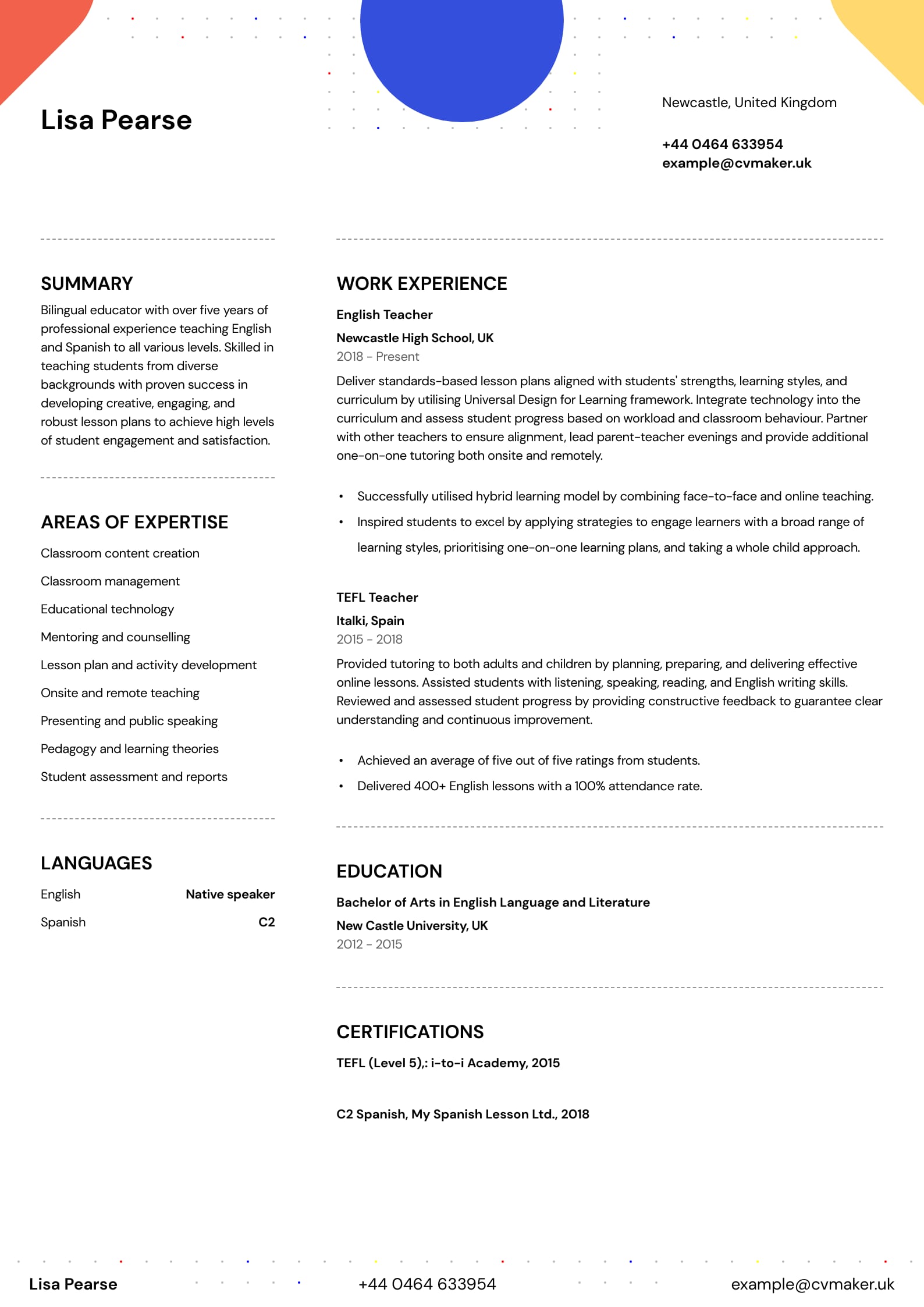 Download this CV example - a teacher CV.
In this example, Lisa Pearse is a bilingual educator with over five years of professional experience teaching English and Spanish at various levels. She highlights her expertise and skills and outlays her success in achieving a high level of student engagement and support throughout her career.
FAQ
How much money does a teacher make in the UK? 
According to the latest data, the median salary for a teacher in the UK is around £28 to 38K a year.
Where can I find good templates for a teaching CV? 
We have a wide variety of templates on our website. You can find designs appropriate for any career and tailored to your dream career or job. 
What kind of teaching jobs are available in the UK? 
Various teaching roles are available, including teaching children or adults, assistant roles, substitute teaching, primary or secondary care roles, special education teaching and more.
How long does it take to become a teacher in the UK?
Before you apply for teaching training, you'll have to obtain your (QTS) qualified teaching status. It can take anywhere from 9 months full-time or 18 to 24 months part-time.
Land the interview for your dream job with CVMaker
Effortlessly create your professional CV within 10 minutes and download it whenever and wherever you want!
Create your CV
Increase your chances landing your dream job with CVMaker.