Nanny CV
Alice, an experienced Nanny with a degree in early childhood development opted for the simple Wheaton template to showcase her skills, education, and work experience as a nanny one one page.
Create your CV
"Dedicated to creating safe, engaging environments for children to thrive. Excellent communication skills and a flexible approach, committed to ensuring a safe, nurturing, and enriching environment for children under my care."
Alice Roberts
- Nanny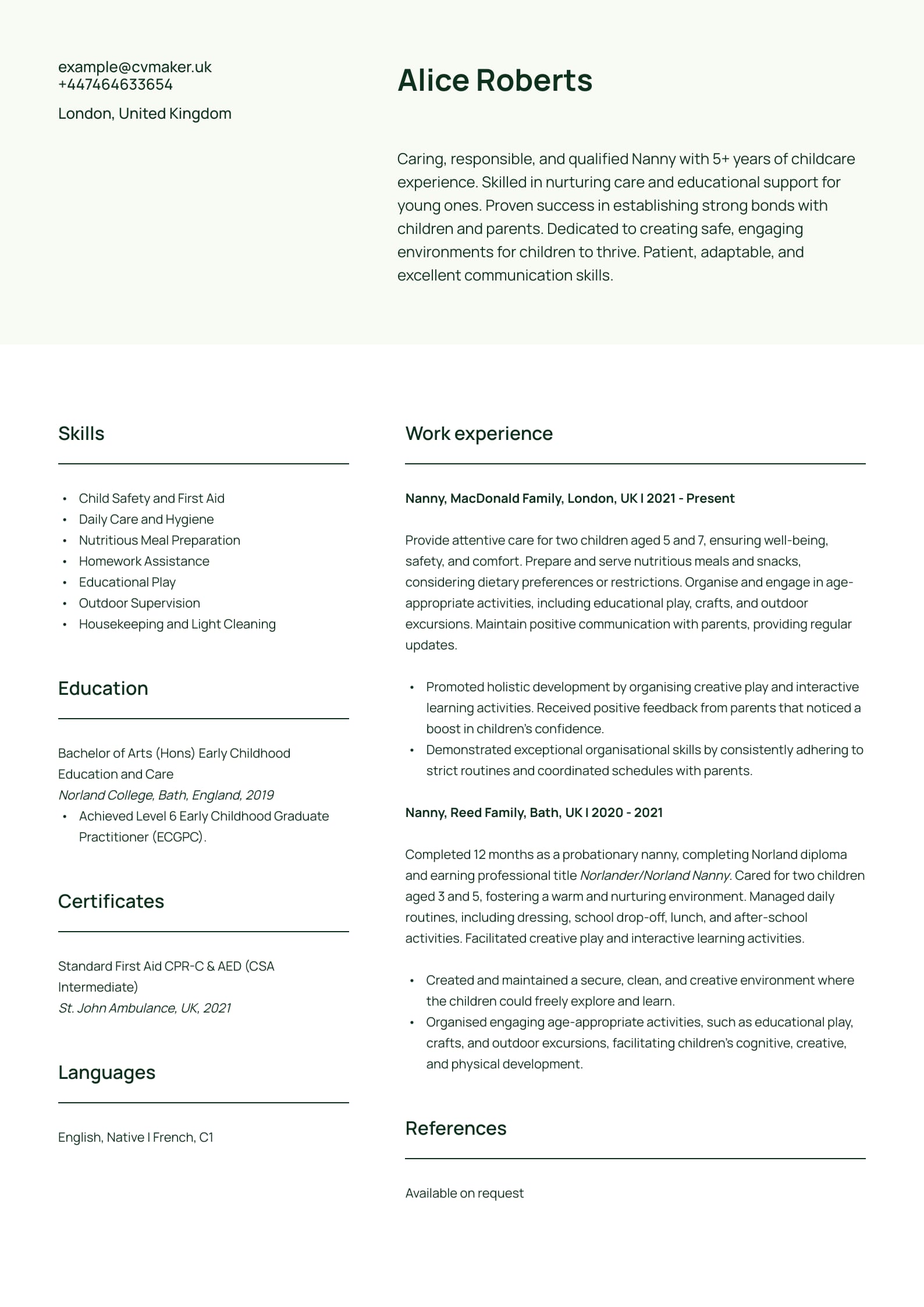 How to Write a CV in 2023 for a Nanny job in the UK?
In this modern era, with parents frequently balancing challenging jobs and hectic timetables, the function of a nanny has become essential. A good nanny is more than a babysitter; they are an important person who helps a child grow and stay well. From offering emotional assistance to participating in learning activities, the impact of a nanny can deeply mould a child's formative years.
The United Kingdom's diverse lifestyles and work dynamics present a broad spectrum of nanny roles catering to various family needs. There are various types of nannies. For example, some live-in nannies become part of the family. Additionally, some part-time nannies assist when necessary.
Some nannies focus on specific areas like newborns or special needs, showing the flexibility needed in this job. Nannies do a variety of tasks, like helping with kids' schedules and assisting with homework. They work for different families and have different responsibilities. This article discusses how to create a CV for a nanny job in the UK. The focus is on making it compatible with applicant tracking systems(ATS).
The CV writing process: Where to start?
The following shows how to highlight your expertise, including certifications and creating engaging and safe learning environments. A good CV increases your chances of getting the nanny job you desire. It also demonstrates your dedication to helping a child grow and develop.
Before you send out generic CVs, it is important to establish a master CV as a precursor to tailoring individualised, job-specific versions. This essentially provides an encompassing repository of qualifications, proficiencies, educational history, certifications, employment trajectory, and remarkable achievements. It helps you match your qualifications to specific jobs, making a stronger impact on employers or parents.
Nanny CV example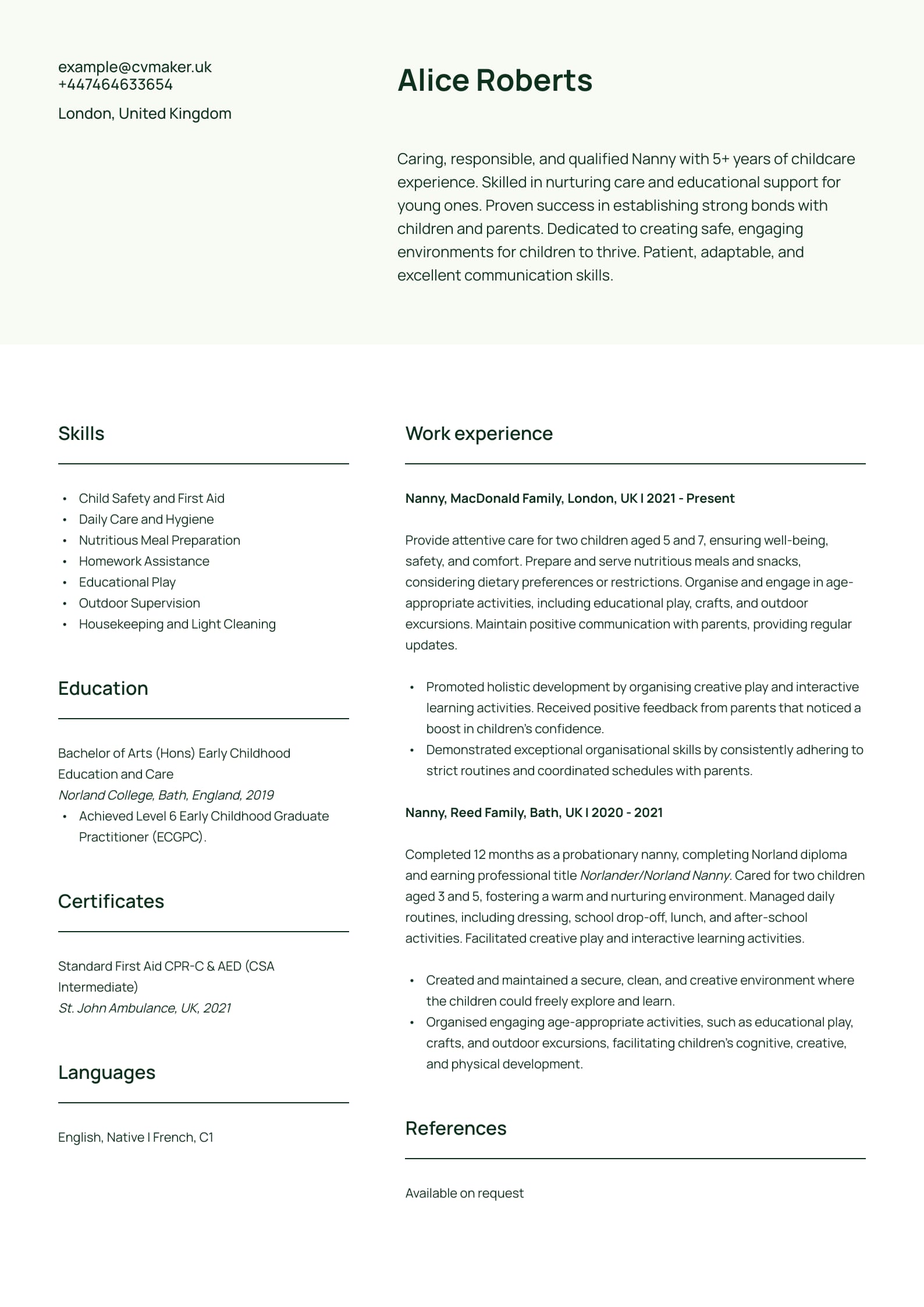 Download this nanny CV sample in PDF
Alice, an experienced Nanny with a degree in early childhood development, opted for the simple Wheaton template to showcase her skills, education, and work experience as a nanny one-page. For more inspiration, check out our support worker CV, student CV, or graduate CV examples.
What to include in a nanny CV? 
A well-crafted CV encompasses several key elements to present your qualifications and suitability for the role effectively. Begin with your personal details, including your name, contact details, and location. Following this, a concise yet impactful personal profile should provide an overview of your expertise, accomplishments, and aspirations in childcare. Let's look at the top sections with examples and pro tips!
Showcase your career goals and key soft skills in a personal profile
This section is a pivotal step in introducing yourself to potential employers as it offers a snapshot of your background, skills, and aspirations in childcare.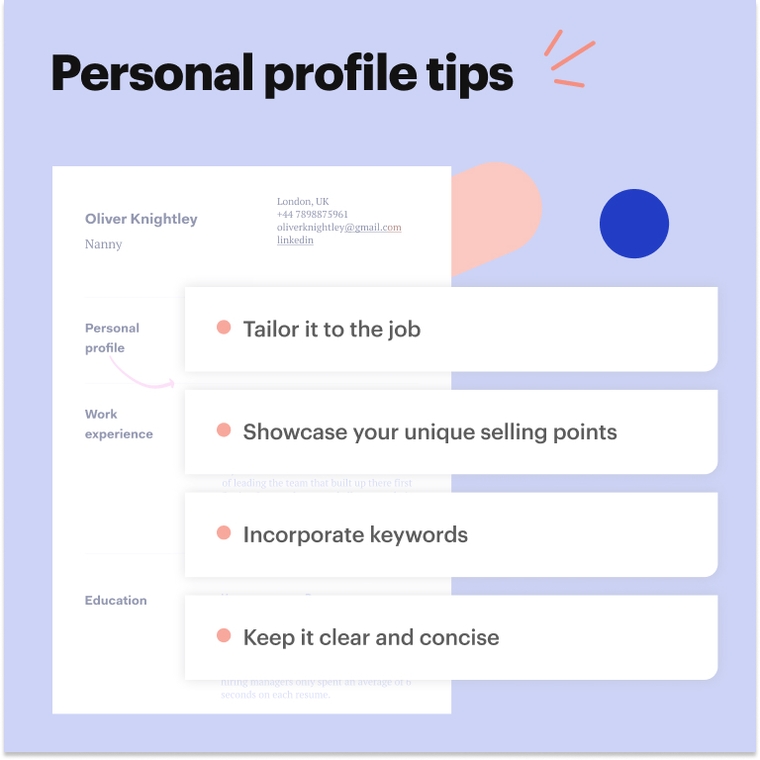 Full-time live-in nanny CV personal profile example
Dedicated and compassionate full-time live-in nanny committed to fostering children's holistic development. With over 7 years of hands-on experience creating nurturing and stimulating environments for children to thrive. Passionate about building strong emotional connections, coupled with my adeptness at managing daily routines and coordinating educational activities, ensures a well-rounded approach to childcare.
Part-time nanny CV personal profile example
Enthusiastic part-time nanny and student, dedicated to making a meaningful impact on children's lives during their crucial early years. With 4 years of experience crafting engaging and educational activities that foster curiosity and skill development. Excellent communication skills and a flexible approach, committed to ensuring a safe, nurturing, and enriching environment for children under my care.
For more examples, refer to how to write a personal profile on a CV.
Complement your CV with a section highlighting key nannying skills
The most common mistake in CV writing is adding too much irrelevant information. Skills on a CV are essential because they provide potential employers with valuable insights into your capabilities and qualifications. Tailor your skills to fit the nanny job you want. Show examples of how you used these skills in past jobs.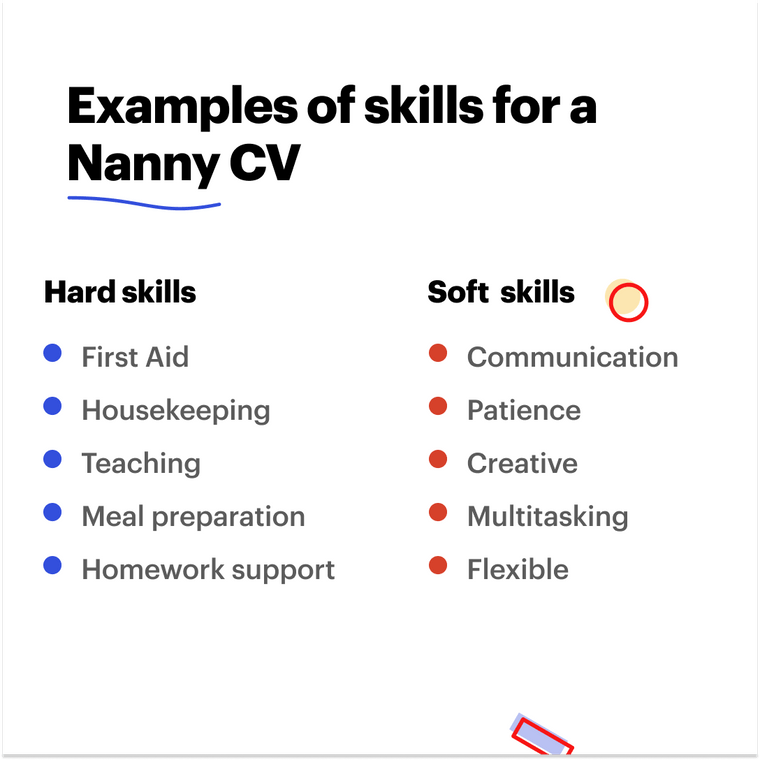 Explain your work experience on a nanny CV
Provide specific information showcasing your responsibilities, accomplishments, and impact on the children under your care. Highlight previous positions, emphasising duties that underscore your caregiving, nurturing, and interpersonal skills. If you've received recognitions, particularly those related to childcare, these can help distinguish your application. Check out our article for more information on how to structure your work experience section.
Full-time live-in nanny, Harrold Family, Bath, UK | 2021 - 2023
Provided round-the-clock care for three children, ages 2, 5, and 8, in a live-in arrangement. Designed and implemented a structured daily routine, including educational play, outdoor activities, and mealtimes. Supported children's emotional well-being by fostering a warm and nurturing environment. Assisted with remote learning during the pandemic, aiding the older children in virtual lessons and assignments. 
Facilitated a seamless transition to remote learning during the pandemic, significantly improving the older children's understanding of virtual lessons and assignments.

Ensured a 100% on-time attendance rate, contributing to the children's holistic development through varied interests.
Part-time nanny, Williams Family, Edinburgh, UK | 2021 - 2023
Cared for two children, ages 4 and 6, during weekday afternoons. Organised and led creative play activities to foster cognitive and social development. Assisted with homework assignments and projects, promoting learning and academic growth. Prepared nutritious snacks and meals, ensuring dietary needs and preferences were met. Facilitated effective communication with parents to update children's progress and daily activities. 
Supported the children's academic growth, resulting in an improvement of 15% in their grades and teacher feedback.

Fostered transparent communication with parents through daily updates and weekly progress reports, resulting in high-levels of parent satisfaction with children's overall well-being.
Include your educational background on your nanny CV
Listing your qualifications, whether formal or informal, is essential. A degree is not required for a nanny job. You don't need a degree for a nanny job. Instead, you can take relevant courses or get first aid certifications to demonstrate your proactive nature. This applies whether you have recently completed school or are still studying. Below are a few examples of education options and requirements to consider:
The CACHE Level 3 Diploma in Childcare and Education is a widely recognised qualification. Topics include child development, health, safety, and play-based learning.

A degree in Early Childhood Education can give you a strong foundation in understanding child development, effective teaching methods, and child psychology. 

Many families and agencies often require a valid Pediatric First Aid certification. 

Depending on the families you work with, specialised training in special needs care, newborn care, or sleep training can set you apart and cater to specific needs.

While not a traditional education requirement, an up-to-date Disclosure and Barring Service (DBS) check, formerly a CRB check, is essential for working with children.

If you're working with families from diverse backgrounds, proficiency in languages other than English can be an asset.
For more tips and examples, check our article on how to list courses and certificates on a CV. 
Pro Tip
Tailor your education section to highlight the qualifications that best align with the nanny, babysitter, or au pair role you're applying for and specify the institution name, location, and date or in progress.
Key takeaways
Creating a good nanny CV in the UK means showing your childcare skills and nurturing qualities in a balanced way. To make your CV stand out, include a strong personal profile. Also, provide a clear summary of your work experience. Additionally, include a list of important skills. Lastly, show your commitment to helping children grow and be healthy.
Next steps?
We provide a wide range of CV templates and CV examples designed to align with your professional aspirations. If you're crafting a CV with limited experience, our CV Writing Service can simplify the process. Additionally, to bolster your job application, we suggest acquainting yourself with effective ways to start a cover letter, enabling you to leave a lasting impact on potential employers and secure the ideal nanny position.
FAQ
What should I put on my CV for a nanny job?
For a nanny job, include your childcare expertise, relevant certifications, communication skills, and examples of your ability to foster child development.
How do I write a CV for a nanny job in the UK?
Your nannying CV should include personal information, personal profile, education, work experience, and skills. Additionally, mentioning language proficiency, relevant projects, extracurricular involvement, or hobbies and interests further demonstrates your dedication and suitability. Lastly, offering references or indicating their availability upon request provides a well-rounded presentation of your qualifications.
How much do nannies make in the UK?
Nannies can earn different salaries depending on their job type and location. On average, they make around £20,000 to £35,000 per year, based on experience and responsibilities.
What should I put on my CV for stay-at-home mum in the UK?
For a stay-at-home mum's CV in the UK, emphasise transferable skills such as time management, organisation, multitasking, and any part-time work or volunteering during the gap. Check out our career change or skills-based CV layout for more tips and examples. Alternatively, refer to our blog article on how to write a nanny CV if you have no experience.
How do I write a CV for a caregiver in the UK?
Highlight caregiving experience, qualifications, communication skills, empathy, and healthcare or elderly care training/certifications. Check out our career assistant CV examples for more tips.
Land the interview for your dream job with CVMaker
Effortlessly create your professional CV within 10 minutes and download it whenever and wherever you want!
Create your CV
Increase your chances landing your dream job with CVMaker.