Psychology CV
Using the California CV template, Isabella boldly shows her relevant work experience alongside a selection of industry-relevant skills.
Start now
"Proficient in research methodologies, data analysis, and psychological assessment. Possess strong teamwork abilities and excel at contributing effectively to collaborative projects."
Isabella Abbott
- Research Assistant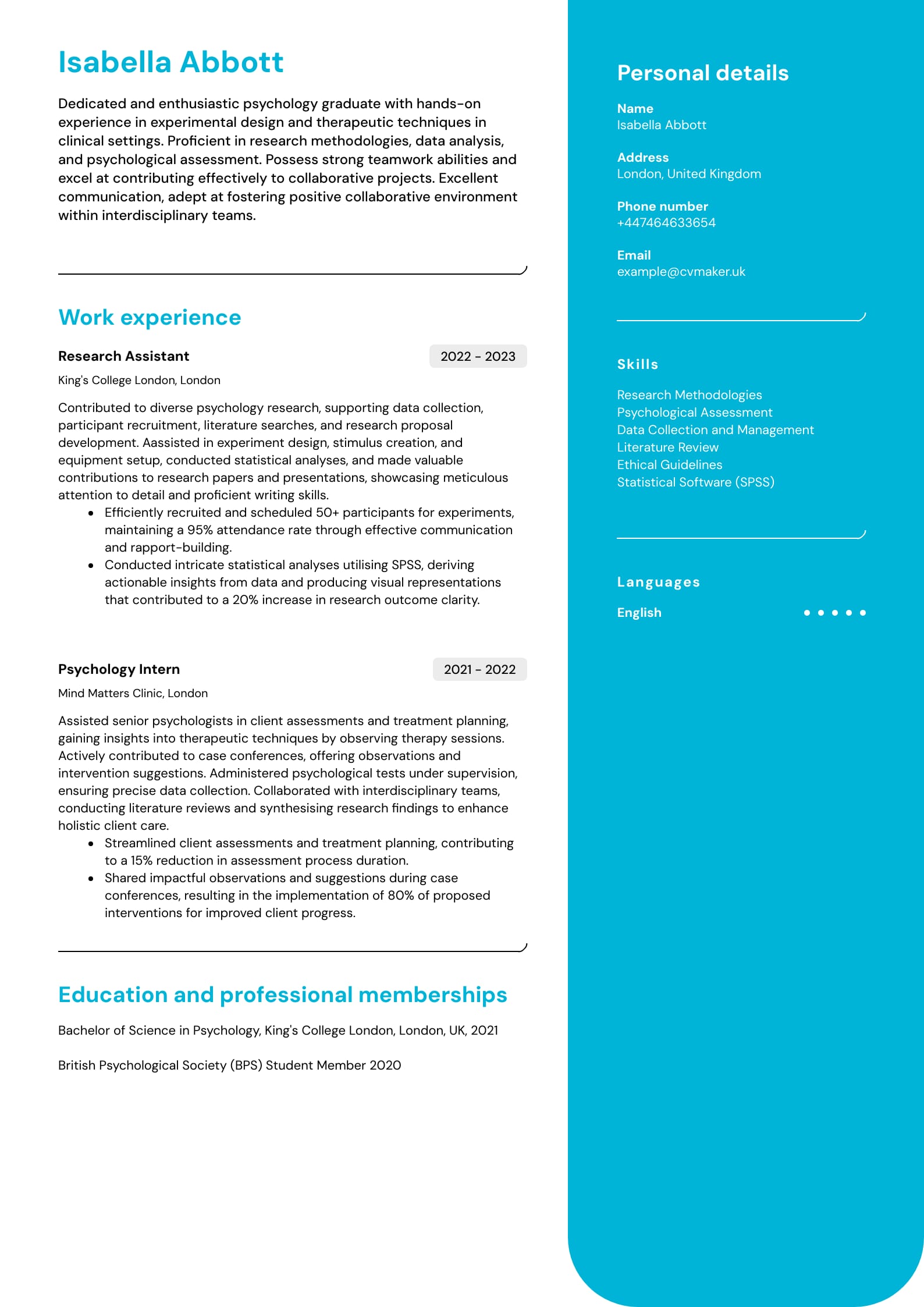 How to Write a Psychology CV Guide with Tips and Examples
Pursuing a fulfilling career in psychology goes beyond understanding the human mind; it involves presenting your abilities, background and enthusiasm through a thoughtfully constructed CV.
As a psychology enthusiast, you are about to enter a diverse and rewarding field with opportunities to work across the UK in various sectors, from medical and private practice to learning environments and human resources.
Below we look at the essential sections your CV needs to include to be application tracking systems (ATS)-friendly, discuss the key skills that employers value, provide examples of impactful work experiences and offer insights on how to present your educational achievements.
The CV writing process: Where to start? 
Starting your journey in the world of psychology is an exciting endeavour that goes beyond studying textbooks and theories. Writing a good CV is all about describing your story, and showcasing your trajectory from a student to a full-fledged mental health professional.
Just like in other healthcare roles such as nurse or care assistant, it's essential to tailor your CV to your specific niche.
The psychology field encompasses various roles and career paths, each requiring distinct skills and experiences including:
Assistant psychologist

Psychotherapist

Forensic psychologist

Learning disability nurse

Clinical psychologist

Counselling psychologist

Educational psychologist
Let's take a look at the potential career trajectory starting with little to no work experience on your CV:
No Experience: Even if you're new to the field, you can tailor your CV to highlight relevant transferable skills, education and any volunteer work that demonstrates your passion for the field.

Student: Our focus is on acquiring foundational knowledge and understanding the various branches in this field. Internships and voluntary experiences can provide a glimpse into practical applications.

Intern: Securing an internship offers hands-on experience in clinical, research or counselling settings. It's a stepping stone towards refining your skills and understanding your preferred specialisation.

Graduate: Graduating with a degree opens doors to entry-level positions, such as research assistants or support workers. You'll gain practical experience while working alongside professionals in the field.

Senior: With accumulated experience and further education, you can transition into senior roles such as clinical psychologists or psychotherapists. These roles involve more responsibility and specialised expertise.
Regardless of where you are in your career, it's essential to craft a CV specific to the job you are applying for. Be clear, concise and above all consistent. To do this we recommend basing each CV you make on a master.
Your master CV should contain:
Employment history

Education and qualifications

Awards

Accreditations and post-nominal letters

Publications

Teaching

References
Creating a master CV not only saves time but also provides a comprehensive list of your skills and achievements, and increases the consistency in the quality of your applications.
If you're looking for extra ideas for your CV, take a look at other roles where psychology has its advantages such as support worker or teacher. 
Psychology CV example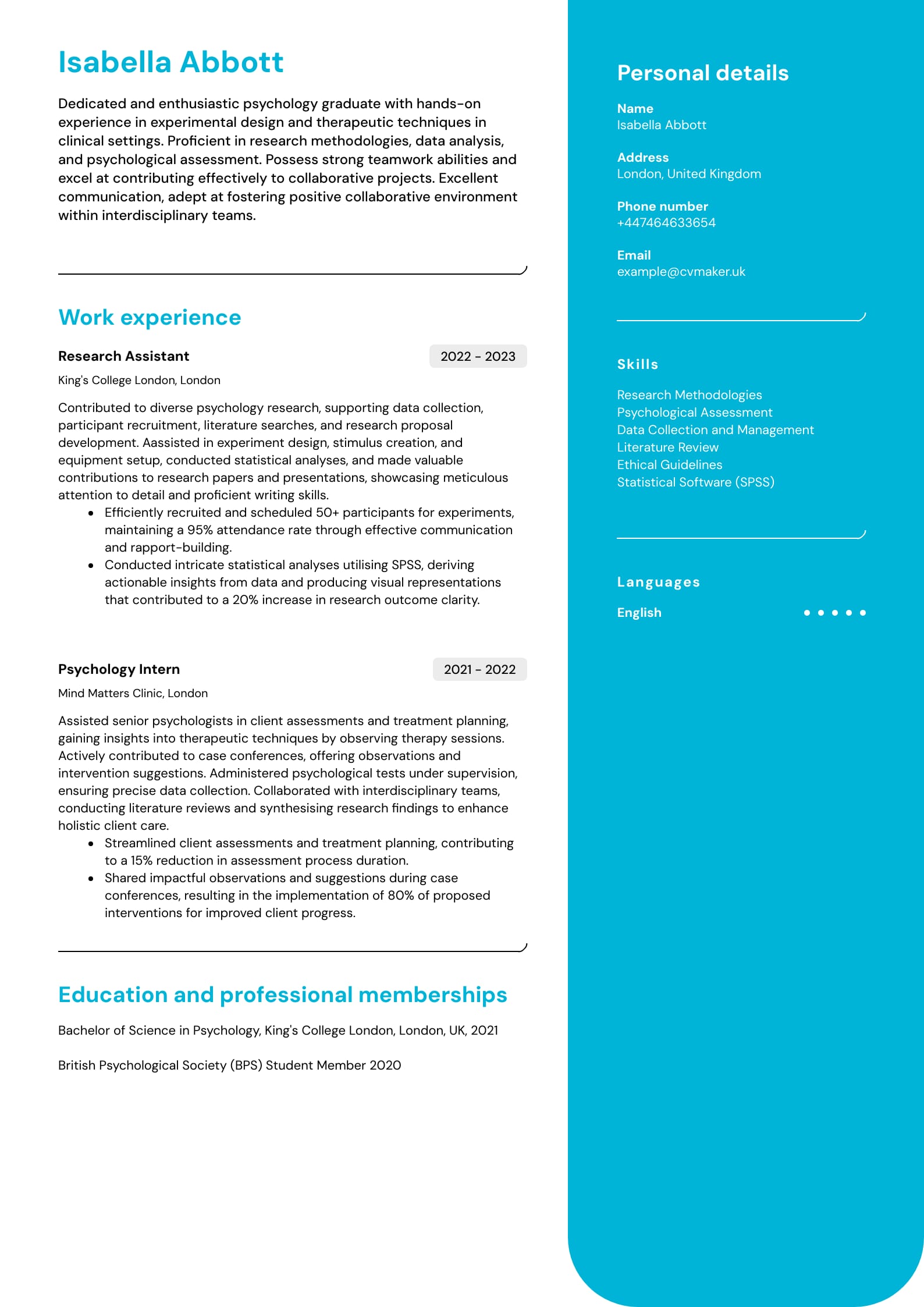 Download this psychology CV sample in PDF
Using the California CV template, Isabella boldly shows her relevant work experience alongside a selection of industry-relevant skills. Using negative space and a clear, confident type she directly draws the hiring manager's attention to the most important information, presenting herself as a top candidate.
What to include in a psychology CV? 
When crafting your mental health CV, be that as a psychologist or other healthcare assistant, it's essential to include key elements that showcase your expertise, experiences and personal attributes. As a general guide, here are the main sections you should be ticking.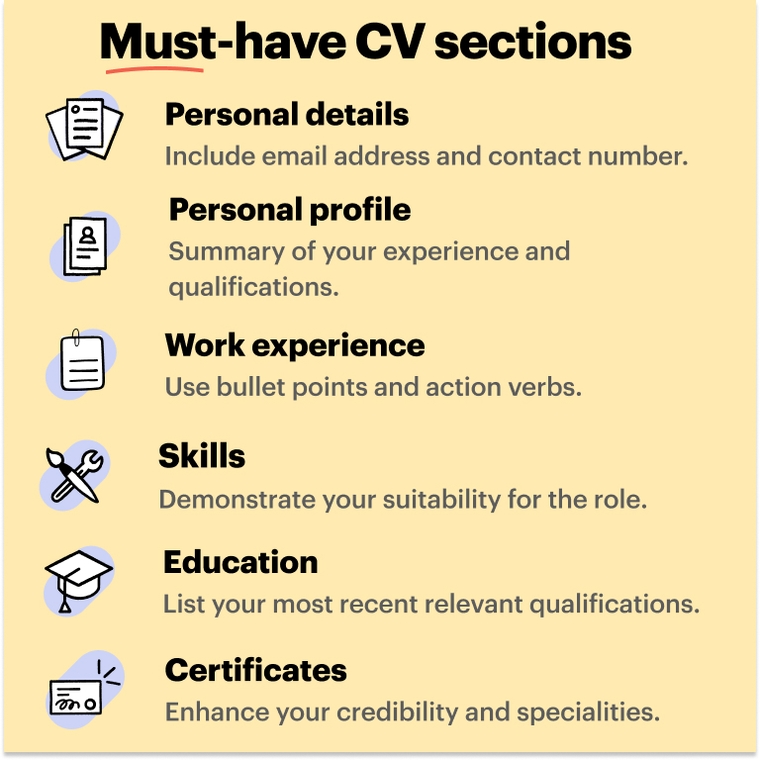 Showcase your speciality in a captivating personal profile 
Crafting a captivating personal profile on a CV is your opportunity to showcase your passion for psychology and your unique attributes. Remember, tailor it to the specific role you're pursuing while keeping it concise and engaging. Feel free to use some of the CV personal profile examples for various related roles as inspiration.
Pro Tip
Your personal profile should be no more than 70 words or six lines of text. Avoid using personal pronouns such as 'I' or 'me'.
Psychology graduate CV personal profile example
Enthusiastic psychology graduate with a deep fascination for understanding human behaviour and mental processes. Possesses a strong foundation in psychological theories and research methodologies gained through rigorous academic coursework. Adept in psychology research and applying theoretical knowledge in practical settings to contribute to impactful research projects.
Assistant psychologist CV personal profile example
Dedicated assistant psychologist with 5 years hands-on experience administering psychological assessments, conducting research and assisting in therapeutic interventions. Possesses exceptional communication skills and a commitment to supporting individuals on their journey towards better mental health. Collaborates effectively with senior psychologists for the delivery of safe clinical practices.
Psychotherapist CV personal profile example
Compassionate psychotherapist with 7 years experience guiding individuals through challenging life experiences and fostering emotional well-being. Skilled in applying evidence-based therapeutic techniques to address a wide range of mental health concerns. Committed to providing a safe and non-judgmental environment for clients to explore their thoughts and emotions.
Psychology intern CV personal profile example
Developing psychology graduate with a passion for understanding human behaviour and contributing to mental health research. Practical skills in assessment, intervention and patient care. Possesses a strong foundation in psychological theories and methodologies, coupled with a compassionate and empathetic approach to working with diverse populations.
Forensic psychologist CV personal profile example 
Experienced forensic psychologist with 5 years experience plus a deep understanding of the complex relationship between psychology and the criminal justice system. Adept at assessing and diagnosing individuals within legal contexts, with a focus on risk assessment and rehabilitation strategies. Known for combining analytical thinking with empathy to ensure ethical and effective outcomes. Committed to utilising psychological insights to contribute to the pursuit of justice and the improvement of mental health within legal settings.
What are the key skills for a psychology CV? 
Effectively showcasing key skills on your CV is essential to demonstrate your suitability for the role. Skills can be categorised into two main types.
Hard skills: Especially prevalent in skilled jobs such as a PhD, these are specific technical abilities and knowledge that you acquire through education, training or practical experience.
Psychological Assessment: Proficiency in administering and interpreting psychological assessments, such as personality tests, cognitive assessments and diagnostic tools.

Therapeutic Techniques: Knowledge of evidence-based therapeutic approaches, such as cognitive-behavioural therapy (CBT), dialectical behaviour therapy (DBT), or psychodynamic therapy.

Research Methodologies: Familiarity with research methods, data collection and statistical analysis used in psychological research projects.

Data Analysis: Ability to analyse and interpret research data using statistical software such as SPSS or R.

Crisis Intervention: Skills in providing immediate support and intervention during crises or emergencies.
Soft skills: These are personal qualities and attributes that enable effective communication, collaboration and adaptability. Within this field, soft skills play a crucial role in building rapport with clients and colleagues. 
These are especially useful if you are making a sideways move from a seemingly disconnected role such as office administrator or HR professional.
Some important soft skills include:
Empathy: the ability to understand and relate to the feelings and experiences of others, essential for establishing a therapeutic rapport.

Active Listening: attentively and empathetically listening to clients' concerns and perspectives.

Communication: clear and effective communication skills for conveying complex psychological concepts to clients and colleagues.

Interpersonal skills: building positive relationships, working collaboratively in teams and navigating interpersonal dynamics.

Problem-solving: identifying challenges and finding solutions, whether in therapeutic settings or research projects.

Ethical sensitivity: an awareness of ethical guidelines and sensitivity to cultural and individual differences when working with diverse people.
By incorporating hard and soft skills, you provide a snapshot of your capabilities and help employers gauge your suitability for the role. As always, tailor your skills to match the requirements of the specific position you're applying for.
For example, a psychology research assistant CV could showcase skills such as proficiency in research methodologies, data analysis and strong attention to detail. On the other hand, a psychotherapist CV might emphasise skills like active listening, empathy and therapeutic techniques.
Whether you're working part-time, pursuing a career-change or entering an apprenticeship or internship, we encourage you to look for the transferable takeaways covered here. 
How to write work experience on a psychology CV 
Highlighting your work experience effectively on your CV is crucial for demonstrating your practical skills, expertise and contributions to the field. Whether you're writing a psychology undergraduate CV, a graduate CV or a CV for a seasoned professional, your work experience section should showcase your relevant roles and responsibilities.
When describing your work experience, use a reverse chronological order, starting with your most recent position and working backwards.
Pro Tip
Work placements are also a fantastic way for those still building their experience to compile an industry-level work history, network with employers in the field and put the skills learned at the degree level into practice.
Examples of psychology placements include:
Trainee counselling psychologist

Assistant to clinical psychologist

Recruitment consultant

Research assistant

Assistant to educational psychologists

HR business development

Tutor for children with special educational needs
Volunteer work as well as hobbies and interests on a CV are also excellent colouring for your CV to support your professional and personal development. Make sure they are relevant and recent enough to tie in with your application.
Examples of work experience
Psychology Intern | Mind Wellness Clinic, London | June 2022 - August 2022
Assisted senior psychologists in conducting intake assessments for new clients, contributing to efficient case management and treatment planning. Administered and scored standardised psychological tests, ensuring accurate data collection for research purposes. Supported the development of psychoeducational materials for workshops on stress management and resilience. Collaborated with a multidisciplinary team to organise and facilitate mental health awareness events for the local community. Conducted literature reviews and synthesised research findings to contribute to ongoing research projects.
Administered and scored psychological assessments for over 50 clients, contributing to accurate treatment planning and evaluation.

Assisted in organising and facilitating a successful mental health awareness event attended by over 200 community members.
Learning Disability Nurse | Greenview Care Home, Manchester | September 2020 - Present
Utilise a person-centred approach to assess the needs and preferences of residents with learning disabilities, creating tailored care plans. Collaborate with a team of healthcare professionals to implement behaviour management strategies, resulting in improved resident well-being. Provide emotional support and therapeutic interventions to residents experiencing anxiety and distress. Document observations and progress notes, maintaining accurate and up-to-date records in compliance with regulatory standards. Participate in staff training sessions on communication techniques and de-escalation strategies for individuals with learning disabilities.
Developed and implemented behaviour support plans for 15 residents, resulting in a 25% reduction in challenging behaviours.

Contributed to a training program for care staff, enhancing their ability to provide effective support to individuals with learning disabilities.
Clinical Psychologist | Serenity Therapy Center, Edinburgh | January 2017 - December 2022
Conducted comprehensive psychological assessments and formulated evidence-based treatment plans for clients with mood disorders and anxiety. Led individual and group therapy sessions using cognitive-behavioural and mindfulness-based interventions. Managed a caseload of up to 25 clients, consistently achieving positive outcomes and high client satisfaction rates. Supervised and provided guidance to junior psychologists and interns, fostering their professional growth. Collaborated with external medical professionals to ensure integrated care for clients with complex mental health needs.
Led therapeutic interventions for over 200 clients, resulting in an average 15% reduction in symptoms within the first six sessions.

Supervised and mentored 5 junior psychologists, supporting their development and enhancing the quality of therapy services.
Counselling Psychologist | Hope Counseling Services, Bristol | May 2019 - Present
Conduct initial intake interviews and assessments to identify clients' presenting concerns and treatment goals. Provide short-term solution-focused counselling to clients dealing with relationship issues, trauma and life transitions. Facilitate psychoeducational workshops on stress management, resilience and emotional regulation. Utilise outcome measures and assessment tools to track clients' progress and adjust treatment plans as needed. Developed and implemented a wellness program for employees at a local tech company, addressing work-related stress.
Conducted over 400 counselling sessions, consistently achieving an 85% client satisfaction rate based on post-session surveys.

Designed and delivered a stress management workshop for a corporate client, resulting in a 20% increase in employee well-being scores.
Educational Psychologist | Local Education Authority, Leeds | July 2015 - October 2021
Conducted psychoeducational assessments and observations to identify students' learning strengths and needs. Collaborated with teachers, parents and school staff to develop individualised education plans (IEPs) for students with special educational needs (SEN). Delivered training sessions to teachers and school personnel on creating inclusive learning environments. Provided consultation and support to parents regarding strategies for supporting their child's educational and emotional well-being. Contributed to multidisciplinary team meetings to discuss complex cases and make recommendations for interventions.
Developed and implemented IEPs for 50 students with diverse learning needs, resulting in improved academic progress and well-being.

Facilitated training workshops for over 100 educators, enhancing their ability to create inclusive classroom environments for students with SEN.
Include your educational achievements on your psychology CV 
Your education section is a crucial component of your CV, as it demonstrates your academic qualifications and the foundation of your expertise. Follow these guidelines to effectively present your education:
Begin with your highest level of education and work backwards, listing the institution's name, degree earned and date of completion.

Highlight any relevant certifications, awards or honours received during your studies.

Emphasise your dissertation or research project if applicable, showcasing your ability to conduct independent research and contribute to the field of psychology.

If you have completed additional courses, workshops or certifications related to psychology, include them in this section.
Examples of education
BSc (Hons) Psychology, University of Manchester, Manchester | 2019\ Dissertation: "Exploring the Impact of Mindfulness Meditation on Stress Reduction in University Students"

MSc Clinical Psychology, King's College London, London | 2022\ Dissertation: "A Qualitative Study Investigating Coping Mechanisms in Individuals with Generalised Anxiety Disorder"
What additional certificates and licences should I add to my psychology CV? 
Adding relevant licences, courses and certificates on a CV enhances your credibility and demonstrates your specialisation in certain areas. Consider including the following certifications based on your career goals:
Make sure to include the certificate name, institution or issuer and date of completion for each certification you list. Discover more tips on how to list achievements on a CV.
Key takeaways 
Crafting a CV that stands out requires attention to detail, clear organisation and a focus on your unique qualifications and skills. Here are the key takeaways from this guide:
Start Strong: Write an engaging introduction that highlights the type of role you're pursuing and how to get started in the field.

Personal Profile: Create a captivating personal profile that showcases your specialisation and passion.

Key Skills: List both hard and soft skills relevant to your psychology role to demonstrate your expertise and interpersonal abilities.

Work Experience: Include relevant work experiences using short paragraphs followed by quantifiable achievements to highlight your impact.

Education: Present your educational achievements, relevant certifications and licences in a clear and concise manner.
Next Steps? 
Now you're ready to start creating a winning CV, get to work using our intuitive CV builder with 20+ CV templates and professional designs. Explore our cover letter templates to craft a compelling introduction to your job applications. Don't want to leave anything to chance? Contact our professional CV writing service.
FAQ 
How to list publications on a psychology CV?
Include a separate section for publications, listing the title, authors, publication date and journal or conference details. Discover more about publications in our medical CV example.
What is a CV UK format for psychology?
Follow a standard CV format, including personal details, personal profile, work history, education, skills, certifications and references.
What hobbies do you put on a CV for psychology?
Include hobbies that demonstrate relevant skills, such as volunteering for mental health organisations, participating in research projects or engaging in mindfulness practices.
Do you get paid for a psychology placement?
Some psychology placements may offer stipends or compensation, but many are unpaid opportunities to gain valuable experience. Learn more about how to write a student CV.
How to write a psychology CV in the UK with no experience?
Highlight relevant coursework, volunteer work, internships and any transferable skills you possess.
How to become a self-employed psychologist?
To become a self-employed psychologist, consider obtaining the necessary licenses, building a client base and establishing a strong online presence through a professional website or social media.
Land the interview for your dream job with CVMaker
Effortlessly create your professional CV within 10 minutes and download it whenever and wherever you want!
Create your CV
Increase your chances landing your dream job with CVMaker.