Summer Work Placement
Finn selected the Edinburgh Cover Letter template, hoping to find summer work experience.
Create your Cover Letter
"I am writing to ask if you would consider allowing me to gain some work experience this summer.""
Finn Turner
- Work placement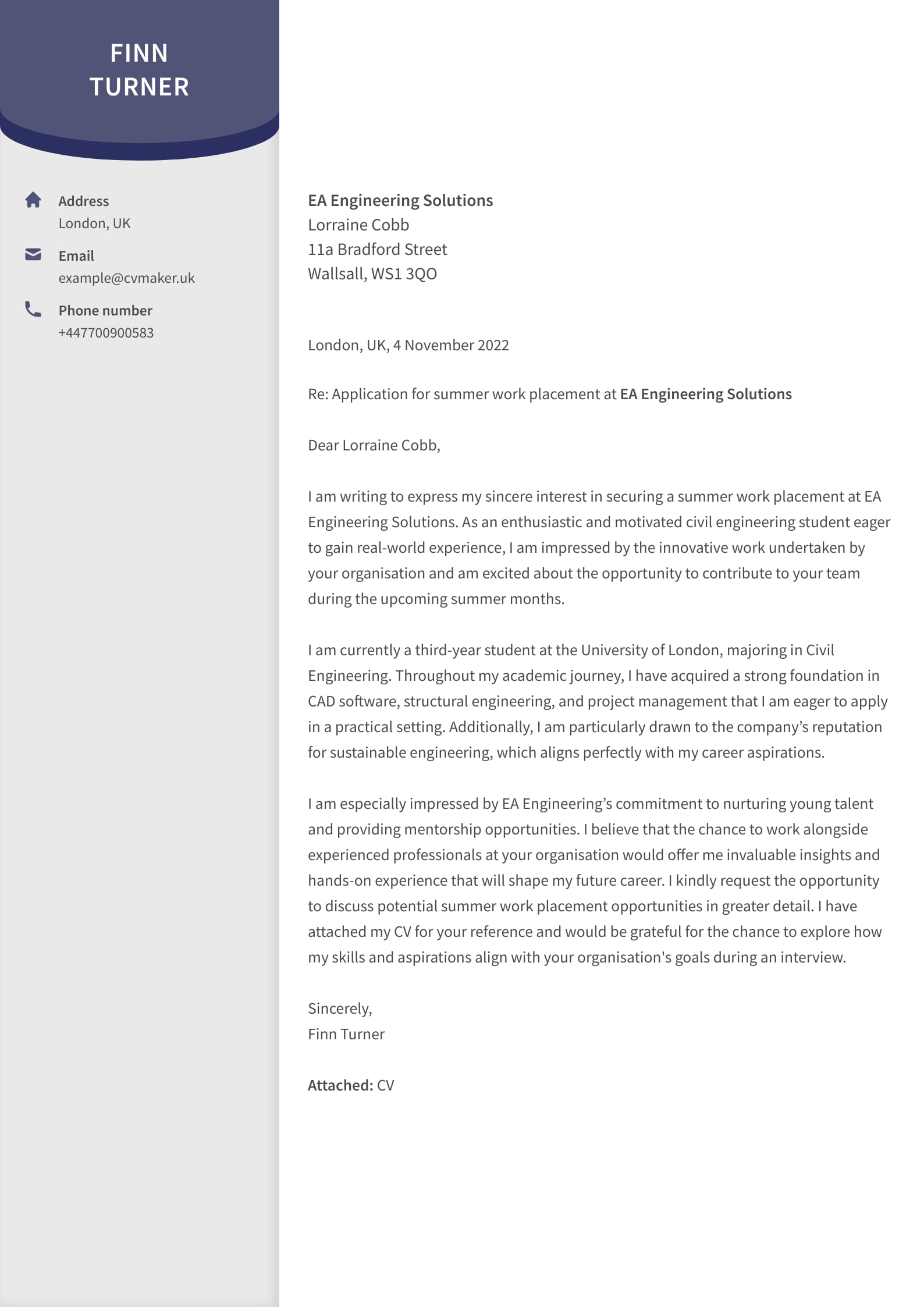 How to write a work placement Cover Letter: Example and tips
Are you seeking work placement and in need of a well-written Cover Letter? Searching for a new work placement or experience may seem intimidating at first and we fully realise it.  But don't worry, we're here to help meet your career needs. Our experts at CVMaker have compiled a Cover Letter example alongside brief guidelines below to boost your chances of landing more interviews. 
To match your qualifications with the company's needs, ensure to make your Cover Letter simple and, most importantly, ATS-friendly. ATS stand for an applicant tracking system that is used by recruiters to organise and track candidates for the recruitment process. It filters out your application by criteria such as years of experience, relevant technical or language skills, 
This article is for anyone who wants to learn how to write a Cover Letter for work placement. It covers the essentials of writing it to get work experience that you can eventually add to your CV. Using our easy-to-use Cover Letter builder you can generate one in just a few minutes! You can create and download unlimited Cover Letters of your choice in 20+ professional templates. See our tips, examples, and guidelines to sharpen your writing skills.
How to write a work placement Cover Letter
The clearer you are, the better the company can prepare for your work placement period and all other conditions. Perhaps you're keen to do an internship at a company that doesn't have a vacancy at the moment. In this case, it is best to write an open Cover Letter where you briefly outline why your qualifications are needed for the company. If you're looking for a summer work placement, check some core information to make sure you're on the right page. These could include the duration, salary, full-time or part-time, industry type, company culture, and job criteria. Follow our step-by-step instructions below to write an outstanding Cover Letter.
Step-by-step writing tips 
Research the job position and company culture.

Choose the Cover Letter format that aligns with the brand personality.

Include essential information such as contact details and an introduction to your current situation.

Write a strong opening statement.

Write in concise and clear language, preferably without personal pronouns such as 'I', 'me', and 'us'.

Explain how you can contribute to the company by showcasing your career goals.

Focus on accomplishments, relevant experiences, and skills.

Add a call to action ( request the next steps in the recruitment process or thank the interview after the first interview).

Read it aloud and proofread it before handing it in
What to include in a work placement Cover Letter
Before jumping into writing, consider the following details and questions that you need to answer for yourself first. Some of them you can find in your job description. Doing this will get you started and help direct your focus to the right keywords and topics to address. So, consider making an overview for yourself in which you answer the following questions:
What course are you following, and what year are you in?

How long is your work placement period?

Is there a required word limit set by an employer?

What relevant skills and qualities do you possess?

What would you like to learn during your placement?

Where do you see yourself working in five years?
With this information, you have sufficient means to write a strong Cover Letter for your work placement. 
Pro Tip
Try to shorten your Cover Letter and keep it to a maximum of one page of A4. Once it is written, ask a close acquaintance, or family member to proofread your letter.
What do you say when asking for a work placement on a Cover Letter?
Writing a work placement Cover Letter is exciting. You may not have much relevant work experience yet, which makes it difficult to name your experience and skills at first. However, your advantage is motivation and eagerness to learn new skills. By using the right persuasive techniques you'll be one step closer to landing more job interviews. If you want to gain experience for your further career, it is crucial to make use of all available resources and courses that can help with career development.
Describing your motivation may seem difficult. Possessing work experience is often mandatory for jobs, but try to think about why you chose a certain education and what you would like to do with it. You can also use this as information for your Cover Letter. Focus on the company culture and describe in your Cover letter why you want a work placement at that company. Every letter needs to be divided into three essential parts: introduction, body, and conclusion.
Cover Letter Tips for a work placement 
In your Cover Letter, emphasize what your skills are. To make it stand out, indicate your eagerness to hone these skills further and your wish to develop new skills during your work placement. Convince your company that you possess the right relevant skills to be of value to the company's needs. Show that you're ready to help with various tasks and projects, and you gain experience for your future career in return.
DOs
Be clear, precise, and to the point

Tailor your Cover Letter to each job you are applying

Focus on relevant achievements and work experience

Clearly express your career goals 

Show what you can bring to the company instead of vice versa

Read it aloud and proofread it before publishing
DONTs
Use the same generic Cover Letter for every application

Include irrelevant or generic information such as your hobbies or academic knowledge

Include personal pronouns

Use slang or colloquial language

Use an unfitting layout format (e.g too many visuals)
Land the interview for your dream job with CVMaker
Effortlessly create your professional CV within 10 minutes and download it whenever and wherever you want!
Create your CV
Increase your chances landing your dream job with CVMaker.