Letter of Interest
Simon selected the California Cover Letter template for a Letter of Interest.
Create your Cover Letter
"Thank you for taking my call this morning, in which you gave me a clear description of the company and its culture. It has made me even more enthusiastic about working for your company as soon as a position becomes available. "
Simon Voigt
- Letter of Interest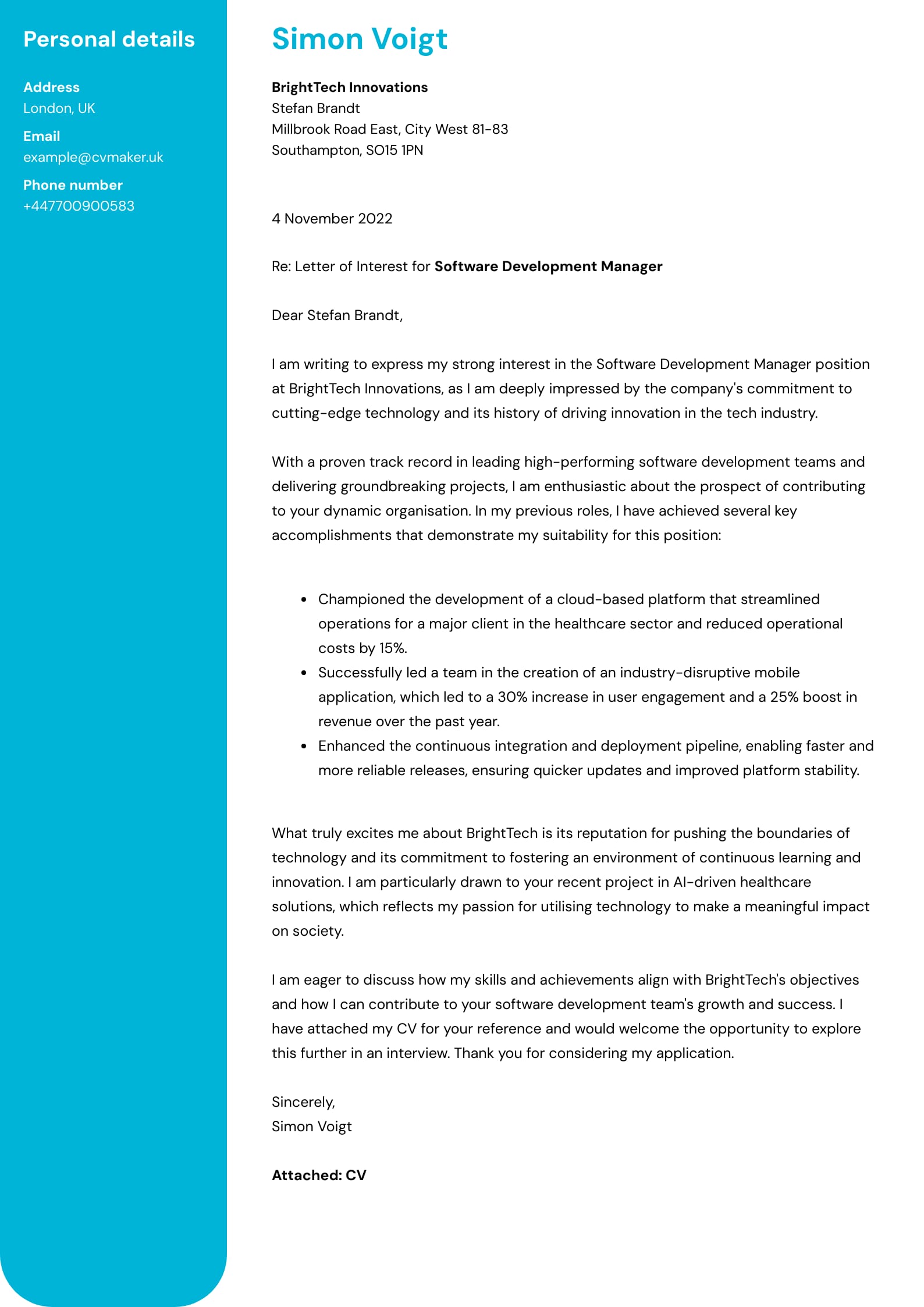 How to write a Letter of Interest
A letter of interest, also known as a letter of inquiry, is a letter where an applicant elaborates on reasons for applying for a company that doesn't have job adverts at the moment. In other words, a letter of interest application is an application for a job at a company where there are no open vacancies. So, the idea is that you apply for a company where you would like to work, in the hope that they will hire you, now or in the future.
To help your meet your career goals, we designed a Cover Letter builder for you which has over 20 professional templates to choose from. Use the layout of your choice and it will automatically fill in the data for you. 
How to prepare a Letter of Interest
Alongside an open application, a letter of interest is one of the more difficult applications that exist. The company might not always have any open positions, or not for your intended role. Therefore, always research the company to which you want to apply. Google the company, give them a call, and find out as much information as you can that might be of interest Remember good preparation is only half the job.
When you have collected the most important points of the company, it is wise to call first. Keep in mind that the company isn't actually looking for staff and they shouldn't be paying attention to your letter. Sending your letter of interest application without notice can therefore reduce the chance of any feedback or reply from a hiring manager.
Before you call, it is wise to write down for yourself what you want to ask and say during the conversation. It is useful, for example, to check whether the company is open to letters of interest or open applications at all. If this is the case, you can immediately inquire person's name and e-mail address to whom you can send your letter of interest application.
During this conversation, make sure to explain what kind of work you would like to do. The company is likely to have a list you can use to find out the job title that the company uses in your case. This could be useful information to use later in your letter of interest. When you first call, you have automatically created the first sentence for your letter. You can refer to the telephone conversation you just had with Mrs. x or Mr. y. After this, continue with the introduction of your letter.
What to include in a Letter of Interest?
The content of a letter of interest application is about the same as that of a cover letter. The difference is that with a letter of interest application you need to clearly indicate who you are and what you can do for the company, while they are actually not looking for new staff.
Well-structured letters of interest are divided into three following core parts: the introduction, the body, and the conclusion. In the introduction, refer to a vacancy or in this case, a telephone conversation. In the body section of your letter of interest, discuss what you have to offer the company. Describe your degrees, skills and any relevant career highlights here. In the concluding paragraph, you thank the reader for his/her time, write that you are looking forward to feedback, for example, and refer to your enclosed CV.
Thing to consider in your Letter of Interest
Refer to the phone call you made and mention the name of the contact you spoke to.

State clearly which position you would like to hold.

Introduce yourself by naming your education or knowledge, work experience and soft and hard skills.

Explain clearly why you want this job and why at this company.

Afterwards, have a close friend or family member go through the letter again.
Key takeaways
Although the chance of a successful application is lower, you do have the chance to leave a good impression. Who knows, they may be looking for you in the future!
So, do you think you are of value to the target company? Don't wait, just send in your letter of interest application.
Land the interview for your dream job with CVMaker
Effortlessly create your professional CV within 10 minutes and download it whenever and wherever you want!
Create your CV
Increase your chances landing your dream job with CVMaker.