Hairdresser CV
Olivia showcases five years of experience in delivering exceptional hairstyling services in this hairdresser CV example. The two-column layout showcases Olivia's work experience along with her relevant qualifications.
Start now
"Highly skilled and creative hairdresser with over 5 years of experience in delivering exceptional hairstyling services to clients. Able to execute diverse hair services, address individual preferences and hair types."
Olivia Harrington
- Senior Hairdresser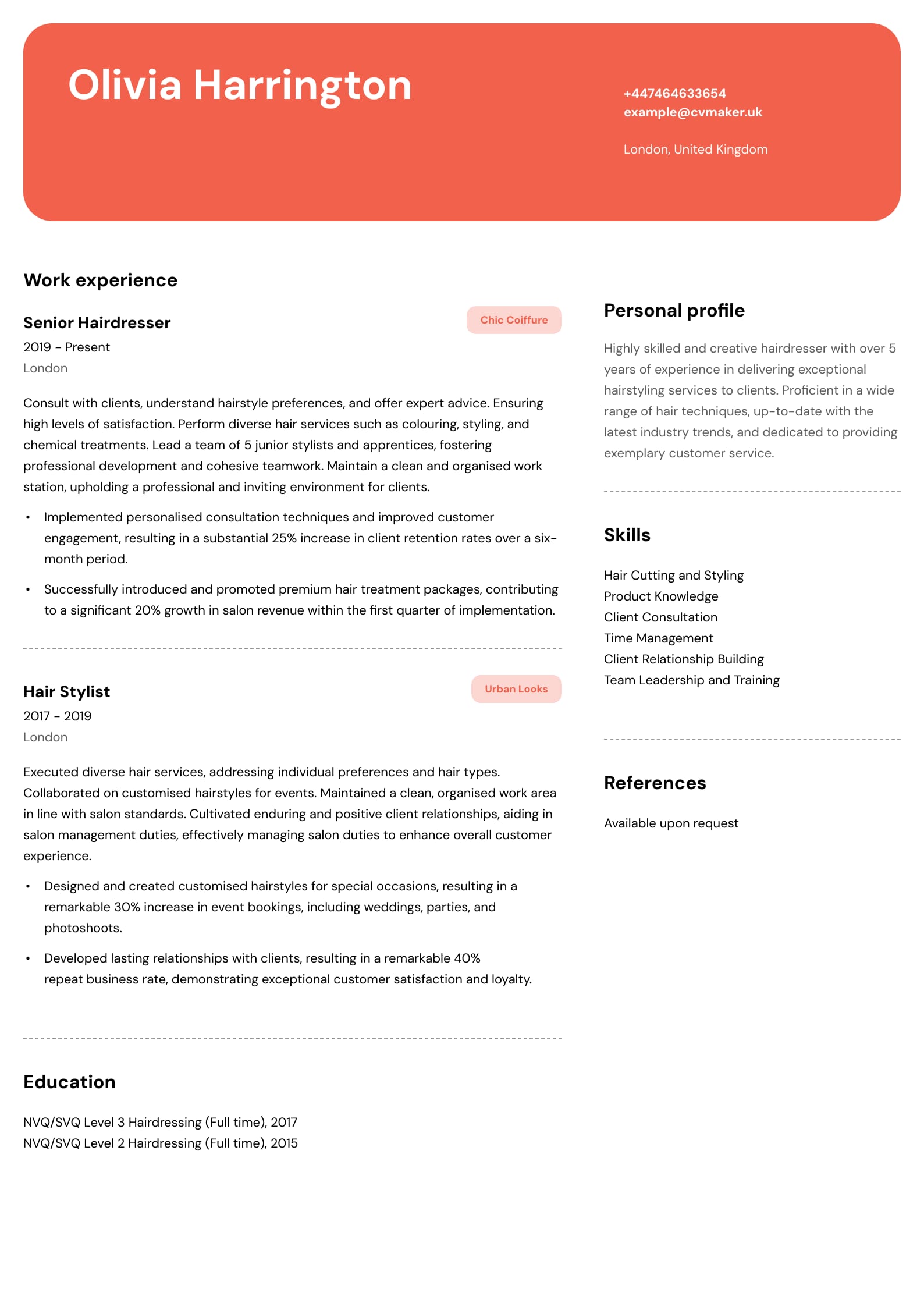 How to Write a Cutting-edge Hairdresser CV with Examples and Tips
A hairdressing career offers an exciting journey through various career paths and opportunities in the beauty and hair industry. This profession is characterised by diversity and ever-evolving trends, making it an increasingly competitive and in-demand role to pursue. As industry trends progress, creating a modern CV  that aligns with the shifting contemporary market is essential. 
From salons and spas to fashion shows and film sets, the work environments within hairdressing are as varied as the clients you'll consult. Whether pursuing a new career as an apprentice or an experienced hair stylist eager to advance to a full-time senior position, we inform you how to create an impressive CV. Our expert insights are designed to kickstart your career potential, ensuring you succeed and achieve your career goals.
Much like your role requires innovation and adaptability, recruiters use the latest CV software to read and scan job applications. Have you heard of application tracking systems (ATS)? We advise choosing an ATS-friendly and professional CV format to improve your chances of being among the top 25% of shortlisted candidates. 
There are a range of hairdressing professions in the UK suited for all levels and expertise, including:
Trainee and Apprentice Hairdresser

Junior Hairdresser

Hair Stylist

Hair Color Specialist

Barber

Bridal Hair Specialist

Salon Educator and Trainer

Senior Hairdresser

Salon Manager/Owner.
The CV writing process: Where to start? 
Crafting a captivating hairdressing CV involves including key information and sections. Add personal details and a profile highlighting your expertise. Include relevant education and work experience that emphasise key achievements and industry-specific skills.
For those entering the field as a trainee or with little to no work experience, starting a master CV can be beneficial; it provides a comprehensive overview of your professional journey. It's then much easier to create a job-specific CV for your job targets, a tailored version relevant to specific hairdressing roles.
Explore our expert tips and guidance on improving your CV for more inspiration. 
Hairdresser CV example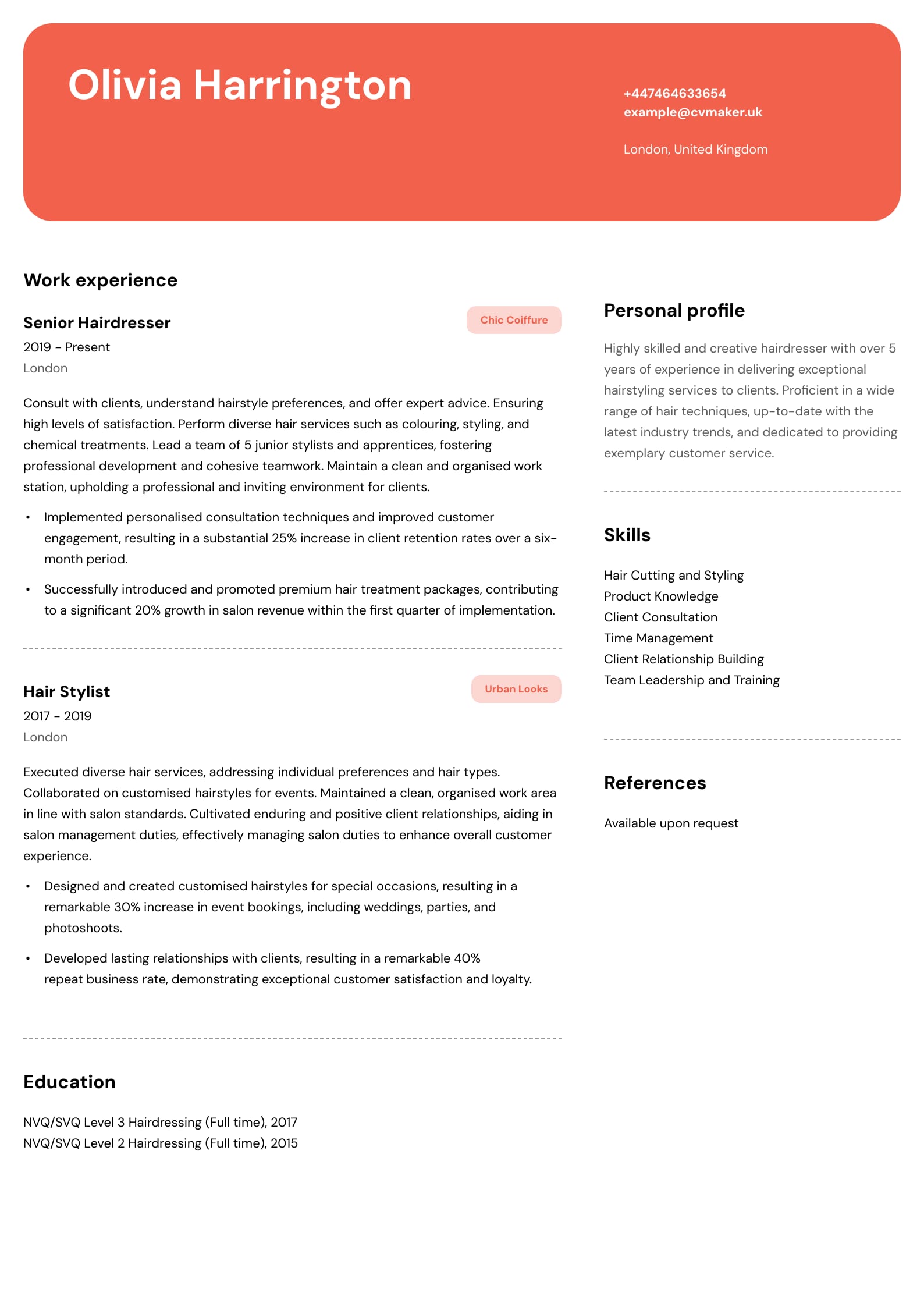 Download this Hairdresser CV sample in PDF
Olivia showcases five years of experience in delivering exceptional hairstyling services in this hairdresser CV example. She includes essential industry-specific skills supported by relevant work achievements and qualifications. She uses a professional hair stylist CV format for the UK that illustrates her dedication and proficiency from a hair stylist to a senior role, which reflects her career progression.
What to include in a hairdresser CV? 
A professional CV should first include personal details. Then, write a compelling personal profile summary reflecting your attributes and dedication to staying at the forefront of modern hairdressing trends. Include relevant education, training, certifications, and workshops. Your work experience should illustrate practical examples of completing procedures and engaging with clients. Use the skills section to highlight technical expertise and hairdressing techniques. You can also elaborate on specialised services like bridal styling or men's grooming. Adding a section for references, a portfolio, and online accounts such as social media is optional but can be beneficial.
For more ideas, refer to the hairdresser job profile on the National Careers website. For aspiring professionals who need help deciding what role to pursue, explore other related opportunities in hair and beauty, such as a make-up artist or nail technician. Discover more ideas by looking at our artist or acting CV examples.
Craft your signature style with a personal profile 
Your personal statement on a hairdressing CV is an opportunity to captivate potential employers. Write a concise summary that reflects your expertise, dedication, and unique attributes. Whether you're a hairdressing apprentice or aiming for the top as a senior hair stylist, this section makes the first impression on potential employers and sets the tone of your personality.
Hair Stylist CV personal profile example
Experienced hair stylist with 7+ years of crafting personalised looks that embody clients' desires and trends. Proficient in various cutting, colouring, and styling techniques. Committed to delivering top-notch service, ensuring each client walks out with renewed confidence and style.
Trainee Hairdresser CV personal profile example
Dedicated trainee hairdresser passionate about honing skills and mastering the art of hairdressing. Enthusiastically learning under expert guidance, eager to apply theoretical knowledge to practical settings. Committed to delivering exceptional customer experiences while embracing new challenges.
Senior Hairdresser CV personal profile example
Seasoned senior hairdresser with 15+ years of transforming clients' visions into reality. Expertise in diverse styling, cutting, and advanced colouring techniques, with a deep understanding of current industry trends. Skilled at managing a team, providing guidance, and ensuring a seamless salon operation.
Apprentice Hairdresser CV personal profile example
Aspiring apprentice hairdresser committed to cultivating foundational skills and knowledge. Eager to contribute to salon success through enthusiasm, dedication, and a willingness to learn. Seeking to develop industry expertise and actively assist senior professionals while embracing opportunities for growth and hands-on experience.
Learn more tips about how to create a stand-out personal profile. 
Style your hairdresser CV with key skills 
Crafting your CV skills section requires a strategic blend of technical expertise and people skills, both essential in the hair and beauty industry. Balance is essential, and you must combine both soft and hard skills.
Hard skills include specific techniques like precise cutting and colouring, while soft skills enhance client interactions and salon experience. Think of hard skills as the practical tools of the trade, while soft skills are used to improve overall customer service and the salon experience.
For a CV for hairdressing apprenticeship or trainee, if you have little to no work experience and are a student, consider using a skills-based CV to leverage your relevant transferable skills and qualifications over work experience.
If you want to explore more CV examples with similar skills for client-facing roles, consider reading our customer service and hospitality articles for inspiration. 
Cut to the chase with work experience on your CV
Your work experience section should showcase your competence within the ever-evolving landscape of the hairdressing and beauty industry. By applying your extensive skill set, demonstrate how you have delivered quality hair transformations. Write your hairdresser CV format in reverse chronological order to present your most recent work experience first. List 2-3 measurable achievements or outcomes at the end of each entry.
If you are a recent school leaver looking to kickstart your career, we recommend reading the apprenticeship CV guide to help you get started. Alternatively, if you are still studying at school or have little to no work experience, consider an internship, finding part-time work or volunteering to gain more practical skills and knowledge for your junior hairdresser CV.
Hairdresser CV work experience example: 
Junior Hairdresser| Glamour Hair Studio, London | 2018 - Present
Transform clients' visions into reality through creative cutting, colouring, and styling techniques. Consult with clients to understand their preferences and offer expert advice. Collaborate with colleagues to ensure seamless salon operations. Stay updated on industry trends and techniques, attending workshops to refine skills.
Improved client satisfaction by 30% through personalised consultations.

Spearheaded "Trendsetter Tuesdays," introducing new styles to clients.

Trained junior stylists, enhancing the team's expertise in modern hair trends.
Senior Hair Stylist CV work Experience example: 
Salon Manager & Senior Stylist | Style Haven Salon, Manchester | 2014 - Present
Lead a team of stylists in delivering top-tier services, from haircuts to intricate updos. Oversee daily operations, including appointments, inventory, and customer interactions. Mentor junior stylists, fostering a culture of continuous learning and innovation.
Streamlined salon operations, resulting in a 20% increase in client bookings.

Introduced new haircare products, boosting retail sales by 25%.

Organised successful bridal hair events, enhancing salon reputation.
School Leaver with little to no work experience example: 
Assistant Hair Stylist | Tresses & Trends Salon, Birmingham | Summer 2022
Assisted senior stylists with client consultations, shampooing, and blow-drying. Maintained cleanliness and organisation within the salon. Participated in team training sessions to enhance hairdressing techniques.
Demonstrated quick learning, adapting to salon procedures within a week.

Received commendation for dedication and enthusiasm from senior stylists.
Barber CV work experience example:
Barber | Gents Grooming Studio, Leeds | 2017 - Present
Provide exceptional grooming services, including haircuts, beard trims, and hot towel shaves. Engage clients in personalised consultations to deliver tailored styles. Maintain a welcoming and professional environment.
Achieved a loyal client base through consistently delivering precise cuts.

Introduced "Beard Care Saturdays," increasing customer engagement by 40%.

Collaborated with local barbershops, enhancing the barbering community.
Hair and Beauty CV work experience example: 
Beauty Therapist | Serenity Spa & Salon, Edinburgh | 2015 - Present
Administer various beauty treatments, including facials, massages, and waxing. Consult with clients to customise treatments based on individual needs. Upsell retail products to enhance clients' at-home skincare routines.
Attained the highest client retention rate by consistently providing exceptional service.

Led workshops on skin care routines, fostering client education and loyalty.

Collaborated with colleagues to create spa packages, boosting sales by 15%.
Refer to our article to learn more about what to write for your work experience.
Make your CV shine with an education section 
The hair and beauty sector is dynamic, fast-paced and evolving, driven by fashion trends and creativity. Earning relevant qualifications and training is advised to gain modern skills and stay updated on the latest industry's progress.
The UK has many educational opportunities to kickstart a career in hairstyling. Aspiring professionals can start training in this industry at 16 years old. Typically, employers only request secondary-tier qualifications for entry-level roles.
Apprenticeships: Completing a Hair Professional Level 2 apprenticeship will help you gain on-the-job training and practical experience with an employer. Training typically lasts 12-24 months, and funding options are available.
College Courses: Enrolling in courses or completing a diploma can equip you with essential skills and knowledge.
National Vocational Qualifications (NVQ) is a standard route and can lead to a Higher National Certificate or Diploma (HNC/HND) qualification or degree on completion.

T Qualifications in hairdressing, barbering or beauty therapy lasts 24 months, and you'll learn core sections relevant to the sector with options to specialise in a field. Find your nearest T-Level school or college for more information.
Examples of education: 
Hairdressing Professional Level 2 Apprenticeship | London Hair Academy, London, 2022

NVQ/SVQ Level 3 Hairdressing (Full time), 2017 

Advanced Hair Styling Techniques Course | Beauty & Beyond Institute, Manchester, 2021

Diploma in Beauty Therapy | City College, Birmingham, 2020.
Learn more about hairdressing training and education opportunities with the Hair and Barber's UK Council. For more information on what qualifications to add to your CV, refer to our article on how to write the education section.
Add some colour to your CV with references 
Enhance the credibility of your hair and beauty CV with references. Like highlights adding dimension to a hairstyle, references can bring depth to your application. References can affirm your expertise, reliability, and character, providing a solid foundation for your candidacy. 
Suppose you are writing a trainee or junior hairdresser CV sample; references can enhance its appeal, giving potential employers a clearer picture of your strengths and contributions.
For more guidance, refer to our article on whether adding references to a CV for hair and beauty is beneficial. 
Add the finishing touch to your hairdresser CV 
In the evolving hair and beauty industry, being current on the latest digital trends is essential to impress potential employers in today's market. We recommend adding a personal portfolio, website address, or social media accounts to promote yourself. This can be especially beneficial if you have hobbies and interests relevant to your job targets.
Social media's popularity has transformed how we engage with style and fashion. It has brought fresh avenues for displaying innovative work and promoting businesses. Include links to your Instagram or TikTok accounts to showcase your professional work and connect with clients online. 
Detail any additional certificates on your CV or workshops you've undertaken, displaying your commitment to developing new techniques and offering innovative services. Furthermore, featuring before-and-after photos of your transformations and client testimonials can further underscore your innovative techniques and establish your professionalism in the field. 
Pro Tip
Consider presenting your portfolio samples at the interview to showcase your recent projects to hiring managers and potential employers. In addition, write a short cover letter to support your CV and portfolio.
For more tips on securing an interview for your dream role, read our guide on job interview tips. 
Key takeaways
The UK hair industry offers diverse opportunities and a promoting career path for all levels, which can lead to becoming a senior hair stylist or salon owner. For those aiming for entry-level roles, even with little to no work experience, enrolling on an apprenticeship or college course will leverage your career. With this guide, writing an good CV will help enhance your potential and stand out. To maximise impact on recruiters, use our professional industry-standard hairdresser CV format and write a short cover letter to support your portfolio.
Next Steps?
Explore our diverse professional CV templates for hair and beauty roles, easily tailored to entry-level applicants to senior-level stylists. With our CV Builder, you can effortlessly personalise your CV through our user-friendly platform tailored to your career goals. Alternatively, discover more practical tips and advice on our career blog if you are considering a career change to the beauty and hair industry.
FAQ 
What do I need to do to become a hairdresser in the UK? 
To become a hairdresser in the UK, you must complete a recognised hairdressing qualification, such as NVQ/SVQ Level 2 and 3. Gain hands-on experience through an apprenticeship or salon work. Develop essential hairdressing skills, like cutting, styling, colouring, and client consultation. Keep up with industry trends and techniques or enrol in additional courses and workshops. Consider specialisations like bridal hair or extensions for added expertise.
What is a typical UK CV format for a hairdresser? 
When writing your CV, ensure it's tailored to your job targets and uses a professional ATS-friendly template. A typical UK hairdresser CV format includes these key sections:
Personal details

Personal profile summary

Skills

Work experience and training

Education and qualifications, including relevant certifications and courses

Additional sections include references, social media accounts, hobbies and interests and a portfolio. 
How to become a self-employed hairdresser? 
To become a self-employed hairdresser, you must be certified and have work experience. Then, register as self-employed with HMRC. Set up a professional workspace or rent a chair at a salon. Build a portfolio showcasing your skills. Network with potential clients and market your services. Manage your finances and taxes diligently as a self-employed professional. For more information, read this article on hairdresser registration and licensing in the UK.
How much can I earn as a hairdresser? 
Hairdressers' earnings can vary based on experience, location, and specialisation. Annual salaries are from £14,000 to £30,000 for senior stylists and specialists. Factors like tips, commission, and client base can influence your income.
What is a personal statement for a hairdresser CV?
A personal statement for a hairdresser CV briefly introduces your expertise and aspirations. Highlight your passion for hairdressing and beauty, and mention critical skills like cutting, styling, and client consultation. Emphasise your dedication to staying updated with industry trends and techniques. Include a snippet about your commitment to exceptional customer service and how you strive to bring out the best in every client's appearance.
Land the interview for your dream job with CVMaker
Effortlessly create your professional CV within 10 minutes and download it whenever and wherever you want!
Create your CV
Increase your chances landing your dream job with CVMaker.