Makeup Artist CV
The Erasmus CV template showcases Borahan's extensive client experience, knowledge of industry trends, and impress language proficiencies.
Start your CV
"Passionate makeup artist with 5 years of experience in product application, including airbrush artistry. Have gained practical experience with customising unique looks and meeting client expectations."
Borahan Mugheri
- Senior Makeup Artist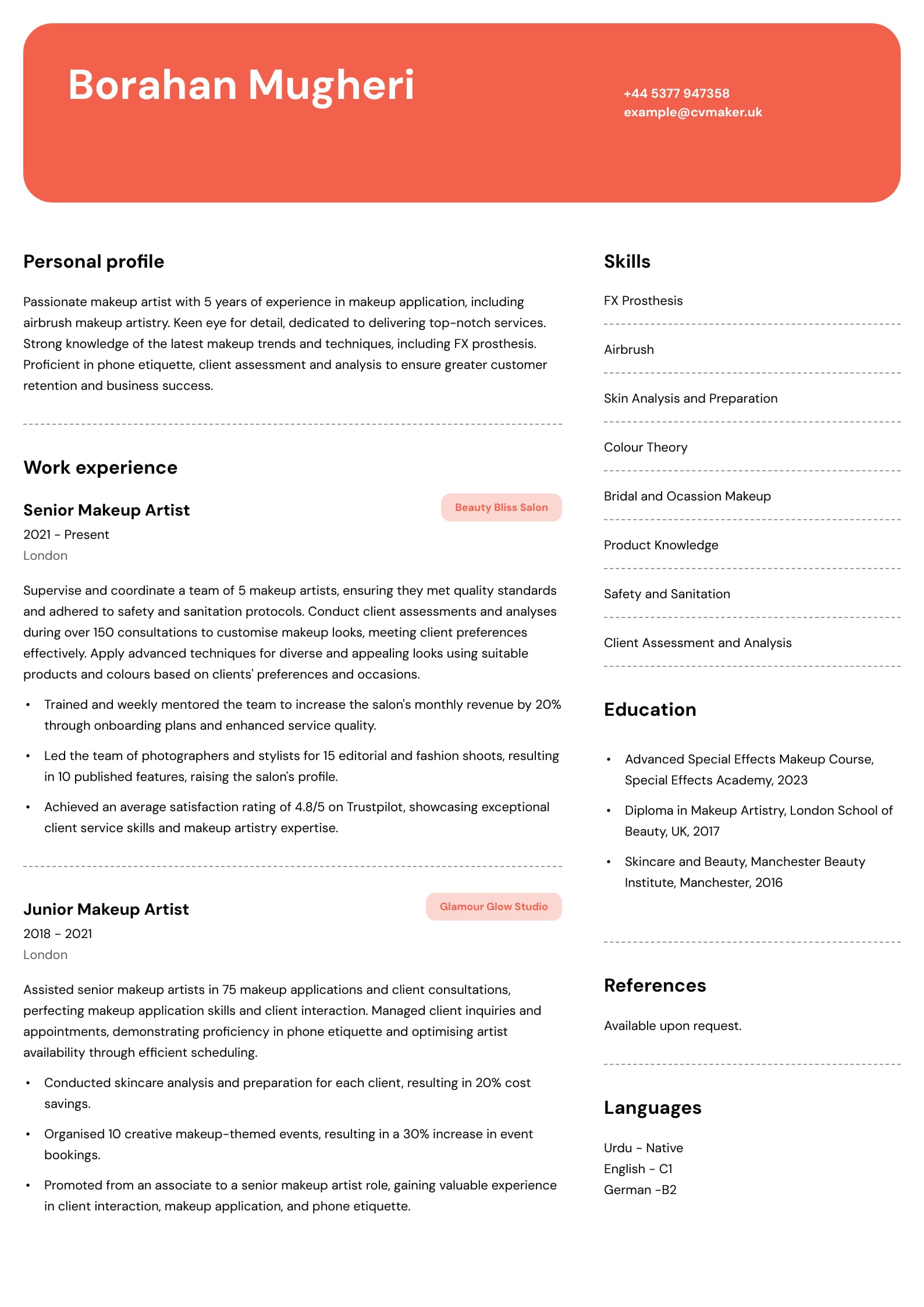 How to Write a Makeup Artist CV (Examples and Tips)
The beauty industry is constantly evolving with new styles and trends. Just like a skilled makeup artist adapts and innovates, your CV should also transform to reflect your creativity. It's crucial to know how to craft a modern CV that resonates with potential employers in the beauty industry.
With the show 'Glow Up' and the explosion of TikTok makeup tutorials, the industry is flourishing. It offers countless career opportunities for beginners and senior experts. In this article, we guide you through writing a good CV and selecting the best makeup artist CV template. Your CV should align with your unique talents and impress any hiring manager.
Makeup Artist CV example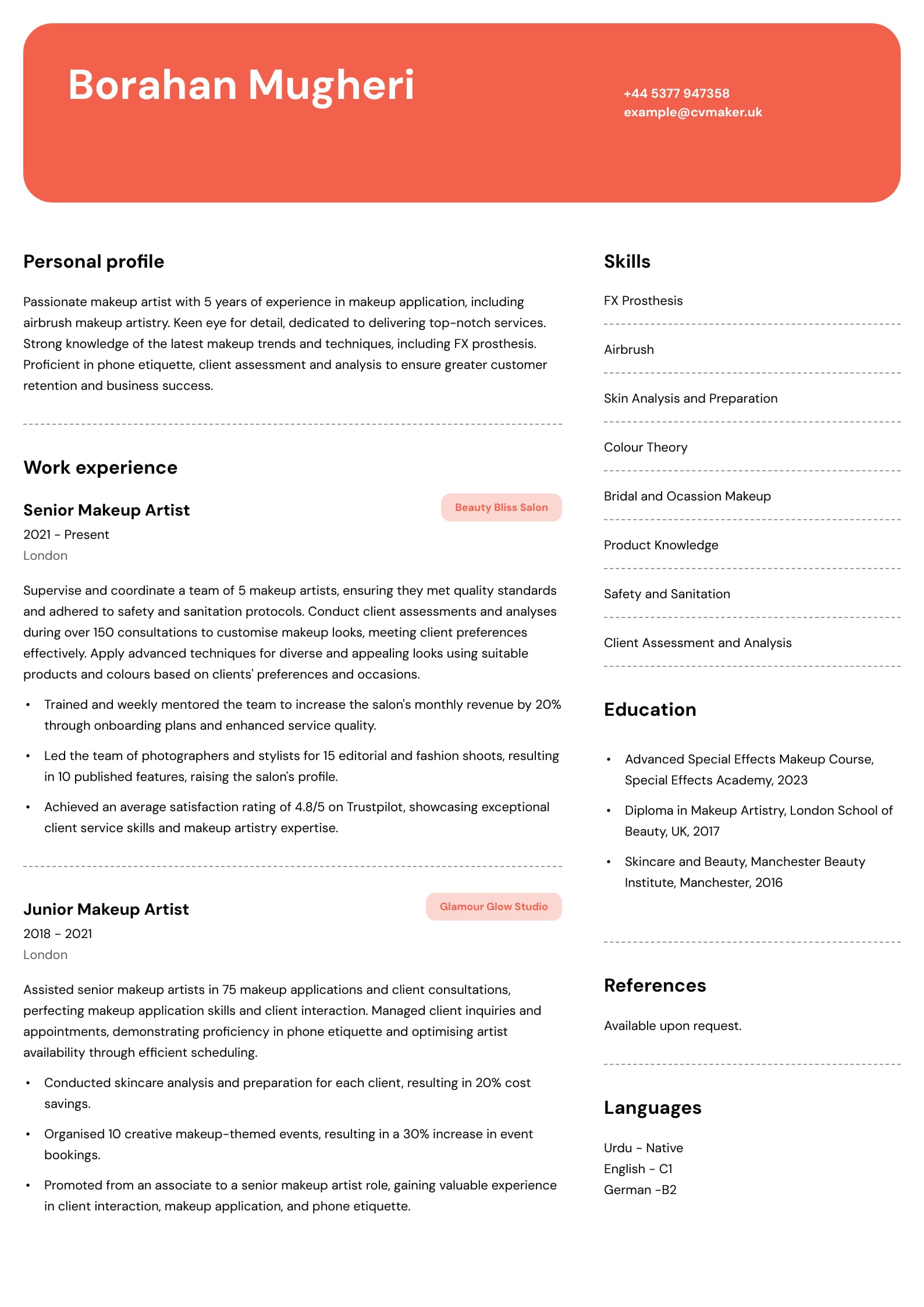 Download this makeup artist CV sample in the UK
In this CV example, Borahan Mugheri presents their extensive skills in airbrush makeup, FX prosthesis, and trend knowledge. The Erasmus CV template showcases Borahan's extensive client service experience, knowledge of industry trends, and impressive language proficiencies. The CV format is well-presented, clear and easy to read. The layout clearly presents their career growth from a junior to a senior role.
What is the foundation of a makeup artist CV?
The beauty industry offers diverse career paths, from freelance makeup artist (MUA) to senior consultancy roles. It allows for a focus on sectors such as bridal or corporate events.
Use an applicant tracking system (ATS)-friendly CV format so recruiters can find and scan your CV more effectively. Conclude with a mention of available references to enhance credibility. Refer to our blog for a detailed overview of the CV writing process to land your dream makeup artist job.
If you're interested in more creative client-focused roles, explore our range of CV examples:
Highlight your qualities in your personal profile 
A personal profile, or professional summary, is a critical section of any professional CV. It should be a brief but impactful overview of your skills, experience, and career aspirations. Emphasise key qualities related to the job description and demonstrate exceptional customer service. Refer to our personal profile on a CV article for more guidance.
Retail makeup artist CV personal profile example
Experienced retail makeup artist with over five years of hands-on expertise in delivering exceptional beauty services and advice in a fast-paced retail environment. Proficient in colour matching, product recommendations, and client consultations, with a proven record of exceeding sales targets and elevating the in-store customer experience.
Gain more insight into how to write a CV for a retail position.
Freelance makeup artist CV  personal profile example
Versatile freelance makeup artist with four years of experience creating diverse looks for clients in various settings, including weddings, photoshoots, and special events. Skilled in customising makeup based on individual preferences and dedicated to making every client look and feel their best. Thrives in a creative and freelance environment, consistently delivering exceptional results.
Senior makeup artist CV personal profile example
Seasoned senior MUA with 10+ years in the beauty industry. Expert in airbrush makeup, special effects, and colour theory. Demonstrates exceptional leadership, supervising and mentoring teams to improve service quality while prioritising safety and sanitation protocols. Passionate about pushing creative boundaries and staying current with industry trends. Led numerous editorial shoots, elevating the profile of the salon and boosting client engagement using social media strategies.
Beauty advisor make up artist CV personal profile example
Dedicated beauty advisor with eight years of experience offering diverse clients personalised skincare and product guidance. Well-versed in product knowledge, client assessment and ensuring customers make informed purchasing decisions. Expert in skincare and cosmetics, combined with a focus on customer retention to drive sales and business success.
Discover more professional tips on how to write a beauty therapist CV.
Essential skills for a makeup artist CV 
This section is crucial for highlighting your makeup artist skills and expertise. To ensure you integrate the top skills employers look for, showcase a blend of hard and soft skills.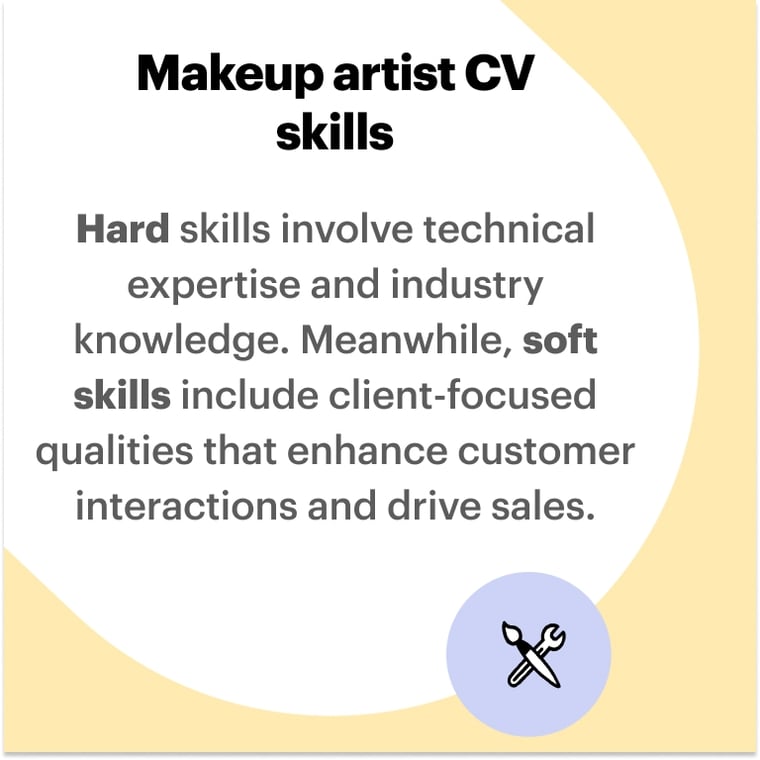 Whether you have little to no experience or are a seasoned professional, the makeup artist CV skills section can help showcase your qualifications effectively. Choosing the right skills show you are the best candidate for the job. We recommend writing a skills-based CV to create maximum impact if you're just starting.
Pro Tip
Tailor this section to match the job you're applying for, emphasising the skills most relevant to your job targets.
Hard skills

Soft skills

Makeup application techniques

Creativity

Product knowledge

Adaptable

Colour theory

Customer service

Skincare analysis

Detail-oriented

Hygiene and sanitation

Time management

Client consultation

Communication

FX Prosthesis 

Flexibility

Customer service

Airbrushing
Explore our informative blog on what skills to put on a CV for more insight.
Define your previous work experience
On your makeup artist CV, detail key responsibilities and measurable achievements gained from practical relevant work experience. Provide examples showcasing your proficiency in application techniques, boosting sales and collaborating with other professionals like hairstylists or photographers. Include evidence of notable projects or contributions that enhanced business success or client experiences in a bullet points. Ensure you detail any previous roles, even if it was short-term or part-time work. 
For those just starting their careers as (MUA) and writing a beginner makeup artist CV, gaining practical exposure is beneficial. Many aspiring students and school leavers actively seek apprenticeships and gain hands-on experiences to leverage their CV. Explore how to write an apprenticeship CV if you have little to no experience.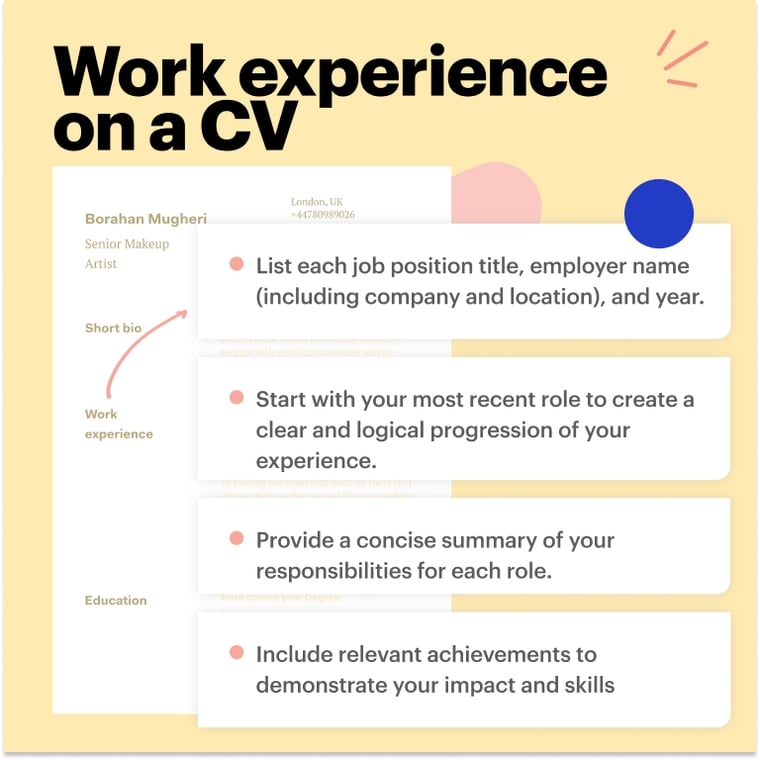 Work experience CV examples 
Retail Makeup Artist, | Beauty Boutique, London, UK | 2019 - Present
Offer personalised makeup applications, guidance and product recommendations for diverse clients. Conduct in-store beauty events and workshops to showcase new products and drive sales. Collaborate with the store team to create eye-catching makeup displays. Maintain cleanliness and organisation at the retail counter to ensure a positive customer experience.
Consistently exceeded monthly sales targets by 20%, driven by practical product recommendations.

Attracted 150+ attendees to in-store beauty events, resulting in a 10% increase in customer base and a 15% boost in repeat business.
Senior Makeup Artist, Glamour Studio, Manchester, UK, 2014 - 2022
Led a team of makeup artists, provided training, mentored, and supervised a team in a collaborative work environment. Encouraged creativity and skill development among team members and promoted a culture of continuous learning and improvement. Collaborated with photographers and stylists for 50+ editorial and fashion shoots and played a pivotal role in external collaborations.
Achieved a 4.9/5 client satisfaction rating for service.

Conducted skincare analysis and preparation for each client, resulting in a 20% cost savings.

Organised and led 15 successful makeup-themed events, resulting in a 30% increase in bookings.
Example of work experience for a Makeup Artist CV with little to no experience:
MUA, Independent Makeup Practice | Self-employed | 2021 - Current
Assist friends, family, and acquaintances with applications for special events, such as weddings, proms, and parties. Conduct client consultations to understand individual preferences and requirements. Practise and develop makeup skills by experimenting with various looks and styles. Stay updated on makeup trends, techniques, and product knowledge through online tutorials, courses, and self-study. Actively participate in online makeup communities, sharing work and receiving feedback.
Received 100% positive feedback from surveys for freelance services.

Successfully practised and developed over 20 techniques through consistent self-study.
Read our article on adding work experience on a CV for practical tips and examples for all levels. 
Pro Tip
If you have no experience, build a professional portfolio to showcase your diverse skills and talents. Network on social media or attend industry events to gain more exposure.
Contour the CV education section for your makeup artist CV 
In the education section on your CV, it's crucial to provide a concise summary of your relevant academic background.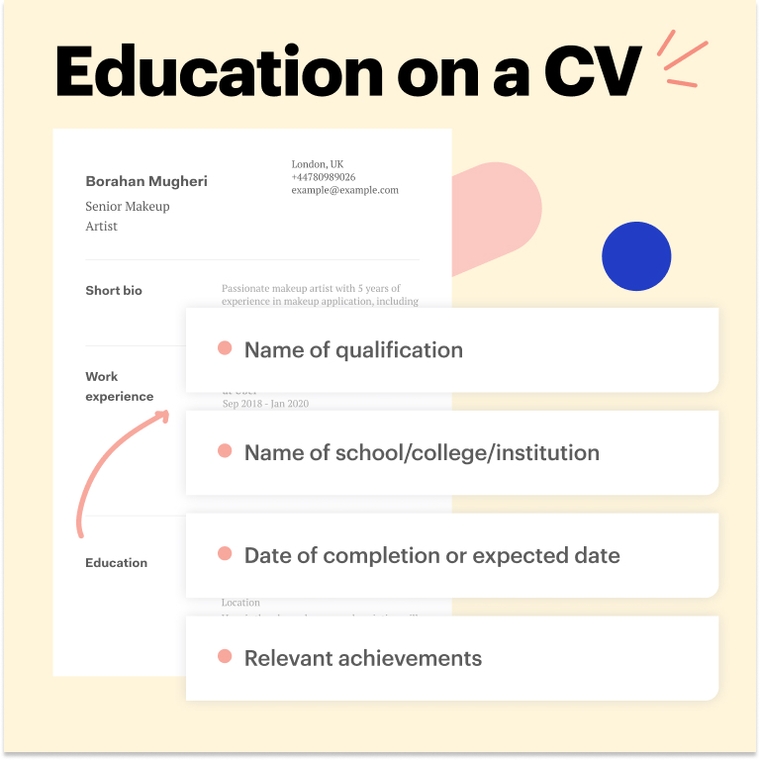 Examples of how to format education on your CV: 
Diploma in Makeup Artistry London School of Beauty and Makeup, London, 2021

NVQ Level 3 in Beauty Therapy Manchester Makeup and Beauty Academy, Manchester, 2019

BTEC Level 2 Certificate in Hair and Beauty Birmingham Beauty Institute, Birmingham, 2018.
For more information on job opportunities and their entry requirements, refer to the job profile of a (MUA).
Style your CV with the best format
Formatting is crucial to creating a well-presented CV that recruiters can quickly scan and read. Opt for a clean and concise layout with a professional ATS-friendly CV template for a makeup artist. The most effective CVs are one-to-two pages long. Explore our article on the recommended CV length for more tips.
When writing your CV, include key sections and relevant information. Choose a consistent the best font for your CV that is easy to read and aligns with industry standards. Finally, ensure you proofread for accuracy to eliminate any errors or spelling mistakes. 
For more information, refer to our helpful guide on improving your CV format for a makeup artist.
Key takeaways 
Developing an impactful makeup artist CV is an art form requiring a thoughtful strategy. It should showcase your proficiency in beauty and cosmetics. Establish yourself as an outstanding candidate by crafting your CV with a customised personal statement, work history, and skills sections. It should align with industry trends and create a compelling narrative that captivates potential employers. 
Considering a career change or unsure of your next role? Explore our CV examples to kickstart your job search relevant to client-facing roles.
Next Steps? 
Ready to make your outstanding CV to secure your dream role to increase your chances of landing a job interview? Check out our career blog for more advice on creating a standout application. Discover how to start a cover letter to include in your job application. Alternatively, use our dedicated CV Writing Service to make the process more efficient and save time and effort.
FAQ 
What qualifications do I need to be a makeup artist in the UK? 
There are no specific qualifications to become a (MUA) in the UK. However, pursuing relevant qualifications can significantly enhance your career prospects. Consider gaining a diploma or certificate from accredited beauty schools or institutions. Some courses also offer specialisations in areas like bridal, special effects, or fashion, which can benefit career advancement. Gain more insight into how to list courses and certificates in a CV.
Can you apply for a makeup artist position with no experience? 
If you have little to no work experience, you can still apply and find work as a MUA. Complete a relevant training or a course to enhance your CV. Consider completing an apprenticeship to gain practical skills and build your portfolio. Highlight qualifications, skills, hobbies and interests on your CV to showcase your passions and dedication.
How much money does a makeup artist make in the UK? 
The income of a (MUA) can vary depending on factors such as experience, location, and clientele. On average, expect to earn between £15,000 to £40,000 annually. Senior artists may charge higher fees, particularly in metropolitan areas. Bridal, fashion, and film industries can also offer more lucrative opportunities.
Do I need a licence to be a makeup artist in the UK? 
There are no specific licensing requirements required. We recommend to check with local councils or professional associations for regulations that may apply to your location.
What is a makeup artist CV personal statement?
A makeup artist CV personal statement is a brief section at the beginning of your CV. It provides a snapshot of your skills, expertise and career objectives. This statement is essential to your CV, as it creates the first impression on potential employers or clients. Similar to tailoring your entire CV, ensure you customise it for the job you're applying to.
Land the interview for your dream job with CVMaker
Effortlessly create your professional CV within 10 minutes and download it whenever and wherever you want!
Create your CV
Increase your chances landing your dream job with CVMaker.