Beauty Therapist CV
Emma Smith, a seasoned senior professional, brings a wealth of expertise to the industry. This CV for a beauty job uses the Michigan template, a well-structured, ATS-friendly, and professional format that presents the essential sections to recruiters.
Start now
"Dedicated and highly skilled Beauty Therapist with over 5 years of experience in the beauty industry. Manage a team of junior therapists, providing guidance and training to ensure high-quality service delivery."
Emma Smith
- Senior Beauty Therapist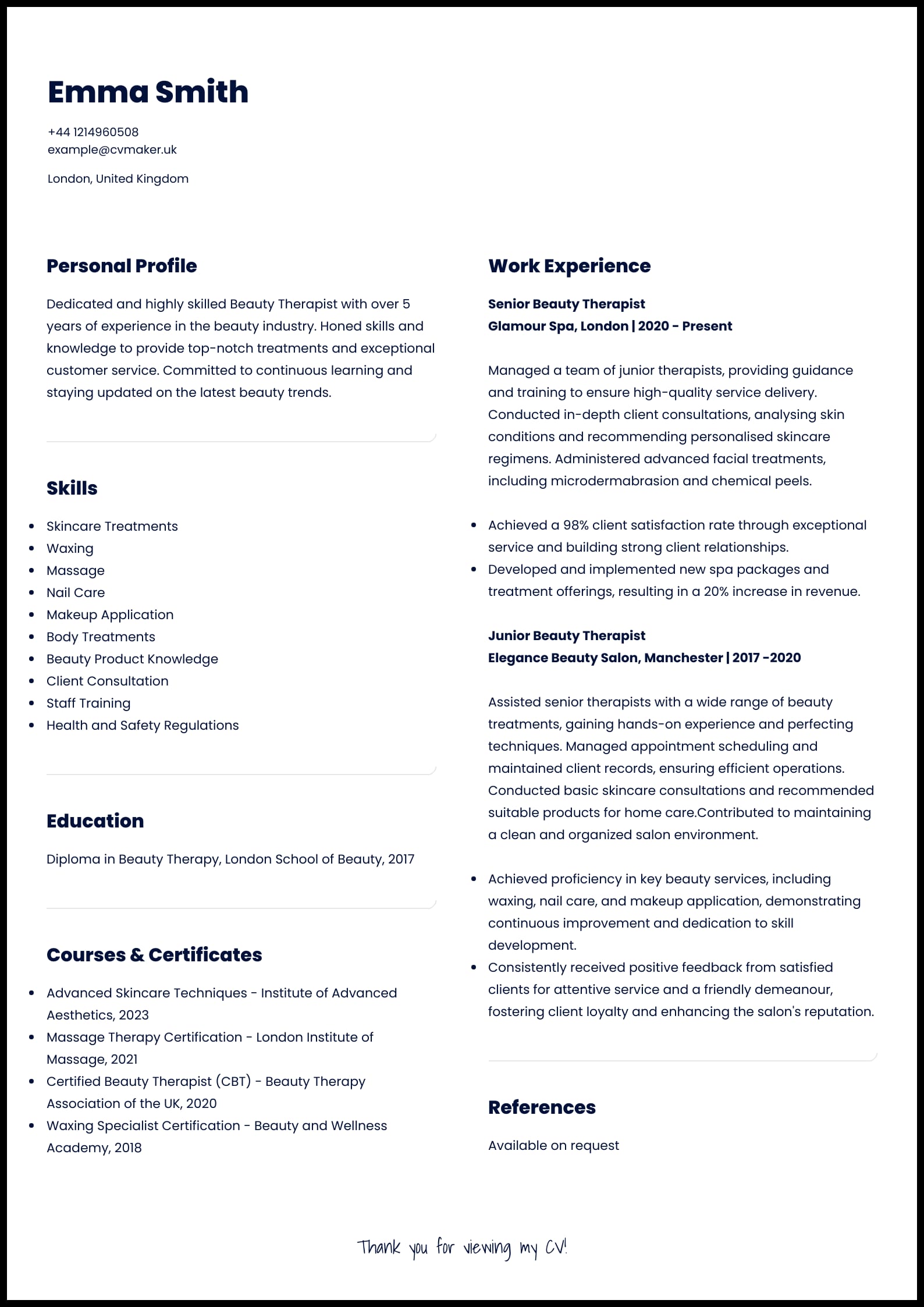 How to Write a Beauty Therapist CV: Examples and Tips
The beauty industry remains as diverse and competitive as ever, continuously evolving with new social trends. UK beauty salons have grown by almost 25% in five years. For aspiring beauticians, your expertise in this field extends beyond cosmetics and facial treatments; it's a dynamic role that demands a wide range of skills and knowledge. It begins with a good CV to showcase your aspirations and secure your dream role. 
Your CV is the initial impression prospective employers will get. Whether you're an established, seasoned professional aiming to advance your career, an enthusiastic school leaver ready to embark on a new journey, or applying for a part-time role, there is a CV template to meet your needs.
This guide underscores the importance of tailoring your CV to your job targets and advises optimising it for applicant tracking systems (ATS). Learn more about the CV writing process and where to start with a master CV.
Beauty Therapist CV Example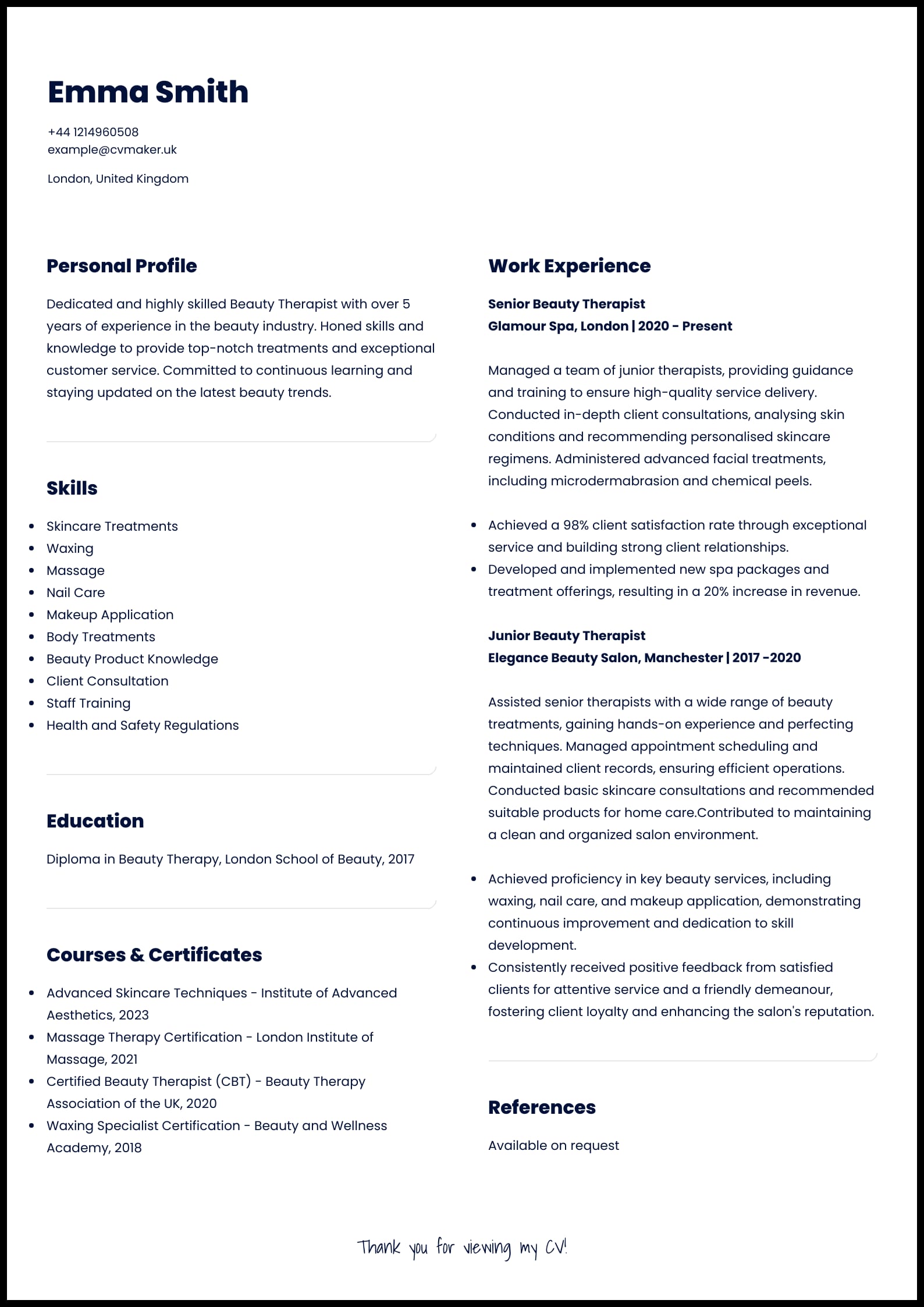 Download this sample of a beauty therapist CV in PDF
In this beauty therapist CV example, Emma Smith, a seasoned senior professional, brings a wealth of expertise to the industry. With relevant qualifications and advanced skin care certifications, her CV showcases her knowledge and accomplishments. Her industry skills and six years of work experience illustrate her achievements and track record of providing high-quality treatments. This CV for a beauty job uses the Michigan template, a well-structured, ATS-friendly, and professional format that presents the essential sections to recruiters.
What to include in a beauty therapist CV?
A well-crafted beauty therapist CV is your ticket to success in this competitive industry. It's not just a list of qualifications; it's a story of your expertise, career progression, and passion for styling customers. The process of crafting a professional CV starts with essential contact information, including your name and location.
Then, to make a lasting impression, include a compelling personal profile tailored to your career goals that gives insight into your qualifications, achievements, and skills. To showcase your previous work experience, skills and education, create a modern CV that will impress any employer, whether you're a newly qualified therapist, a self-employed entrepreneur, or a seasoned senior therapist.
Pro Tip
Consider including a link to your portfolio or social media accounts showcasing your work in today's digital age to offer potential employers a tangible glimpse of your hobbies, interests, and skills.
Show your qualities in your personal profile 
The personal profile section of your beauty therapist CV is crucial for providing potential employers with a concise glimpse into your background, skills, and aspirations. Career paths in the beauty industry are flexible, allowing professionals to explore various roles and specialties over time. These roles may include newly qualified beauty therapists eager to kickstart their careers, self-employed beauty therapists managing a freelance business, or seasoned senior beauty therapists with a wealth of experience. Crafting a compelling personal profile is essential, and here are examples tailored to each career stage:
Newly qualified beauty therapist CV personal profile example
Newly qualified beauty therapist with a strong educational foundation and a passion for enhancing natural beauty. Committed to delivering exceptional treatments while continuously expanding skills and knowledge. Aspiring to build a track record of excellence in skincare and relaxation therapy sessions during training. Dedicated to providing exceptional treatments and contributing to the industry's growth.
Self-employed beauty therapist CV personal profile example
Dedicated self-employed beauty therapist with a three-year thriving business and a proven track record of delivering top-notch beauty services. Known for accomplishments and specialising in skin care rejuvenation with an emphasis on client satisfaction. Committed to maintaining high customer service, further enhancing accomplishments as an entrepreneur while expanding loyal clientele.
Senior beauty therapist CV personal profile example
Experienced senior beauty therapist with a six-year successful track record of delivering outstanding beauty treatments and managing teams. A specialist in advanced skin care techniques, recognised for maintaining impeccable hygiene standards throughout eight years of practice. Passionate about maintaining impeccable hygiene standards and contributing to the industry's growth. Goal-oriented and focused on continued excellence.
Learn more about the essentials to writing a compelling personal profile on a CV.
Essential skills for a beauty therapist CV 
Your skills section should showcase your hard and soft skills. In this profession, possessing diverse skills and abilities is paramount to success. Your CV should serve as a platform to showcase your competencies and technical industry skills. This section provides potential employers valuable insights into your qualifications and expertise, ultimately setting you apart from other candidates. 
Use this section to highlight your strengths and tailor them to match the job description. If you have little to no experience or are a school leaver, consider writing a skills-based CV. Research hard or soft skills for those just starting their careers and highlight them in your CV.
Interested in more professions with similar skill sets for giving treatments and being creative? Browse these examples:
For more information, see our what skills to put on a CV article.
Pro Tip
While you want to showcase your skills, be mindful of keeping your CV concise and focused. Aim for a two-page maximum, highlighting the most relevant skills and experiences.
Provide an overview of your work experience 
Your CV should focus on relevant roles and accomplishments, even if you have limited experience. Detail tasks and duties, then add examples of quantifiable outcomes to show what you contributed or achieved. For example, 'managed a team of five and increased productivity by 20%.'
Experience with marketing and sales can also help with business acumen and build a more loyal customer base. Highlight your ability to build rapport with clients and recommend products or treatments catering to their needs. If you're newly qualified with no experience, an apprenticeship or national course can help you land an entry-level job. 
Pro Tip
Tailor your CV for each job application. Adjust the work experience section to highlight and use examples that align with the specific requirements of the role.
Work experience examples
Senior Beauty Therapist, Blissful Retreat Spa, London, UK | 2015 - Present
Supervise a team of therapists, overseeing daily operations, staff training, and performance evaluations. Manage client relationships, provide personalised beauty treatments, and conduct in-depth skincare consultations. Introduce advanced skin care procedures, offering advice on treatment options to address diverse client needs.
Achieved a 20% increase in spa revenue by introducing advanced skincare procedures.

Conducted training sessions for junior therapists, resulting in a 15% improvement in their treatment proficiency.

Maintained a consistent client satisfaction rate of over 90%, leading to a loyal and expanding client base.
Skincare expert beauty therapist, Radiance Skin Clinic, Manchester, UK | 2018 - 2022
Specialised in skincare treatments, conducting comprehensive skin assessments, and creating tailored skincare regimens. Used advanced techniques, including chemical peels and laser treatments, to address various skin concerns. Stayed updated with the latest skincare trends and products, providing clients with cutting-edge solutions.
Achieved a remarkable 30% increase in client retention by delivering exceptional results and personalised skincare advice.

Contributed articles on skincare and beauty trends to the clinic's blog and social media pages

Led the clinic to win the "Best Skincare Clinic in Manchester" award in 2020.
Work experience example with little to no experience:
Beauty therapist, Beauty Haven Academy, Birmingham, UK | 2021 - Present 
Actively participate in coursework and hands-on training, building foundational industry skills. Seeking an internship to collaborate with and assist senior therapists and gain practical experience in various beauty treatments. Demonstrated commitment to continuous learning by attending practice sessions, industry seminars, and workshops.
Earned certification in foundational beauty techniques, including facials, waxing, and nail care.

Completed 100 hours of hands-on training, gaining proficiency in essential beauty procedures.
For additional guidance, see our examples below or refer to our article on how to write work experience on a CV.
Enhance your CV with the education section 
In the education section of your CV, highlight your academic qualifications, including any courses and certificates related to your career goals. List the institution's name, the course or degree obtained, and the dates of attendance. 
Gaining industry-related qualifications can enhance your credibility as a candidate and improve your chances of being shortlisted for an interview. For entry-level roles, it's common to kickstart your career by pursuing a relevant diploma, licence, or advanced training program. If you're newly qualified, focus on mastering your skills, adding volunteer work, personal projects, or extracurricular activities. You can also gain practical experience through an internship or hands-on training. 
Examples of education:
Diploma in Beauty Therapy London College of Beauty, London | 2020 - 2022

NVQ Level 3 in Beauty Therapy Manchester Metropolitan Beauty School, Manchester | 2018 - 2019

BTEC Level 2 Certificate in Hair and Beauty Birmingham Beauty Academy, Birmingham | 2016 - 2017.
Learn more about why the education CV section is essential for your CV and what to include.
Choose a suitable CV format 
When formatting your CV, selecting the proper layout is crucial. Chronological order is the most widely used format and is easy to read. Clear headings and bullet points should outline critical details, making your CV appealing to potential employers. The chronological format organises your work experiences, education, and other relevant sections, listing the most recent information first. This format is effective because it provides a clear and logical timeline of your career progression.
Key takeaways 
Crafting an effective beauty therapist CV is crucial in this competitive field. Tailor it and ensure it's job-specific so it matches your career goals is relevant. Highlight your skills and work experience, even if limited, focusing on achievements. Include relevant qualifications and certifications, and if you have little to no work experience, consider enrolling in an apprenticeship course. Always ensure your CV is well-structured and formatted to make a strong impression.
For more inspiration, read our advice on how to improve your CV. 
Next Steps? 
Ready to create your own standout beauty therapist CV? Use one of our professional CV templates as a starting point, and follow the career blog for more information and tips to help you land your dream job.  Explore our comprehensive CV Writing Service article to fully understand the art of creating a compelling CV. 
For additional examples of professional CVs and various formats, explore the following options:
FAQ 
What qualifications do I need to be a beauty therapist in the UK? 
To become qualified in the UK, you must complete a diploma or equivalent qualification from a recognised institution. Check specific entry requirements with training providers or employers, as they may vary.  Additionally, obtaining relevant certifications or licences can enhance your career prospects. 
Can you apply for a beauty therapist position with no experience? 
You can still apply for a job without experience or if you have recently had a career change. If you're applying for your first role, highlight your education, training, projects, and transferable skills. Emphasise your enthusiasm, willingness to learn, and excellent customer service skills. Consider writing a professional cover letter to support your CV.
How hard is it to get a job as a beauty therapist?
The competitiveness of this job market varies depending on factors such as location and the demand for local services. However, there are many opportunities and career paths available in the UK. Building a strong CV and continuously improving your skills through courses and networking online can increase your chances of securing a role. Browse the Beauty Academy and British Association of Beauty.
What is a beauty therapist CV personal statement or summary?
A CV personal statement or summary is a brief introduction at the beginning of your CV, providing a snapshot of your skills, experience, and career aspirations. It should be tailored to your career stage and serve as a compelling hook to capture the employer's attention.
Land the interview for your dream job with CVMaker
Effortlessly create your professional CV within 10 minutes and download it whenever and wherever you want!
Create your CV
Increase your chances landing your dream job with CVMaker.