Artist CV
Cecil is a highly creative and skilled artist. Using clear, bold headings in the California template a hiring manager knows exactly what to look for in the minimum amount of time.
Start your CV
"Highly creative and skilled 3D artist with successful delivery of high-quality, critically acclaimed AAA gaming titles. Able to collaborate effectively with art directors and game designers to take translate ideas into tangible models and animations."
Cecil Grifths
- 3D Artist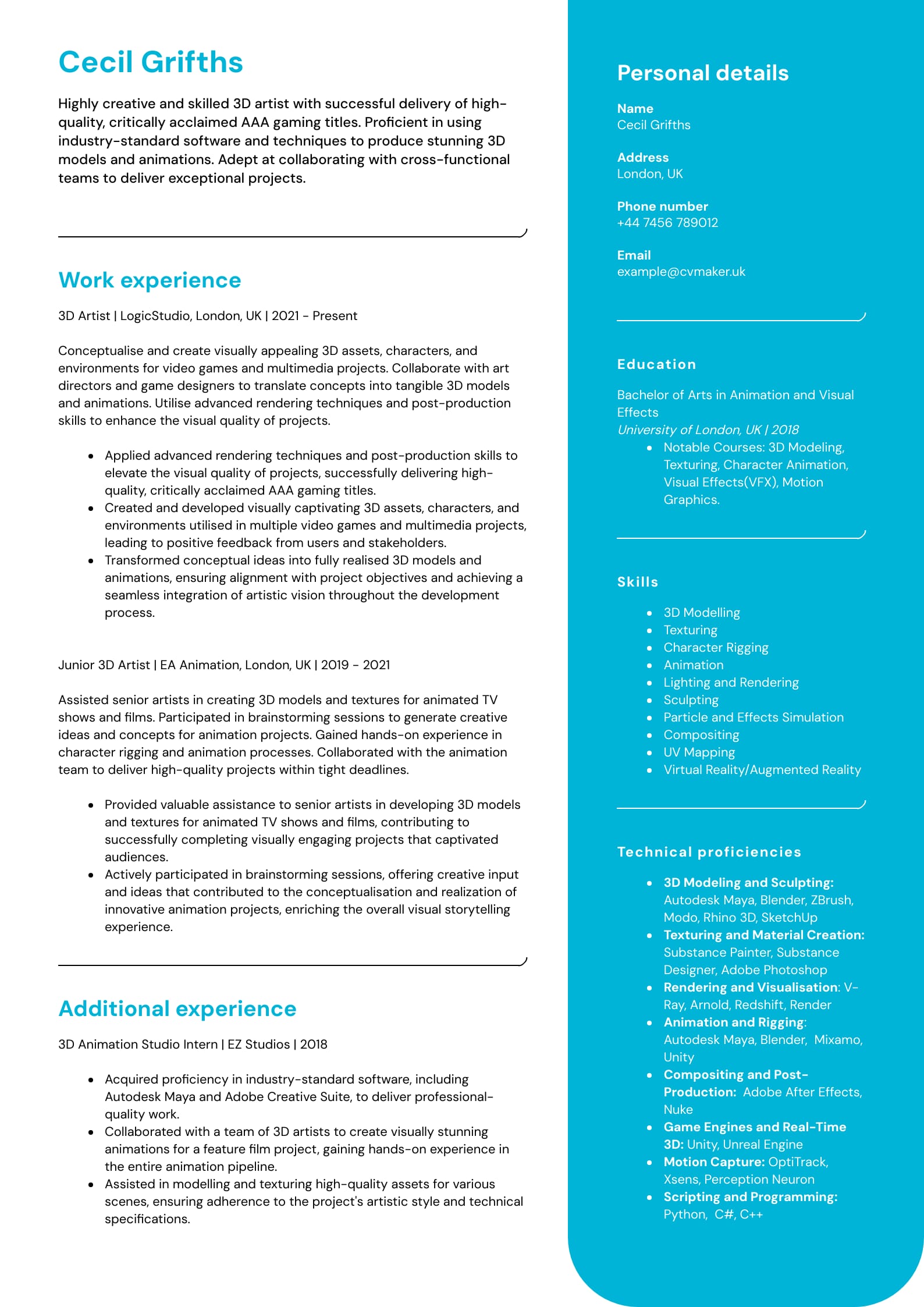 How to Write an Artist CV Guide with Tips and Examples
Pursuing a successful career as an artist requires more than raw talent and creativity. With an abundance of skilled professionals vying for limited opportunities, creative individuals need to present themselves most professionally and compellingly.
Your CV is a canvas on which you display your creative journey, highlighting your unique talents and experiences and demonstrating how you can contribute to the success of potential employers or projects.
Tailored to the specific demands of your chosen career path, an application tracking system (ATS)-friendly CV can be the key to unlocking doors in this exciting domain. This comprehensive guide aims to equip aspiring 3D artists, animators, and other creative professionals with the knowledge and tools to construct a winning CV that stands out from the competition.
The CV writing process: Where to start?
Starting on the path of an artist is an exciting journey that goes far beyond just being creative. Your CV is more than just a list of artworks and projects – it's a chance to showcase your versatility and ability to collaborate with others.
Similar to how actors need a solid CV to land significant roles, creators also need a well-crafted CV to thrive in the creative world. It's not only showing off your art; it's highlighting experiences, training and skills that match your artistic goals.
In a creative position, you wear many hats – you might be showcasing your work, cooperating with events or collaborating on projects. Your CV should reveal flexibility, adaptability as well as work experience, education and skills. Refer to our designer CV example for more inspiration.
To get started with your CV, create a master document that includes all your artistic credits, training, skills and achievements. This foundation will be the starting point to tailor your CV for specific roles and applications, presenting a dynamic and accomplished professional.
Artist CV example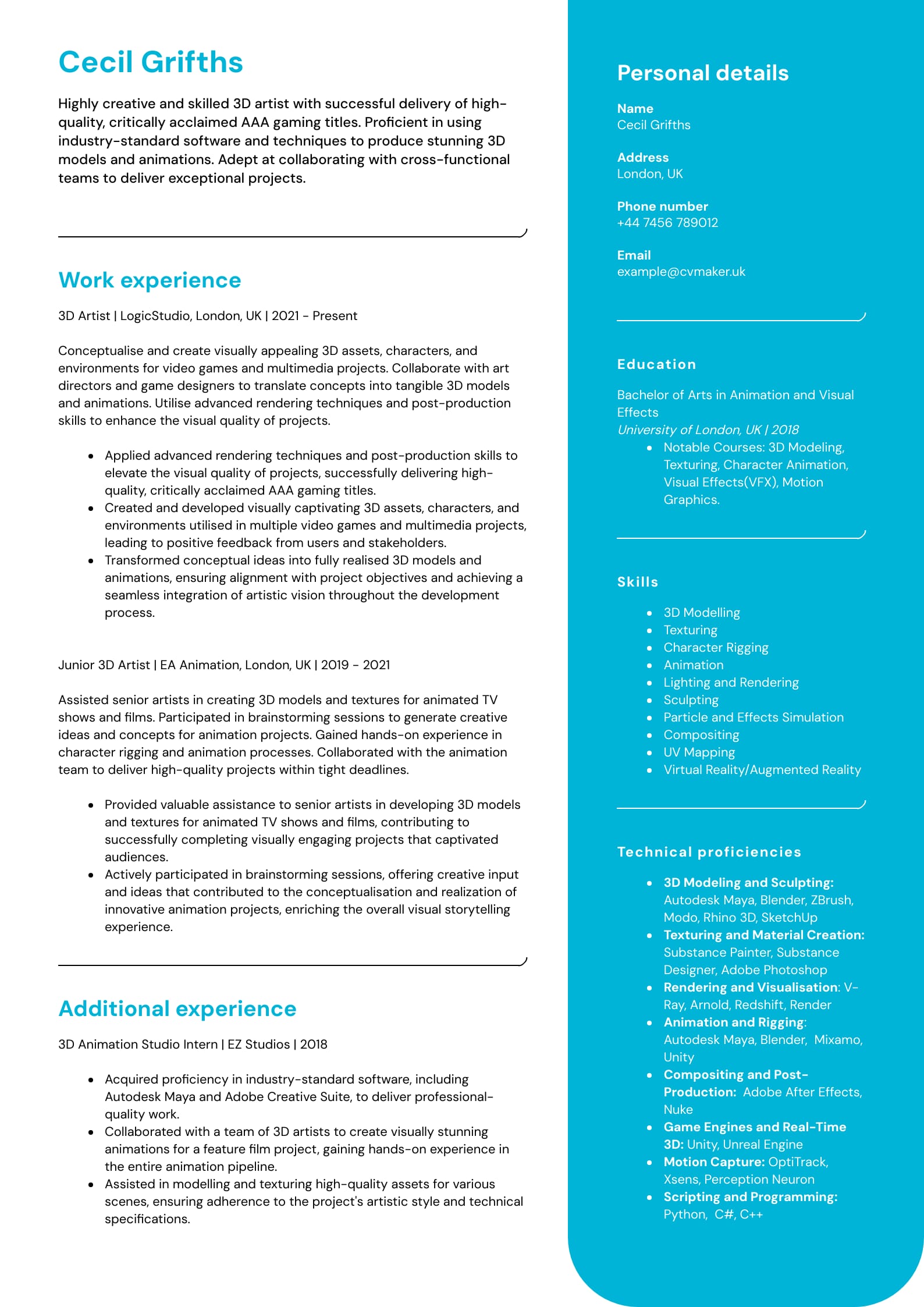 Download this Artist CV example as PDF
Cecil is a highly creative and skilled 3D artist with a track record of delivering high-quality, critically acclaimed AAA gaming titles. Using clear, bold headings a hiring manager knows exactly what to look for in the minimum amount of time. Cecil has made it easy to extract the personal attributes, work experience as well as hard and soft skills that make him a top candidate. Using the California CV template Cecil underscores his unique offer with a clean, creative look.
What to include in an artist CV?
In the diverse and vibrant creative sector, crafting a CV is akin to curating a portfolio or staging an exhibition. As each artwork tells a unique story, your CV should collect vital elements presenting the best of your abilities seamlessly and engagingly.
Like other creative fields such as architecture or even within gastronomy, such as a chef, there are some sections you shouldn't omit. Start with a compelling personal profile, where you have the opportunity to make an unforgettable first impression and highlight your strengths.
Next, outline your work experience, education and skills – all essential components showcasing your artistic journey, achievements and growth. Add an extra touch by listing your hobbies or interests.
If you are a visual artist, consider including selected exhibitions, commissions and grants and awards alongside any teaching positions or professional appointments. 
Pro Tip
Use the personal profile to show your research into employer values and job-specific requirements.
Start with a captivating personal profile for your artist CV
Employers want to know you as a person as well as your role-specific strengths. Your personal profile is a chance to highlight your unique qualities, showcase your versatility and provide a glimpse into your passion for your creative niche.
Illustrator CV personal profile example
Highly creative and imaginative illustrator with 5 years experience. Using a keen eye for colour, balance, and layout to produce clean, crisp, and visually captivating designs. Effective communication skills and adept at transforming concepts into stunning graphics. A great problem-solver, adaptable to handle changes without frustration. Self-motivated, intensely focused and driven by deadlines.
Visual artist CV personal profile example
Versatile visual artist of 10 years with a strong foundation in media production and communication. Proficient in design skills and well-versed in various media. Meticulous and attentive to detail, utilising critical thinking and reasoning skills to enhance artistic expressions. Demonstrates initiative and adaptability, embracing change with ease. Possesses extensive knowledge of fine arts and confidently handles computer software packages.
VFX Artist CV personal profile example
Skilled VFX artist with eight years experience understanding diverse software packages, including Blender, Nuke, ZBrush, Maya and Photoshop. Committed to continuous learning and embracing new techniques to stay at the forefront of the field. Effective communicator, collaborating seamlessly within a team and production pipeline. Possesses exceptional lateral thinking skills, approaching challenges from innovative angles.
Pro Tip
Personal profiles do not use 'I' or 'me'. They are also no more than 70 words or six lines of text.
No experience CV personal profile example
Aspiring 3D artist fueled by creativity and ingenuity. Natural creative flare with an ability to multitask and handle multiple tasks simultaneously. Thrives under shifting deadlines, demonstrating strong time management skills. Proficient with computer software and keen on expanding technical prowess. Embraces teamwork, collaborating effectively with peers. Enthusiastic about learning and ready to work hard to succeed.
Computer graphics artist CV personal profile example
Seasoned computer graphic artist with a strong specialisation in texture art, backed by 7 years of experience. Passionate about merging the realms of art and technology, constantly seeking innovative approaches. Demonstrates exceptional proficiency in essential software applications like Photoshop, Maya, and After Effects. Possesses outstanding creative instincts and problem-solving skills. Has a keen eye for detail and composition, ensuring that every creation is a visual delight.
What skills should I put on my artist CV?
In the creative job market, showcasing your skills allows employers to quickly assess your qualifications and suitability for the role. As with many other professions such as graphic design or marketing, skills are categorised into hard skills and soft skills.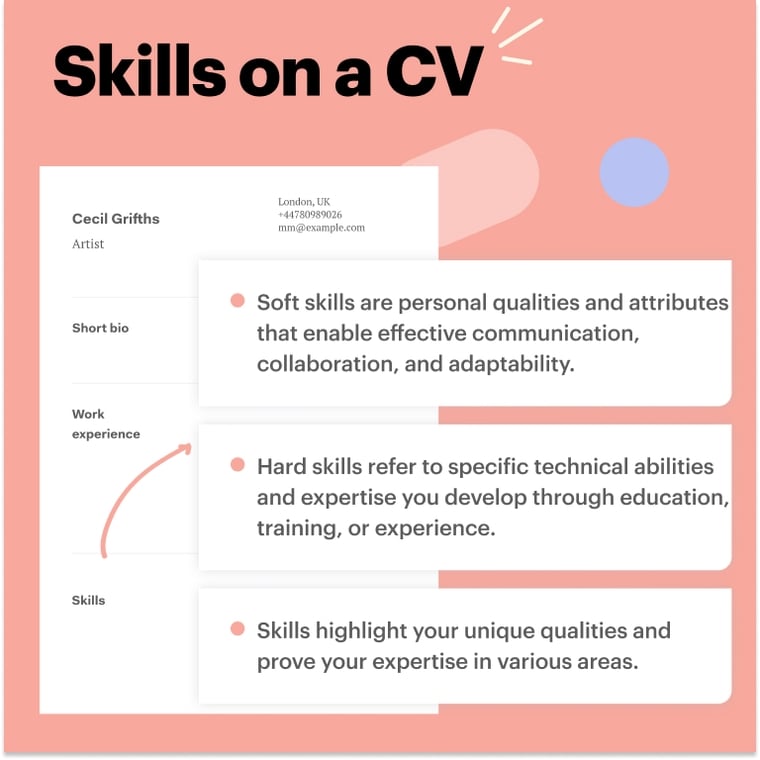 Examples of hard skills for different professions
Illustrator:
Knowledge of fine arts

Drawing and sketching

Graphic design

Computer programs such as Adobe Illustrator, Photoshop and After Effects

2D and 3D vector creation

Character art development.
Visual Artist:
Drawing and painting

Mixed media

Photography

Digital art

Art history and theory

Colour theory

Framing and presentation.
Computer Graphics Artist:
3D modelling

Texturing

Character rigging

Animation

Lighting and rendering

Sculpting

Particle and effects simulation

Compositing

UV mapping

Virtual reality/augmented reality.
Artists, regardless of their level, should have the following soft skills:
interpersonal skills to work in a team

creative skills to bring ideas to life, and

improvisation skills for problem-solving.

Examples of soft skills for different positions
Illustrator:
Adaptability

Attention to Detail

Communication and ability to implement feedback.
Visual Artist:
Creativity 

Problem-Solving

Self-Motivation.
Computer Graphics Artist:
Flexibility

Team Collaboration

Time Management.
How to write work experience on an artist CV
When crafting your work experience for a role in the UK's creative industries, simplicity and clarity are crucial for catching the attention of hiring managers and selection committees.
For a CV showing your creative journey to the best effect, consider using reverse chronological order to present your work experience. Begin with your most recent positions or projects, providing the company name, employment dates and location to create a clear timeline of your history.
Start by creating a short paragraph giving a general overview of what you did in that role and how you developed before outlining two quantifiable achievements in bullet point form below.
Examples of work experience
Game Artist | Exploding Games, Manchester | 2022 - Present
Design and evolve preliminary sketches in alignment with the video game's overall style. Translate concepts into striking 2D or 3D models under the guidance of the Lead Artist, immersing players into captivating virtual worlds with distinct moods and personalities. Collaborate within a production pipeline to consistently deliver high-quality assets while adhering to demanding deadlines.
Successfully contributed to the release of 5 mobile game titles since joining the firm a year ago, enhancing the studio's reputation for delivering engaging and visually appealing games.

Developed a diverse cast of 30 characters across all games, infusing each with their unique traits, making the gaming experiences more immersive and enjoyable for players.
Senior 3D Artist | Bad Bear Agency, London, UK | 2019 - 2022
Collaborated closely with clients, generating innovative ideas and concepts, and transforming them into captivating visual experiences. Led the development of concept drawings and storyboards, conducting thorough research to ensure designs were cutting-edge. Skillfully incorporated real-world physics and movements into designs, ensuring authenticity and realism. Worked seamlessly within a team, including voice actors and fellow designers, to deliver top-notch 3D environments. Leveraged specialised software and tools to produce remarkable 3D art.
Produced a remarkable suite of 30 branded assets for a prominent national broadcaster, elevating brand recognition and market presence.

Worked closely with over 50 trusted clients in two years.
Graphic Artist | Web Wizards, Birmingham, UK | 2017 - 2019
Responsible for conceptualising compelling visuals that align with client requirements and brand guidelines. Utilised both manual techniques and design software to create captivating images and layouts that resonate across diverse media platforms. Rigorously tested graphics to ensure seamless adaptation across various media channels, providing clients with a consistent brand experience.
Successfully crafted over 100-page designs and 20+ wireframes for multiple client websites, ensuring engaging and user-friendly online experiences.

Demonstrated expertise in boosting client transactions by an average of 25%, through the creation of visually striking and on-brand graphics that captivate audiences and drive positive consumer actions.
Freelance Artist | Self-Employed, London | 2016 - 2017
Created exceptional, original artworks in a diverse range of mediums, including illustrations, paintings, and sculptures, tailored to client needs. Developed innovative concepts and designs for client projects, bringing ideas to life through sketches and mock-ups, ensuring satisfaction at every stage of the creative process.
Successfully curated unique projects for a two-month art gallery exhibit that drew an astounding 5,000 visitors each week, captivating audiences with my distinct artistic style and vision.

Commissioned by prominent local businesses to create bespoke artworks, contributing to a significant increase in brand recognition and customer engagement.
School leaver with little to no work experience
If you are a student, working part-time or starting in the creative industry it can be tough to start your CV. Consider the transferable skills you already have and apply them to a creative position. Be sure to use and volunteer or unpaid work to your advantage. Refer to our article on how to write a CV with no work experience for further inspiration.
General Editor | City Art College Magazine, London | 2013 - 2016
Created design layout, graphic elements and visual style of a quarterly student newspaper. Prepared articles including exhibition reviews, artist profiles, features and events. Revamped the look and feel of the publication to appeal to a diverse readership. Lead a team of 30 contributors heading up editorial meetings and brainstorming sessions.
Published 12 editions during my tenure.

Circulation increased from 1,000 copies to 5,000 in three years.
If you are looking for a career change into the creative sector from another industry, take a look at our CV template for career changes.
How to list education on an artist CV
As a creative, you may think your education section isn't as exciting as an eclectic work history or a wide-ranging skill set. However, there are opportunities here to make it stand out and catch the eye of potential employers or selection boards. Whether you're applying for roles as an illustrator, visual artist, or computer graphics artist, keep these tips in mind to make your education section shine:
Begin with your highest level of education and work backwards, listing the institution's name, qualification earned and date of completion.

Mention any relevant certifications, funding or prizes obtained.

Highlight any academic honours or awards received during your studies.

If you have limited work experience, draw inspiration from a graduate CV example or consider using a skills-based CV format.

Keep the education section concise; a brief line for each degree or certification is sufficient to capture the essential details.
Examples of education:
Art of Illustration (Short Course), Arts University Bournemouth | UK 2016
BA (Hons) Graphic Design, City Art College, London | UK 2013
The best way to gather experience in a new field is to apply for apprenticeships in your chosen creative niche. Remember, not all apprenticeships advertise and many opportunities come about through being proactive, cold-emailing and submitting an unsolicited internship CV.
Examples of apprenticeships:
An excellent way to get ahead in this sector and to give your CV that extra dimension is to seek out and apply for a creative apprenticeship. Apprenticeships are available across the creative industries including:
Visual effects

Sound engineering

Television production

Graphic design.
Here are a few ways by which you can secure a potential apprenticeship in your chosen field:
Apply for advertised apprenticeships with a company or via a jobs portal.

Search for creative apprenticeship opportunities on LinkedIn.

Engage with the most active companies in your niche on social media and direct message creators.

Direct email creative agencies and explore the apprenticeship options available.

Attend networking events and be ready to exchange contact details.

Leverage the personal network of your lecturers, tutors or other contacts.
Whichever route you choose, be sure to tailor your communication to the company or agency you would like to work with. Avoid copy-and-paste requests in your CV. Get to know the organisation or person you are applying to and make sure the value you can offer is clear. 
Competition within the creative sector is fierce with many young people trying to land valuable experience. Stay positive and always remain courteous and professional, as they will remember you next time.
Enhance your artist CV with additional courses and certificates
Incorporating additional courses and certificates into your CV showcases a commitment to continuous learning and professional development. Online courses and short workshops offer opportunities to hone specific skills, while specialised certifications demonstrate expertise in niche areas.
Ensure your CV includes course names, institutions and completion dates, revealing your dedication to refining your craft and staying current in the dynamic creative industry.
[Title], [Organisation/Issuer], [Date]
Art of Illustration (Short Course), Arts University Bournemouth, 2016
A few additional courses you could look into include:
Key Takeaways
With so many aspects to keep in mind when creating a high-quality CV for the creative industry, it can be easy to lose sight of the main points. Here are five key takeaways.
Stand out in a competitive industry: Craft a CV that showcases your unique talents, experiences, and achievements to set yourself apart from other candidates in the competitive creative industry.

Highlight versatility and collaboration: Emphasise your ability to collaborate with others and your versatility. The CV should go beyond showcasing your artwork, demonstrating your capacity to work with event teams and adapt to various projects.

Use a master CV as a foundation: Create a master CV with all your artistic credits, training, skills, and achievements. Tailor this comprehensive document for specific roles and applications to present yourself as a dynamic and accomplished professional.

Create a captivating personal profile: Craft a concise and engaging personal profile that showcases your unique qualities, versatility, and passion for your creative niche. Keep it brief, around 70 words, and avoid using 'I' or 'me'.

Be clear on essential hard and soft skills: List both hard and soft skills relevant to your role, allowing employers to assess your qualifications and suitability for the position. Adapt these skills to match your chosen career path, whether you're an illustrator, designer, or creative director.
Next steps?
Iron out any creases using our intuitive CV builder with 20+ CV templates and professional designs to choose from. To accompany your CV, discover our cover letter templates. If you don't want to leave anything to chance, connect with our professional CV Writing Service. Draw inspiration from our CV examples to save time, emphasise important sections and make it easier for hiring managers to grasp your unique professional offer even quicker.
FAQ
What are the different types of artist jobs in the UK?
Different artist jobs in the UK include henna, graphic, game, freelance, fine, environment, and digital.
What to write in a CV for a freelance artist?
We recommend to highlight your creative projects, client collaborations and skills. Emphasise your versatility, adaptability, and ability to manage multiple projects.
What is a typical UK CV format for an artist?
A typical UK CV format includes personal details, a concise personal profile, relevant work experience, education, skills, and additional certifications or achievements.
How long should an artist CV be?
Youe CV should be concise and focused, one to two pages long, highlighting your most relevant experiences, skills, and achievements.
How do I include my portfolio in my artist CV?
Include your portfolio in your CV by providing a link to your online portfolio or attaching relevant samples of your work. Ensure that the portfolio showcases your best and most diverse pieces.
How to write an artist CV with no experience?
To write a CV with no experience, focus on relevant coursework, workshops, personal projects, and any voluntary or unpaid work in the creative field. Highlight transferable skills and a passion for continuous learning and growth.
What is an artist personal statement on a CV?
A personal statement is a brief paragraph (around 70 words) that highlights unique qualities, showcases versatility and provides insight into their passion for their creative niche. Avoid using 'I' or 'me' in the statement.
Land the interview for your dream job with CVMaker
Effortlessly create your professional CV within 10 minutes and download it whenever and wherever you want!
Create your CV
Increase your chances landing your dream job with CVMaker.