Football CV
Alexander showcases his accomplishments and proven track record of excelling in football leagues. The two-column Erasmus template strategically places work experience as the main section with the personal profile and skills to the right.
Start your CV
"A highly-motivated football player with previous experience in positions as midfielder and striker. Ability to shoot with both feet while maintaining remarkable speed and agility on the field. "
Alexander Thompson
- Footballer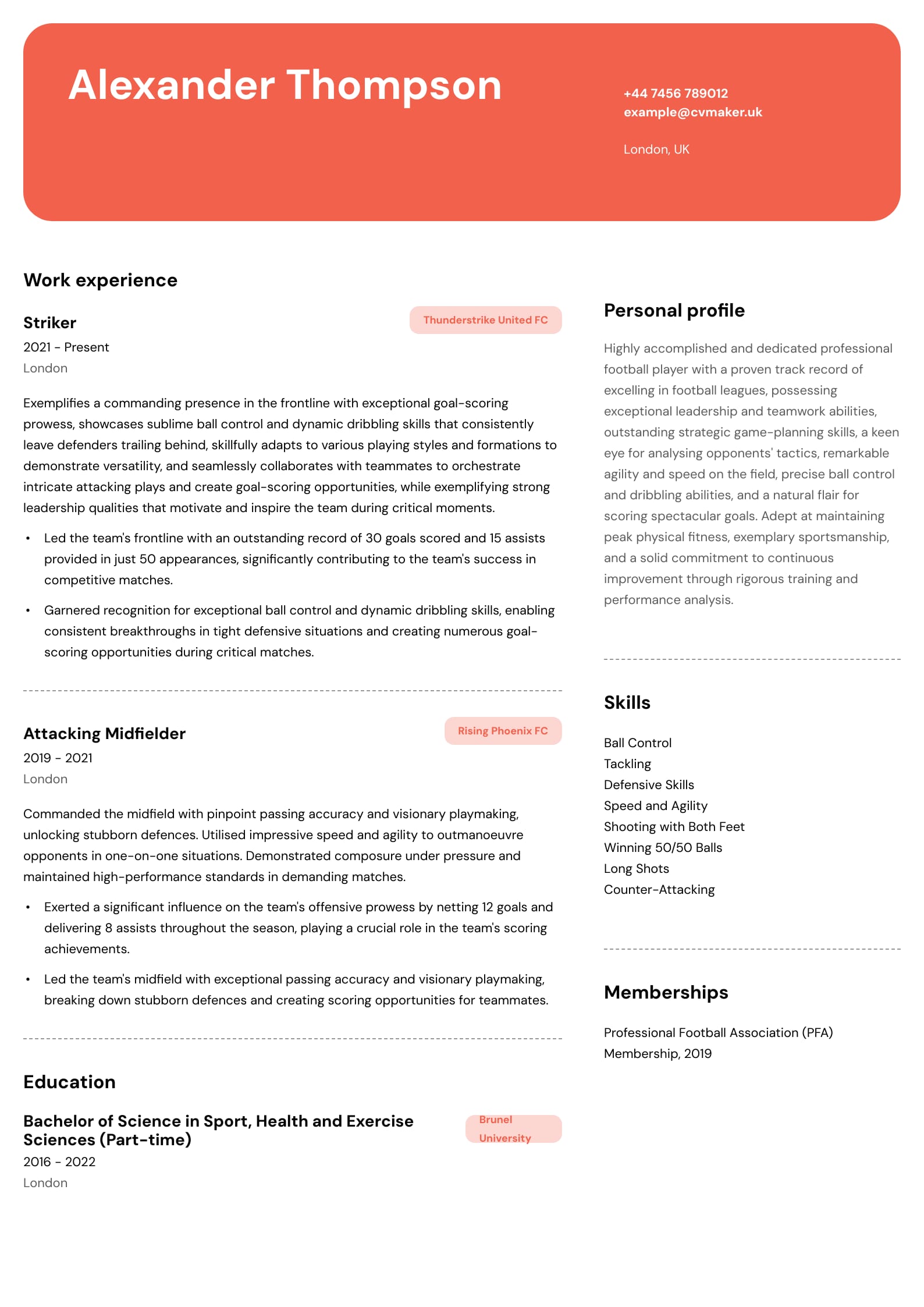 How to Write a Football CV to Kick-Start Your Career in 2023
In an industry where scoring the winning goal requires more than skill, a champion football CV becomes your ultimate game-changer. Attracting clubs and scouts is challenging, even for skilled players. Suppose you're an aspiring coach, a seasoned manager, a dedicated player, or aiming to help players as a football assistant; this guide can help you stand out in an ever-evolving competitive industry. Or if you aim to secure a spot in a premier league club, explore the diverse realm of sports-related opportunities and advance your career, improving your CV is also your ticket to victory. 
Achieving your dream sports role requires more than just qualifications and skills on the pitch. To get noticed, choose an applicant tracking system (ATS)-friendly CV tailored to your career goals and increase your chances of making the cut. This guide is designed to help you score the winning goal and write a good CV which attracts sports coaches, scouts, and decision-makers.
How to start the CV writing process: Where to start?
In the dynamic world of sports, crafting a writing a modern CV is also crucial for success. Start with using a comprehensive master CV that details your achievements and professional background. Then, tailor this document for specific jobs in the sports industry to match your career goals. Tailoring your CV ensures you make the cut and secure your shot at the goal by securing a interview. 
Football CV example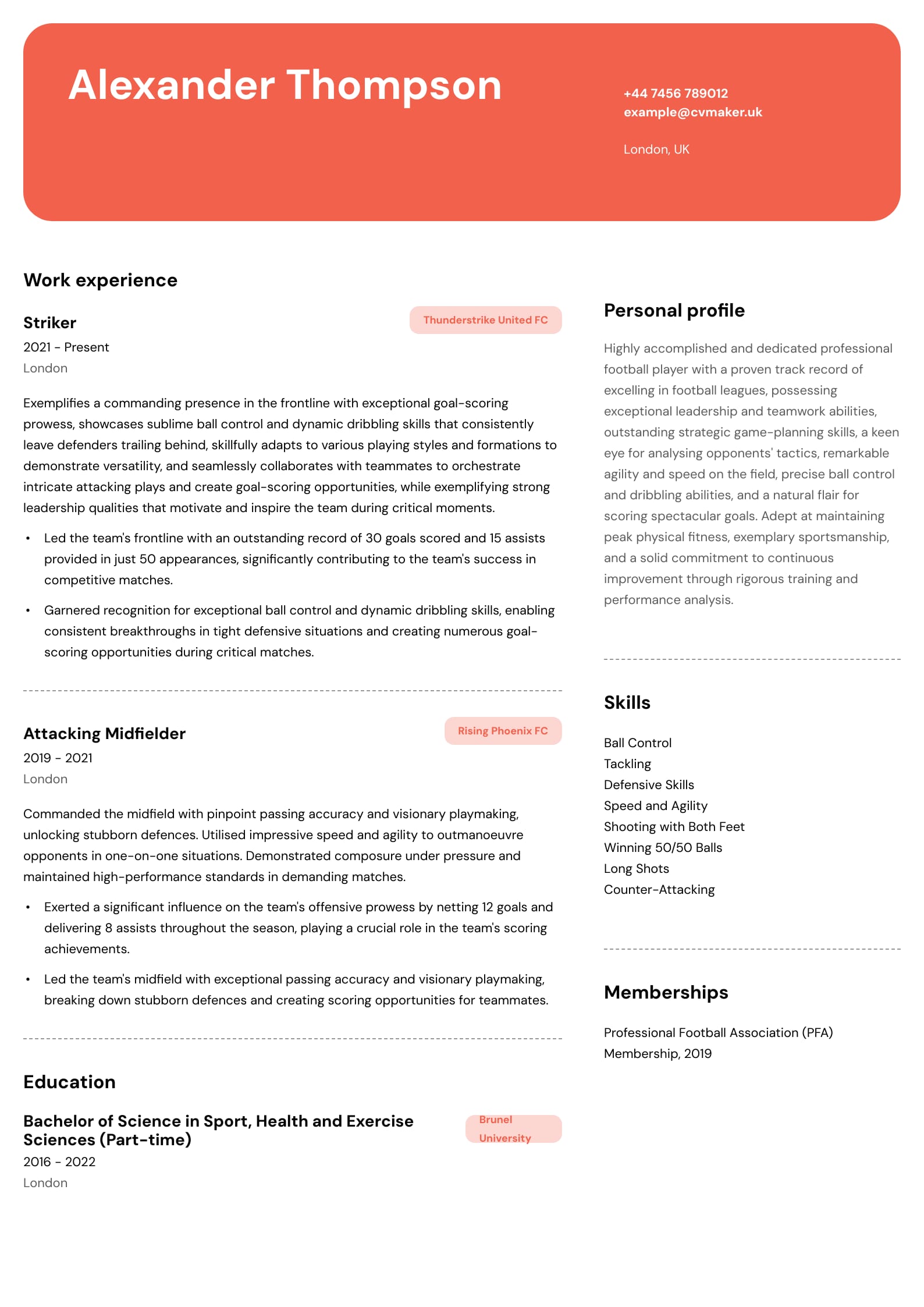 Download this Football CV sample in PDF
Alexander showcases his accomplishments and proven track record of excelling in football leagues. He demonstrates exceptional leadership and teamwork, outstanding strategic game-planning skills, and professional achievements. Alexander's relevant educational background and work experience underline his expertise and commitment to continuous improvement. His diverse range of skills proves his all-rounded capability on the field and dedication to the game.
What to include in a football CV?
When writing a CV, you must emphasise your abilities, on-field experience, and specialised training or certifications, such as coaching qualifications or memberships. Use a structured format and template to effectively present your details, current statistics, ability, and performance in sports.
Must-have personal and player information:
Personal information

Player profile

Playing experience or positions

Clubs you've played or worked for

Education

Training or certifications

Notable achievements

Skills. 
If you aim to step onto the pitch as a coach, highlighting your leadership and tactical expertise is vital. Aspiring coaches or managers may require specialised qualifications like coaching certifications. You must emphasise leadership, tactical expertise, and relevant professional certifications. 
Always tailor your CV to the role you're pursuing. Highlight your passion and dedication for the sport related to your career goals. Explore careers with the National Careers Service for more information on succeeding as a sports professional. 
Beyond showcasing your on-field skills, your CV should reflect your commitment, versatility, and determination to excel in various roles. 
Pitch yourself with an eye-catching personal profile
Your personal profile on your CV for a footballer or other sporting professions is the initial introduction to potential recruiters, coaches, and scouts. Make your application stand out by creating a personal profile that showcases your unique skills, key achievements and summarises your expertise. Include your playing position, notable experiences, career aspirations, and any applicable soft skills that align with your chosen role and career goals.
Football coach CV personal profile example
Experienced coach with five years of expertise in developing players' skills and teamwork. Proven track record of creating effective training programs and fostering a positive learning environment. Committed to instilling discipline, strategic thinking, and a love for the game in aspiring athletes.
Football referee CV personal profile example
Dedicated referee with four years of impartial judgement and clear decision-making. Adept at maintaining match flow, enforcing rules, and ensuring fair play. Strong communication skills and a firm grasp of regulations contribute to a smooth and unbiased game.
Football player CV personal profile example
Dynamic and driven football player with two years of experience, showcasing exceptional agility, strategic thinking, and goal-scoring prowess. Team-oriented and adaptable to various positions, contributing effectively to match dynamics. Eager to leverage skills, discipline, and commitment to excel in competitive leagues.
Football assistant coach CV personal profile example
Passionate assistant coach with three years of experience, focusing on player development and tactical training. Collaborative and dedicated, contributing to the team's success through insightful analysis and practical drills. Committed to supporting the head coach and helping players reach their full potential.
Learn more about how to create a professional personal profile for your football player CV or other sporting profession.
Showcase your footballer skills
Becoming a successful sports professional demands a unique set of skills, and you must demonstrate these while engaging in tasks on the field. For example, you'll be actively involved in matches, competitions, and physical practice to improve overall fitness and stamina through training. Maintaining healthy dietary and lifestyle choices is also essential for optimal performance, as you'll seek advice from coaches, specialists, and healthcare professionals. 
You must be flexible, as your work might extend across sports fields or fitness centres, which can be physically demanding, outdoor elements, including frequent travel or overnight stays away from home. On a football coaching CV,  demonstrate strategy development, motivation,  player management, sharp decision-making abilities, rule expertise, and impartiality. 
Soft skills examples

Hard skills examples

Teamwork

Ball control and dribbling techniques

Effective communication

Tackling and defensive skills

Resilience

Shooting accuracy and power

Problem-solving

Agility and speed

Collaboration

Endurance and stamina

Conflict resolution

Rules and regulations knowledge

Decision making

Injury prevention and first-aid

Motivation and self-discipline

Fitness training and conditioning

Sportsmanship

Nutrition and dietary expertise

Strategic thinking

Passing precision
Pro Tip
Create a skills-based CV if you're a student with little to no sports experience. Highlight traits from your apprenticeships or internships, such as discipline, adaptability, and commitment to your career goals in sports.
Refer to our article for more information about what essential skills to list on your CV.
How to write work or playing experience on a football CV
Use the experience section to demonstrate your playing, coaching, or managerial background. When discussing a specific job title, it's crucial to provide a comprehensive overview of the responsibilities and accomplishments of the sports role. 
For instance, on a CV for a coach, show you were responsible for developing training programs, refining player skills, and strategising match tactics. Highlight how these duties and achievements involve successfully leading a youth team to a regional championship through training and teamwork.
Football player experience
Striker, Thunderstrike United FC, 2021 - 2022
Demonstrating a strong presence on the field with remarkable goal-scoring ability, dynamic ball control, and adaptability to different playing styles. Played a crucial role in team success, working closely with teammates to create effective attacking plays and contribute to regional league achievements.
Scored 30 goals in 50 appearances, consistently contributing to the team's offensive strategy.

Demonstrated exceptional leadership qualities during critical moments, motivating teammates to maintain peak performance under pressure.

Contributed to consecutive championship wins and reinforced top regional standing.
Football coach work experience
Youth Team Coach, Rising Phoenix FC, 2019 - 2021
Developed tailored training programs that led to a remarkable 75% win rate, significantly improving player skills and team performance. Mentored and inspired junior athletes, guiding the team to a spot in the national tournament and implementing innovative drills that bolstered team unity and individual performance.
Enhanced technical skills by 25% through tailored training modules, elevating team competitiveness and individual performance.

Achieved a 70% win rate in regional tournaments, showcased tactical planning and decisive in-game strategies.

Mentored and fostered young talents, leading to two players progressing to professional academies.
Football manager work experience
Team Manager, Dynamo FC, 2017 -2019
Strategically managed team operations, player contracts, and match schedules, facilitating successful player transfers that enhanced the team's competitive prowess. Led the squad to consecutive league championships, securing promotions to higher divisions and fostering a cohesive team environment through effective communication and player development initiatives.
Led Dynamo FC to consecutive promotions, reaching higher league tiers.

Achieved a 15% efficiency boost with data-driven strategies, ensuring success in close matches.

Cultivated teamwork, reducing injuries by 20% through enhanced training and communication.
If you have little to no experience in a sports role, consider creating a qualifications summary using a skills-based CV. In addition, refer to our graduate CV if you recently left university and want to kick-start your sports career.
For more information, refer to the dedicated section on work experience to learn how to present your work contributions on your CV.
Don't pass on the education section on your CV
Being a successful in sports extends beyond just skills on the field. Highlight your academic achievements and relevant qualifications to strengthen your profile. Keep this section brief and factual, prioritising recent achievements. List your school and dates if you're a recent student waiting for qualification results.
Typically, in the UK, employers determine entry requirements and differ based on level and type.  If you're a recent student and want to enhance your CV, consider an internship to showcase your potential through a course or training. Early engagement in youth setups or local clubs can help you advance and lead to pro contracts. Professional sports clubs often set specific skills, athleticism, and potential criteria. As for a coach CV or management roles, education and coaching courses are also beneficial.
The Advanced Apprenticeship in Sporting Excellence is accessible for sports like cricket, football, rugby league, and rugby union. This apprenticeship allows promising amateur athletes to develop their sports skills while pursuing education. For more information, refer to our apprenticeship CV example or search courses with the National Careers Service, such as a BTEC First Certificate in Sport Qualification Level 2 or BTEC Diploma.
Examples of Education:
Bachelor of Science in Sports Science, Loughborough University, 2018 - 2022

UEFA Coaching License, Football Association, 2019

Diploma in Sports Management, London Sport Institute, 2017

High School Diploma, DEF School, 2016

First Aid Certification, Red Cross, 2020

Sports Nutrition Course, GHI Academy, 2019

Football Tactics Workshop, Football Coaching Institute, 2018

Coaching Fundamentals Course, National Coaching Association, 2021

Strength and Conditioning Training Certification, Sports Fitness Institute, 2020

Advanced Football Strategy Seminar, Global Sports Symposium, 2019.
For extra tips and examples on how to write the education section on your CV, refer to our article. 
Additional sections to list on your football CV
Your CV must set you apart from the competition. Provide additional information to attract recruiters or scouts. Include specific physical attributes, use accurate career statistics, relevant hobbies and interests, or a photo to showcase your personality and suitability for your job targets. Adding data and achievements will increase your chances of being signed, as scouts and managers have limited team positions to fill.
Attributes: Highlight your physical attributes that contribute to your performance on the field. Include details such as height, weight, speed, agility, and strength to showcase your athletic prowess and suitability for different positions.
Career Statistics: Provide a detailed overview of your performance throughout your career, including the number of matches played, goals scored, assists made, and any other relevant statistical data. This section helps recruiters understand your consistency and impact on the game.
Awards/Personal Achievements: List any awards, honours, or accolades you've received throughout your football journey. Whether being named Player of the Year or winning a championship title, showcasing your accomplishments highlights your excellence and dedication to the sport.
Learn more about adding courses and certificates to your CV as an aspiring sports professional. Refer to our article on how and when to add a professional photo to a CV.
Key takeaways
Becoming a successful sports professional is more than knowing how to play well. It should demonstrate your personality, skills and expertise, relevant achievements and training, and passion for the sport. Use a concise and professional CV template that lists accurate statistics, physical attributes, and relevant additional sections. In summary, here are the main dos and don'ts for your CV:
Do:
Prioritise skills, work experience and achievements.

Use an ATS-friendly and professional CV template and consider writing a cover letter.

Emphasise transferable skills or use a skills-based CV if you have little to no work experience.
Don't:
Use irrelevant sections or information.

Write more than 1-2 pages.

Neglect accuracy in your career statistics or use false information.
Next Steps?
Ensure you update your CV as you gain more experience as a player, coach or manager. Ensure your application and cover letter are relevant and reflect your evolving skills and accomplishments. Need help to find work or need more experience? Take proactive steps to join football networks or associations to enhance your skills and attend trials. If you need extra guidance, our dedicated CV Writing Service can help you write a tailored CV to match your career goals in football or other sporting professions, saving you time and effort!
FAQ
How to write a football CV?
A CV for this job role typically includes personal information, player profile, playing experience, skills, education, physical attributes, awards, and relevant sections. It should be well-structured, concise, and tailored to your  career goals.
How to add your football manager achievements to your CV?
Incorporate your football manager's achievements by detailing successful campaigns, championships, player development, and tactical innovations. Quantify achievements where possible, demonstrating your impact on team performance and growth.
What does a football CV look like?
A CV typically includes personal information, player profile, playing experience, skills, education, physical attributes, awards, and relevant sections. It should be well-structured, concise, and tailored to your football career goals.
How long should a football CV be?
Your CV should be concise and focused. It is recommended to keep it within two pages, highlighting the most relevant and impactful information about your football career. Similarly, find out how long a cover letter should be to make the best impact on hiring managers. 
What is the average salary of a footballer in the UK?
In the UK, the national average salary for a footballer is £41,055 but varies widely depending on factors like the league, club, and player skill level. Premier League players tend to earn higher salaries, while lower league and non-professional players may earn less. 
How to write a football CV with no experience?
If you need more experience, focus on transferable skills such as teamwork, communication, dedication, and discipline. Highlight any training, courses, or volunteering related to football. Emphasise your passion for the sport and your willingness to learn and improve. If you have no work experience, refer to our article for more tips and ideas.
How to write a football CV for your child?
CV writing is an essential skill necessary beyond football or sports. Support your child to recognise their accomplishments, skills, and capabilities. For a child's football CV, include basic personal details, playing experience (e.g.clubs, local teams, school), skills learned, physical attributes, and relevant training. Emphasise their passion, commitment, and potential for growth in football.
Land the interview for your dream job with CVMaker
Effortlessly create your professional CV within 10 minutes and download it whenever and wherever you want!
Create your CV
Increase your chances landing your dream job with CVMaker.