Dentist CV
The Auckland CV template effectively showcases Alexander's experience as a dental practitioner in a two-column format. Key sections highlight professional memberships needed for this role.
Start your CV
"Dedicated and compassionate dentist with over 8 years of experience providing high-quality dental care to patients of all ages. Able to communicate and treat patients to alleviate their concerns and provide a quality experience."
Alexander Hughes
- Denist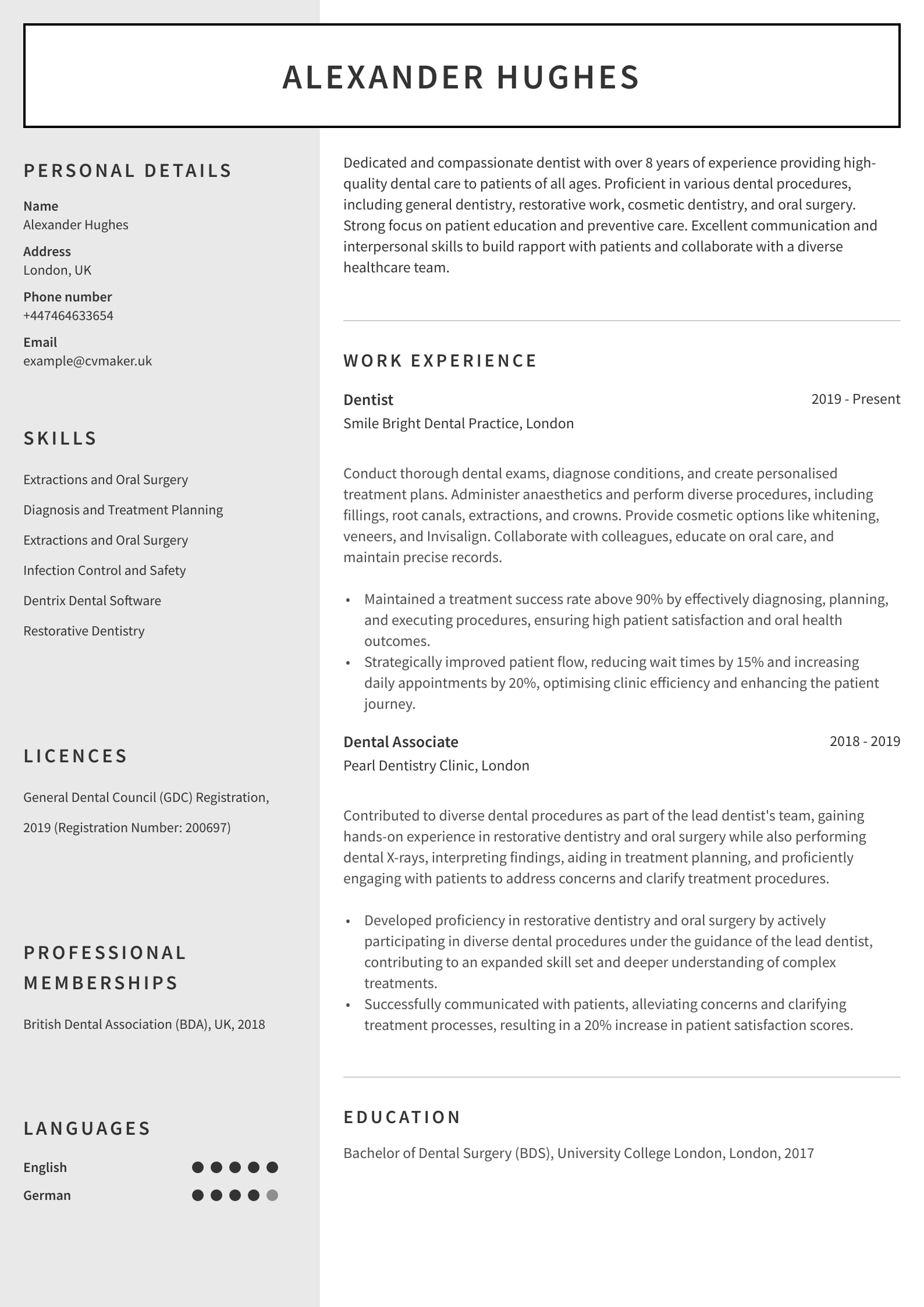 How to Write a Dentist CV: Step-by-step Guide with Examples and Tips
The dynamic dentistry industry offers diverse career opportunities. In this comprehensive guide, we help you craft an exceptional dentist CV tailored to industry standards. We also shed light on the potential career paths, from student and graduate roles to full-time positions. For aspiring professionals just entering the field, we also explore apprenticeship routes to becoming a skilled dental nurse, therapist or hygienist.
As the UK's dental landscape evolves, achieving your career goals demands a well-crafted modern CV that encapsulates your expertise, aspirations, and commitment. Before we get started, you must be familiar with application tracking systems (ATS). Opting for a professional ATS-friendly template is vital to getting noticed by recruiters, as this software plays a pivotal role in scanning and reading CVs. Doing so increases your chances of being shortlisted for an interview and landing your dream role.
Even with little to no work experience, you can demonstrate clinical excellence, patient care skills, and career goals to potential employers. Writing a professional CV and finding a suitable career path that aligns with your prospects is more attainable with the proper guidance.
The CV writing process: Where to start?
The dental industry is very lucrative but is also highly competitive. For individuals entering the dental profession as trainees or with little to no work experience, developing a master CV can be advantageous. This comprehensive document outlines your entire professional trajectory. Subsequently, creating a job-specific CV tailored to your desired job targets becomes simpler, less time-consuming, and more targeted to your career goals.
Dentist CV example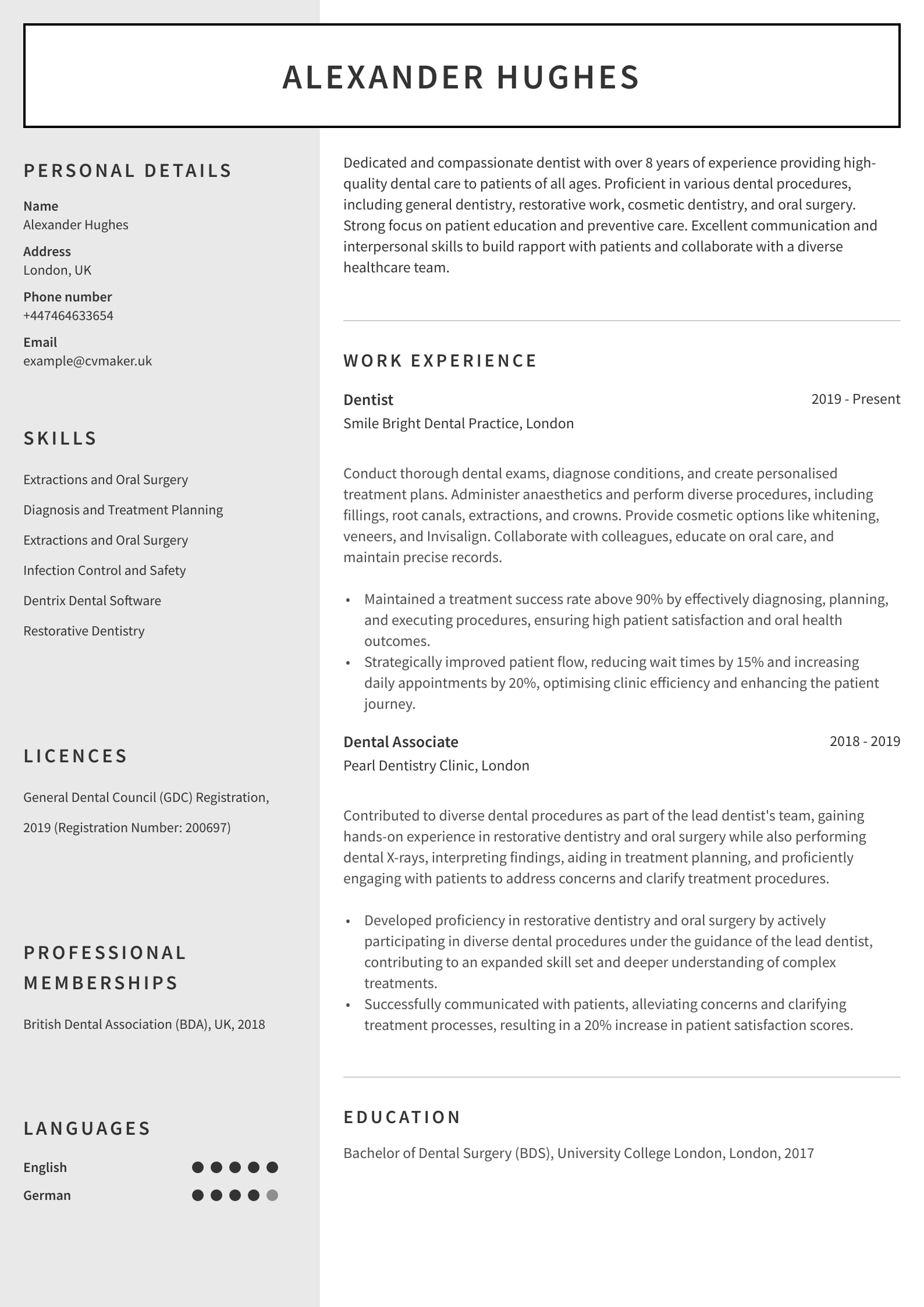 Download this dentist CV sample in PDF.
In this CV example, Alexander presents his eight years of experience and proficiencies in dental care procedures. Alexander's strong profile summary highlights patient education and preventative care specialties. Key sections such as memberships, registrations, licences, and certifications demonstrate his professional background. This CV format for a dentist role effectively showcases his impressive technical abilities and achievements using an industry-standard layout. 
What to include in a dentist CV
Creating an effective dental CV involves structuring essential components and sections. Your CV should be a comprehensive representation of your professional journey.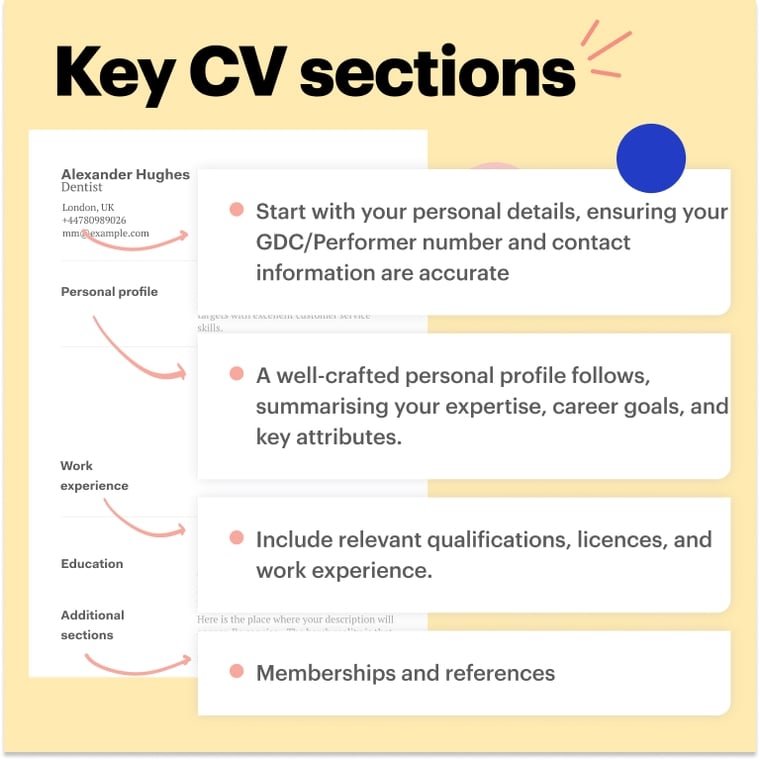 Explore dental roles with NHS Health Careers for more information on applying for jobs in the UK.
Make your CV shine with a personal profile 
Elevate your CV with an impactful personal profile that captures your dedication to providing exceptional dental care for patients. This section offers a snapshot of your skills, helping recruiters understand your potential contribution.
With a strong foundation in diagnoses, treatments, and patient rapport, focus on providing optimal oral health care and creating radiant smiles. Your statement should highlight your technical expertise, proficiencies, and person-centred soft skills. 
Pro Tip
Your personal profile is your first impression on potential employers, but keep it short. We recommend keeping this section concise to 60 words or less.
Dental Nurse CV personal profile example
Dedicated dental nurse with a genuine passion for patient care and a solid foundation in assisting dentists during procedures. Proficient in maintaining sterilised environments and efficiently managing administrative tasks. Seeking to contribute exceptional organisational skills and a patient-centric approach to a thriving dental team.
Dentist CV personal profile example
Experienced dentist with a three-year track record of delivering high-quality oral healthcare. Skilled in diagnosing and treating dental conditions using cutting-edge techniques and technologies. Committed to patient comfort and building long-lasting relationships. Aspiring to apply my expertise in a dynamic dental practice and progress to a senior role.
Dental Hygienist CV personal profile example
Experienced Dental Hygienist with over five years of comprehensive expertise in oral health and hygiene practices. Diligent in educating patients about preventive care and skilfully performing thorough cleanings. Enthusiastic about contributing honed skills to promote dental wellness and elevate patients' smiles.
Graduate Dentist CV personal profile example
Recent dental school graduate with a solid academic foundation and a drive to excel in clinical practice. Well-versed in the latest dental techniques and technologies. Eager to combine theoretical knowledge with hands-on experience to provide exceptional patient care and contribute to a thriving dental team.
For more inspiration on how to make your personal profile on your CV stand out, read our article.
Enhance your dentist CV with key skills
To stand out in the competitive dental field, your CV must highlight a combination of hard and soft skills. These skills should encompass technical expertise and interpersonal qualities, as effective patient communication is paramount. Recruiters seek well-rounded candidates who demonstrate clinical proficiency with exceptional patient care.
Suppose you are applying for an entry-level role, then we consider writing a skills-based CV to emphasise transferable skills and achievements from other professional experiences.
If you are considering a career change or would like to pursue a role similar to dental care, you can find more CV examples that require similar skill sets, such as care assistant or support worker. 
Must-have skills:
Dental equipment maintenance and sterilisation protocols

Infection control and cross-contamination prevention

Medical record management and digital documentation

Anaesthesia administration and pain management

Patient education on oral hygiene practices and preventive care

Knowledge of dental materials and their applications

Diagnostic skills for identifying oral health issues

Radiology safety and radiation protection

Chairside assistance and treatment coordination

Dental software proficiency for scheduling and billing.
Soft skills

Hard skills

Effective communication with patients and colleagues

Dental radiography

Empathy and patient-centred care

Imaging interpretation

Problem-solving

Restorative dentistry technique

Critical thinking

Oral surgery procedures

Detail-oriented and precision

Periodontal therapy and treatment

Team collaboration and coordination

Dental prosthetics fabrication
You can find more tips and examples of what key skills to put on your CV in our article. 
How to write work experience on your CV
Showcasing your work experience is crucial in demonstrating your capabilities and achievements. The industry has diverse career pathways, especially for those transitioning from a student or graduate role to becoming a fully trained dental nurse.
Alternatively, if you are currently studying, consider engaging in internships, part-time employment, or volunteer opportunities relevant to client-facing roles and require strong communication skills, such as roles in the hospitality and customer service sectors. 
Additional work experience will help you gain practical skills and knowledge essential for refining your dental CV and finding new opportunities. Alternatively, if you aspire to work in other roles that involve similar tasks, consider reading our UK CV guides on medical, healthcare, and nursing professions.
Dentist Technician CV work experience example:
Dental Laboratory Technician | Precision Dental Lab, Manchester | 2017 - Present
Craft and modify dental prosthetics to specifications, including crowns, bridges, and dentures. Collaborate closely with dentists and dental specialists to ensure optimal outcomes. Operate advanced CAD/CAM software and equipment for precise design and fabrication.
Implemented a streamlined workflow, reducing production time by 20%.

Received recognition for consistently producing high-quality dental prosthetics. 

Participated in cross-functional training, enhancing proficiency in new materials and techniques.
Dental Assistant CV work experience example:
Registered Dental Assistant | Bright Smiles Dental Clinic, Birmingham | 2019 - Present
Assist dentists during procedures, prepare treatment rooms, and ensure patient comfort. Manage patient records, sterilise instruments, and educate patients on oral hygiene practices. Facilitate smooth clinic operations, including appointment scheduling and inventory management.
Introduced digital record-keeping, improving accessibility and efficiency by 30%. 

Received praise for providing compassionate care to anxious patients, boosting patient satisfaction. 

Collaborated with hygienists and front-office staff to enhance patient experience.
Dental Practice Manager CV work experience example:
Dental Practice Manager | Perfect Teeth Clinic, Edinburgh | 2015 - Present
Oversee day-to-day operations, including staff management, scheduling, and financial administration. Implement strategic initiatives to optimise patient flow, enhance customer service, and increase revenue. Ensure compliance with regulatory standards and maintain a safe and welcoming environment.
Introduced performance metrics, resulting in a 15% improvement in patient wait times.

Streamlined billing and insurance processes, reducing claim denials by 25%.

Led team training sessions on customer service and treatment coordination.
Dental Therapist CV work experience example:
Dental Therapist | Healthy Smiles Dental Care, Glasgow | 2018 - Present
Perform preventive and therapeutic dental treatments, including cleanings, fluoride applications, and sealants. Collaborate with dentists and hygienists to develop comprehensive treatment plans. Educate patients on oral hygiene practices and promote preventive care.
Initiated a patient education campaign, contributing to a 40% increase in oral hygiene compliance. 

Received accolades for exceptional rapport-building with paediatric patients.

Assisted in the development of personalised treatment plans, enhancing patient outcomes.
If you're still unsure what to write for work experience on a CV, refer to our article on this topic.
Highlight your education 
From hands-on apprenticeships and internships to academic pursuits at colleges and universities, the dental field accommodates a range of learning preferences and career goals. Competition for dental school admission is high, and education plays a pivotal role in this profession.
Employers seek licensed and registered candidates with the General Dental Council (GTC). To train in this profession, you'll need to complete a 5-year GDC-approved dentistry degree followed by 1 to 2 years of postgraduate training typically necessary. A 4-year degree may be possible for those with a relevant existing degree. Entrance exams like UCAT  or BMAT assess skills required for the course. Some might qualify for a 4-year dental degree with a 2:1 in biology, chemistry, or related subjects. Entry often demands 3 A levels, including biology and chemistry. You can learn about the admission tests on the UK Dental Schools Council website for more guidance on entry requirements.
For aspiring professionals just entering the profession, looking for a traineer role or are a recent school-leaver; we encourage you to explore our comprehensive apprenticeship CV guide with helpful tips to help you get started and gain work experience. 
Apprenticeship Programs:
Dental Nurse Apprenticeship | City Dental College, London | 2022.
Further Education and College Courses:
Level 3 Diploma in Dental Nursing | Royal Dental Institute, Manchester | 2021

BTEC Extended Diploma in Applied Science (Dental Technology) | Midlands Dental College, Birmingham | 2020

Diploma in Dental Hygiene and Therapy | Northshire Dental Academy, Leeds | 2019

Access to Higher Education in Health Sciences | South Coast Dental Institute, Brighton | 2023.
University Degrees:
Bachelor of Dental Surgery (BDS) | University of Dentaria, Edinburgh | 2025

BSc Dental Hygiene and Dental Therapy | Royal Dental University, London | 2024

BSc Dental Technology | Midlands University, Birmingham | 2023

BSc Oral Health Sciences | Northern Dental University, Manchester | 2022.
For more guidance on how to write the education section on your CV, read our guide. In addition, you can explore how to become a dentist with the British Dental Association (BDA). 
Additional achievements on your dental CV
Your CV is also a platform to showcase your accomplishments beyond your formal education and work experience. For instance, participating in a dental outreach program in a foreign country during your studies demonstrates your commitment to community service and cultural understanding. 
Attending Dentistry Conferences and networking events like the IADR British Society for Oral & Dental Research Congress and the annual Dentistry Show in London. You can also consider presenting research findings at the British Society for Oral and Dental Research (BSODR), illustrating your dedication to staying informed and contributing to the field's advancements.
Furthermore, if you've had articles published in dental journals, whether as a student or a more senior dentist, it reflects your expertise and willingness to share knowledge with peers. These recognitions showcase your commitment to continuous learning and growth within the dental field, demonstrating your dedication to staying up-to-date with the latest advancements and contributing to the broader dental community.
Pro Tip
If you are an undergraduate or working towards your Ph.D., networking with professionals at events can significantly enhance your job applications and will impress hiring managers during interviews.
For more tips and examples on adding career accomplishments, refer to our article listing achievements on your CV. In addition, read our undergraduate and PhD CV examples for more inspiration. 
Key Takeaways
Crafting a CV involves balancing technical expertise and personal attributes. Whether you are a recent graduate or an established professional, we show you how to excel in this profession through various career paths and educational opportunities as well as how to set yourself up for success with a good CV.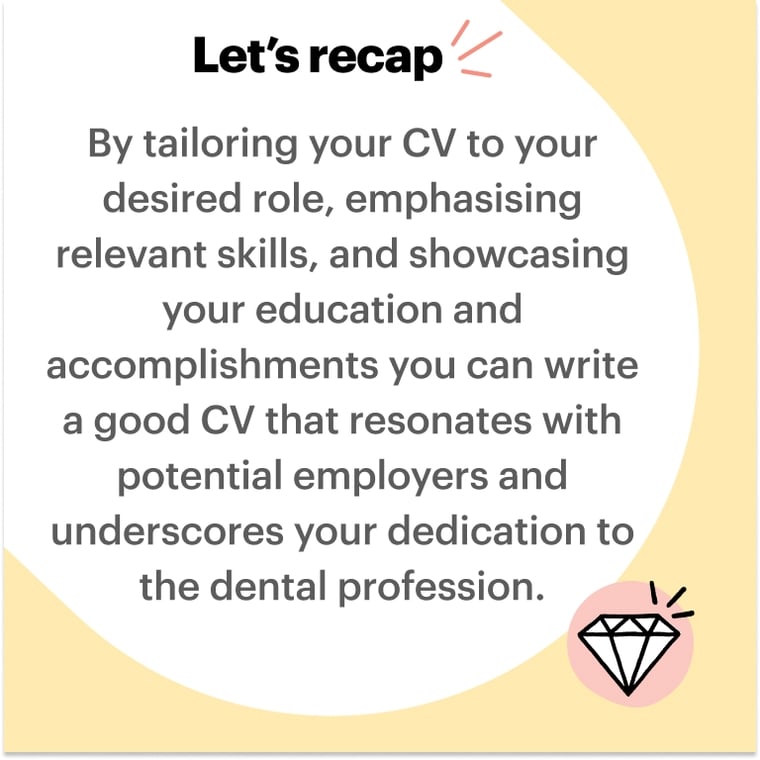 Next steps?
Browse our collection of professional examples and CV templates tailored to the field of dentistry, spanning from entry-level positions to experienced dental professionals. We have designed an intuitive CV Builder where you can select, customise, and download editable modern CV templates to align with your career goals. Alternatively, our career blog offers invaluable insights and guidance, perfect for those searching for their dream job. 
FAQ
Do I need a degree to become a dentist in the UK?
To become a dentist in the UK, you typically need to earn a Bachelor of Dental Surgery (BDS) degree from a recognised dental school. This degree is essential to gain registration with the General Dental Council (GDC) and practice as a qualified dentist in the UK.
What is a typical UK CV format for a dentist?
A typical UK CV format for a dentist includes personal details, a concise personal profile, a comprehensive list of relevant skills, a detailed work experience section showcasing your dental roles, educational background, and any additional achievements. Ensure to follow a clean and professional layout, using bullet points to highlight essential information effectively.
Can I work in a hospital as a dentist?
Yes, as a qualified dentist, you can work in various settings, including hospitals. Many dentists choose to work in hospital dental departments, where they may provide specialised dental care to patients with complex medical needs. These roles often involve collaboration with medical teams and treating patients requiring more extensive dental procedures.
How much could I earn as a dentist?
Salaries for dentists in the UK can vary based on experience, location, and type of practice. Generally, newly qualified dentists can earn around £30,000 to £40,000 annually. With experience and specialisation, earnings can increase significantly, potentially reaching six-figure sums for established and senior dentists.
How to write a dentist CV with no experience?
If you're a new graduate or have limited work experience as a dentist, highlight your education, clinical placements, and any relevant skills gained during your studies. Emphasise your commitment to continuous learning, showcase relevant projects or research, and include any volunteer or internship experiences. Use transferable skills, such as communication and attention to detail, to demonstrate your suitability for the role despite limited professional experience.
Land the interview for your dream job with CVMaker
Effortlessly create your professional CV within 10 minutes and download it whenever and wherever you want!
Create your CV
Increase your chances landing your dream job with CVMaker.