Electrician CV
Ali has opted for the Auckland CV template, which is well-formatted and modern. His work experience, education and achievement sections showcase his ability to manage projects and apprenticeship training while developing technical knowledge.
Start your CV
"Qualified and skilled Electrician with over 5 years of experience in residential and commercial electrical installations and maintenance. Supported senior electricians in various installation and repair projects."
Ali Kan
- Electrician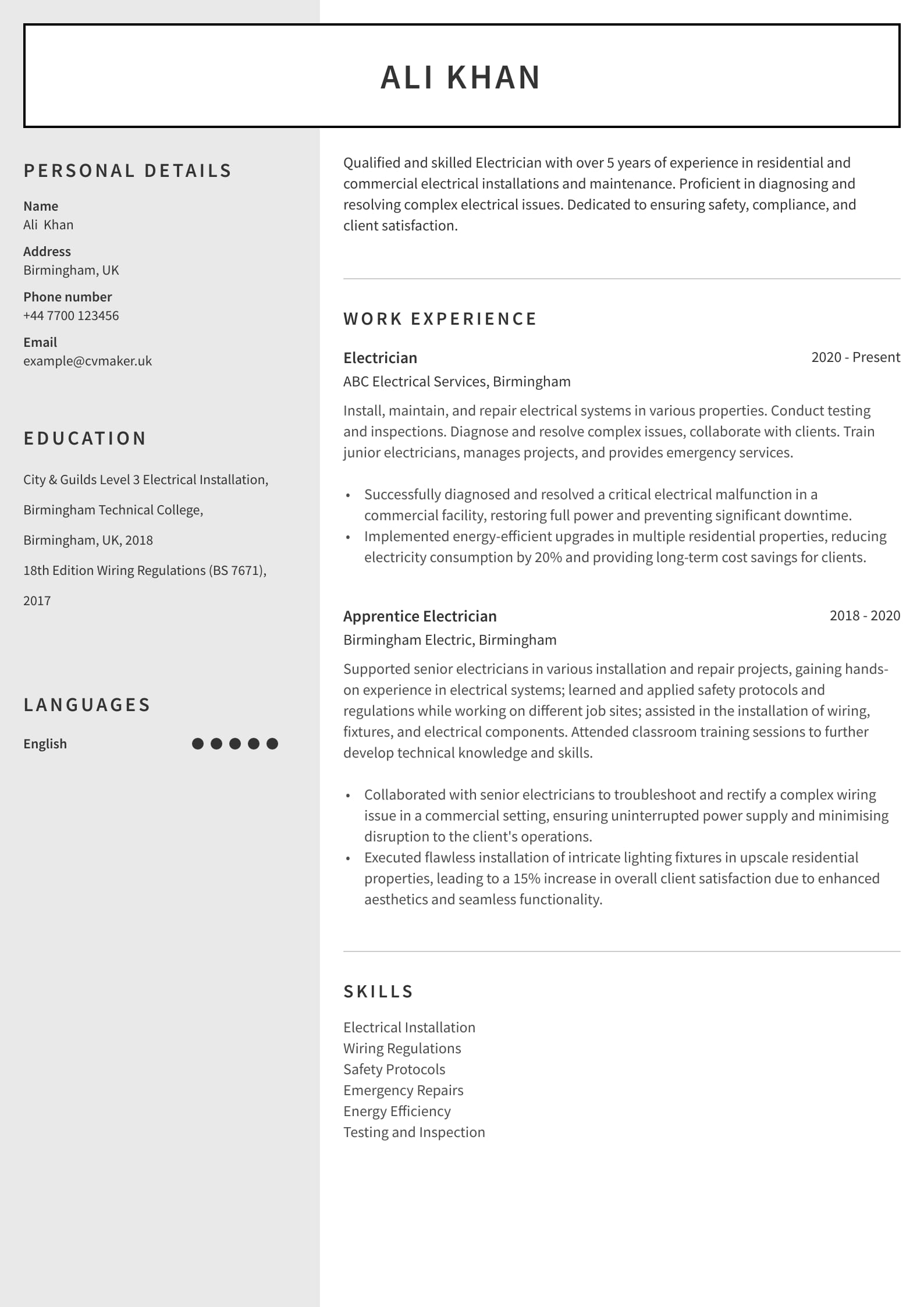 Craft a Powerful Electrician CV with Expert Tips and Examples for 2023
As technology advances, industries grow, and construction never ends, the electrician profession has become highly demanding and competitive. In the dynamic job market, the opportunities for skilled professionals are soaring. Therefore, it's vital to learn how to write a good CV and stand out to potential employers.
Navigating the CV writing process can feel like charting a new electrical circuit—both challenging and essential for powering your career. This guide helps you present relevant skills, experiences, and qualifications to increase your chances of success. Choosing the correct format for your CV is also essential. Are you aware of application tracking systems (ATS)? Using an ATS-friendly electrician CV template will make it easier to read and scan, sparking interest in recruiters.
Like an electrical system requires careful planning and attention to detail, so does every section of your CV. Despite your level or experience, whether a licensed worker advancing your career or a school leaver interested in an apprenticeship, we inform you how to gain the right expertise and achieve your dream role.
The CV writing process: Where to start? 
Becoming an electrician opens doors to a versatile and promising career. Many roles and opportunities are available in this trade, ranging from hands-on work to managerial roles, self-employment and working overseas. These roles cover a range of sectors, from residential and commercial settings to industrial facilities and renewable energy projects.
Within this profession roles include but are not limited to:
Domestic Electrician

Commercial Electrician

Industrial Electrician

Maintenance Electrician

Electrical Engineer

Electrical Design Engineer

Electrical Inspector

Electrician Technician

Facilities Electrician 

Renewable Energy Technician
Explore career paths with the National Careers Service. Alternatively, discover more CV examples with similar attributes, such as a mechanic and civil engineer. 
For your CV, we first recommend creating a document known as your master CV, which includes all your career details and work experiences. Use the master CV as a base and extract relevant details for each targeted job. Next, choose a role and niche, then create a job-specific CV customised for that specific job. Do this by highlighting relevant skills and experiences that match the job description and an employer's requirements for maximum impact.
Electrician CV example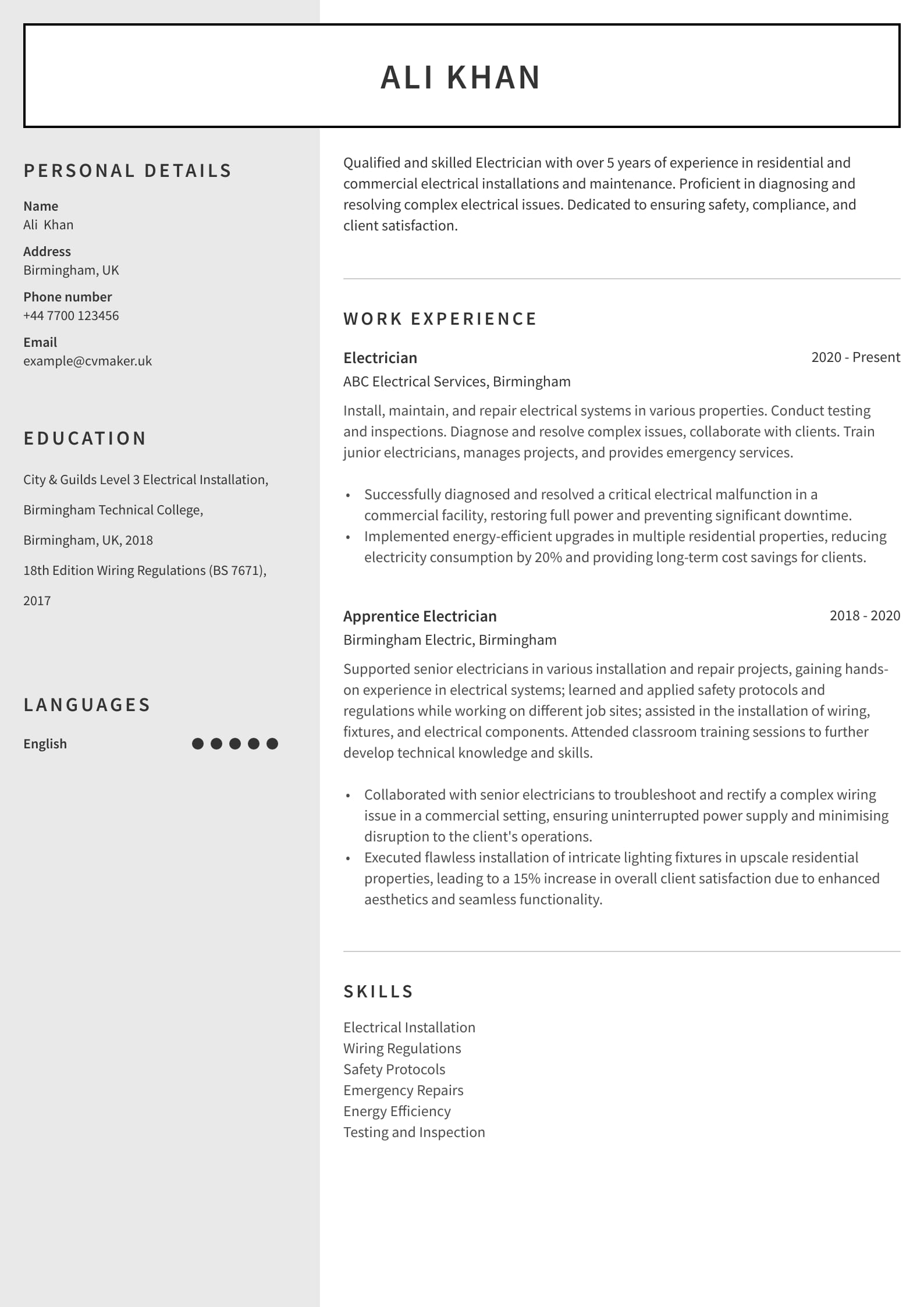 Download this Electrician CV sample in PDF
In this CV example, Ali showcases his skills and expertise in residential and commercial electrical work. He is proficient in key areas such as electrical installation, wiring regulations, energy efficiency and safety protocols. His work experience, education and achievement sections showcase his ability to manage projects and apprenticeship training while developing technical knowledge. Ali has opted for the Auckland CV template, which is well-formatted and modern. 
What to include in an electrician CV?
The essential sections of your CV include work experience, education, and specialised skills that align with your career goals. Our CV example effectively uses these sections for the best results. Adding sections such as references and certificates is also optional depending on your job targets. For further guidance on what to include, refer to our article on how to improve your CV. 
Light up your CV with a captivating personal profile 
Your electrician CV personal statement or profile is an initial introduction and an opportunity to make the best impression. Emphasise your expertise and knowledge of key areas such as electrical installations, diagnostics, and safety protocols. Highlight your main skills and express a genuine enthusiasm for problem-solving, adapting to different tasks, and providing quality customer service.  
Apprentice Electrician CV personal profile example
Dedicated Apprentice Electrician with a passion for learning and a strong foundation in electrical systems. Eager to contribute to dynamic projects while expanding my technical expertise. Committed to safety, precision, and teamwork. Currently pursuing an apprenticeship to develop practical skills and knowledge further.
Electrical Technician CV personal profile example
Experienced Electrical Technician with 3 years of experience and a proven track record of diagnosing and repairing electrical issues. Adept at maintaining electrical systems, ensuring compliance with regulations, and optimising performance. Strong analytical skills and a meticulous approach to problem-solving. Committed to delivering quality results in fast-paced environments.
Maintenance Electrician CV personal profile example
Seasoned Maintenance Electrician with 5 years of experience overseeing electrical systems' reliability and functionality with strong communication skills. Proficient in conducting inspections, preventive maintenance, and troubleshooting with a focus on minimising downtime. Adept at collaborating with cross-functional teams to ensure seamless operations.
Manager Electrician CV personal profile example 
Results-driven Manager Electrician with a 7-year successful background in leading electrical teams and managing complex projects. Proven ability to coordinate resources, plan installations, and ensure high-quality work. Exceptional leadership and communication skills. Dedicated to optimising team performance and delivering exceptional electrical solutions.
Refer to our article for more ideas on what to write for your personal profile.
Key skills to add to your electrician CV
The core of an electrician's career lies in its versatility and adaptability. Whether you choose to work in residential, commercial, or industrial settings, your role remains integral.
Examples of skills for various levels
Supervisor:
Hard skills: Work scheduling, training, project coordination, budget management, strategic planning, project management.

Soft skills: Coordination, decision-making, conflict resolution, analytical thinking, leadership and mentorship.
Maintenance Electrician:
Hard skills: Preventive maintenance, system inspection, equipment repair and troubleshooting, circuit testing, and equipment handling.

Soft Skills: Technical learning, initiative, multi-tasking, critical thinking, strategic planning.
Entry-Level Electrician / Apprentice:
Hard skills: Basic electrical tasks, tool operation, safety protocols, learning industry regulations.

Soft skills: Eagerness to learn, strong work ethic, punctuality, ability to follow instructions, memory, and organisation.
For more practical examples for this section, refer to our article on what skills to put on your CV. 
How to write work experience on an electrician CV 
When detailing your work history, follow a reverse chronological order. Start with your latest roles or projects, specifying the company name, employment duration, and location of your previous jobs. Write a brief paragraph summarising your responsibilities and growth in the position. Then, add two to three measurable accomplishments listed as bullet points below.
Suppose you have little to no work experience and are trying to decide what to add. In that case, you can draw inspiration from a student CV example or consider using a skills-based CV format. Alternatively, refer to our career advice on entering the workforce after graduating for more ideas.
Apprentice Electrician CV work experience example
Apprentice Electrician | WiredUp Electrical Services, Liverpool | 2021 - Present
Assist experienced electricians in installing and maintaining electrical systems in residential and commercial settings. Develop skills in conduit bending, wiring, and equipment troubleshooting. Collaborate with the team to diagnose and rectify electrical faults, actively contributing to problem-solving strategies.
Supported the completion of 50+ successful wiring installations, ensuring accurate measurements and secure connections.

Assisted in upgrading lighting systems for five commercial buildings, resulting in a 20% increase in energy efficiency and reduced operational costs.
Auto Electrician CV work experience example
Auto Electrician | AutoCare Garage, Birmingham | August 2020 - Present
Diagnose and repair vehicle electrical issues, and utilise diagnostic tools and equipment. Install and configure aftermarket electronic components to enhance vehicle features and functionality.
Installed 30+ aftermarket GPS and entertainment systems, boosting customer satisfaction and positive reviews.

Collaborated on diagnosing and resolving electrical faults in 50 vehicles, achieving a 15% reduction in average repair time through effective teamwork.
School leaver with little to no work experience
Student Volunteer | Community Outreach Program, London | 2021 - 2022
Engaged as a student volunteer for a community outreach program, contributing to various projects and initiatives to enhance community well-being and social awareness. Used creativity and analytical thinking to collaborate as a team to solve complex challenges and find solutions.
Collaborated with a team of volunteers to organise and manage clean-up events, resulting in the collection and proper disposal of over 500 pounds of waste.

Assisted in coordinating a charity fundraiser, contributing to collecting £500 donations for a local animal shelter.

Participated in workshops on leadership development and communication skills, enhancing professional growth, problem-solving and teamwork abilities.
Industrial electrician CV work experience example
Industrial Electrician | PowerFlow Manufacturing, Manchester | 2019 - 2022
Performed maintenance and repairs on industrial machinery, ensuring seamless production operations. Collaborated with engineering teams to implement electrical upgrades and troubleshoot complex issues.
Executed 150+ preventive maintenance checks, leading to a 20% reduction in equipment downtime and improved overall productivity.

Successfully overhauled a critical production line control system, increasing system reliability and decreasing production errors by 30%.
Refer to the work experience on a CV blog for more information. 
How to list education on an electrician CV 
If you're starting a new career, there are many pathways to enter this profession, including applying directly to organisations or established contractors. Employers usually seek candidates with high school qualifications or equivalent. Requirements for licensing and certifications vary with each employer, and you may also be required to pass an additional exam. Entry requirements for college and apprenticeships typically include the following:
Two or more GCSEs (grades 9 to 3) for level 2.

Four or five GCSEs (grades 9 to 4), including English and maths, for level 3 or T level.
College: Attending college will help you gain technical knowledge and skills, but you'll still need practical experience in the workplace. College courses may enhance your prospects for apprenticeships or trainee roles. Enrol in college courses such as:
NVQ, T Level in Building Services Engineering for Construction 

Level 2 Diploma in Electrical Installation

Level 3 Diploma in Electrical and Electronic Engineering.
Courses are the quickest way to join this trade in the UK is through an intensive electrician course. Find more information on the Access Training website, such as costs and entry requirements. Alternatively, browse electrician courses with the National Careers Service.
Apprenticeships are the most traditional route to becoming an entry-level electrician. To become an apprentice or start a trainee role, you only need your GCSEs and do not need a certificate. These programs include hands-on training, classroom learning, and on-the-job experience to develop practical skills and theoretical knowledge. After finishing training and getting licensed, you can train further to advance your career, work abroad or become self-employed. You can applye through UK Trade Colleges or Train Union Congress.
Learn more about Electrician Apprenticeships in the UK and how to apply for one on the Prospects website.
Examples of education: 
City & Guilds Level 3 Electrical Installation program, Birmingham Technical College, UK, 2018.

18th Edition Wiring Regulations (BS 7671), Electrical Courses Ltd., Cambridgeshire, 2019

Graduated with a BTEC Level 2 Diploma in Electrical Engineering, Manchester College, UK, 2016.

BTEC Higher National Diploma in Electrical and Electronic Engineering, Manchester College of Technology, UK, 2020.
Refer to our apprenticeship CV example and our blog on how to write the CV education section for more information.
How to add references to an electrician CV 
We recommend adding referees if you are applying for a trainee role, an apprenticeship or have little to no work experience. It can support your application and enhance its credibility:
Name of referee

Job title

Company or institution

Email

Phone number.
Obtain permission from the people you wish to include before listing them and brief them on your job search. Keep this section concise using up to three references who can vouch for your skills and work ethic.
Refer to our article on when to add references to your CV. 
How to add additional certificates and licences to your CV
Include this section on your CV to boost its credibility and showcase your knowledge in critical areas. If you're qualified or want to change positions, refer to our career change CV example. Moreover, completing additional courses could help you advance your career to more senior technician roles, such as an industrial and master electrician. 
Additional courses include:
Inspection and Testing (2391)

2396 Electrical Design (2396)

EV Charging (2921)

Solar PV

Energy Storage

PAT Testing.
Learn more about how to add courses and certificates to your CV. 
Key takeaways 
This lucrative profession offers diverse opportunities in the UK and abroad, making it an attractive job worth pursuing. Creating a successful job application for this dynamic industry starts with a modern CV that is relevant and tailored. Even if you have little to no work experience and are pursuing an apprenticeship, quickly boost your chances of success through courses, gaining additional work experience, or using a skill-based CV template. By using these essential sections in this guide, you can create a stand-out personal profile, effectively highlight your skills, experiences, and use certifications to increase your chances of landing your dream job.
Next Steps?
Consider improving your CV and choose a ready-made CV template with an expert design tailored to your career goals. If you need more inspiration or are considering a career change, browse our CV examples to help with your job search in 2023. If you're applying to a trainee or apprenticeship role, to enhance your chances of being shortlisted, refer to our cover letter advice to complement your CV for an electrician role.
FAQ
Do I need a degree to become an electrician in the UK? 
In the UK, a degree is generally not required for this role. Instead, you must usually complete a relevant apprenticeship diploma or vocational training program and obtain the necessary certifications and qualifications. This hands-on experience and training are essential for pursuing a successful career in this profession.
What is a typical UK CV format for an electrician? 
The standard CV format in the UK includes a summary, work experience, education, skills, and certifications sections. Begin with personal details and a summary. List work history, education, and key skills relevant to the role. Keep it concise and use a well-structured format that is easy to read.
How long should an electrician CV be? 
Your CV should be 1-2 pages. It must be relevant, concise and well-structured. Consider writing a cover letter to support your application. For more guidance, read our article on how long a cover letter should be. 
What is the average salary of an electrician in the UK? 
Electricians are regarded as the most highly paid-profession in the trade. The average salary for an electrician in the UK is approximately £39K annually. However, this depends on your niche, location, experience, and speciality. 
How to write an electrician CV with no experience? 
If you have no experience or are changing careers, there are many other ways to enhance your CV and stand out. If your experience is limited, enhance your CV by showcasing projects, relevant courses, and high academic achievements. Refer to our school-leaver article if you are entering the industry after studying. If you have already applied for a role and been invited to an interview for a trainee or apprentice role, read our tips on overcoming interview nerves. 
How to become a self-employed electrician? 
Becoming an independent electrician in the UK involves gaining education, practical experience, and essential certifications. If you are already qualified, you'll still need to obtain a mandatory licence and certificate to establish your business. You must invest in insurance and premium tools and consider using marketing channels to promote your brand. For more information on becoming self-employed, refer to the UK government site article on third-party certification schemes for domestic electrical work. 
What is a CV profile for an electrician?
An electrician CV personal statement is a concise yet impactful introductory section at the beginning of your CV. It provides a snapshot of your professional achievements, highlighting key skills, experience, and attributes relevant to the electrical field. It should convey your proficiency in electrical work, emphasise safety protocols, and outline your commitment to delivering high-quality results.
Land the interview for your dream job with CVMaker
Effortlessly create your professional CV within 10 minutes and download it whenever and wherever you want!
Create your CV
Increase your chances landing your dream job with CVMaker.