Construction CV
This construction CV uses the Auckland CV template, which is ATS-friendly and well-formatted to impress employers. Benjamin showcases his decade of expertise and skills overseeing large-scale projects, leading teams, and ensuring safe and quality services.
Start your CV now
"Highly skilled and dedicated Construction Site Manager with over 10 years of experience in the construction industry. "
Benjamin Moore
- Senior Construction Site Manager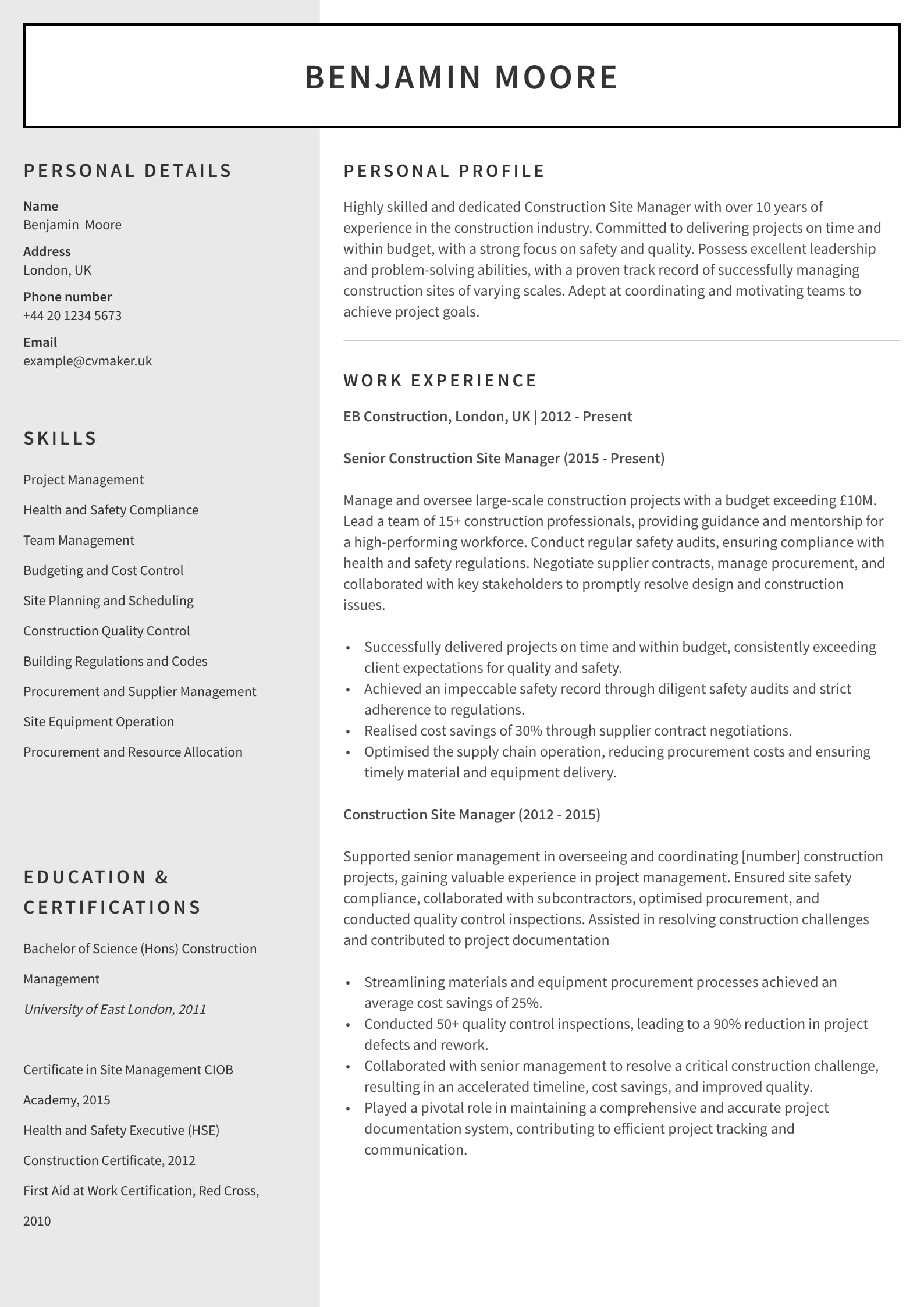 How to Write a Construction CV: Examples and Writing Guide
The UK construction industry is a dynamic and thriving sector valuable in shaping the nation's infrastructure, from iconic landmarks to essential residential and commercial buildings. In this rapidly evolving sector, writing a modern CV is essential to maximise your chances of finding your target job.
Whether you're a site manager supervising workers, a construction project manager, or a school leaver just starting an apprenticeship, various career opportunities span private and public sectors, offering many seasonal and year-round positions. In this guide, you learn how to write a good CV for a construction worker that effectively communicates your skills, qualifications, and expertise, even if you have little construction work experience.
Moreover, selecting a professional CV template also ensures compatibility with application tracking systems (ATS) so hiring managers can scan and find your CV with ease, maximising your chances of securing an interview.
Construction CV example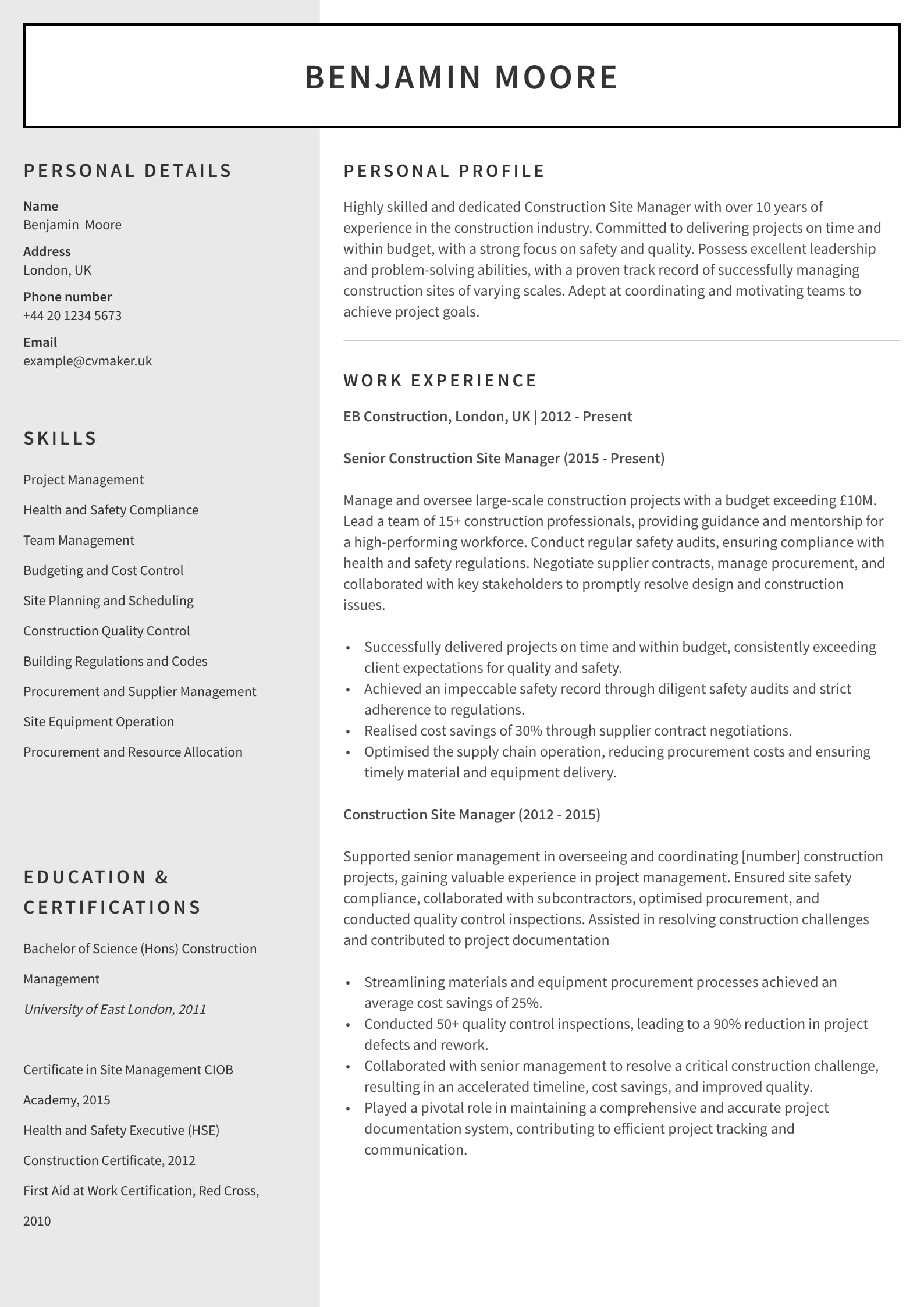 Download this sample CV for a construction job in the UK
In this CV example, Benjamin showcases his decade of expertise and skills overseeing large-scale projects, leading teams, and ensuring safe and quality services. He boasts his professional capabilities with his relevant achievement section and educational background. This construction CV uses the Auckland CV template, which is ATS-friendly and well-formatted to impress employers. 
What to include in a construction CV? 
In your construction CV, it's vital to showcase your skills, relevant experience, and qualifications to stand out in this dynamic industry.
Begin with up-to-date contact details, including your full name, phone number, and email address.

Write a compelling personal profile to summarise your career objectives and expertise in a brief statement.

List your work history in reverse chronological order, listing job titles, company names, locations, and employment dates, using bullet points to format your responsibilities and achievements.

Showcase your technical and interpersonal skills relevant to your target role, including tools, software, and safety protocols.

Mention your educational background and any relevant qualifications related to construction work.

Consider including an additional section for references, volunteer work, or courses and certificates.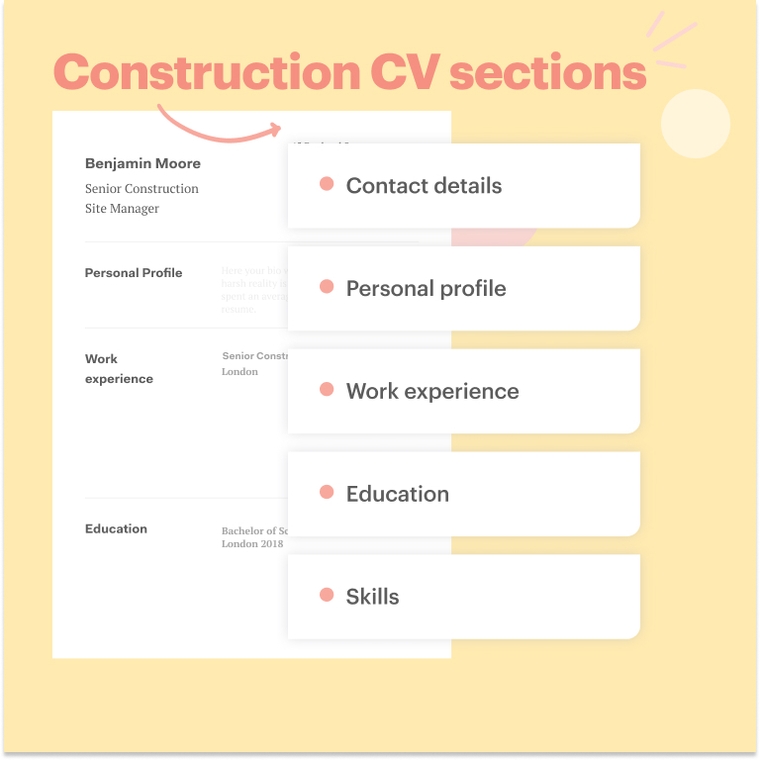 For detailed guidance, refer to the master CV versus job-specific CV guide for more tips. 
Write a hi-vis personal profile
In your construction CV personal profile, craft a concise introduction that briefly highlights your experience, technical skills, commitment to safety, teamwork, and dedication to completing tasks with quality and efficiency. Express your career goals and what unique attributes you can offer an organisation to leave a lasting impression.
Pro Tip
Remember to tailor your CV to the job description, emphasising the skills, experiences, and certifications most relevant to the position.
Construction Supervisor CV personal profile example
Dedicated Team Supervisor with over six years of experience managing and coordinating projects. Known for excellent resource allocation and management that exceeds project targets in high-pressure environments while implementing the highest quality and safety standards. Skilled in team leadership, project planning, and client communication. Consistently meets requirements efficiently and drives impressive results while fostering a strong culture of collaboration.
Construction Site Manager CV personal profile example
Experienced Site Manager with a proven track record of successfully leading and overseeing labouring projects from inception to completion. Experienced in site management, progress reporting, safety protocol enforcement, and effective team coordination. Committed to delivering projects on time and within budget, combines strong leadership with a relentless dedication to quality and safety protocols.
Apprentice Construction Manager CV personal profile example
Motivated and ambitious apprentice eager to gain hands-on experience and develop expertise in a dynamic team environment. Enthusiastic and quick to learn, committed to acquiring the skills necessary to lead projects efficiently and safely. Possesses a solid educational foundation and work ethic, dedicated to supporting senior management while developing proficiency in project coordination, safety compliance, and quality control.
Refer to our article on creating an apprenticeship CV for entry-level opportunities.
Construction Labourer CV personal profile example
Hardworking Construction Labourer passionate about contributing to labouring projects of all scales. Possesses a strong work ethic, physical stamina, and a commitment to safety on-site. Experienced in various tasks, from operating machinery, performing heavy lifting, and assisting skilled tradespeople to complete projects on time. Eager to work collaboratively and develop new skills while making a positive impact on every project.
Read our article for more ideas on how to make your personal profile on a CV stand out.
Lay the groundwork with crucial skills 
When constructing a CV, it's essential to emphasise versatile skills that highlight your technical expertise, which caters to a broad spectrum of roles and responsibilities, such as for a labourer, contractor, tradesperson or builder. 
For aspiring professionals or those just starting their careers, such as school leavers with little to no work experience, a skills-based CV format is beneficial. This format emphasises transferable skills such as problem-solving, teamwork, organisation, time management and safety awareness, which can be gained from volunteering, hobbies and interests or relevant coursework.
Hard skills

Technical skills

Soft skills

Project management

Proficiency in AutoCAD and BIM software

Leadership and team management

Structural engineering

Blueprint reading and interpretation

Communication and interpersonal

Health and safety compliance

Advanced equipment operation

Problem-solving and critical thinking

Quality control and inspection

CAD design and drafting

Adaptability and flexibility

Estimating and budgeting

Masonry and bricklaying

Time management
Include a combination of these skills for a construction CV to help you present a well-rounded profile, demonstrating technical and interpersonal competencies to complete work to a high standard.
Refer to our blog on how to put skills on a CV with the best examples and tips. 
Build up your CV with work experience 
On your construction worker CV, provide a clear, concise overview of your roles, responsibilities, accomplishments, and career progression. Include your job titles, company names, employment durations, locations, and a brief job description summary of responsibilities. Outline measurable achievements using bullet points to demonstrate the impact you had.
Ensure this section is relevant to your job targets, and list job entries in reverse chronological order. Incorporate industry terminology and keywords to improve ATS compatibility and align your CV with your target role. 
Read our article for additional tips on how to write the work experience CV section.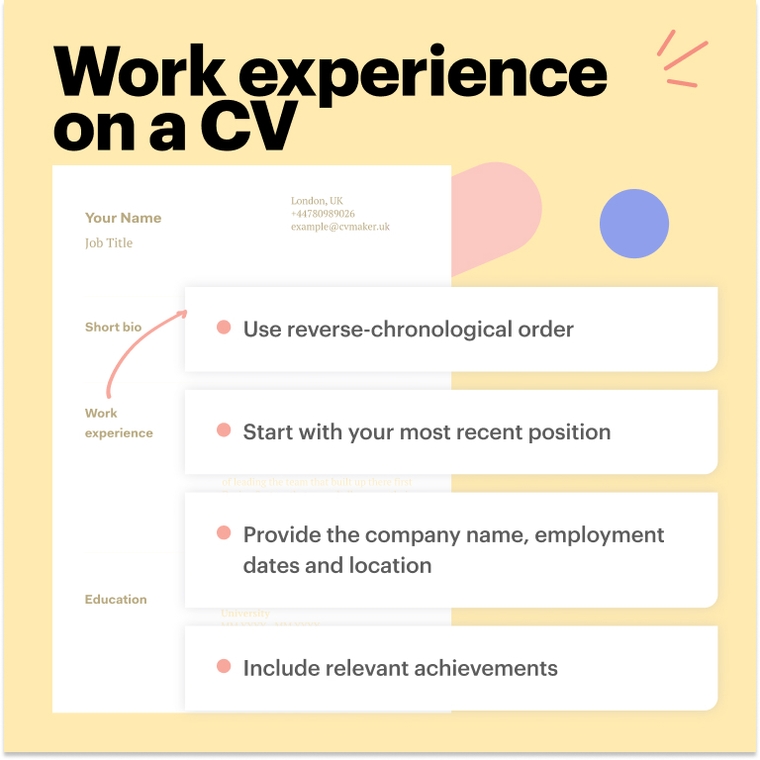 Construction CV work experience examples
Construction Supervisor | AceBuild, London | 2019 - Present
Lead a team of tradespeople and labourers while overseeing various residential and commercial projects. Supervise projects to ensure targets are met on time, within budget, and comply with safety regulations. Collaborate with architects, engineers, and clients to achieve project goals and quality standards.
Managed a 20-story commercial project, completing it two weeks ahead of schedule and 10% under budget.

Implemented new safety protocols, reducing on-site incidents by 15% in 2020.
Apprentice Construction Manager | BuildWell Projects, Manchester | 2020 - Present
Assisting experienced managers in planning, coordinating, and executing projects. Learning project management, budgeting, and resource allocation while overseeing project timelines. Collaborating with cross-functional teams, including architects, subcontractors, and clients.
Assisted in managing a £12 million residential development project, meeting all deadlines and budget constraints.

Played a vital role in reducing project defects by 20% through enhanced quality control measures.
Construction Labourer | SolidBuild Services, Birmingham | 2018 - 2021
Contributed to various labouring tasks, including materials handling, site cleanup, and equipment maintenance. Operated heavy machinery, such as forklifts and cranes, for materials transport and equipment positioning. Assisted in commercial and residential projects, focusing on safety and precision.
Transported and managed building materials, reducing material-related delays by 15%.

Implemented an efficient materials tracking system, resulting in a 20% reduction in material waste and project cost savings.
Construction worker CV with no experience:
Assistant Painter | VibrantCoat Painters, Manchester | 2023 - Present
Gaining practical experience in a collaborative team, working closely with skilled painters to develop foundational industry skills. Proficiently handles equipment and is skilled in surface cleaning, taping, and material setup, prioritising safety standards. Enthusiastically contribute to each project's success while enhancing knowledge of paint types, techniques, and colour mixing.
Working towards the attainment of a company-sponsored HSC and apprenticeship in Construction.
Refer to the painter CV example for more inspiration.
For those with little to no work experience, pursuing an apprenticeship as a groundworker, road surfacing operative, and piling attendant offers valuable structured training and on-the-job learning. Consider finding a part-time job on weekends or holidays with a company or relative who works as a general construction operative.
For more guidance on what to write if you have no experience, refer to our guide with relevant tips and examples.
Craft your education section 
In the UK, there are several options to work in this industry, including pursuing a university program, apprenticeship, or seeking employment directly with an organisation. For managerial roles, higher education may be required. 
Employers typically seek candidates with a combination of formal education and industry-specific certifications. To become a general construction operative, you could complete a Level 3 NVQ or apprenticeship in Construction Civil Engineering (Construction Operations). If you have little to no work experience or have just finished school, draw inspiration from our student CV guide on achieving your first role.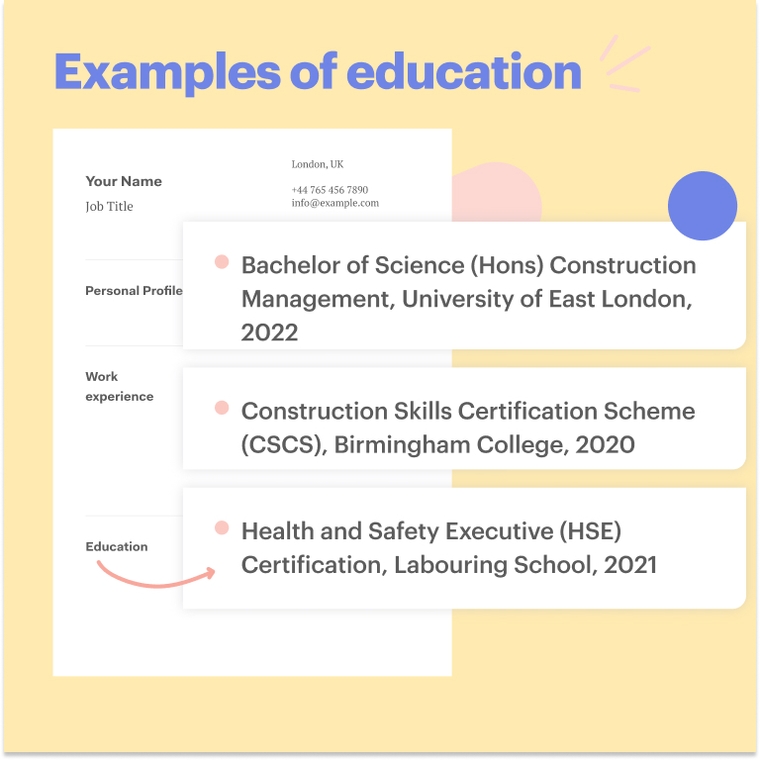 If you need extra guidance, refer to our guide on mastering the education section on a CV.
Pro Tip
Tailor your education section to highlight the qualifications that best align with the role you're applying for.
Construct your CV with relevant courses and certificates 
List courses and certificates by including names, awarding institutions, and dates of issue for relevant training programs you've completed. To leverage your CV for construction worker and get hired, obtain a Skills Certification Scheme (CSCS) to train and work on a site legally.
Consider obtaining other relevant professional certificates, such as the Royal Institution of Chartered Surveyors (RICS) and The Chartered Institute of Building (CIOB). Highlight significant projects and achievements, including health and safety, equipment operation, first aid, or specific industry techniques.
For more information on online training providers or how to list courses and certificates on a CV, read our article.
Key takeaways 
In this guide, we show you how to write a good CV for experienced professionals or those just starting out in the construction sector. Including relevant CV sections and relevant information that resonates with your career goals will help you secure a job. Remember to present key qualifications, skills and competencies in a clear, concise, and well-formatted format for employers to read. For more advice on how to create a job-specific CV and maximise your chances of success, read how to improve your CV for more tips.
In need of more inspiration? Refer to our CV examples and writing guides to explore roles with similar skill sets to construction:
Next Steps? 
In today's competitive job market, a well-crafted CV is crucial. Choose a construction CV template that suits your career goals, and draw inspiration from our career blog. If you need extra support, streamline your application process with our CV Writing Service to achieve the best results. If you're just kickstarting your career, choose from our cover letter templates and consider these job interview tips for more advice.
FAQ 
Are construction jobs in demand in the UK? 
Yes, industry jobs continue to be in high demand throughout the UK due to ongoing infrastructure projects such as new residential and commercial buildings. Many organisations offer diverse work opportunities for skilled professionals and those with little to no work experience.
What are the construction duties of a CV? 
When writing your construction CV, you must showcase a comprehensive list of duties and responsibilities. Include your expertise in project management, site supervision, adherence to health and safety regulations, and any specialised skills you possess, such as carpentry or masonry.
What is the UK-recognised CV format? 
In the UK, the most recognised and industry-standard format is chronological. To format your education and work experience sections, use reverse chronological order when listing entries. Begin with your highest level of education or most recent job and work backwards, listing the institution or company name, qualification or job title and the date. For more tips on how to structure your CV correctly, read our chronological CV guide.
How can I get started in the construction industry?
If you're just starting a career in this industry, consider writing a skills-based CV if you have no work experience to highlight your relevant skills and qualifications. Explore apprenticeships available and choose the area you would like to specialise in.
Land the interview for your dream job with CVMaker
Effortlessly create your professional CV within 10 minutes and download it whenever and wherever you want!
Create your CV
Increase your chances landing your dream job with CVMaker.